October 20th, 2008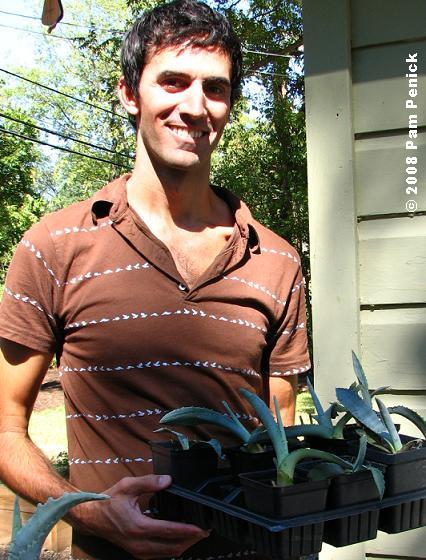 Y'all know how the Austin garden bloggers (36 at last count) delight in abandoning the virtual page for real-life meet-ups, right? On Sunday thirteen of us had the pleasure of touring and socializing in the East Austin gardens of two men who are garden blogging in our fair city.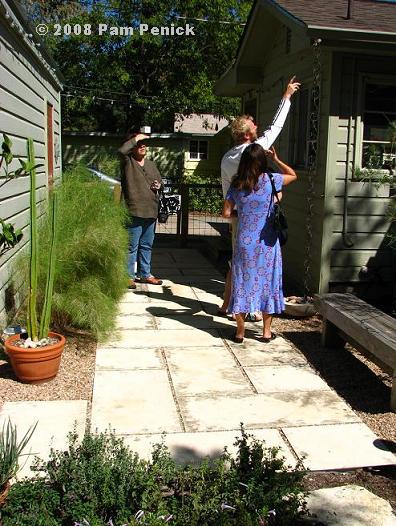 Lee of The Grackle, pictured at the top of this post, and his partner, John, graciously opened their home and garden to us as we kicked things off. Out front we admired two defined circles of buffalo grass, a tree-form dalea (so cool!), and a pleasing assortment of xeric plants, and then Lee led us into the Zen-like back garden, which wowed me right at the entry with a gorgeous cut-limestone pathway.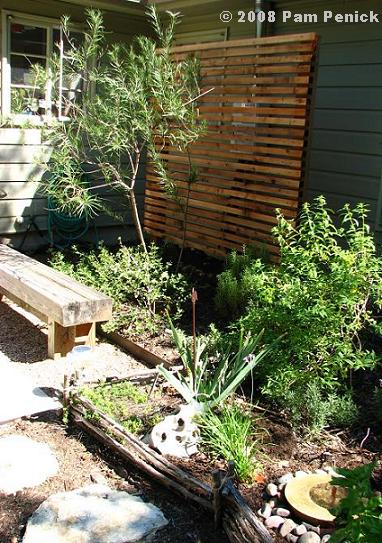 A peaceful, contemporary-styled garden unfolds in a U-shape of compact garden rooms defined by the walls of the house and garage and the horizontal fencing and screening Lee and John have installed.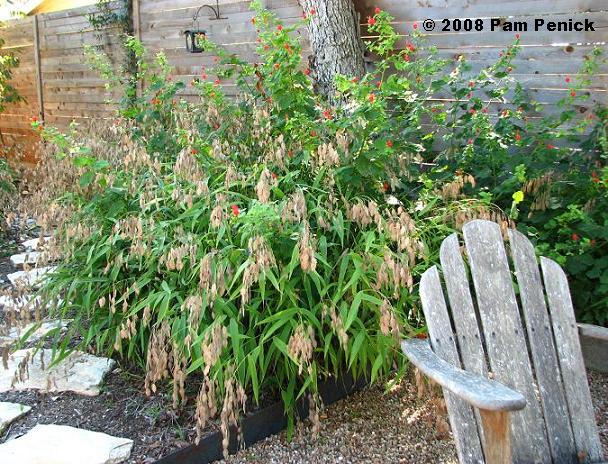 Next to the main patio, rustling inland sea oats (Chasmanthium latifolium ) are peppered with the red flowers of Turk's cap (Malvaviscus drummondii ), contained by crisp edging.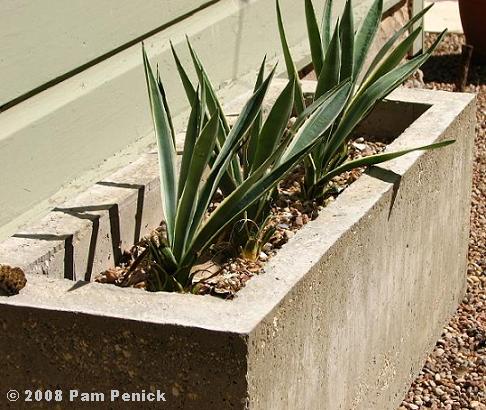 Simple shapes and materials, like this concrete trough of agaves, add a minimalist touch and contribute to the garden's peaceful ambiance.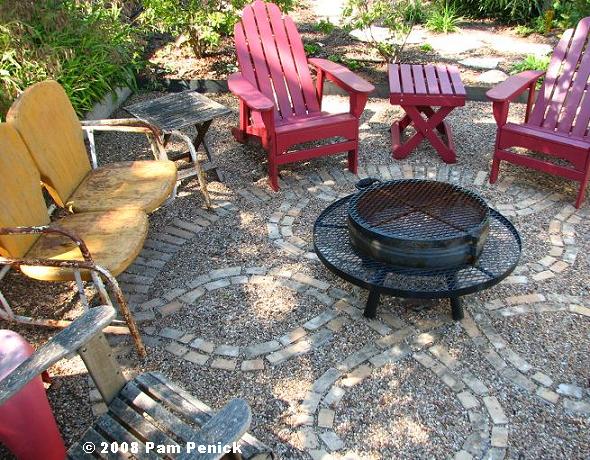 Lee and John have put plenty of sweat equity into their gorgeous garden, but they lucked out with this fanciful brick-and-gravel patio that they inherited from the previous owners. I love this idea and am plotting how I can adapt it to my new garden.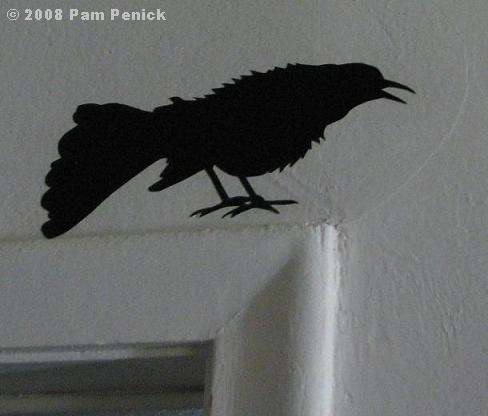 After plying us with refreshing hibiscus tea and cookies and letting us pet their sweet, old dog, Lee and John invited us to have a peek at the inside of their charming bungalow, which was filled with fun features like their recycled IBM countertops in the kitchen and this stenciled grackle (a tribute to Lee's blog) above a doorway.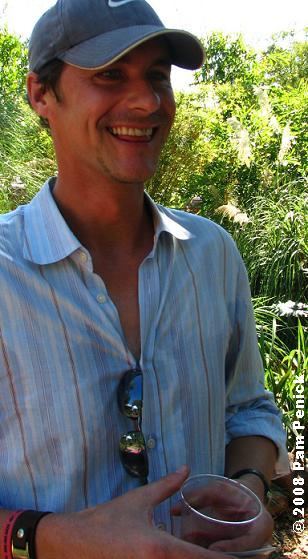 We caravaned next to Philip's garden, the subject of his geographically named blog, East Side Patch. Philip, his wife, Leah, and his two delightful children welcomed us into their large back garden with a pitcher of sangria, chicken roasted on rosemary spears, and other tasty morsels.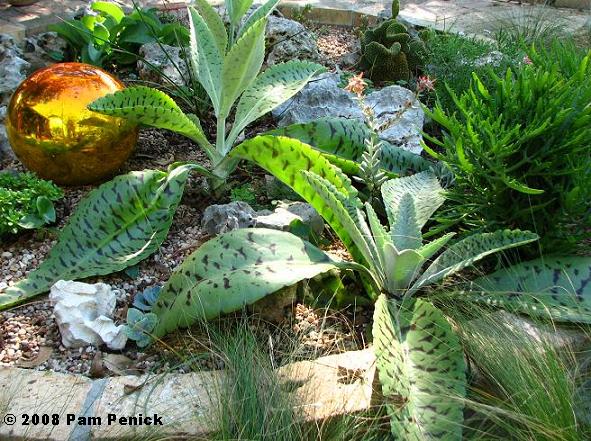 Philip's garden is long on drama with unusual plants like these donkey's ears (Kalanchoe gastonis-bonnieri)…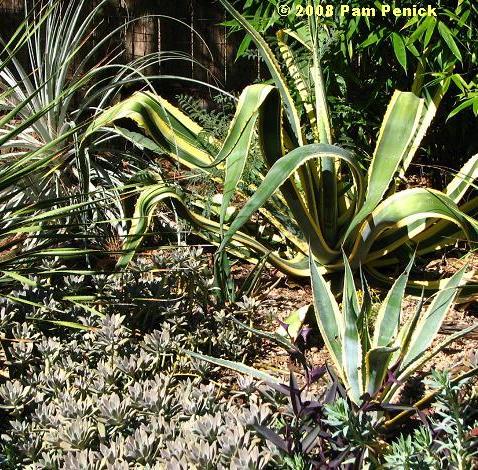 …spiky plants like agaves and sotols…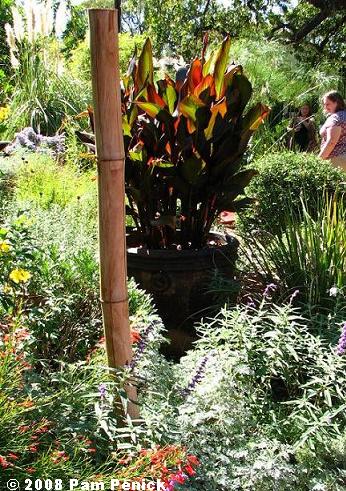 …and plentiful vertical accents like bamboo poles, a long ladder leaning up into a big post oak, and even a 15-foot bald cypress growing out of 10-foot-diameter stock-tank pond.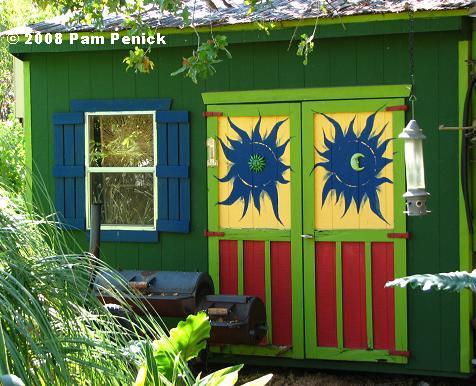 While his garden relies on foliage, rather than flowers, for texture and color, he's not afraid to splash a lot of color on garden accents like this shed.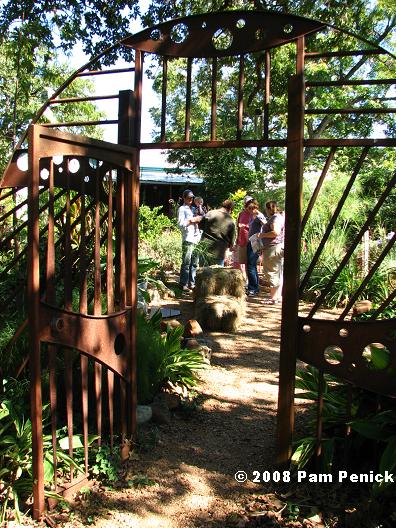 At the back of his long garden, a striking metal gate from the set of Austin-filmed Spy Kids anchors the space.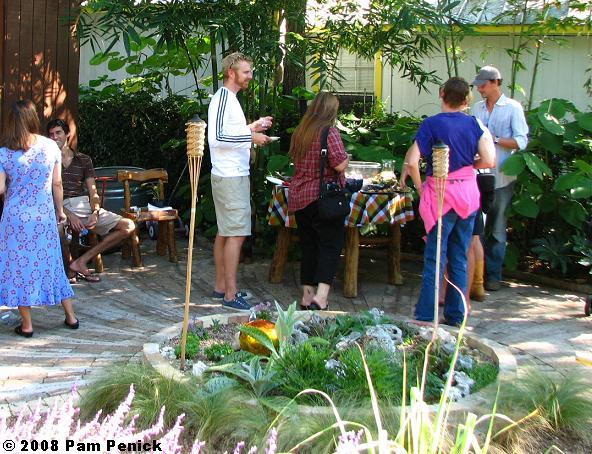 After seeing these two creative and beautiful gardens, we noshed, we talked, and we plotted future garden-blogger excursions. I was delighted to meet three other garden bloggers for the first time, in addition to Philip: Sue of Cool as a Cucumber, Maggie of The Gardens of Casa Martin, and Renee of Renee's Roots. All too soon it was time to go.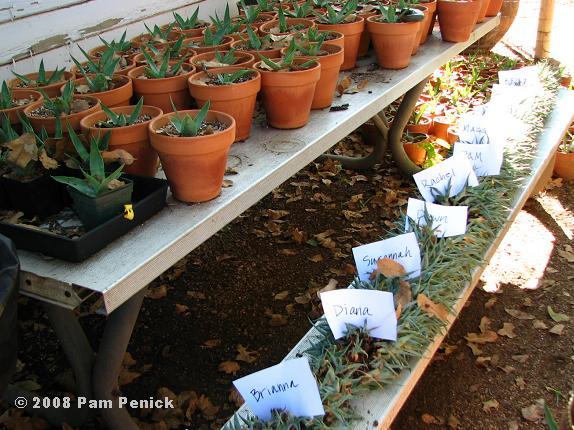 Along the path back to the street, Philip had one last surprise awaiting us. His famous agave bloom stalk—at least six feet long and still thick with pups (baby agaves)—lay on a bench with sections parceled out by name for each guest. Even more pups had been potted up and were ours for the taking.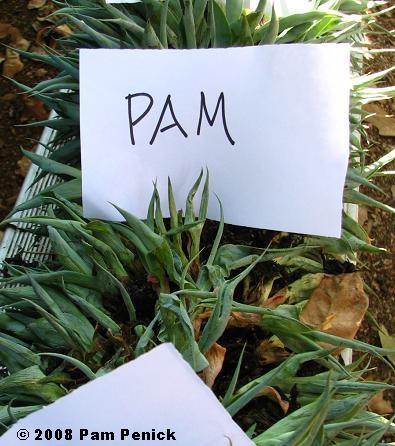 I didn't know whether to tremble in fear lest I really be obliged to take a hundred or so agave pups home with me, or laugh at Philip's playful sense of humor, or leave the stalk but accept one of the potted pups. So I did all three.
Thanks again, Lee and Philip, for hosting our group and letting us see the remarkable gardens you've created. I had a wonderful time.
All material © 2006-2008 by Pam Penick for Digging. Unauthorized reproduction prohibited.