August 8th, 2011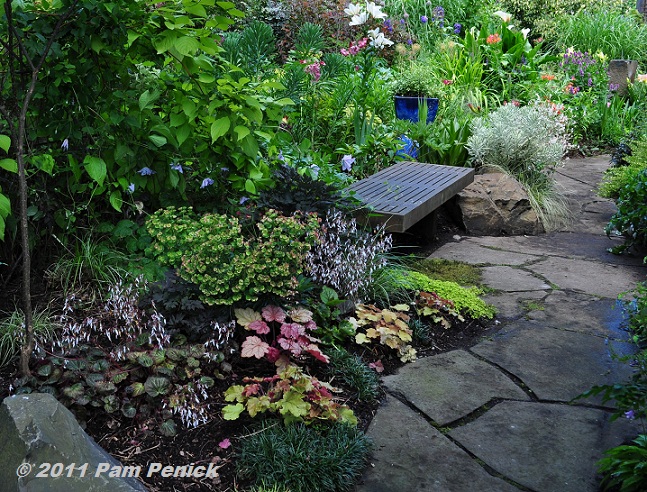 After spending more than half the allotted time admiring Shelagh Tucker's garden (on Day One of the Seattle Garden Bloggers Fling), I realized I was running out of time to see Suzette and Jim Birrell's garden and darted next door. How different from Shelagh's dry gravel garden. Here a shady stone path winds through naturalistic woodland-style plantings toward a sunnier space beckoning with flowers.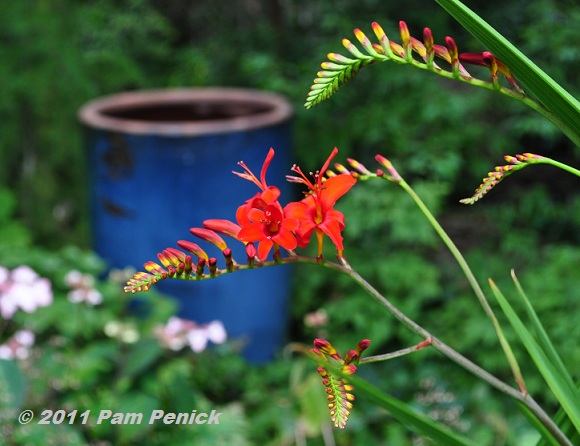 Crocosmia, one of several stunning specimens in their garden. You don't see crocosmia in Austin, but it was in bloom all over Seattle and will probably forever remind me of that city.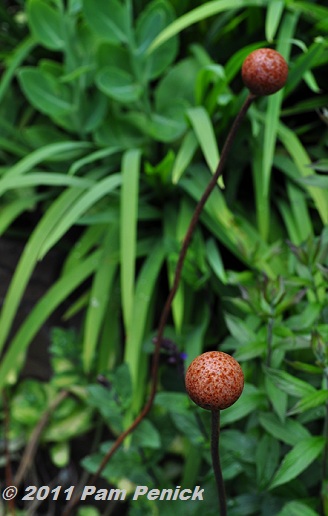 These interesting metal knobs caught my eye.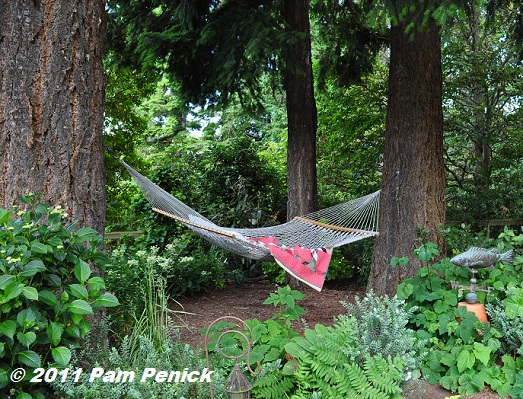 As you enter the left side of the back garden, a trio of towering Douglas firs (I think) creates a shady bower for a hammock.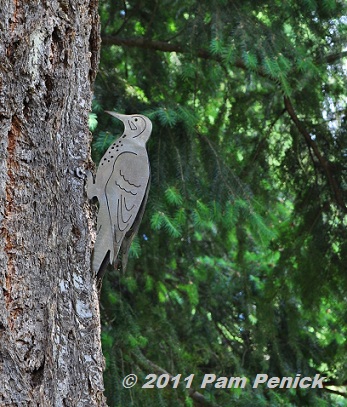 A metal woodpecker eternally pecks away at one of the trees.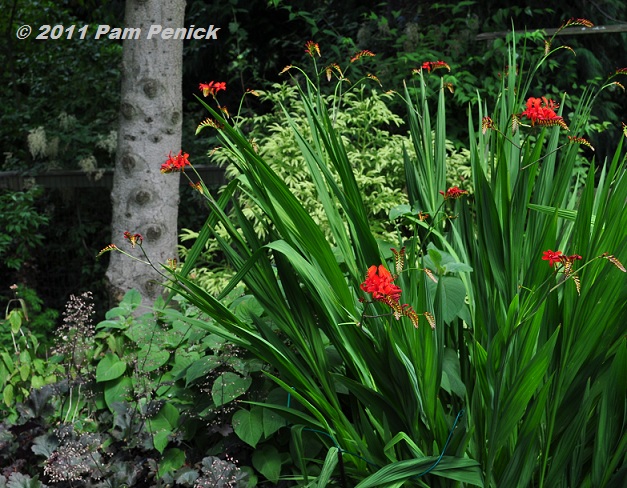 More crocosmia, plus heuchera in bloom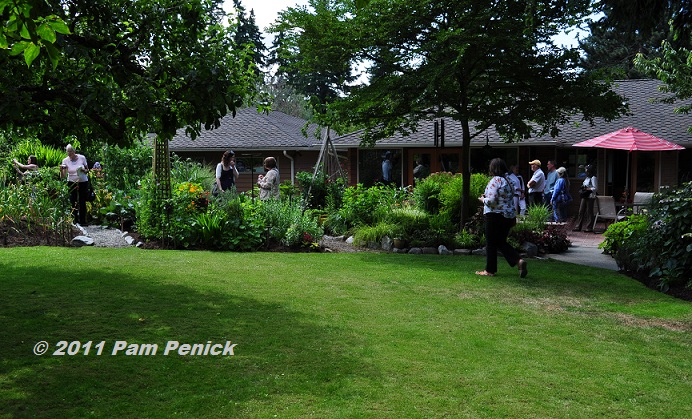 Looking back toward the house. The lawn has been shrunk to a reasonable size for play, and deep gardens surround the patio, including a large vegetable garden in the sunniest spot near the house.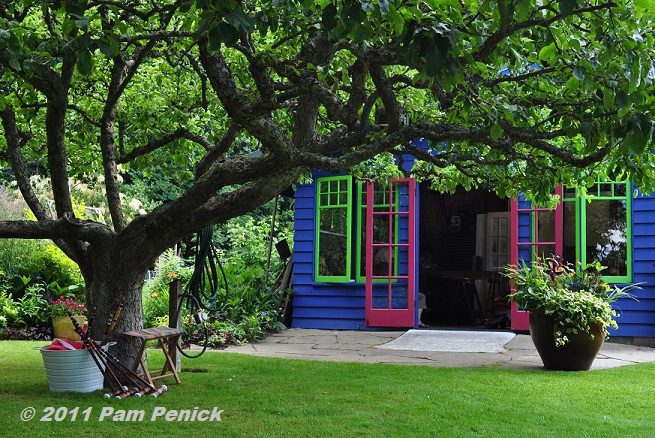 Turning your back on the house you see the focal point of the back garden: a bright blue shed with green- and fuchsia-trimmed windows and doors. In the shade of an old crabapple/apple(?), a croquet set stands ready for play. Tempting!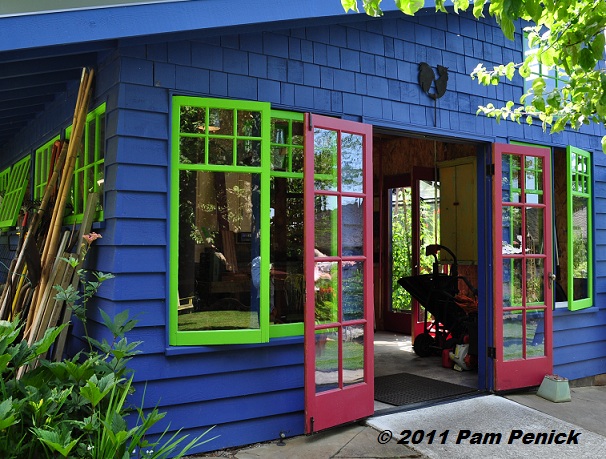 The blue shed must brighten up even the soggiest winter days in Seattle.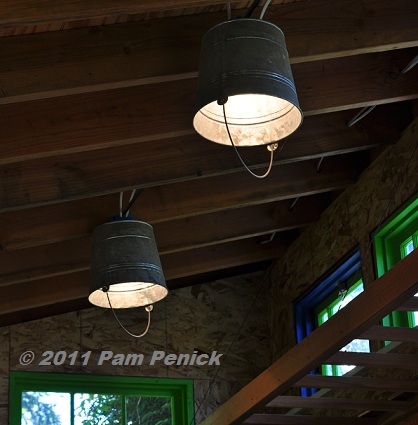 Inside, we were all exclaiming over the clever light fixtures: upturned galvanized pails. A sloping roof and high windows keep the shed light and airy inside.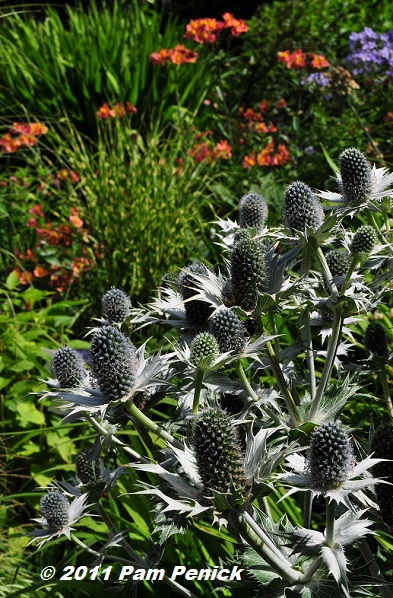 This beautiful border with silvery eryngium anchors one end of the vegetable garden.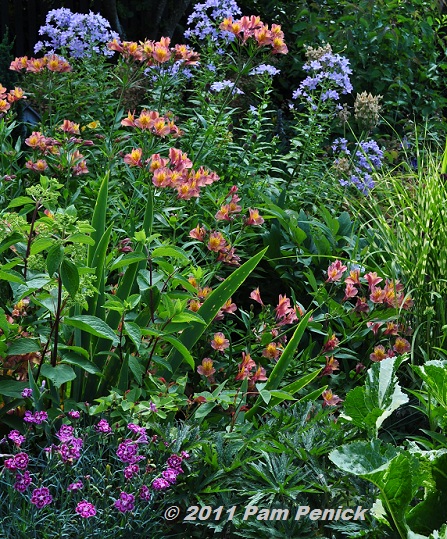 More flowering perennials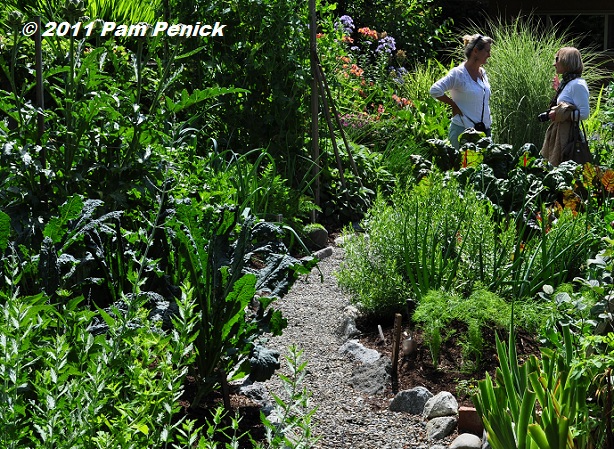 A wider view shows the extent of the vegetable garden. A boulder-edged gravel path curves gracefully through the space. No geometric divisions here.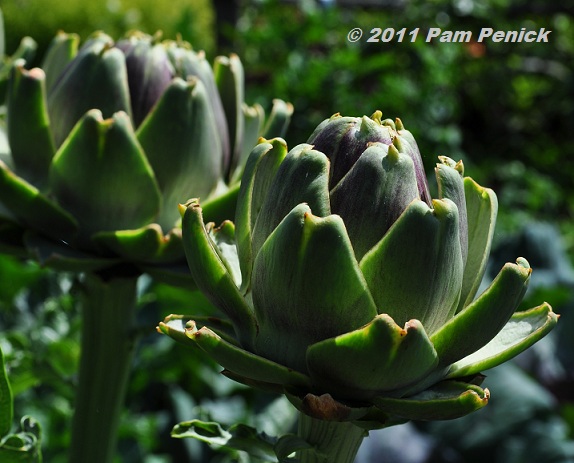 Artichokes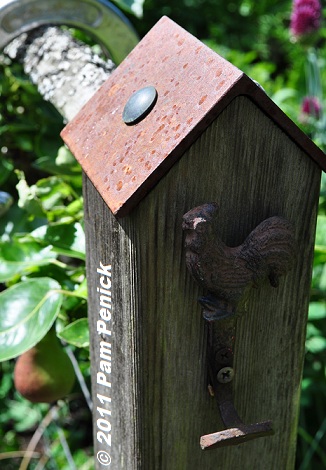 The Birrells include many rusted-metal touches in their garden, including these metal-capped fence posts with handy decorative hooks attached.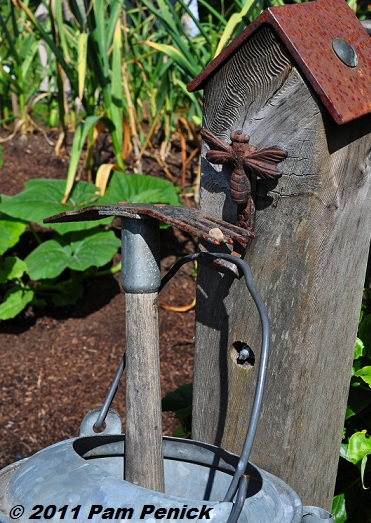 This bee hook is in use, holding a watering can and a garden tool at the ready.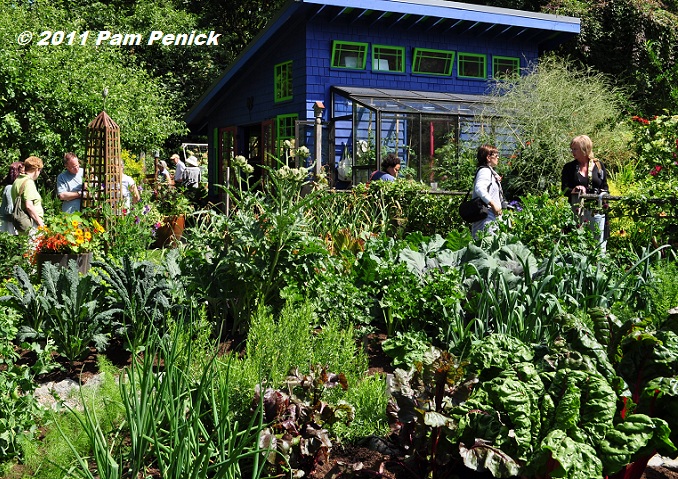 A wider view shows Carol of May Dreams Gardens in her signature green on the left, and Diana of Sharing Nature's Garden and Robin of Bumblebee on the right.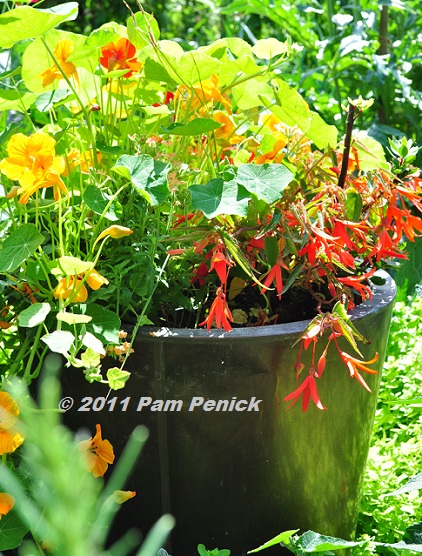 A pot of colorful annuals catches the morning light.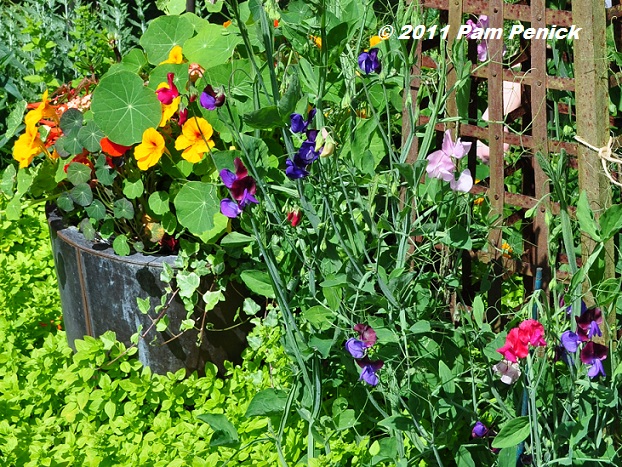 Sweet peas climb a metal tuteur.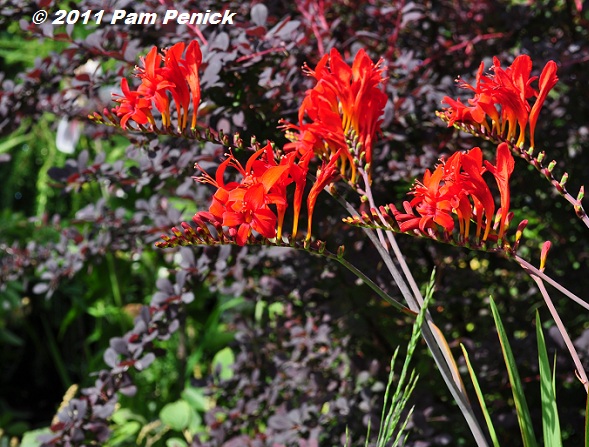 More crocosmia, with what looks like barberry in the background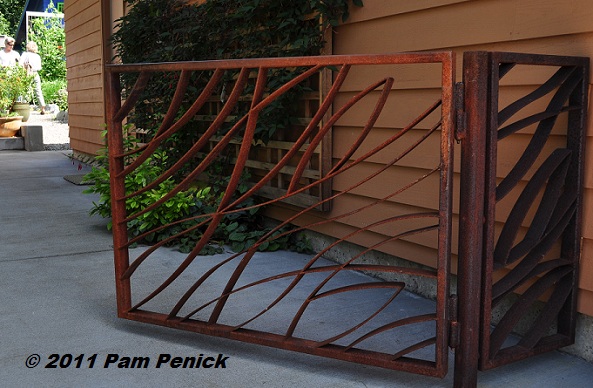 The rusty metal accents continue with this beautiful garden gate, which leads back to the front garden…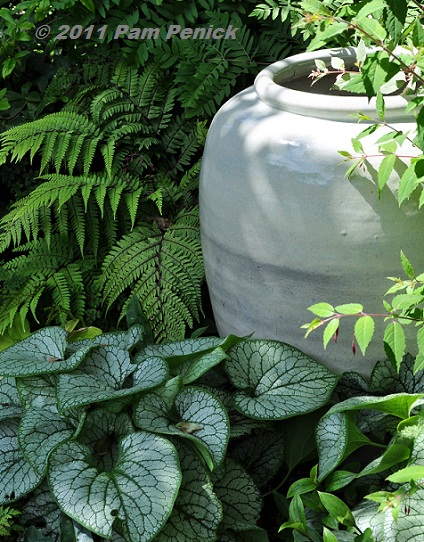 …where this thoughtfully placed white pot gleams in the shade garden.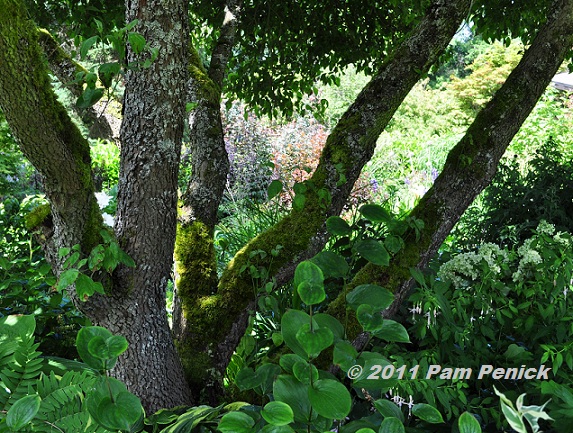 Mossy trees are another standard Seattle sight.
Both the Birrell and Tucker gardens gave us a fantastic start to the Seattle Fling. Coming up next: The Dunn Gardens, where we had lunch and enjoyed a docent-led tour. For a look back at the private garden of Shelagh Tucker, click here.
All material © 2006-2011 by Pam Penick for Digging. Unauthorized reproduction prohibited.
posted in
Birds
,
Containers
,
Edibles
,
Fences
,
Fling Seattle
,
Garden art
,
Garden blogging
,
Garden tours 2011
,
Gates
,
Lawns
,
Lighting
,
Paths
,
Seating
,
Sheds
,
Tools
,
Travel
,
Trees
,
Vines