August 7th, 2011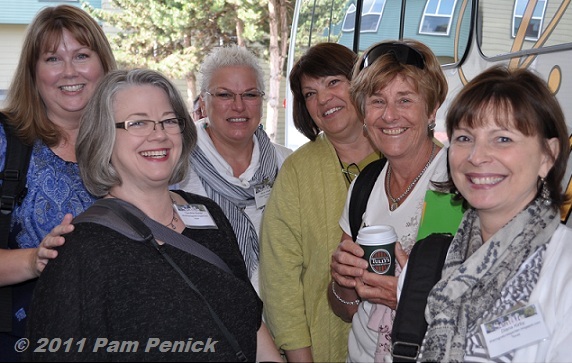 Six Austin garden bloggers journeyed to Seattle for the Garden Bloggers Fling. That's me on the left, Caroline of The Shovel-Ready Garden, Becky of Wolf's Garden, Vicki of Playin' Outside, Jenny of Rock Rose, and Diana of Sharing Nature's Garden. Look! Scarves & cardigans in July!
The 4th annual Garden Bloggers Fling was hosted by Seattle bloggers this year July 22-25. (For links to previous years: Austin Fling, Chicago Fling, Buffalo Fling.) Huge congratulations are in order for the organizers: Lorene Edwards Forkner of Planted at Home, Marty Wingate of In the Garden with Marty Wingate, Debra Prinzing, and honorary Seattleite Mary Ann Newcomer of Gardens of the Wild Wild West. These volunteers put on a 4-day garden-visiting extravaganza for the 70+ garden bloggers who attended. Thank you, Seattle team! Your city is incredible, and you did good!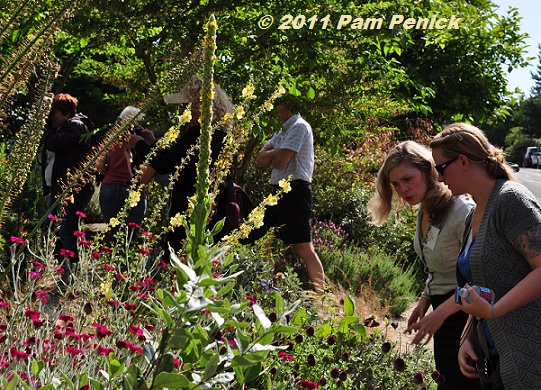 Each day we piled into two buses for touring some of the city's best private and public gardens, nurseries, horticultural resource centers, and other attractions. Day 1 began with a visit to the marvelous gardens of Shelagh Tucker and her next-door neighbors Suzette and Jim Birrell. Here we are spilling out of the buses to explore, exclaim over, and photograph Shelagh's garden.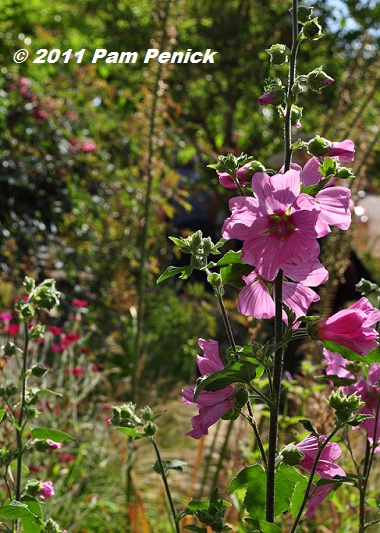 Seattle is hilly, and most of its gardeners must contend with sloping lots—which also, of course, gives them an opportunity to make the most of their changes in elevation. Shelagh's streetside garden is a cottagey riot of sun-loving perennials, which obviously appreciate the good drainage of her sloping lot.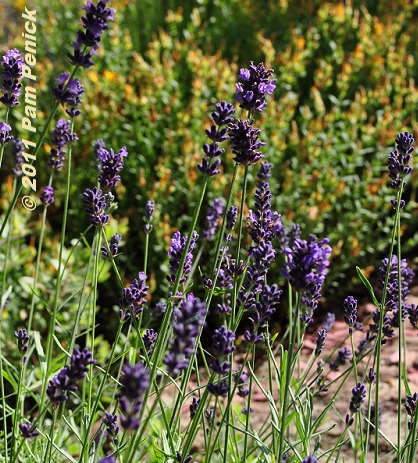 Lavender soaks up the sun, which came out just for our visit apparently, after an extended cool, rainy spring.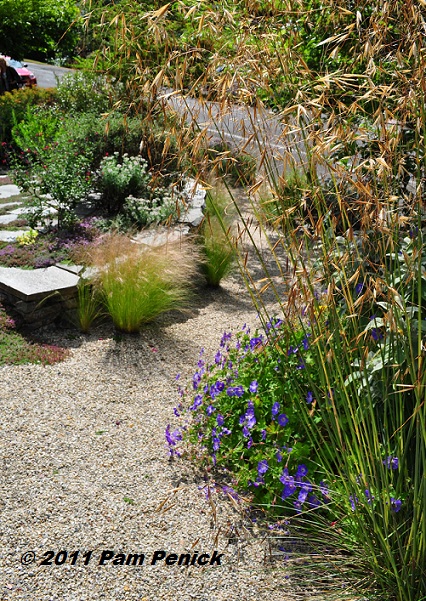 I walked up a secondary gravel path on the left side of the front garden.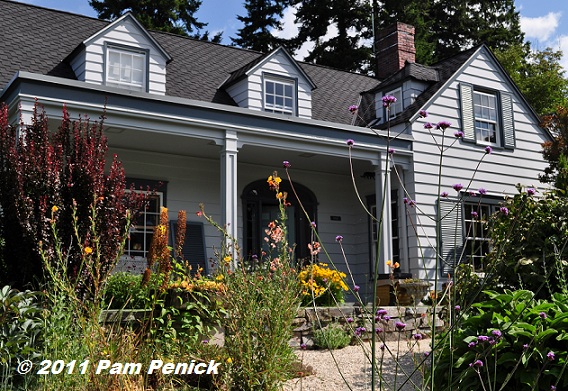 A view of Shelagh's house…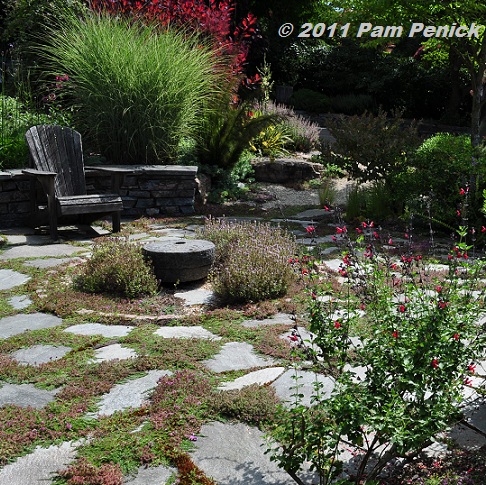 …and then a circular stone patio appears on a terraced flat, halfway up the slope. Stone pavers are interplanted with thyme, and xeric plants like Salvia greggii and Mexican feathergrass border the space. This style of garden works well in Austin, of course, but I didn't expect to see it in Seattle!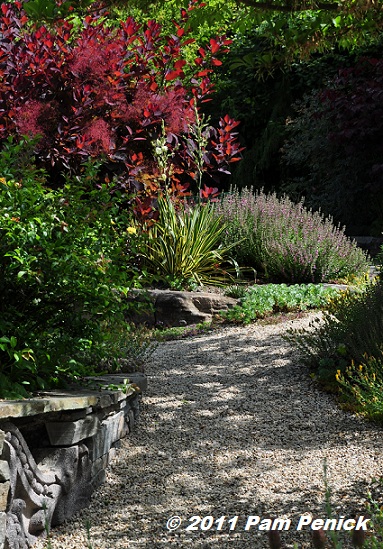 Shelagh's garden is inspired by Beth Chatto's gravel garden, we were told. This path leads past smoke bush and blooming yucca toward the driveway.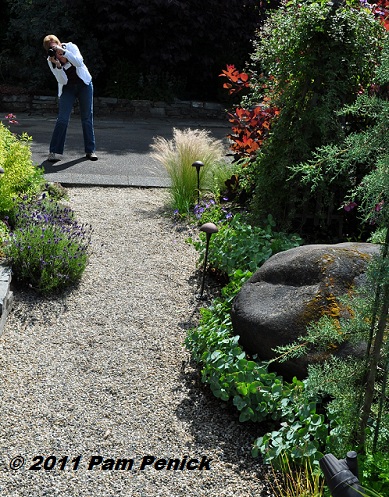 This is a common sight at the Flings, as we bloggers are all madly snapping away. Here's my friend Jean of Dig, Grow, Compost, Blog.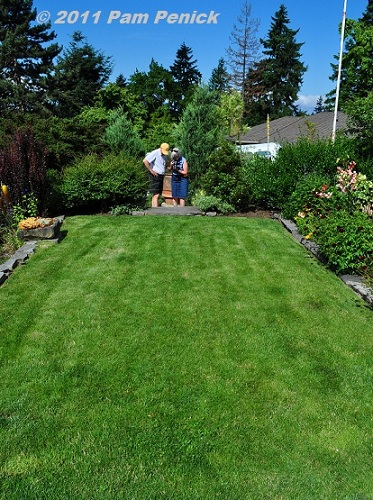 Looking back, on the other side of the stone patio, a green rectangle of lawn bordered with flowering perennials offers a classical vista. Helen of Toronto Gardens and her husband are checking out a paving pattern at the other end.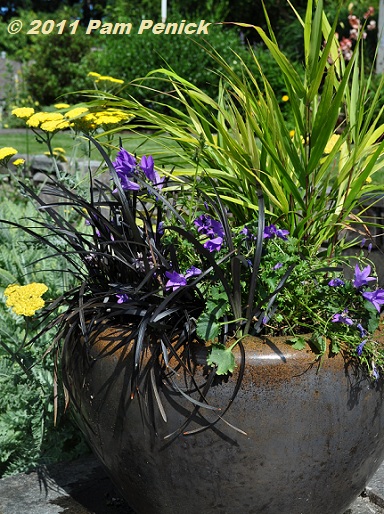 A lovely potted combination. Black mondo grass contrasts with a charteuse something-or-other.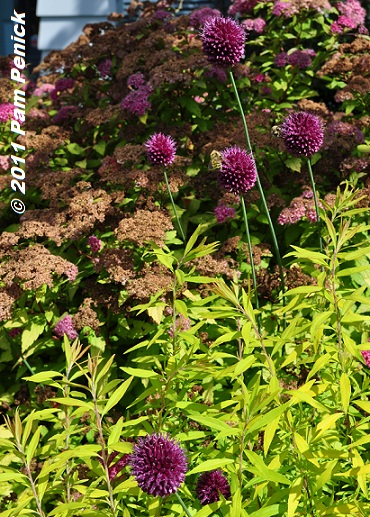 Summer color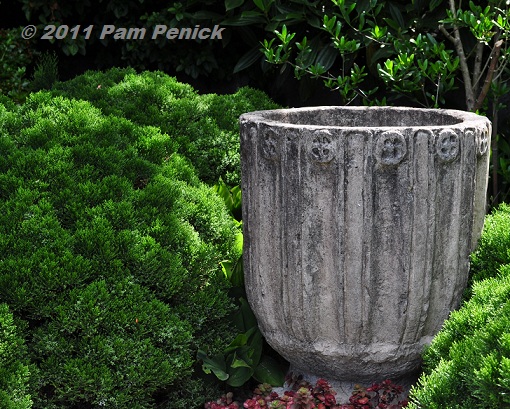 Shelagh has a knack for artful placement of containers and stone relics.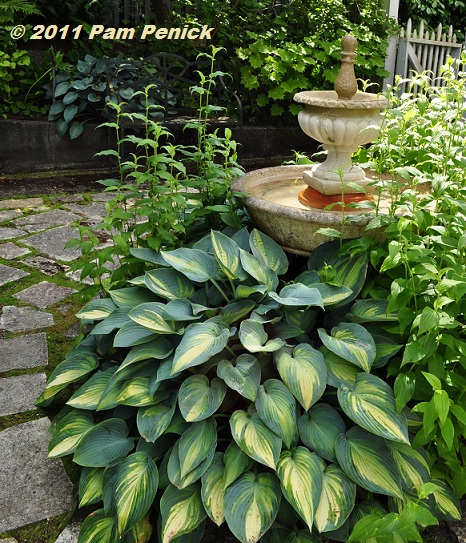 Passing through a gate (visible in the background), you enter an intimate side-yard garden. A small stone patio surrounds a tiered fountain underplanted with a stunning hosta. Notice how the creamy variegation in the hosta's leaves picks up the color of the fountain.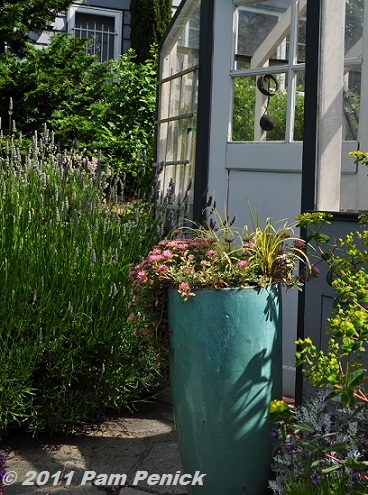 A tall aqua pot stands next to a charming greenhouse.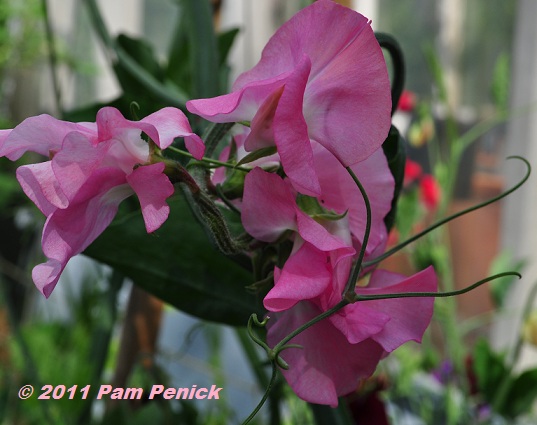 Sweet peas were blooming. Sweet peas are done in Austin by, what, May? They smelled divine.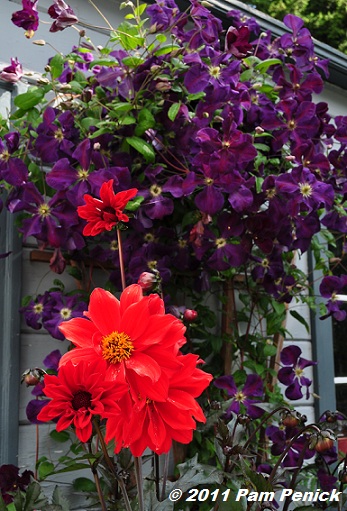 Dahlia and clematis soften the corner of the greenhouse.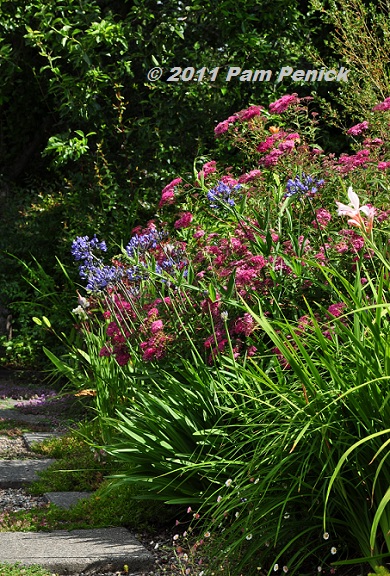 A flowering border leads around to the back garden…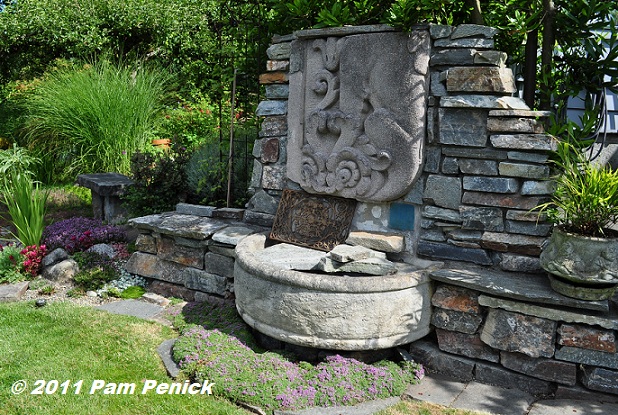 …where you see this: a wall built with remnants of Seattle's old Music Hall facade, which was torn down in 1992. I'm not sure whether it's meant to be a fountain—it certainly looks like one, with a semicircular basin—but it makes a stunning focal point for the back garden.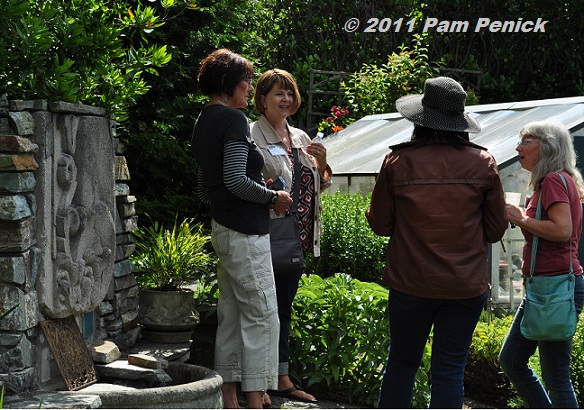 Here's Shelagh herself, talking with Loree of Danger Garden and Frances (blue purse) of Fairegarden.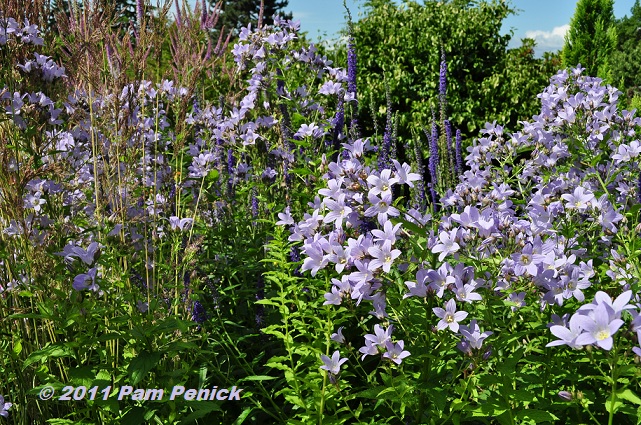 More summer color. As during the Fling, I'm not going to try to ID anything I don't recognize from home.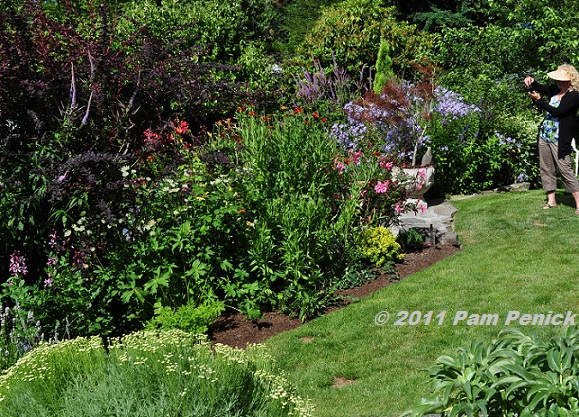 A wider view of this border. That's Nan Sterman of Plant Soup taking a photo.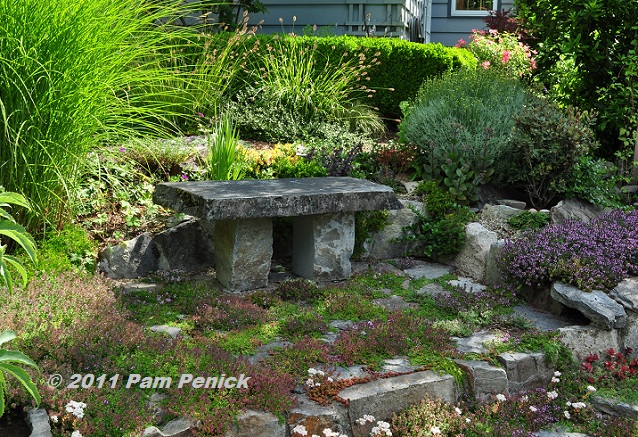 Seating areas abound in Shelagh's garden. I love this in a garden. Here a substantial stone bench occupies a charming niche.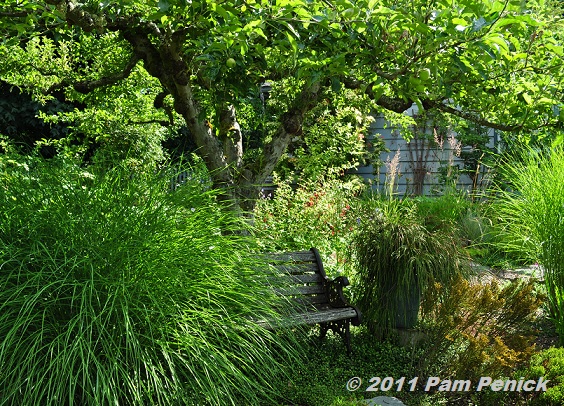 A wooden bench nearly enclosed by ornamental grasses shelters under an old crabapple tree.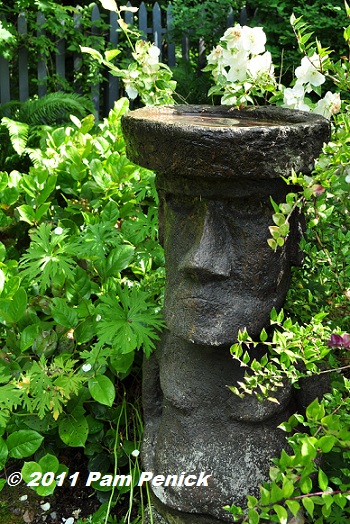 Wandering the smaller paths around the perimeter of the garden I came upon this Easter Island-style birdbath.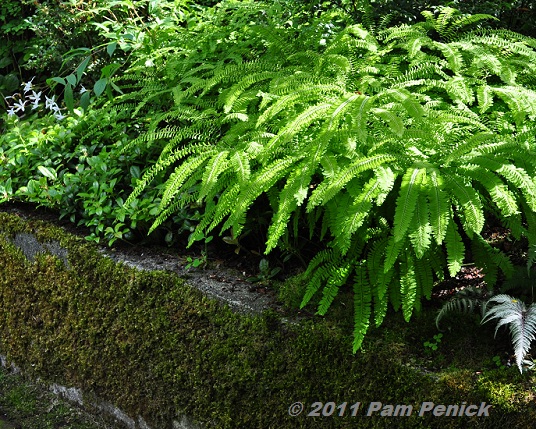 Ferns and moss cloak a low wall.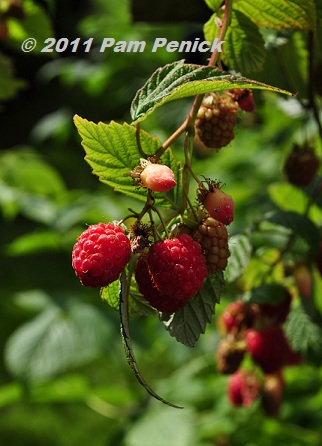 In the lower garden, berries ripen on the vine.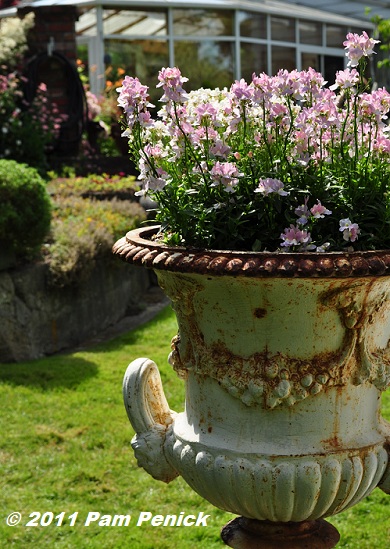 Heading back up toward the house, I noticed this sweet Victorian urn.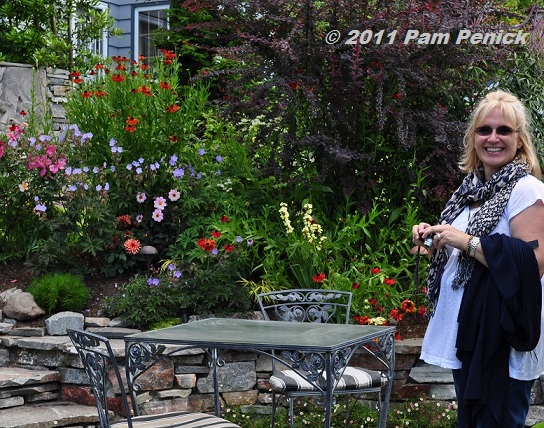 Here's Victoria of Victoria's Backyard, Flinging with us all the way from London. She was one of two bloggers who came across the pond for this year's Fling—awesome!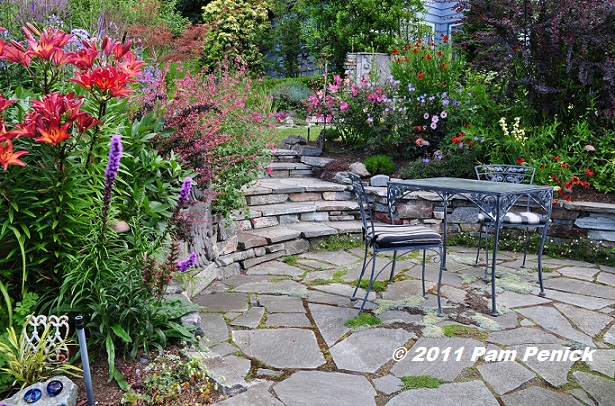 Stepping back, a wider view of yet another circular stone patio. I can imagine sitting here for hours, visiting with a friend. Can't you?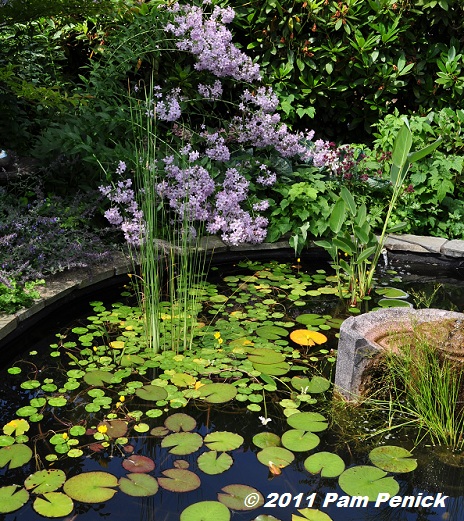 Nearby, a classic circular pond with a Music Hall relic in the middle.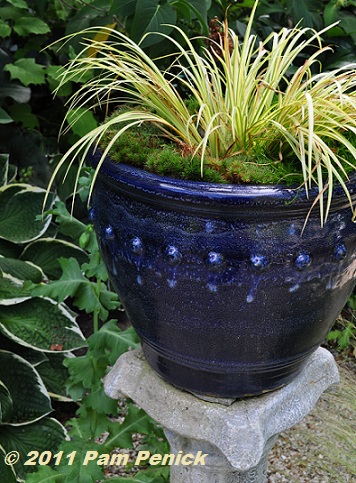 A pedestal elevates a small planter.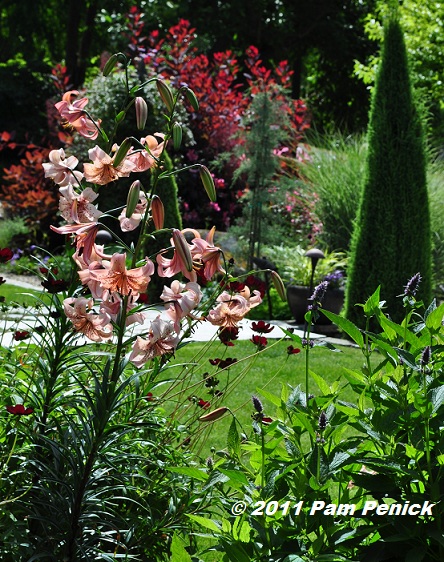 And a last look, through lilies, of Shelagh's remarkable garden. Thank you for welcoming us into your garden, Shelagh! What an incredible way to start the Seattle Fling.
Next up: The Birrell garden, right next door to Shelagh's garden. For a look back at my pre-Fling visit to a couple of Portland, Oregon, nurseries, click here.
All material © 2006-2011 by Pam Penick for Digging. Unauthorized reproduction prohibited.
posted in
Berries
,
Containers
,
Daylily
,
Edibles
,
Fling Seattle
,
Garden art
,
Garden blogging
,
Garden tours 2011
,
Grasses
,
Groundcovers
,
Lawns
,
Paths
,
Patios & decks
,
Ponds
,
Seating
,
Sheds
,
Summer color
,
Travel
,
Trees
,
Vines
,
Walls
,
Water features
,
Water gardening