August 5th, 2011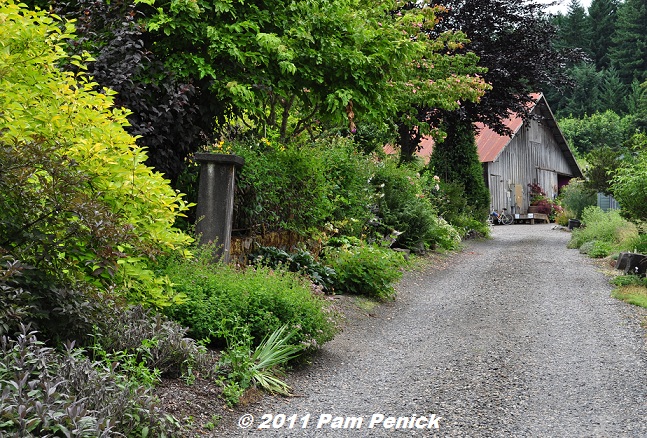 Joy Creek Nursery
While visiting Portland before the Seattle Garden Bloggers Fling, I was treated to nursery visits with Loree of Danger Garden. Fresh out of sun-baked, drought-stricken Austin, and plunked amid the lush greens—and chartreuse and burgundy—of Portland's landscape, I'm ashamed to say I moaned and groaned just a bit pitifully to Loree about all the plants I covet but can't grow. I needed a sharp slap in the face, but she was too kind for that. Eventually I snapped out of it and just let the moist, green gardens and landscape of the Pacific Northwest wash over me. But this was the first day, and it was a shock to the system. The high temperature was about 68 F. It felt like stepping into a crisp November day for this Austinite.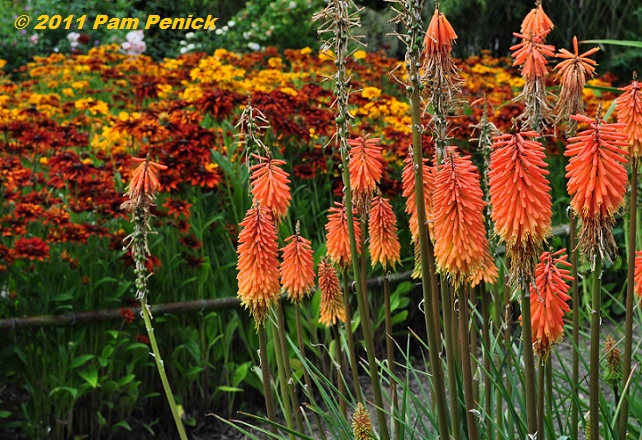 These scenes are from bucolic and sweetly named Joy Creek Nursery in Scappoose, about a half hour from Portland.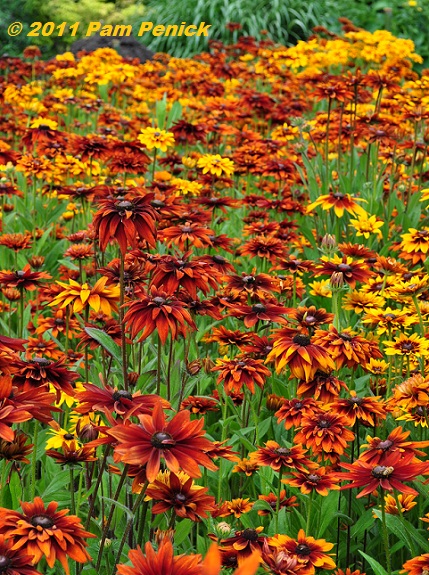 The temps may have said autumn, but the flowers spoke of long summer days. The colors seem extra vivid, out from under the glare of the Death Star.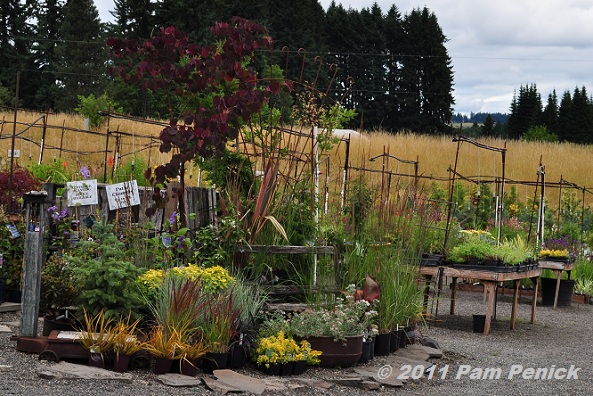 The sale tables are set up alongside golden fields, which in turn are backed by tall, somber firs.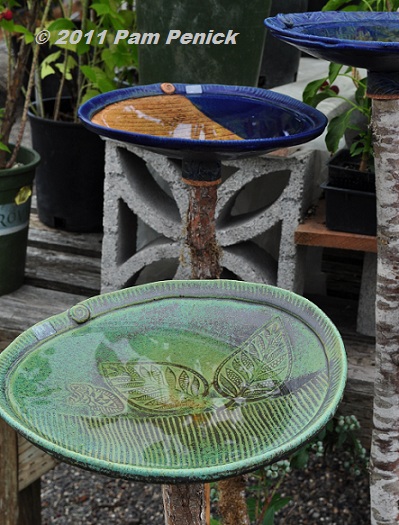 I admired these handmade birdbaths. In fact, garden art was the only thing I considered bringing home with me. For one thing, I was heading to Canada after the Seattle Fling, and I didn't want to worry about customs. For another, I didn't know which plants would be hardy in Austin, plus summer is an awful time to plant. So I just admired but did not purchase.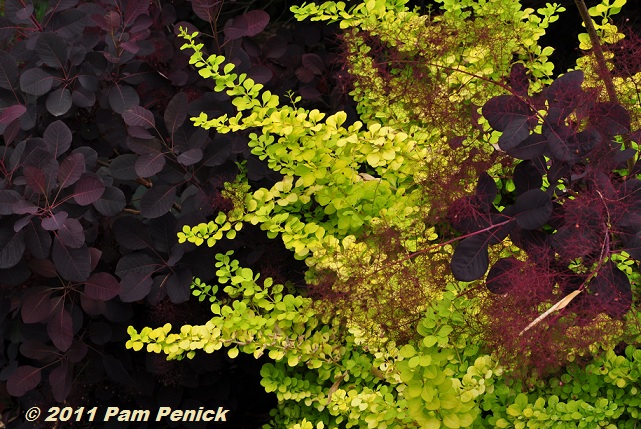 It wasn't always easy though. Here's a color combo that says Pacific Northwest to me: burgundy and chartreuse. Here in Austin, our plant palette runs more toward silvery blues and greens.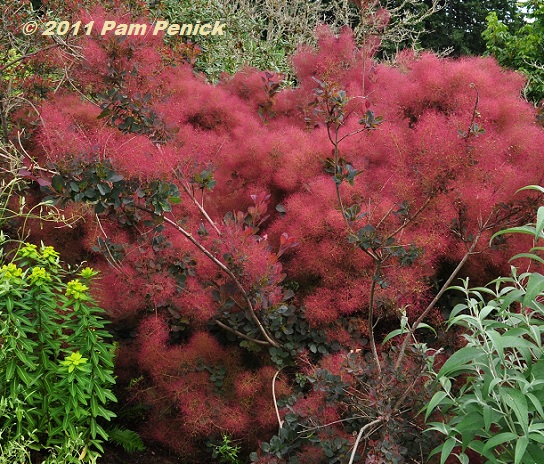 The biggest smokin' smoke bush I've ever seen.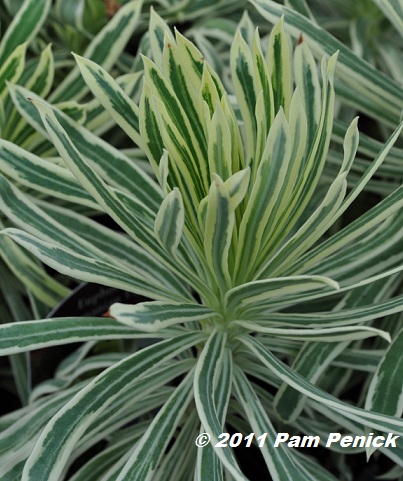 Variegated euphorbia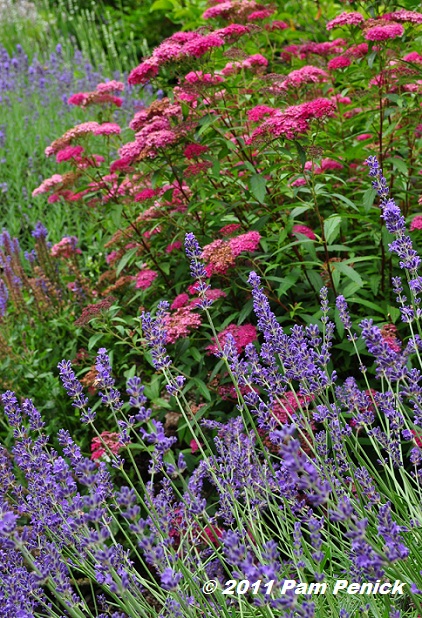 More bright summer color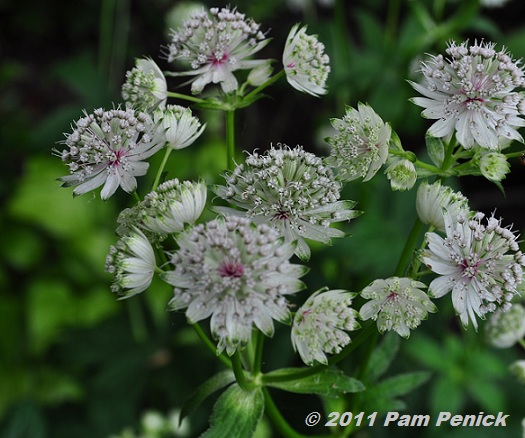 I was smitten by these tiny astrantia flowers, white with a hint of pale pink.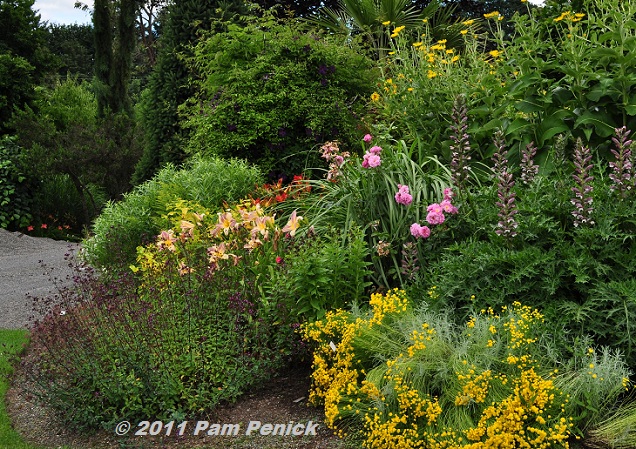 Joy Creek has a good-sized display garden, which is always a treat at a nursery; you can see how plants grow in a garden setting.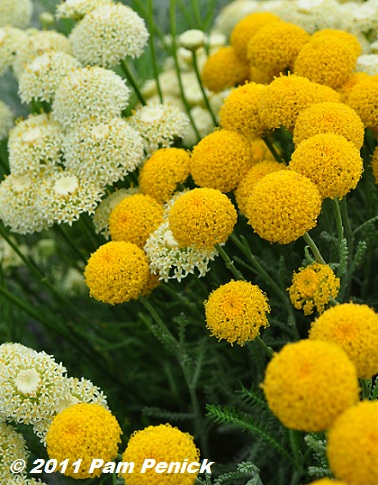 In fact, all of these pictures except the sale tables and bird baths were taken in the display gardens. We had a wonderful visit, and then we got back in Loree's yellow Beetle and headed up the road to our next stop.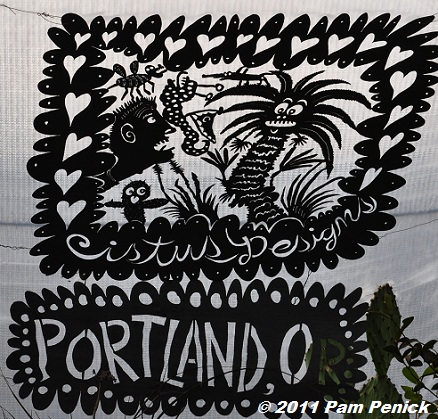 Cistus Nursery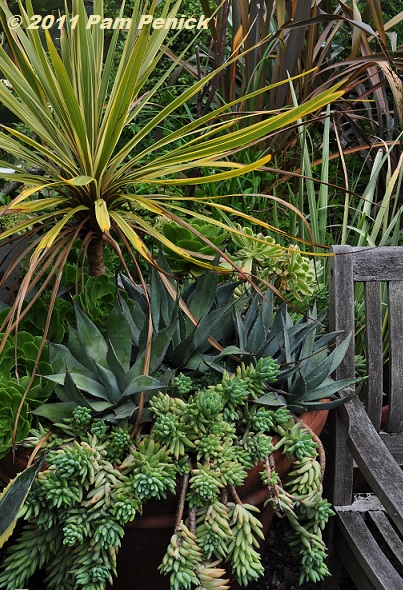 Located on Sauvie Island, 15 miles northwest of Portland, Cistus is, I believe, Loree's favorite area nursery.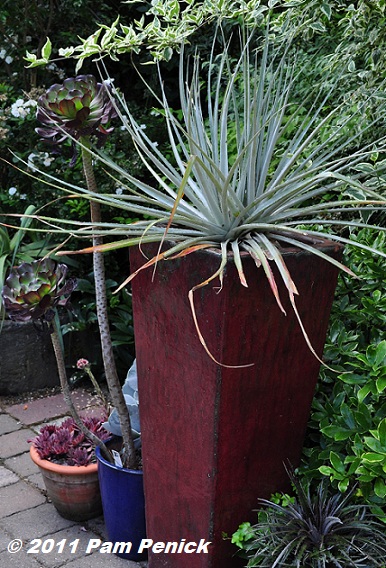 I could see why. Its display gardens are thoughtfully designed and full of beautiful plants, the tables are filled with Danger Garden-style plants, and a selection of unusual plants tempts even more up by the check-out.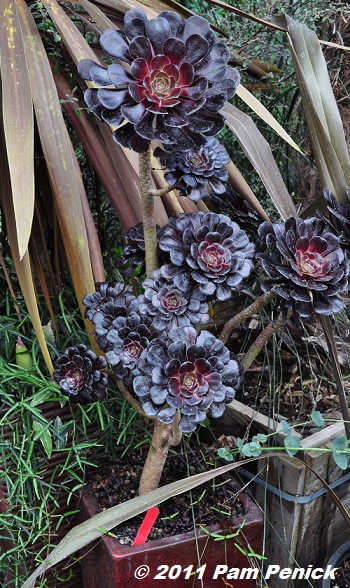 Aeonium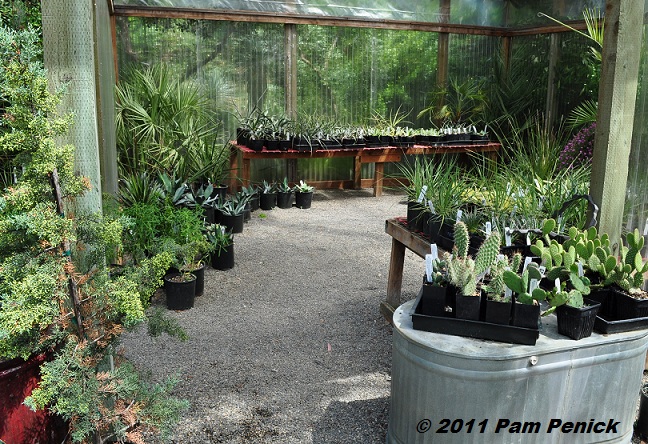 A succulent and cactus cabana keeps away the drenching winter rains. And look—an upended stock-tank table.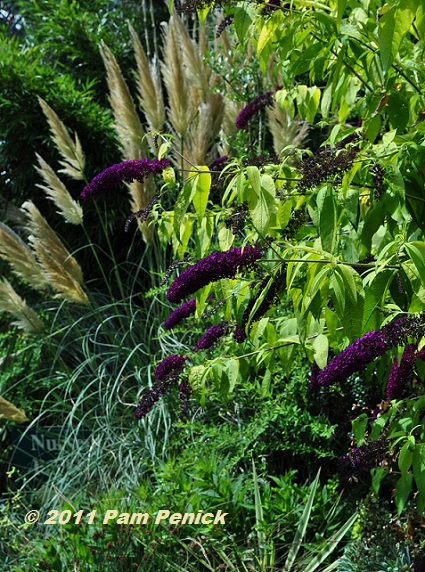 But it's not all spiky plants. Butterfly bush and a tall grass soften things up in the display garden.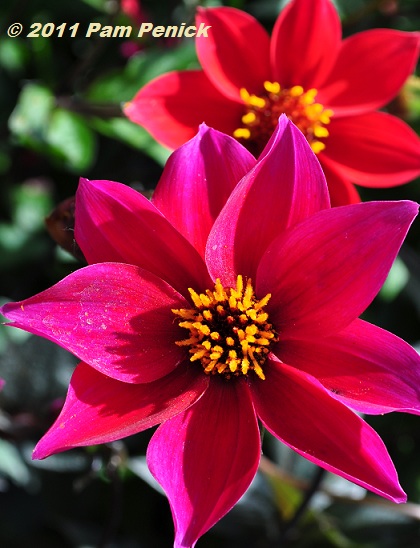 Dahlias add bright color.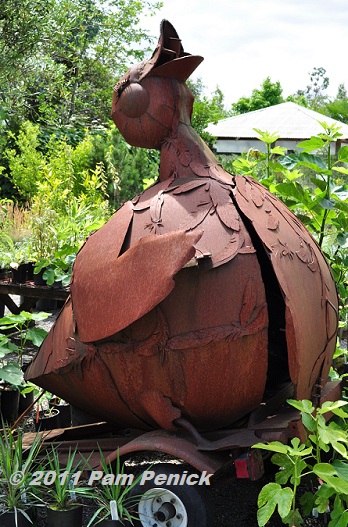 And a gigantic, whimsical, metal duck sat on a trailer amid the nursery stock. He seemed to be enjoying the weather as much as I was.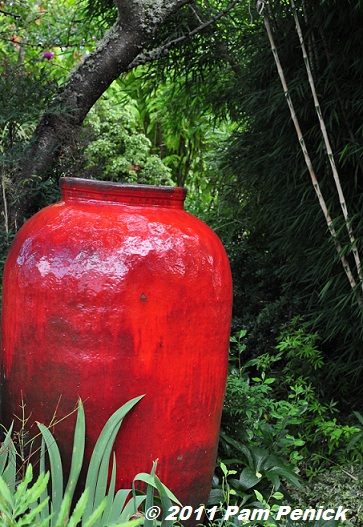 A tall red pot enlivens a shady border.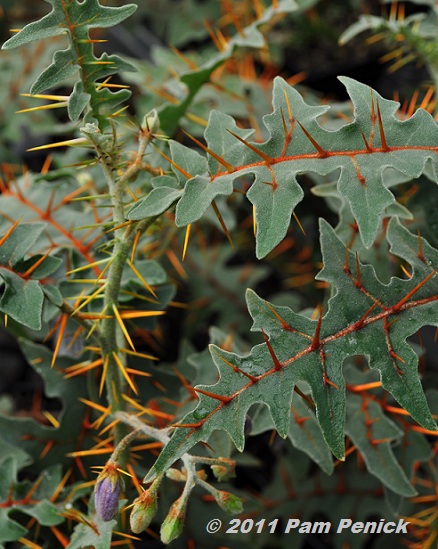 Loree had received a gift certificate for her birthday and was carefully considering how she might spend it. I thought I'd found the perfect Danger Garden plant in this orange-thorned Solanum pyracanthum.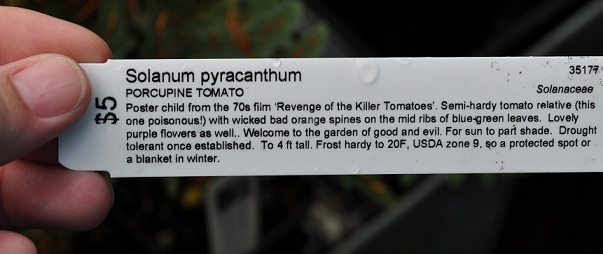 And only $5! Heck, I'd like to try this one.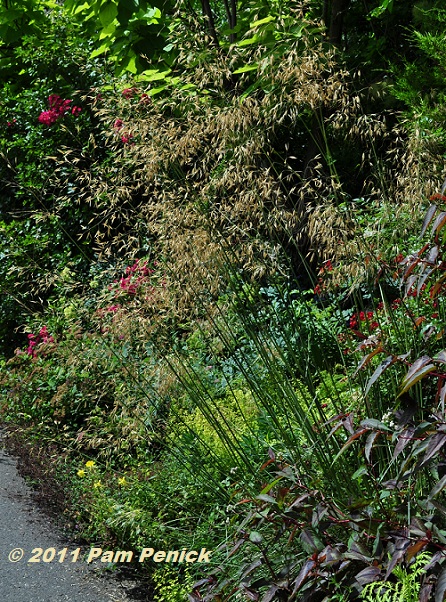 Loree held onto her certificate for future shopping. I know from visiting her garden that she's not generally an impulse buyer and thinks carefully about plant placement.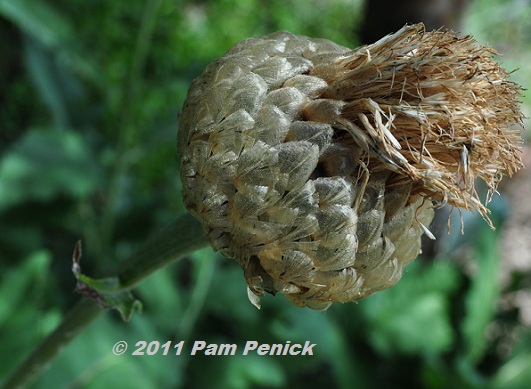 Gift certificates always burn holes in my pocket, on the other hand. I tend to spend them immediately, especially on pots or garden art—things I might not spend my own money on.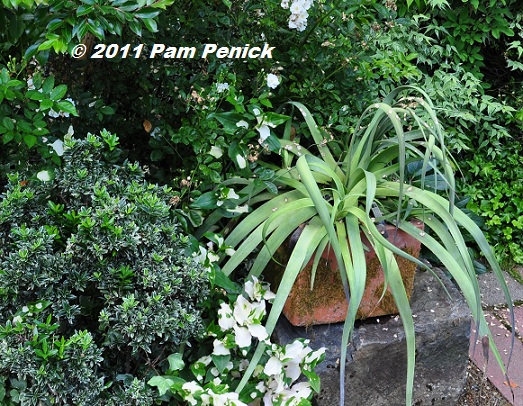 Here's a familiar face! Squid agave (Agave bracteosa) writhing from its pot.
I really enjoyed seeing the nurseries that gardeners in this part of the country drool over. They gave me a great idea of the variety of plants that can be grown there.
For a look back at my visit to Loree's personal garden, click here. Next up, the first garden visit of the Seattle Fling, Shelagh Tucker's garden.
All material © 2006-2011 by Pam Penick for Digging. Unauthorized reproduction prohibited.
posted in
Agaves
,
Cactus
,
Containers
,
Decor
,
Grasses
,
Nurseries
,
Sculpture
,
Stock tanks
,
Succulents
,
Summer color
,
Travel
,
Yuccas