July 5th, 2011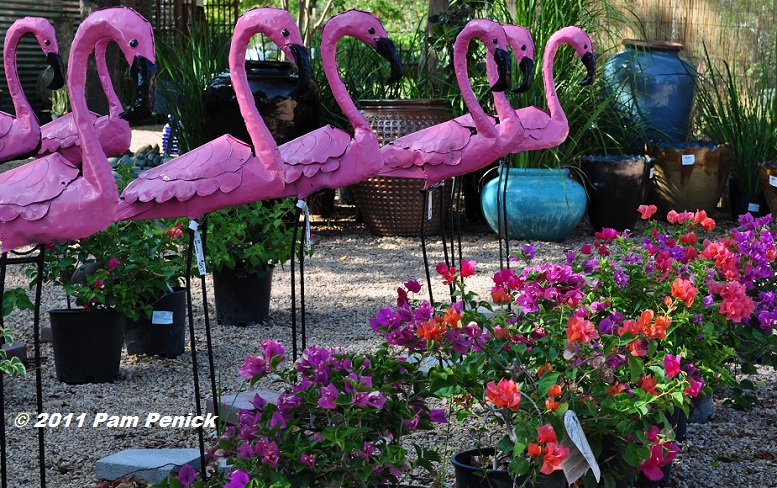 Austin area gardeners are fortunate to have a number of good independent nurseries, run by people who know our plants and local growing conditions, at which to shop. (Click on Nurseries in my sidebar for more info about and photo tours of those I frequent.) Now I can add Green 'n Growing nursery in Pflugerville, just north of Austin, to my list.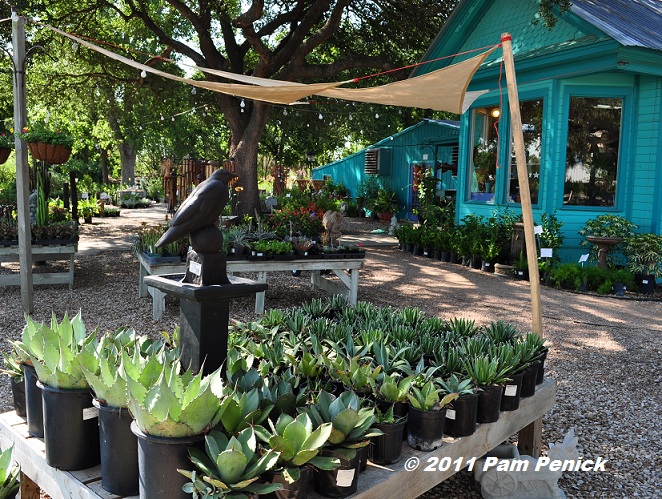 I don't know how this family-owned nursery of 36 years (!) escaped my notice for the 17 years I've lived in north Austin, but having recently discovered their enticing selection of yuccas, agaves, and succulents, I know I'll be back. These are the only kinds of plants I consider sticking in the ground at this time of year, but Green 'n Growing also carries a wide assortment of perennials, annuals, shrubs, and trees, including a lot of natives, plus some interesting tropicals and a whole greenhouse of houseplants.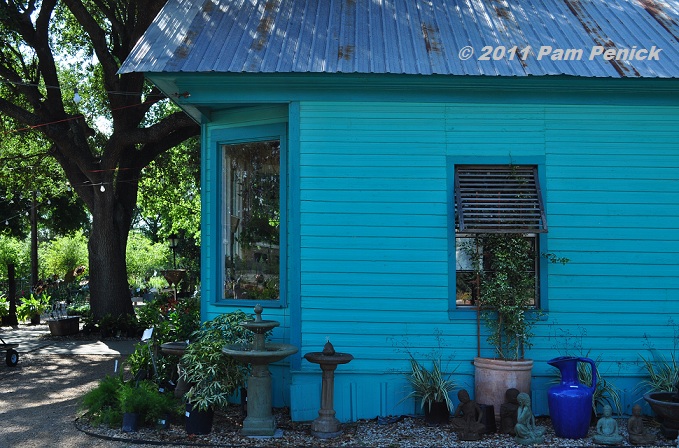 Operating out of an old blue-green house tucked under sprawling shade trees, Green 'n Growing has a welcoming vibe.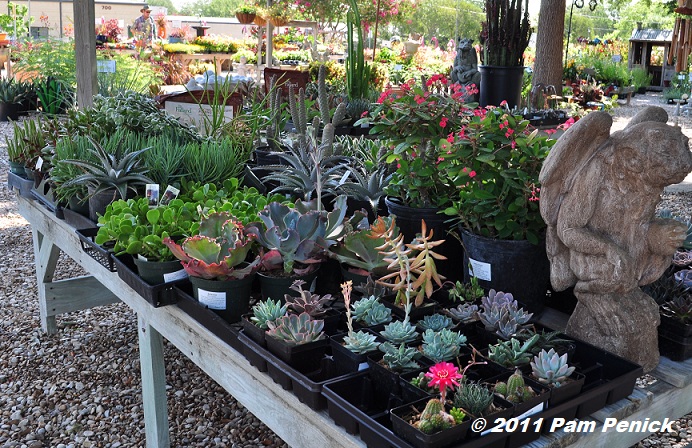 I was looking for 'Color Guard' yuccas and heard they had a few, but it took me a few minutes to get past the succulent table.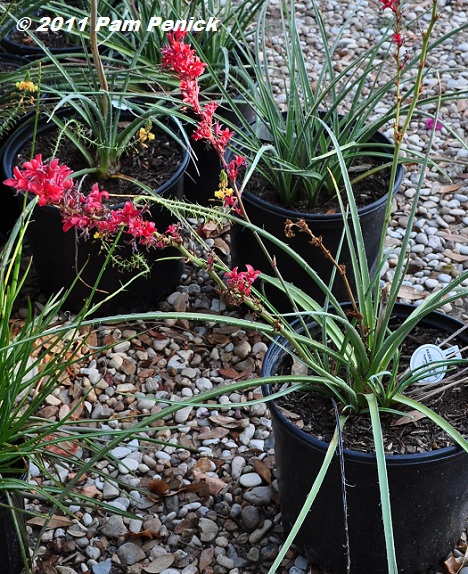 And then the owner pointed out this beautiful new red yucca cultivar called 'Brakelights,' whose flowers are—wait for it—red! The commonplace red yucca (Hesperaloe parviflora) blooms a shade of coral pink, and there is also a yellow-blooming variety, which can be harder to find. But I'd never seen 'Brakelights' and was rather smitten.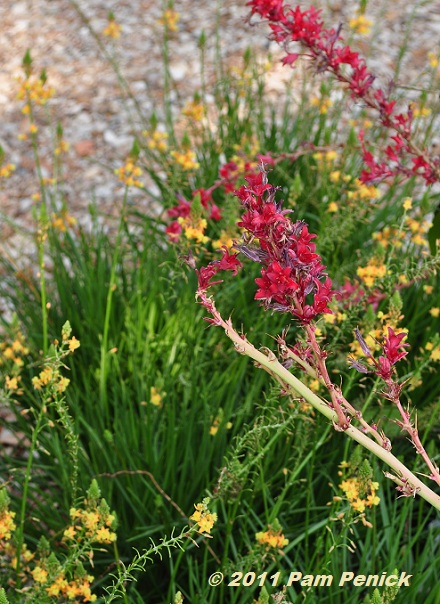 'Brakelights' red yucca with bulbine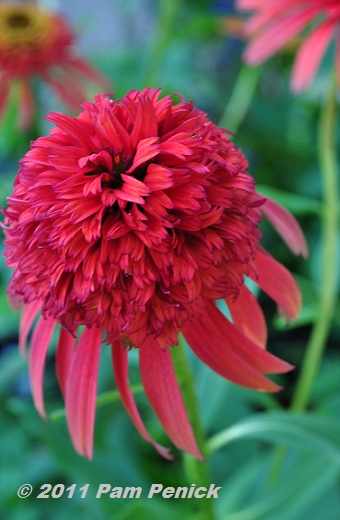 Echinacea 'Hot Papapya' was also turning on the heat, color-wise.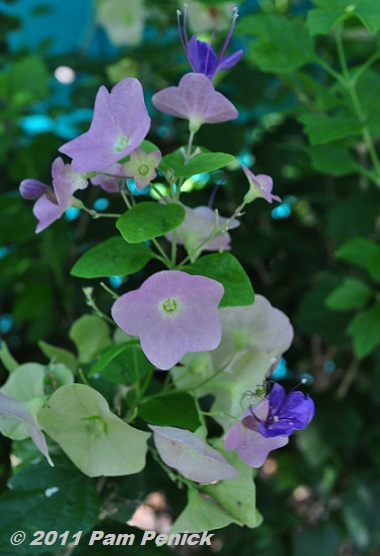 For a dose of cool color, I couldn't help noticing Chinese hat (Holmskioldia tettensis), a tropical from north Africa that plantsman Jimmy Turner reports has survived mild winters in the ground in his Dallas garden. I expect that winters such as we've recently had would be too harsh for it, but maybe in a protected location? It's awfully pretty.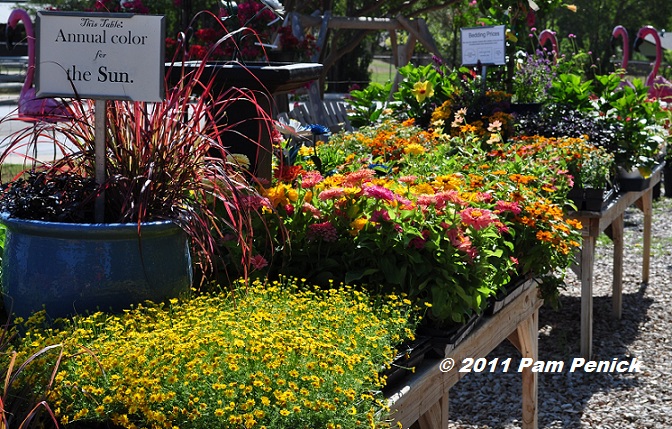 There is plenty of summer color for annual lovers…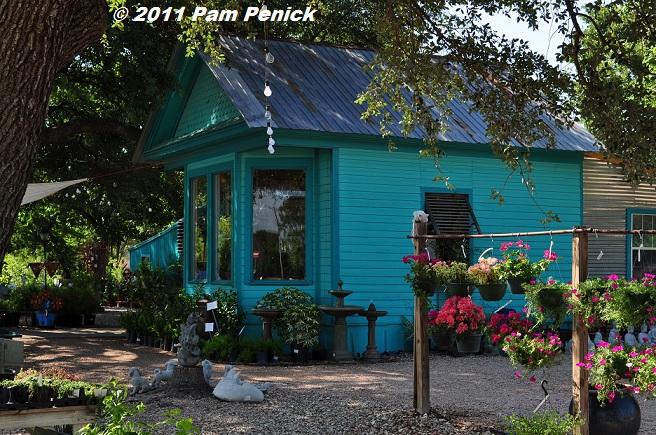 …including hanging baskets.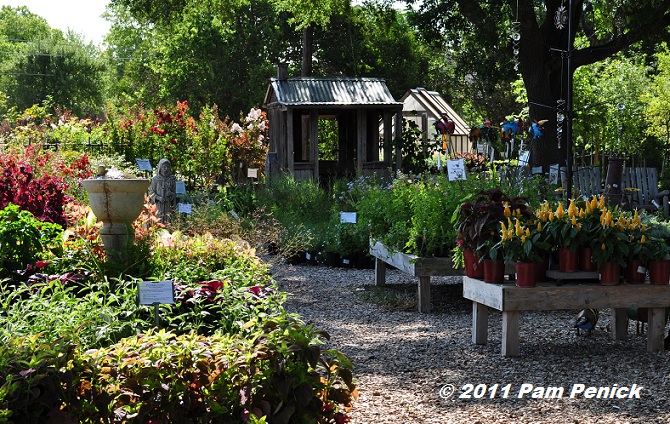 More plant tables and a selection of crepe myrtles in full bloom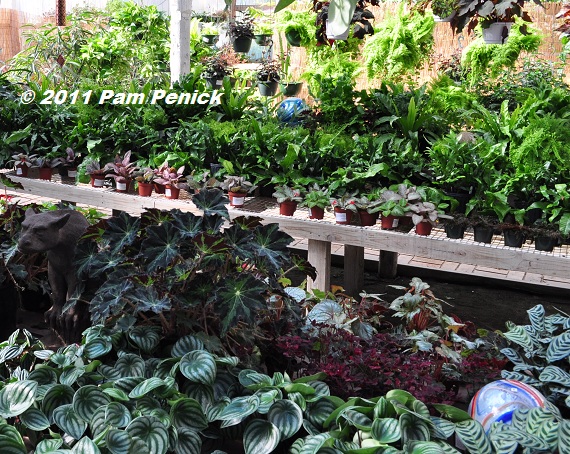 Indoor plant tables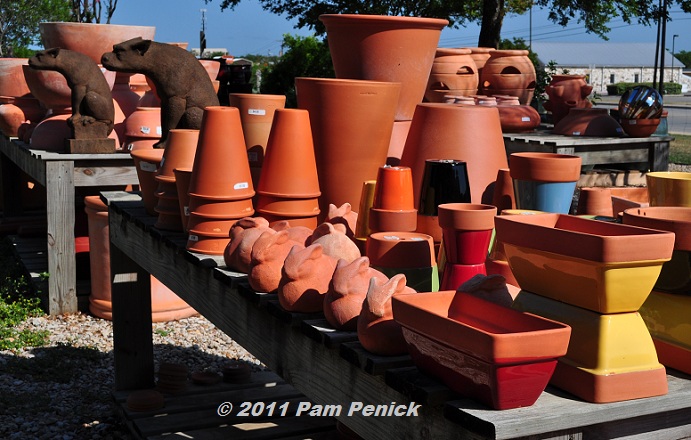 Their container and pottery selection is nice, with colorful glazed terracotta (and gargoyles and bunnies) mingling with…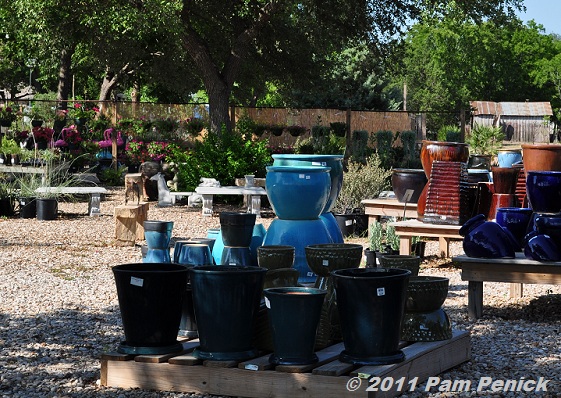 …glazed Vietnamese pots…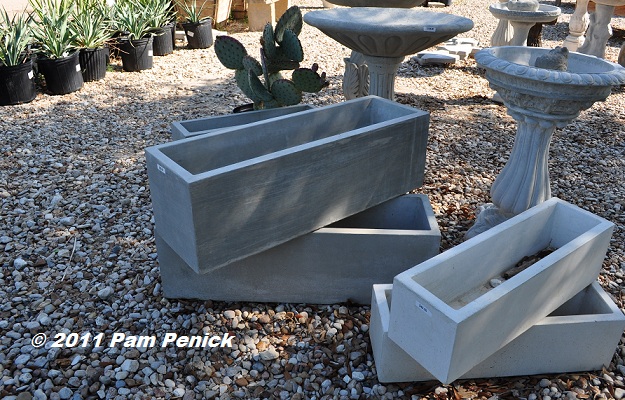 …and these fabulous, modern concrete troughs. I wanted one or two of these desperately, imagining them chock-full of succulents, but I just couldn't think where I'd put one. They'd be perfect for a contemporary patio garden or along a rectangular pond or swimming pool. Snap them up, Austin gardeners. I haven't seen these at any other nursery in town.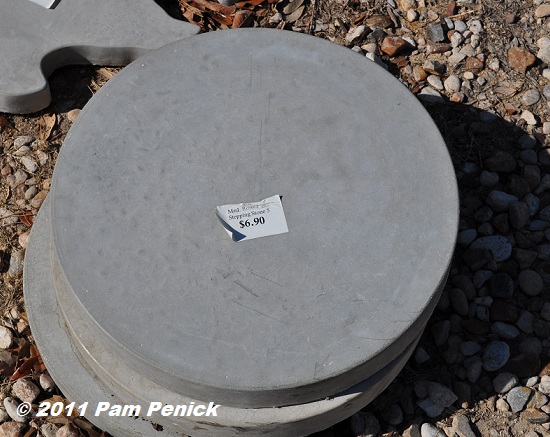 Beautiful, smooth concrete stepping stones. I'd use a stack of these to display a bowl planter or saucer of water for birds.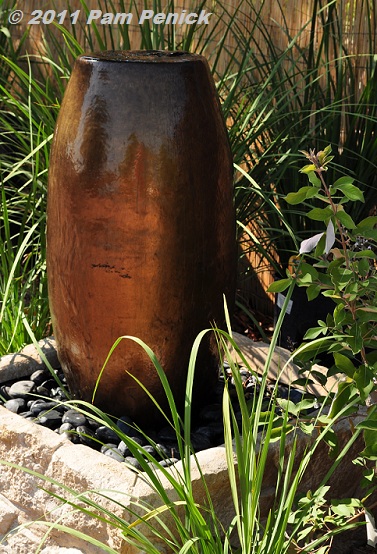 Green 'n Growing carries disappearing fountain kits…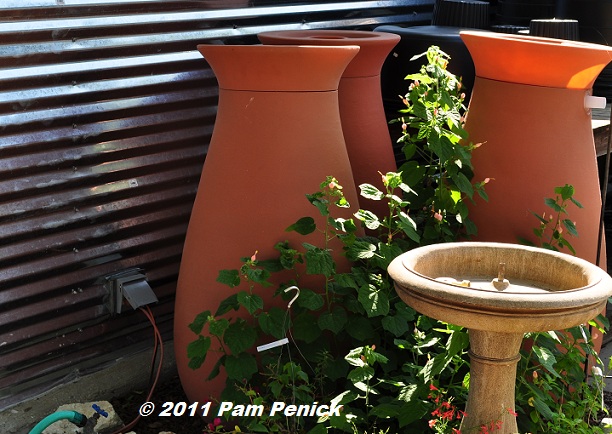 …and attractive, faux terracotta rain barrels.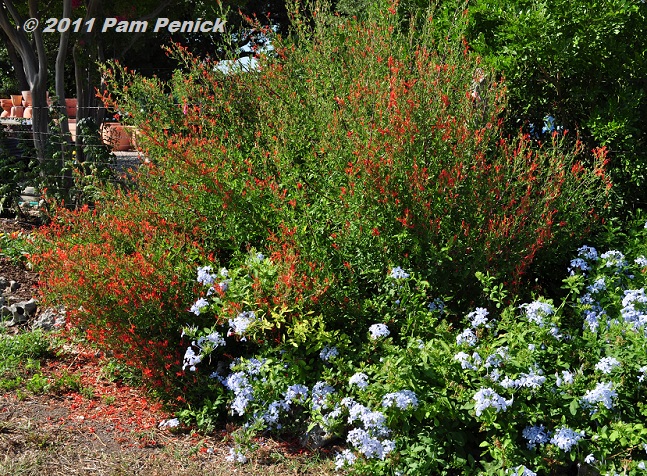 A roadside garden near the parking lot is abloom with tough, heat-loving perennials like flame acanthus and plumbago.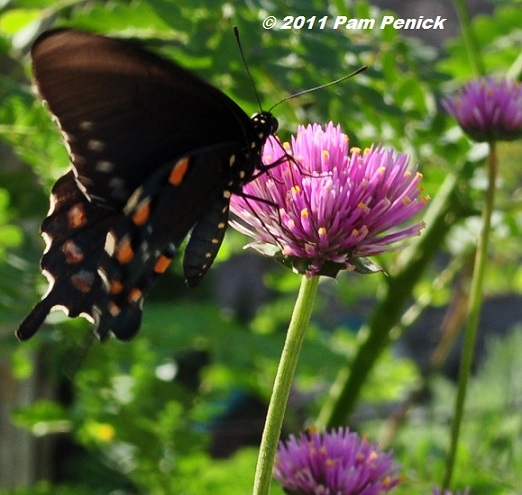 Butterflies were enjoying a patch of Gomphrena 'Fireworks.'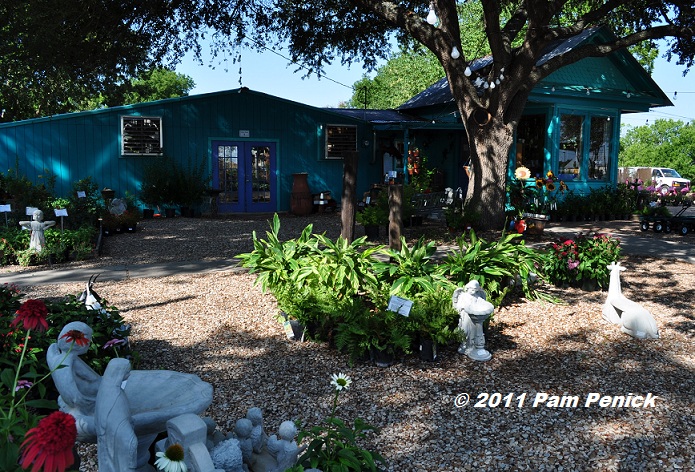 I'll definitely be back in the fall—or sooner if I can figure out where to put one of those concrete troughs.
All material © 2006-2011 by Pam Penick for Digging. Unauthorized reproduction prohibited.
posted in
Agaves
,
Birds
,
Butterflies/Moths
,
Containers
,
Decor
,
Fountains
,
Garden art
,
Nurseries & Shops
,
Succulents
,
Texas natives
,
Xeric plants