June 29th, 2011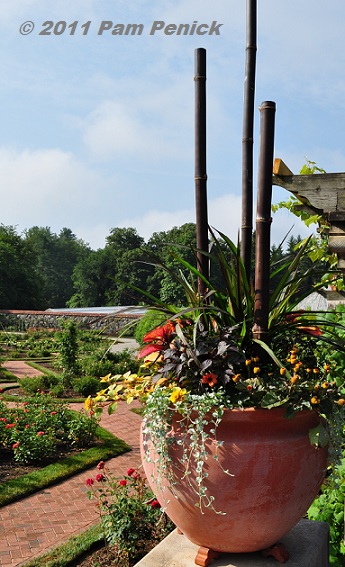 As always when visiting a beautiful garden, time was short, so the Walled Garden and conservatory were our final stop at Biltmore House in Asheville, North Carolina, earlier this month. The grounds slope steeply down from the grand house, through the Italian Garden and Shrub Garden, leading you to a stair descending into the broad, open Walled Garden, a traditional rose and perennial garden surrounded by lawn. This terracotta pot caught my eye. I love the trio of bronze bamboo poles as a vertical element amid the colorful annuals.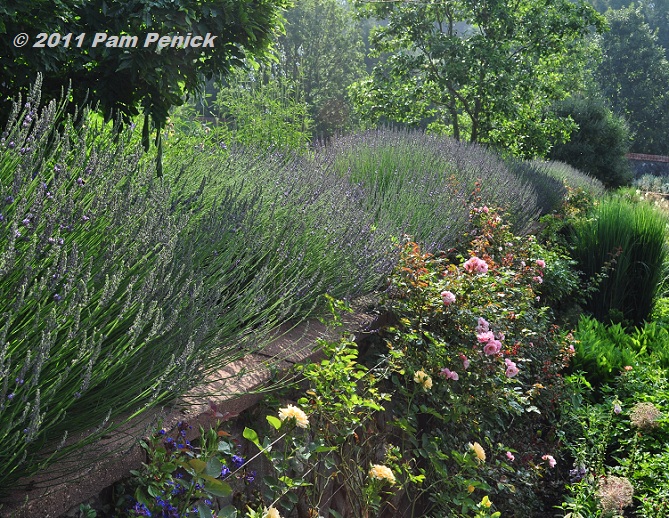 Lavender and roses along one wall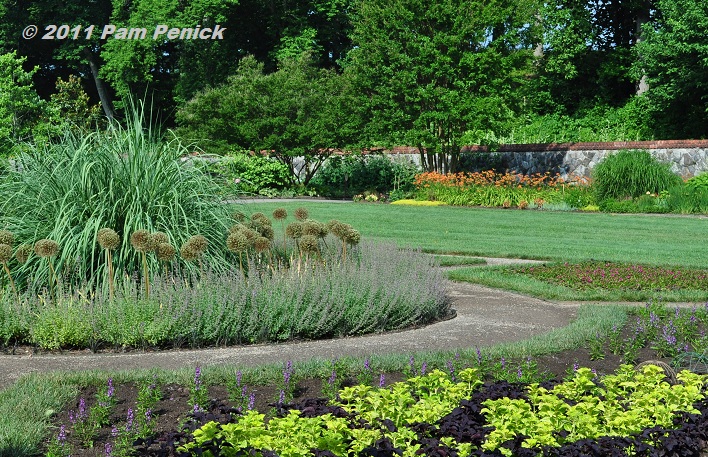 Nice enough, but conventional. I wasn't enticed out of the long, lattice pergola that cuts through the center of the garden.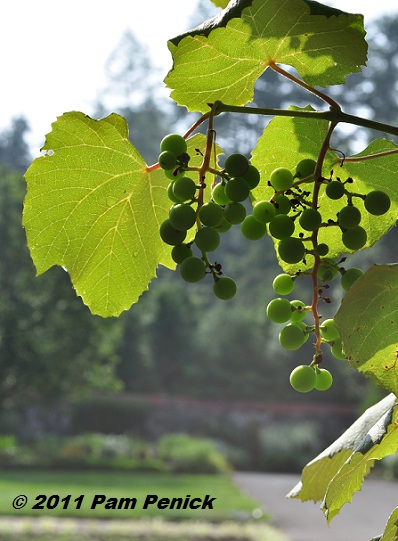 The pergola is draped with grapevines, which were backlit by the morning sun.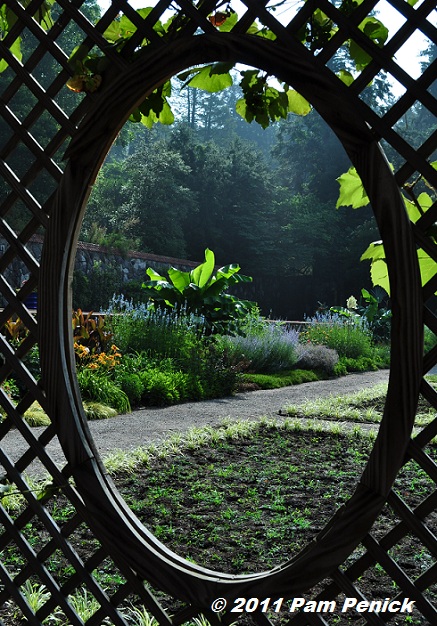 Oval windows are spaced evenly along both sides, nicely framing garden views as you stroll through. I had to stop at each one to frame a vignette.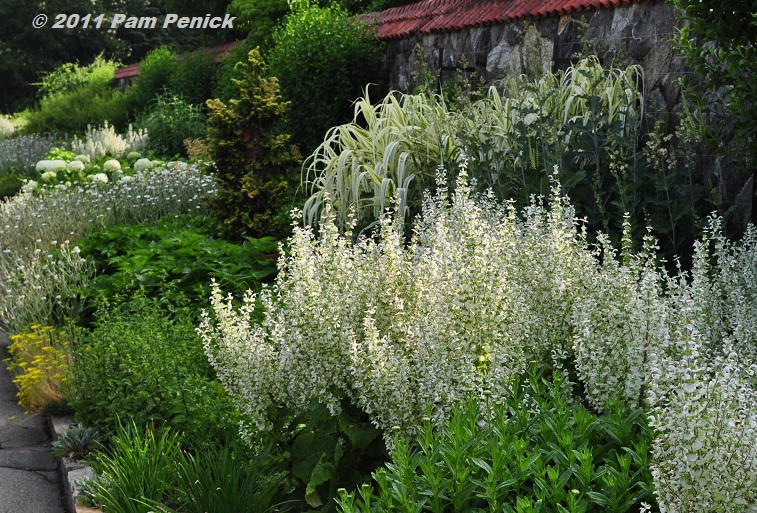 And then—shazam!—this limelight-colored border stopped me in my tracks. I posted more about it yesterday, in my Shade post for Garden Designers Roundtable.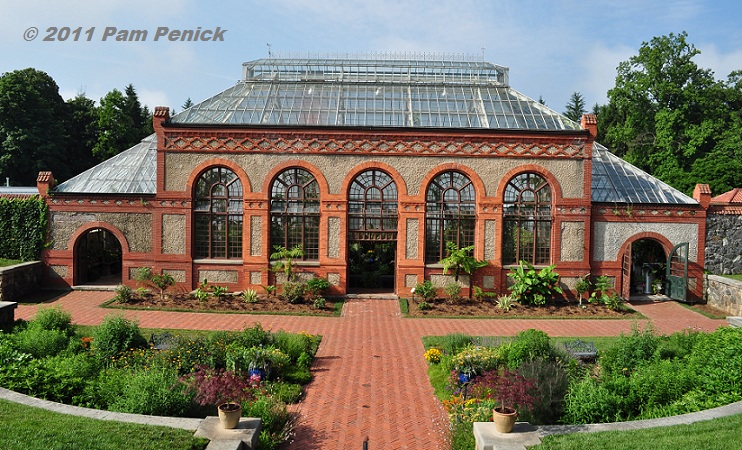 Below the Walled Garden, the glass-roofed conservatory appears, looking rather magnificent.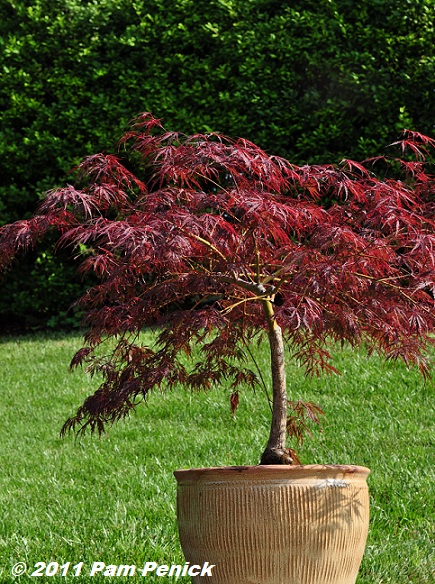 A pair of red Japanese maples in containers pick up the color of the brick path and building.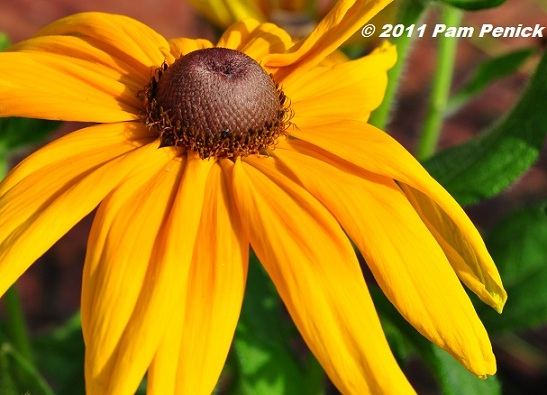 Rudbeckia adds its sunny, summer color to the entry beds.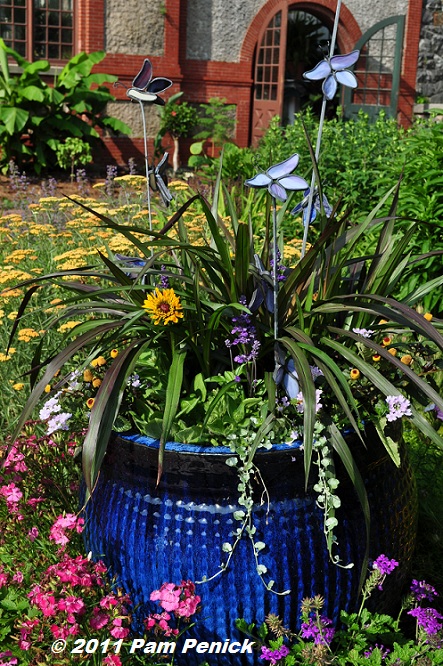 I like this pretty pot, butterflies and all, placed in the planting bed.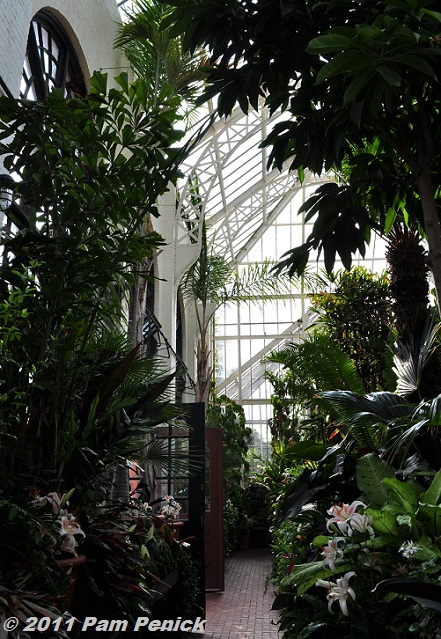 Inside the conservatory palms soar toward the glass roof.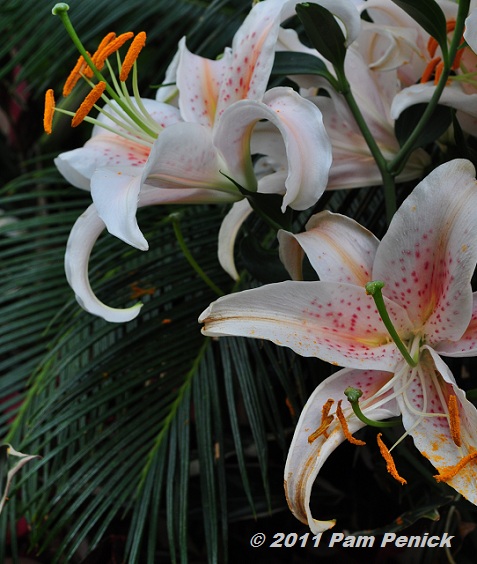 Lilies offer heady fragrance, and orange, pollen-dusted noses to those who lean in too closely.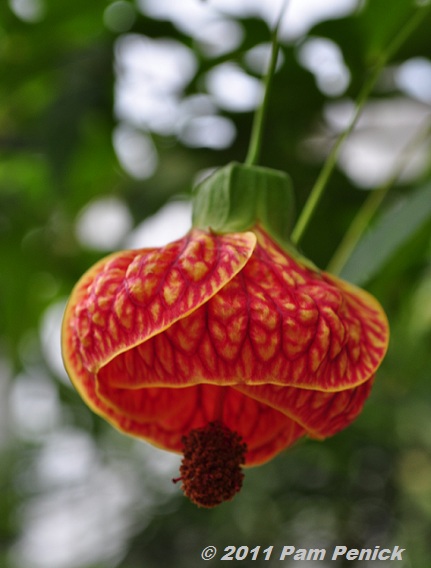 Abutilon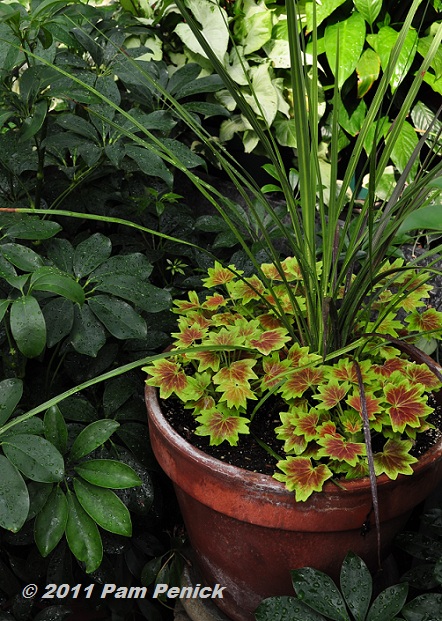 Focal-point pots appear among the hot-house plants…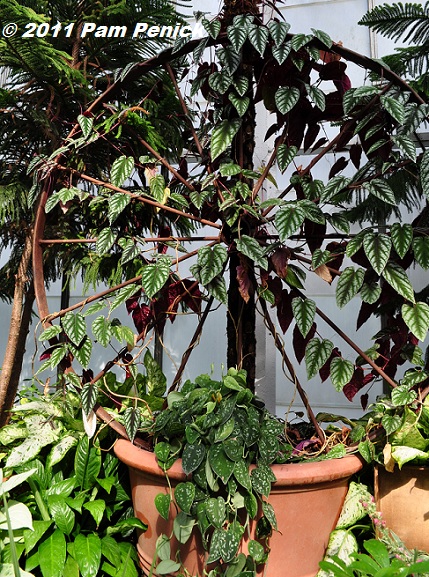 …plus whimsical features such as this wagon wheel draped with rex begonia vine. Now that's an unusual trellis.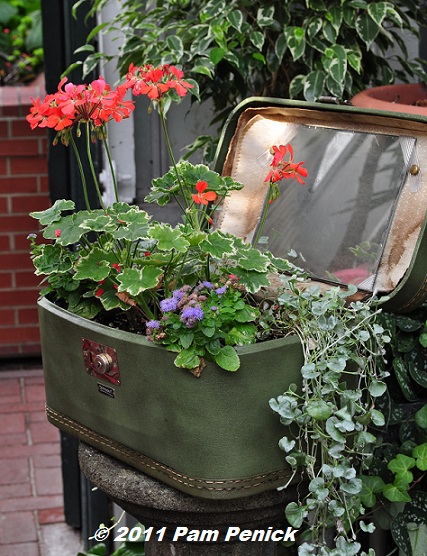 And how about this suitcase planter? There were several of these in one room.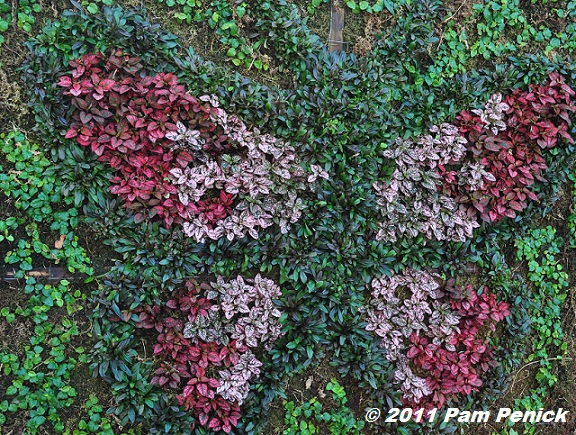 Outdoors on one of the terraces, a series of vertical walls were planted in "pictures." Here's a butterfly.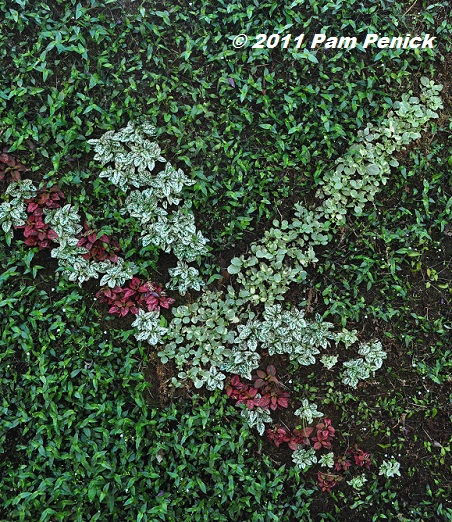 And a dragonfly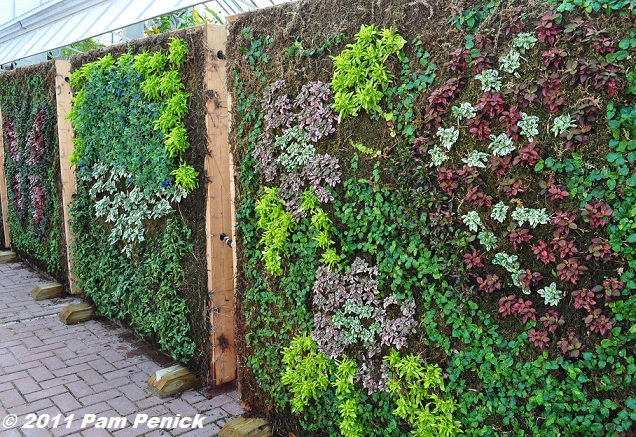 Several more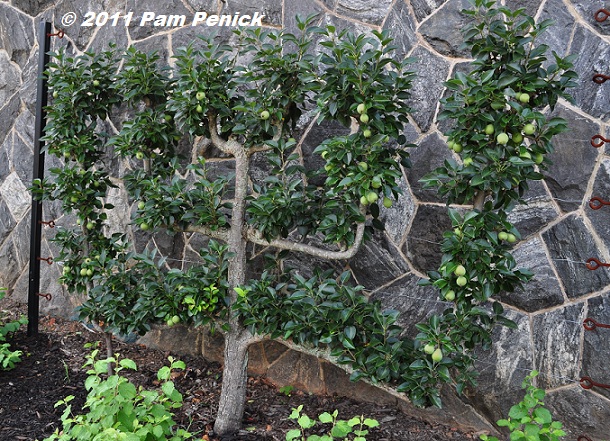 But now it was time to go, so we headed back up the stairs and the long slope, stopping along the way to admire this apple tree espaliered on a wall. The grounds of Biltmore House are extensive and also include a Spring Garden, Azalea Garden, and Bass Pond, not to mention the Frederick Law Olmsted-designed Approach Road, which is stunning.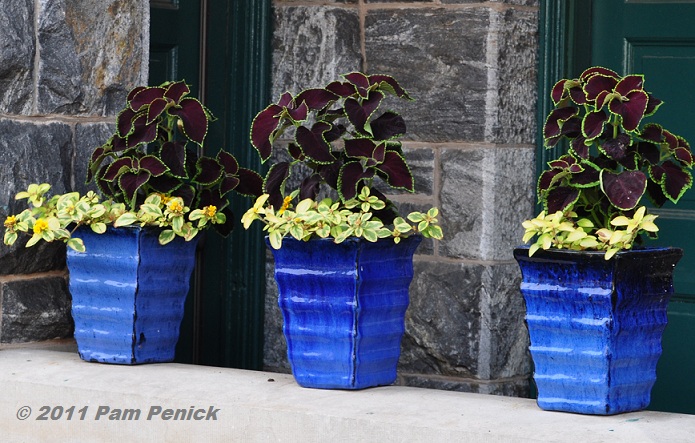 I hope you've enjoyed my series on the Biltmore House gardens. Tomorrow I'll have a few more images from my North Carolina vacation, taken in the Chimney Rock area.
All material © 2006-2011 by Pam Penick for Digging. Unauthorized reproduction prohibited.
posted in
Arbors
,
Bamboo
,
Butterflies/Moths
,
Conservatory
,
Containers
,
Dragonflies
,
Edibles
,
Garden structures
,
Garden tours 2011
,
Roses
,
Travel
,
Trees
,
Trellis
,
Tropicals
,
Vines
,
Walls
,
Windows