June 20th, 2011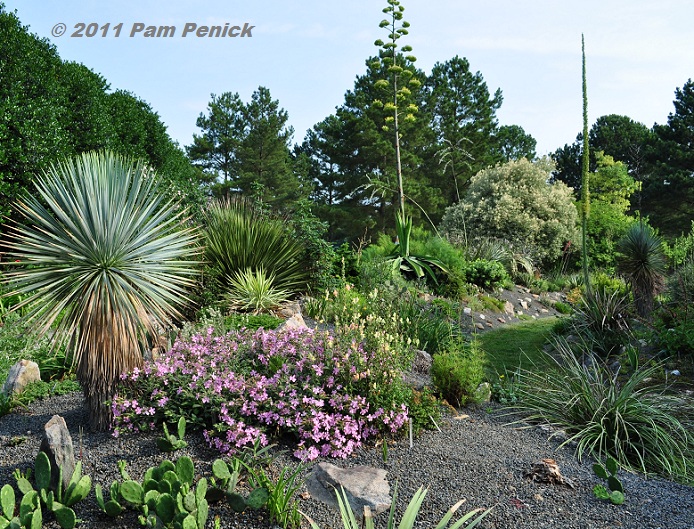 Is a southwestern garden what you expect to see when you visit the Raleigh, North Carolina, display gardens of online nursery Plant Delights?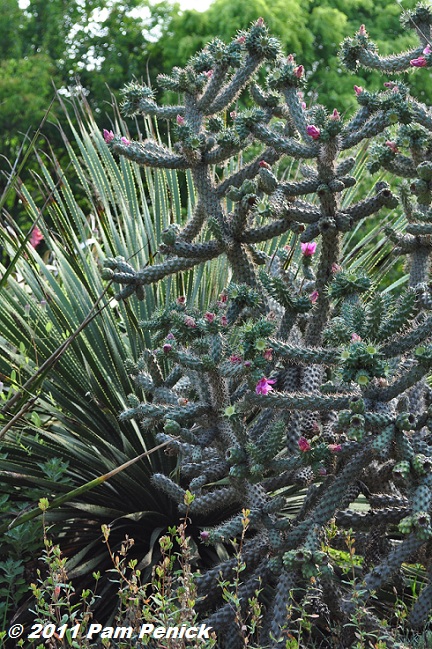 Do you expect to see cholla cactus in bloom?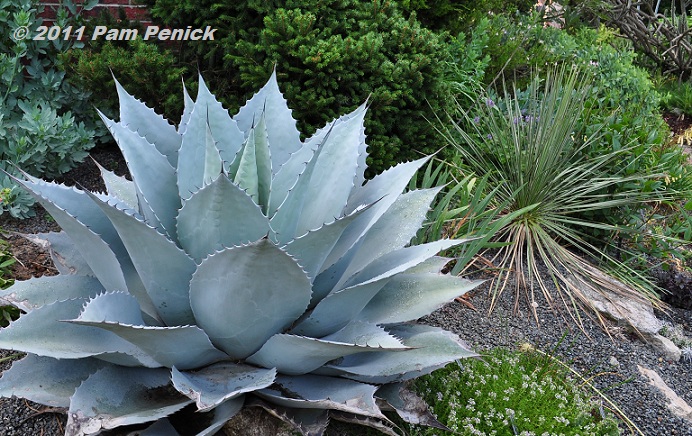 Or how about a ghostly 'Whale's Tongue' agave (Agave ovatifolia)?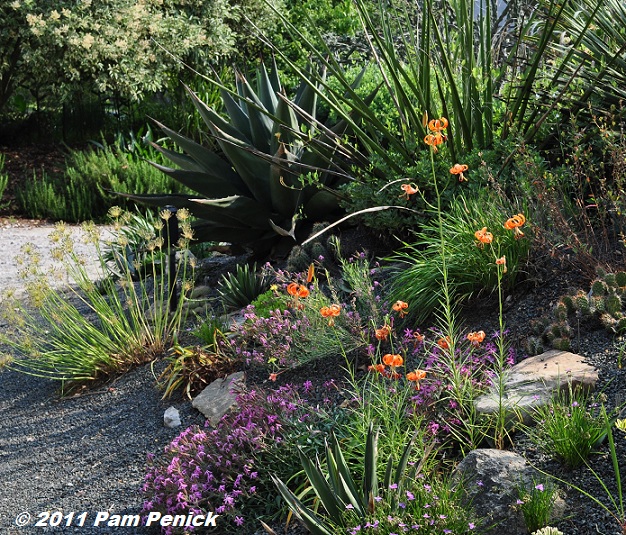 You do if you've spent any time poring over the pages of their fabulous printed or online catalog. Ah, Plant Delights—it's a collector's nursery, a gardener's fantasy land. Unapologetically ornamental and zone-pushing, the nursery's motto is "Bringing the world to your garden." I've dog-eared their catalogs and splurged on a few unusual plants over the years, so during my recent visit to central North Carolina, I made sure to schedule a visit to tour their Juniper Level Botanic Garden. (The display gardens are not open to the public, but enthusiasts may arrange a visit in advance or attend one of Plant Delights' open houses).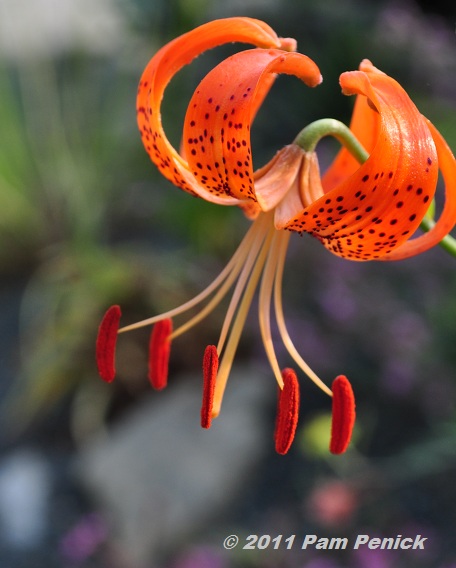 If you aren't familiar with Plant Delights or its founder, plantsman Tony Avent, let me refer you to a descriptive post about a Plant Delights visit by Garden Rant. On the morning of my scheduled visit, my family and I were the only visitors and had the whole 5 acres to ourselves, which we ambled in for a good 2-1/2 hours before I played out my family's patience. Yes indeed, they are good sports.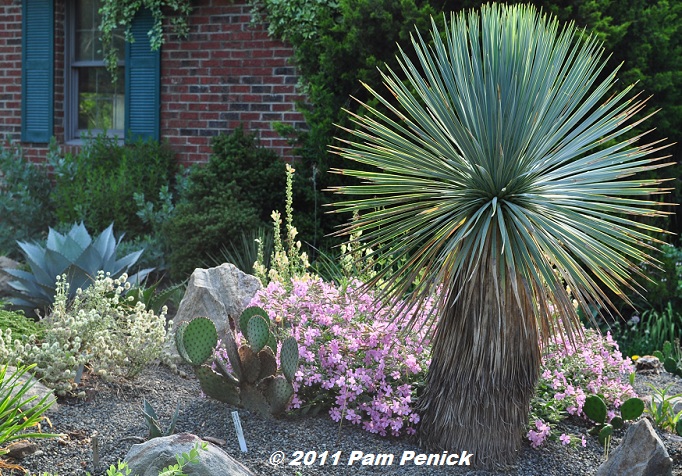 Because I'm an agave-holic and have a weakness for bold architectural plants like this Yucca rostrata, and because a southwestern garden is something I can have in Austin, I spent a lot of time in this part of the garden. Tony and his staff garden almost exclusively on berms, not just in the southwestern garden but throughout the grounds. Good drainage is essential for desert plants, especially in wet winters, so planting them on berms composed of lean, gritty soil makes perfect sense. I read in their brochure that they brought in 600 dump truck loads of soil to make all the berms. 600!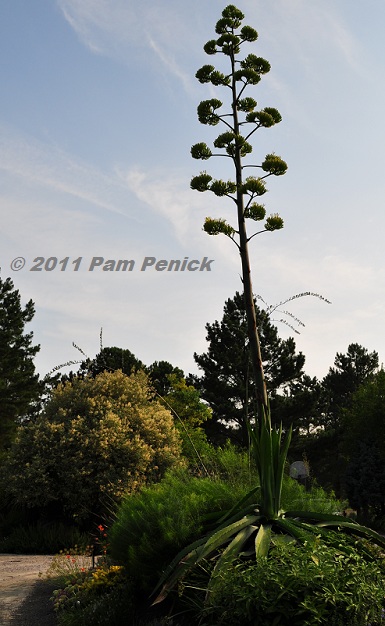 An agave in flower on one of the bermed beds. Agaves live many years before blooming and then go out with a bang: a phallic bloom spike that reaches tree height followed by the collapse and death of the mother plant.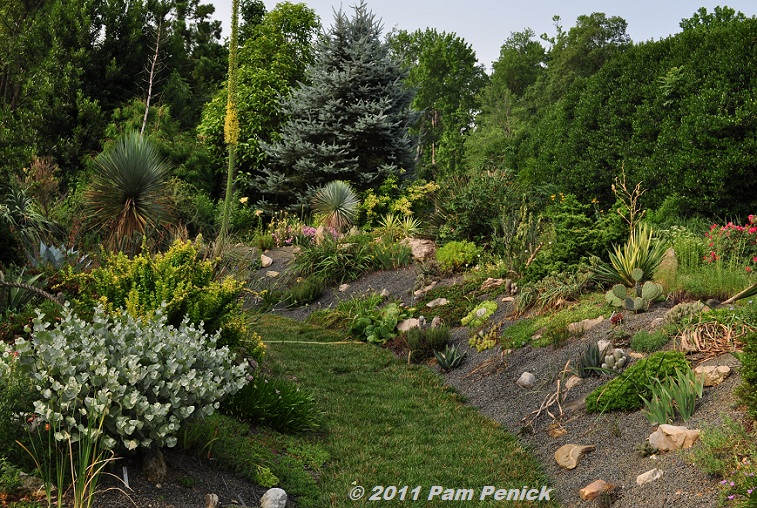 The lush foliage surrounding the southwestern garden reveals that Raleigh is not exactly a hospitable climate for dry-loving plants. It's also a testament to the effectiveness of using berms to keep away root rot for these types of plants. Raleigh is in hardiness zone 7b, a bit cooler than Austin's 8b, and these plants live outdoors year-round.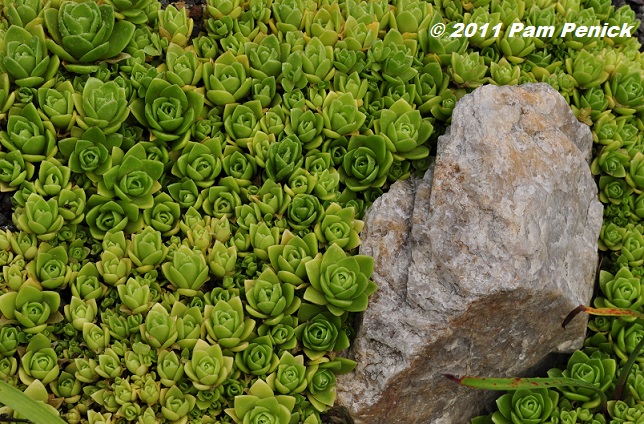 A green succulent carpet surrounds a rock.

Tony's irreverent humor is apparent throughout his catalog, and humorous touches can be found in the gardens as well.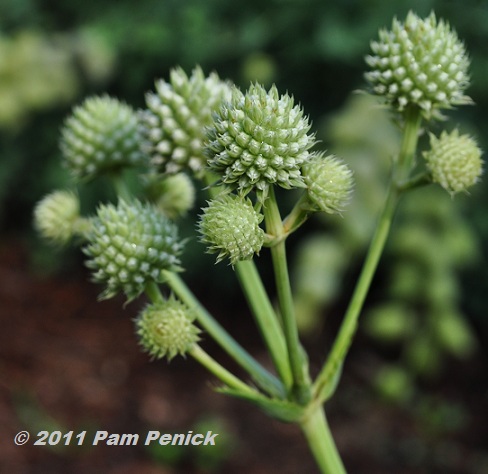 While the garden is well labeled, I didn't take the time to get IDs on every plant I photographed, to my regret. Update: This is rattlesnake master (Eryngium yuccifolium). Thanks for the ID, Cameron and Nathan.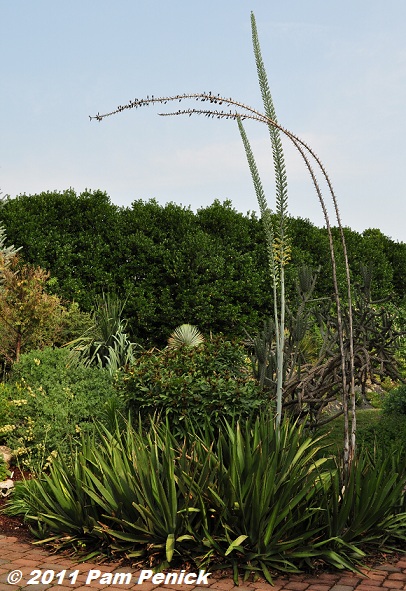 Agave lophantha in bloom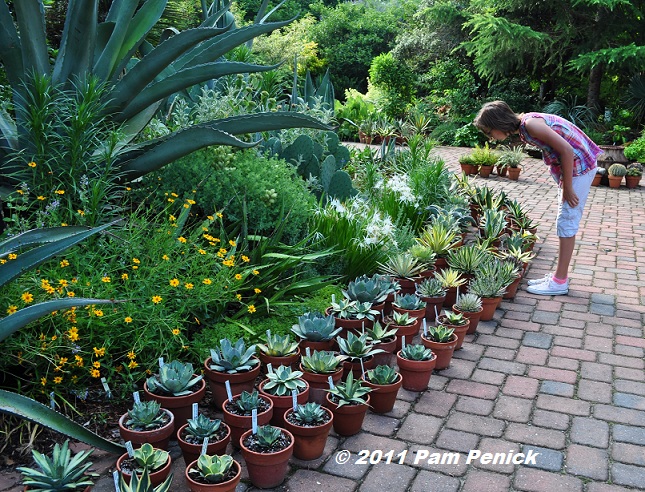 The gardens surround the Avents' home. When I entered their back patio I nearly swooned. It's an agave lover's paradise!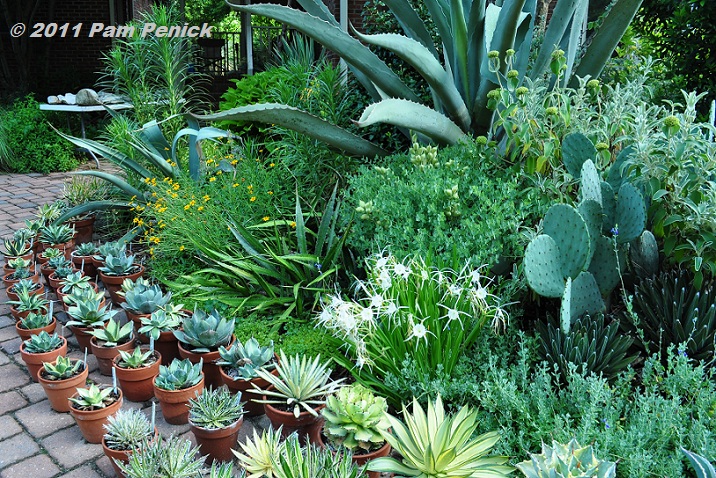 A hundred or more terracotta pots hold single specimens, no two alike.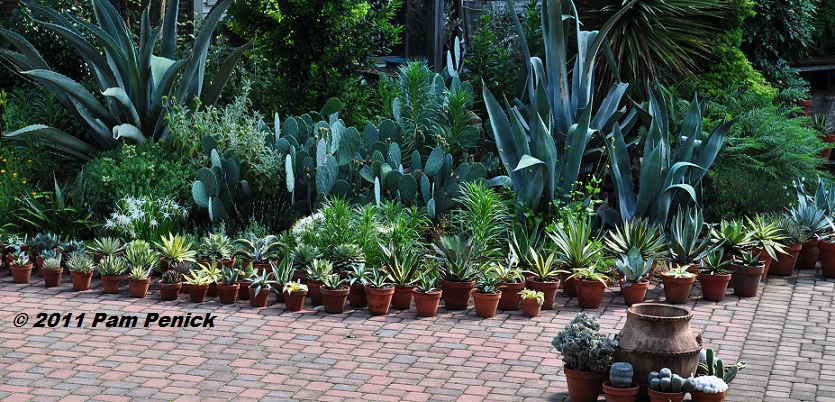 They line a semicircular bed planted with hardy agaves and opuntia mixed with flowering perennials.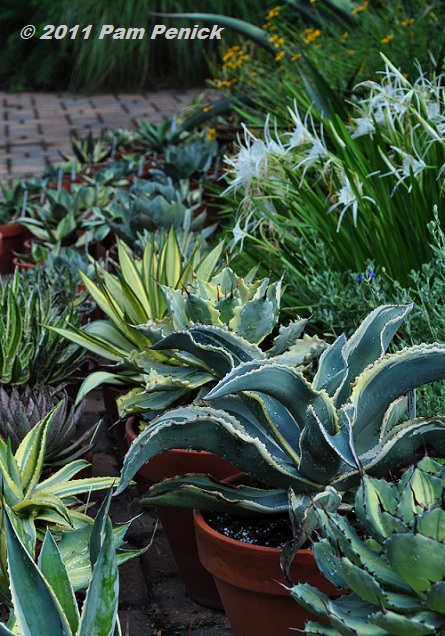 Just look! It was almost too much to take in.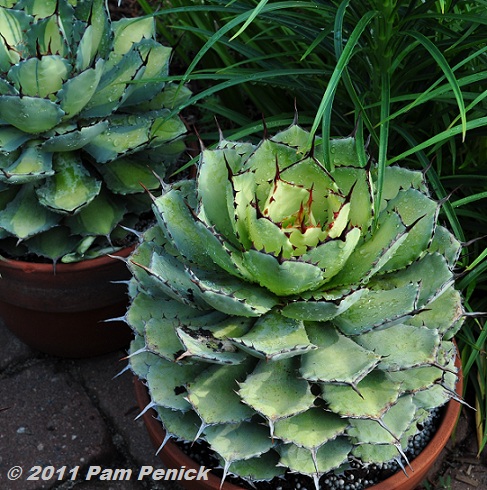 They are all so exquisite.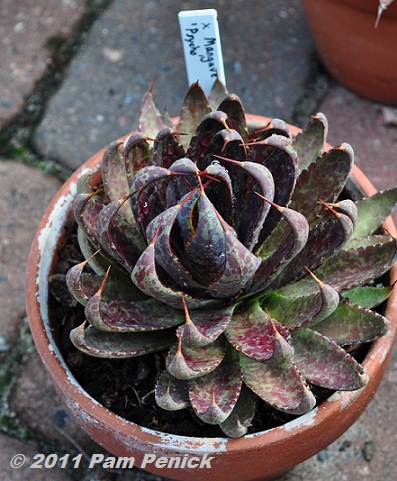 This is Mangave 'Psycho'—a little creepy and claw-like, yes?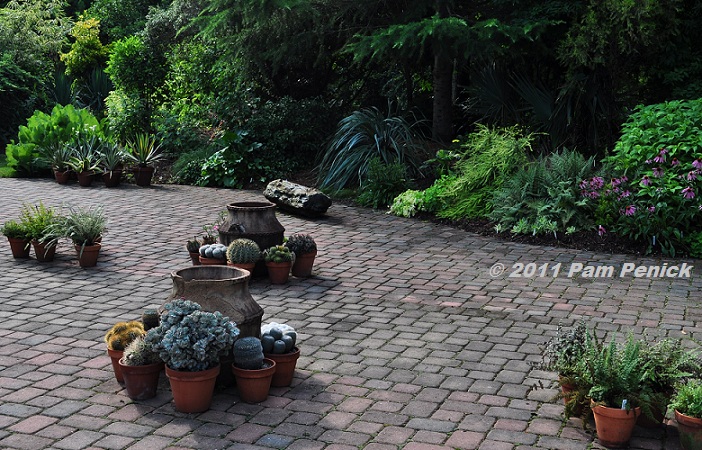 Lushly bordered, the open, expansive patio provides a sunny space with reflected heat for Tony's collection.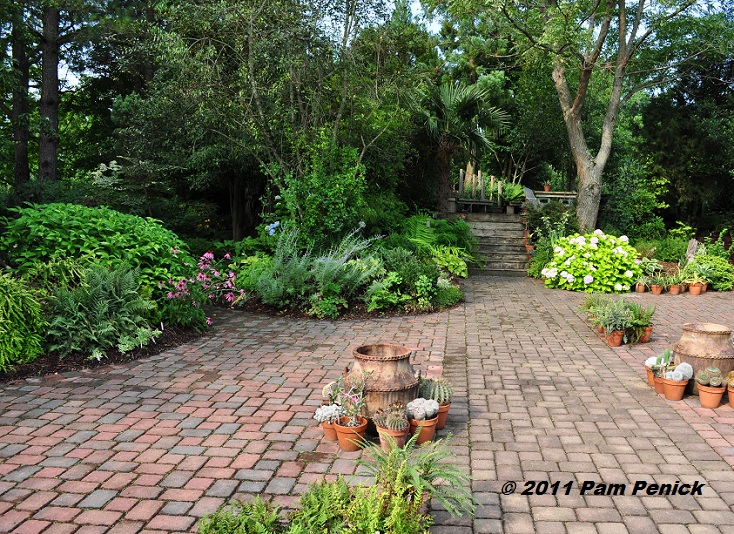 The large space is broken up with weathered ollas surrounded by potted cactus and succulents.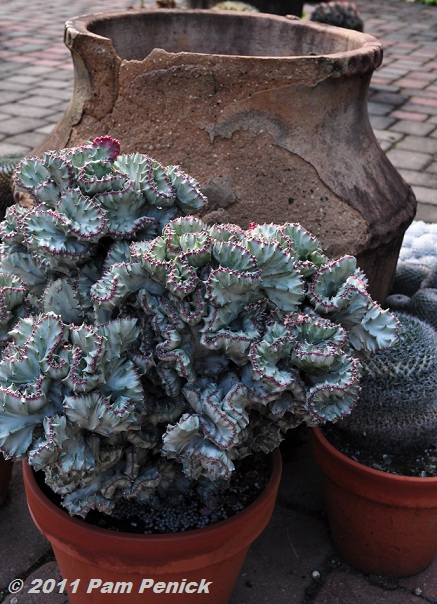 A closer look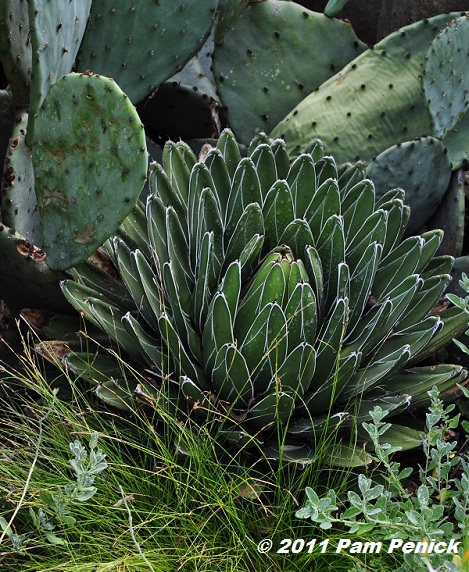 A large Queen Victoria agave (Agave victoriae-reginae) backed by prickly pear and softened in front by some sort of sedge. I love this.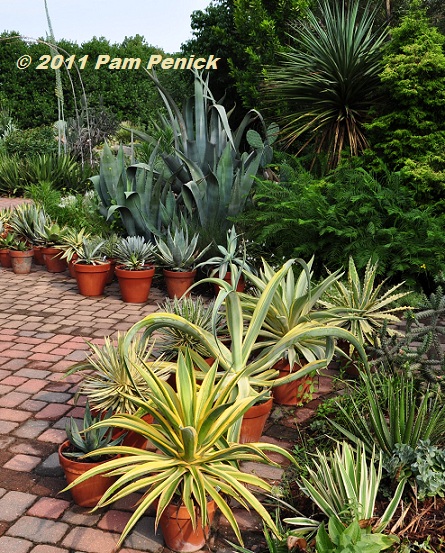 Stunning variegated agaves are displayed on one end of the patio.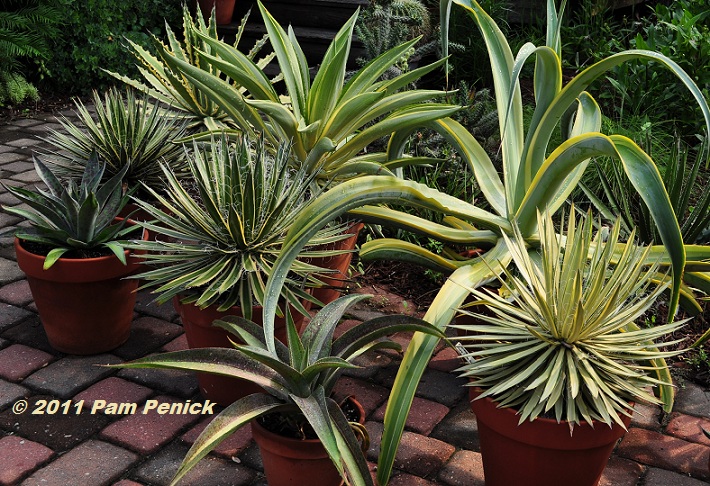 Beautiful! That looks like a Mangave 'Macho Mocha' in front.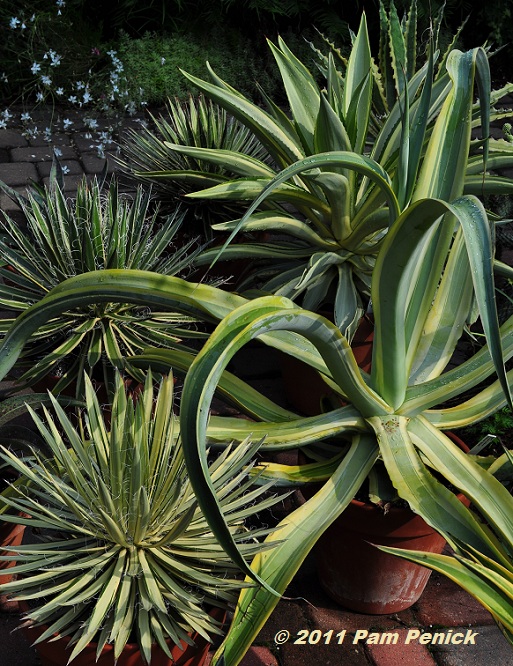 And more!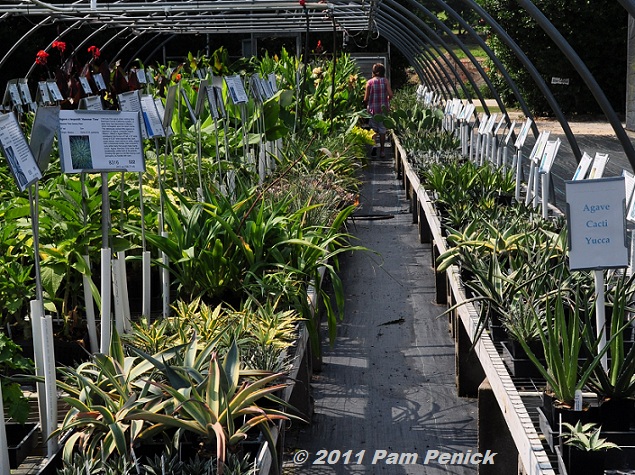 Many of the plants you see in the gardens are for sale in the greenhouses. At the end of our visit, I made a beeline for the spiky tables and picked out a couple 'Bloodspot' mangaves and cold-hardy dyckias—plants small and hardy enough to stuff into the hot trunk during our travels without much worry. How I wished, though, for an unlimited budget and more trunk space.
Tomorrow I'll post about the pond garden and hardy tropicals at Plant Delights.
All material © 2006-2011 by Pam Penick for Digging. Unauthorized reproduction prohibited.