June 19th, 2011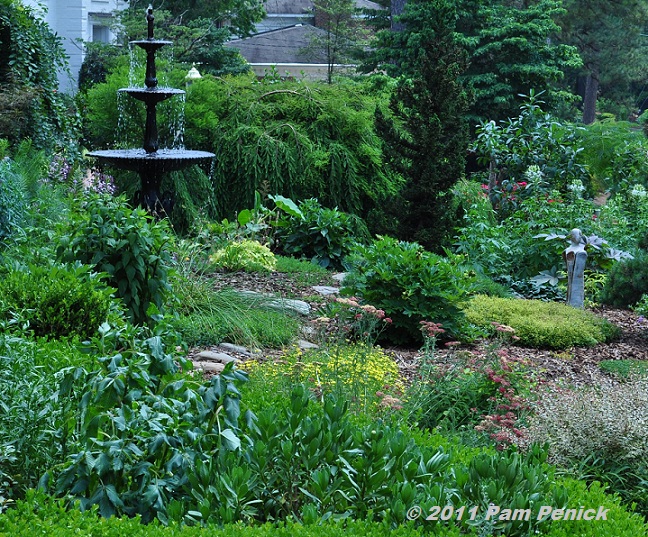 While visiting my dad in central North Carolina last week, I was invited to pop over to Raleigh blogger Helen Yoest's garden after a morning visit to Plant Delights Nursery. My family and I spent several hours at Plant Delights and then had lunch, so by the time I arrived at Helen's the sun was aglare and the temps steamy. Helen wasn't fazed a bit. After introducing our kids to each other, she pulled on a hat and led me into her lovely garden for a tour.
Pictured above is her front-yard garden, anchored near the house by this visually refreshing tiered fountain. Helen has planted this full-sun, sloping site with xeric perennials for seasonal color and with plenty of evergreen trees and shrubs to give it interest in the colder months.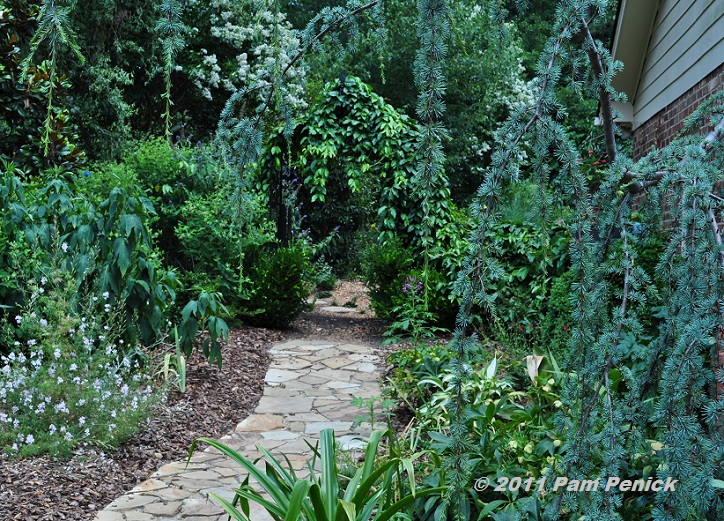 I met Helen last summer at Buffa10 and knew that she liked unique garden art because I saw her purchase a piece there. I forgot to look for it during my tour of her garden, but I did see numerous other pieces carefully placed amid her plants. She had a story about each piece or the artist who made it. Helen is not just a collector of original garden art, however. She also collects specimens of weeping trees, like this gorgeous blue Atlas cedar.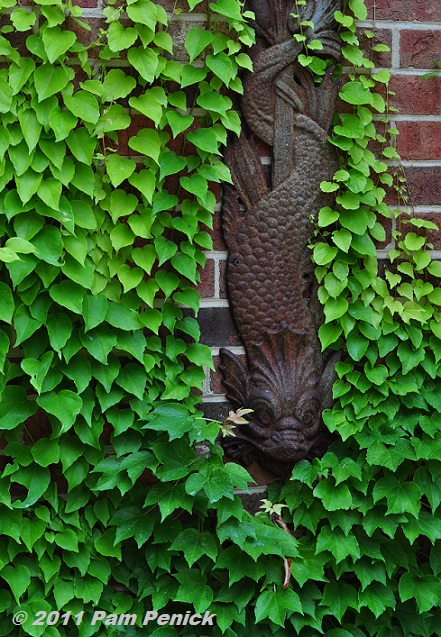 A metal fish (originally a wall fountain, I believe) swims down an ivy-cloaked wall in her side garden.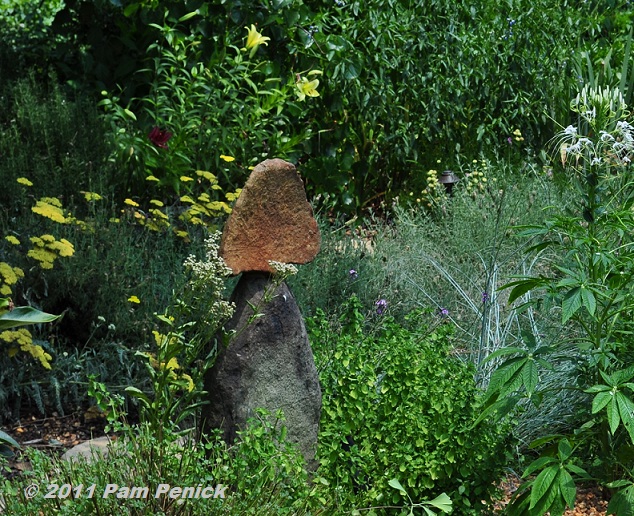 Amid xeric sun-lovers like yarrow and cleome in her back garden, a stacked-stone sculpture makes a striking focal point.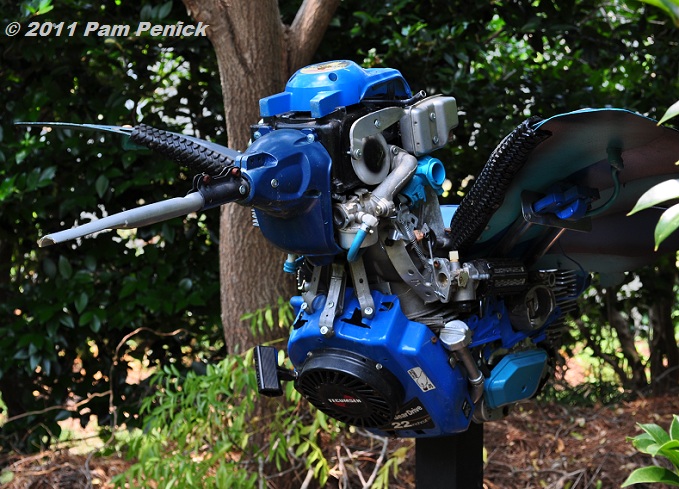 But Helen's favorite piece of garden art is this scrap-metal hummingbird. Isn't he fun?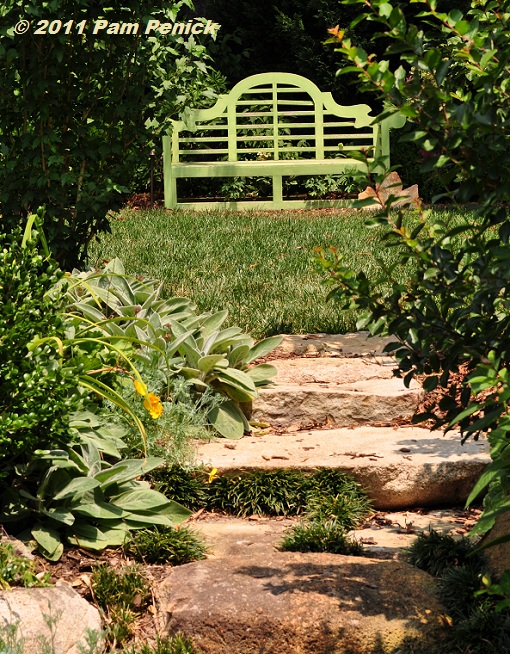 A long, deep porch shelters the back of the house and offers a dry, shady spot to entertain and enjoy the garden, which slopes steeply up toward the back of the lot. To tame the hillside and create a pretty view for the porch, Helen planted a garden on the slope, had a naturalistic stone stair built between porch level and a rectangular lawn above, and installed a French drain along the top of the slope to divert heavy runoff.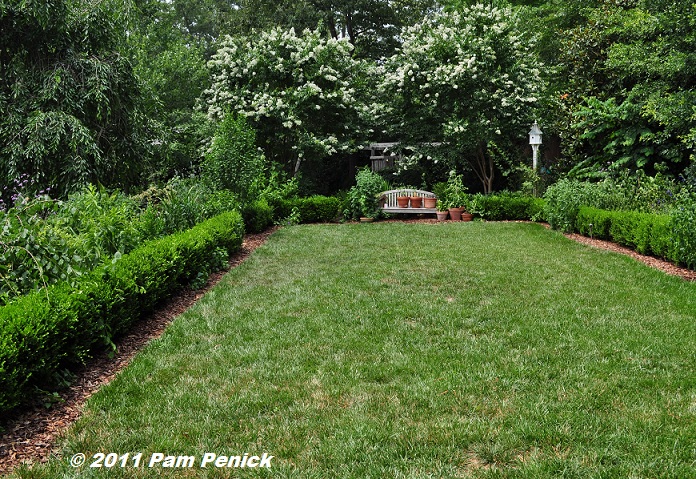 The soccer lawn, as she calls it, is for her kids. But I think it's a wonderful feature regardless of its intended use. Amid her naturalistic, cottagey plantings, this long rectangle of green, formally edged with boxwood, offers a resting place for the eye. Looking down its length, your eye is stopped by another bench and a pair of crepe myrtles. Eventually Helen plans to add a garden house where her children's playset is just visible between the crepe myrtles.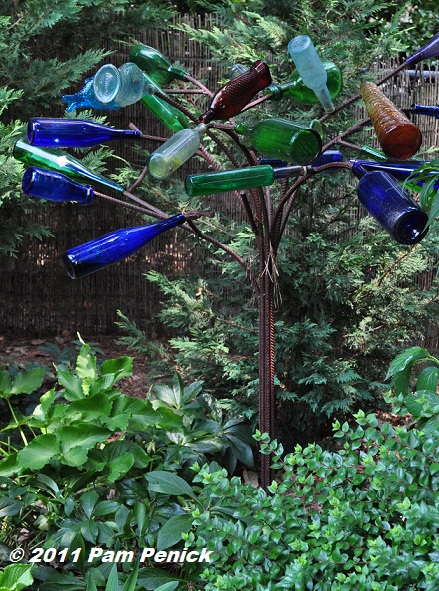 Surrounding the lawn is a screening border of evergreen trees and shrubs. A rebar bottle tree adds color in the dense shade.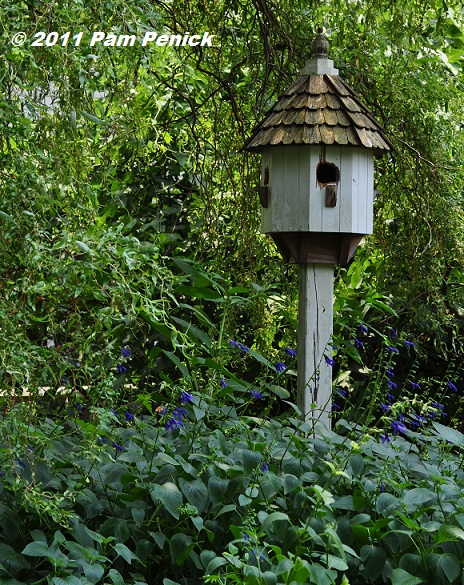 A curly willow shelters a dovecote-style birdhouse and Salvia guaranitica.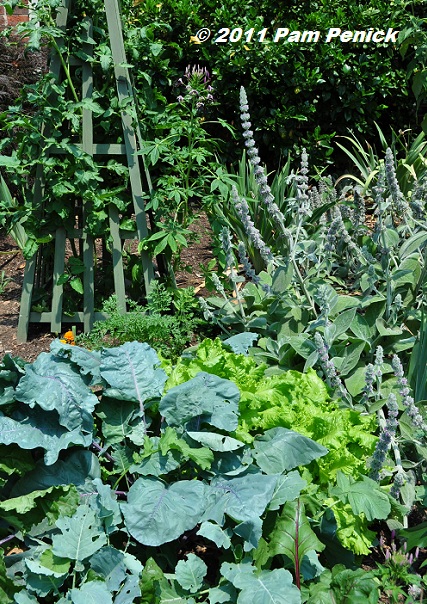 Back out front, Helen and her husband boldly planted vegetables in place of a traditional foundation hedge. It was a fun surprise to find edibles comfortably ensconced along the front walk.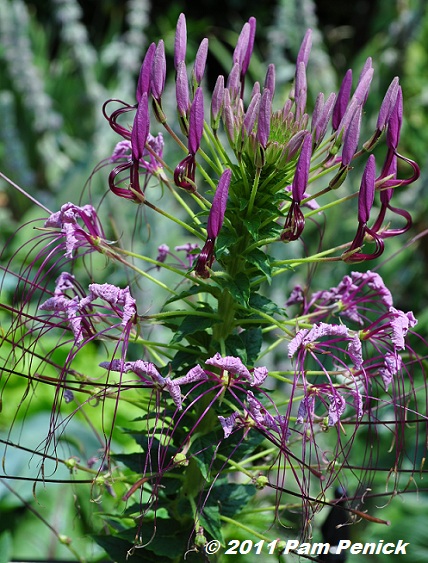 Cleome grows with little attention down by the street.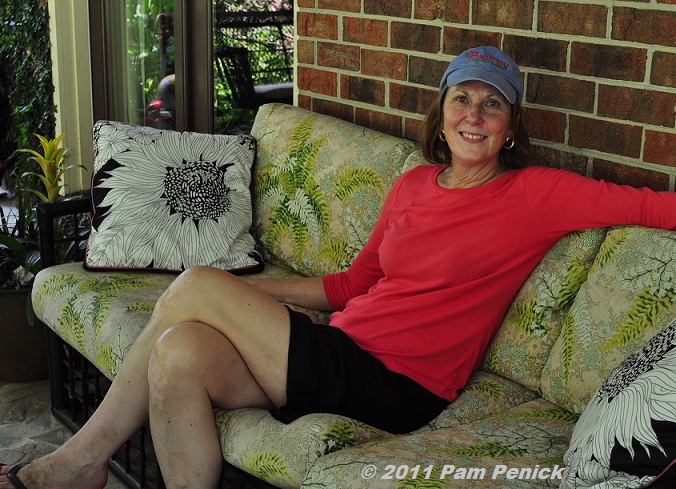 I really enjoyed my visit to Helen's garden and hearing its stories. She's a delightful person to spend time with. Thanks, Helen, for a fun garden visit! For more about Helen and her garden, check out her blog, Gardening with Confidence.
All material © 2006-2011 by Pam Penick for Digging. Unauthorized reproduction prohibited.
posted in
Bottle tree
,
Edibles
,
Fountains
,
Garden art
,
Garden blogging
,
Lawns
,
Sculpture
,
Seating
,
Sustainable Gardening
,
Travel
,
Trees
,
Vines
,
Water conservation