October 10th, 2008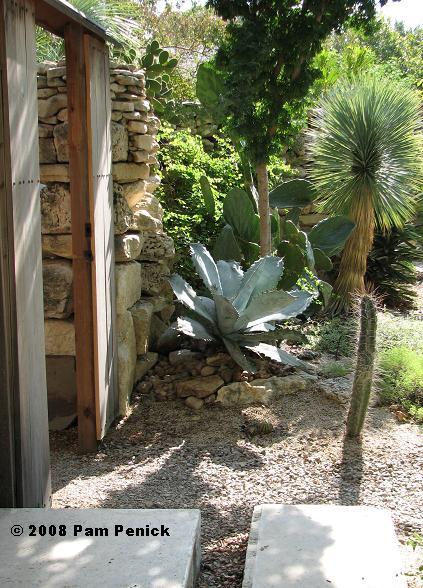 After visiting the theatrical Stone Palms garden during the Garden Conservancy's Open Days Austin tour last Saturday, Annie in Austin and I headed over to east Austin to visit the Tex-Asian garden dubbed Fatal Flower.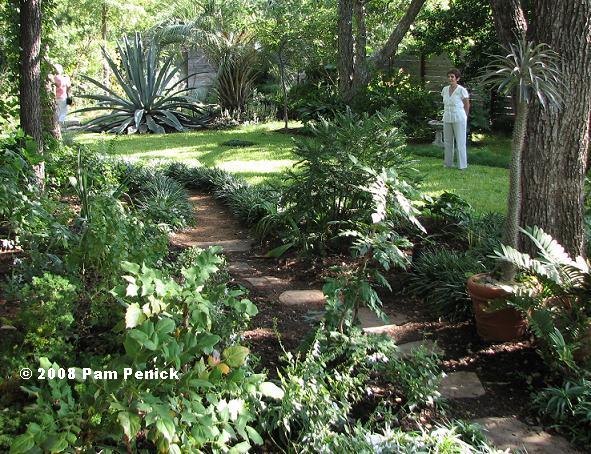 As you can see, that's a bit of a misnomer since there were hardly any flowers in evidence in this predominantly evergreen and ever-silver garden. Maybe the name refers to the flower-like shape of the spiky agaves, large and small, that dominated the design? Just look at that monster American agave in the background. It stood in armored, silver glory several feet above my head, and I'm nearly six feet tall. In the foreground, a shady path meanders under mature pecan trees through plantings of mahonia, native palmetto, and liriope.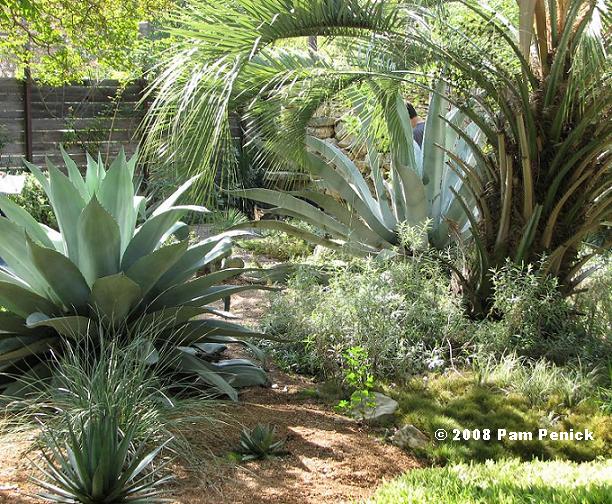 More drama unfolds on a sunny, gravelly berm near the front gate. A silver bed dominated by a large 'Whale's Tongue' agave (on the left), American agave, and palm is visually cooling but not calming. There's a lot of excitement in these sharp leaves and architectural shapes.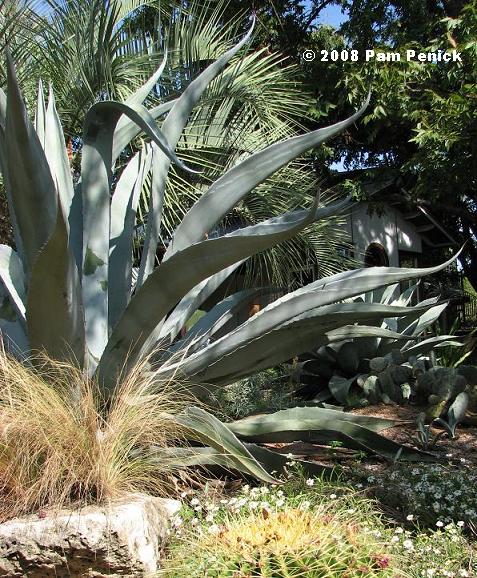 Gold contrasts with silver on the other side, thanks to golden barrel cactus and Mexican feathergrass.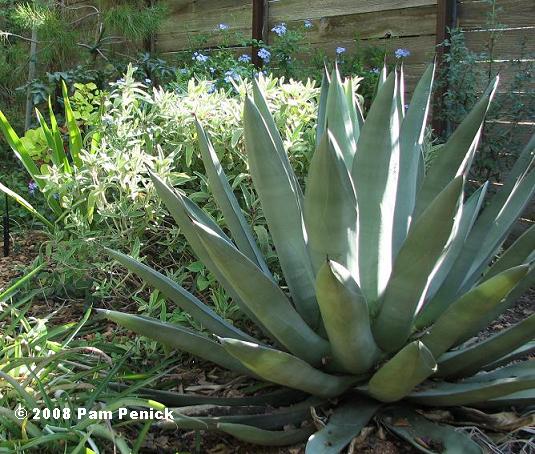 This may be a sharkskin agave, with Jerusalem sage and plumbago growing next to it.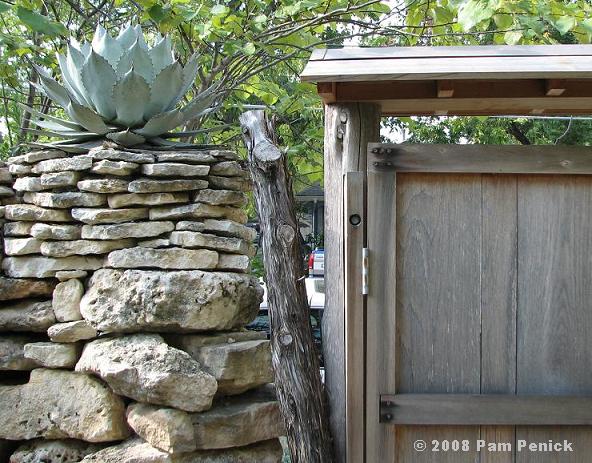 A contemporary Asian mood is established at the entry with roofed, wooden gates. The owners built the dry-stacked stone wall themselves.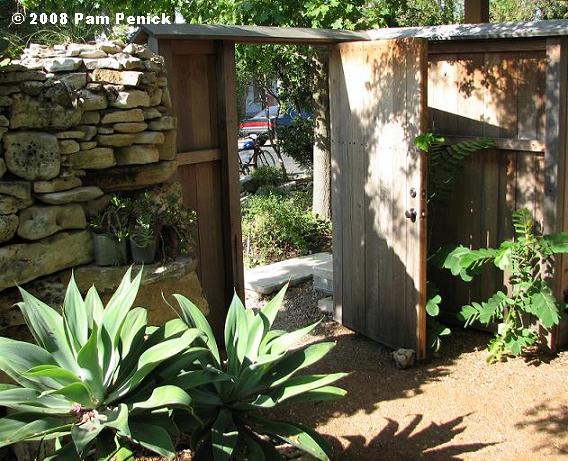 Here's a wider view of another gate.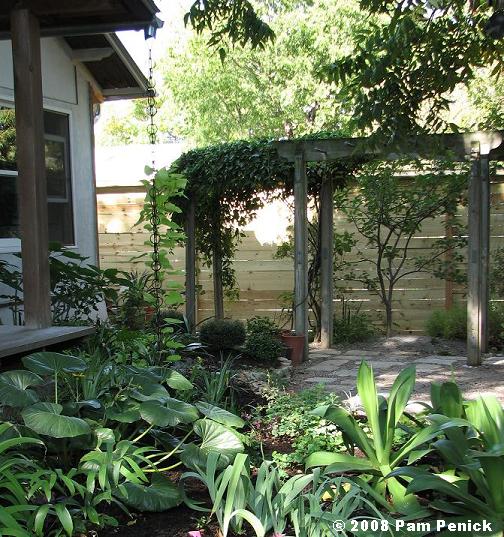 The plant combinations in this garden are interesting and often playful, offering ideas for striking combinations in both sun and shade. But as with all wonderful gardens, hardscaping is key, creating a beautiful frame for the owners' plant artistry. Well-thought-out fencing, paths, and sitting areas define the garden spaces, set a mood, and are as important as the plants. In so many fine gardens, this is manifested in stone hardscaping, masonry walls, and earth-sculpting that obviously cost a fortune. However, at Fatal Flower, the hardscaping seems more attainable—even do-it-yourself-able—and it's just as beautiful and effective.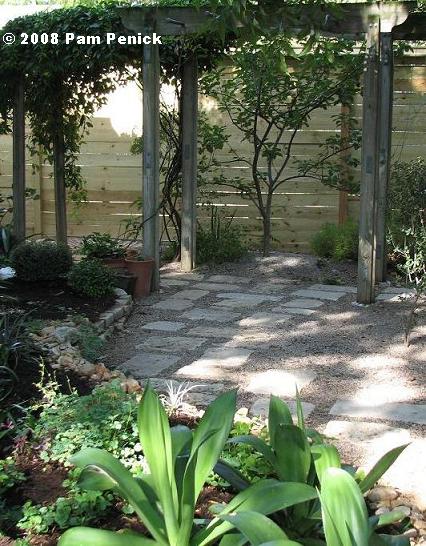 This vine-draped arbor leads from the house to a two-story studio. The path from the garden curves gently on the way to the arbor, which frames a small tree that acts as a focal point.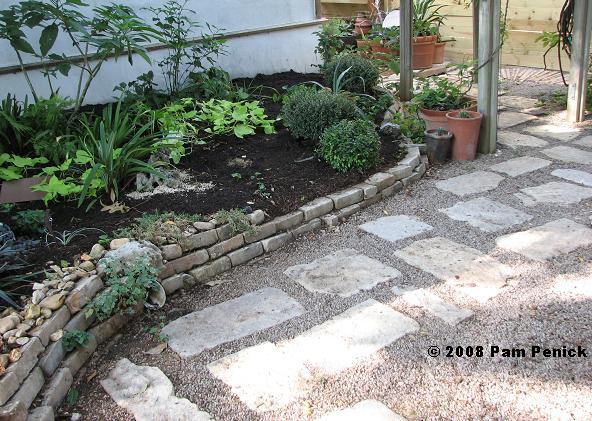 The path itself is simple and lovely: rectangular and square limestone flags set in pea gravel. The raised bed alongside it is edged with regularly-shaped limestone pieces.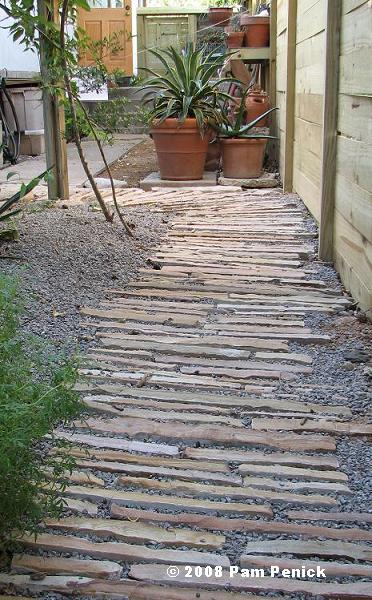 Another path branches off from the arbor, leading to a secluded potting area behind the house. I saw similar paths at Chanticleer this summer, and I'd intended on making one for my former garden. I'll have to think how I can use something like this in my new garden-to-be.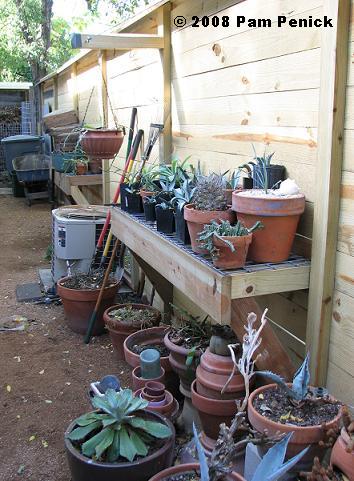 Clean and simple. A potting bench built onto the privacy fence maximizes space in a narrow side yard.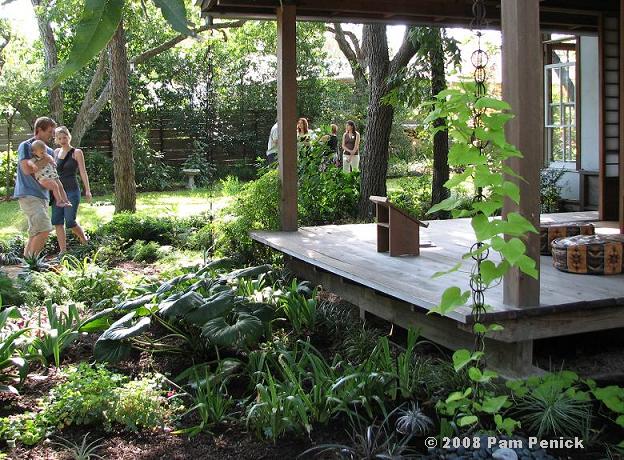 This Asian-style open porch is decorated and furnished with restraint, indicating that it's a peaceful, contemplative retreat.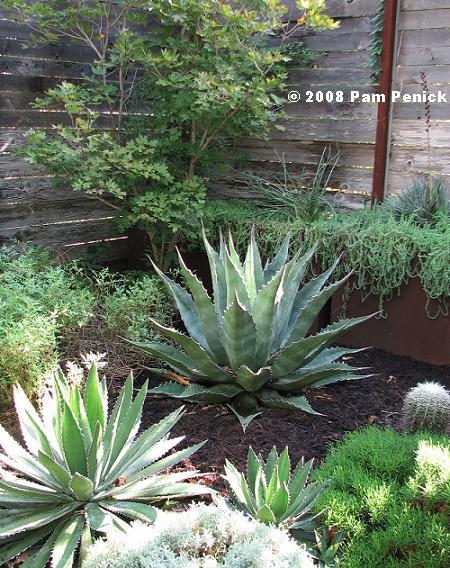 The shady area in the middle of the garden, near the porch, gives way on each end to sunnier, agave-studded spaces. Tucked into the back corner, this agave and xeric-plant grouping surprised me with the addition of a Japanese maple—a combination that wouldn't appear in nature but is intriguing.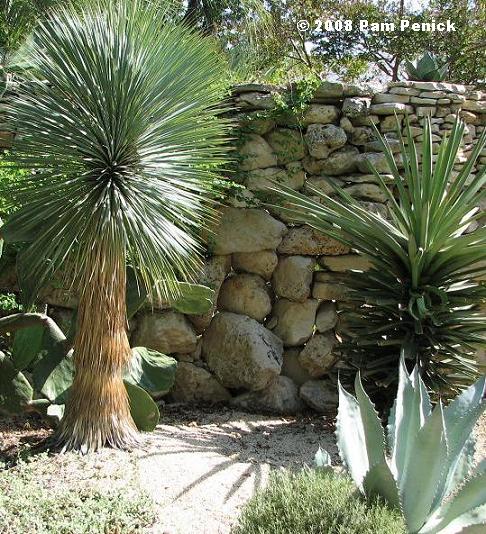 Outside the walled garden, between the wall and the sidewalk, more agaves and yuccas flourish, soaking up reflected light and heat from the stone wall, gravel mulch, and concrete sidewalk.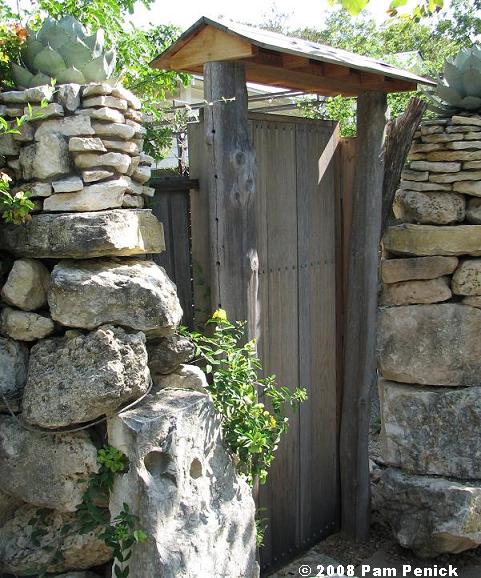 Before we left, Annie and I had the pleasure of meeting one of the owners, who cheerfully answered visitors' questions and seemed to be having a great time. I congratulate her and her husband on a lovely garden, one of my favorites on the tour. If you want to see more, check out this YouTube video of their garden as it appeared on "Central Texas Gardener."
We also ran into Diana of Sharing Nature's Garden and her friend Maria in this garden, and we oohed and ahhhed over it together.
More pics of other gardens on the Open Days tour coming soon. Now I'm off to unpack a little more.
All material © 2006-2008 by Pam Penick for Digging. Unauthorized reproduction prohibited.