May 25th, 2011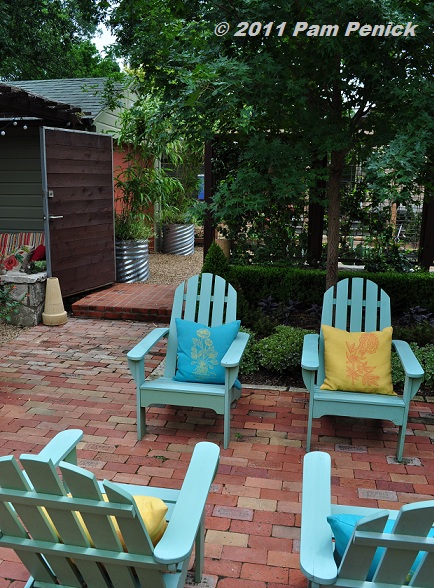 I think the Munsterman garden, soon to be sold to some lucky buyer, along with the house, was my favorite on the May 21 Dallas Open Days tour. What can I say? I'm a sucker for garden rooms and colorful, inviting seating areas surrounded by striking foliage plants.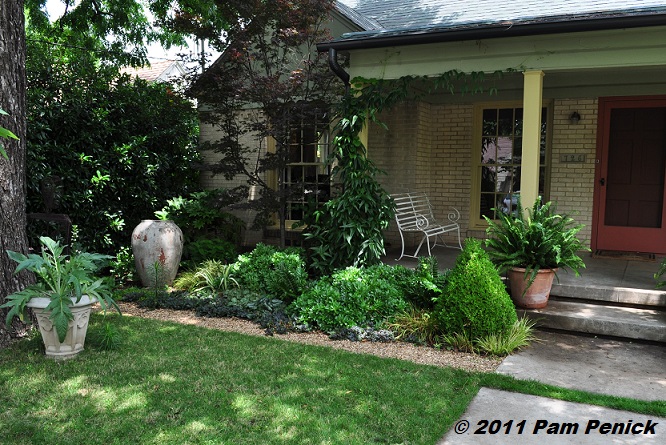 Tucked on a quiet street in the Kessler Park/Oak Cliff neighborhood, the front garden is formally arranged, with a low boxwood hedge dividing a sunny perennial bed along the street from the shady lawn and porch.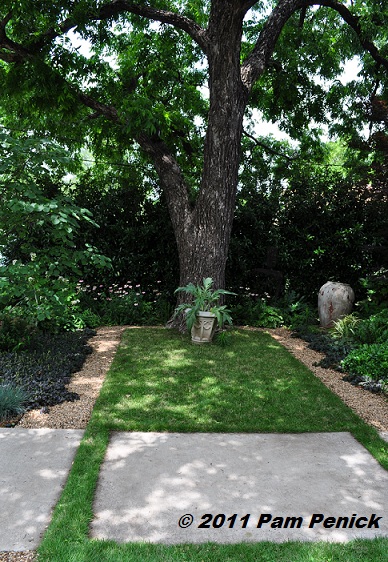 A long rectangle of grass, set off by gravel edging, is all that remains of the lawn: great negative space and easy to mow. This is all the lawn most people would ever need.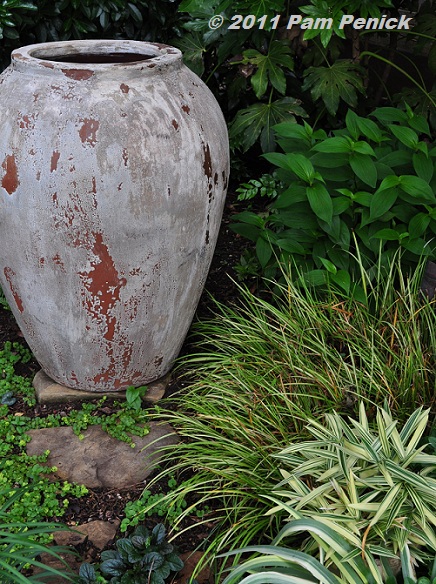 A chalky, unplanted pot makes a focal point in a shady corner.

A path cuts through the lawn to a permeable, gravel driveway, which leads to the back garden. Purple coneflowers and a vitex add summer color to a perennial bed outside the boxwood hedge.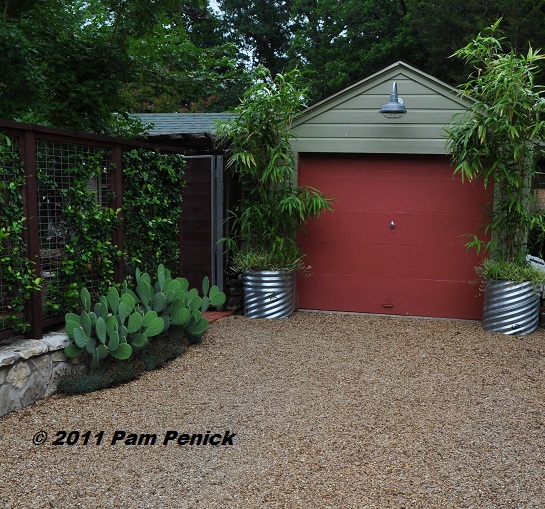 The driveway transitions between the formal lines of the front garden to a more contemporary, farm-industrial aesthetic (which I love) in the back garden.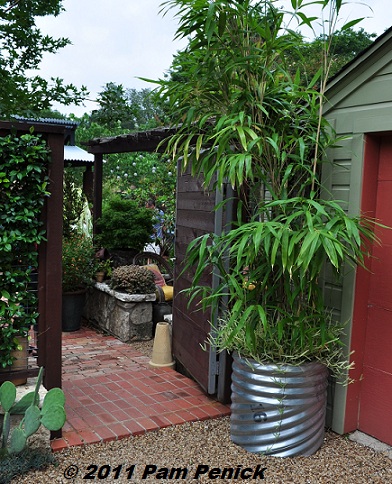 Take these sections of galvanized culvert pipe, for example. The designer/owner (Mike Munsterman of Outside, his design/build business) said they were leftover from another project, and he repurposed them into bamboo planters. Love!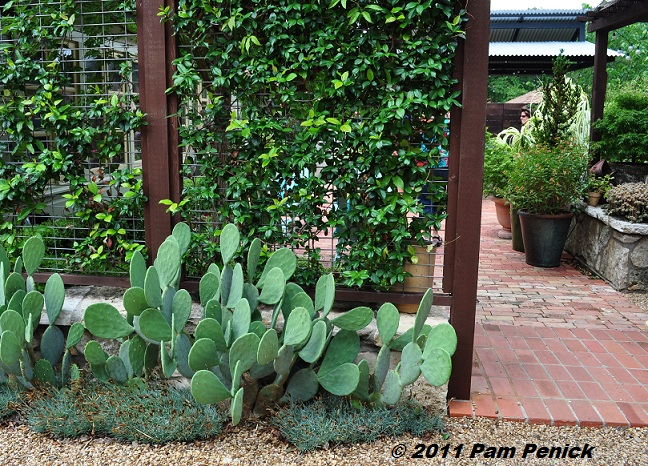 A wood-and-wire trellis planted with evergreen star jasmine screens the garden from the next-door neighbor's back yard but still looks friendly. Mickey Mouse ears of spineless prickly pear and groundcovering, blue-green dianthus (I think) soften the base.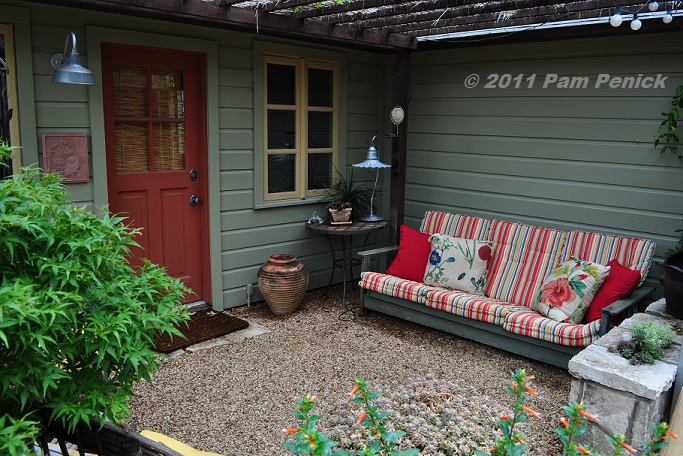 Stepping through the gate you see an inviting, ramada-shaded seating area to the right, just outside Munsterman's studio door. OK, I know that only in California can you leave out cushions all summer without them getting mildewy and damp and chewed by squirrels, but don't you find that colorful cushions add so much charm to an outdoor living room? My own seating areas are, sadly, cushionless because I have given in to reality, but for a party or garden tour—or under a porch roof—this look is do-able.
This "room" is comfortably furnished with two chairs and a sofa, pea-gravel flooring, outdoor lamps, and low stone walls and a screening roof of long poles for a cozy sense of enclosure.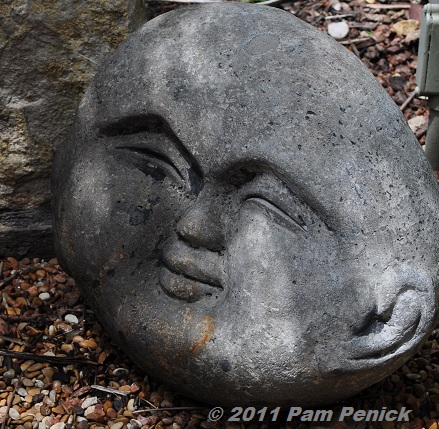 A roly-poly, smiling stone head sits in the corner.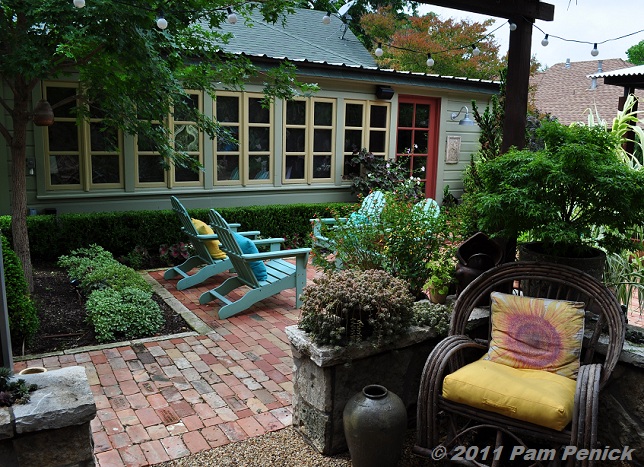 Just steps away, another seating area beckons.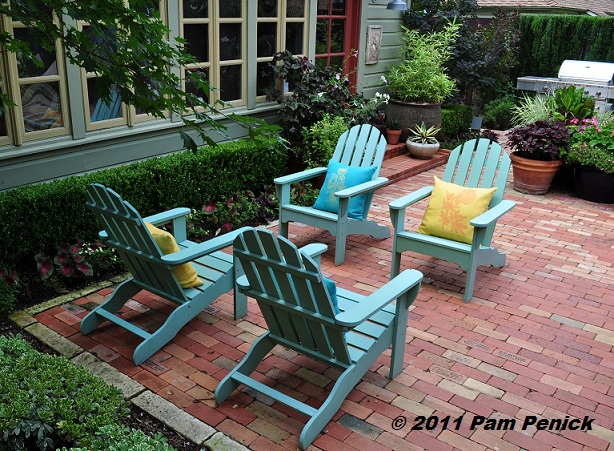 Two pairs of sky-blue Adirondacks face each other on a brick patio that flows from the back door, making a great conversation nook. This sunny space would be perfect, I imagine, on a cool fall day.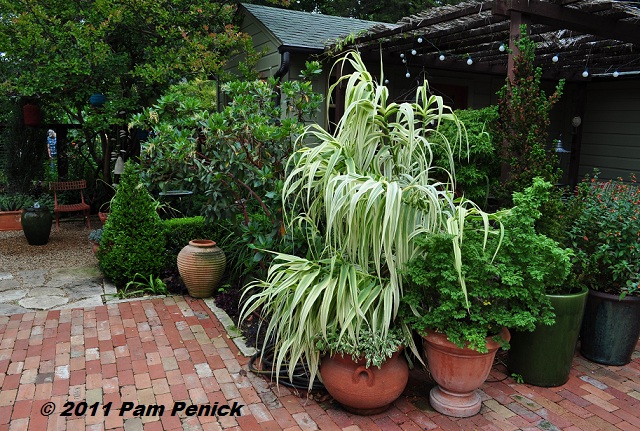 The edges of the patio are densely planted with low boxwood hedges for structure, softened by looser evergreen shrubs, dramatic tropicals, and numerous container plants. Just ahead to the left, you can see a third garden room.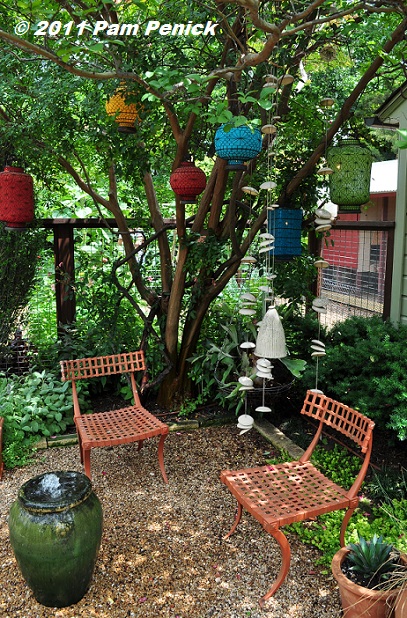 Two orange chairs and a green disappearing fountain welcome you into the shady corner. Colorful lanterns promise magical evenings and add to the sense of a roof overhead.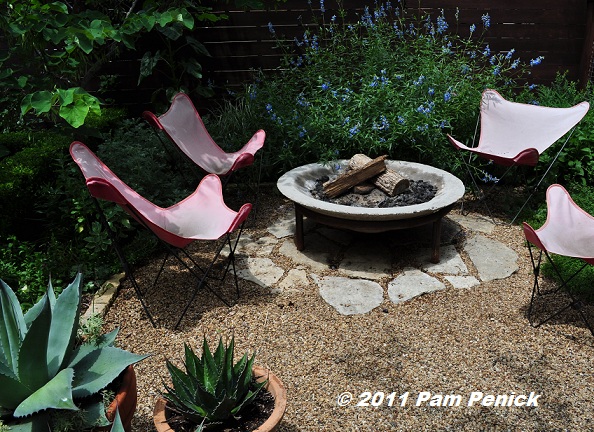 But there's more! Look left and you see a sunny seating area anchored by a firepit. Flagstone set into the pea gravel gives the portable firepit an air of permanence.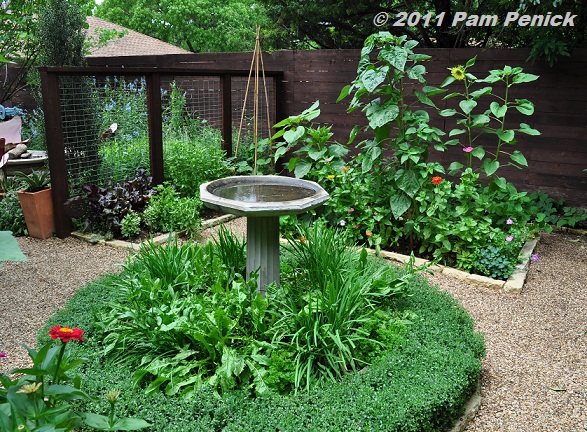 In between the two seating areas, a wood-and-wire fence opens up to invite you into a formally arranged vegetable and cutting garden, with a concrete birdbath in a circular bed as the simple but classic focal point. You can just see the firepit patio on the left.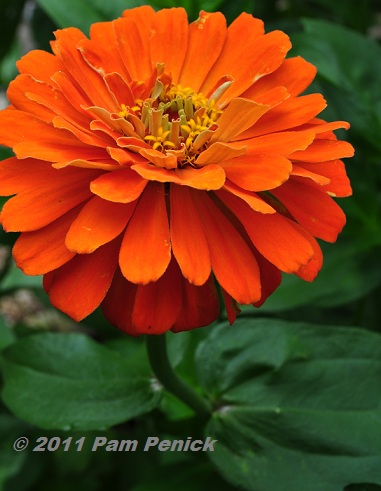 Zinnias give the owner plenty of vase fillers through the summer.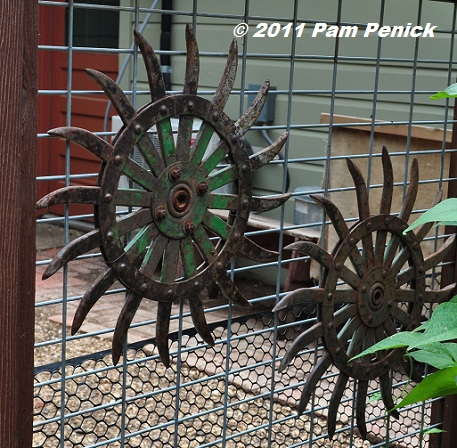 Scrap machinery parts adorn the fence like metal flowers. Behind this fence is a chicken coop (didn't get a picture, sorry).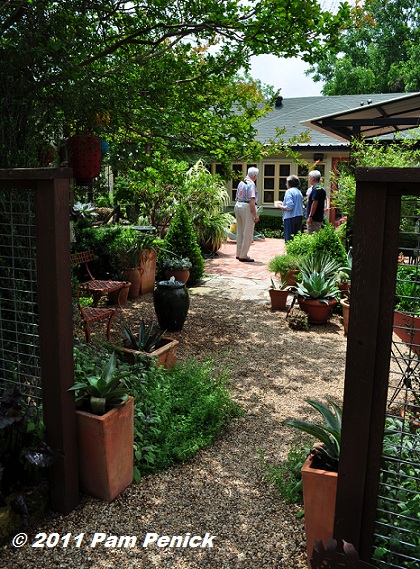 Exiting the vegetable garden, you follow the gravel path back toward the house, through a "doorway" of boxwood cones…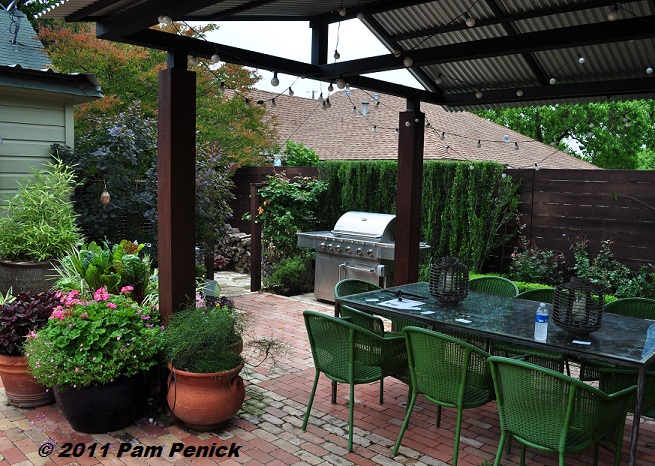 …where you see the fifth sitting area in this small garden: a contemporary dining pavilion with green, faux-wicker chairs and a glass dining table sheltered by a high, galvanized-metal roof strung with party lights. A line of 'Will Fleming' yaupon hollies trimmed across the top at fence height makes a green backdrop for the grill. Another low boxwood hedge outlines the space on the far side. Never underestimate the power of formal lines for defining garden rooms, which can then be loosened up with exuberant perennials, evergreen shrubs, and potted annuals or tender succulents.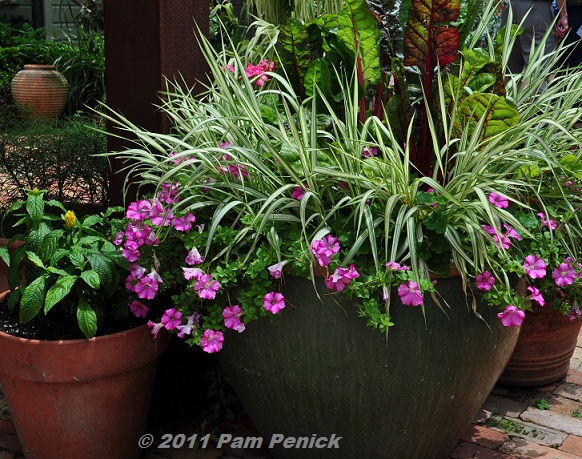 Pretty ornamental containers also contain a few edibles, like this red-veined chard.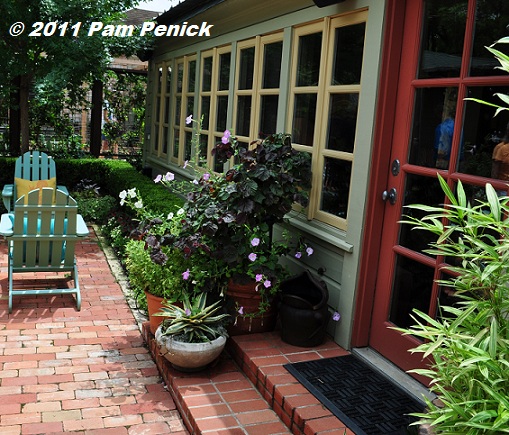 The back door steps down to the broad brick patio.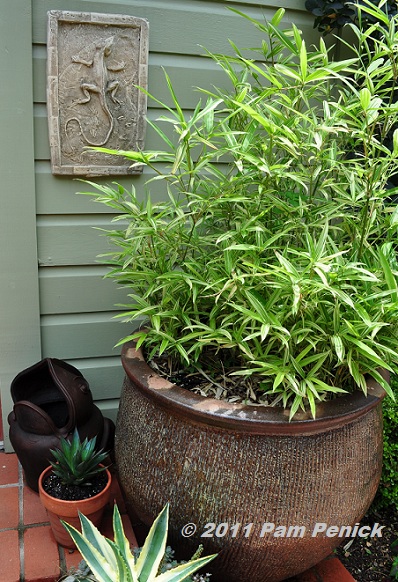 Potted bamboo and agaves give the stoop a little more oomph.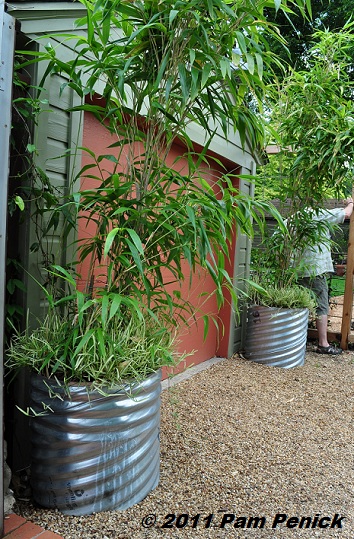 Another look at those culvert planters.
This garden and the Blue Lotus garden were my favorites on the tour, which is interesting because they couldn't be more different in their approach to defining distinct spaces. The Blue Lotus garden is open and expansive, with broad, curvy lines and plenty of negative space—more of a suburban layout, really, for all its funky, trendy, South Austin vibe. The Munsterman garden, in contrast, is formally arranged as a geometric series of "rooms," with hard angles, clipped hedges, vertical divisions of space, and virtual doorways separating one space from another.
Both, of course, are well designed, creatively decorated, and beautifully planted, and they even share some of the same elements, like a chicken coop, a vegetable garden, and inviting seating areas. What draws us to one space over another? It's all in how it speaks to your heart. I love garden tours. Don't you?
Tune in tomorrow for a look at our next stop, the restored garden of a historic Kessler Park mansion. For a look back at the English-style Rister-Armstrong garden in the Knox/Henderson neighborhood, click here.
All material © 2006-2011 by Pam Penick for Digging. Unauthorized reproduction prohibited.
posted in
Arbors
,
Bamboo
,
Cactus
,
Containers
,
Decor
,
Design
,
Doors
,
Edibles
,
Fences
,
Fountains
,
Garden art
,
Garden structures
,
Garden tours 2011
,
Gates
,
Lawns
,
Sculpture
,
Seating
,
Succulents
,
Trellis
,
Vines
,
Water features