May 23rd, 2011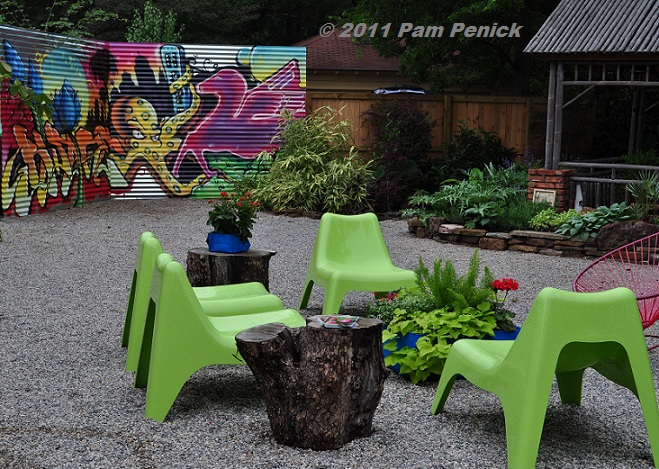 As if there weren't enough garden tours in Austin this spring, I drove up to Dallas on May 21st for that city's Open Days tour benefiting the Garden Conservancy, accompanied by my daughter. Undaunted by the 3-hour drive, we arrived first at the exotically named Blue Lotus Garden as a morning fog lifted. Do you sense a South Austin vibe going on here?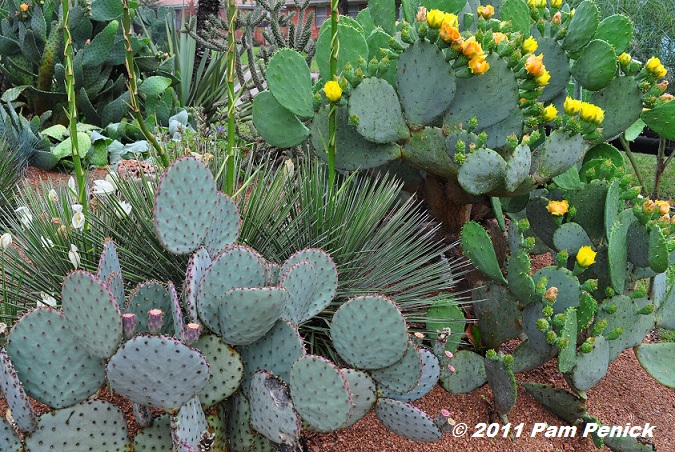 But before we get to the back, here's what you see streetside: a large, gravelly berm taking up half the front yard and planted with a xeric assortment of prickly pear, agave, yucca, cholla, and sotol. Well! This is not what I expected to see in Dallas, which I imagined as a sea of manicured lawns, foundation azaleas and hydrangeas, and shade trees.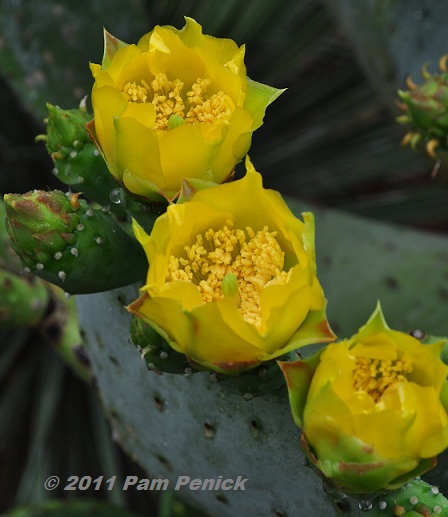 I admired the water-conserving beauty of the front garden, but I couldn't help wondering, where was the exoticism hinted at in the name?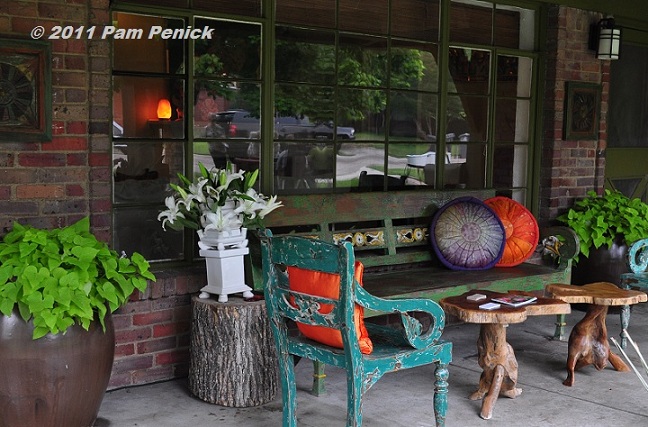 Here it is. On the front porch painted Indonesian furniture and colorful pillows provide a cool retreat. Eastern decor meets the western-style garden, and somehow it works.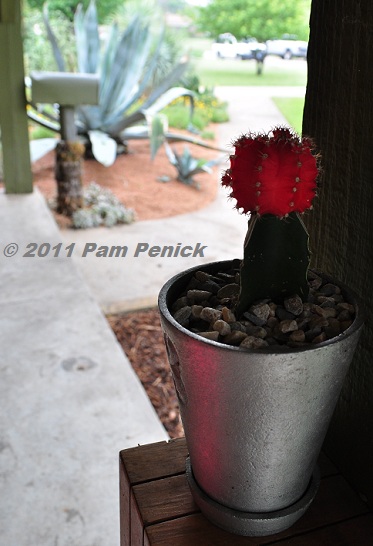 Charming pots of cacti add a contemporary note.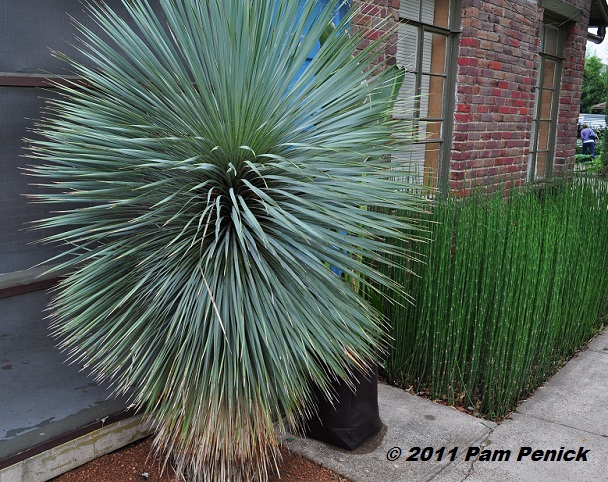 Walking around to the driveway, which leads to the back garden, we passed this shimmering Yucca rostrata juxtaposed with moisture-loving, invasive horsetail reed, neatly contained by the concrete drive.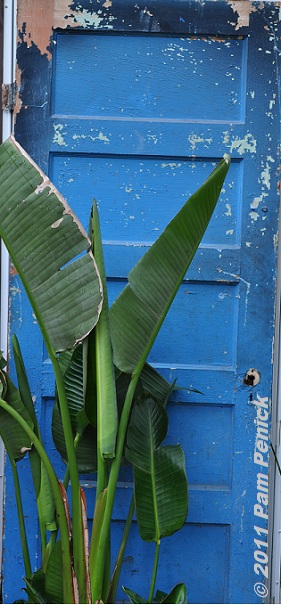 In between the two stands a blue door framing a banana tree. Can you tell this is going to be a bold-foliage garden?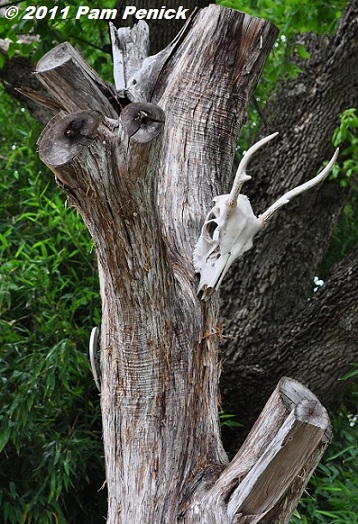 Interesting details pop up even along the drive.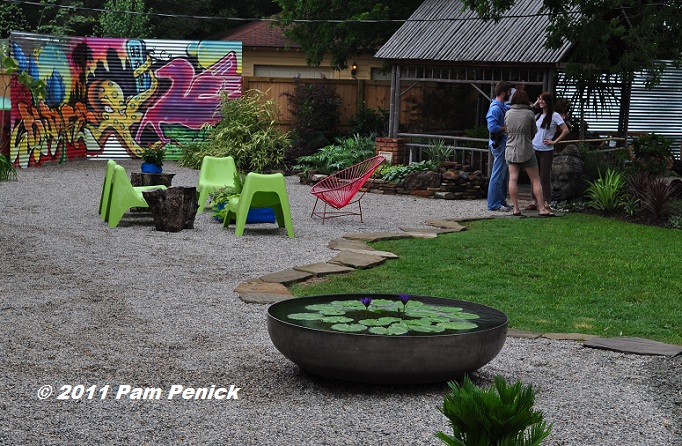 And then you enter the Blue Lotus Garden proper. First impressions: this is an open garden where you can see pretty much everything all at once; the owners didn't go for the "garden room" effect. And yet there are different areas to explore, each with an inviting focal point. Also, the lawn has been shrunk to an easily managed yet still cooling handkerchief of green, with a generous gravel patio spreading into the garden from the back door—great for entertaining. And wow! Look at those corrugated-steel panels covered with graffiti. More on that in a minute.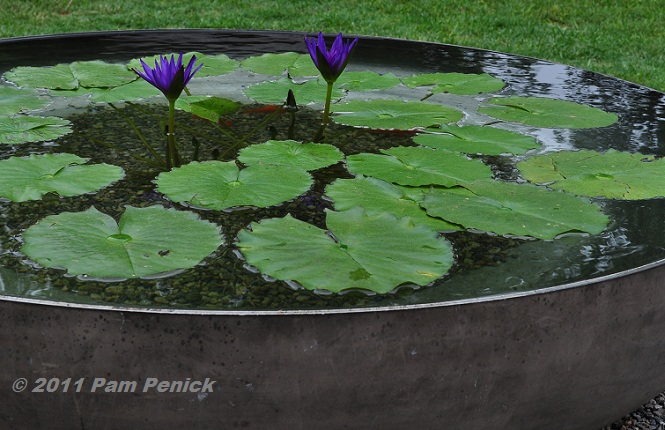 A beautiful steel bowl with a purple water lily greets you at the entrance. Goldfish dart under the leaves. (Can they survive in this shallow bowl during the heat of summer, I wonder?)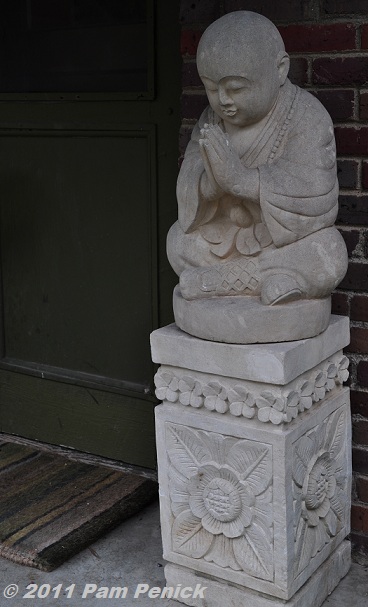 Beautiful Asian statuary, like this Buddha on a carved-lotus pedestal, graces the garden.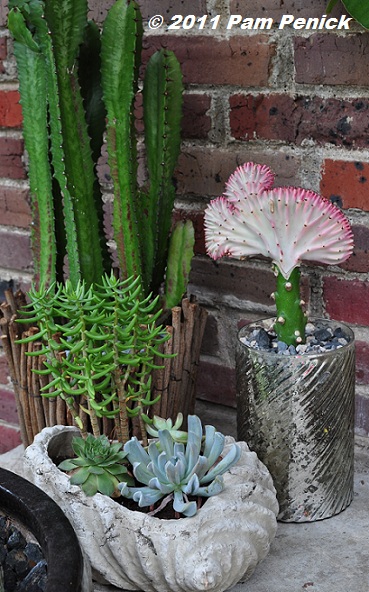 The owners have a flair for succulent containers.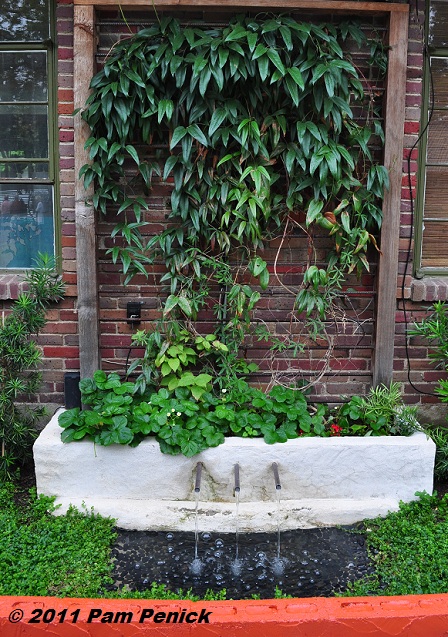 Against the back of the house, a trough-style water feature spouts streams from three copper pipes into a small, sunken pool. A trellis planted with what looks like Clematis armandii rises above the trough.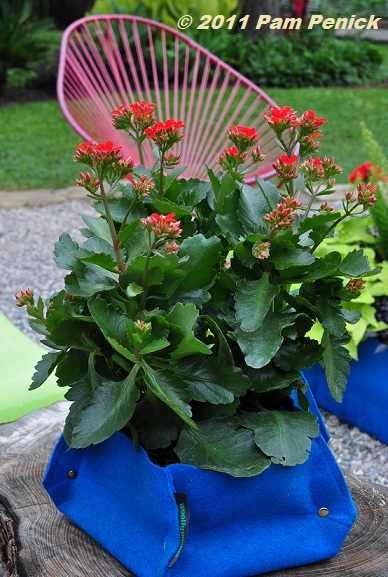 A casual, colorful seating area on the gravel patio is accented with bright annuals planted in Wooly Pockets.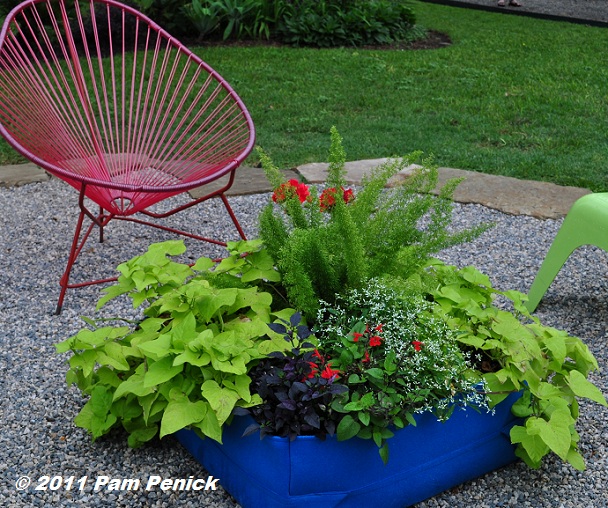 I must admit that I don't really get the Wooly Pocket craze; they aren't nearly as pretty as other sorts of containers. But this garden made them look better than any I've seen.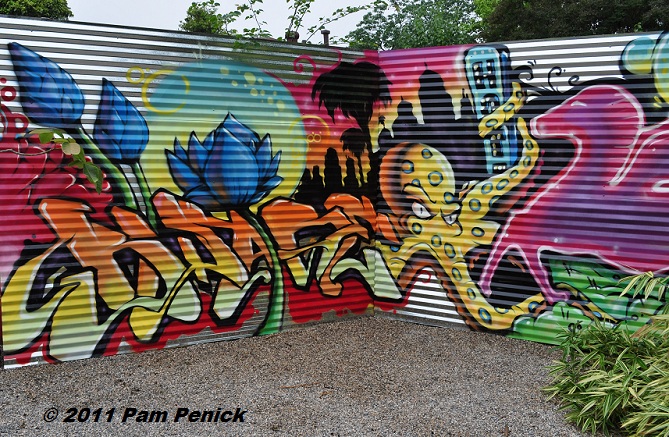 In the background, screening the corner and a large rainwater cistern, stands the most unique piece of garden art I've seen in a long time. I asked one of the owners about it, and she said they'd commissioned a 19-year-old graffiti artist to paint it. That's his signature on the bottom left. The winged horse on the right represents Dallas, the octopus their love of the ocean, and the sunset city skyline Los Angeles. The blue lotus is, of course, their garden and their landscape design business. I love it.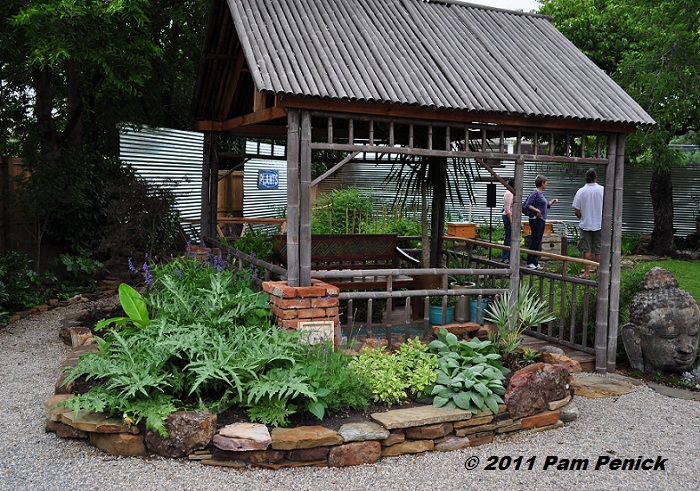 Nearby an Indonesian-style pavilion offers a shady spot to rest.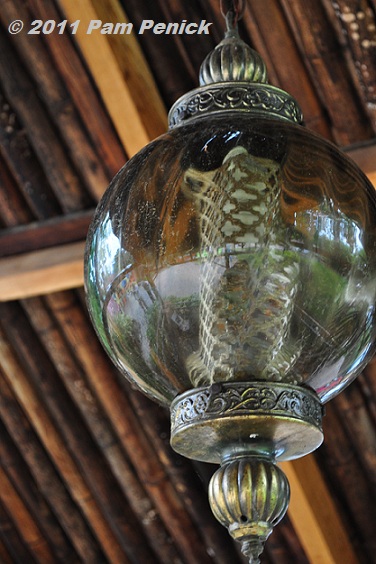 This pretty lamp hangs from the rafters.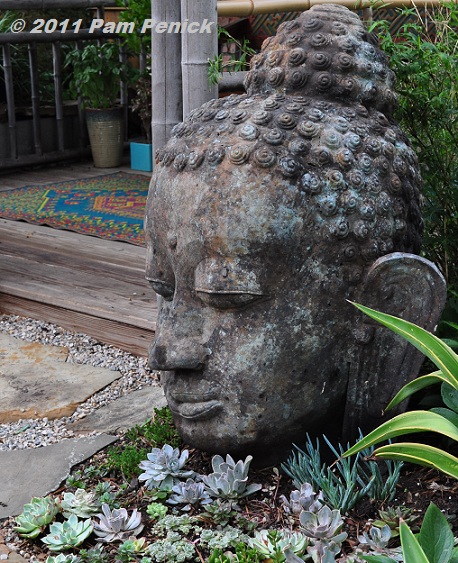 A weathered stone Buddha head ornaments a bed of succulents.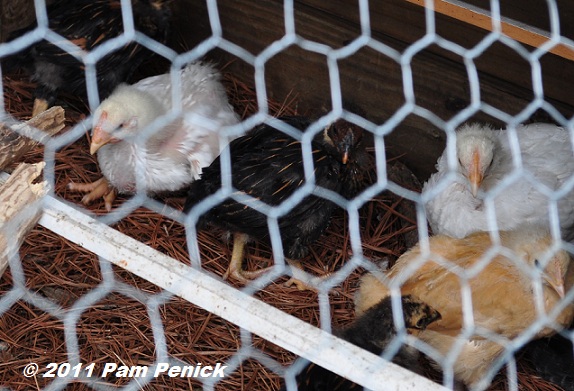 Behind the pavilion, a chicken coop shelters these peeping pullets.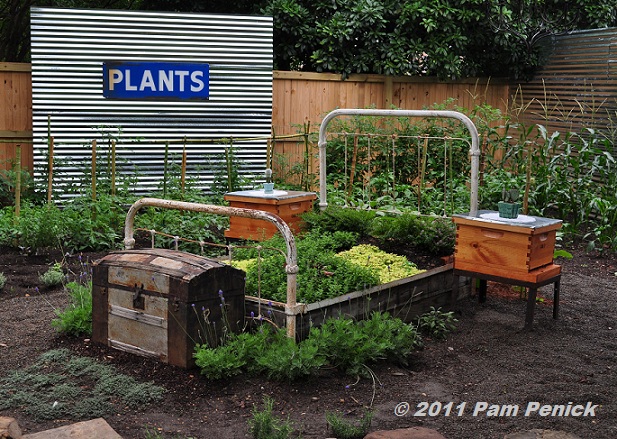 At the back of the garden, a large edible garden with corn and other vegetables grows behind a charming iron bedstead planted with a coverlet of thyme and other herbs, with pillows of Mexican heather. The bedside tables are actually…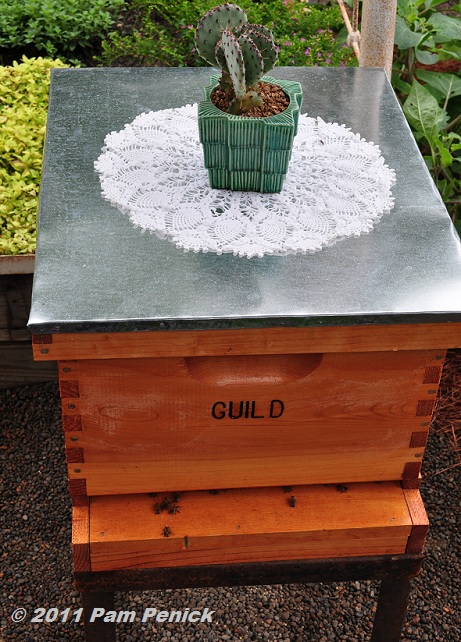 …working beehives! Honeybees were buzzing around the hives but tolerated close-up looks from those of us curious enough to get pictures.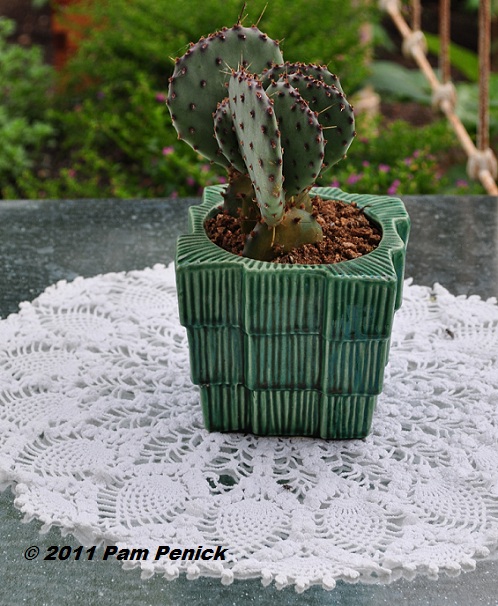 Each zinc-covered "tabletop" is decorated just-so with a lace doily and a potted cactus.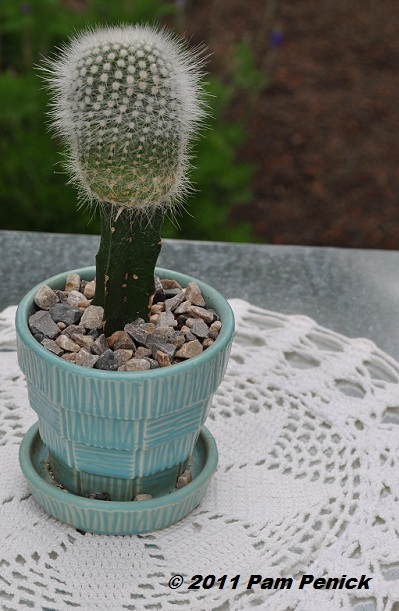 Adorable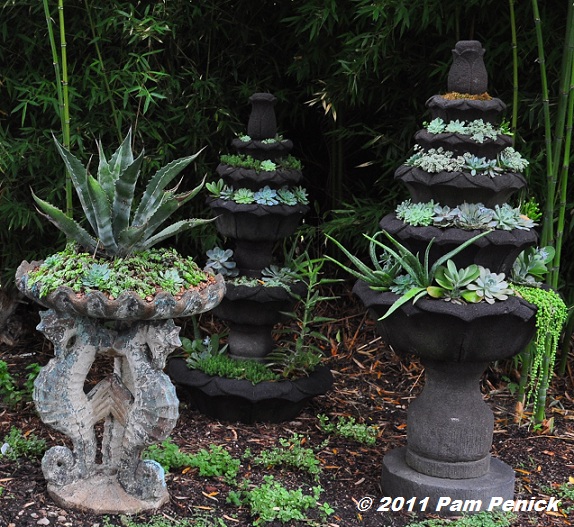 Near a grove of bamboo (had they battled it back to this corner?) stand several tiered fountains and a seahorse birdbath planted to overflowing with succulents.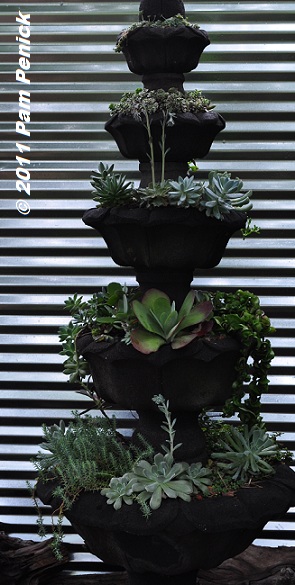 I'd love to have this in my own garden.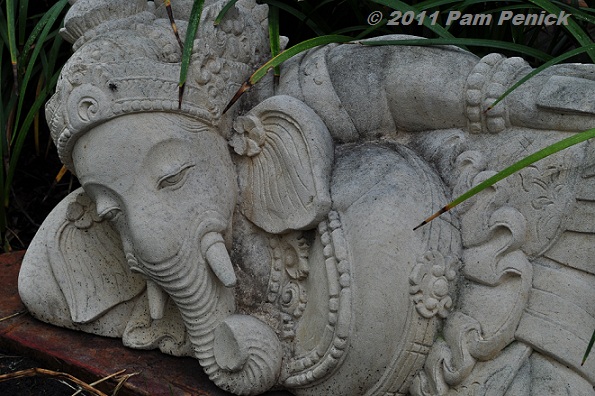 Ganesh relaxes nearby.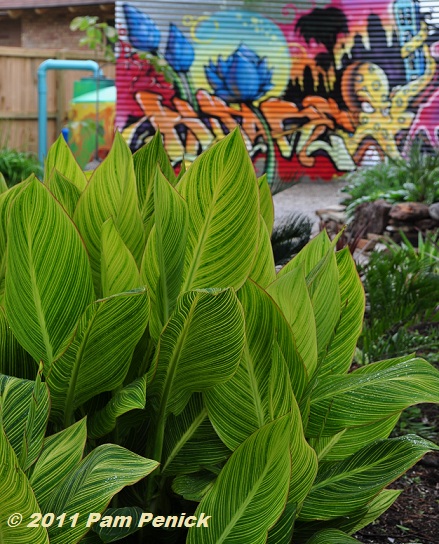 Another look at the graffiti wall over the head of a striped canna.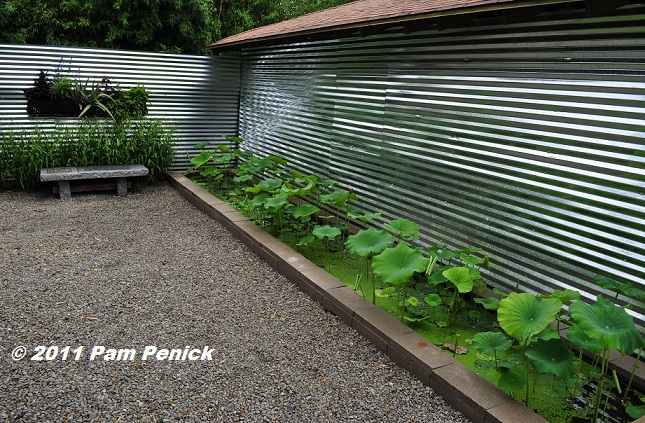 One last stunning feature grabs your attention as you depart: a shiny, galvanized-steel wall lined with a long, skinny water garden filled with 'Holy Fire' lotus.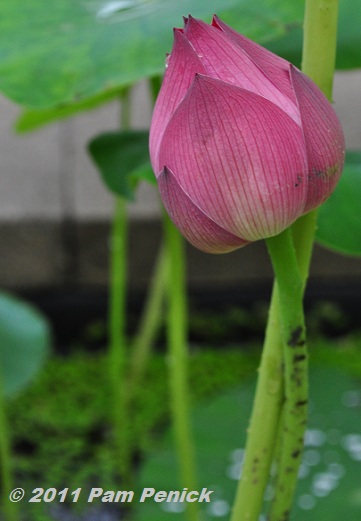 The lotus were in bud, and the owner said they typically bloom in early June. I was sad to have missed them. But even the leaves are lovely.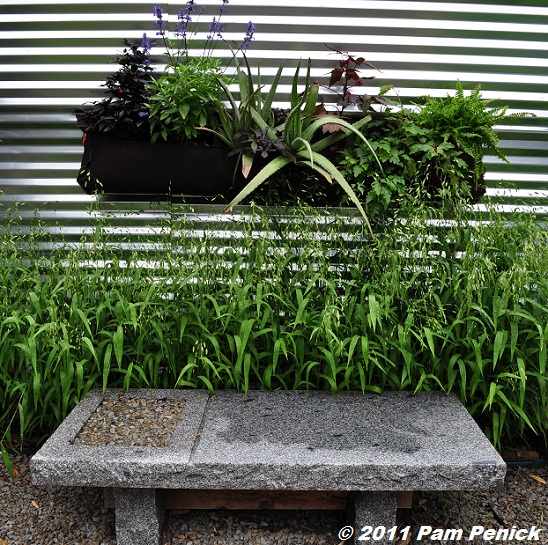 At the far end, a granite bench beckons, backed by a fringe of inland sea oats (Chasmanthium latifolium). A Wooly Pocket wall planter elevates the garden to eye level.
What a great start to our tour. I felt very at home in this garden and could easily imagine it in Austin. To read more about the owner-designers Trey and Brianne Denton, click for a story from the Dallas Morning News.
Tune in tomorrow for a look at our next stop, the English-style Rister-Armstrong garden in the Knox/Henderson neighborhood.
All material © 2006-2011 by Pam Penick for Digging. Unauthorized reproduction prohibited.
posted in
Agaves
,
Bees
,
Cactus
,
Chickens
,
Containers
,
Decor
,
Design
,
Doors
,
Edibles
,
Fences
,
Garden art
,
Garden structures
,
Garden tours 2011
,
Sculpture
,
Seating
,
Succulents
,
Sustainable Gardening
,
Texas natives
,
Vines
,
Walls
,
Water conservation
,
Water features
,
Water gardening
,
Xeric plants
,
Yuccas