June 13th, 2011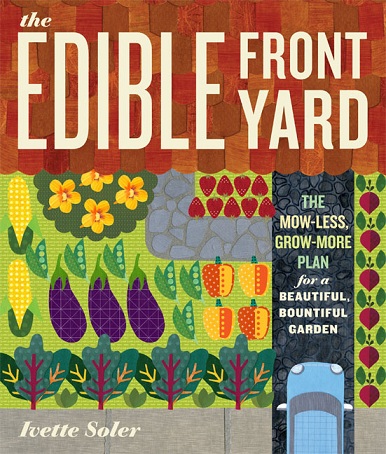 My friend and colleague Ivette Soler, aka The Germinatrix, has just published her first book, The Edible Front Yard: The Mow-Less, Grow-More Plan for a Beautiful, Bountiful Garden (Timber Press, 2011). I'm so happy for her accomplishment and am certain her book will do well. Ivette has a great talent for design, and her writing style is exuberantly friendly, just like she is. And—full disclosure—she even gave me a shout-out in a sidebar about garden coaches (page 131). So forget about an unbiased review. Instead, allow me to share my impressions of the book with you. And to celebrate, I'm offering a giveaway of her book to a random commenter on this post. (See giveaway rules at the end of this post.)
Regular readers will know that I've never been eager to grow my own food. I'd rather plant ornamentals any day than tend a row of snap peas or struggle to keep borers from destroying my squash. But that's why The Edible Front Yard appealed to me. It's about making your veggie patch as ornamental as the rest of your garden—so ornamental, in fact, that you feel no qualms about bringing it into the front yard for all the world to see.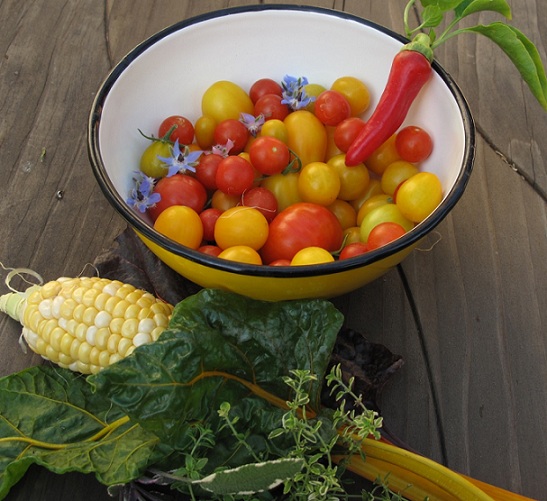 Photo courtesy of Ivette Soler
Ivette's enthusiasm for gardening, plants, and getting her hands dirty is apparent in every descriptive, encouraging sentence. But along with her love of the garden and more-is-more personality, she has the discipline and know-how of a designer. She argues that front-yard food growers must often practice restraint in order to fit into the traditional neighborhood and win over skeptical neighbors. Her book is about much more than growing vegetables; it's about creating a front-yard edible garden with the structure and style of an ornamental garden—not always an easy task given the feast-or-famine nature of most vegetable gardens.
Some of her suggestions: Use structure to tide the garden over when plants are past peak. Incorporate thoughtful hardscaping (it doesn't have to be expensive) to define the vegetable garden and give it good bones. Mix vegetables into your ornamental beds to camouflage them if your HOA won't allow front-yard plots. Use edibles with a pleasing form, and make sure they'll hold their good looks for the whole growing season; save those that get ratty at the end of the season for the back yard.
A little less than half the book contains plant suggestions that meet her criteria for front-yard vegetable growing. Much of the rest is about design: the importance of structure, repetition, texture and form, and harmony or contrast with color. She even provides some edible garden design plans. She also gives practical information for getting started, planting, maintenance, harvesting, and planning for next year, as well as simple hardscaping how-tos.
One thing I really like about Ivette's book is her emphasis on do-it-yourself projects. A beautiful garden does not have to be expensive. With some research, planning, and, yes, hard work, and with the use of simple but timeless materials like locally sourced gravel and stone, cedar and redwood, a DIYer can make her own paths, raised beds, trellises, and obelisks. Of course, there's much benefit to hiring a designer too, whether for coaching, a design, or a full installation. But Ivette's point is that there are options that will work for you no matter your budget. Gardening is wonderfully democratic that way!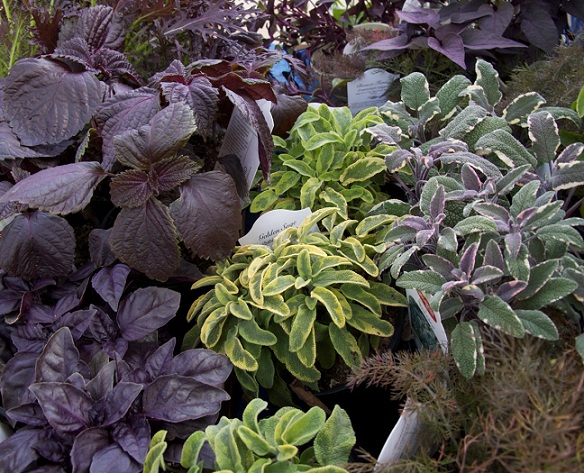 Photo courtesy of Ivette Soler
And now for the fun part—the giveaway! One lucky commenter will win a copy of The Edible Front Yard, donated by Timber Press. To be entered in the random drawing, leave a comment on this post by Sunday, June 19, 6 pm CDT. The winner will be announced on Monday the 20th. Because of shipping expenses, you must be a resident of the continental U.S. to win. Good luck!
All material © 2006-2011 by Pam Penick for Digging. Unauthorized reproduction prohibited.