May 11th, 2011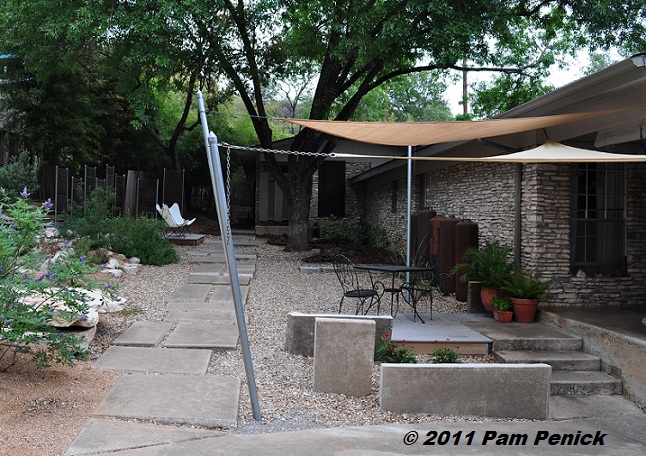 Wendy Brennan's Zen-style garden, which you can see Saturday on the Inside Austin Gardens Tour, is the creation of her neighbor Link Davidson, whose own garden sits just uphill from Wendy's.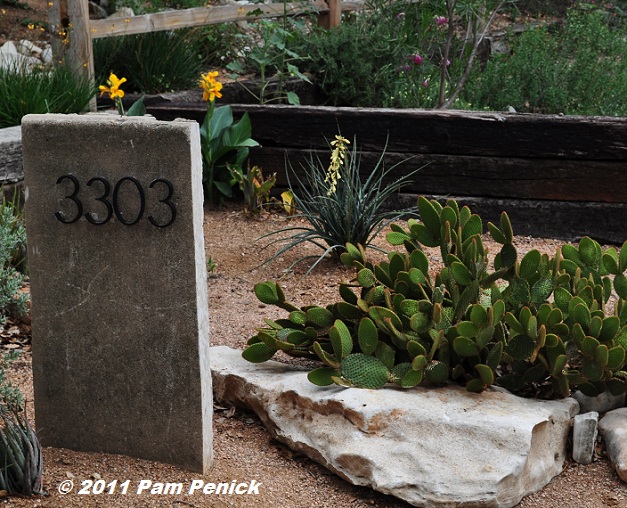 At her request, he continued the terracing from his own garden—designed to slow heavy runoff—with inexpensive railroad ties and a few limestone boulders…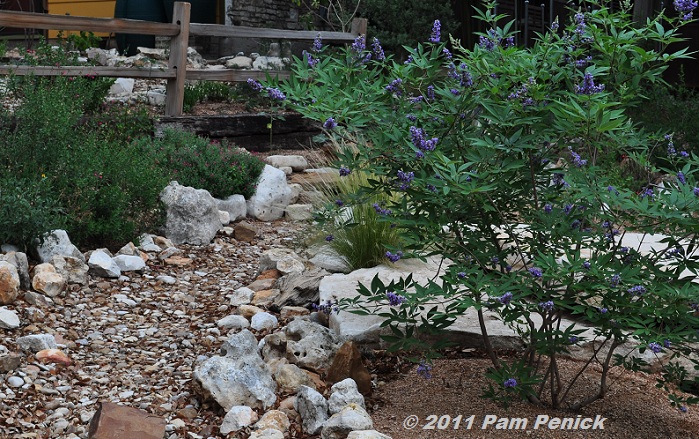 …and added a generous dry streambed to redirect rainwater and keep it from washing out her garden. That's a vitex in bloom on the right.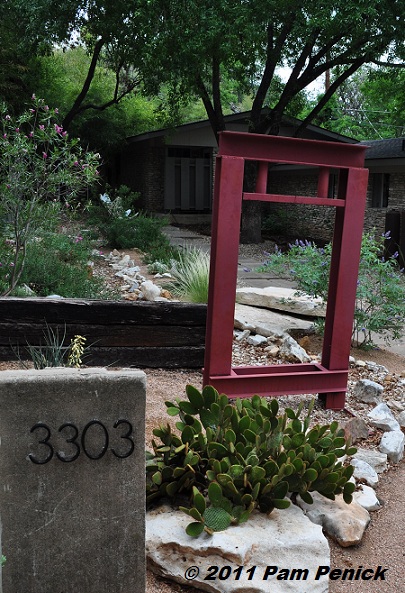 Now, what used to be a boring patch of St. Augustine lawn and an advancing bamboo forest is a reflective, low-maintenance gravel garden, with striking accents made of repurposed concrete and steel.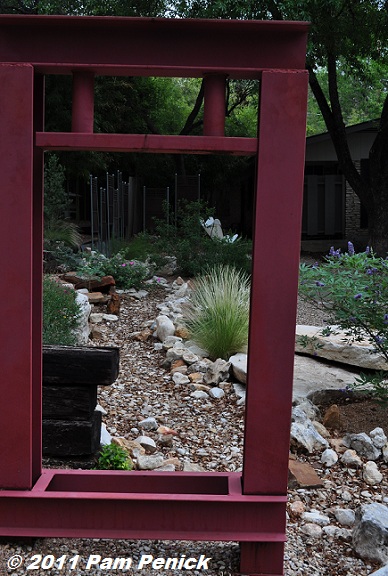 A hydraulic press from his dad's ranch now serves as a contemporary sculpture in Wendy's garden.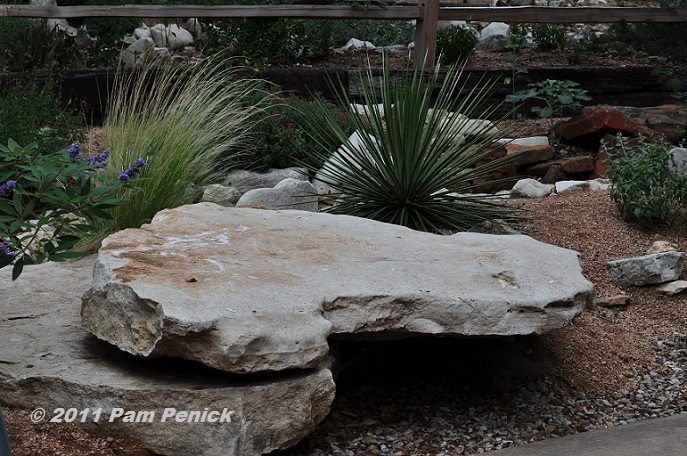 Bermed gravel beds give xeric plants the drainage they require.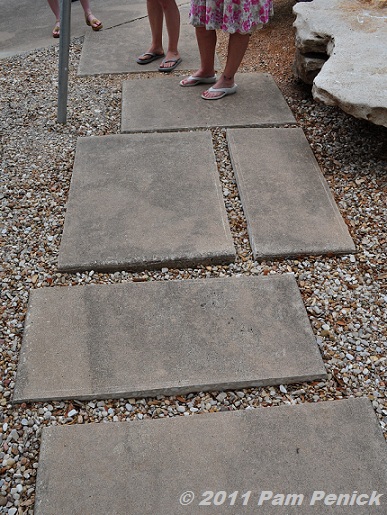 Link has a flair for turning junk into attractive, unique garden features. A featureless concrete walk used to lead to Wendy's door. Fearlessly, Link rented a concrete saw and cut the concrete into clean-lined rectangles and squares, and then relaid them as a mosaic path through pea gravel.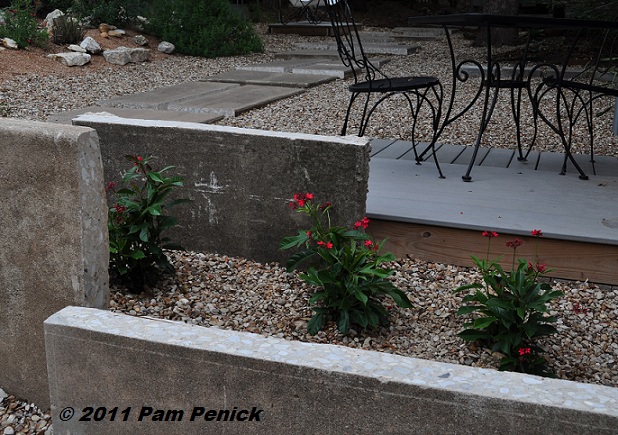 Additional pieces are installed as vertical accents next to a small deck.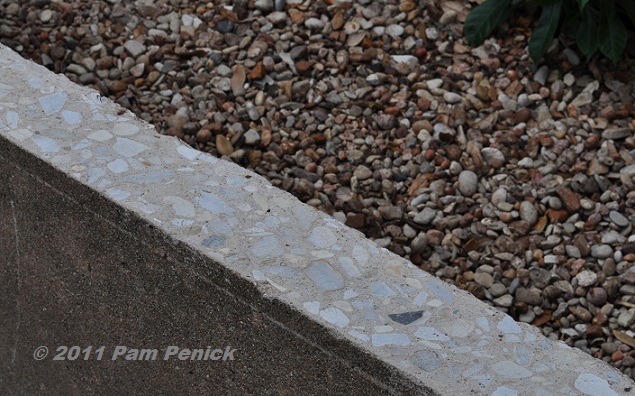 The cut slabs have a wonderful texture, and the sliced edge is quite pretty.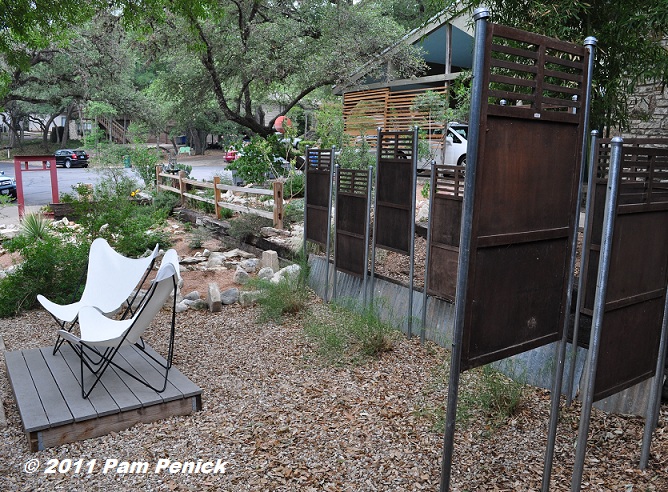 Link told us he loves to scope out likely freebies on bulky-trash pickup days, and he only buys things if he can get them at a deep discount. That's how he acquired these air-conditioner screens from Target. He stained and installed them on chain-link fencing posts to create a modern, free-standing screen between his house and Wendy's. What a fantastic idea.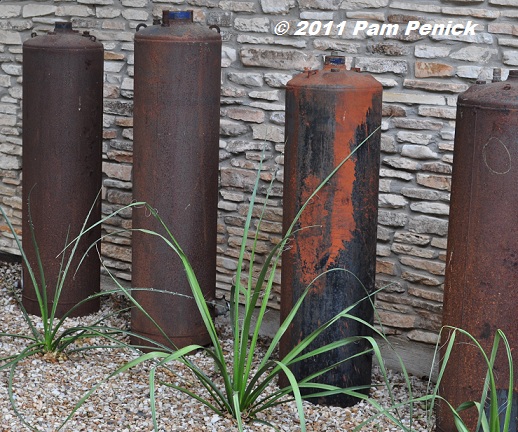 Whimsically, these old tanks stand in for expensive olive jars, he told us.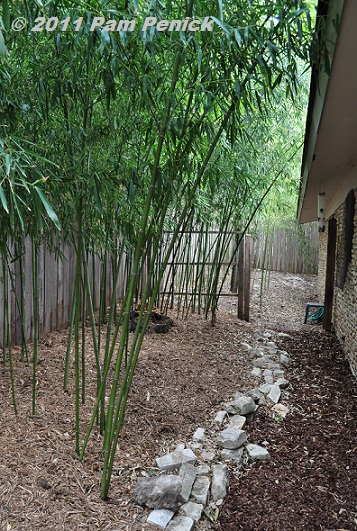 Link beat back the invasive running bamboo by renting a trencher and trenching the entire yard, letting the sun and air dry out the exposed bamboo roots, and then trenching again. He dug out bamboo roots all the way from the back of the property to the driveway in front. Before starting on the garden, he pickaxed a 2-foot deep trench (during a 100+ degree heat wave, no less) until he hit caliche, which he finds bamboo won't travel through. He poured concrete into the trench to create a barrier to hold the bamboo to the back of the property.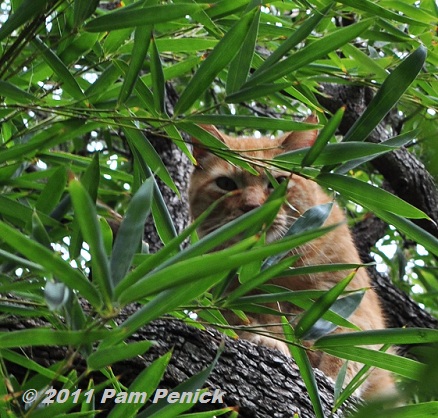 A Cheshire cat peered down at us from a tree as we strolled through the garden.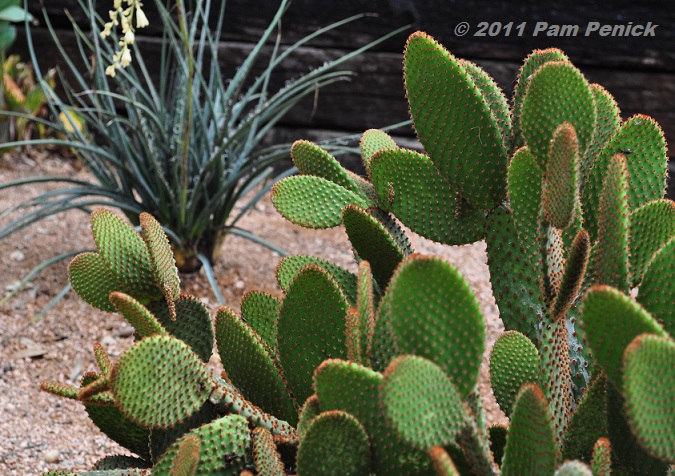 Tough, drought-resistant plants like this beautiful prickly pear and yellow hesperaloe bring the contemporary, creative garden to life.
For a look back at Rebecca Matthews's shady cottage garden click here. Coming tomorrow, a sneak peek at Sue Nazar's lush, deer-resistant garden.
Inside Austin Gardens Tour
"Water-Wise Gardening"
Saturday, May 14, 9am–4pm
Tickets available at each garden on the day of the tour; a single-garden entry costs $5, or pay $10 to see all 7 tour sites.
Gardening Demonstrations / Education Sessions in Wendy Brennan's garden:
11:30 Cheryl Harrison – Creating a Dry-Creek System
2:00 Jackie Johnson – Creating a Rain Garden
All material © 2006-2011 by Pam Penick for Digging. Unauthorized reproduction prohibited.
posted in
Agaves
,
Bamboo
,
Cactus
,
Cats
,
Garden art
,
Garden tours 2011
,
Grasses
,
Paths
,
Sculpture
,
Seating
,
Sustainable Gardening
,
Walls
,
Water conservation
,
Xeric plants
,
Yuccas