June 8th, 2011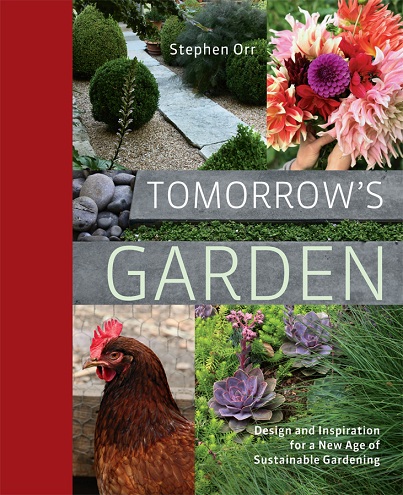 I came of age as a gardener when the native-plant movement was already well-established, in a progressive city that encourages its citizens to harvest rainwater, recycle yard trimmings through a city composting program, replace lawn grass with xeric plantings, and forgo weed-and-feed chemical treatments for their lawns. So I've never known any other way to garden. Not that I'm a paragon of sustainable gardening, mind you, but I do what I can and strive to do better, all the while working to make my garden as beautiful as possible.
Stephen Orr, author of Tomorrow's Garden: Design and Inspiration for a New Age of Sustainable Gardening, came at gardening from a far different perspective. As the gardening editorial director for Martha Stewart Living magazine, and formerly as a writer for the New York Times and garden editor for Domino and House & Garden, he has been privileged to visit many an extravagant, money-is-no-object garden. But over time their excesses began to weigh on him. His own environmental awakening coincided with introductions to gardeners and designers "who were making gardens with a conscience—sometimes even for the very wealthy." Orr was inspired by these smaller, more sustainable, but still beautifully designed gardens.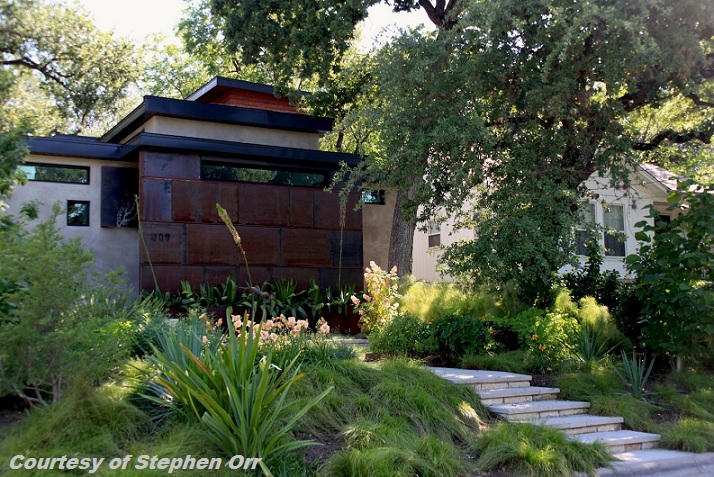 Mark Word-designed garden, with sedges and a mix of soft and spiky plants subbing in for lawn grass.
He showcases 14 of them in Tomorrow's Garden, and while California gardens get the lion's share of attention, quite a few Austin gardens appear also. (All the images republished here are of Austin gardens featured in Orr's book.) They are inspiring from a design standpoint as well as an environmental one. Make no mistake—these are still largely gardens for the wealthy. But they aren't show-offy gardens that flaunt their extravagance. They embrace regionality, use less water than traditional landscapes, incorporate permeable flooring (gravel, in particular) to keep water on the property, and eschew sweeping lawns for more naturalistic plantings. Although these may be expensive gardens, they offer plenty of good design lessons for those of us gardening on a budget.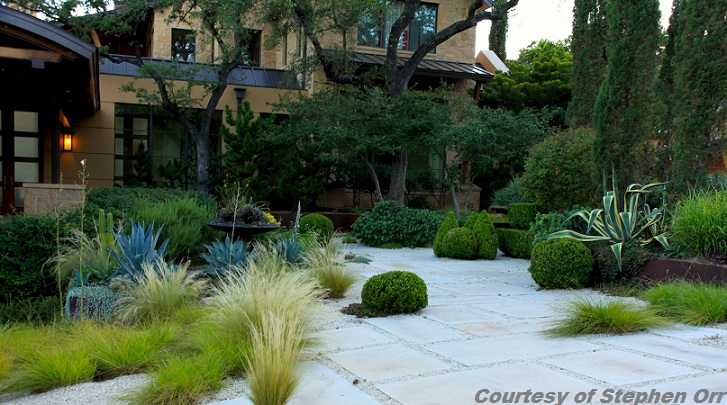 At this contemporary home, for example, designer Dylan Robertson discarded the tired concept of a foundation planting and lawn for an open patio-style garden of water-thrifty plants like Mexican feathergrass, agaves, and boxwood. Where an empty lawn and protective foundation hedge would have visually held visitors at arm's length, this space is welcoming, with a paver-and-gravel path that opens up and embraces the street. Clipped boxwood balls and cones offer a structural counterpoint to the softly waving grasses, plus they contribute winter interest along with the agaves and other evergreen plants. And just think how much less water is required to maintain this xeric garden compared to a traditional St. Augustine lawn. Inspiring!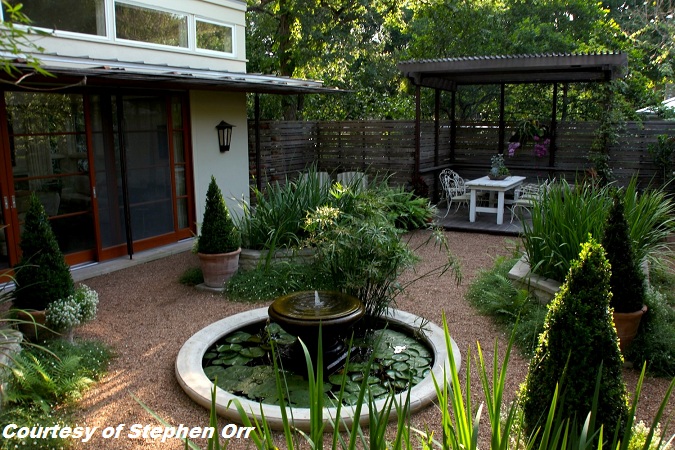 Yvonne Tocquigny's garden, designed by Berthold Haas and Patrick Kirwin, also eschews lawn for a garden with inviting gravel paths and a central water feature in a formally structured garden. A restricted palette of evergreen plants in symmetrical raised beds simplifies maintenance. This is a low-maintenance garden, but look how gorgeous it is.
Stephen Orr, who hails from Abilene, returns to the state on Saturday, June 11, at 3 p.m. for a book signing at Book People in Austin. (Be warned: If you want him to sign your book, you must buy it from Book People and show proof of purchase.)
Disclosure: This book was sent to me for review by Rodale. My review, like everything in Digging, is my own honest opinion.
All material © 2006-2011 by Pam Penick for Digging. Unauthorized reproduction prohibited.