May 4th, 2011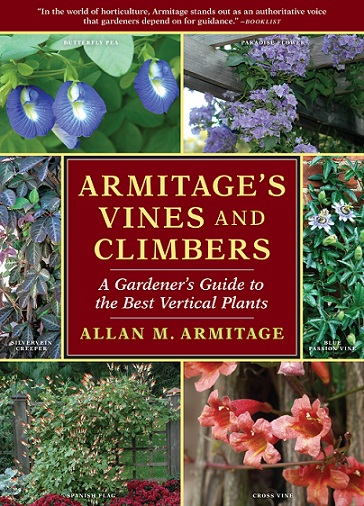 Vertical gardening has gotten a lot of attention lately (see my recent review of Garden Up!), and deservedly so. While gardeners have always planted vines and greened up their walls, a renewed interest makes sense for those of us who garden on tight urban or fenced-in suburban lots, where stark walls and dull wood fences dominate the view unless softened with a cloak of greenery. But even those blessed with an acre or more will find a compelling reason to grow up: adding vertical structure creates human-scaled "rooms" and interesting divisions of space, and as a bonus they give you a place to plant vines.
If you're wondering what vines to plant, especially here in the hot, humid South, Allan M. Armitage's book, Armitage's Vines and Climbers: A Gardener's Guide to the Best Vertical Plants (Timber Press, 2010), is a good place to start. Armitage is a professor of horticulture at the University of Georgia, where he also runs the trial gardens. He knows his plants. What's more, he knows which plants can take our broiling, lengthy summers without turning into a pile of mush. I normally don't bother with plant books that aren't specifically written for southern or western gardeners because so often they're filled with tempting temperate-climate plants that I can't grow without copious watering or mid-summer heartbreak. Armitage's proved a happy exception. But don't worry, cold-climate gardeners. There are plenty of vines for you here too.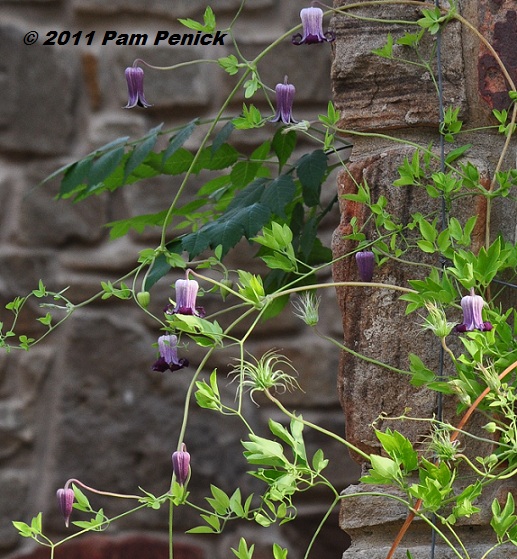 Clematis pitcheri at the Wildflower Center
In his introduction, Armitage says he was inspired to write about vines and climbers because he's been experimenting with them for years and yet finds few choices in retail centers. Moreover, he adds, people are often afraid to grow vines for fear they'll swallow the house or invade the greenbelt. And for good reason. But there are many non-aggressive vines that can be grown from seed or ordered online, and it's all about understanding what a vine will do in your particular climate. As he points out, one man's house-eater is another man's tame trellis plant.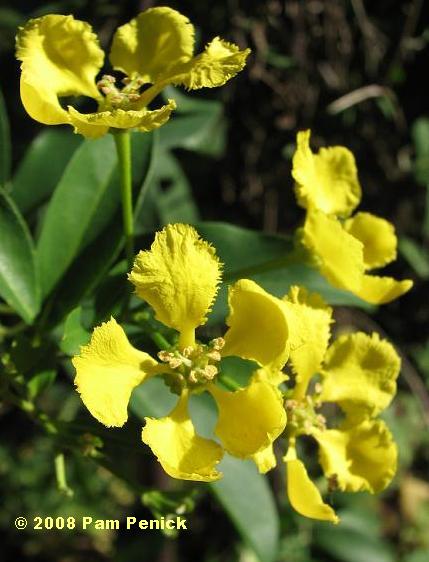 Mascagnia macroptera, or butterfly vine
Annual vines are a favorite of Armitage's because they don't have a chance to get unmanageable before dying back, and because they allow you to experiment with different "weird and wonderful" vines. Some of his top picks are butterfly vine (Mascagnia macroptera, a perennial in Austin), moonflower vine, hyacinth bean, and Spanish flag, which I'm excitedly growing from seed in my own garden this year on the recommendation of Meredith of Great Stems (she calls it by its more romantic name: exotic love vine).
Armitage's easy, conversational voice is laced with humor and personal anecdotes, making the book a pleasure to read. It's a book for gardeners—"I suppose I should include all those neat line drawings showing different trellis systems or climbing posts, or how to dig a hole; however, if you don't know how to dig a hole, you shouldn't be reading this book"—and includes information about propagation and etymology. His tone, however, is accessible rather than professorial: "[E]verything I have written is not to be taken too seriously. After all, this is gardening, not rocket science….Have fun."
Plenty of color pictures on each page, both close-ups and long shots, illustrate the beauty of the 115 plants he profiles. So if you have a fence or arbor that's begging for a little excitement this summer, browse through Armitage's Vines and Climbers and you're bound to discover a new plant that will get your garden off the ground.
Disclosure: This book was sent to me for review by Timber Press. My review, like everything in Digging, is my own honest opinion.
All material © 2006-2011 by Pam Penick for Digging. Unauthorized reproduction prohibited.