September 28th, 2008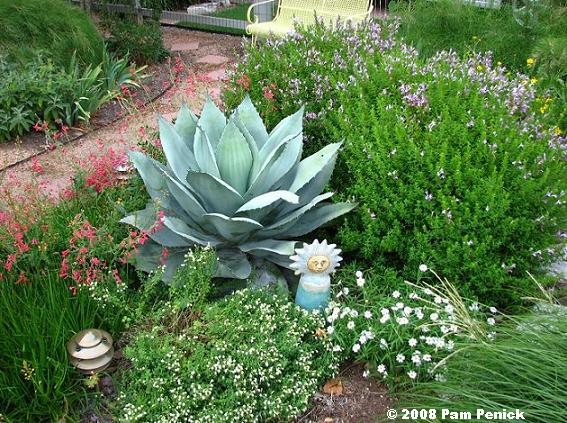 As regular readers know, I'm moving to a new house this week, and I've vowed to take my prized 'Whale's Tongue' agave (Agave ovatifolia ) with me rather than leave it to the vagaries of fate and a new owner who may not appreciate its prickly charms.
Still, I quailed at the thought of digging up this porcupine of a plant nearly four feet in diameter and three feet tall, each broad leaf armed with curved, serrated thorns and tipped with inch-long, needle-sharp spines. So I emailed local agave expert Jeff Pavlat, president of the Austin Cactus and Succulent Society and whose beautiful garden MSS posted about recently. I'll quote his advice in full for anyone else crazy enough to try moving a large agave:
Agaves usually don't mind being dug up and moved. Of course, the larger the plant, the heavier and more difficult it is to move. There is a slight chance that the move will stress the plant enough to send it into bloom. This doesn't happen very often and usually it's with fairly mature plants. Since Agave ovatifolia was formally described as a species in 2002 and only became commercially available shortly after that, I'm going to assume that you don't have a really mature plant even though it's getting fairly large.

The easiest thing to do is to dig it up and replant it right away in its new location — but that probably isn't an option for you. If you can dig around it and get it out of the ground with the roots still in a ball of dirt, you can wrap burlap around it like they do trees. However, because agaves usually have very long and not generally dense roots you probably will find that the soil will fall off and leave you with a mostly bare root plant. That's O.K., agaves don't mind being bare-rooted. If this happens, you should trim the roots back to around a foot from the base of the plant and remove any dead leaves. Agaves usually re-root very easily. Then all you have to do is pot it up until you're ready to move and replant it — of course, that's probably easier said than done. I would try to put it in a 24-inch shallow (18 inches deep or so) pot. If you need to remove a few of the healthy lower leaves to get soil in the pot you can do so without hurting the plant. Keep in mind that if you can do all of this without the plant taking any of your blood, I will be impressed.
Okey-dokey. Errm, let's go!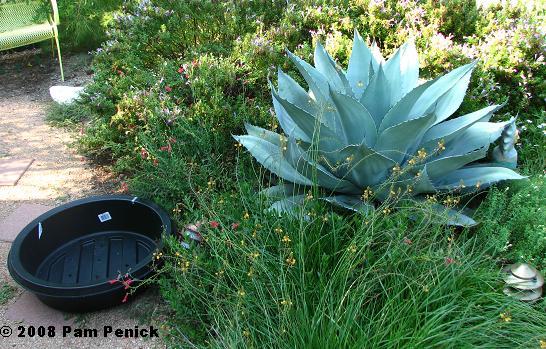 At Lowe's I bought an inexpensive ($12) shallow, plastic tub meant to be used as a pond liner. With a dozen holes drilled in the bottom, it seemed an adequate temporary container for the big, blue whale. But when I set it next to the agave, it shrank alarmingly. Good grief, would it fit in there? Oh well. Forge on!
I dressed as for battle. Rubber garden clogs. Jeans. Heavy, long-sleeve safari jacket (last worn in the wilds of Africa!) over an old t-shirt. Thick leather work gloves. Wrap-around plastic goggles. Hair pulled back and tucked under a straw hat. Except for the straw hat, which should have been a hockey mask and football helmet, I felt well protected. And hot. By the time I started digging it was in the upper 80s. And y'all know how I love the heat, right?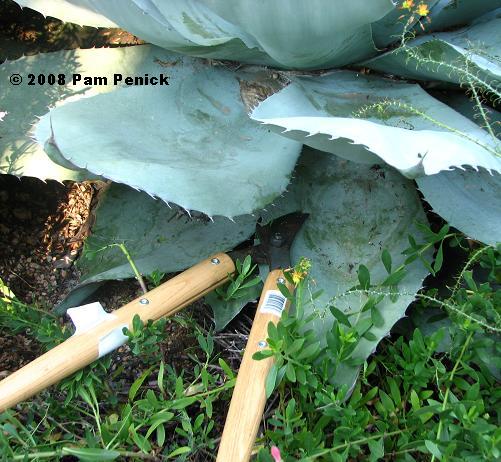 First step: clipping off the lower leaves in order to get a shovel under the plant. My long-handled pruners did a good job of slicing through the succulent, fibrous leaves without my having to get too close.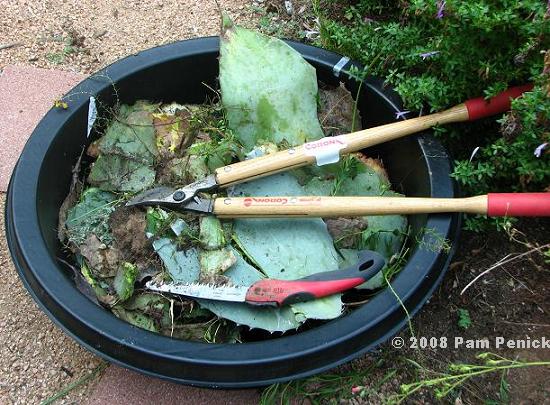 However, some of the leaf fibers were uncuttable and required leaning in close with a handsaw. I moved slowly and carefully, trying to remain aware of all spines in the vicinity of my face and neck.
I don't have a picture of the next stage, as I was physically incapable of taking a photo. I dug all around the base of the plant, trying to cut out a decent-sized root ball. When I'd dug deep enough, I tried levering the plant up with the shovel so I could get under and cut the main roots. No dice. The agave seemed to weigh as much as a whale and would not budge.
By this time, sweat was running down the inside of my goggles, I was wiping my sweaty face with gloves sopped in agave juice from the severed leaves, and suddenly my face was stinging and itching madly. A few choice words escaped my lips as I dashed inside to get a wet towel and wash my face with soap and water. OK, no harm done. Note to self: take clean towel outside for mopping up the puddle I would become in another 10 minutes.
I dug a smaller circumference around the agave and tried to lever it up again. It budged. Encouraged, I dug some more and levered again. It lifted on one side and then on the other. Success! But how to pick it up and deposit it in the plastic tub?
The thing about agaves, which is probably apparent to everyone else but wasn't to me, is that they don't come with handles. You can't lean in to lift the root ball without facing death by a thousand points. You can't grab hold of the lower leaves to pull because they're lined with thorns, and anyway they're pretty fragile and snap like a Saltine cracker if you apply any pressure. You can't pick them up on your shovel because they're ridiculously dense and heavy. I couldn't just leave the mess until my husband came home to help. What if a potential buyer called right that minute to see the house? I sat and thought about my fellow garden bloggers' hauling experiences, and one in particular came to mind.
WiseAcre Gardener outsmarts heavy boulders with a chain, so I thought I might be able to outsmart ole 'Whale's Tongue' by roping it like a heifer at the rodeo. Looping a thick length of rope around the base, I hauled with all my might, trying to bully it out of its hole. Nothing doing. Several exhausting tries later, I went back to digging and levering, finally getting my handsaw under and sawing blindly at stones, clods of soil, and presumably some recalcitrant roots. Pulling again on the roped agave like a madwoman, I felt it slide. Yippee!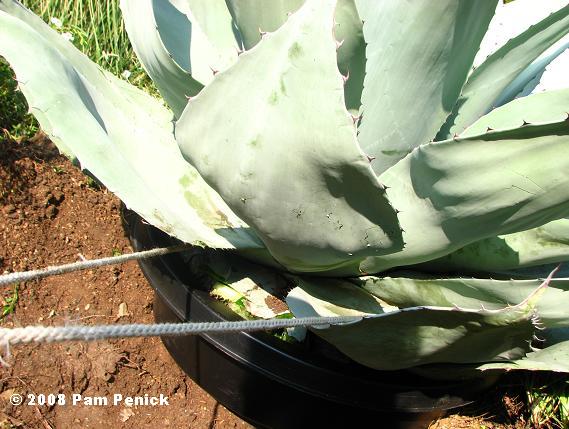 I decided it would be easier to slide it if it were in the tub, so I pulled up with the rope first on one side, then the other, wedging the tub further under the agave on each pass. I sustained a few pokes in the knee, but no blood loss yet!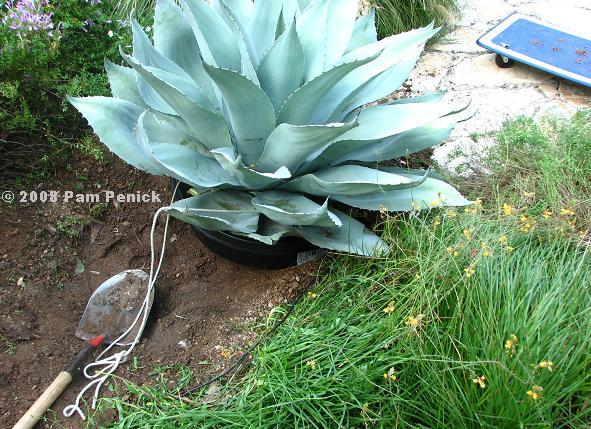 Now for the removal. I pulled as hard on the rope as I could, but the Whale just sat there, too heavy for one mere mortal to budge. So I started digging again, creating a gentle exit ramp out of the creature's lair. This time when I pulled, it slid, and two buckets of sweat and some unprintable words later, it was out of the hole and sitting on the stone path.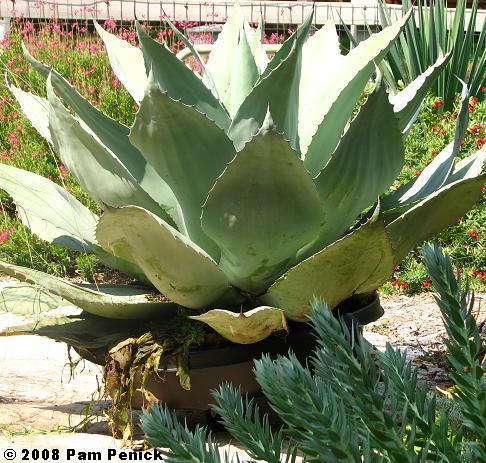 Not done yet! Now I had to get the potted agave up on a wheeled dolly. I'll spare you the details of levering, lifting, and avoiding painful spikes to the face. Eventually I won, and the agave is resting comfortably in the back yard, awaiting the next big move. I only hope I got enough of its roots for it to recover.
And guess what, Jeff? It didn't get any of my blood. At least not this time.
All material © 2006-2008 by Pam Penick for Digging. Unauthorized reproduction prohibited.