April 24th, 2011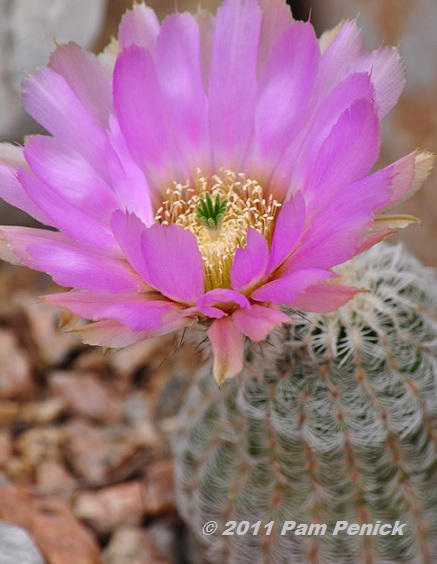 Lace cactus in flower
Gardening in central Texas is all about embracing extremes—of temperature, of rainfall, of summer's brutal duration, and, most delightfully, of the contrast between soft and spiky. One element of good design is using contrasting forms, and our native plants offer many opportunities, as evidenced by the springtime scene last week at the Lady Bird Johnson Wildflower Center.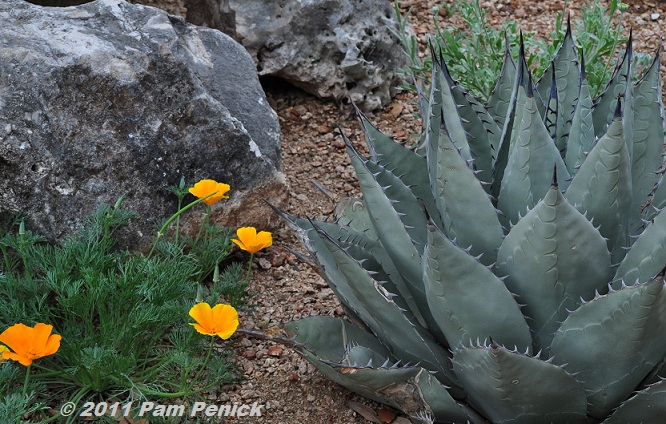 Billowy poppies cozy up to stiff-armed Agave neomexicana.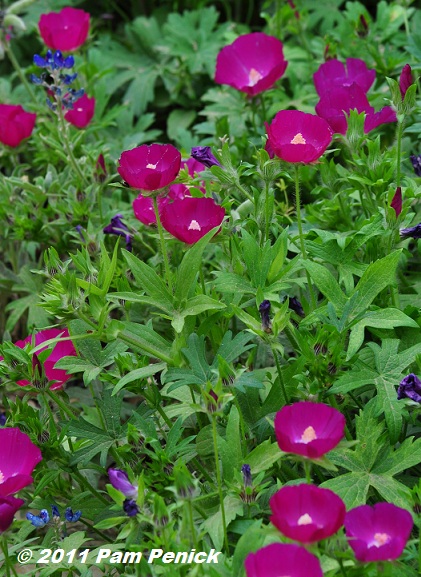 Imagine a sunny, xeric garden bed composed of winecup (Callirhoe involucrata) flowing around…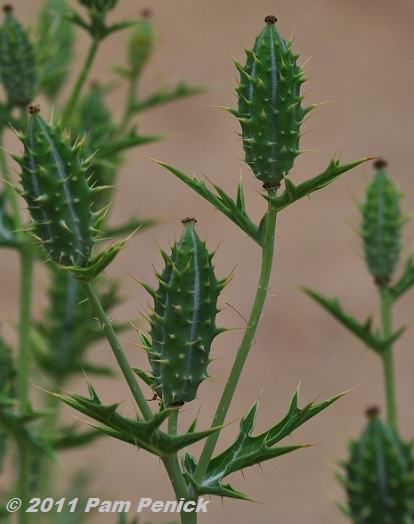 …spiny Mexican prickly poppy seedheads (Argemone mexicana), which stand stiffly among…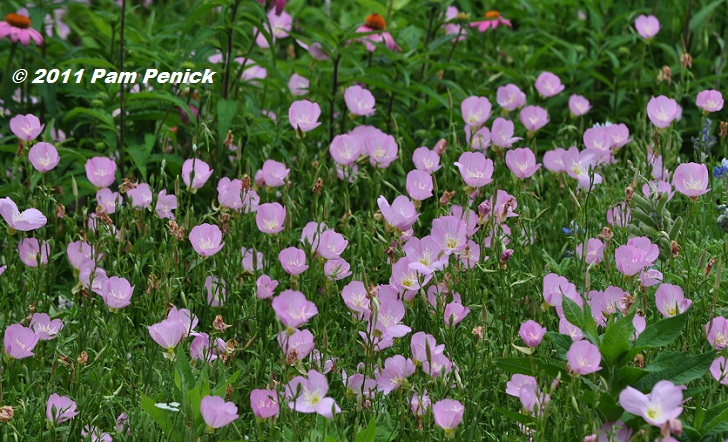 …cool waves of pink evening primrose (Oenothera speciosa), which contrast with…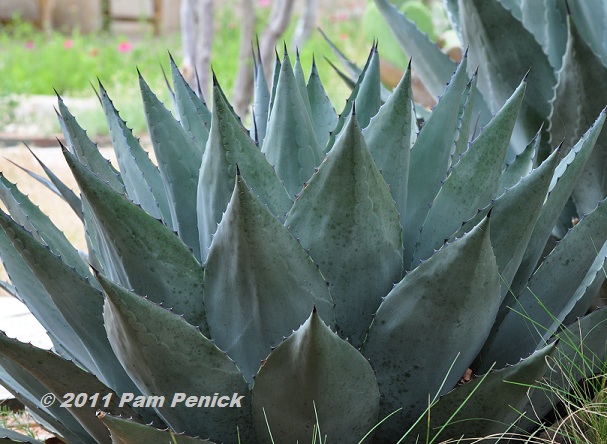 …spiky, cool-green agaves. Ah, beautiful!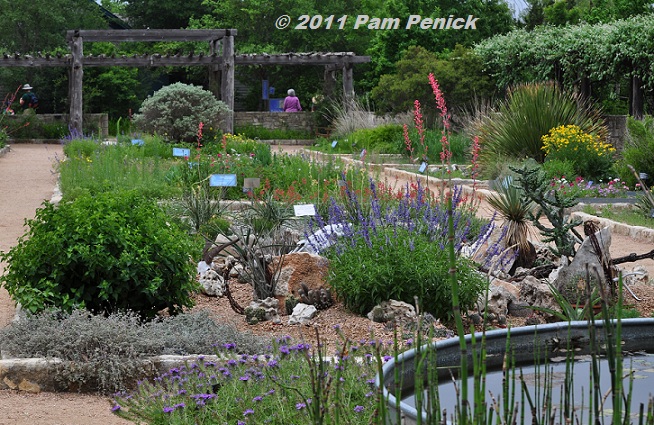 The Wildflower Center's display gardens offer plenty of examples of such contrasts, especially at this time of year when so many billowy wildflowers are in bloom.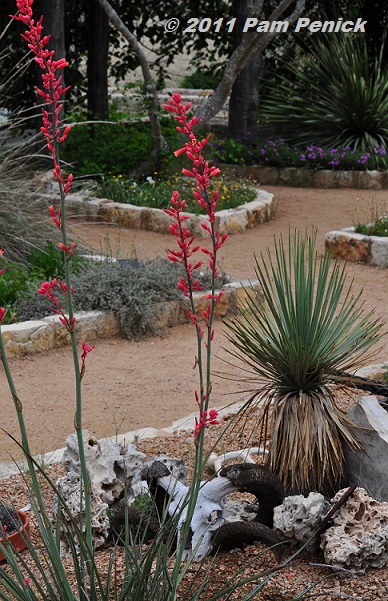 Of course, some of the beds are more on the spiky side, like this desert garden of yucca and hesperaloe, accented in a kitschy way with a bighorn sheep skull.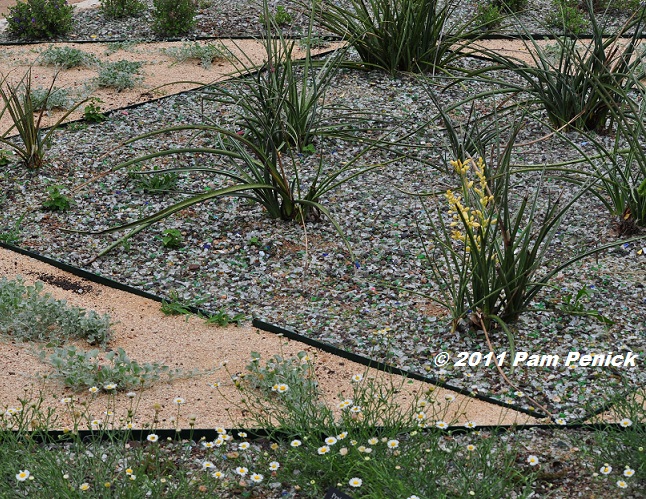 The Wildflower Center has gotten more creative in its designs in recent years. This geometric bed is all about line and swaths of the same plant, for a contemporary effect. The yellow hesperaloes are mulched with bits of glass.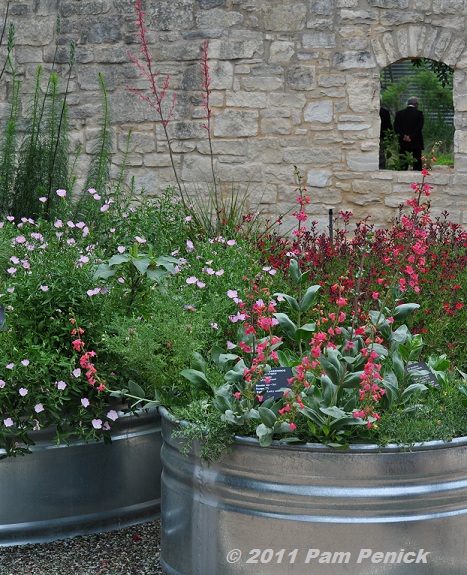 Stock tanks have made an appearance too, with Wright's penstemon, pink evening primrose, and Salvia greggii making a pretty spring container garden. Datura is set to take over in summer.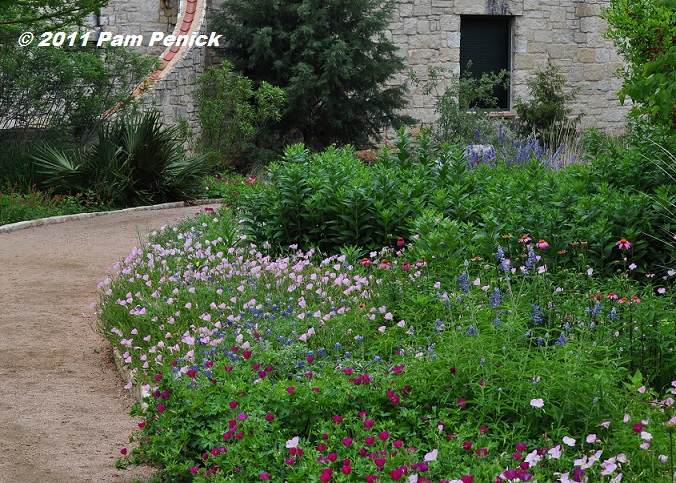 Masses of wildflowers are what many people expect to see here, naturally.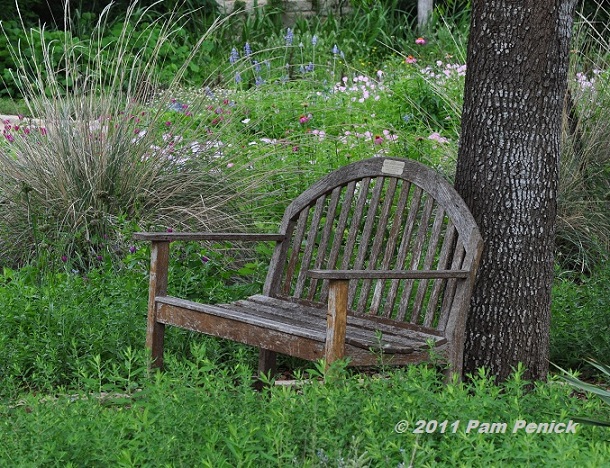 Yet despite its name, there is so much more to discover at the Wildflower Center.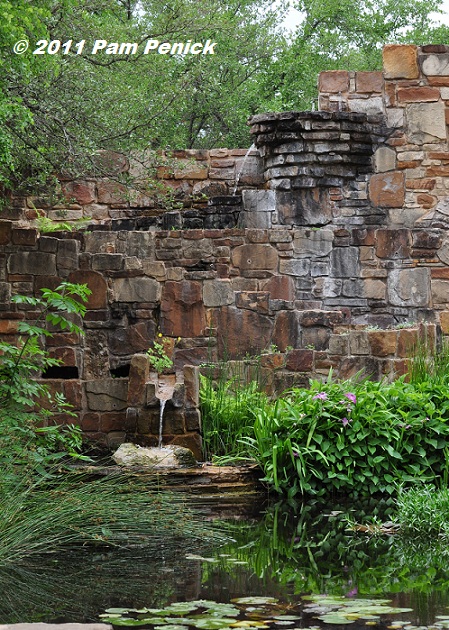 An intriguing water feature marks the entrance with a zig-zagging spillway from the top of the wall to the rectangular pond below.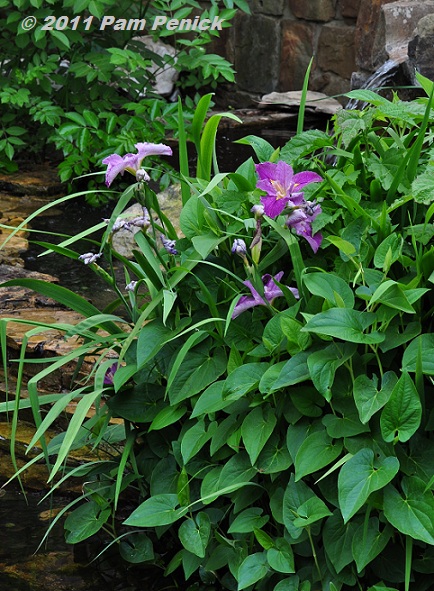 Native pond plants like this iris soften the formal lines of the pool.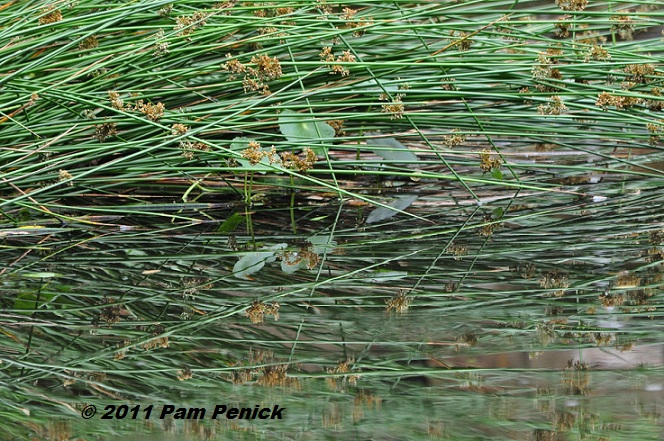 Reeds arch over the reflective surface.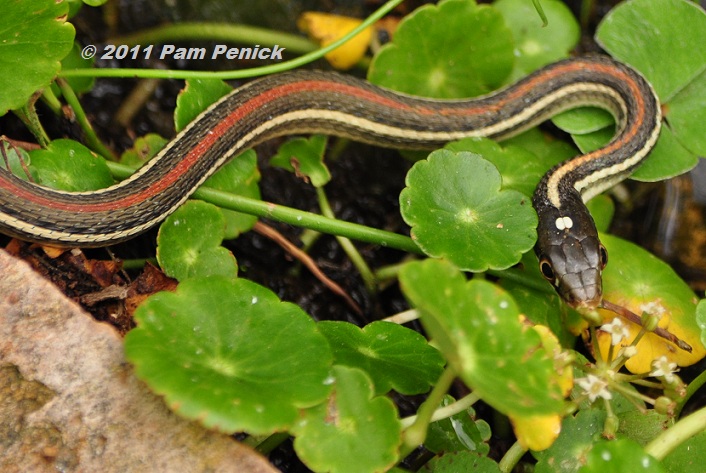 A red-stripe ribbon snake is often seen basking at the water's edge.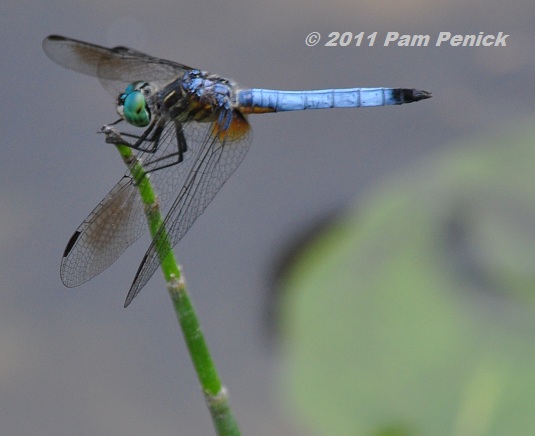 Dragonflies duel in the air and stare down the paparazzi on their rest breaks.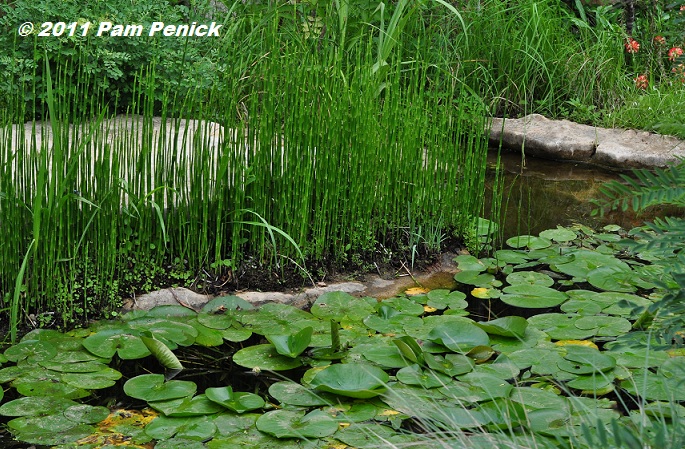 In another part of the garden, horsetail reed marches streamside, while water lily leaves jostle for maximum sun exposure.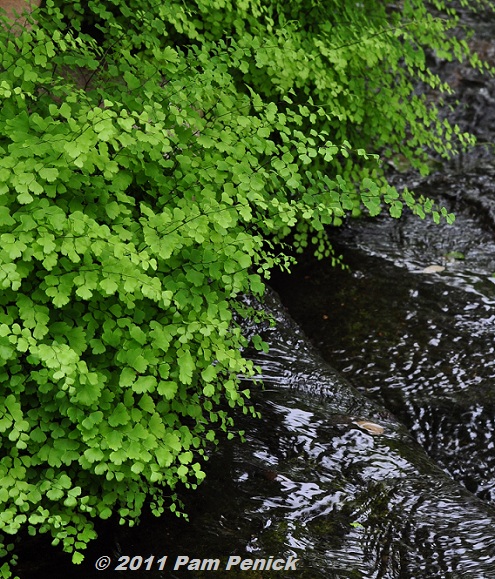 In the shade, maidenhair fern dips her tresses in the brook.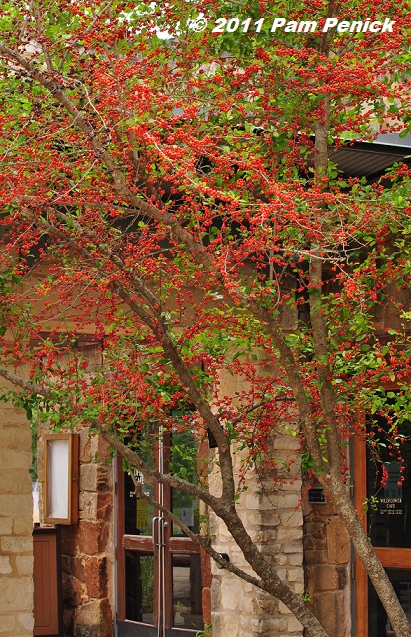 Possumhaw holly (Ilex decidua), still wearing the red berries of winter, is leafing out.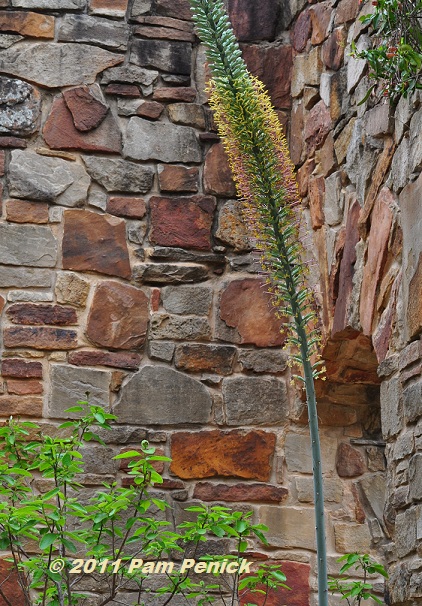 Agave lophantha is throwing a New Orleans funeral party for itself with a beautiful bloom spike.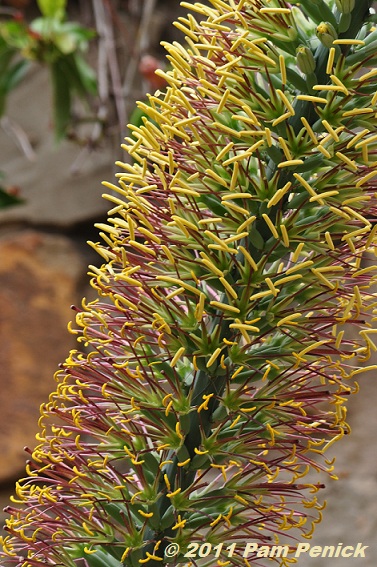 After the bloom fades, the agave will die, but not before producing seeds, bulbils, or pups for the next generation.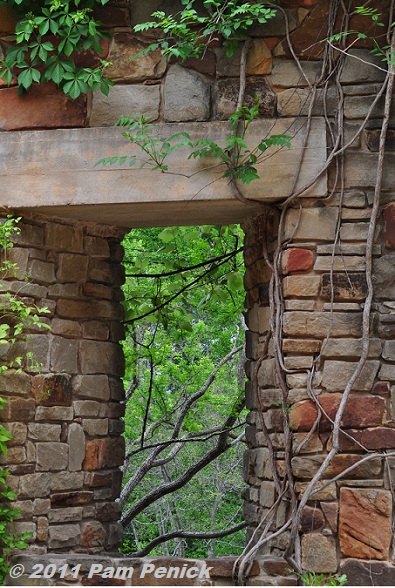 A green window opens in a beautiful stone wall.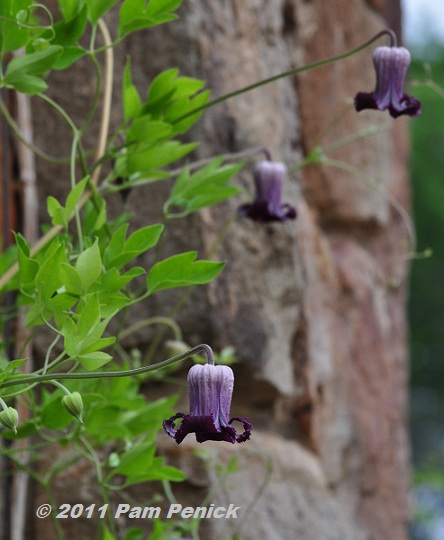 Clematis pitcheri, our dainty, native clematis, twines its way up the wall, displaying dozens of frilly, bell-shaped flowers.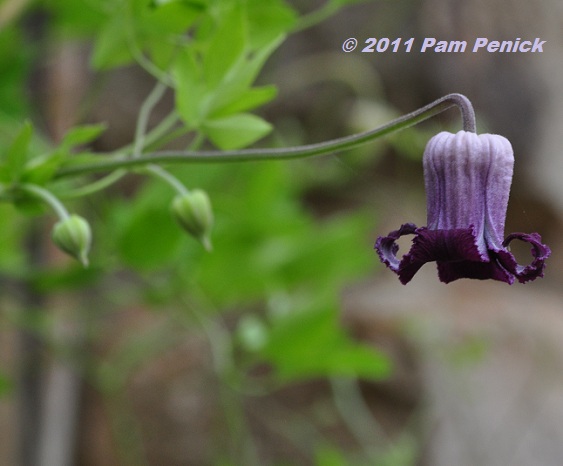 I adore this vine and have been trying to get one to thrive in my garden. Mine merely sulks. Seeing this one, I think perhaps mine wants more sun.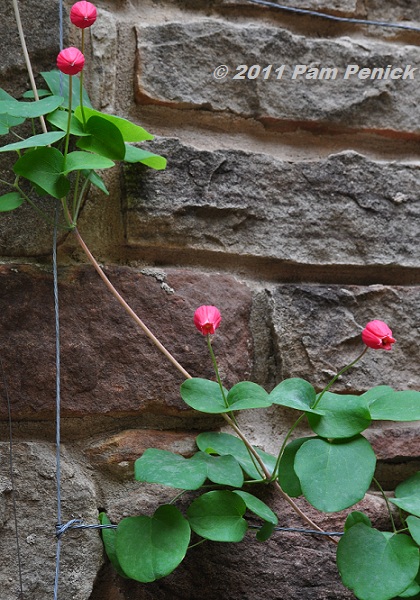 On a nearby wall, scarlet clematis (C. texensis) puckers her red lips.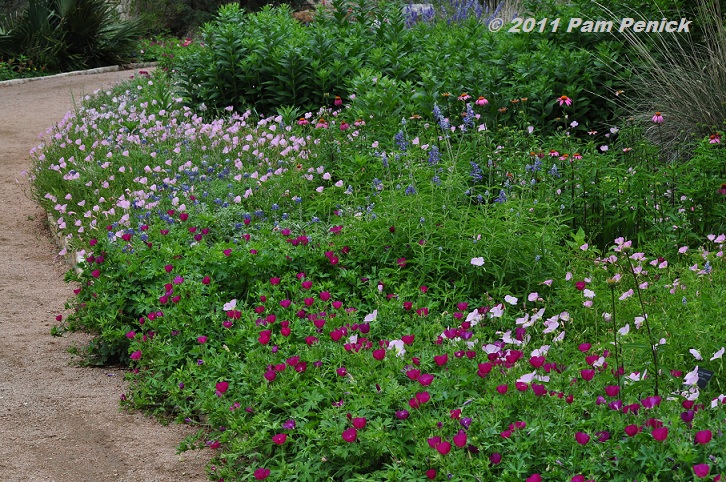 And I haven't even mentioned the great horned owl chicks that call the garden home. As you can see, there's much going on here. Why not visit and see for yourself?
For a look at the Wildflower Center in other seasons or years, visit my posts:
Great Horned Owlets Nesting at Wildflower Center
Camera Practice at the Wildflower Center
This Place I Love So Much
Fascinating Faces at the Wildflower Center
Sculpture Show Enlivens Wildflower Center in Winter
Stock Tank Planters Gone Wild!
Wildflower Center & Jill Nokes book-signing
Winter Wonderland at the Wildflower Center
Goblins in the Garden at the Wildflower Center
All material © 2006-2011 by Pam Penick for Digging. Unauthorized reproduction prohibited.
posted in
Agaves
,
Berries
,
Botanic/Public Gardens
,
Cactus
,
Containers
,
Design
,
Dragonflies
,
Ponds
,
Seating
,
Snakes
,
Spring color
,
Stock tanks
,
Texas natives
,
Trees
,
Vines
,
Walls
,
Water gardening
,
Wildflowers
,
Wildlife
,
Windows
,
Xeric plants