April 18th, 2011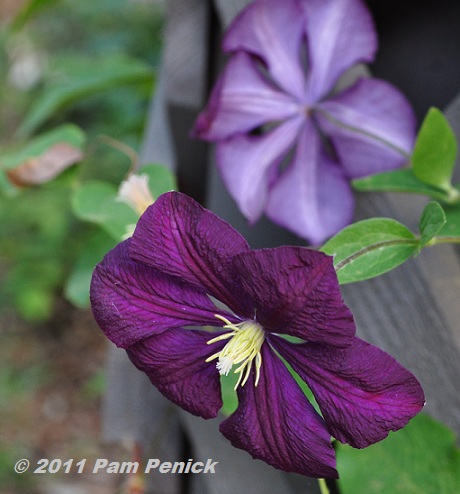 A classic garden beauty, 'Etoile Violette' clematis has proven hardy in my garden for the past two years through our blazing summers and unusually nippy winters. Its name means Violet Star in French, and its blossoms are indeed star-shaped, large, and open, unlike our native bell-shaped clematis, C. pitcheri, and tough hybrids like 'Duchess of Albany.'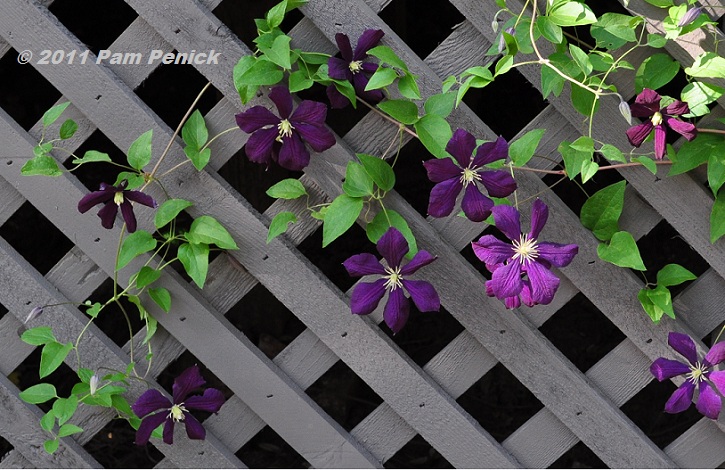 Mine grows in morning sun and dappled midday sun, with shade in the late afternoon. As with most vines, it likes to have its roots shaded by other plants, and the deck trellis it twines on helps with that too. It receives the same amount of water as most of the rest of my garden: a once-a-week sprinkler system run. Perhaps because of our summer heat, it isn't a rampant grower, as it can be in more-temperate climates. Mine seems content to ramble along the trellising under the deck, getting to about 8 or 10 feet wide over the course of the season. I direct its growth horizontally rather than encouraging it to grow tall, but I imagine it could be trained to cover a small arbor.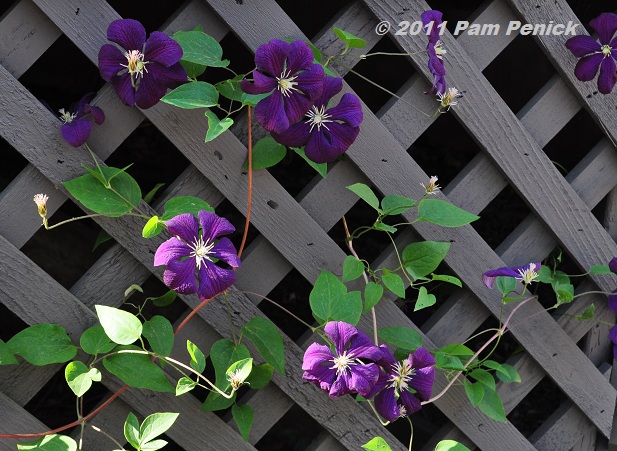 'Etoile Violette' is deciduous, and it blooms on new growth, so it needs to be cut to the ground each year for best flowering. I cut mine back in mid-February, and it rewards me with a couple of weeks of delightful flowers each April.
I found 'Etoile Violette' clematis at Barton Springs Nursery a couple of years ago. You might want to call around to see who's carrying it this year.
Note: My Plant This posts are written primarily for gardeners in central Texas. The plants I recommend are ones I've grown myself and have direct experience with. I wish I could provide more information about how these plants might perform in other parts of the country, but gardening knowledge is local. Consider checking your local online gardening forums to see if a particular plant might work in your region.
All material © 2006-2011 by Pam Penick for Digging. Unauthorized reproduction prohibited.