September 28th, 2008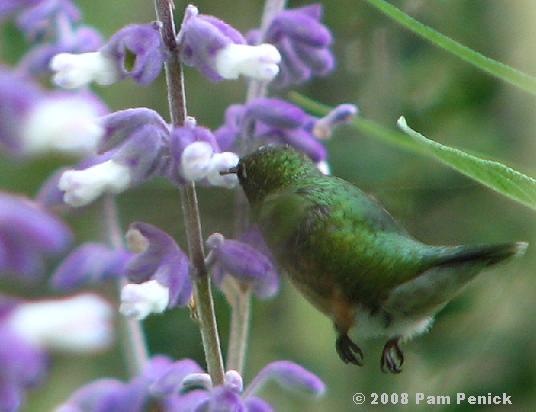 I see hummers in my garden every day, and when I have my camera handy I always try to get a shot. They're skittish, though, and don't appreciate the paparazzi. I should be more patient and lie in wait, but inevitably a weed will catch my eye, and I'll abandon my hummingbird stake-out.
While taking a rest break from agave wrestling on Friday (more on that later), I managed to shoot this zippy guy—or at least his backside. My camera isn't fast enough to capture the beating wings; there's only a shadow where they should be. Well, that's how they appear to the naked eye, and I suppose it will have to do here as well.
Knowing well my own limitations in artistry, technical ability, and even patience, and the talent of my fellow garden bloggers, I am honored that Digging was chosen for Best Photography, Best Drought-Tolerant Blog, and Most User-Friendly Blog in the first annual Blotanical Awards. Many thanks, fellow Blotanical users, for your votes! You've put a little zip in my step today.
All material © 2006-2008 by Pam Penick for Digging. Unauthorized reproduction prohibited.