April 4th, 2011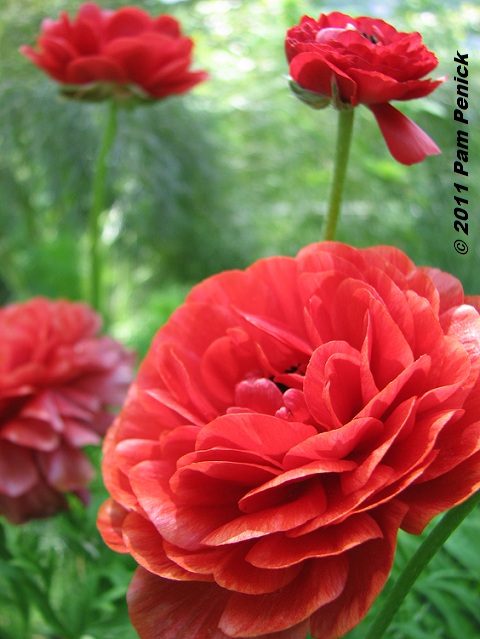 From dinosaur gardens to Japanese gardens to the surprise of azaleas in Austin, Zilker Botanical Garden has something for everyone. And yes, they also have mixed beds of flowers in bloom, although thankfully no sweeps of bedding annuals. Here's some lovely spring color (I'm including green!) brightening the grounds during my visit last week.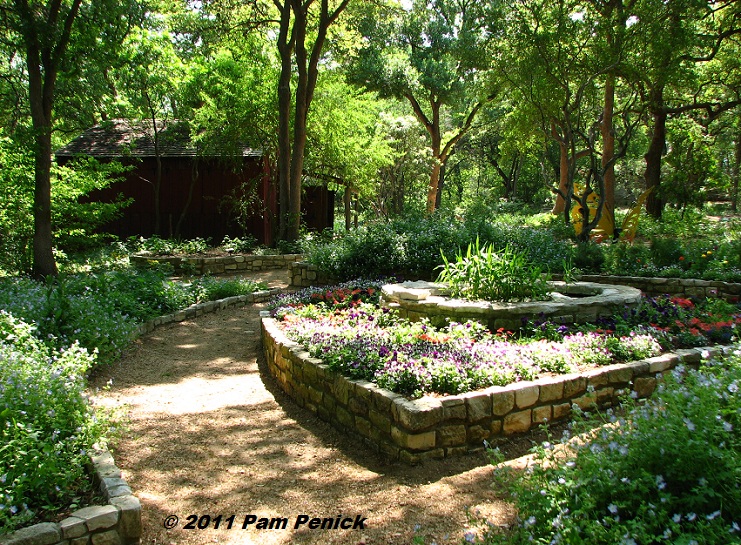 A glade opens amid the trees, and a curving, raised-bed garden built around a water feature takes advantage of the sunlight.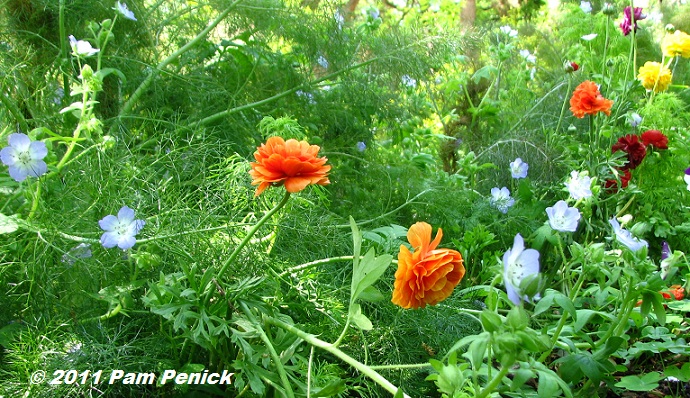 Frilly, colorful heads of ranunculus add a festive look to a bed of baby blue-eyes (Nemophila phacelioides).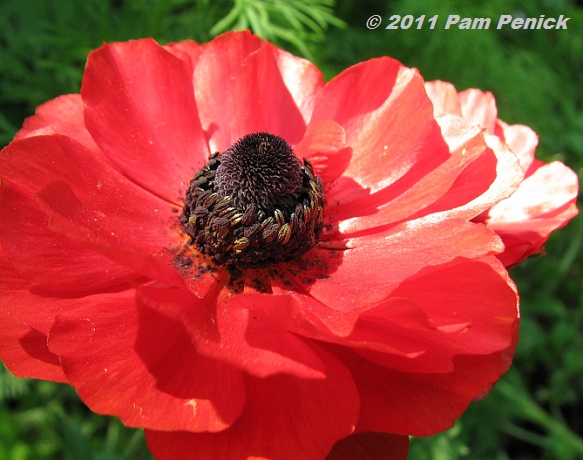 Cha-cha-cha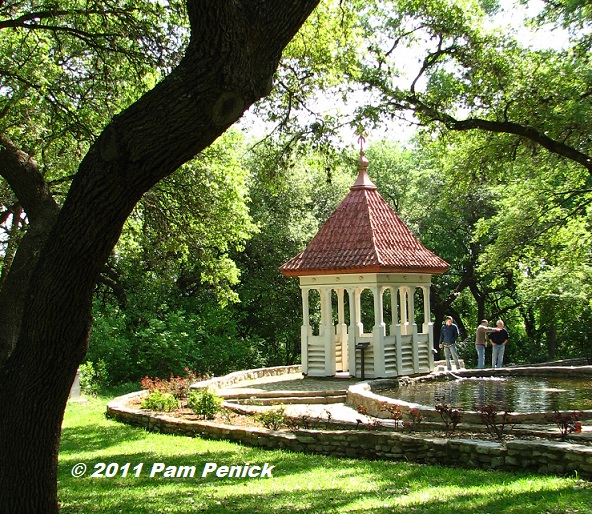 Over by the rose garden, a red-roofed structure (the top of an old schoolhouse, I seem to recall) makes a picturesque gazebo by the koi pond.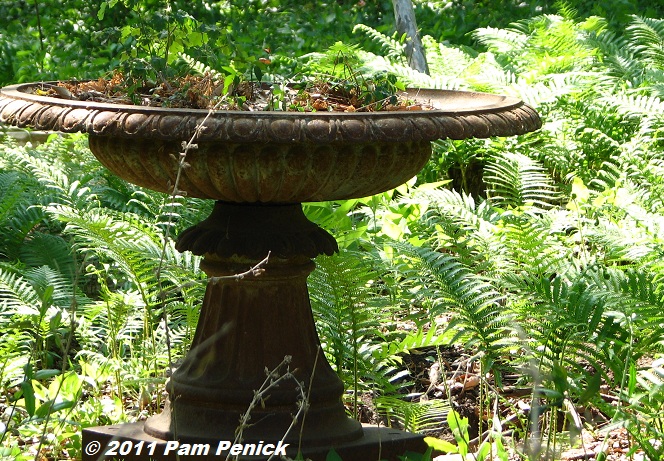 A Victorian-style planter left "wild" in a bed of ferns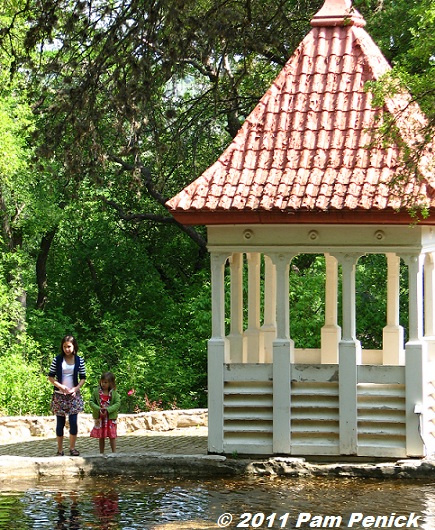 And another view of the gazebo by the pond. These girls were watching the large koi.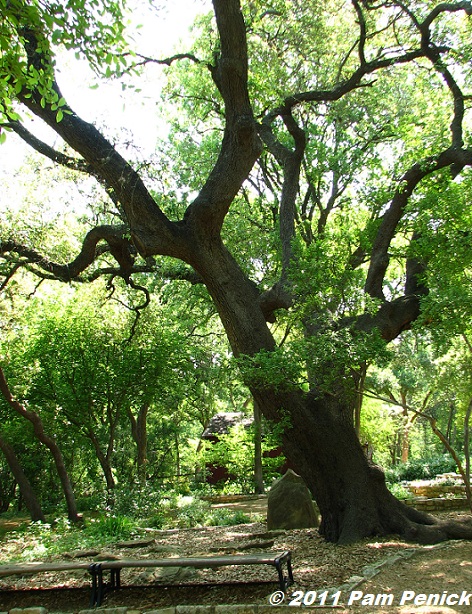 This leaning, ancient live oak is one of my favorite trees at the gardens. It has great character.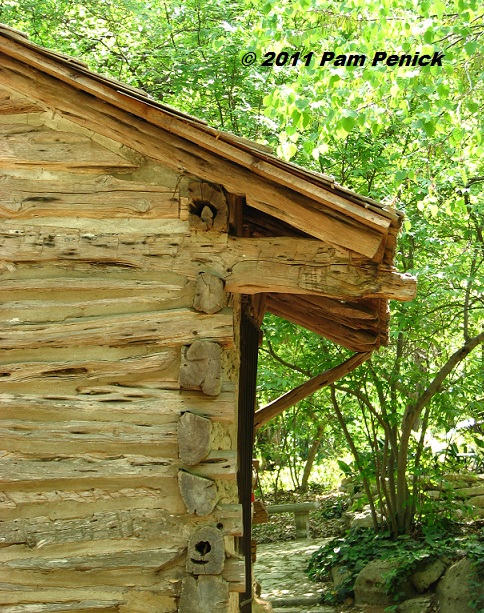 Along with several other pioneer buildings incongruously sited in the garden, but charming nonetheless, a Swedish immigrant's log cabin can be inspected near the azaleas.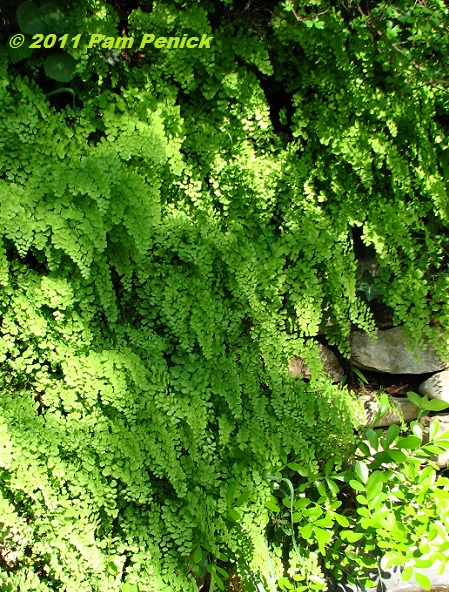 Along the stream in the Japanese garden, a bank of maidenhair fern cascades beautifully toward the water.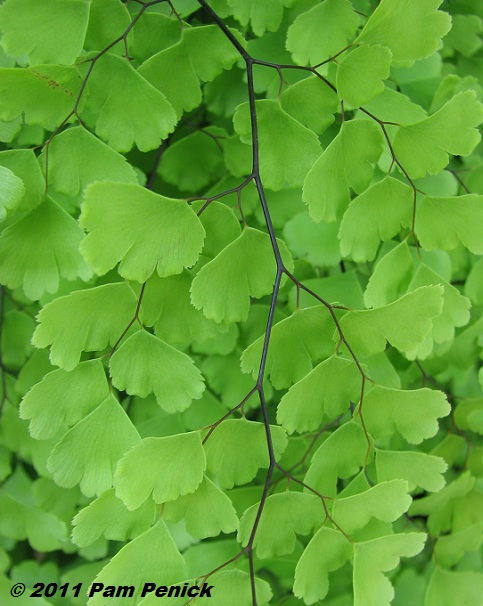 A closer look at its black stems (I love these!) and delicate greenery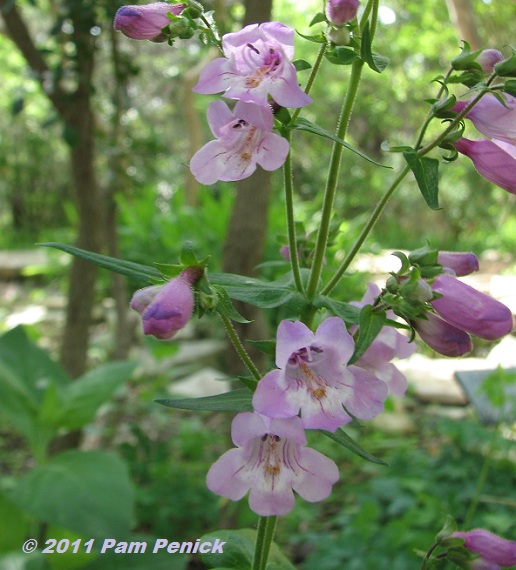 Gulf Coast penstemon offers up dainty, lavender blossoms on tall stems in the Green Garden, which features native and adapted water-wise plants.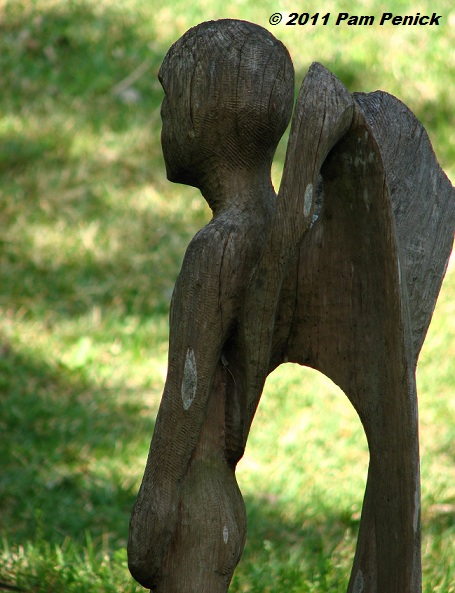 A carved wooden angel in the Japanese garden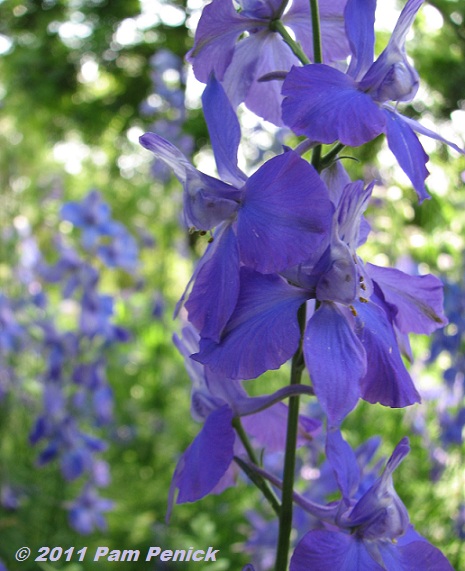 A stand of larkspur brings the evening sky to earth near the tea house.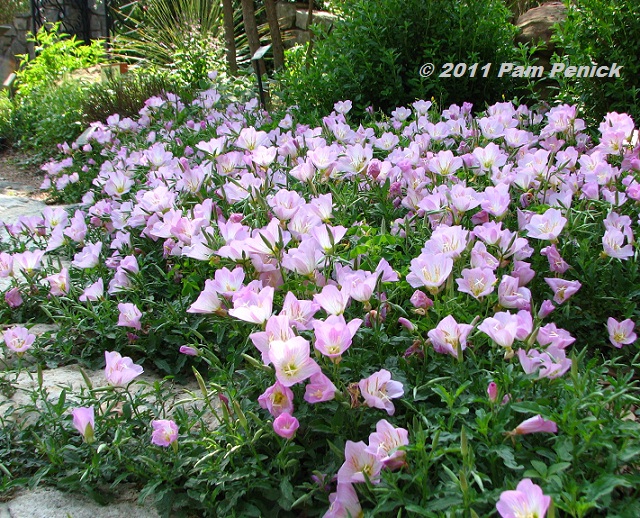 Out by the parking lot, pink evening primrose sprawls in a sunny gravel bed, flouncing its pink skirts. Such a sweet flower, and such a tough, even thuggish, plant.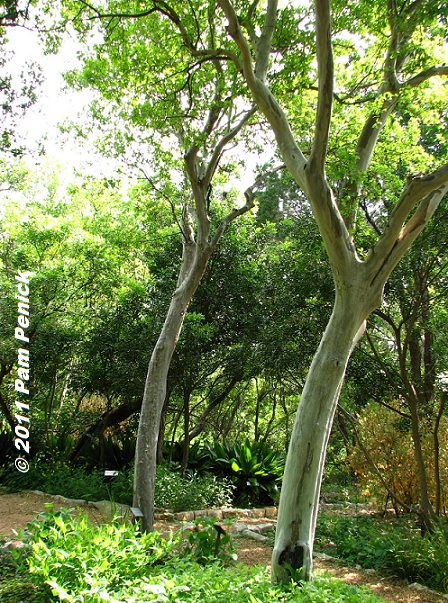 Shining, white Texas persimmon trunks in the Green Garden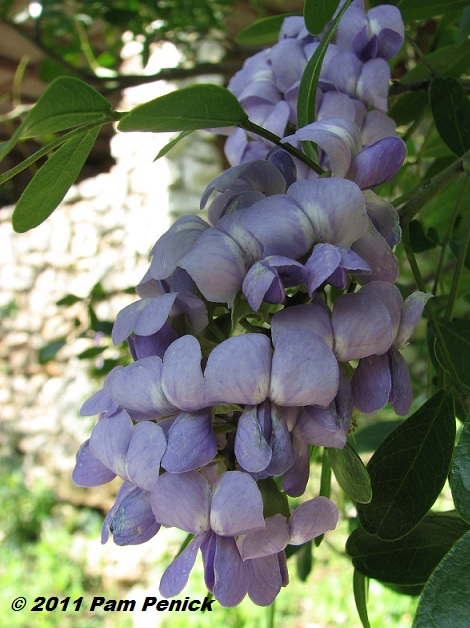 The blooms were almost all faded from the Texas mountain laurels, but I found this grape Kool-Aid-scented cluster still hanging on.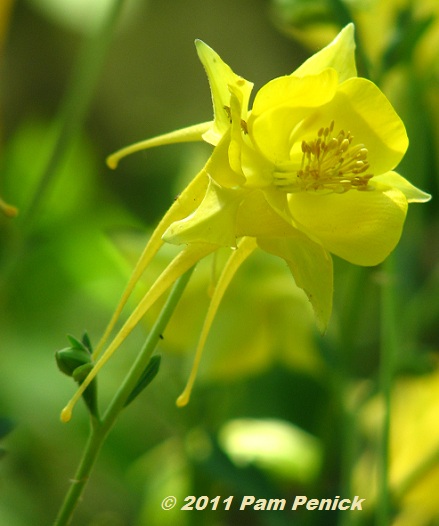 Yellow columbine was in full swing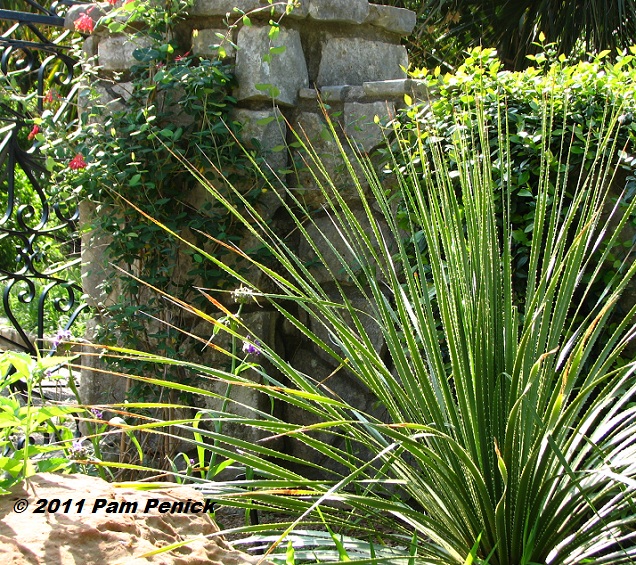 Texas sotol, every thorn along its pliable leaves lit up by the sun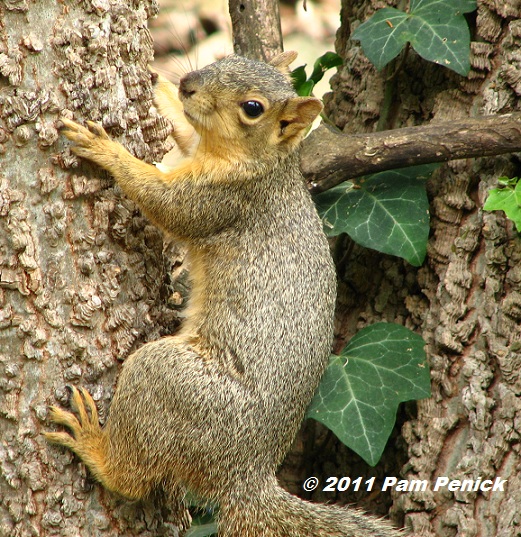 A nearly tame squirrel was enjoying the garden along with me. And I hope you have enjoyed the virtual visit as well.
For an older visit to Zilker Garden, click here.
All material © 2006-2011 by Pam Penick for Digging. Unauthorized reproduction prohibited.