July 12th, 2006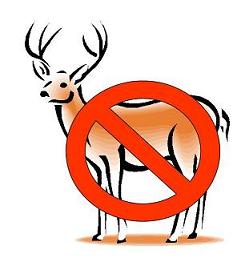 I don't have to contend with deer in my garden, but I fear that day is coming. Living as I do in an older, in-town neighborhood, separated from the greenbelt-banded, hilly neighborhood to the west by a busy highway, I've never had plants chomped by deer or worried about planting deer candy like rosebushes. However, the highway is not impenetrable. A bridge across it leads from the deer-populated neighborhood to my west right to the end of my street, and an adjacent, tree-filled cemetery offers plenty of hiding places, as does nearby Shoal Creek. In fact, not long ago my husband spotted a deer in the cemetery, and our neighborhood association reports that coyotes are now living along the creek.
Austin is an environmentally sensitive, wildlife-friendly town. (The largest urban bat colony in the U.S. resides under downtown's Congress Avenue bridge and is popular with locals and tourists alike.) So when the coyotes showed up in town and began eating pets a couple of years ago, reaction was muted. Then folks began complaining that the coyotes were behaving boldly toward humans (trailing a mother pushing a stroller down a residential street; eying family pets through sliding-glass doors in broad daylight), and the city responded by trapping and killing the most aggressive coyotes.
As a mother of young children, I was glad to hear it. Children have been attacked by coyotes in California and elsewhere. Culling the aggressive coyotes, I figured, would instill a healthy fear of humans in the rest.
The deer remain, however, welcomed and fed by some and despised by others. But now I wonder whether deer and coyotes are the least of our concerns. In an Estes Park (CO) bookstore, I picked up a copy of The Beast in the Garden , by NPR correspondent David Baron. This nonfiction page-turner explores the circumstances in Boulder, Colorado, in the 1980s that led to the return of a native—the mountain lion—and an eventual fatal human mauling.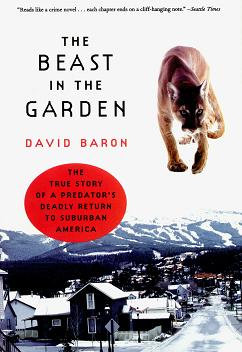 Baron explains that an abundance of urban and suburban deer, ample parks and greenbelts surrounding Boulder, and an attitude of tolerance and protection toward prey and predator alike welcomed the mountain lion to town, habituated them to humans and residential areas, and led, inevitably, to someone being eaten.
And I thought deer eating my roses were enough to worry about.
Ironically, as Baron points out, a hands-off policy toward the lions (and deer) by environmentalists, nature lovers, and the state's Division of Wildlife, and a city philosophy of living with nature, not managing it, actually altered the animals' behavior and led to wildlife becoming artificially tame and ultimately dangerous to humans. By trying to foster an Edenic relationship with wildlife, townsfolk created the conditions for an attack.
Baron sensibly acknowledges that even if a person lives in mountain-lion habitat, he or she is more likely to be struck by lightning than to be attacked by a big cat. But encounters and attacks are on the rise, even in places previously thought not to have mountain lions. Lions, he reports, have been seen (and killed by cars and trains) near St. Louis, Minneapolis, and Kansas City. Baron predicts they will soon be repopulating the East Coast, if they aren't there already. "The resilient cats are reclaiming old territory," he writes, "and as they do, the nation should heed Boulder's lessons."
The Beast in the Garden is a thought-provoking book and a good read, and I recommend it to anyone interested in nature and wildlife not to mention some truly frightening anecdotes of humans being stalked by mountain lions.
Where the deer go, the mountain lion will follow, says Baron. It'll make you think twice about putting out the deer corn.