February 25th, 2011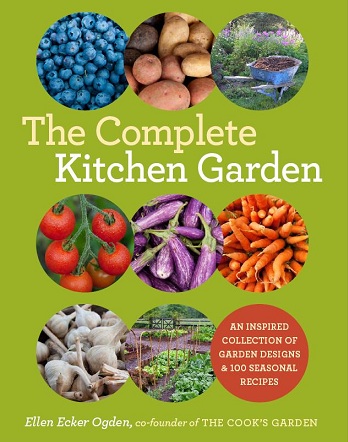 After writing my Garden Designers Roundtable post about vegetable garden design, I picked up a book recently sent to me for review: The Complete Kitchen Garden: An Inspired Collection of Garden Designs & 100 Seasonal Recipes by Ellen Ecker Ogden, a Vermont gardener, author, and cofounder of The Cook's Garden seed catalog. What perfect timing to share this scrumptious book with you.
Books about edible gardening are trendy thanks to the resurgence of interest in homegrown food. What sets the The Complete Kitchen Garden apart is a melding of garden design, practical gardening tips, and enticing recipes. Inspired by "classic European-style kitchen gardeners," Ogden shares her affinity for enclosed, geometric potagers, which go beyond "the simple, straight rows of a vegetable garden to combine art and cuisine in ways that enhance the experience of growing food."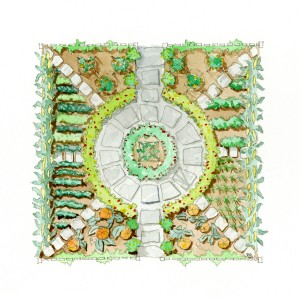 Following a chapter of practical and basic gardening advice, the main portion of the book offers up 14 different garden designs, each complete with a bird's-eye, full-color illustration; bed dimensions; plant list, photos, and descriptions; ten growing tips specific to that style of garden; recipes; and a "garden personality" to explain the idea behind the garden design or its main purpose.
For instance, the Heirloom Maze Garden is inspired by "ancient labyrinths, circular paths that served as meditation retreats or offered an adventure with a surprise at the end." Recipes in this chapter include Chilled Lemon Cucumber Soup, Fire-Roasted Tomato Sauce, and Braised Winter Greens with Coconut and Curry.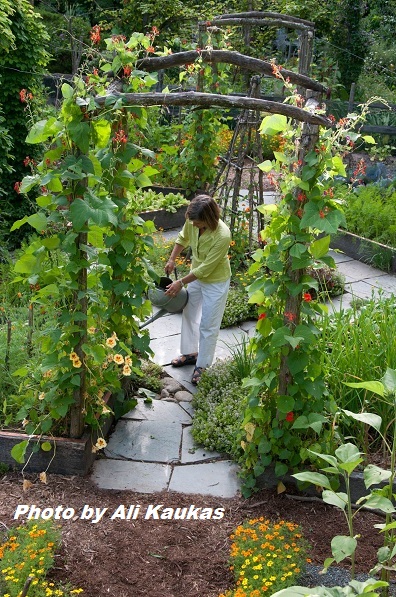 The Artist's Garden, in contrast, is "all about the visual qualities of vegetables," with a plant list that combines asparagus and golden tomatillos with 'Lemon Gem' marigolds and chocolate sunflowers. And the Patio Garden, for gardeners short on space, is defined by "containers of ornamental edibles," with enticing recipes like Corn and Jalapeno Muffins, Fennel Tomato Soup, and Eggplant Caponata.
Inspirational photos of kitchen gardens and beautiful illustrations of Odgen's designs by Ramsay Gourd offer plenty of eye candy. No doubt you'd have to adapt the plant lists for your own region and growing conditions, but the designs provide an excellent jumping off point for a vegetable garden that doesn't neglect good looks in the pursuit of good food.
Disclosure: This book was sent to me unsolicited for review by Stewart, Tabori & Chang publisher. My review, like everything in Digging, is my own honest opinion.
All material © 2006-2011 by Pam Penick for Digging. Unauthorized reproduction prohibited.