February 22nd, 2011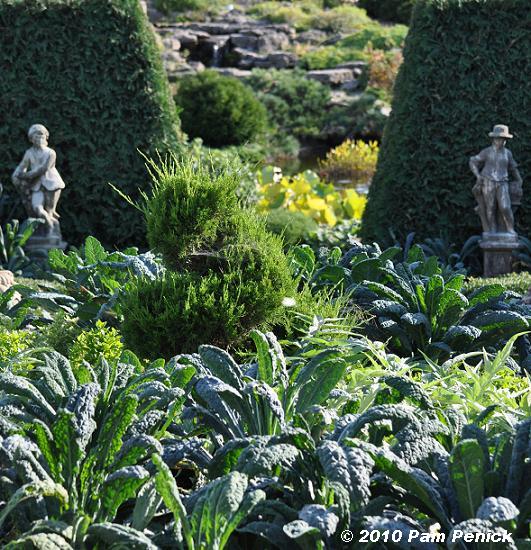 French potager, Allen Centennial Gardens, Madison, Wisconsin
Today Garden Designers Roundtable celebrates the release of The Edible Front Yard: The Mow-Less, Grow-More Plan for a Beautiful, Bountiful Garden by Roundtable blogger Ivette Soler of The Germinatrix. How are we celebrating? By writing about edibles from a design standpoint.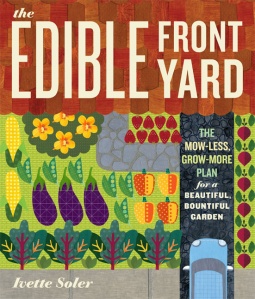 But first—yea, Ivette! I haven't even seen her book yet, but I'm totally biased in its favor because she's a friend and a talented writer and designer at that. I've been following her posts and tweets about her Los Angeles streetside edible garden, and she knows all about the challenges and rewards of putting the veggies right out front where everyone can see them—and nab them.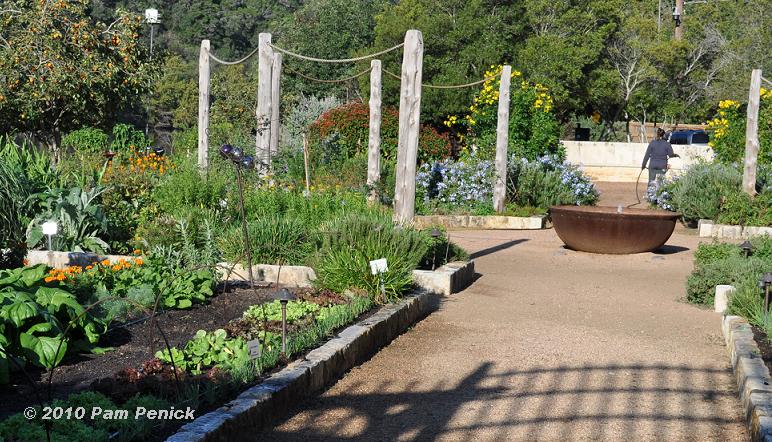 Lake Austin Spa's formally designed vegetable garden
Now, regular readers know that I'm an ornamental gardener at heart, and the only edibles in my garden are a few essential herbs. But that doesn't mean I don't appreciate a tidy kitchen garden, beautifully designed potager, espaliered fruit trees, or even edibles mixed to decorative effect with ornamentals. In fact, I think edibles deserve the same attention to design as the purely ornamental areas of your garden.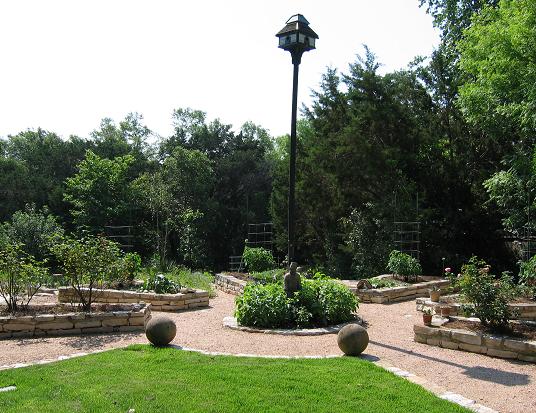 Take this elegant sunburst of raised beds, for instance. Sun-loving tomatoes and roses share pride of place in the Corum Cove garden in Austin (from Gardens on Tour 2007). So you don't have this much space? Just shrink the scale to fit the space in your yard. You can stack your own chopped-limestone beds and spread decomposed granite to make generous paths. Anchor the center with a pretty pot or a simple birdhouse on a post. Even when the garden is not producing it will be beautiful.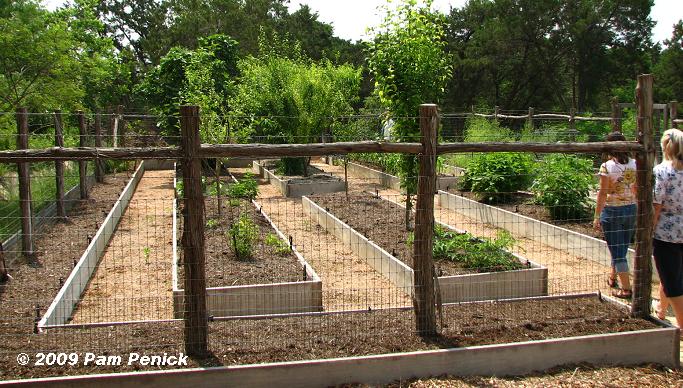 A more utilitarian vegetable garden (Buckeye Trail garden, from Gardens on Tour 2009) uses cedar planks to build up raised beds, enclosing the entire space in a rustic wire-and-cedar-post fence. It's a straightforward, practical design, but look at the care taken in the layout of the beds. The beauty of symmetry and exact measurement shines through.

Rock Rose blogger Jenny Stocker has endowed her garden with potager charm with painted-wood raised beds, pavers, and self-seeded annuals blossoming among the vegetables. Jenny and her husband, David, are masters at creating hardscaping that gives her billowing garden the structure that holds it all together.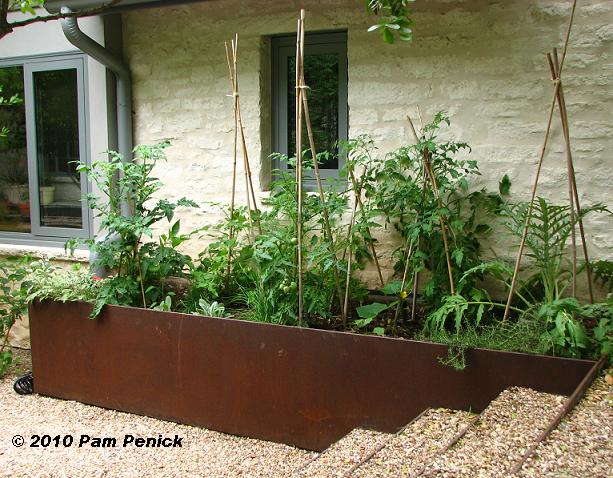 Do you prefer a more contemporary look? Try raised beds made of Cor-Ten steel. This one keeps vegetables at a convenient height and location, right by the back door, not hidden away at the back of the garden (landscape architect Christy Ten Eyck's Austin garden).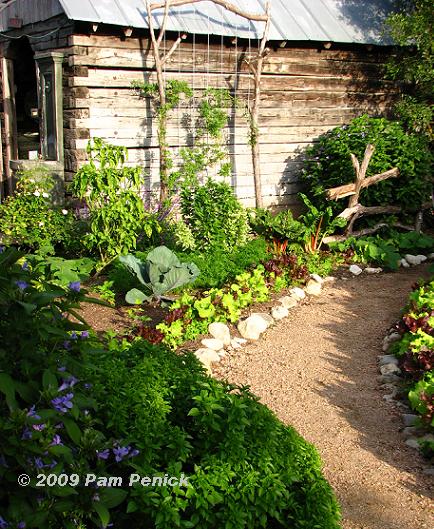 If raised beds aren't your style or you prefer a looser arrangement in your vegetable garden, make a strolling garden with winding paths lined with found stone. A bench off to the side from which to enjoy the view would add the finishing touch (Antique Rose Emporium, San Antonio).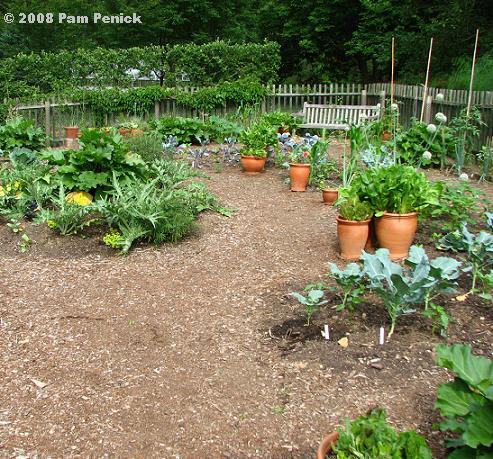 Even more informally designed is the vegetable garden at Chanticleer Garden in Pennsylvania. Broad winding paths and unedged beds give a feeling of openness. But a series of planted terracotta pots add rhythm and help to draw you into the garden. Note the placement of the focal-point bench, on the diagonal across the longest axis in the garden.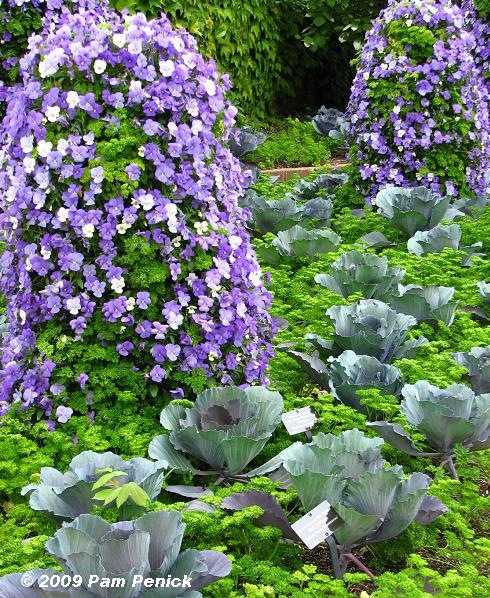 Truly a "designed" edible garden: Chicago Botanic Garden's viola-and-parsley towers underplanted with cabbages. OK, it may not be practical for the home gardener, but it makes a beautiful design statement in a garden tended by an army of trained staff.
Edible garden…ornamental garden. Why not have both by bringing strong design to your vegetable plot? Large or small, elegant or humble, the edible garden should shine with the beauty of thoughtful design.
Be sure to read the other participants in today's Garden Designers Roundtable to be inspired by these designers on the topic of Edibles:
Ivette Soler – The Germinatrix – Los Angeles, CA
Rebecca Sweet – Gossip in the Garden – Los Altos, CA
Genevieve Schmidt – North Coast Gardening – Arcata, CA
Scott Hokunson – Blue Heron Landscape Design – Granby, CT
Douglas Owens-Pike – EnergyScapes – Minneapolis, MN
Shirley Bovshow – Eden Makers – Los Angeles, CA
All material © 2006-2011 by Pam Penick for Digging. Unauthorized reproduction prohibited.