September 19th, 2008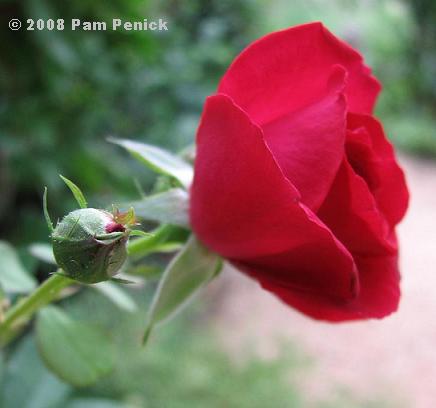 Not counting the Garden Bloggers Spring Fling 2008, the best local garden tour I've ever been on is Austin's Open Days Garden Conservancy tour. Two years ago I visited every garden on the tour and ended up making a post about each one; click here for my introductory Open Days post.
This year Open Days Austin occurs on October 4th, which just so happens to be my birthday. It also just so happens to be the day after we move into our new house. Is that going to stop me from going on the tour? Indeed not! I've already given notice to my understanding husband that he and the kids will be unpacking on their own that morning through early afternoon while I treat myself to a day of amazing Austin gardens. It's a birthday present I'm giving myself.
Roxane Smith, our Open Days regional rep, and I have traded a few emails about the tour. I'd mentioned to her how happy I am that Open Days is returning to Austin after last year's hiatus, and that it falls on my birthday this year.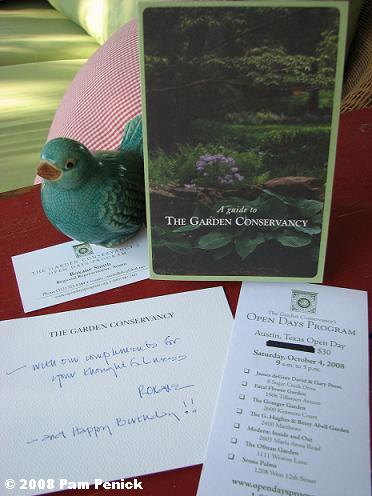 Well, imagine my surprise and delight yesterday when I opened an envelope in my mailbox and found a pass for all seven gardens, compliments of Roxane. She also included a very kind note wishing me a happy birthday. Thank you, Roxane! I can't wait to see the gardens this year, especially since six of them have never been on the tour.
For local readers, here's the scoop. Open Days Austin will be held on Saturday, October 4, from 9 a.m. to 5 p.m. Tickets are $5 per garden and can be purchased at each garden. The Open Days Directory contains the most detailed information and can be purchased online (it includes one free ticket), or you can visit the Open Days website.
If you want to see how the other half lives, I suggest (based on the online descriptions) the Granger Garden and the G. Hughes and Betsy Abell Garden, both in Tarrytown, as well as the Ofman Garden in southwest Austin out by the One World Theater. Don't miss James David and Gary Peese's garden, which is the sole repeat on this tour; the Spring Flingers enjoyed a personal tour and the hosts' hospitality last April.
I'm particularly interested in seeing the smaller gardens on the tour: one in east Austin (featured not long ago on "Central Texas Gardener") and another in Clarksville near downtown.
For a preview of the gardens, tune in to "Central Texas Gardener" at noon on Saturday (or check KLRU's schedule for your area), and visit producer Linda Lehmusvirta's CTG blog.
And if that's not enough for you, Open Days San Antonio is scheduled for October 18.
All material © 2006-2008 by Pam Penick for Digging. Unauthorized reproduction prohibited.