January 24th, 2011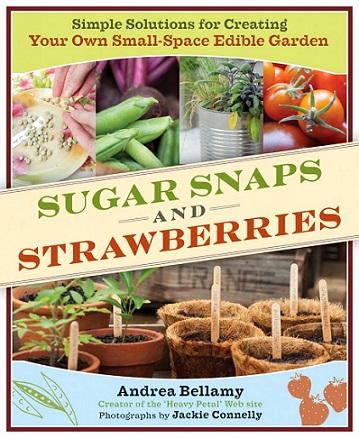 Like a rebel without a cause, I continue to resist growing edibles despite the current fad and inspiring examples of fellow gardeners and bloggers who savor their homegrown fruits and vegetables. Sure, I stick a basil plant in the ground each spring and harvest the leaves all summer. Yeah, I snip sprigs of rosemary from the evergreen herb in my deer-resistant garden. But that's the extent of my edible garden. Why? I don't really know. I've just never gotten enthused about watching my food grow when selecting it from the organic bin at the grocery store is so much easier (no daily watering required, and bugs and weeds are not an issue) and when there are so many ornamentals I want to grow in my sunniest spaces.
And yet…I almost had a change of heart while reading Sugar Snaps and Strawberries: Simple Solutions for Creating Your Own Small-Space Edible Garden by Andrea Bellamy, Vancouver balcony gardener and author of the blog Heavy Petal. Andrea makes a convincing case for homegrown food, and she shows that you don't need a country acre or fancy potager—or any plot of dirt at all—to do it. From a row of potted herbs on a deck railing to beans planted in a few inches of soil at the base of a fence and trained to grow vertically, the possibilities for squeezing edibles into tight spaces are fully explored. Have you always dreamed of an orchard but lack the real estate? Andrea shows how even apples—grown from dwarf rootstock in containers—can be espaliered on a horizontal trellis and grown on an apartment balcony.
Andrea explains the basics of growing food (of growing any plant, really) in clear detail, and beginner gardeners will find everything they need to know to get started on and eventually harvest an edible garden of their own. As a Deep South gardener, I did feel that the book was skewed to a temperate gardener's point-of-view, with much discussion of early seed starting indoors and summer harvests, when I know from local blogs that the edible gardening season in central Texas is really two seasons—spring and fall—separated by a hot, humid, yet dry summer that takes a toll on plants and gardeners alike. Still, there's much useful information in Sugar Snaps, and I'd recommend it to any new gardener of edibles, particularly one who has limited or no access to a plot of earth she can call her own.
With that in mind, I am donating my copy to a deserving local reader. Leave a comment on this post telling me about your desire to grow edibles and any space limitations you face, and I'll choose a winner on Friday. To be eligible for the free book, you must live in Austin.
And now I think I'll brave the morning traffic for a trip to the grocery store for some lettuce and baby carrots. What a drag. What was I saying about a grocery trip being easy? And why am I not growing a pot of lettuce on my deck?
Disclosure: This book was sent to me for review by Timber Press. I did not pay for the book, nor was I compensated for my review, which is, like everything in Digging, my own honest opinion.
All material © 2006-2011 by Pam Penick for Digging. Unauthorized reproduction prohibited.