January 22nd, 2011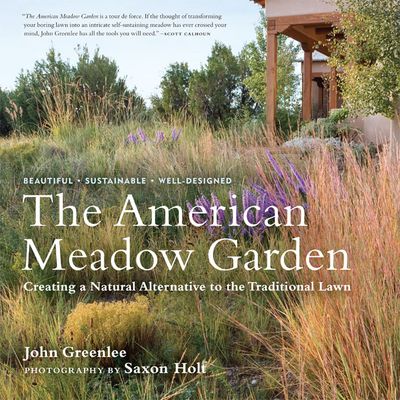 In this age of lawn bashing, let me say this: I am not anti-lawn. Lawn is useful for picnicking, playing sports, throwing a ball for the dog, sunbathing, and providing a restful bit of green amid a garden. A lawn of needed size, maintained without dumping chemicals and excessive water on it, can be an asset to the garden.
That said, here's the reality of many lawns, at least many that I see here in Austin: large expanses of thirsty or invasive, exotic turf grasses that suck up expensive water and require hours of noisy, polluting mowing and leaf blowing each week from March through November. Seasonal applications of chemical fertilizers and pesticides may be applied as well, making the lawn toxic for people, pets, birds, beneficial insects, and other creatures that bring life to our landscapes. And after all that money and time spent on maintenance, what does the average homeowner get in return? A boring, green monoculture that, especially in the front yard, never gets used by anyone.
There are so many better choices, even for the person who doesn't want to tend an ornamental or edible garden. One low-maintenance option is the meadow. As grass-ecology expert John Greenlee defines it in his book The American Meadow Garden: Creating a Natural Alternative to the Traditional Lawn, meadows are simply "grassy spaces that are not mowed and maintained like conventional lawn." Published in 2009, Greenlee's book is riding the anti-lawn movement, which continues to attract converts as water becomes an ever more precious—and expensive—resource in many parts of the country and as recognition grows of the traditional lawn's wastefulness and detrimental effects on the environment.
What most people like about a lawn—openness, its relative ease of care (compared to a traditional garden), walkability, basic groundcovering—can be achieved with meadows, Greenlee argues. Though plant choices will differ across growing regions, the common denominator of the meadow is a grassy foundation with a diversity of flowering plants mixed in. Many of the meadows he showcases in his book are California-centric, but he also includes a couple of examples from "the punishing climate of central Texas," where meadows must have "a strong foundation of…grasses, as most color from flowering accents is fleeting under the relentless heat and humidity of the region's climate." Um, yeah. We central Texans intuitively know this. After all, spring is when our meadows shine brightest, when bluebonnets and other native wildflowers color grassy fields in a glorious, short-lived explosion before the heat of summer sends them into dormancy. Still, meadows seem well-suited to our climate, with the plant-rich Blackland prairie of east Austin offering one model (see the Mueller neighborhood's green spaces) and the short, clumping grasses of the arid Hill Country to our west offering another aesthetic.
Photographer Saxon Holt provides the eye candy for Greenlee's book, with inspiring images of meadows in bloom and close-ups of meadow-appropriate plants. If you're looking for an alternative to your traditional lawn, Greenlee's eloquence about meadows and Holt's photos will certainly make you want to try one in at least part of your yard or garden. My only quibble is that the how-to section in the back of the book is brief and, frankly, would prove daunting to the average non-gardening homeowner. (Despite its carefree appearance, a meadow is not a cinch to install.) But then this isn't really a book for the average non-gardening homeowner, though he or she might benefit most from a meadowy lawn substitute. With its coffee-table-worthy formatting and exquisite pictures The American Meadow Garden is a gardener's garden book. Greenlee is preaching to the choir, but his words of praise for the humble meadow are inspiring and well worth a listen.
Disclosure: This book was sent to me for review by Timber Press. I did not pay for the book, nor was I compensated for my review, which is, like everything in Digging, my own honest opinion.
All material © 2006-2011 by Pam Penick for Digging. Unauthorized reproduction prohibited.