January 17th, 2017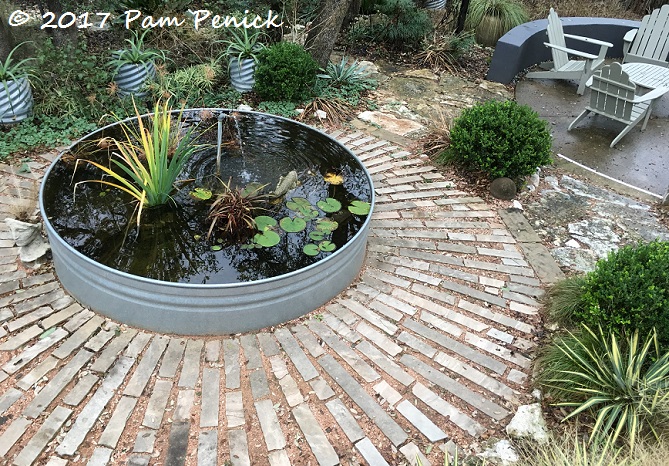 The weather may be dreary, but I like it. Cool (but not freezing) temps and a gentle rain give me a reason to get stuff done indoors while the quiet garden just soaks it all in.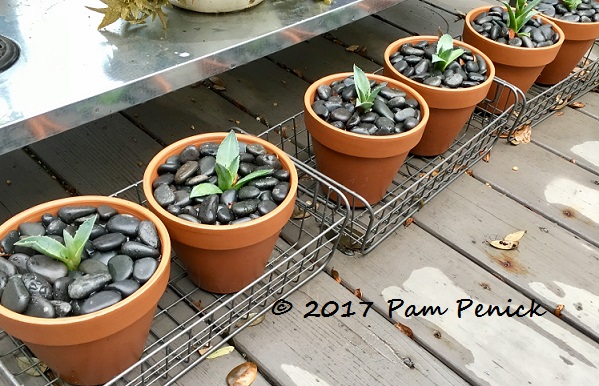 The Moby spawn — Agave ovatifolia babies — are looking good. I'm bringing them indoors whenever there's a chance of a freeze, just until I get them established.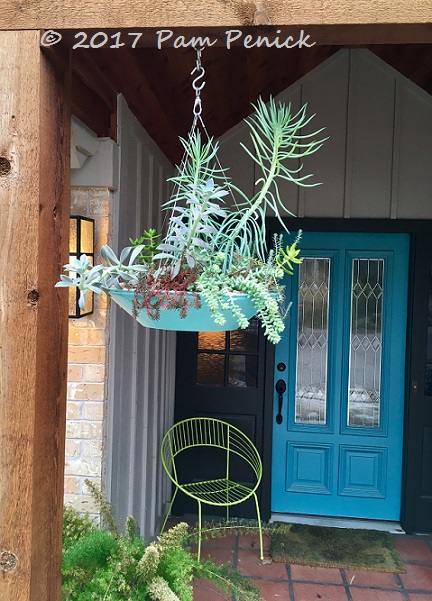 Although it's heavy, I bring this hanging dish of succulents indoors during our occasional freezes too.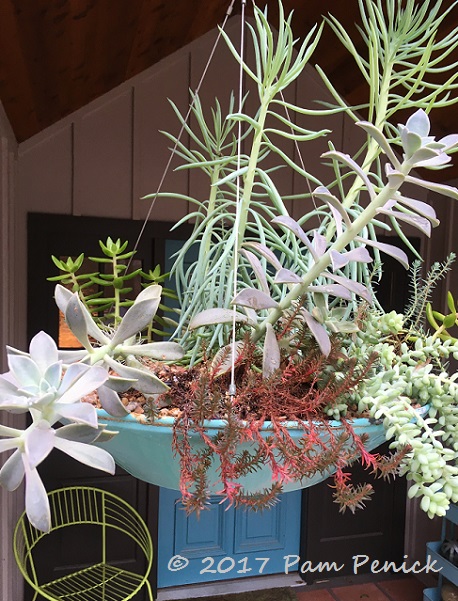 It may be extra work, but I enjoy them all winter this way.
I welcome your comments; please scroll to the end of this post to leave one. If you're reading this in a subscription email, click here to visit Digging and find the comment box at the end of each post.
_______________________
Digging Deeper: News and Upcoming Events
2/25/17: Come to my talk at the Wildflower Center. I'll be speaking at the day-long Native Plant Society of Texas Spring Symposium at the Lady Bird Johnson Wildflower Center in Austin. My talk is called "Local Heroes: Designing with Native Plants for Water-Saving Gardens," and it's about creating water-wise home gardens that don't sacrifice beauty. The symposium is open to the public. Click here for registration. I'll be offering signed copies of my books, The Water-Saving Garden and Lawn Gone!, after my talk ($20 each; tax is included). I hope to see you there!
Get on the mailing list for Garden Spark Talks. Inspired by the idea of house concerts — performances in private homes, which support musicians and give a small audience an up-close and personal musical experience — I'm hosting a series of garden talks by design speakers out of my home. The first talk with Scott Ogden has sold out, but join the Garden Spark email list for speaker announcements delivered to your inbox; simply click this link and ask to be added.
All material © 2006-2017 by Pam Penick for Digging. Unauthorized reproduction prohibited.
posted in
2nd garden--2017
,
Agaves
,
Containers
,
Doors
,
Paths
,
Patios & decks
,
Ponds
,
Porch
,
Seating
,
Stock tanks
,
Succulents
,
Water gardening