October 23rd, 2012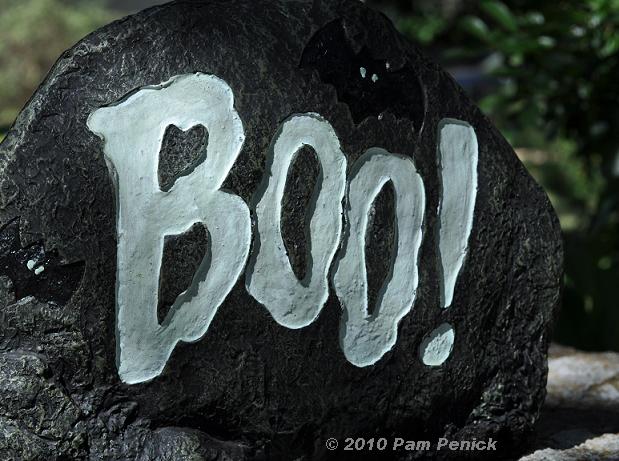 Is the scariest thing in your garden the risk of stepping in a pile of fresh dog doo? While real danger isn't good—rotting deck boards, a spiny agave leaning out over the front walk, or a heavy piece of statuary that isn't secured in place, especially if you have kids or pets—the thrill of a little perceived danger can be invigorating to a bland garden. Children instinctively know this, which is why they love climbing up into a tree house, leaping across a creek on slippery stepping stones, and picking up creepy-crawly bugs and toads to surprise Mom.
As garden makers, we can add small thrills in order to elicit a few more oohs and aahs from visitors exploring our gardens. Here are 5 ways to spice up your garden with a pinch of danger.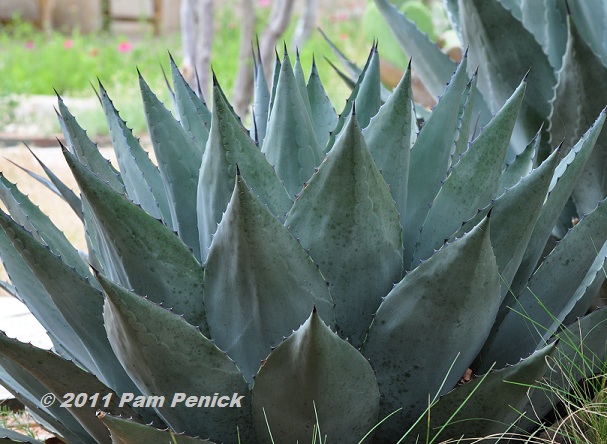 1. Plant a few "scary" plants, and place them where they can easily be admired without any real danger of injury. Examining and gently touching a thorny or dagger-like plant is thrilling; falling into one, not so much. Agave or cactus spines will draw the curious like Sleeping Beauty to Maleficent's spinning wheel ("Touch it! Touch it, I say!"). Wingthorn rose (Rosa sericea ptericantha), bed of nails (Solanum quitoense), or Poncirus trifoliata 'Flying Dragon' are other good choices.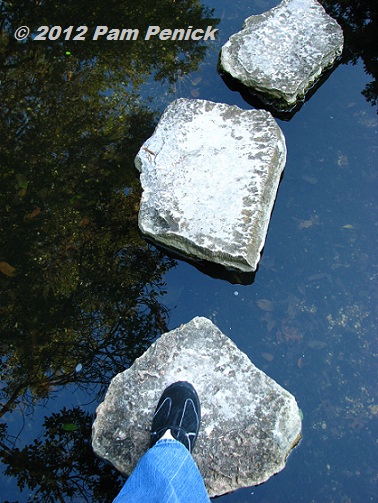 2. Make paths that require you to pay attention to footing or that feel a little claustrophobic. Your main walk should be securely constructed, so that even the most rickety grandpa or toddling child can traverse it to the front door without harm. But lesser paths can be a little more "dangerous." Think stepping stones across a water feature; Japanese gardens are especially good at this. Or narrow a path around a large boulder or dense shrub so that you can't quite see what's coming around the bend. Add a surprising piece of art around the turn to heighten the thrill.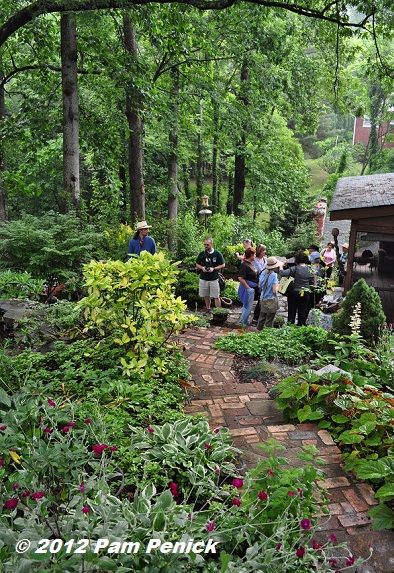 3. Add height to your garden and play with a feeling of vertigo. If you're lucky enough to garden on a slope, this is easy to accomplish. Terrace your slope with patios or resting places, creating overlooks and the thrill of looking down from a steep height. Even a flat garden, however, can contain an exciting elevation change: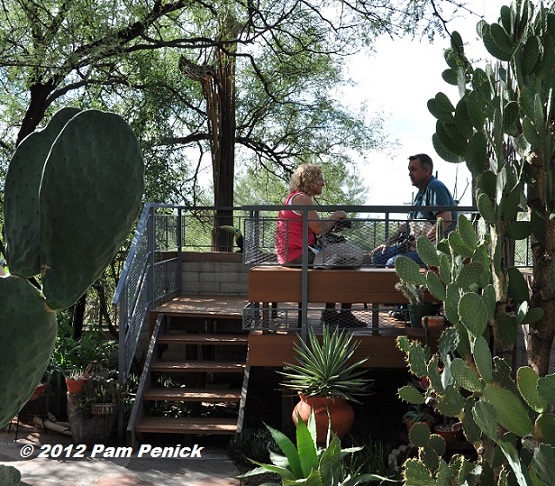 Add a raised platform—a deck, a yoga platform, or even a tree perch—to capture a view of the surrounding area or just a new perspective on your own garden.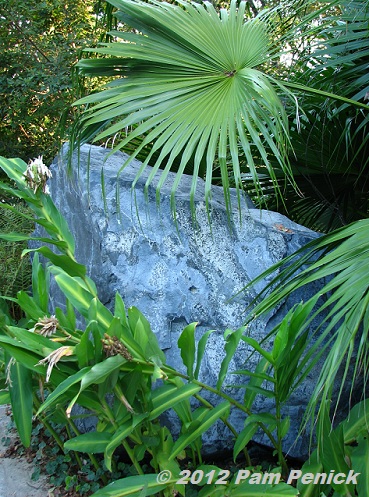 Or try adding a large boulder or three as accents. You'll see that kids love climbing on it, and you may want to too!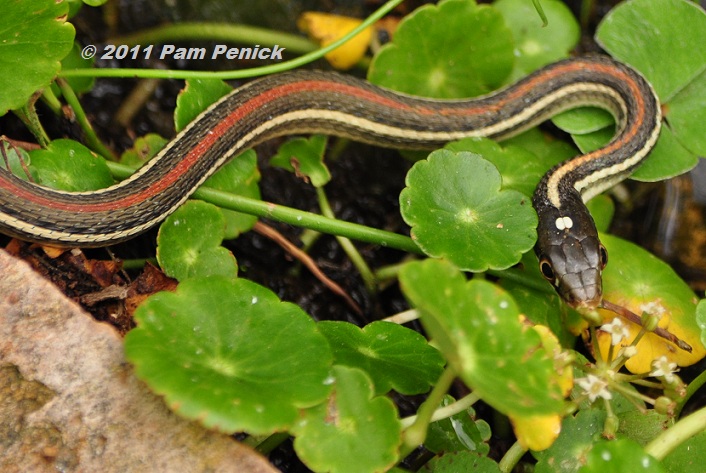 4. Let living creatures, even scary ones, inhabit your garden. We all want butterflies and birds in our gardens. But what about spiders, snakes, bees, and wasps? Can you have one without the other? Not really. Insecticides (including mosquito misting systems) kill beneficial bugs as well as harmful ones, and they may poison birds who eat contaminated insects. Go natural instead, allowing birds and beneficial insects to gobble up harmful ones. Remember that spiders are important predators of bad bugs, and bees and wasps are beneficial pollinators who generally won't bother you if you don't bother them. And most snakes that you'll encounter in a garden are non-venomous and merely hunting pests like rodents. Be glad! For the most part, just let them be unless they're really a danger.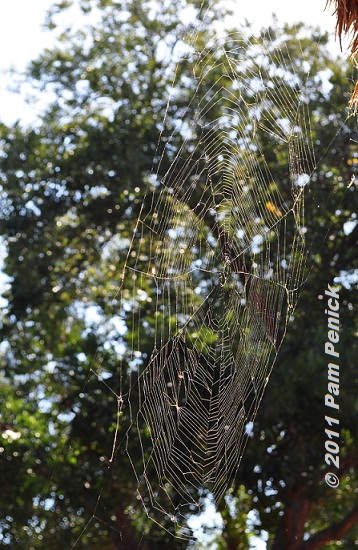 I nearly walked face-first into a web occupied by a large spider in my garden one evening, and it scared the bejeezus out of me. But now that I know it's there, I just walk around it, and I check the web each day to see what the spider has caught. She adds a little thrill of danger to my garden, and I like that she's reducing the mosquito and fly population. Plus she makes a good Halloween decoration.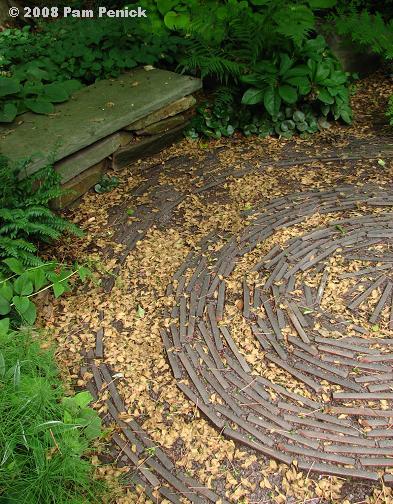 5. Be daring, try new things, live dangerously! Think about the gardens you've most enjoyed. Did the owners play it safe, content for their yard to look like everyone else's up and down the street? Or did they surprise or wow you with unusual plant combinations, creative hardscaping, handmade garden decor, a playfulness, the zing of personality that you just can't get unless you're willing to risk looking silly or being thought tacky by the "safe" neighbor. Maybe your ideas will succeed, and maybe they won't. But at least you'll have tried, and that's more than many people ever do in their gardens.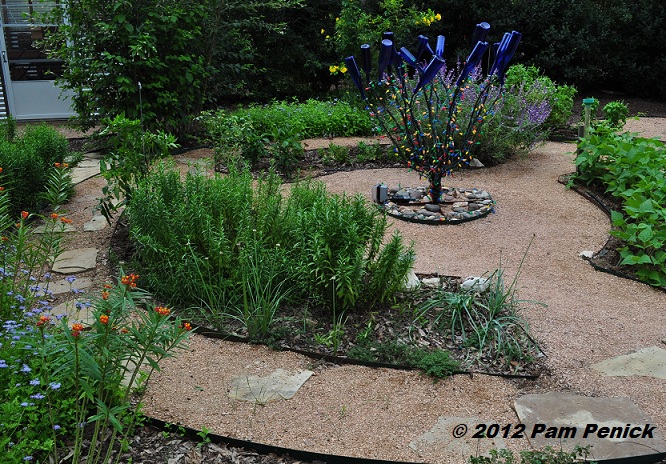 So the lesson here is, don't play it too safe in your garden. Let a little danger in—perceived danger, that is. Be willing to make your visitor (and yourself) a little uncomfortable on occasion. After all, you don't want anyone dying of boredom out there.
Now that would be really scary.
This is my contribution to today's posting on Dangerous Gardens by Garden Designers Roundtable. Click for links to other designers' posts from around the U.S. and the U.K. Also, be sure to read the guest post by Loree Bohl, of the appropriately named blog Danger Garden.
Loree Bohl : Danger Garden : Portland, OR
Rebecca Sweet : Gossip In The Garden : Los Altos, CA
Mary Gallagher Gray : Black Walnut Dispatch : Washington, D.C.
Deborah Silver : Dirt Simple : Detroit, MI
Lesley Hegarty & Robert Webber : Hegarty Webber Partnership : Bristol, UK
David Cristiani : The Desert Edge : Albuquerque, NM
Shirley Bovshow : Eden Makers : Los Angeles, CA
All material © 2006-2012 by Pam Penick for Digging. Unauthorized reproduction prohibited.
posted in
Agaves
,
Bees
,
Bugs
,
Cactus
,
Design
,
Designers Roundtable
,
Garden structures
,
Paths
,
Patios & decks
,
Pests
,
Snakes
,
Wildlife