May 28th, 2017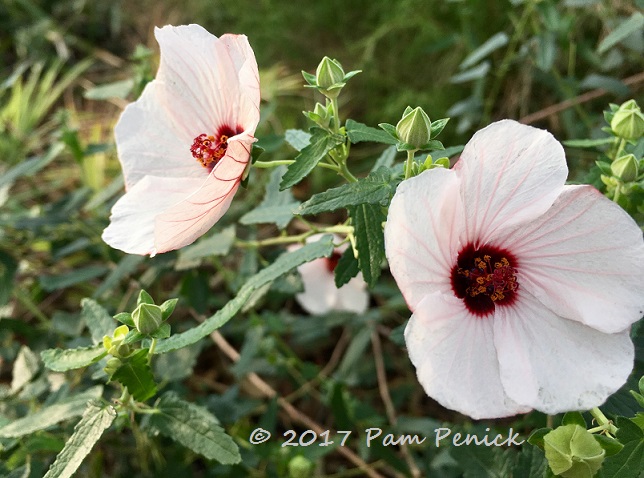 I didn't realize how many white flowers I'm growing until I photographed what's blooming this week. Let's start with pale pavonia, aka Brazilian rock rose (Pavonia hastata). I love the tissuey white flower with a maroon eye and veins.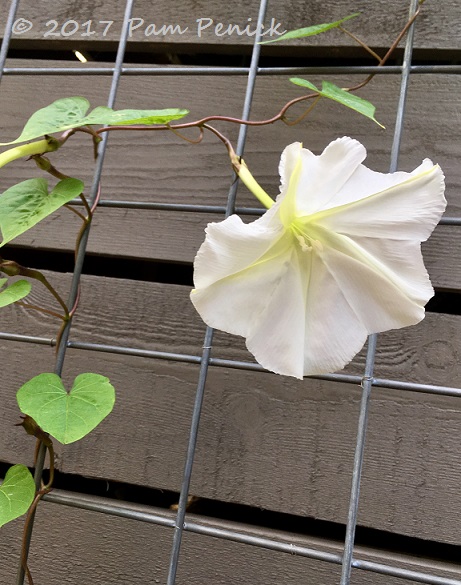 I grew a moonflower vine (Ipomoea alba), one of my old favorites, from seed this year, and it's growing up a cattle-panel trellis on the deck, reaching for the sun. The plate-sized flowers are delightfully fragrant when they open in the evening.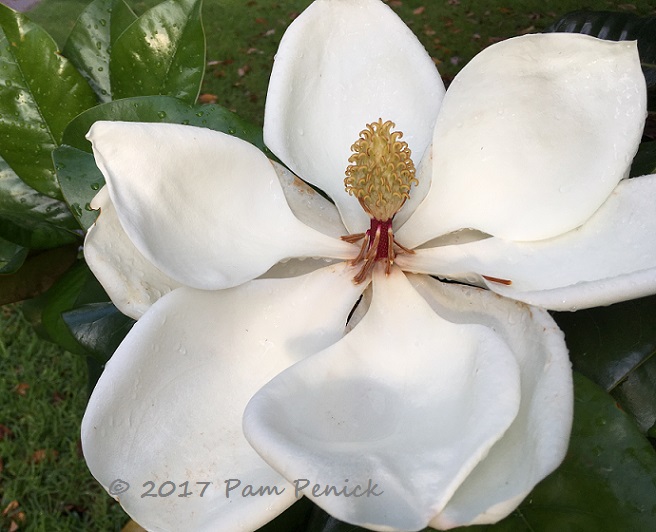 Well, OK, this magnolia isn't in my garden but a neighbor's, but I'm enjoying the flowers on my walks. I don't actually love the trees themselves here in Austin because they always look a bit dry and chlorotic in our alkaline, relatively shallow soils. But the enormous, creamy white flowers of Southern magnolia (Magnolia grandiflora) are something to behold and to smell — so gorgeous and lemony fragrant.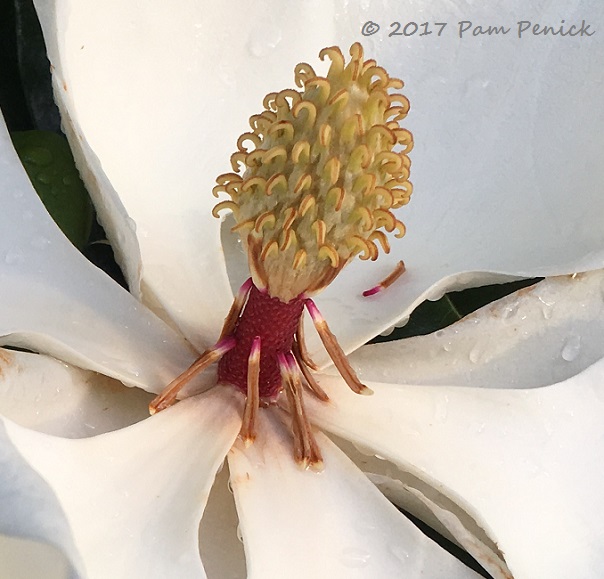 They remind me of my childhood in South Carolina, where magnolias grow better than in Austin thanks to acidic soil and higher rainfall.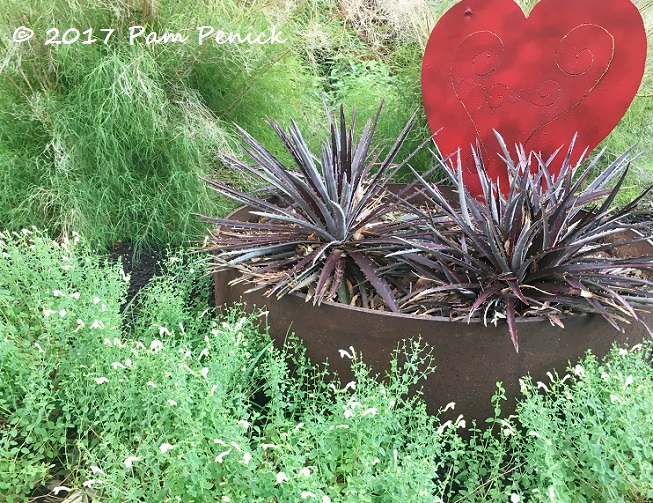 One last white flower in my garden right now is the white variety of pink skullcap (Scutellaria suffrutescens 'White'), such a tidy, pretty native plant for bright shade. The ivory flowers stand out against a steel-pipe planter and dark-leaved 'Burgundy Ice' dyckias.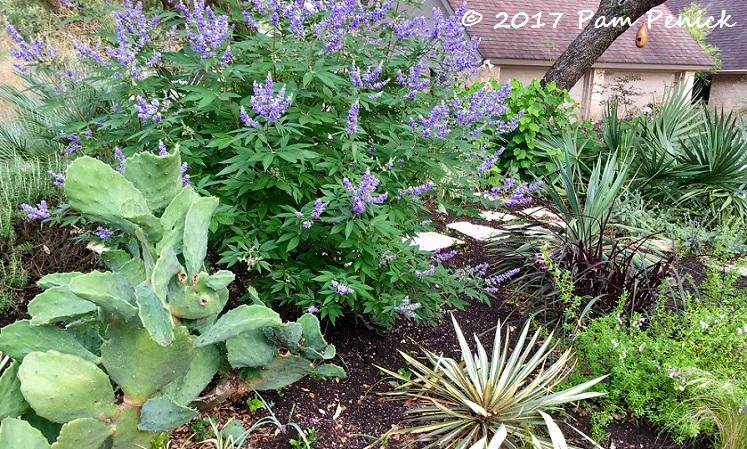 Purple flowers are abundant too, starting with summer-blooming vitex (Vitex agnus-castus), which I keep shrub-sized through regular pruning and cutting to the ground every February.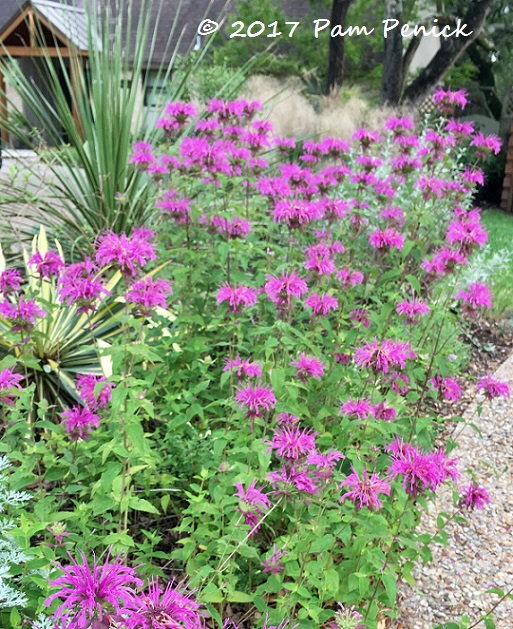 'Peter's Purple' bee balm (Monarda fistulosa 'Peter's Purple') is putting on a big show right now, getting plenty of attention from visitors and bees.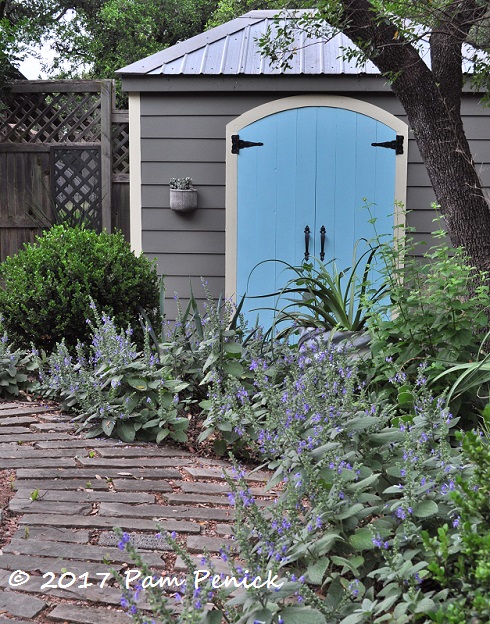 And heartleaf skullcap (Scutellaria ovata), a spring-blooming native, is almost done. Here's a picture from a week or two ago, at peak bloom.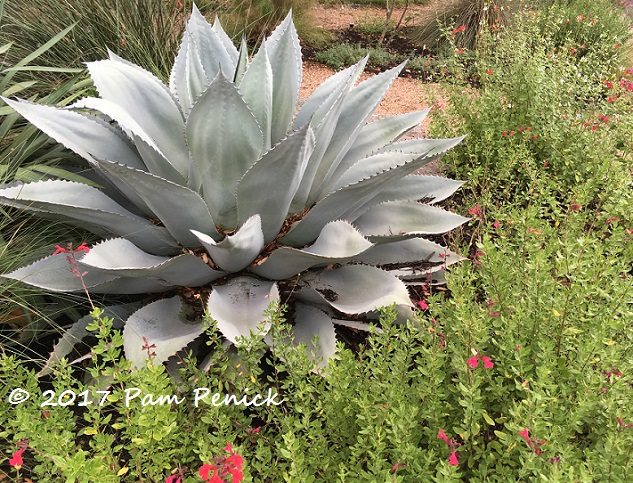 And why not — I'll throw in a big, blue rose of a plant, my neighbor's whale's tongue agave (A. ovatifolia), surrounded by red autumn sage (Salvia greggii), part of a curb-side garden I planted for her to blend with my own. These are tried-and-true plants for sun or morning sun/afternoon shade.
So what's blooming in your garden right now that you really love?
I welcome your comments; please scroll to the end of this post to leave one. If you're reading this in a subscription email, click here to visit Digging and find the comment box at the end of each post.
_______________________
Digging Deeper: News and Upcoming Events
The Austin Daylily Society will host a free garden tour on Sunday, May 28, from 10 am to 2 pm. Four private gardens featuring lots of daylilies will be open to the public, including Tanglewild Gardens and Tom Ellison's lovely Tarrytown garden.
Calling all pond lovers! The Austin Pond & Garden Tour is coming up June 3rd (North Austin ponds and night pond) and 4th (South Austin ponds). Tickets, which are $20, can be purchased online and include entry to all 20 ponds.
Get on the mailing list for Garden Spark Talks. Inspired by the idea of house concerts, I'm hosting a series of garden talks by talented designers and authors out of my home. Talks are limited-attendance events and generally sell out within just a few days, so join the Garden Spark email list for early notifications. Simply click this link and ask to be added.
All material © 2006-2017 by Pam Penick for Digging. Unauthorized reproduction prohibited.
posted in
2nd garden--2017
,
Agaves
,
Cactus
,
Containers
,
Doors
,
Dyckias
,
Flowers
,
Garden art
,
Grasses
,
Palms/Cycads
,
Sheds
,
Summer color
,
Trees
,
Trellis
,
Vines
,
Yuccas