May 12th, 2014

Coming home from a garden tour last Saturday, I traded the backed-up traffic on MoPac for a meandering drive through the charming central Austin neighborhoods of Pemberton, Rosedale, and Allandale. I had my camera with me, and for your enjoyment I furtively snapped photos of front-yard gardens that delighted me with neighborly patios, winding paths, and/or lawnless gardens, starting with this adorable stone cottage in Rosedale. I love the half-circle front patio with inviting Adirondacks and that tomato-red, contemporary door. Perennials and cactus in terracotta pots casually mark the patio's edge. The only possible improvement would be a welcoming front walk winding to the street and driveway, edged with tidy garden beds to reduce the lawn.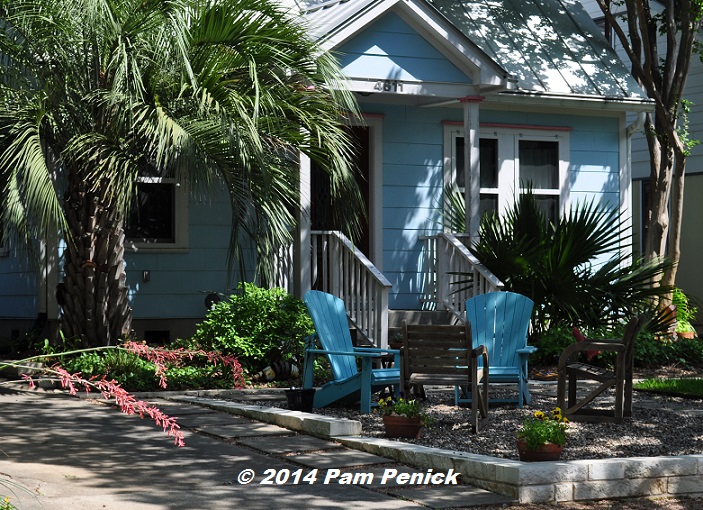 This blue charmer in Rosedale reduced the lawn and went neighbor-friendly with the addition of a limestone-edged, rectangular patio. The owners, acquaintances from our children's grade-school years, are lovely people, and the husband, as you might have guessed, is into palms. What a great way to reduce the lawn and get to know the neighbors.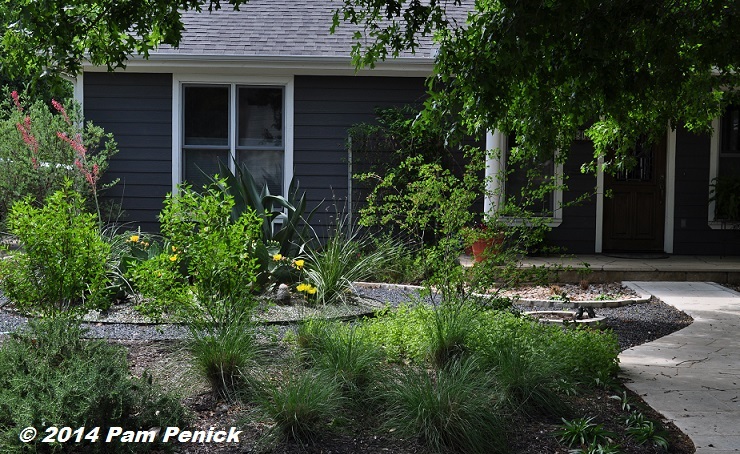 This Rosedale ranch ditched the lawn altogether for a strolling garden with Texas Black gravel paths and native grasses, trees, and perennials. This looks like a drought-tolerant and wildlife-friendly garden.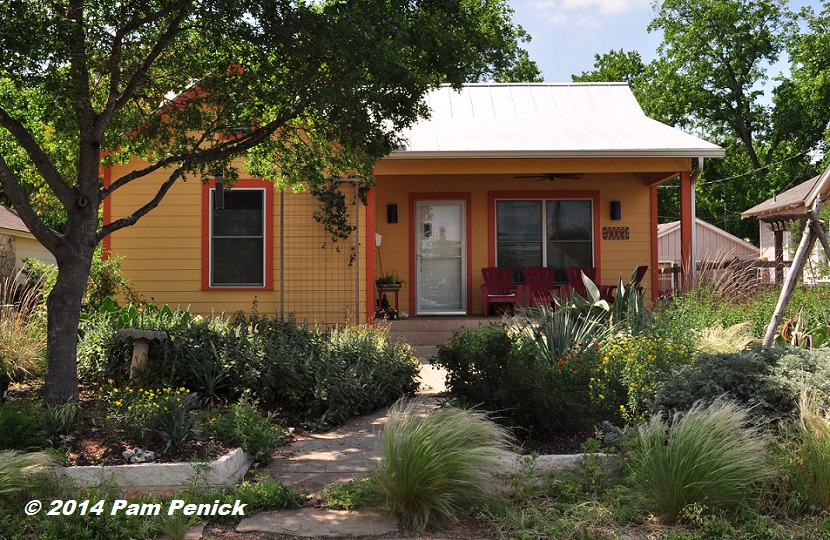 The owner of this sunny home hired me to design a no-lawn garden for her back yard a few years ago. Her front garden (not my design), which was already underway at that time, is a cottage-style, low-water garden that offers a pretty view from the comfortable front porch.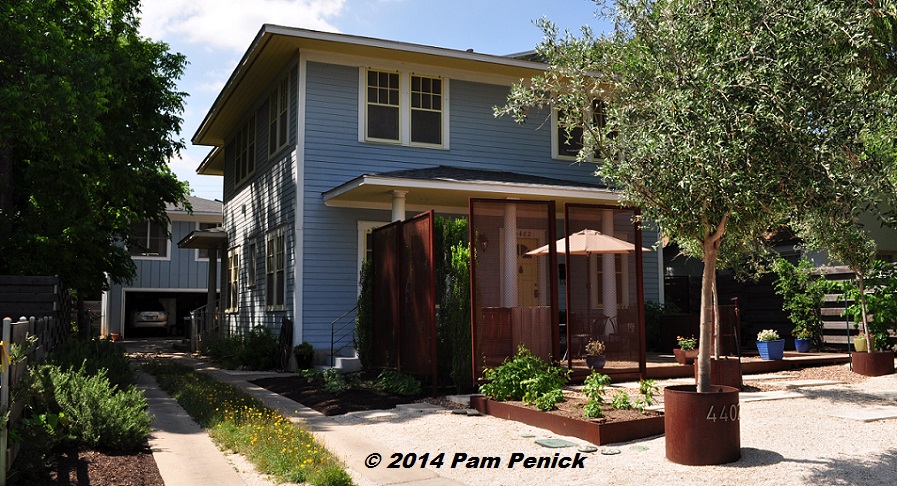 This is different! Rusty steel screening panels and planters give this gravel garden and patio a contemporary edge.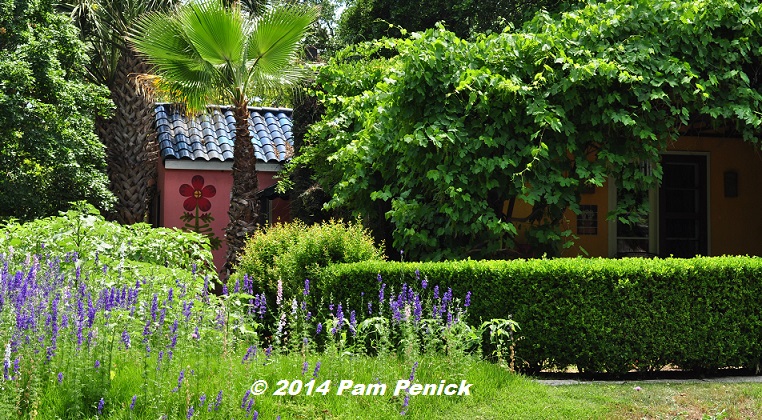 In the Pemberton Heights neighborhood, I drove by this old favorite, a colorfully painted stucco home with a blue-tile roof. A clipped hedge and trellis-covered arbor give privacy to the front patios along a busy street. But the garden is cottage-friendly with a meadowy planting of larkspur for the neighbors to enjoy.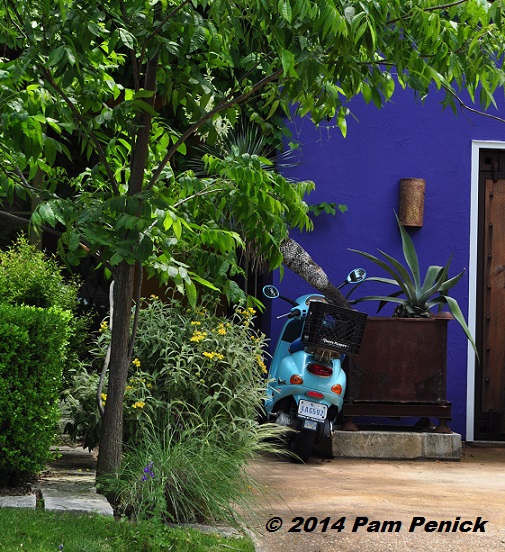 Driveway vignette: An indigo wall, a modern steel planter and agave, and a blue moped, with Jerusalem sage and billowy grasses contrasting with the clipped hedge. This looks like a playful garden.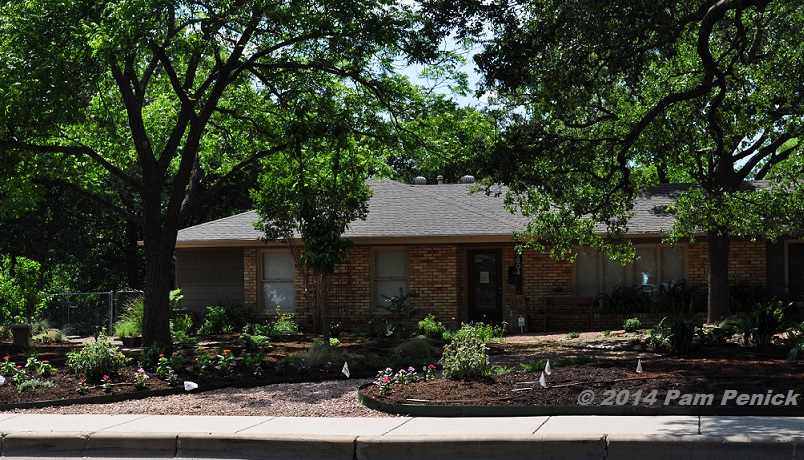 And along Shoal Creek Boulevard in the Allandale neighborhood, I was pleased to see a garden I designed last year being installed. The owner had requested a garden to replace her gigantic, thirsty St. Augustine lawn, with room for a small patio near the front door and a fruit orchard along the sunny side of the yard. Although it's hard to see the details here, it's essentially a strolling garden, with broad gravel paths that draw you into and through the space. It looks like the owner has made tweaks of her own, planting large swaths of shade annuals rather than the sedge meadow I'd suggested under the trees, but that's fine. It's all part of making a garden your own. I also like how she broadened and swooped the path where it meets the sidewalk and wish I'd thought to do that!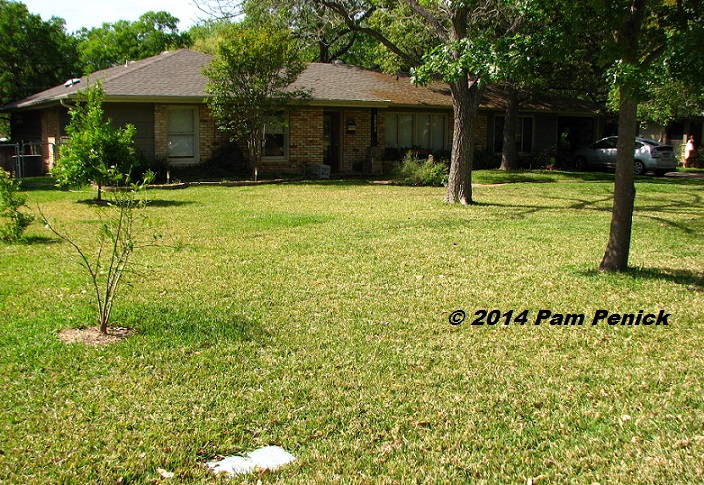 For comparison, here's a "before" shot — so much lawn and not very interesting. Her new garden is a gift not only to herself and to local wildlife but to her neighborhood.
All material © 2006-2014 by Pam Penick for Digging. Unauthorized reproduction prohibited.
posted in
Agaves
,
Annuals
,
Arbors
,
Color
,
Containers
,
Design
,
Doors
,
Drive-By Gardens
,
Lawn Gone!
,
Lawns
,
Palms/Cycads
,
Paths
,
Patios & decks
,
Seating
,
Trees
,
Trellis
,
Vines