September 18th, 2016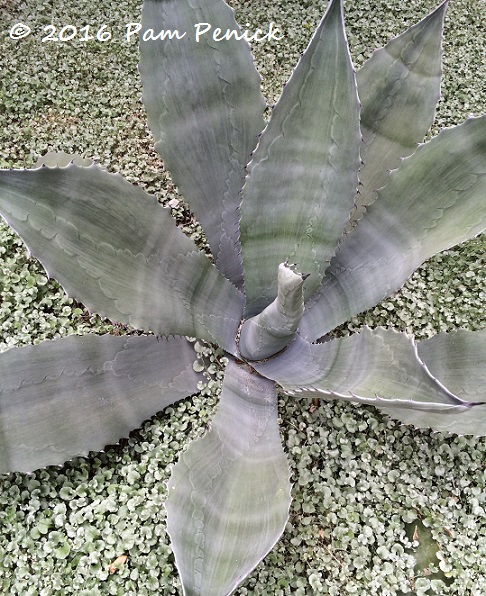 Lately I'm taking as many garden photos with my phone as with my "real" camera, and these often get posted to my Instagram. But not all of them, and sometimes I like to share them on my blog too. So here's some cool stuff I spotted last week at my favorite local nurseries, Lady Bird Lake, and — why not? — even a medical center's parking lot.
Pictured above, from said medical center's parking lot, is one of my favorite scenes from the week: a silver-green agave with striking banding and leaf imprints, rising star-shaped from a mat of silver ponyfoot. Simple and beautiful.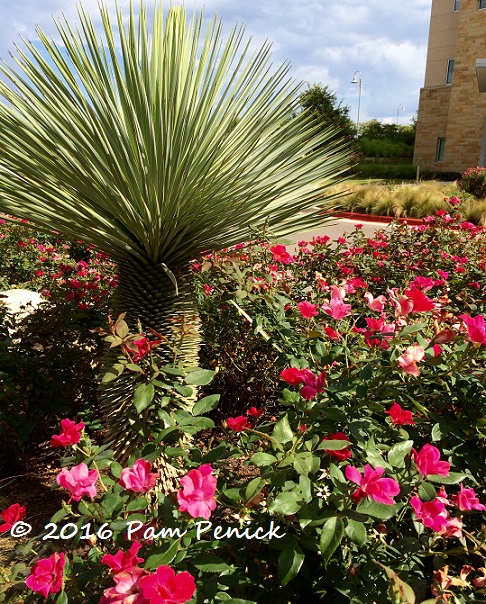 At the same center (this is somewhere off Hwy. 620), island beds of Knock Out roses and Mexican feathergrass are anchored by pruned-up, spiky-headed Yucca rostrata.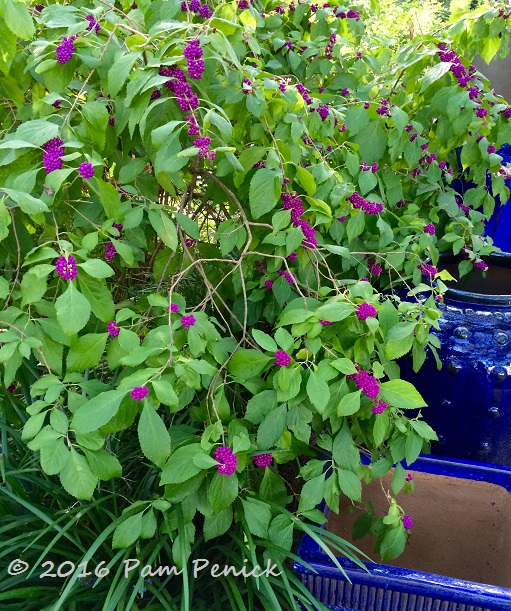 Now let's visit some of Austin's best nurseries, starting with Barton Springs Nursery. Every year I love to catch their enormous American beautyberry in full berry, with cobalt-blue pots adding a harmonizing hue.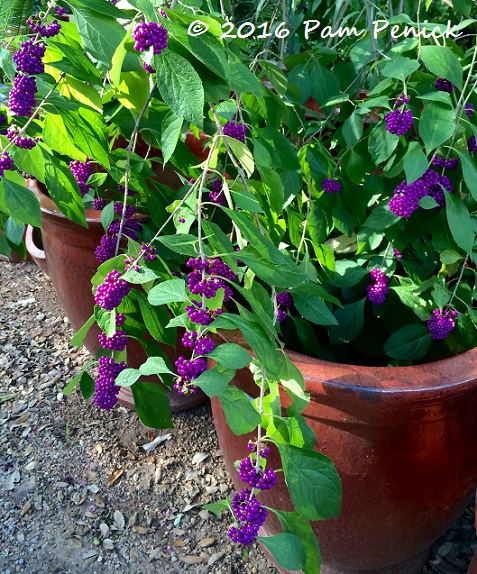 This plant is probably 10 feet across. Here's a look at the other side. If you're not growing American beautyberry, why not?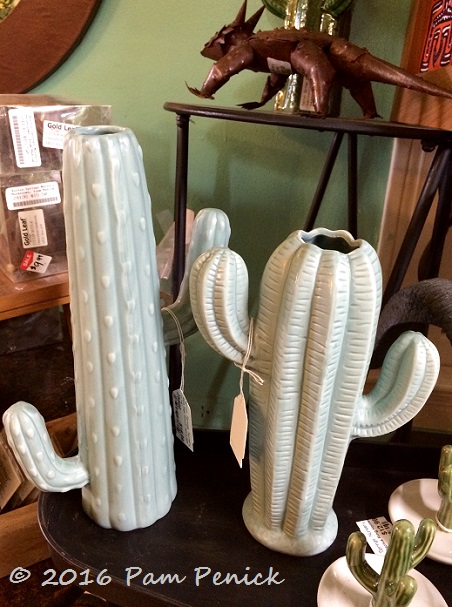 Inside BSN's gift shop, I spotted these fun saguaro vases and ring holders. I resisted the camp on my first visit, but I came back a couple days later, with my daughter in tow, and when she went gaga for them too I snagged the powder-blue saguaro on the left.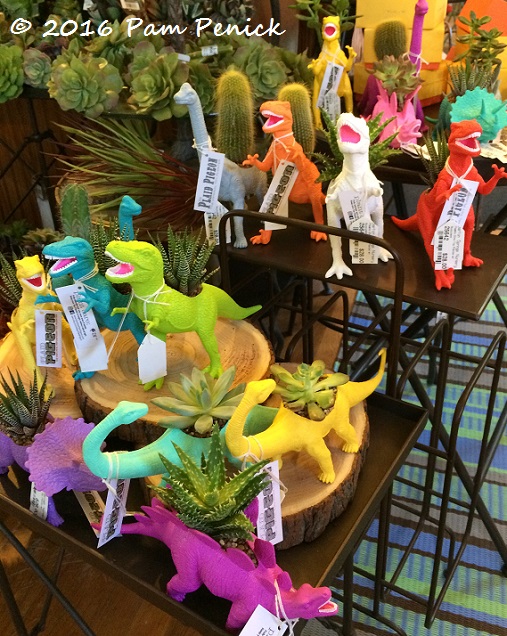 A herd of dinosaurs — colorfully painted plastic toys with cut-out holes planted with succulents — roved near the registers. My sister-in-law got me a dino planter for Christmas last year — the blue brachiosaurus — and it brightens my home-office windowsill.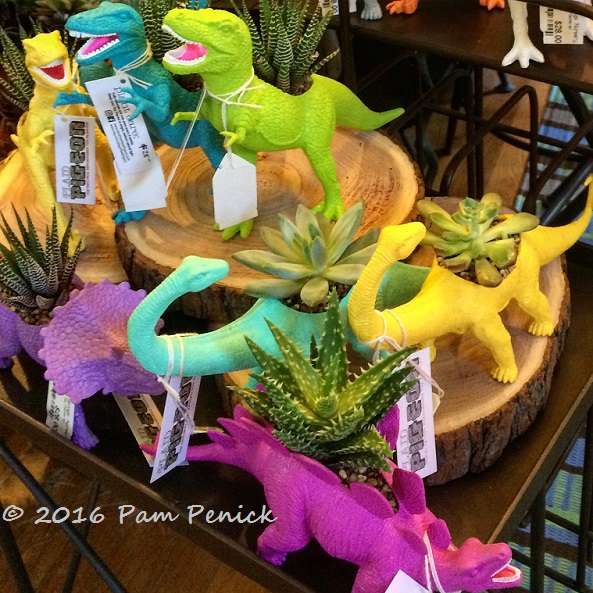 Maybe I need a set.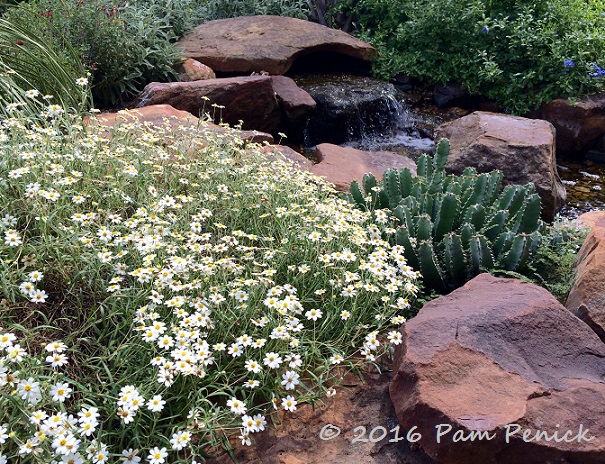 Up in Cedar Park, I stopped in at Hill Country Water Gardens & Nursery for a few things and paused to admire this new water feature with tough-as-nails blackfoot daisy and some type of succulent (a cold-tender euphorbia, maybe?) planted alongside it.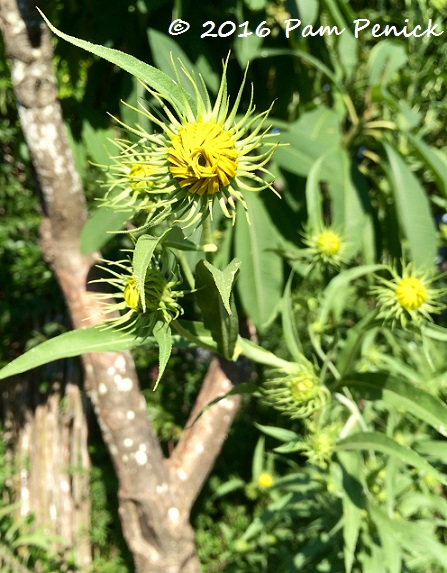 Back down to South Austin for a morning visit to The Natural Gardener, where I spotted this furled flower almost ready to open.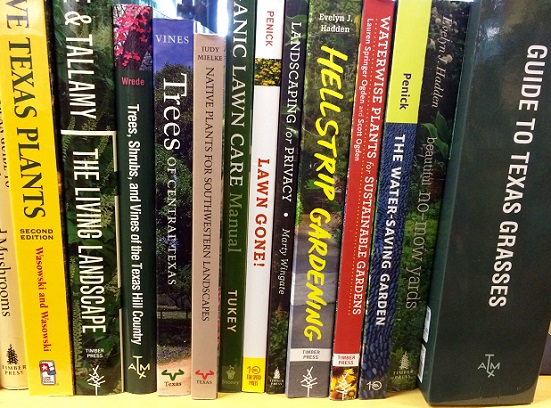 And in the gift shop, my books — one of each — were on the bookshelf. I know it's not easy for nurseries to stock books in this era of Amazon and in conditions where books might get soiled (i.e., unsellable), so I really appreciate those like The Natural Gardener that make the effort. After all, not every local gardener knows the best books for Texas gardening, and nurseries can help by showcasing regionally appropriate titles, or even by keeping a suggested reading list on their website. A website reading list need not be purely regional, of course; it can be staff favorites for all kinds of popular gardening topics! By the way, here's my own suggested reading list.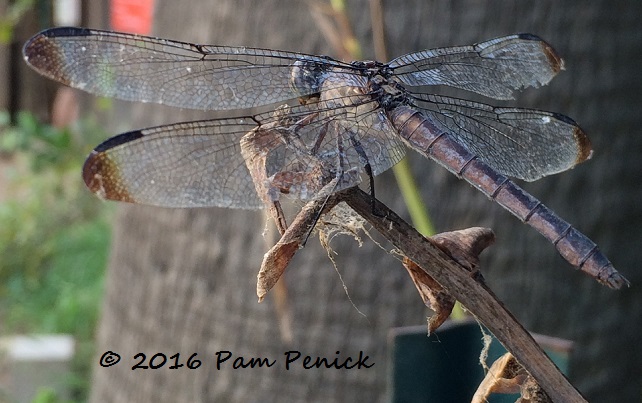 Over to Lady Bird Lake's hike-and-bike trail, where I admired a copper-colored dragonfly hanging out near the water.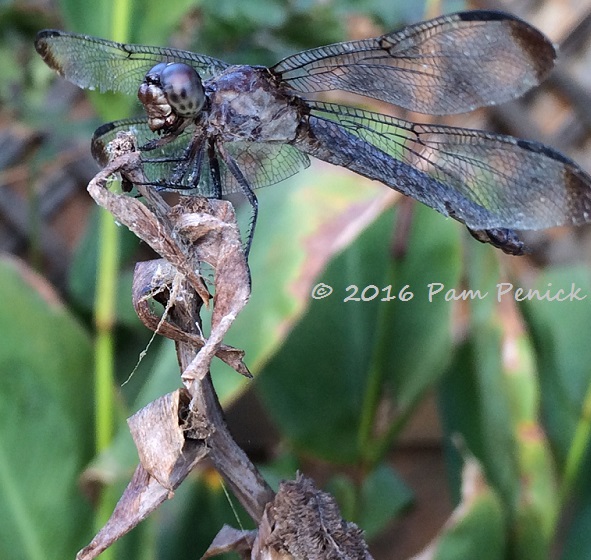 I looked at him, and he looked at me with those big bug eyes.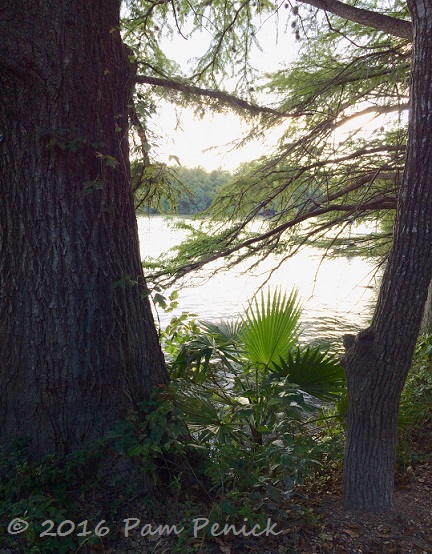 I also saw lots of bald cypress and native palmettos along the lakeshore.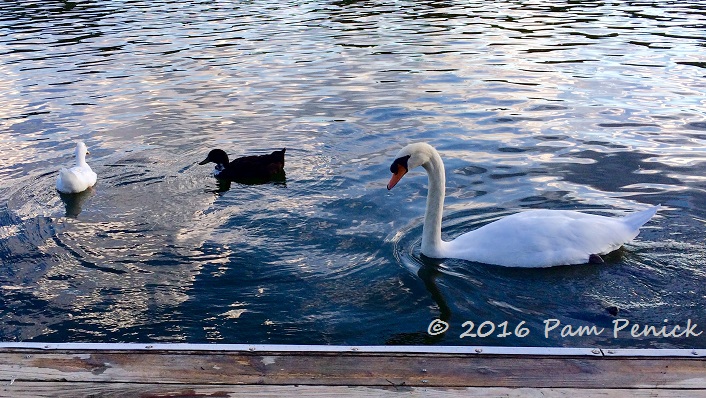 Swans, ducks, and turtles too. They all thought I might have some food and swam right over. Sorry, guys!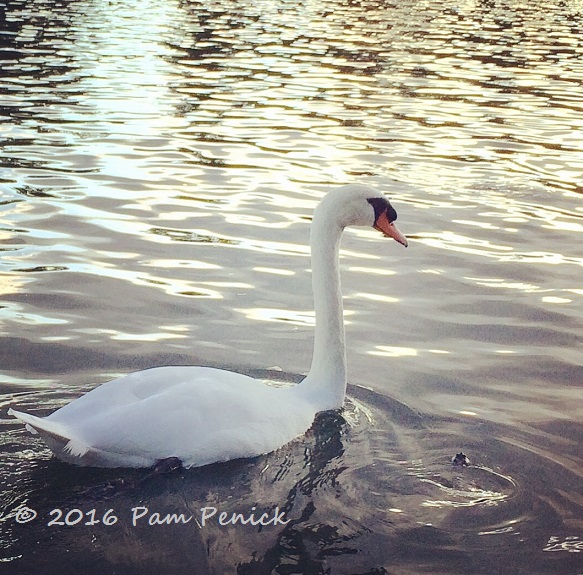 And off they went into the setting sun.
I welcome your comments; please scroll to the end of this post to leave one. If you're reading this in a subscription email, click here to visit Digging and find the comment box at the end of each post.
_______________________
Digging Deeper: News and Upcoming Events
Austinites and native-plant shoppers, I'll be at the member's day Fall Plant Sale at the Lady Bird Johnson Wildflower Center on October 14, and I hope to see you there! I'll be signing books between 1 and 3 pm in the Wild Ideas gift shop. If you're not a member, of course you can still come on out and see the gardens and stop in at Wild Ideas. Hope to see you there!
South Texans, come see me at the 2nd annual Planta Nativa festival in McAllen, Texas, on Saturday, October 22. I'll be delivering the keynote talk, "Local Heroes: Designing with Native Plants for Water-Saving Gardens," that evening. Tickets are on sale at Quinta Mazatlan. I hope to see you there!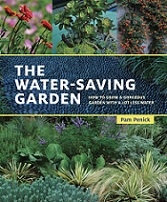 Do you review? Have you read my new book, The Water-Saving Garden? If you found it helpful or inspirational, please consider leaving a review — even just a sentence or two — on Amazon, Goodreads, or other sites. Online reviews are crucial in getting a book noticed. I really appreciate your help!
All material © 2006-2016 by Pam Penick for Digging. Unauthorized reproduction prohibited.
posted in
Agaves
,
Berries
,
Birds
,
Books
,
Bugs
,
Cactus
,
Containers
,
Decor
,
Dragonflies
,
Fountains
,
Groundcovers
,
Lakes
,
Lizards
,
Nurseries & Shops
,
Palms/Cycads
,
Parks & greenbelts
,
Rock
,
Roses
,
Shrubs
,
Succulents
,
Texas natives
,
Trees
,
Water features
,
Wildlife
,
Xeric plants
,
Yuccas