May 4th, 2015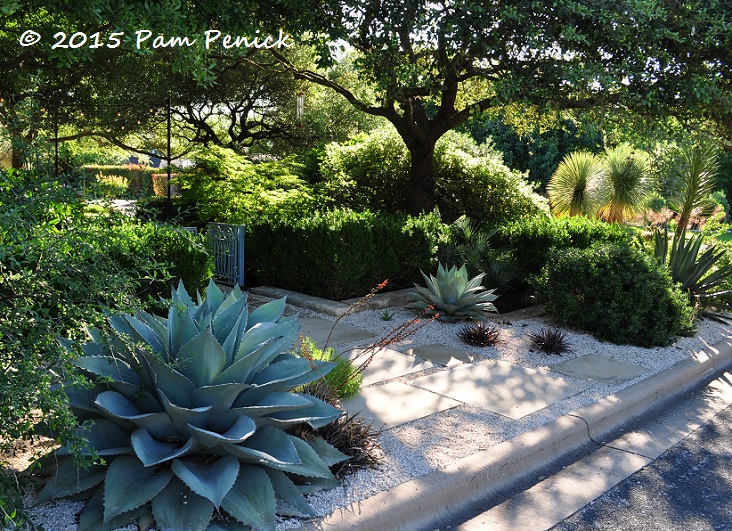 Each time I visit the garden of landscape architect Curt Arnette in southwest Austin, I am absolutely agog over the front courtyard, which occupies a corner lot on a typical suburban street of nicely kept lawns and foundation shrubs. His garden stands out in the best way possible, with texture-rich plant combos, understated but finely crafted hardscaping, and strong "bones."
While managing to work within the constraints of his HOA's landscaping rules (he used hedges rather than the low wall he wanted for enclosing the garden, for example), Curt has created a dynamic wonderland of spiky yuccas, agaves, sotol, and dyckia around the perimeter of the garden, which opens at a friendly, gated entry to reveal a clean-lined, New Orleans-style courtyard shaded by live oaks.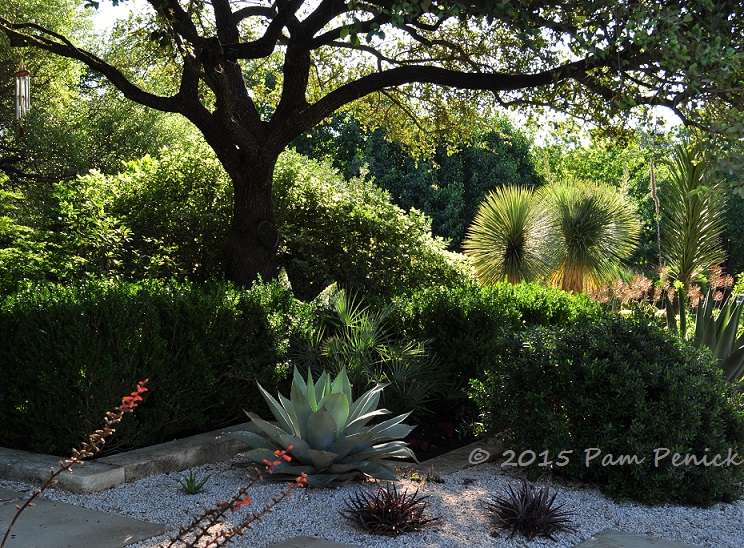 Let's take a tour, starting at curbside. All those spikes and spines just sing in the morning light, like the spherical heads of Yucca rostrata beyond the boxwood hedge.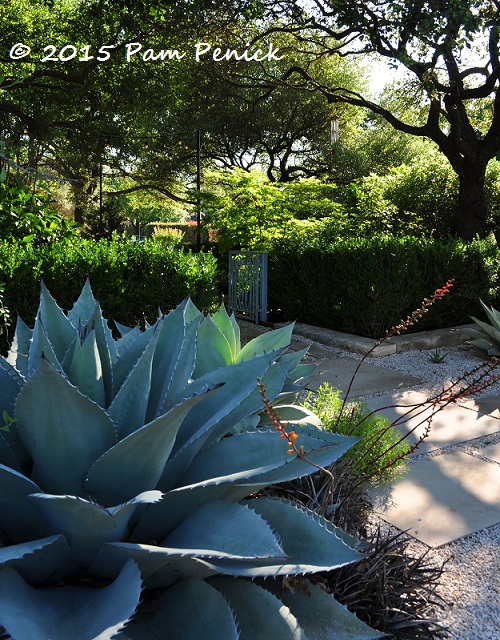 In the foreground, where a mosaic path of Lueders limestone invites you in, a powder-blue 'Whale's Tongue' agave (A. ovatifolia) echoes the color of a wrought-iron gate.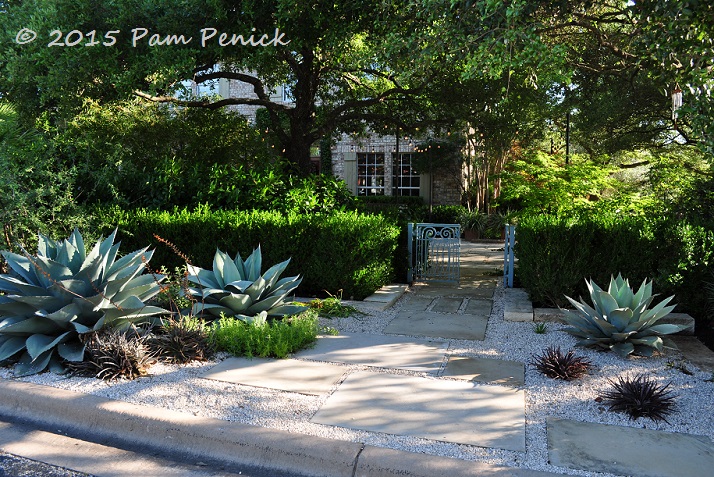 The view from the street. A hedge of 'Wintergreen' boxwood makes up the "walls" of the courtyard; a canopy of live oaks, the ceiling. A trio of 'Whale's Tongue' agaves and smaller dyckias ('Burgundy Ice', I'd guess) add drama, architectural form, and evergreen color that contributes year-round beauty. Light-colored gravel ties in with the limestone and flows seamlessly from path to plantings.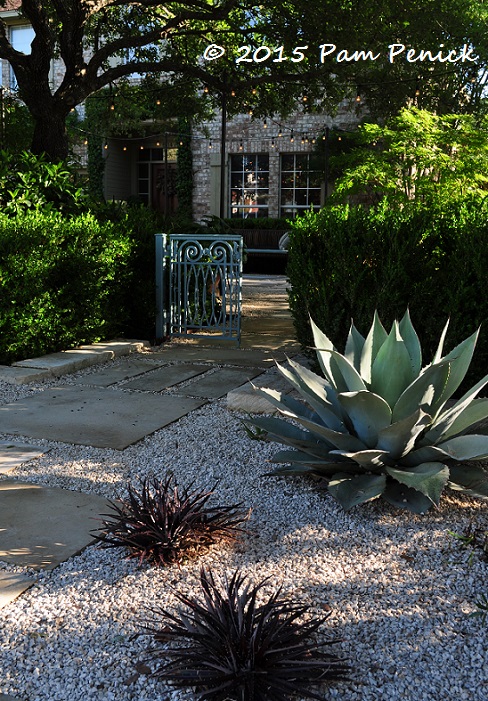 Another view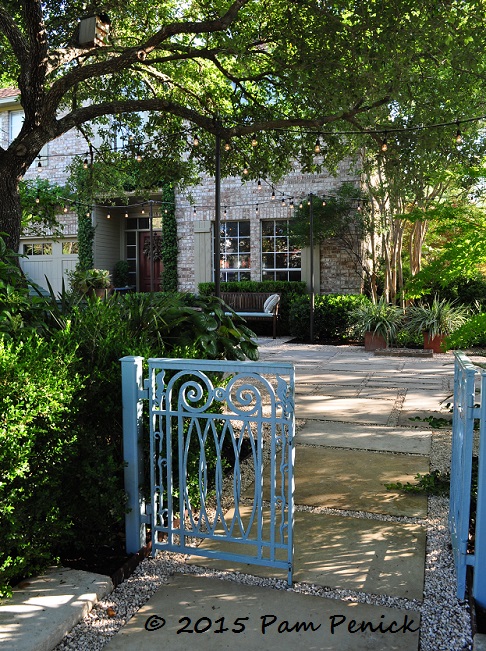 The beautiful gate, one side ajar, says welcome.

Path detail. Notice the precisely aligned focal point, across the courtyard, of a pair of potted flax lilies.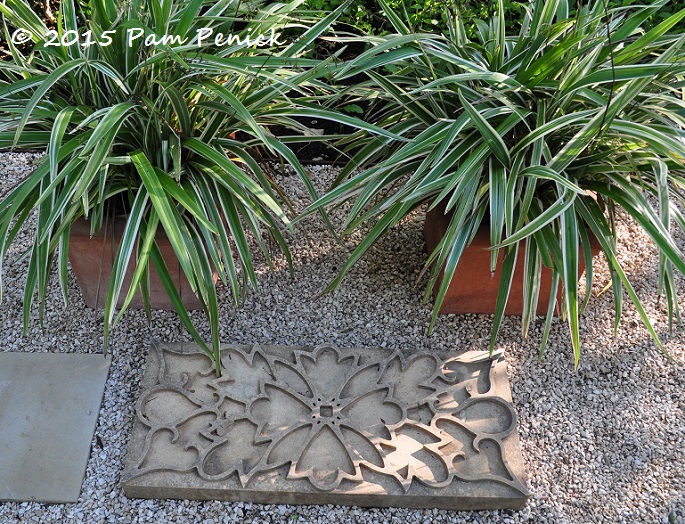 A floral-carved stone anchors the vignette.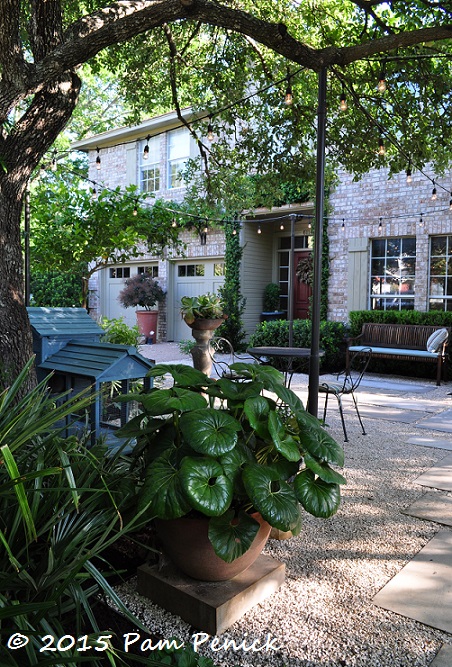 The steel-edged planting beds are laid out geometrically around two live oaks, with the courtyard paving providing negative space for the eye to rest among the lush plantings. A few potted plants, like this ligularia, sit on limestone plinths for extra height, elegance, and attention.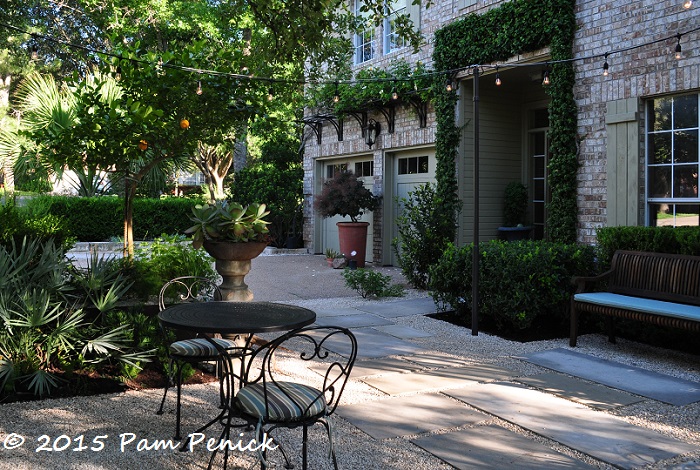 Curt had just put up the string lights a day or two before, opting to use metal posts to get the configuration he wanted, rather than stringing them from the trees. Curt does all such work himself, with an eye for exacting detail.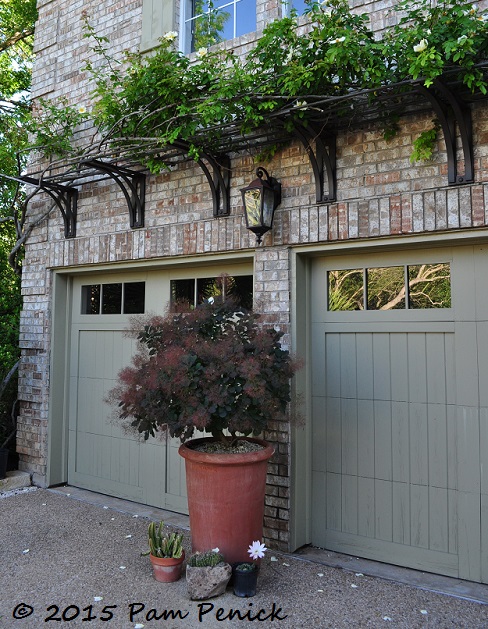 To give architectural interest to the house, Curt attached a metal trellis above the garage doors and planted a 'Mermaid' rose on it. This vigorous and thorny rose must require a lot of careful pruning to be kept in bounds, but it is beautiful. Below, in the space between the garage doors, a potted smoke tree was in full flower, its bronze foliage harmonizing with the tawny pink of the brick siding.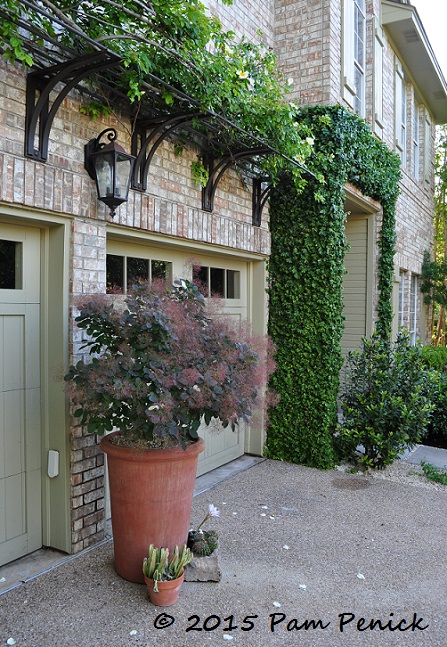 Evergreen fig ivy is neatly clipped to frame the entry porch, emphasizing the front door.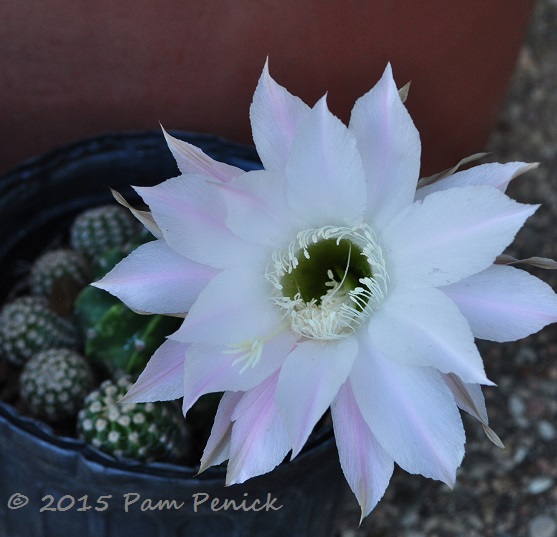 An Easter lily cactus (Echinopsis subdenudata) was in gorgeous flower by the potted smoke tree. Curt found it at Far South Wholesale Nursery, but I saw on FB today that Tillery Street Plant Co. is carrying it, for you retail buyers.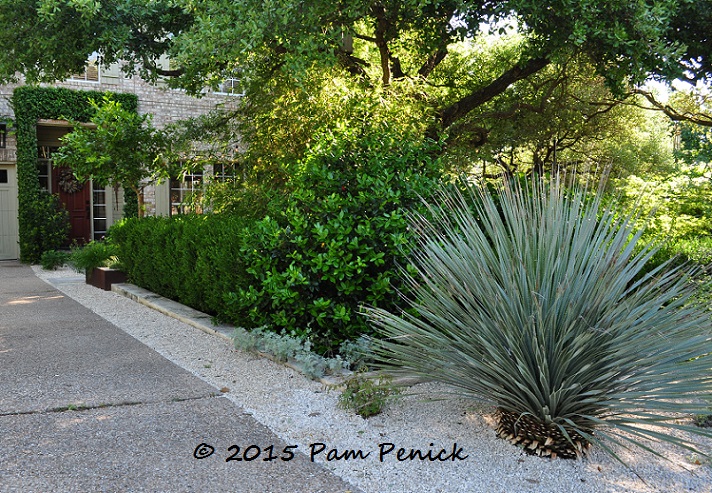 Let's zoom out for a second to admire this thick-trunked Wheeler sotol (Dasylirion wheeleri), which Curt has pruned up. A strip of gravel runs alongside the driveway, making it easier to get in and out of the car.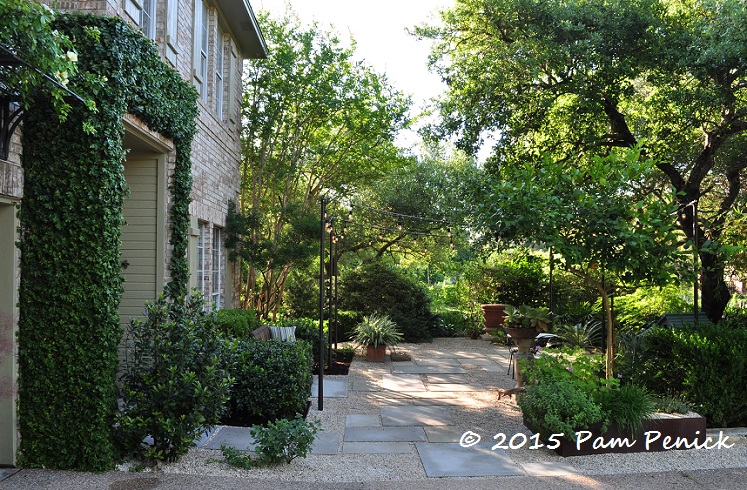 The courtyard garden as viewed from the driveway.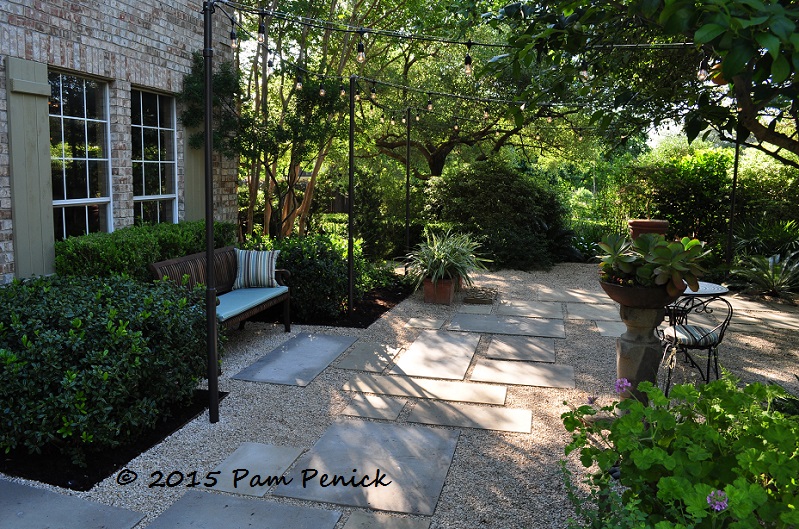 Closer view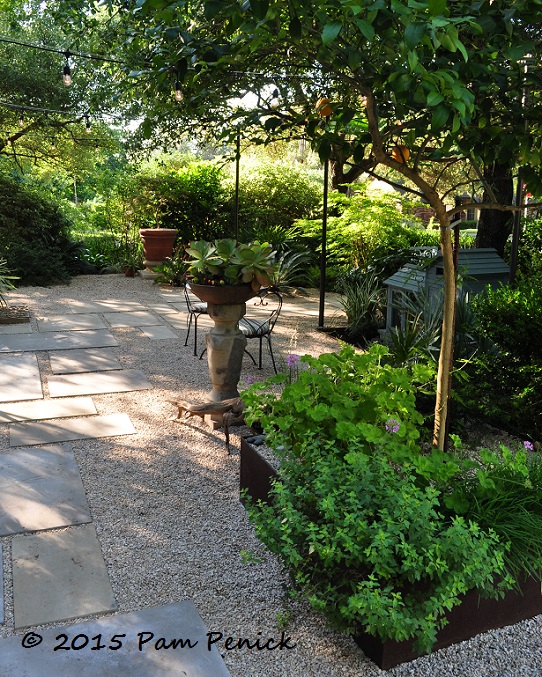 Entering here you pass a steel container planted with citrus and softening perennials. The limestone pavers lead your eye diagonally across the courtyard to the gated entry.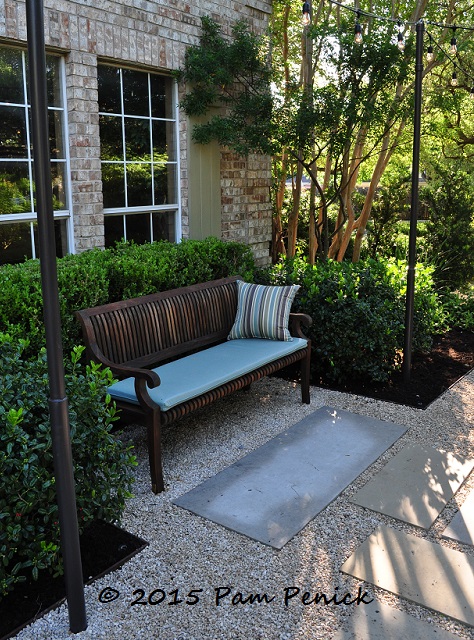 An espresso-stained bench with a French-blue cushion is tucked into a recess of hedging in front of a window, a "rug" of limestone at its feet.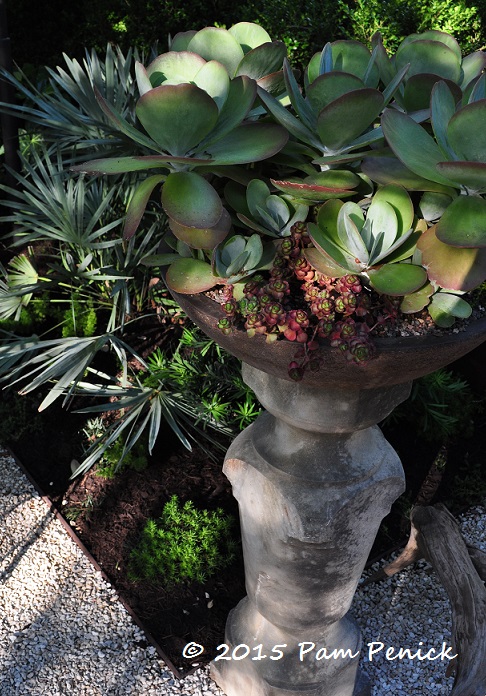 A potted paddle plant (Kalanchoe thyrsiflora) sits atop a handsome bird-bath pedestal. Silver saw palmetto (Serenoa repens) brightens the shady bed behind it.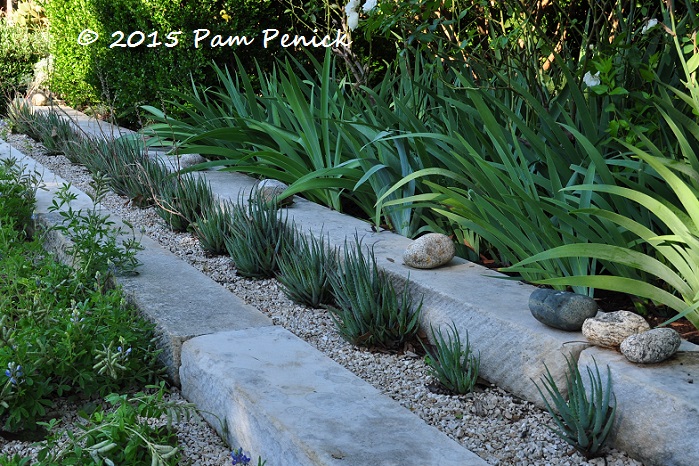 Exiting the courtyard and revisiting the perimeter beds, which give neighbors and passersby a beautiful view, I admired this tiered limestone curbing layered with bluebonnets (lower level), 'Blue Elf' aloes (middle), and irises (top). I'm guessing those irises have blue or purple flowers. A collection of smooth river stones adorns the top curb.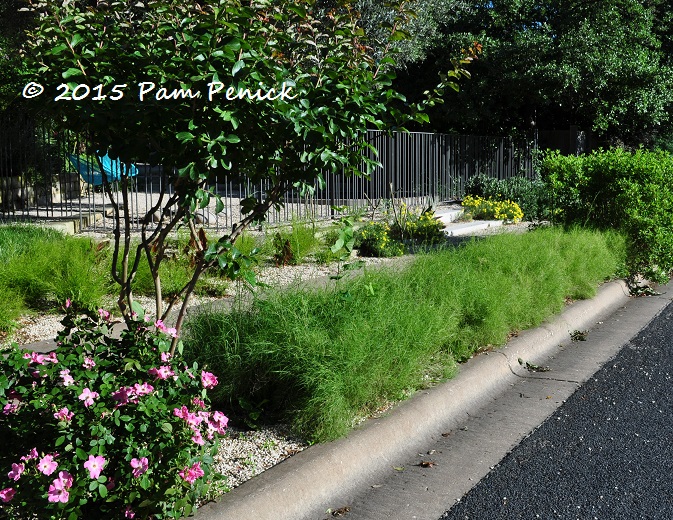 Curt taught me the value of proper pruning at my first garden (the one before Green Hall), when he was our across-the-street neighbor. He's a very precise gardener, but one who isn't afraid to take risks and experiment with plants. I like how he's made a low hedge of bamboo muhly grass (Muhlenbergia dumosa) in the hell strip. It's only about 18 inches tall and seems to take radical pruning very well! Perhaps you could even make a parterre of this normally billowy grass, if you were so inclined.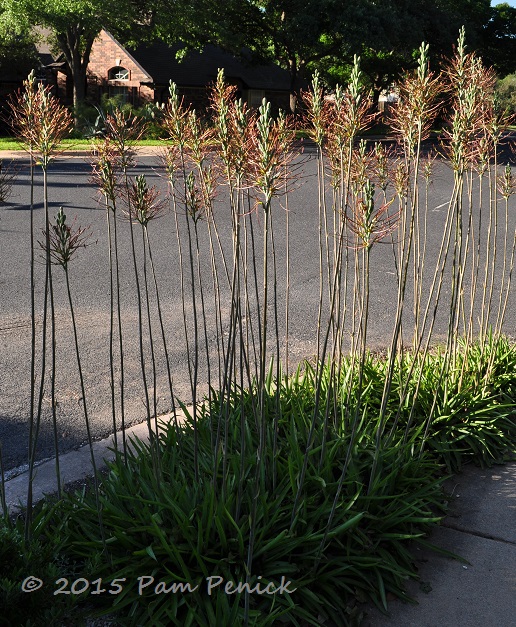 At the corner, the hell strip is filled with manfreda, which was in spectacular full bloom, each bottlebrush flower standing four feet tall on a long, fleshy stalk.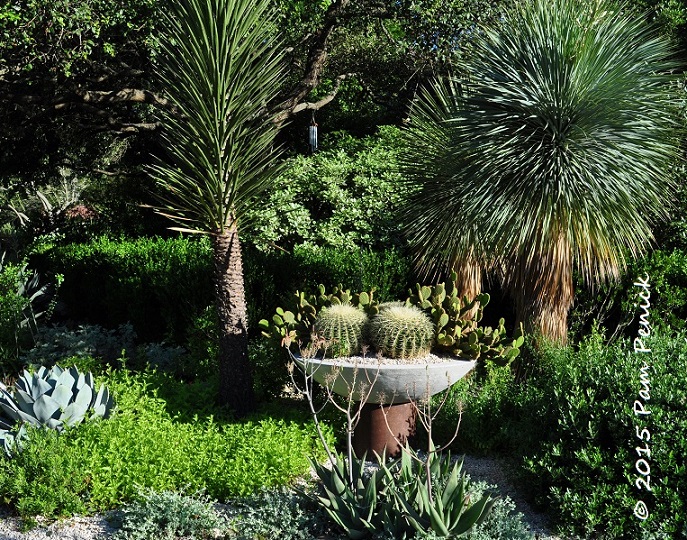 The sun-blasted outer corner bristles with Yucca australis, two Yucca rostrata, and a large dish planted with golden barrel cactus and bunny ears cactus (Opuntia microdasys).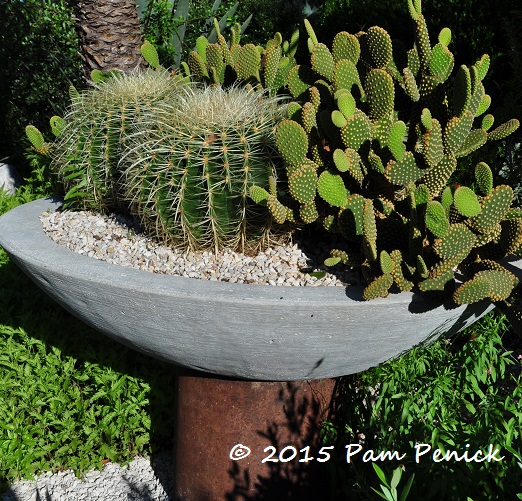 A closer view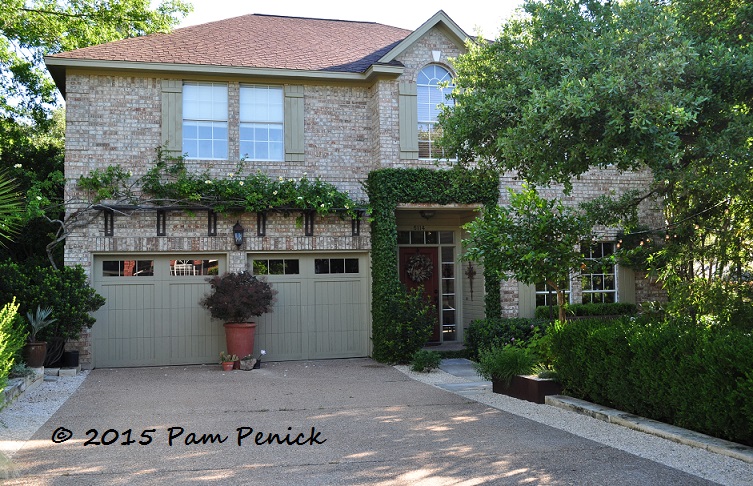 That concludes another exciting visit to Curt's garden. Thank you, Curt, for sharing it with me again!
For a previous post about the Arnette garden, click here. Search for "Sitio Design" in the search bar to find my tours of gardens Curt has designed for others.
All material © 2006-2015 by Pam Penick for Digging. Unauthorized reproduction prohibited.
posted in
Agaves
,
Aloes
,
Arbors
,
Bulbs/Rhizomes
,
Cactus
,
Containers
,
Design
,
Dyckias
,
Edibles
,
Garden art
,
Garden tours 2015
,
Gates
,
Grasses
,
Lawn Gone!
,
Lighting
,
Palms/Cycads
,
Paths
,
Patios & decks
,
Rock
,
Roses
,
Seating
,
Shrubs
,
Succulents
,
Trees
,
Vines
,
Walls
,
Xeric plants
,
Yuccas