December 16th, 2017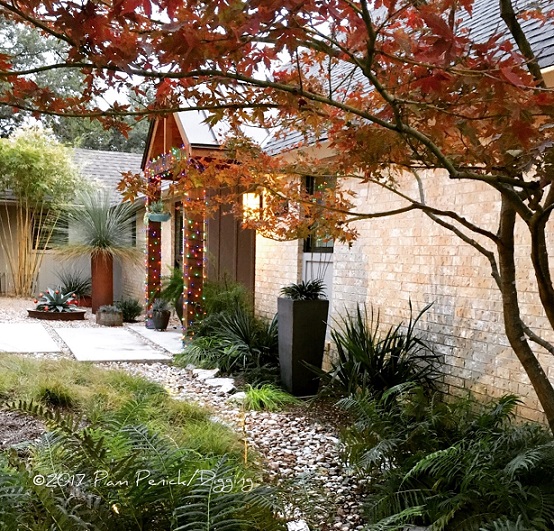 Despite our one-day snow last week, it still looks pretty autumnal in my garden this Foliage Follow-Up. The Japanese maple stubbornly refuses to acknowledge fall until December, when the Christmas lights go up on the house and red balls go up on the agave by the door. Then, out of solidarity or perhaps a sense of tardiness, it blushes red too. Well, this year it's more of a rusty red than the brilliant red of more congenial years for fall color in Austin.
Even the native river ferns, sheltered from frost by a live oak canopy overhead, are green and unwithered. Beyond, native dwarf palmettos and golden sedge along the foundation and a potted agave, sotol, and hesperaloe add shades of evergreen. Yellow-variegated 'Alphonse Karr' bamboo adds its own bright foliage and stems in the back corner of the gravel garden.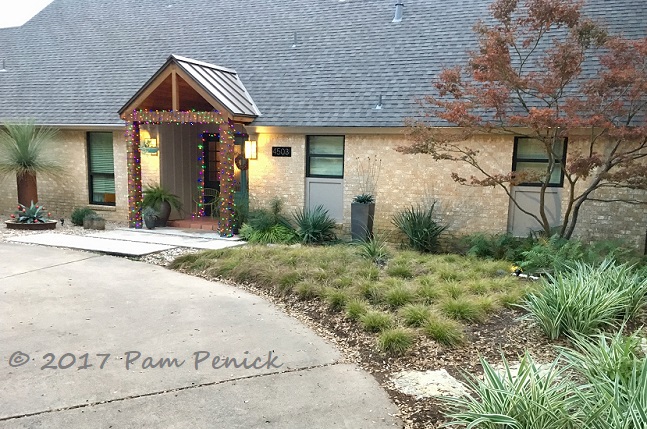 The 'Scott's Turf' sedge "lawn" has gone a bit tawny in response to the chilly weather, but the white-and-green variegated flax lily is unchanged by a hard freeze as yet — and I am crossing my fingers that this year it doesn't get knocked back by one.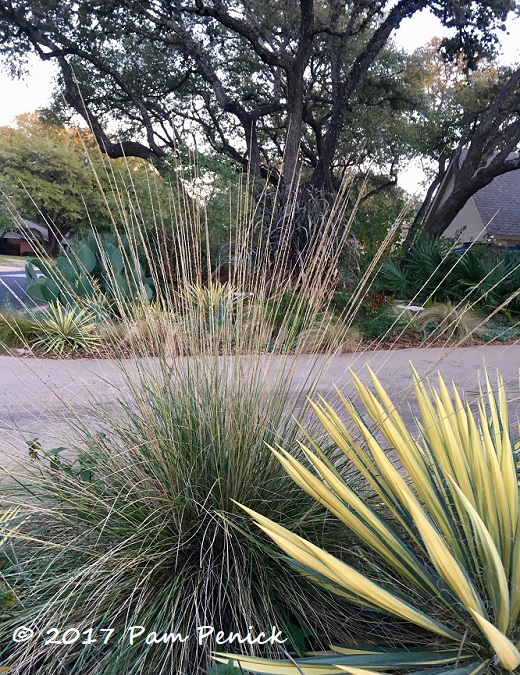 No such worries with tough native grasses like pine muhly, which is putting on a fine autumnal show with an airy scrim of tan wand-like inflorescences.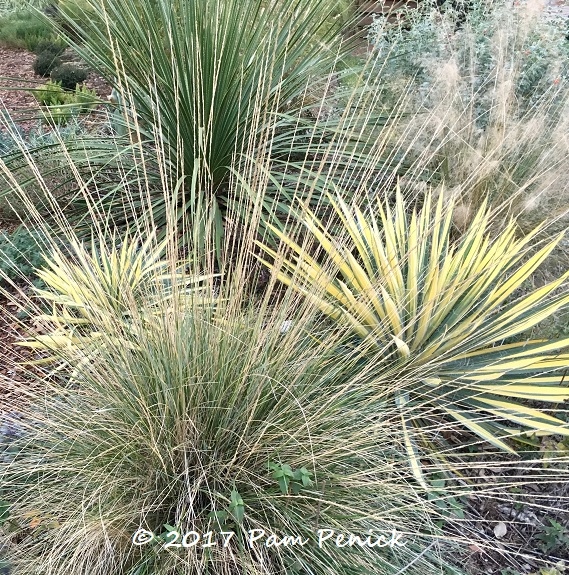 I love how it looks with similar fireworks-like explosions of 'Color Guard' yucca and Texas sotol.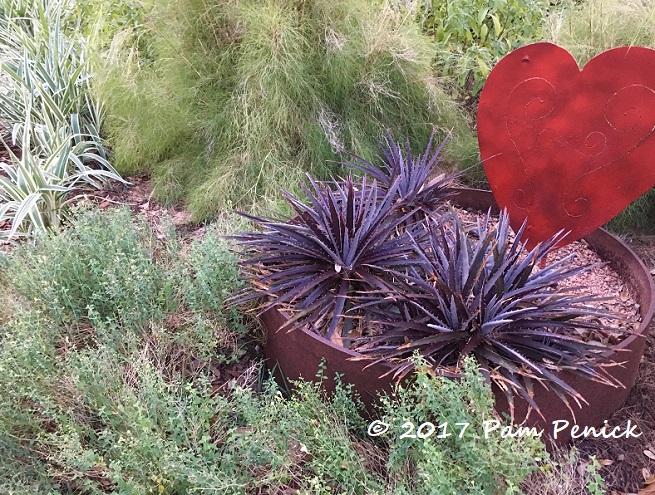 The frosted, wine-colored and toothy leaves of 'Burgundy Ice' dyckia look good no matter the season (so long as we don't get a prolonged deep freeze) and contrast nicely with the tiny leaves of white skullcap and chartreuse billows of bamboo muhly.
This is my December post for Foliage Follow-Up. Fellow bloggers, what leafy loveliness is happening in your garden this month? Please join me in giving foliage its due on the day after Bloom Day. Leave a link to your post in a comment below. I'd appreciate it if you'll also link to my post in your own — sharing link love! I look forward to seeing your foliage faves.
I welcome your comments; please scroll to the end of this post to leave one. If you're reading this in a subscription email, click here to visit Digging and find the comment box at the end of each post.
_______________________
Digging Deeper: News and Upcoming Events
Calling all garden bloggers! You're invited to register for the annual Garden Bloggers Fling tour and meetup, which will be held in Austin next May 3-6, 2018! Click this link for information about registering, and you can see our itinerary here. Space is limited, so don't delay. The 2018 Fling will be the event's 10th anniversary, which started in Austin in 2008.
Join the mailing list for Garden Spark Talks! Inspired by the idea of house concerts, I'm hosting a series of garden talks by inspiring designers and authors out of my home. Talks are limited-attendance events and generally sell out within just a few days, so join the Garden Spark email list for early notifications. Simply click this link and ask to be added.
All material © 2006-2017 by Pam Penick for Digging. Unauthorized reproduction prohibited.
posted in
2nd garden--2017
,
Bamboo
,
Containers
,
Dry Streams
,
Dyckias
,
Fall color
,
Foliage Follow-Up
,
Garden art
,
Grasses
,
Groundcovers
,
Lawn Gone!
,
Palms/Cycads
,
Porch
,
Texas natives
,
Trees