December 5th, 2016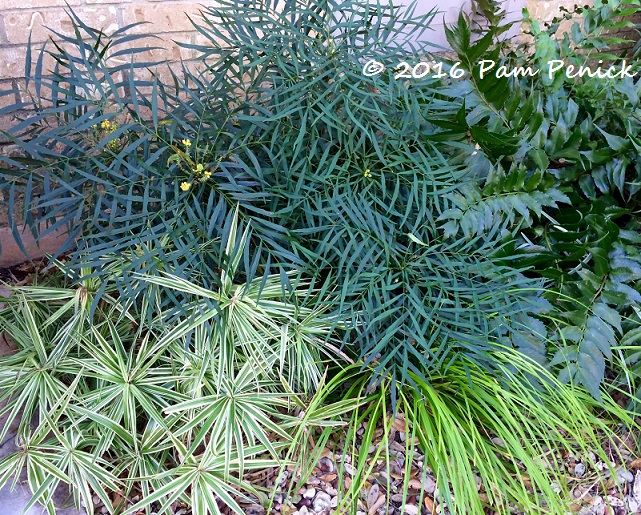 It's been raining since last Friday, so I thought I'd share a few garden pics taken before the deluge. This is one of my favorite combos for winter and indeed all year long (clockwise from top): 'Soft Caress' mahonia, Everillo sedge (Carex oshimensis 'Everillo'), and 'Sparkler' sedge. (The glossy leaves on the right are holly fern.)
'Soft Caress' mahonia stays low, about 2 feet high and wide, and the sedges are even smaller, making for a lovely foundation-height combo for shade or light morning sun. 'Soft Caress' mahonia has been nibbled by deer in other parts of my front yard, although not here next to the house. If you have a serious deer problem, it's probably not bulletproof. The sedge has been very deer-safe for me.
This combo has been so successful and admired by visitors that I'd like to replicate it in other parts of my garden. Alas, while 'Soft Caress' mahonia is relatively easy to find at local nurseries (it's part of the Southern Living Plant Collection), the sedges are proving elusive. Southern Living sent me the 'Everillo' sedge to trial in my garden a couple of years ago, and I haven't seen it locally since then, although you can order it directly from their SL Plant Collection.
'Sparkler' sedge (Carex phyllocephala 'Sparkler') is even harder to find. Once widely available in Austin nurseries, it's been MIA for a year. I called several local nurseries last week to find out why, including The Natural Gardener and Shoal Creek Nursery, and learned that there was just one grower of 'Sparkler' sedge for all of Texas, and it got flooded out earlier this year, losing its stock. The grower told the buyer at The Natural Gardener that they have no plans to wholesale 'Sparkler' sedge again any time soon. What?? It's crazy that such a wonderful plant for dry shade in central Texas isn't available. I searched for an online supplier, but every place is sold out or sells only tiny 4-inch plants. It's a slow grower, so I really wanted a few 1-gallons. I guess I will be forced to divide my existing plants, even though their slow growth means I'll have to be very patient for a few years.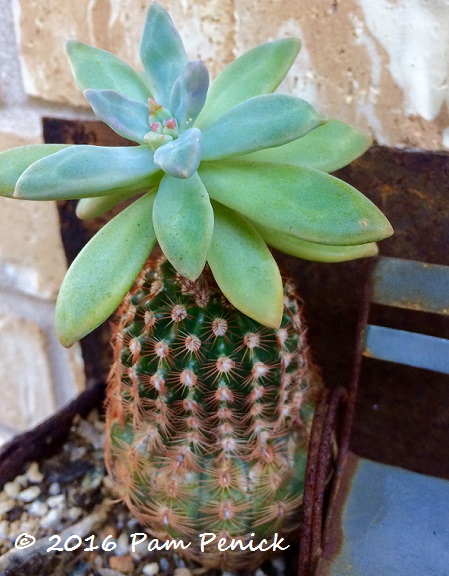 Moving on, here's a little cactus and succulent combo in a wall planter. The leggy ghost plant is climbing the back of the cactus and resting on top, like a succulent flower!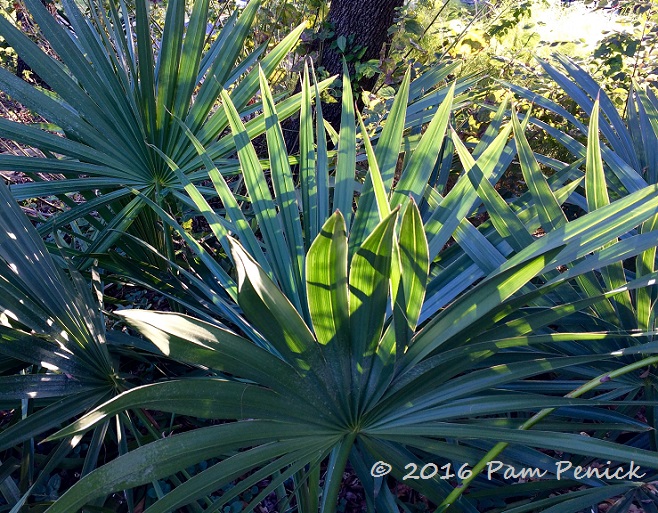 Catching a few rays of sunshine last week, the fan-like leaves of our native dwarf palmetto (Sabal minor) add drama and year-round greenery.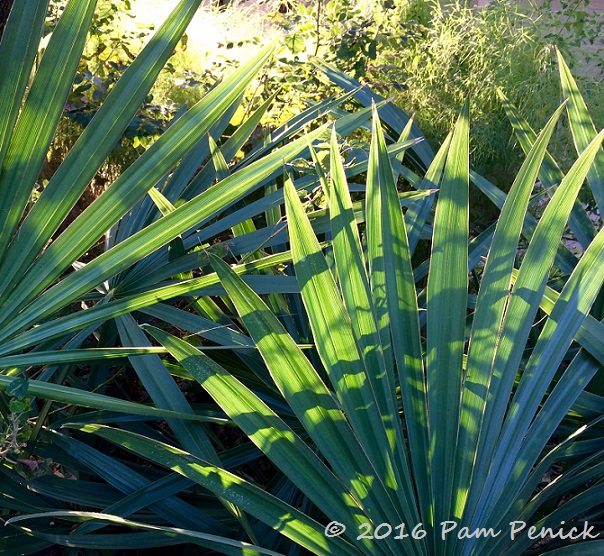 They seem to be peeking through their fingers at the sunrise, don't they?
I welcome your comments; please scroll to the end of this post to leave one. If you're reading this in a subscription email, click here to visit Digging and find the comment box at the end of each post.
_______________________
Digging Deeper: News and Upcoming Events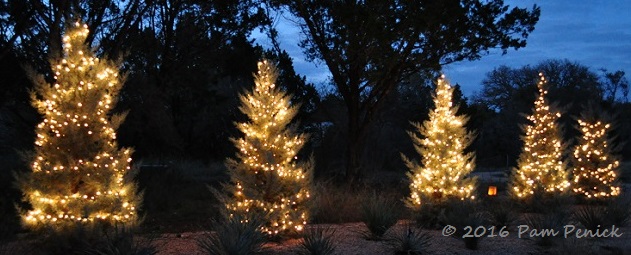 Need a holiday gift for the gardener, new homeowner, or environmentalist on your list?
Please consider giving one (or both!) of my books. They're packed with plenty of how-to info for newbies as well as lots of inspirational photos and design ideas for more experienced gardeners! Order today from Amazon (Water-Saving Garden / Lawn Gone!) or other online booksellers (Water-Saving Garden / Lawn Gone!), or find them anywhere books are sold.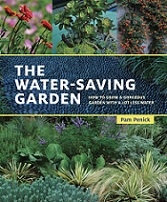 "In an era of drought and unpredictable weather patterns, The Water-Saving Garden could not come at a better time. With striking photographs and a designer's eye, Penick shows us just how gorgeous a water-wise garden can be. This is the must-have garden book of the year!"
— Amy Stewart, author of The Drunken Botanist and Wicked Plants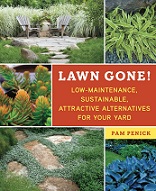 "This thoughtful, inviting, and thoroughly useful book should be required for every new homeowner at closing. It has the power to transform residential landscapes from coast to coast and change the world we all share."
— Lauren Springer Ogden, author of The Undaunted Garden and coauthor of Waterwise Plants for Sustainable Gardens
All material © 2006-2016 by Pam Penick for Digging. Unauthorized reproduction prohibited.