September 19th, 2016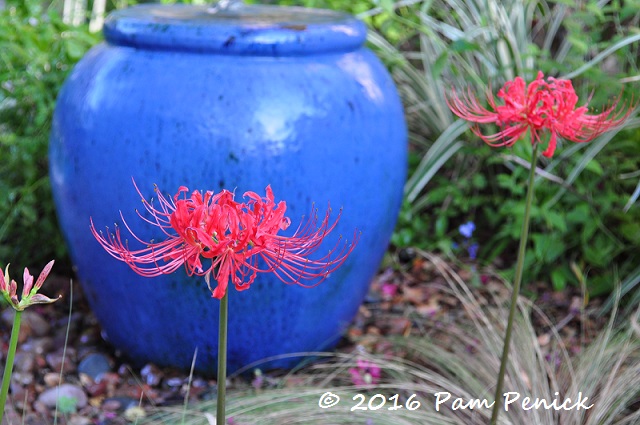 So much for calling the end of summer. It's been as hot as Georgia asphalt for the past week, and I've been out in it every day, getting the garden in shape for fall. At least it's given me a chance to appreciate the spider lilies (Lycoris radiata) that popped up in a bed of Mexican feathergrass by the blue fountain, which makes for a great color contrast with the red.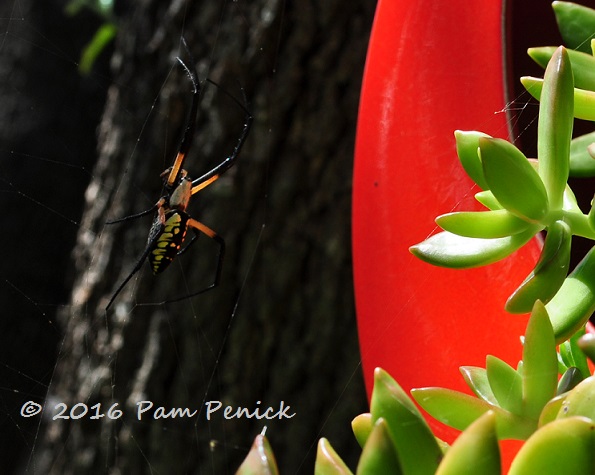 Did someone say "spider"? I've spotted several large garden spiders in the back yard lately. This one is using my red Circle Pot as an anchor, and has a splashy color echo going on as well.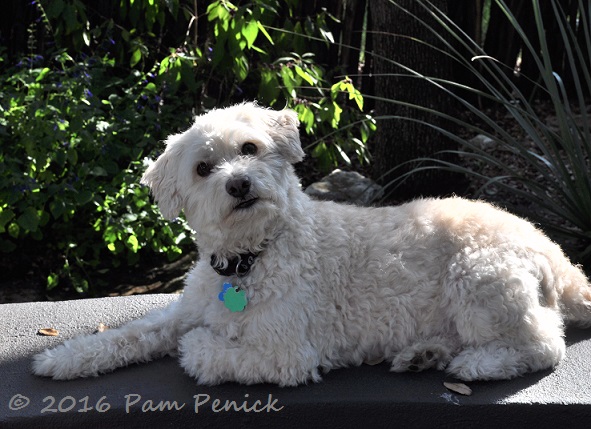 That's a big spider!, says Cosmo.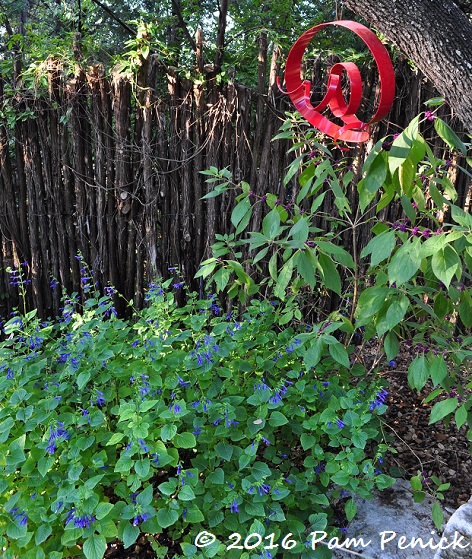 This is the best my majestic sage (Salvia guaranitica) has ever looked in this garden, thanks to the reasonable summer we've had this year, despite current sauna-like conditions. The American beautyberry (Callicarpa americana) next to it is all berried up for fall…if it ever arrives.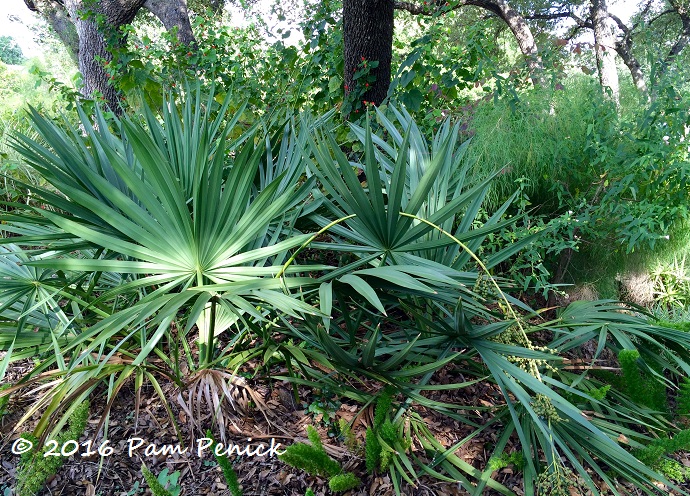 And the dwarf Texas palmetto (Sabal minor) out front is looking happy too, with an arching stem of fruit dipping into the foxtail fern (Asparagus meyeri) below.
Hope you're enjoying more pleasant weather in your garden, but happy Monday all the same!
I welcome your comments; please scroll to the end of this post to leave one. If you're reading this in a subscription email, click here to visit Digging and find the comment box at the end of each post.
_______________________
Digging Deeper: News and Upcoming Events
Austinites and native-plant shoppers, I'll be at the member's day Fall Plant Sale at the Lady Bird Johnson Wildflower Center on October 14, and I hope to see you there! I'll be signing books between 1 and 3 pm in the Wild Ideas gift shop. If you're not a member, of course you can still come on out and see the gardens and stop in at Wild Ideas. Hope to see you there!
South Texans, come see me at the 2nd annual Planta Nativa festival in McAllen, Texas, on Saturday, October 22. I'll be delivering the keynote talk, "Local Heroes: Designing with Native Plants for Water-Saving Gardens," that evening. Tickets are on sale at Quinta Mazatlan. I hope to see you there!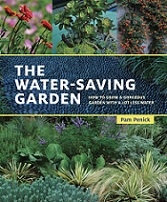 Do you review? Have you read my new book, The Water-Saving Garden? If you found it helpful or inspirational, please consider leaving a review — even just a sentence or two — on Amazon, Goodreads, or other sites. Online reviews are crucial in getting a book noticed. I really appreciate your help!
All material © 2006-2016 by Pam Penick for Digging. Unauthorized reproduction prohibited.
posted in
2nd garden--2016
,
Berries
,
Bugs
,
Bulbs/Rhizomes
,
Dogs
,
Fall color
,
Fountains
,
Garden art
,
Palms/Cycads
,
Texas natives
,
Water features