May 27th, 2016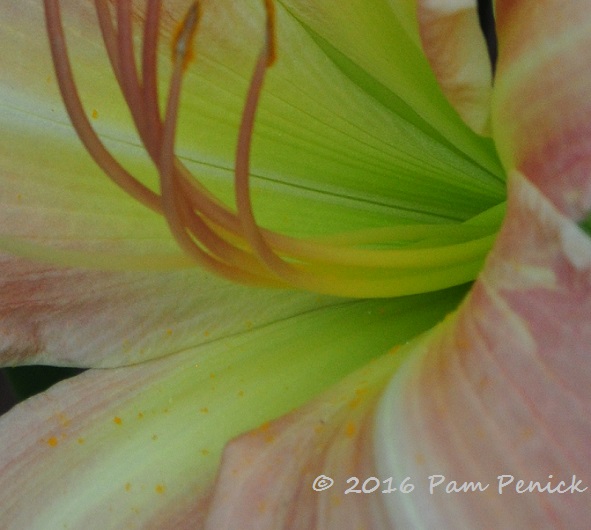 As the days fly toward summer, the daylilies are showing off their lovely throats…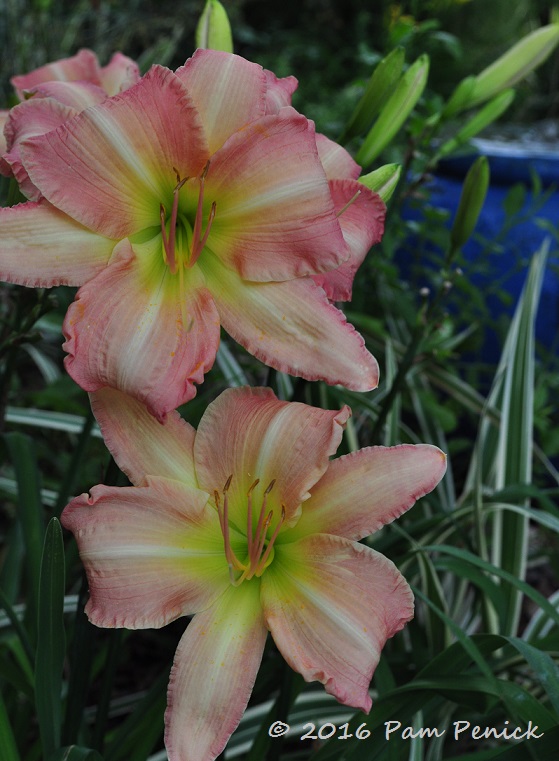 …and blushing, ruffled petals. Here's 'Best of Friends'.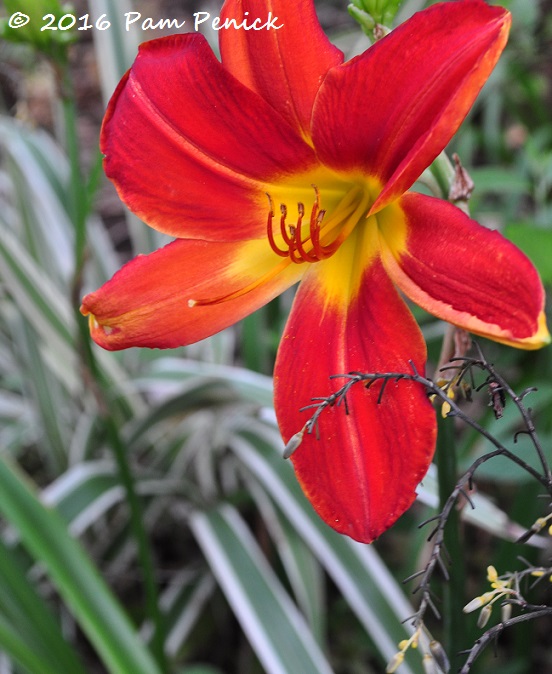 The first 'Apple Tart' smolders among the white-striped flax lilies.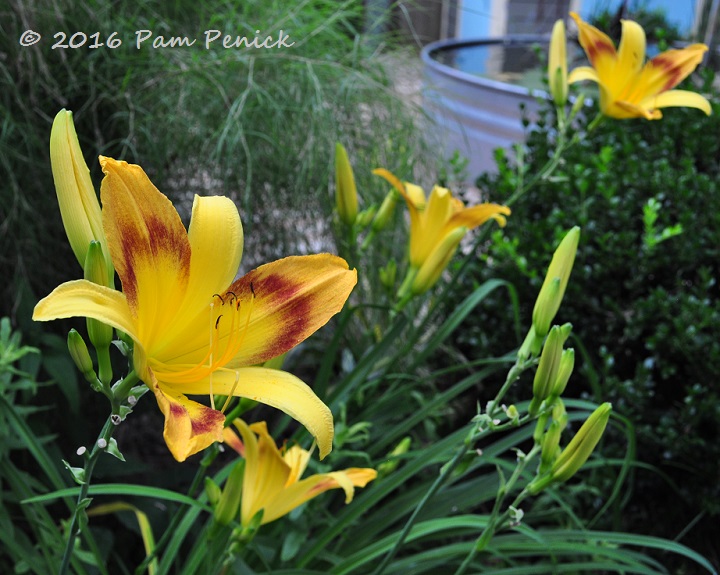 Stretching on long stems like giraffe necks, 'Wilson's Yellow' daylily stands tall amid grasses and aster foliage.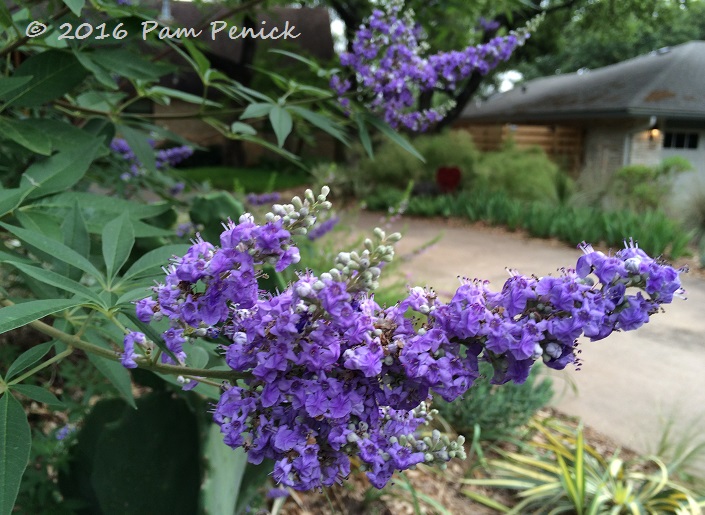 Chaste lilac (Vitex agnus-castus) blooms extravagantly in clusters of rich purple.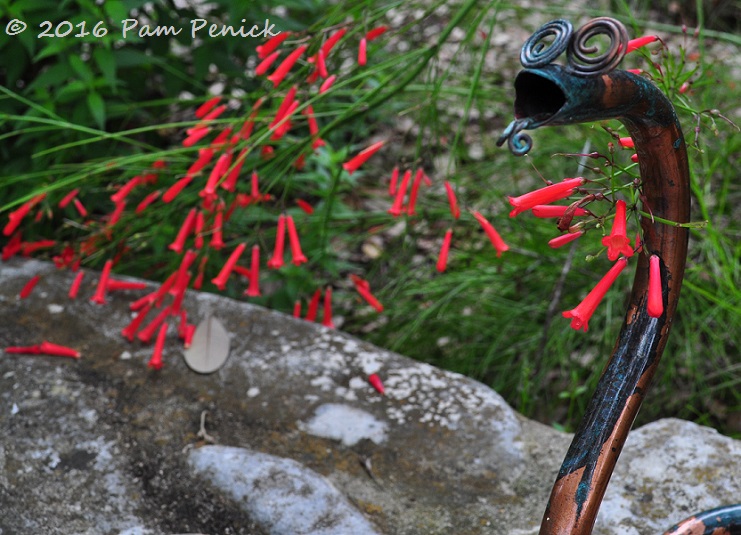 Firecracker fern (Russelia rotundifolia) revs up as the days grow hotter, dazzling the copper snake.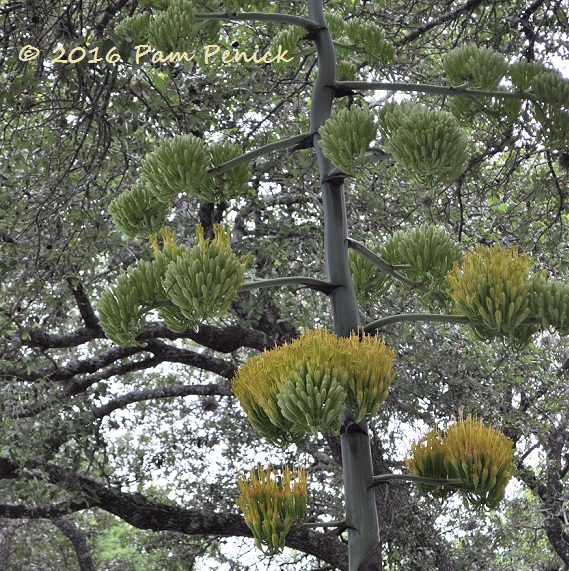 And what's Moby, my whale's tongue agave (A. ovatifolia), up to? The lowest two tiers of flowers are now open.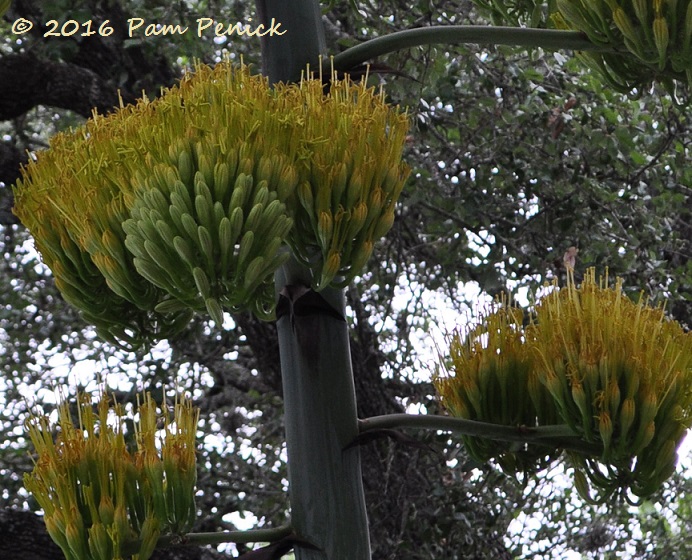 The banana-like buds have opened into a densely packed fringe of golden stamens.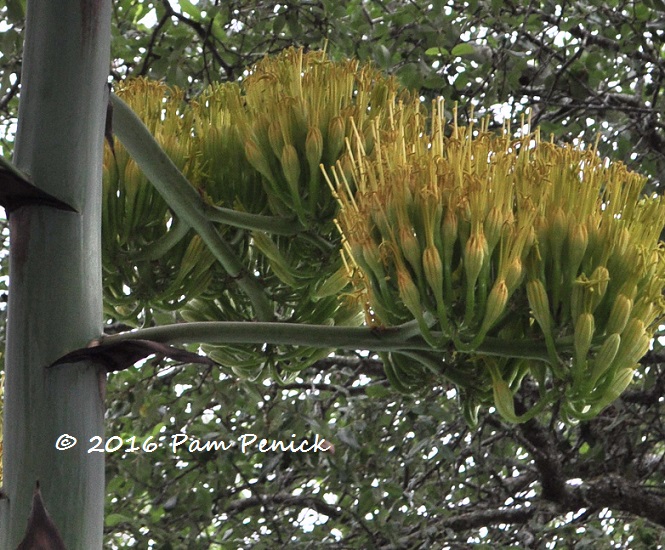 They're quite lovely.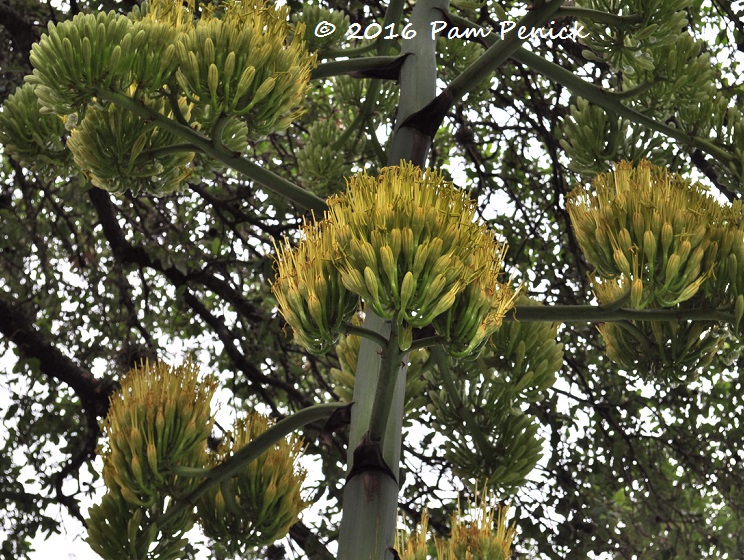 It's like a flowering tree has erupted from the center of the agave!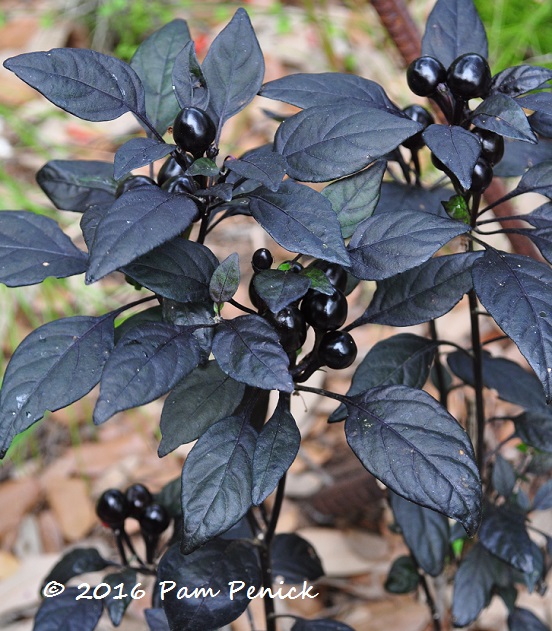 Two annual 'Black Pearl' peppers (Capsicum annuum) overwintered (the garden didn't get a hard freeze this year), and they've already bloomed and produced their distinctive black, glossy, berry-like peppers. The nearly black leaves are just as striking.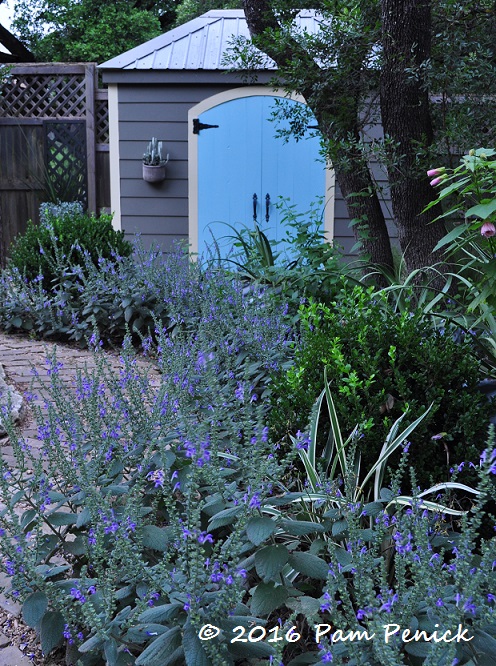 Heartleaf skullcap (Scutellaria ovata), a lovely, summer-dormant native groundcover, is at peak bloom, its lavender spires standing tall over pewter leaves.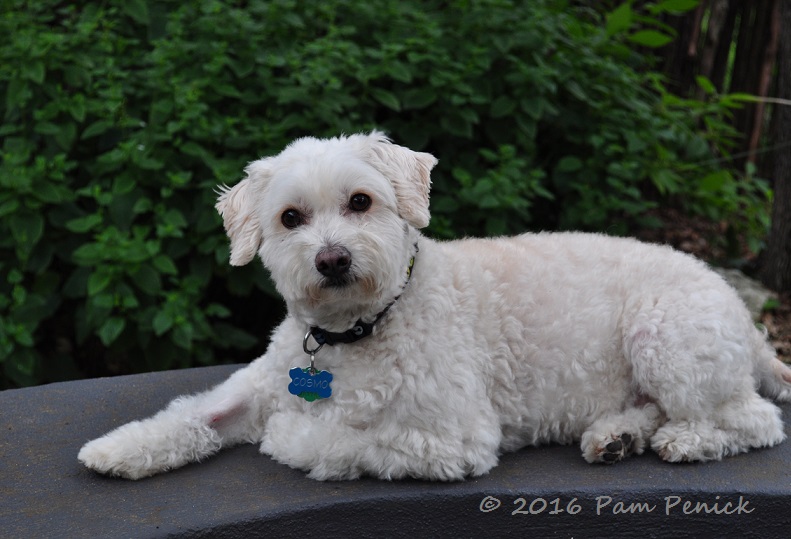 And my sweet boy Cosmo surveys his domain from his favorite perch, one of the stucco seat walls, at day's end.
I welcome your comments; please scroll to the end of this post to leave one. If you're reading this in a subscription email, click here to visit Digging and find the comment box at the end of each post.
_______________________
Digging Deeper: News and Upcoming Events
Tomorrow: Come see me at Festival of Flowers in San Antonio, May 28, 10:45-11:45 am (new time!). Get inspired to save water in your garden during my presentation at San Antonio's 19th annual Festival of Flowers. I'll be at the book-signing table after the talk, with copies of both The Water-Saving Garden and Lawn Gone! available for purchase. Tickets to the all-day festival, which includes a plant sale and exchange, speakers, and a flower show, are available at the door: $6 adults; children under 10 free. Free parking.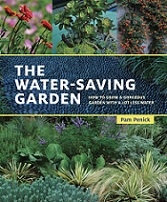 Do you review? Have you read my new book, The Water-Saving Garden? If you found it helpful or inspirational, please consider leaving a review — even just a sentence or two — on Amazon, Goodreads, or other sites. Online reviews are crucial in getting a book noticed. I really appreciate your help!
All material © 2006-2016 by Pam Penick for Digging. Unauthorized reproduction prohibited.
posted in
2nd garden--2016
,
Agaves
,
Berries
,
Daylily
,
Dogs
,
Doors
,
Flowers
,
Garden art
,
Sheds
,
Snakes
,
Texas natives