August 20th, 2015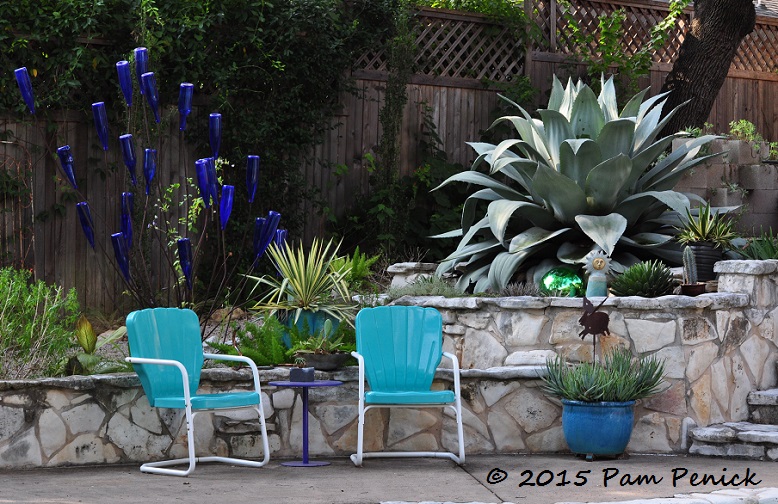 As yet another long, hot Austin summer drags on, with no real relief expected until early October, I start combing the garden for signs of a change in season. Late yesterday afternoon I found quite a few — hallelujah!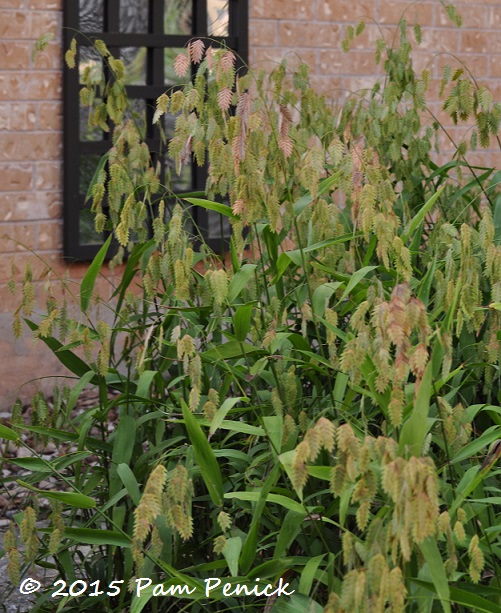 The dangling seedheads of inland sea oats (Chasmanthium latifolium) are changing from apple green to toasty brown.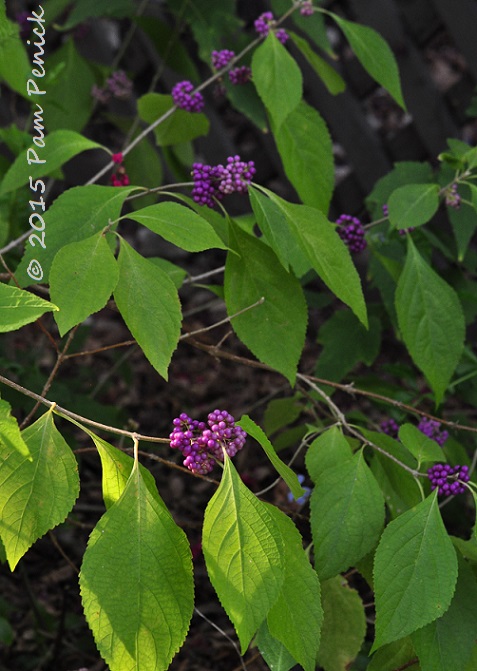 Clusters of berries on American beautyberry (Callicarpa americana) are ripening to a rich purple.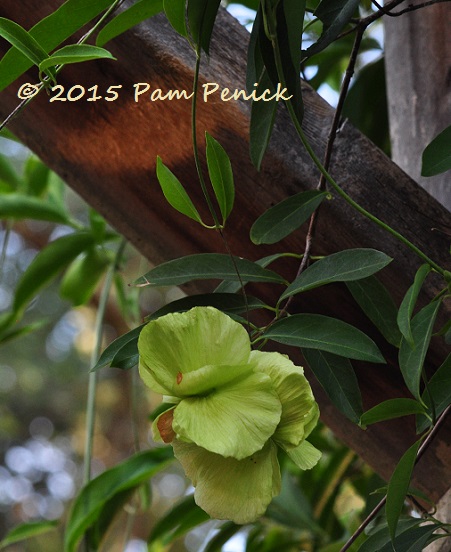 Papery chartreuse "butterflies" — the seedheads of butterfly vine (Mascagnia macroptera) — perch among the vine's twining stems.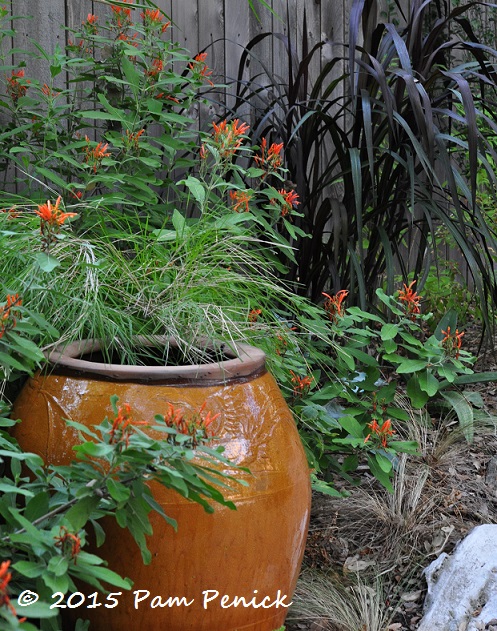 Mexican honeysuckle (Justicia spicigera) has revved back up with a hot-orange rebloom that pops nicely against the nearly black 'Vertigo' pennisetum I'm trialing from Proven Winners.

Winter-white garlic chives (Allium tuberosum) are beginning to flower…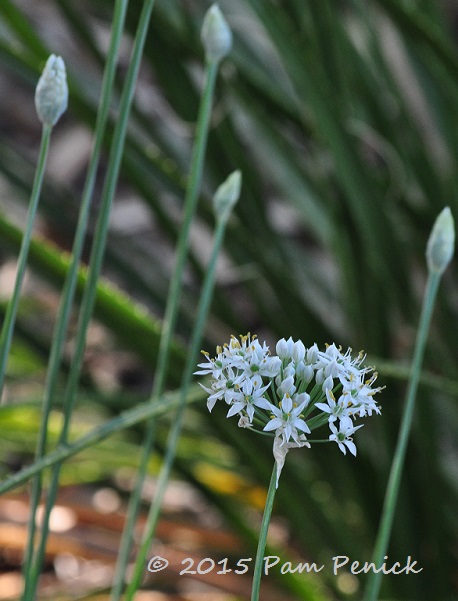 …with more still in bud.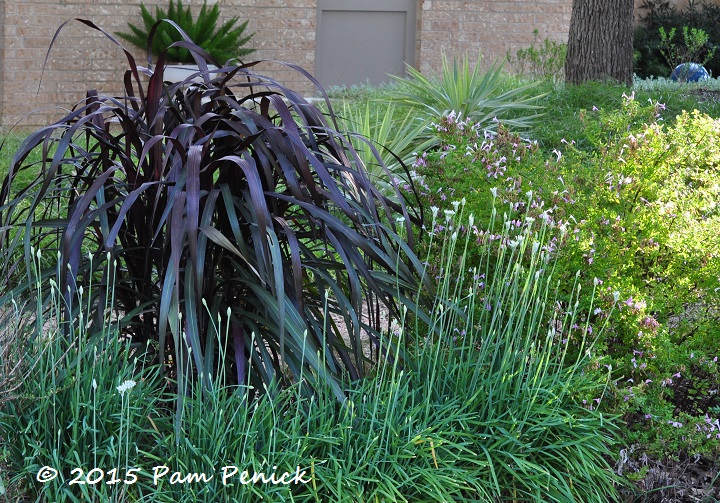 And more! The starry white blossoms will really shine against the purple-black of another 'Vertigo' grass.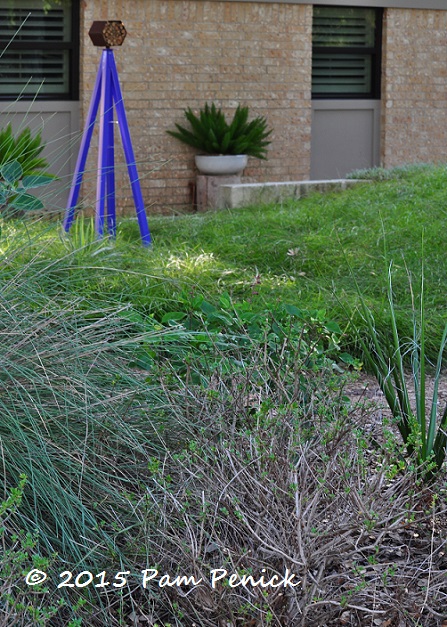 The summer-sad autumn sage (Salvia greggii), which never really bloomed this spring (too much rain?), grew woody and thin this summer. About three weeks ago I'd had enough and whacked them back really hard. I trusted they would return, neatly compact and ready for fall flowering.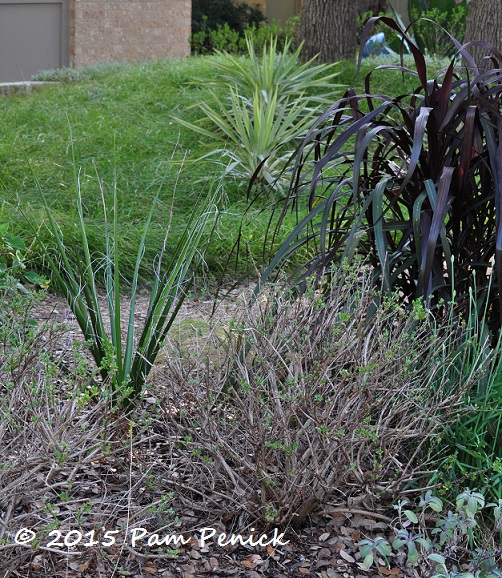 Finally I see they're putting on new leaves. Thank goodness! I was tired of having to avert my eyes from this part of the garden.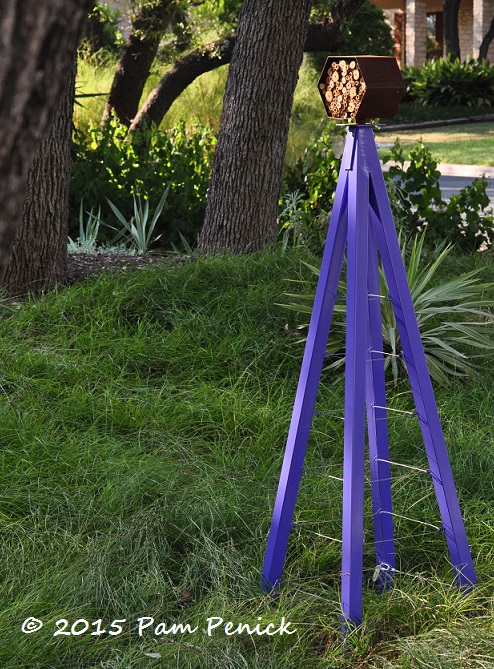 Of course summer still holds sway for now, which in my garden means mostly grassy and spiky greens. The Berkeley sedge (Carex divulsa) lawn (also visible in the background of the photo above) has filled in beautifully this year. I love the vertical element of the TerraTrellis blue tuteur in it, and I'm keeping an eye out for any mason bees making a home in the bug hotel on top.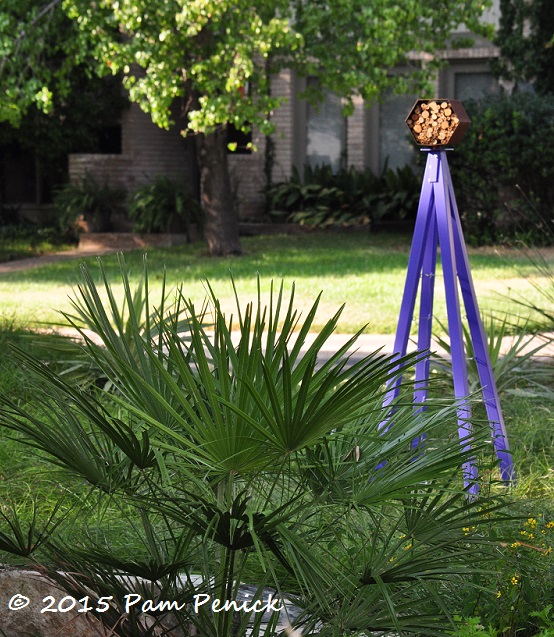 Another view, with Mediterranean fan palm (Chamaerops humilis) in front.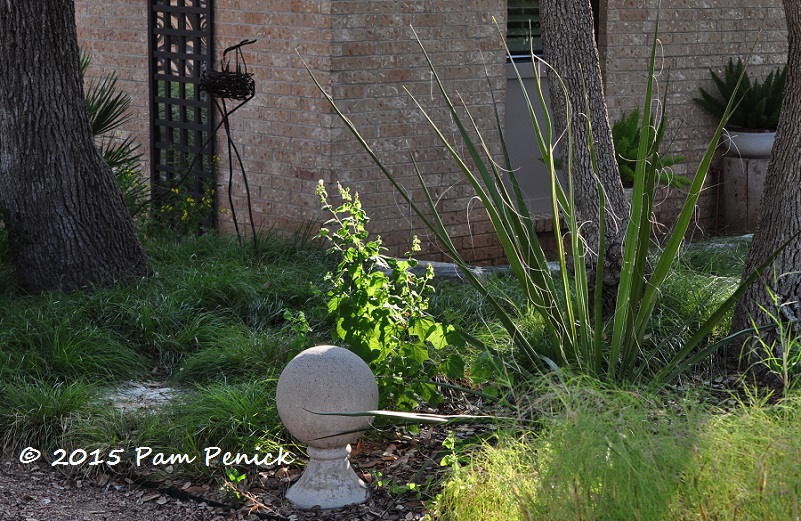 The wide-leaf giant hesperaloe (Hesperaloe funifera ssp. chiangii) has also grown a lot this year, and a lone survivor white Turk's cap (Malvaviscus arboreus var. drummondii 'Alba') is flowering beside it.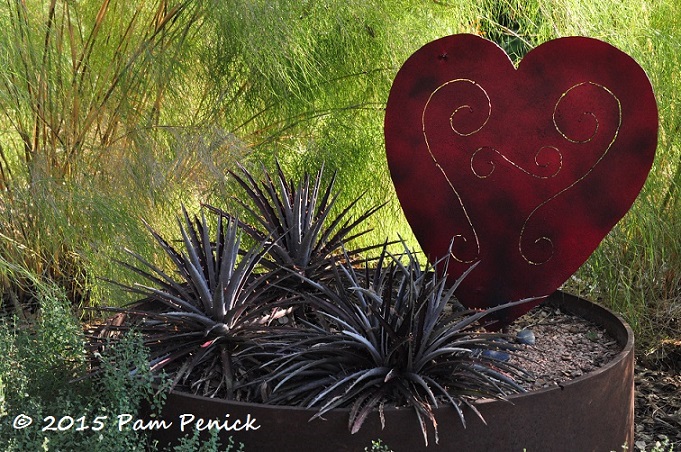 Bamboo muhly (Muhlenbergia dumosa) is always so pretty backlit by the setting sun. The visual weight and dark coloring of a trio of 'Burgundy Ice' dyckia in the steel-ring planter contrasts nicely.

While summer remains, this Death Star-averse gardener takes shelter where she can, either indoors…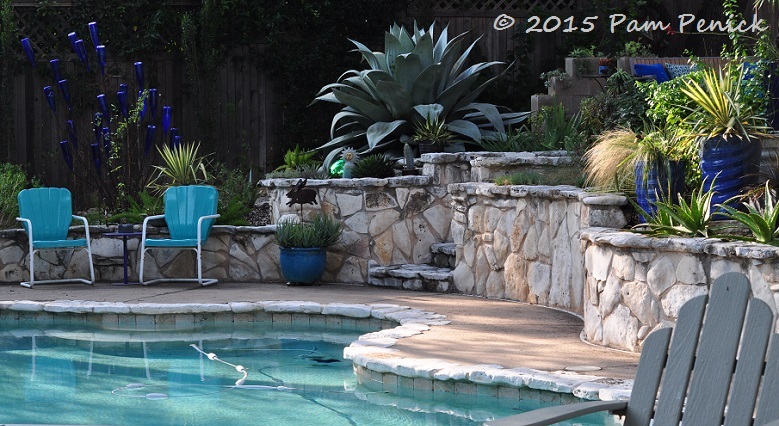 …or submerged to the neck. That's quite nice, I'll admit, but…come on, fall!
All material © 2006-2015 by Pam Penick for Digging. Unauthorized reproduction prohibited.
posted in
2nd garden--2015
,
Agaves
,
Aloes
,
Berries
,
Bottle tree
,
Bugs
,
Bulbs/Rhizomes
,
Containers
,
Dyckias
,
Garden art
,
Grasses
,
Groundcovers
,
Lawn Gone!
,
Palms/Cycads
,
Paths
,
Patios & decks
,
Plant trial
,
Seating
,
Summer color
,
Swimming pools
,
Texas natives
,
Trellis
,
Vines
,
Walls
,
Xeric plants
,
Yuccas