November 14th, 2013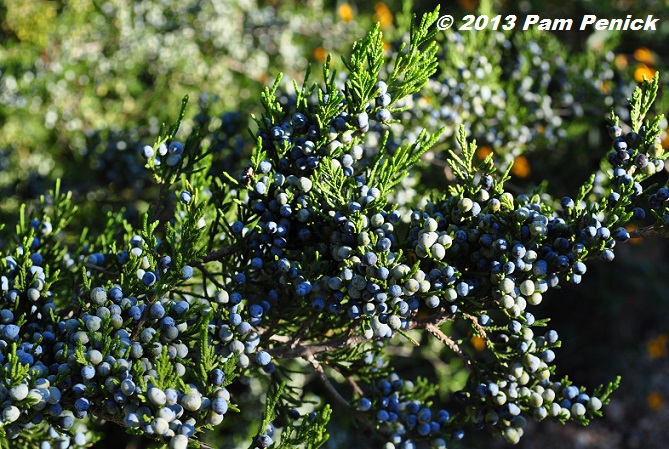 It's coming…the dreaded cedar fever season in central Texas. Soon a lot of Austinites will be sniffling, sneezing, itching, and rubbing at watery, red-rimmed eyes, all because it's mating season for the notorious Ashe juniper (Juniperus ashei), commonly known as mountain cedar or just plain cedar. Cedar fever season is worst in central Texas from December to February, sending sufferers running to the allergist for shots or the pharmacy for drugs and Neti pots.
Physical misery can cause a lot of hate. Many of my clients who have cedar trees speak of cutting them down. There's at least one website devoted to cedar hatred, called People Against Cedars, although it looks as if it's no longer updated, so maybe they had a change of heart.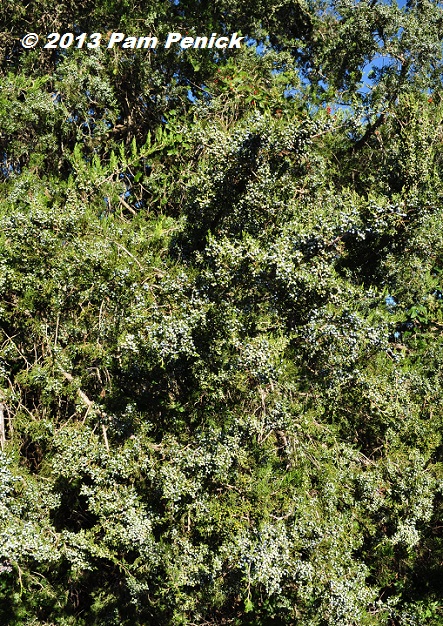 It's really not fair to hate on all Ashe junipers though. Did you know that there are male and female trees, and only the male trees produce the pollen to which so many of us are allergic? The two photos above show female cedars, which produce attractive, glaucous, berry-like seed cones, a food source for cedar waxwings, American robins, and other wildlife. Male cedars have small golden cones instead (this website has pictures of male cones), which release the dreaded pollen in a cloud when conditions are right — typically cold and windy.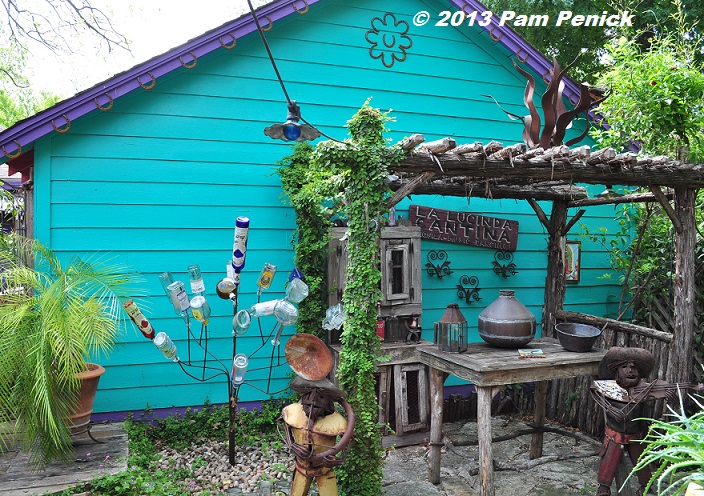 I agree that there are many good uses for dead Ashe junipers. Unpeeled, its trunks and bigger limbs make an excellent building material for cantinas, like this one in Lucinda Hutson's garden…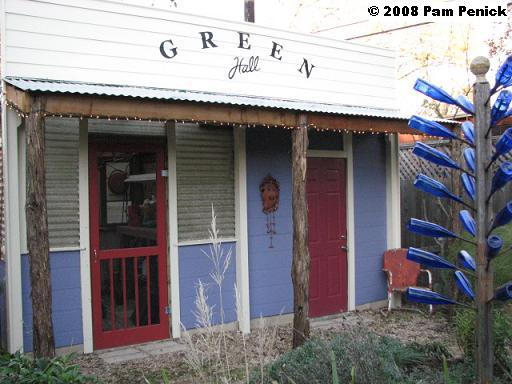 …and porch supports like the ones on Green Hall in my former garden.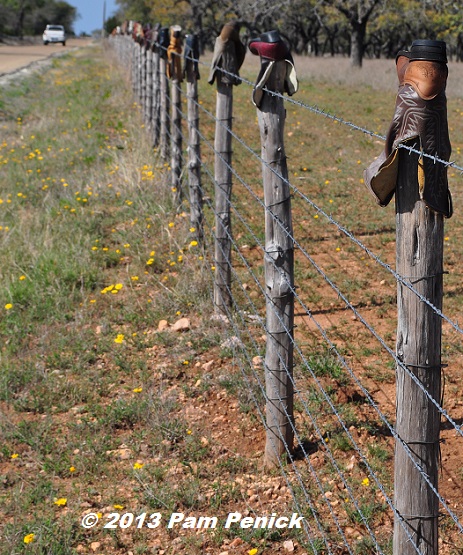 They also make long-lasting, insect- and rot-resistant fence posts…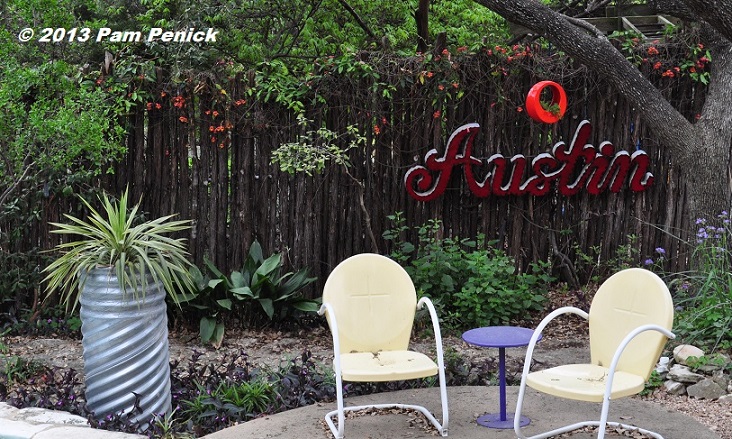 …and coyote fences, like the one in my back garden that hides an ugly chain-link fence.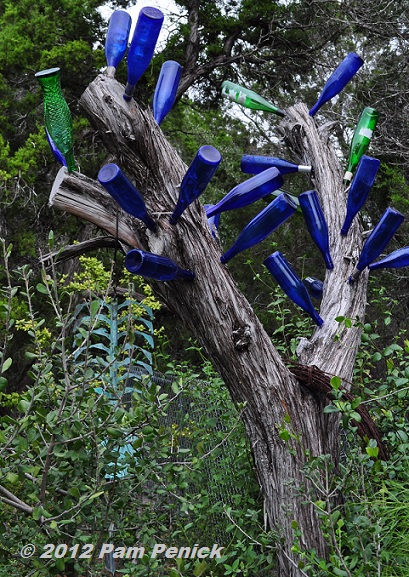 Intact dead cedars make excellent bottle trees, like this one in Jennifer and David Phillips's garden.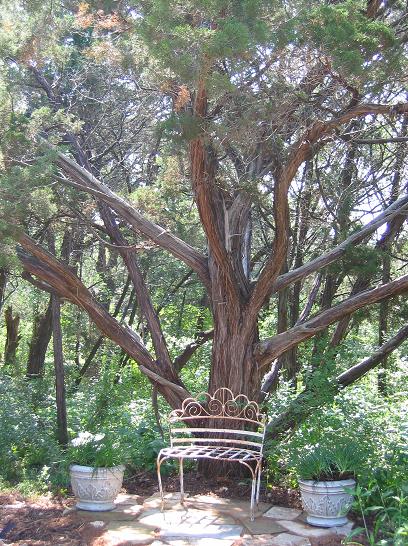 But I like live cedars just as well, especially when nicely pruned to show off their handsome, shaggy trunks.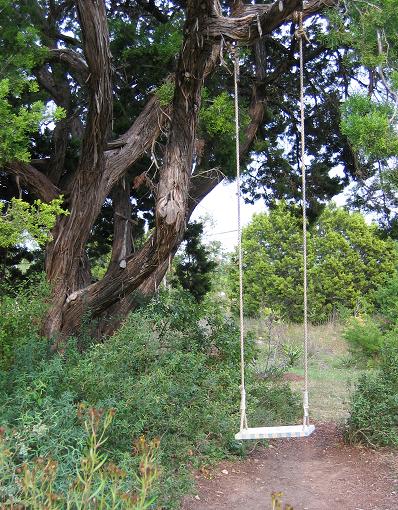 Swinging beneath one would be fragrant and shady.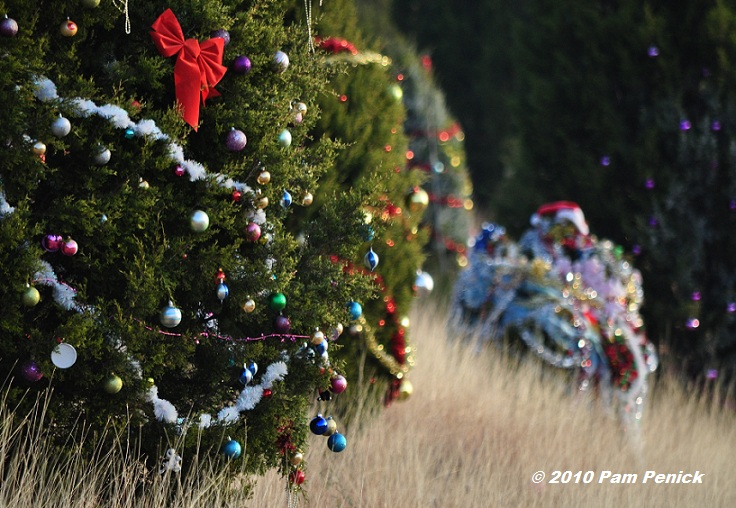 And how sad would it be not to have cedars to make into Christmas trees along Loop 360?
So from one cedar-fever sufferer to all you others, let's give the Ashe juniper a chance. At least the female tree. It's an evergreen, native tree that adds much natural beauty to our winter landscape and provides habitat for the endangered golden-cheeked warbler. It's believed to create nursery-like conditions for the rare but beautiful Texas madrone as well. And yes, I've read the reports of its water-sucking nature, but that remains controversial. Sure, it's opportunistic in the absence of wildfires, so reducing their numbers makes sense. But no cedars at all? That would be a loss of natural beauty and habitat.
The Ashe juniper may not be a perfect plant, but what is? Achoo!
All material © 2006-2013 by Pam Penick for Digging. Unauthorized reproduction prohibited.