October 20th, 2015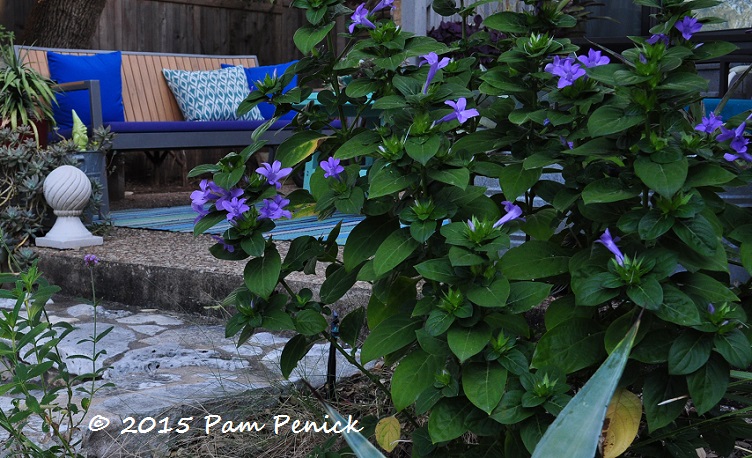 My shady, evergreen garden will never be showy with flowers. But I have pockets of seasonal blooms that brighten the garden for a week or two at a time and please me when they appear. Right now, Philippine violet (Barleria cristata) is one of these.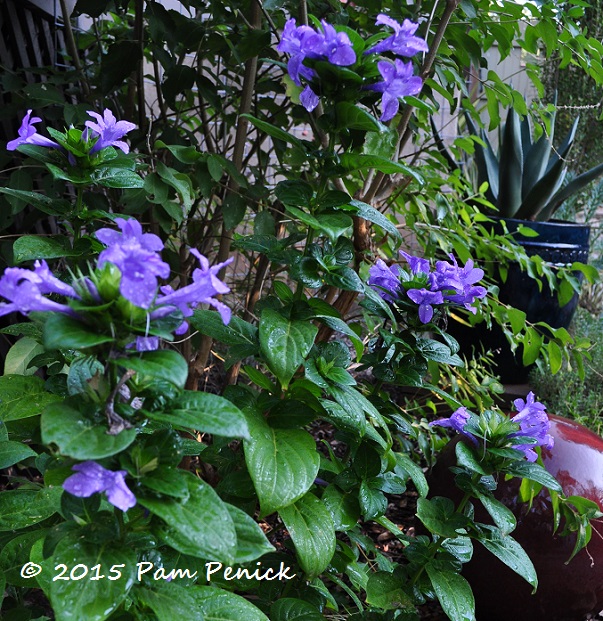 I have this subtropical perennial on each side on my back garden, and both started flowering in time for Saturday's tour. Well done, P. violet!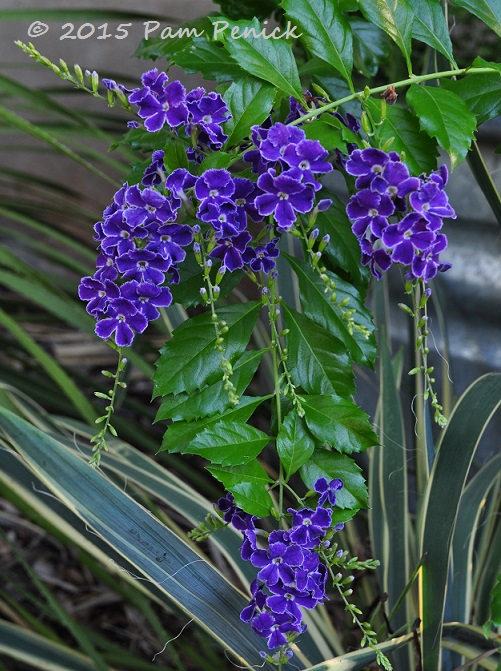 Duranta (Duranta erecta 'Sapphire Showers') is also lovely with white-edged purple blossoms that dangle like chandelier earrings. It grows in a stock-tank planter in the raised bed behind the house, and it got pretty wilty this summer without twice-weekly watering. But I guess it was worth the trouble because these flowers are beautiful.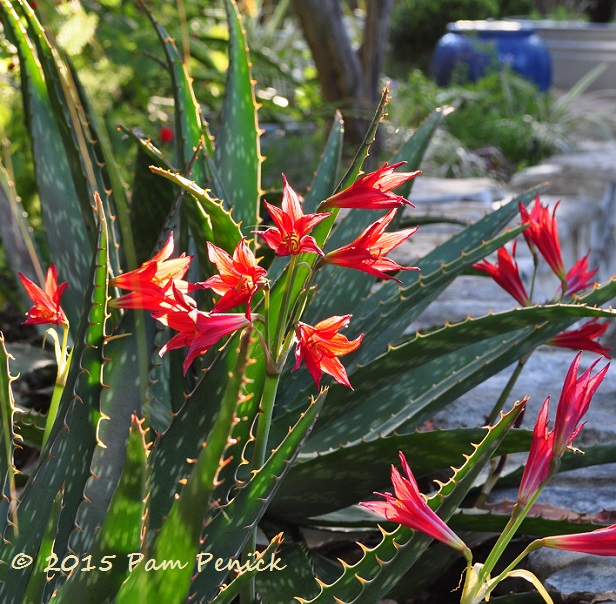 Here's a mid-October surprise. Long after most of my oxblood lilies (Rhodophiala bifida) flowered and faded, these popped up just in time for Saturday's tour. The bulbs lie under a trio of soap aloes (Aloe maculata) that don't get watered by the sprinkler system. The aloes were looking drought-stressed the week before the tour, so I gave them a deep watering with the hose. And lo and behold, the oxbloods planted underneath them responded by popping up and bursting into crimson bloom. Many visitors on the tour mistook them for soap aloe flowers.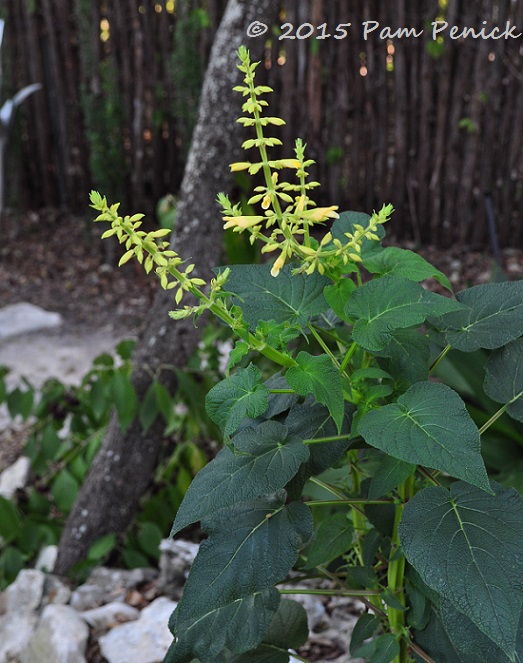 Forsythia sage (Salvia madrensis) is just revving up in the shade of live oaks.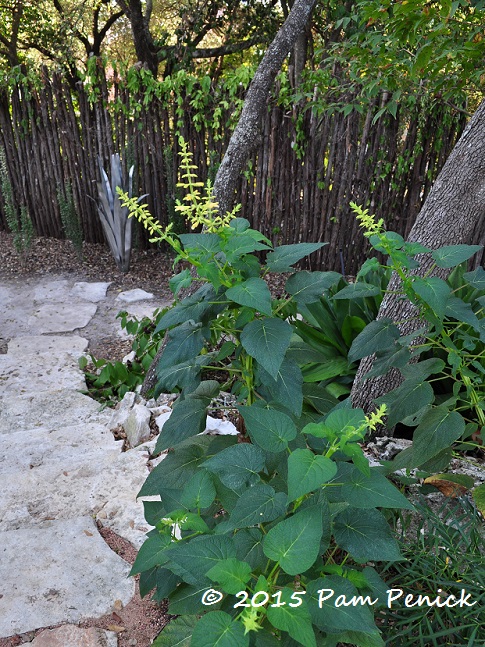 Its yellow flower spikes show up well against the dark-brown cedar fence below.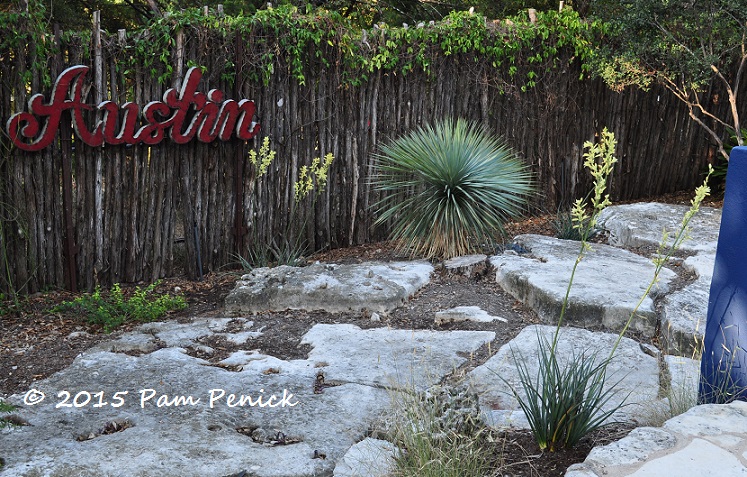 Before the tour, I added a few more sunny flower spikes to the rocky bed behind the pool: a trio of the yellow-flowering variety of red yucca (Hesperaloe parviflora 'Yellow'), which I found at Shoal Creek Nursery.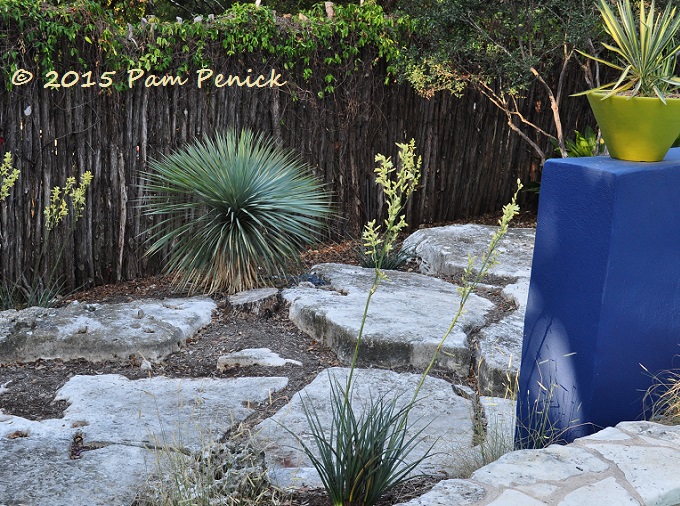 Those are the limestone slabs that everyone asked me about during the tour. The hesperaloes' moonshine-yellow flowers stand out beautifully against the cedar fence.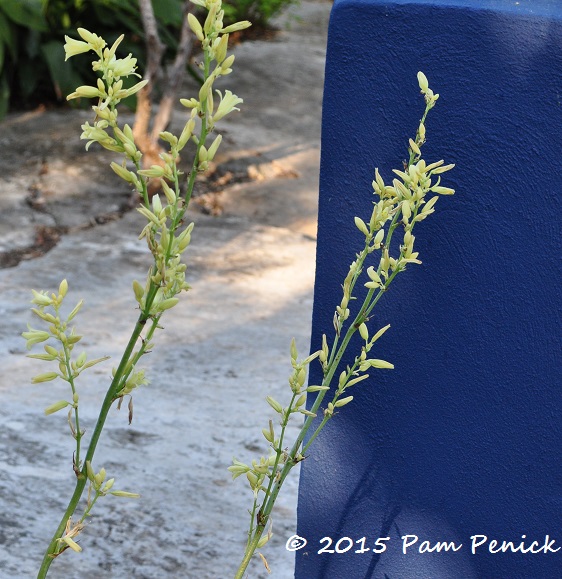 And they pop against the blue stucco wall too.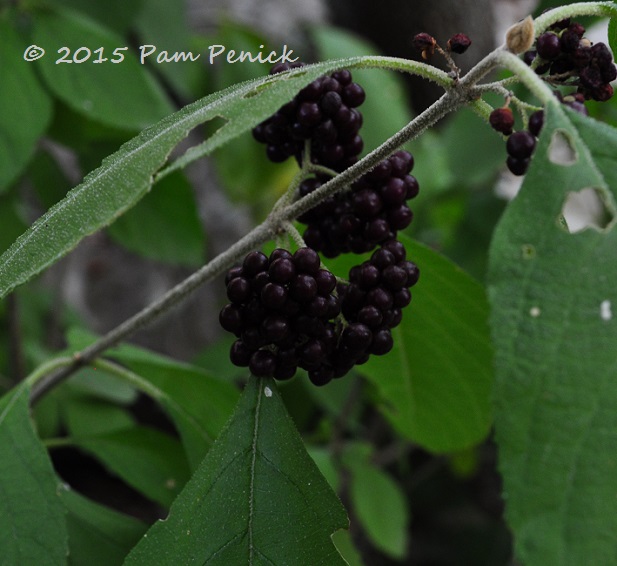 Flowers aren't the only fall color I'm enjoying. Moody Mexican beautyberry (Callicarpa acuminata) is bejeweled with nearly black berries along its arching branches.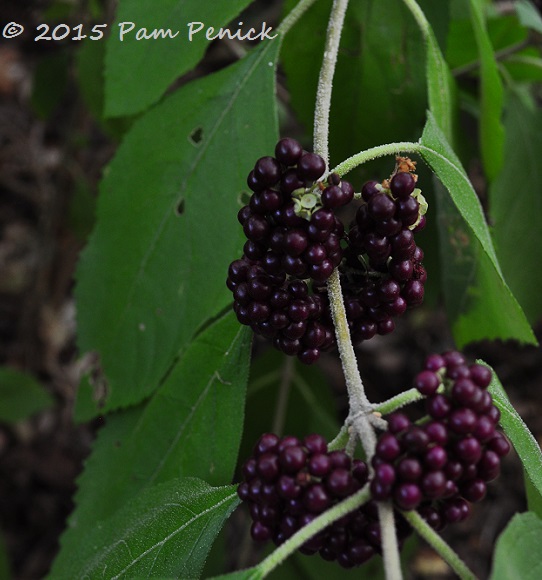 It grows in deep shade in the lower garden, but shafts of sunlight brighten the berries to a wine-purple. I imagine the mockingbirds will get them soon.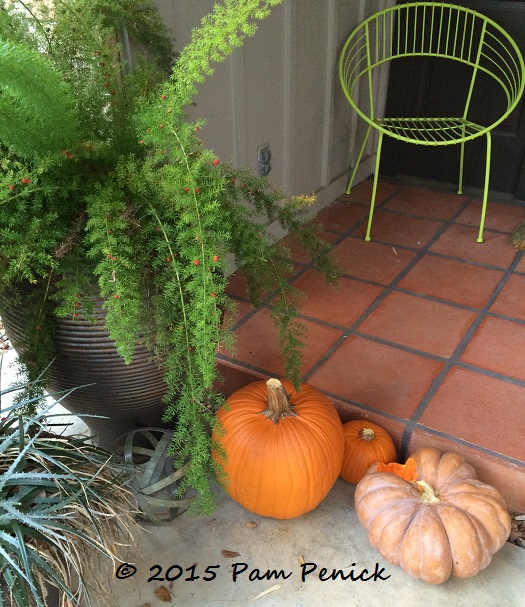 Some other critter has been enjoying my fall decor on the front porch. I walked outside this morning to find my pumpkins pushed up against the porch step. Huh?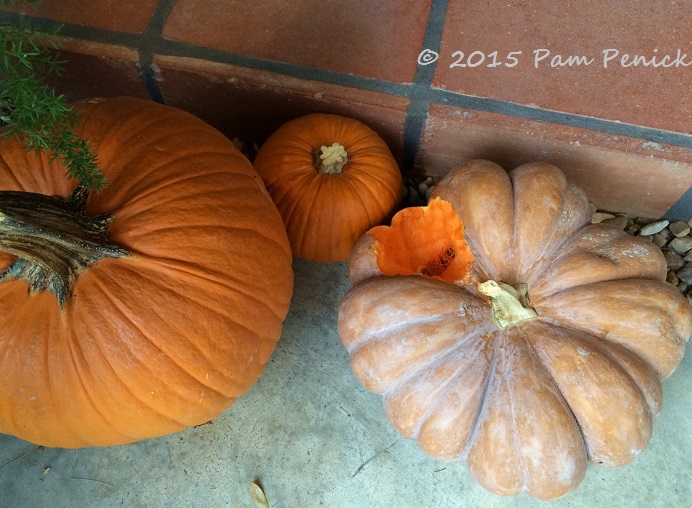 Uh-oh. My daughter said forlornly, as we stood there looking at the damage, "And it was the best pumpkin too."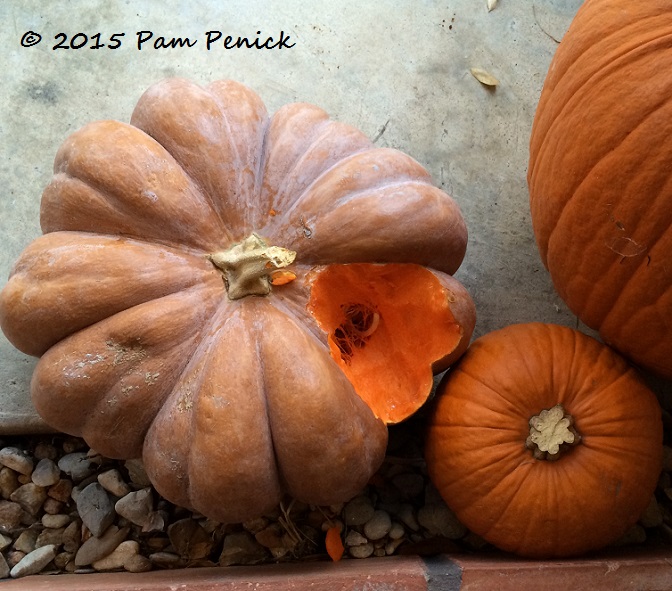 What do you think did this? Deer? Raccoon? Possum? Grrrr.
All material © 2006-2015 by Pam Penick for Digging. Unauthorized reproduction prohibited.
posted in
2nd garden--2015
,
Aloes
,
Berries
,
Bulbs/Rhizomes
,
Edibles
,
Fall color
,
Flowers
,
Rock
,
Seating
,
Signs
,
Texas natives
,
Xeric plants