May 26th, 2012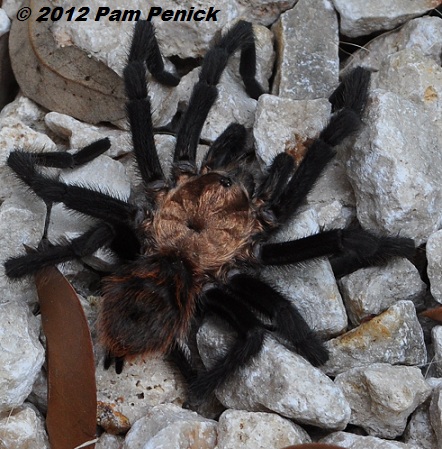 Look at this: a tarantula in my garden! I've never seen one here before, and this hairy fellow had made it all the way up from the lower garden (where I assume he came in from the greenbelt) to the top of the hillside gravel path, near the gate to the front yard. I spotted him yesterday evening while showing my mom around the garden before dinner, and hollered, "Tarantula! Don't scare him! I'm going to get my camera!"
I dashed inside, the kids dashed out to see it, and when I got back they were all standing around the large spider, which was strangely still and even a little awkward. Oh, he's dead, I thought. I got a few pictures, and then we poked at him to see if he was dead or not. He didn't respond, but he didn't seem quite dead either. Would a tarantula just expire of old age in an exposed space, when it could hide in vegetation all around? That seems unlikely. I began to wonder if he'd been paralyzed by a tarantula hawk wasp. But if so, why hadn't the wasp dragged her prey away to her burrow?
It remains a mystery. I'll check on him in a few hours to see if he's still there.
All material © 2006-2012 by Pam Penick for Digging. Unauthorized reproduction prohibited.