October 14th, 2017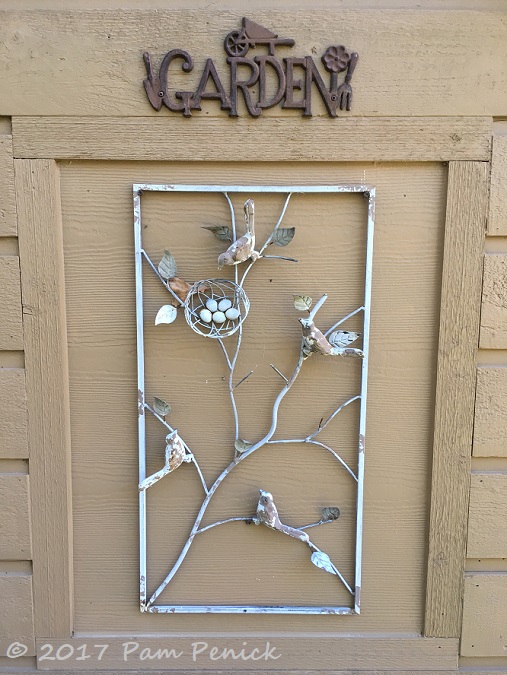 I road-tripped up to Dallas/Fort Worth last weekend with a friend for two days of garden visiting and nursery shopping. The Garden Conservancy was hosting an Open Days tour in Fort Worth on Sunday, and my favorite garden turned out to be that of metal artist Wanda Stutsman. I don't think she made the pieces pictured above, but they make a charming focal point on her garden shed.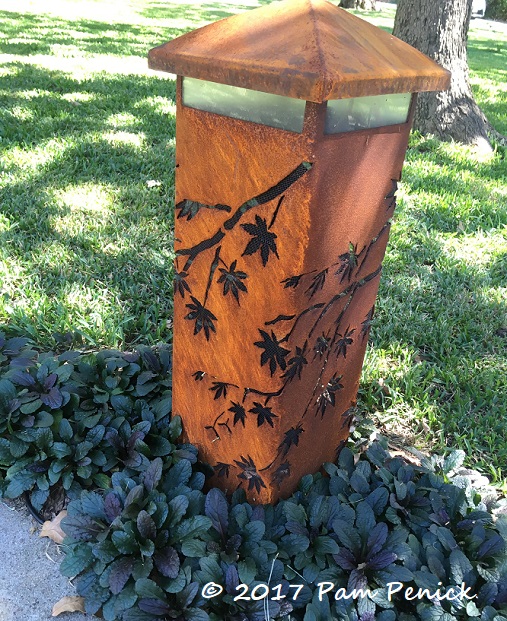 Wanda's specialty is forging botanical creations out of metal, like this light pillar with cut-outs of Japanese maple leaves. It's beautiful in the daytime and even more so at night, as seen on Wanda's website Fern Valley Art. She also makes lights with oak and palm leaves.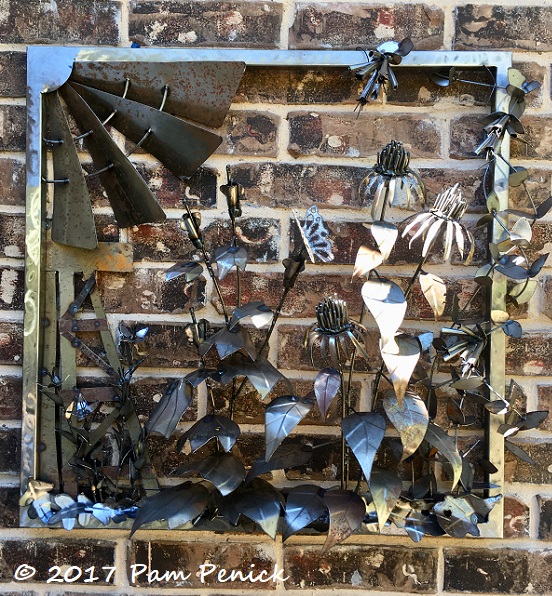 Displayed throughout her garden, her metalwork adds personality and humor — like the windmill blades in this framed picture, subbing for the sun — to her patio spaces and garden beds.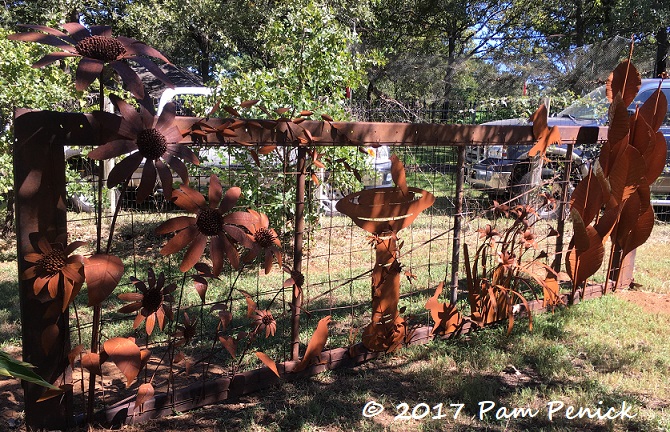 Her biggest piece was this wide gate at the top of her rural property, with coneflowers, daylilies, canna leaves, and a birdbath represented larger than life.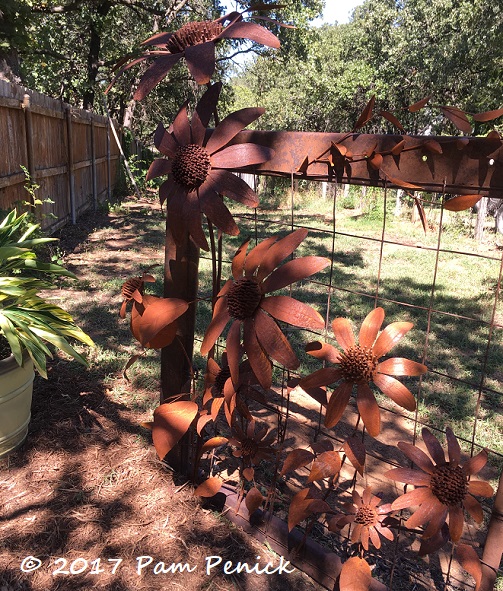 This gate really announces that a gardener lives here, doesn't it?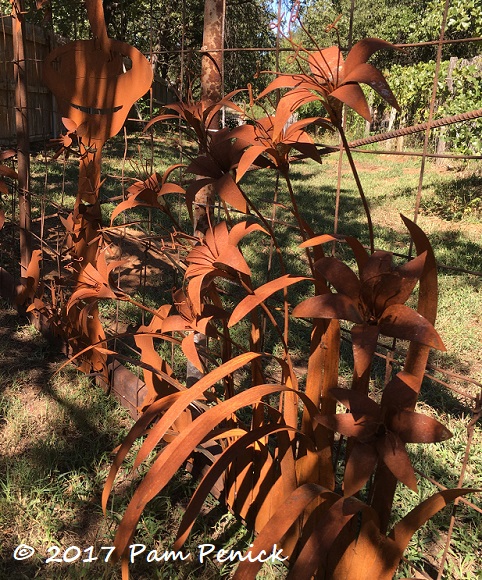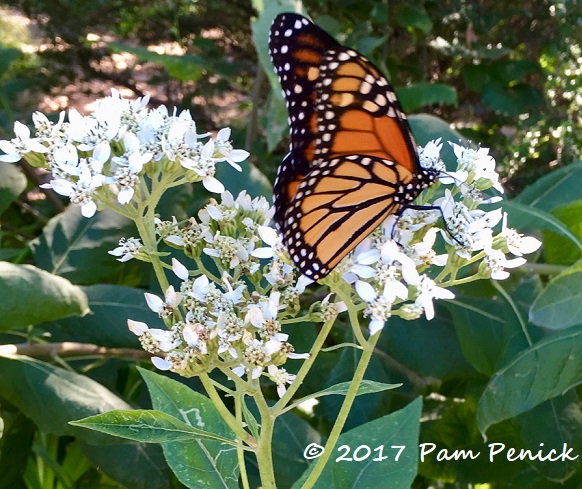 We also visited both Redenta's Garden nurseries, one in Arlington and the other in Dallas. At the Arlington Redenta's a patch of frostweed (Verbesina virginica) was attracting dozens of pollinators, like this monarch.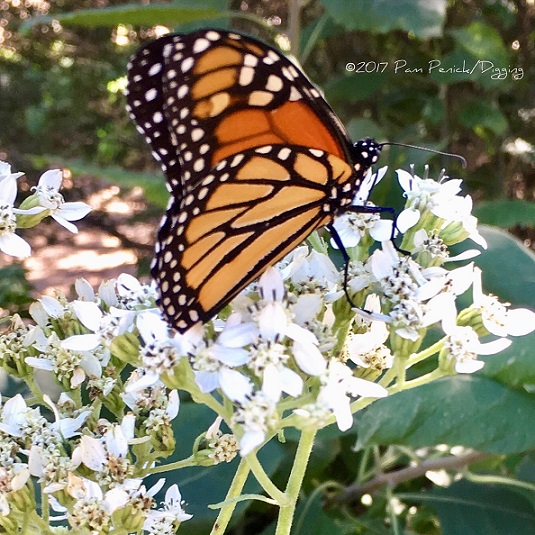 Fueling up for the journey to Mexico.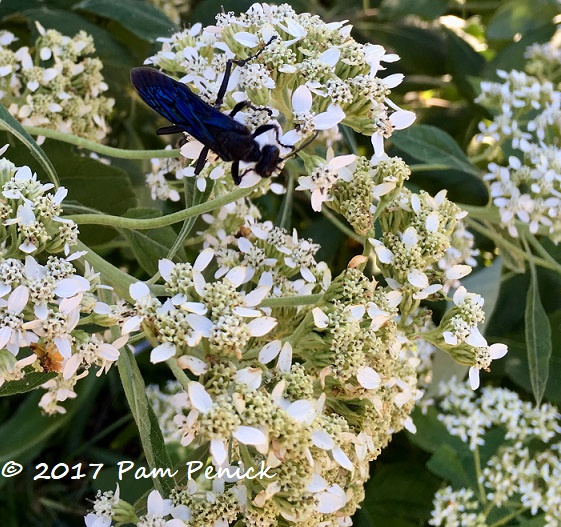 I'd never seen a great black wasp before — at first I wondered if it was a tarantula hawk — but one of the employees ID'd it for me. It was very large but not scary, intent as it was on those flowers.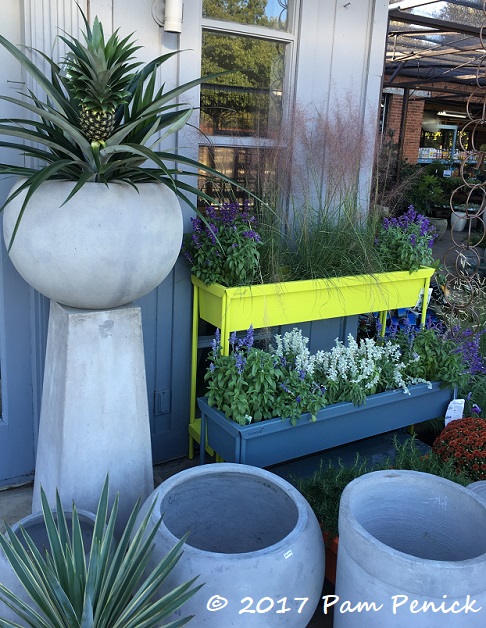 At the Dallas Redenta's, which is smaller and more urban, I admired this lovely arrangement of round pots — one with a pineapple! — and Fermob planting boxes by the entrance.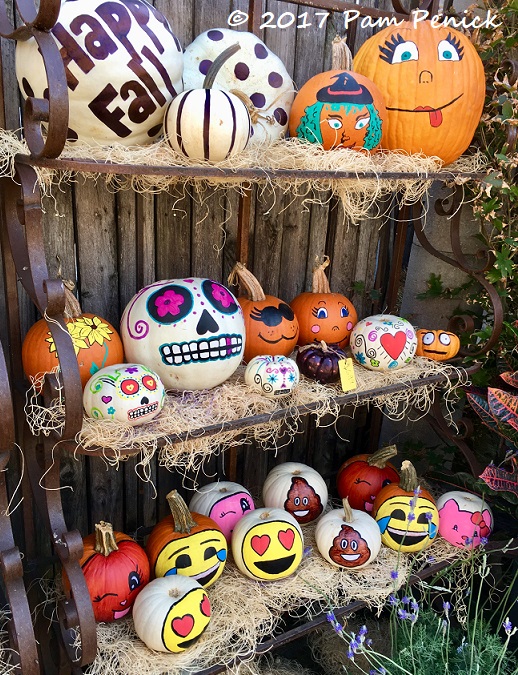 I spotted this painted pumpkin display at Nicholson-Hardie Nursery in Dallas. But oh my, where I emptied my wallet was at their Garden Center just down the street from the nursery. Much more than a garden center, it's a home goods and gift shop with a botanical theme. Don't miss it if you're in the area.
By the way, today is the San Antonio Open Days tour, organized by my friend Shirley Fox. I'm eager to see the gardens, and I promise you'll love Linda Peterson's garden, which I've blogged about here and here.
I welcome your comments; please scroll to the end of this post to leave one. If you're reading this in a subscription email, click here to visit Digging and find the comment box at the end of each post.
_______________________
Digging Deeper: News and Upcoming Events
Get ready for fall garden tours in Texas! The Garden Conservancy is sponsoring Open Days tours in San Antonio on Oct. 14th and Austin on Nov. 4th.
Join the mailing list for Garden Spark Talks! Inspired by the idea of house concerts, I'm hosting a series of garden talks by inspiring designers and authors out of my home. Talks are limited-attendance events and generally sell out within just a few days, so join the Garden Spark email list for early notifications. Simply click this link and ask to be added.
All material © 2006-2017 by Pam Penick for Digging. Unauthorized reproduction prohibited.
posted in
Birds
,
Bugs
,
Butterflies/Moths
,
Containers
,
Decor
,
Flowers
,
Garden art
,
Garden tours 2017
,
Gates
,
Holidays
,
Lighting
,
Native plants
,
Nurseries & Shops
,
Signs
,
Travel
,
Tropicals