March 16th, 2015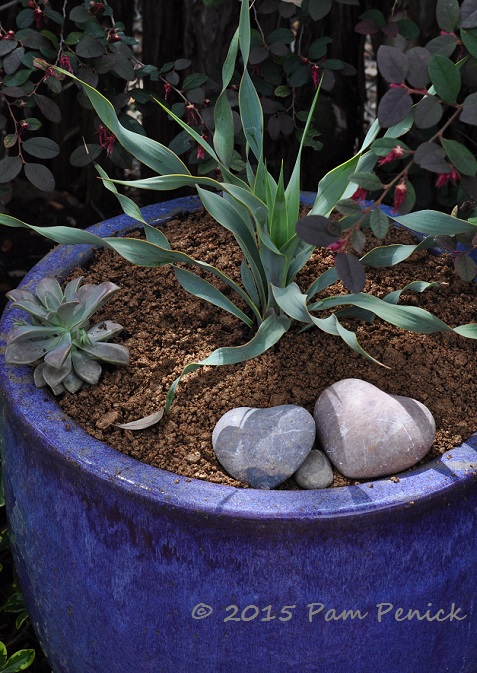 Yesterday was one of those perfect days for working in the garden all day long. And that's exactly what I did, including potting up this beautiful new purple pot with the twistiest paleleaf yucca (Y. pallida) I've ever seen. The leaves look like ribbons curled with scissors, don't they? A ghost plant (Graptopetalum paraguayense), which picks up the purple, will eventually spread and spill over the edge, or so I hope. The heart stones were given to me many years ago by my husband's sweet grandmother.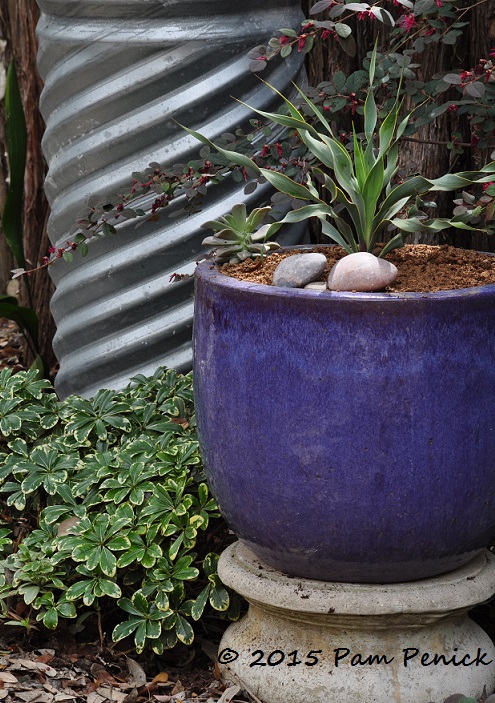 An old concrete pedestal gives the pot a lift and a little more oomph in the lower garden. I chose the purple pot to complement the dusky purple leaves of an existing 'Sizzling Pink' Chinese fringeflower (Loropetalum chinense). That's a 'Cream de Mint' pittosporum on the left, a cute little shrub for shade.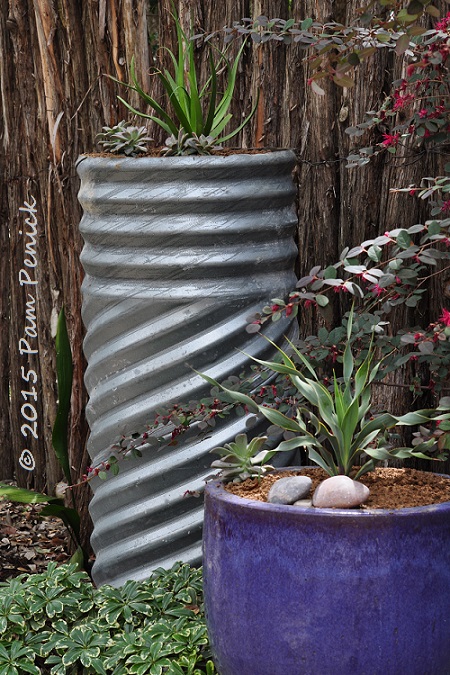 A wider view shows the newly replanted culvert-pipe planter too. The pipe planter used to hold a 'Margaritaville' yucca, but the yucca was looking ratty after a rough move during my stucco wall construction.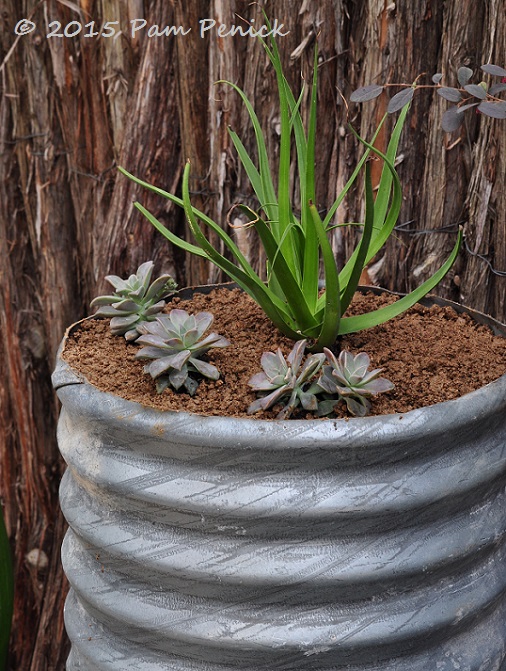 Its replacement is one of my favorite agaves for shade: squid agave (A. bracteosa), with wavy, green leaves like tentacles. I underplanted it with ghost plant too.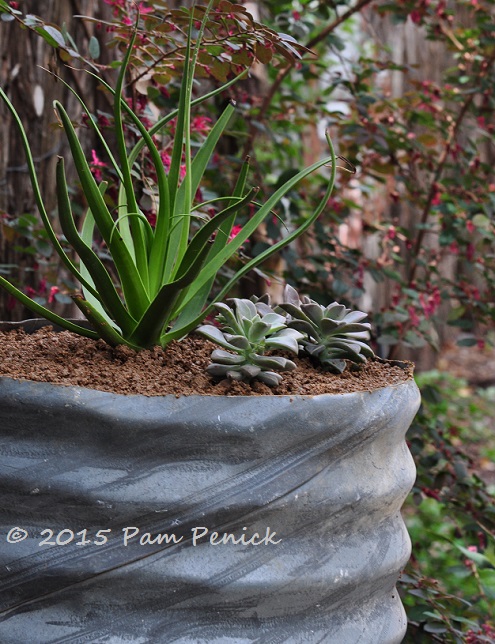 It's pretty from every direction, especially with the loropetalum's fading pink blooms visible in the background.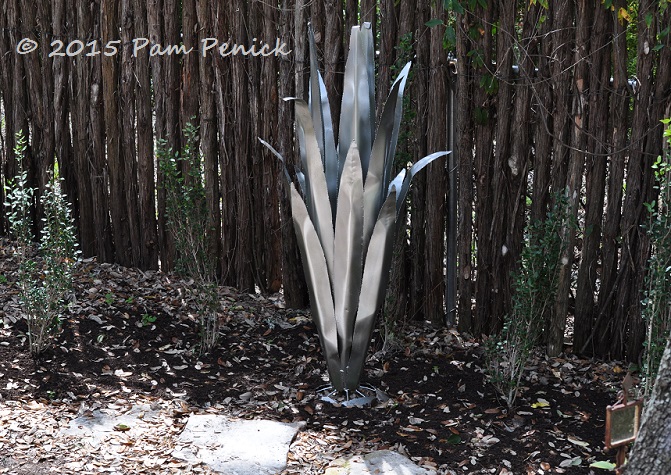 And now for something different! I recently spray-painted my metal phormium (?) silver because, why not? When it was green it often passed for real, at least in photos. But real isn't really the point. It's plant art, and I thought it would be fun to make a focal point out of it. Now it's what you see as you walk down the steps into the lower garden, and I've placed it in a semicircle of 'Will Fleming' yaupon hollies, which I hope will eventually form a curved green wall around it, like ta-da!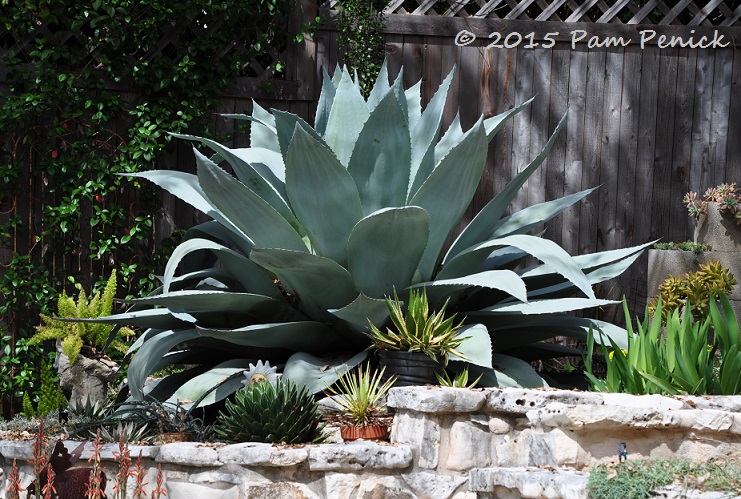 Meanwhile, Moby the 'Whale's Tongue' agave (A. ovatifolia) and its escorts are looking particularly fine, luxuriating in the spring sunshine.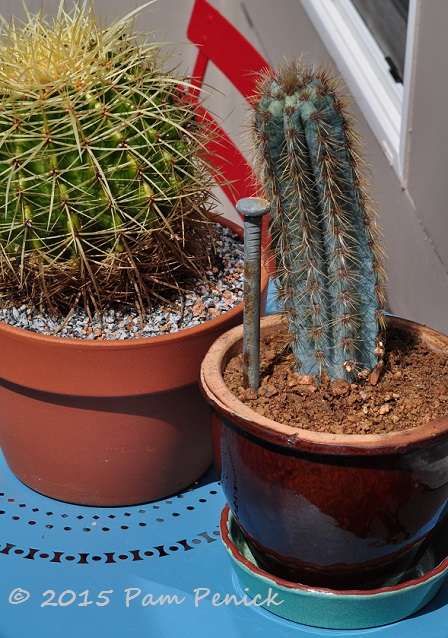 And it's finally warmed up enough for me to put my new Pilocereus azureus outdoors. You may remember that Reuben of Rancho Reubidoux recently shared this cutting with me. That big nail is an improvised plant stake, keeping it from leaning over until it grows a root system. A golden barrel cactus keeps it company for now.
So what sort of foliage is making you happy in your March garden? Please join me for Foliage Follow-Up, giving foliage plants their due on the day after Bloom Day. Leave a link to your post in a comment below. I really appreciate it if you'll also link to my post in your own — sharing link love! If you can't post so soon after Bloom Day, no worries. Just leave your link when you get to it. I look forward to seeing your foliage faves!
__________________
I'd love to have your vote in the Better Homes and Gardens 2015 Blogger Awards. Skip through to the Gardening category, select Digging, and then skip to the last page for your vote to be counted. You can vote as much as you like. Thanks for your support!

All material © 2006-2015 by Pam Penick for Digging. Unauthorized reproduction prohibited.