February 16th, 2015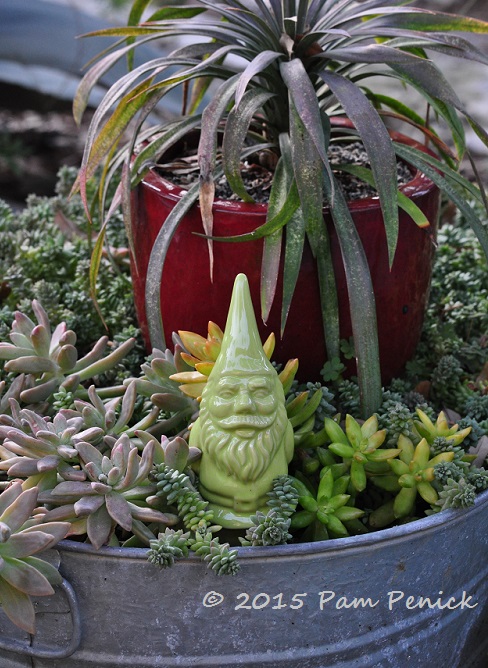 Can it already be mid-February and time for Foliage Follow-Up? Here in Austin, winter may yet drop in for a surprise visit, but spring has already stepped inside and hung up her coat and hat. She'll be putting her feet up on the ottoman soon. I saw a Mexican plum in full bloom today, as well as a row of yellow daffodils. Primrose jasmine is flowering too.
But Bloom Day was yesterday. Today we're giving foliage special recognition. As is so often the case in my garden, succulents are stealing the show. The little gnome is surrounded by ghost plant (Graptopetalum paraguayense), Sedum acre 'Elegans', and coppertone stonecrop (Sedum nussbaumerianum). All three make it through our winters with only a sheet for protection. In the red pot is a Yucca desmetiana 'Blue Boy', which I got at Annie's Annuals a couple years ago. In winter it regains the purple coloring I bought it for (it turns green during our hot summers).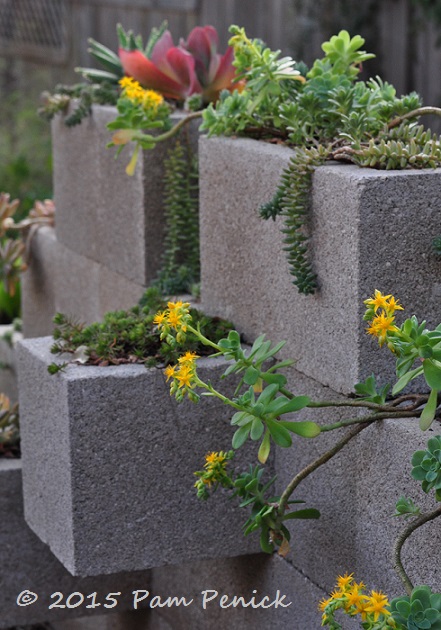 In the cinderblock wall planter, the succulents have held on through winter very well — so far. After last year's deep freeze, I had to replace many of them, but in mild winters most survive. One is even blooming.
Every time I show the cinderblock wall, people email to ask how the soil stays in the pockets, so here's my wall-making tutorial. All mystery is revealed there!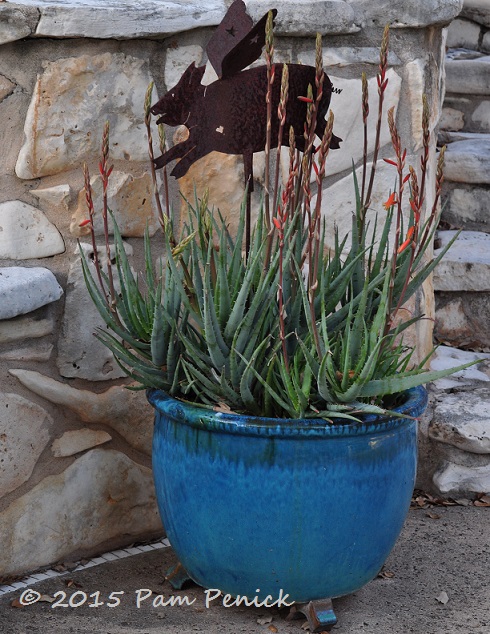 'Blue Elf' aloe's blue-green, spear-like leaves are always attractive. As a bonus, at this time of year it sends up asparagus-like bloom stalks, whose tubular orange flowers are just beginning to open. This aloe benefits from a heat-holding wall in winter, and I throw a sheet over it when a hard freeze is expected. Sometimes its flowers are killed by a late freeze, but most years it gives a good show.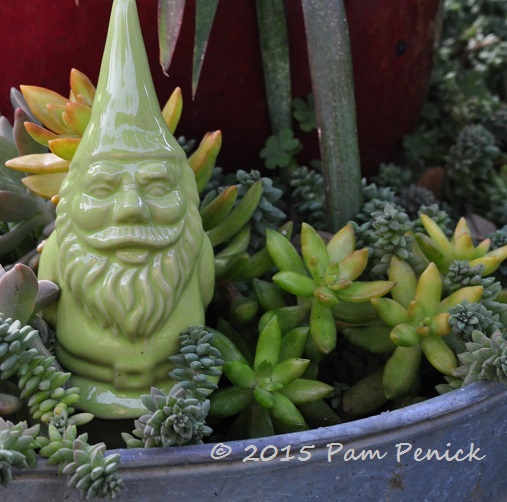 So what sort of foliage is making you happy in your February garden? Please join me for Foliage Follow-Up, giving foliage plants their due on the day after Bloom Day. Leave a link to your post in a comment below. I really appreciate it if you'll also link to my post in your own — sharing link love! If you can't post so soon after Bloom Day, no worries. Just leave your link when you get to it. I look forward to seeing your foliage faves!
All material © 2006-2015 by Pam Penick for Digging. Unauthorized reproduction prohibited.