April 9th, 2013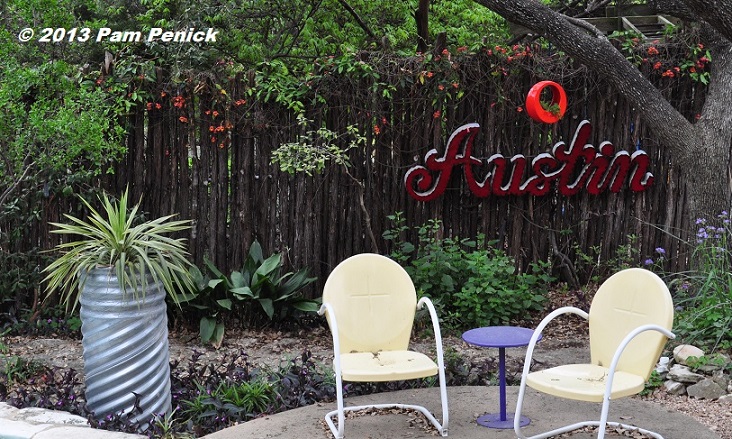 After the big rain of last week (3.75 inches recorded in my garden), accompanied by an instant freshening and greening up outdoors, I feel it's time for a garden stroll. The annual garden-burying live oak leaf drop is over, but you'll have to ignore remnant leaves and strings of oak pollen hanging from the trees (I try to!). Focus on the 'Tangerine Beauty' crossvine draping the cedar-post fence instead.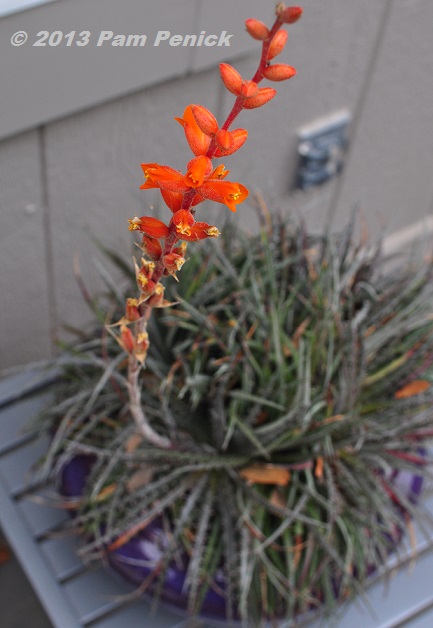 My most exciting blooms? Dyckia! An orange bloom spike is towering above the silvery leaves of Dyckia fosteriana on the back deck. Add in the purple pot (and a few copper live oak leaves), and you have a scrumptious combo of color.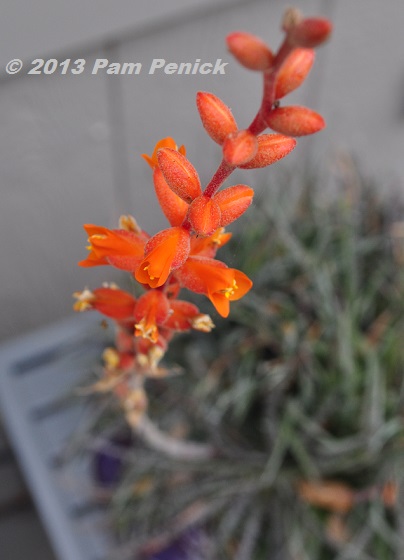 A closer look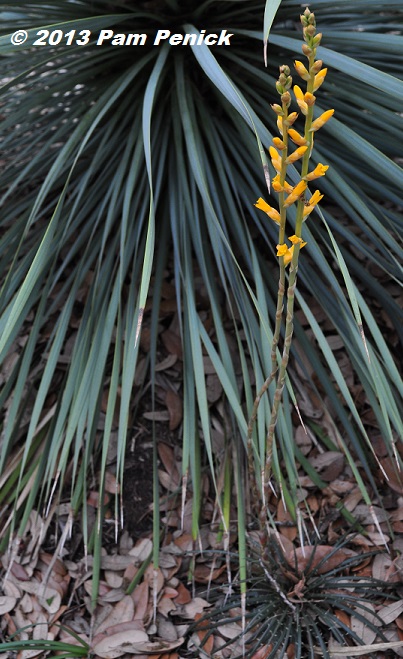 The Lilliputian unnamed dyckia I bought at Peckerwood Garden's plant sale last year is blooming also—in cheery yellow. The spiky plant itself is dwarfed by the Yucca rostrata next to it.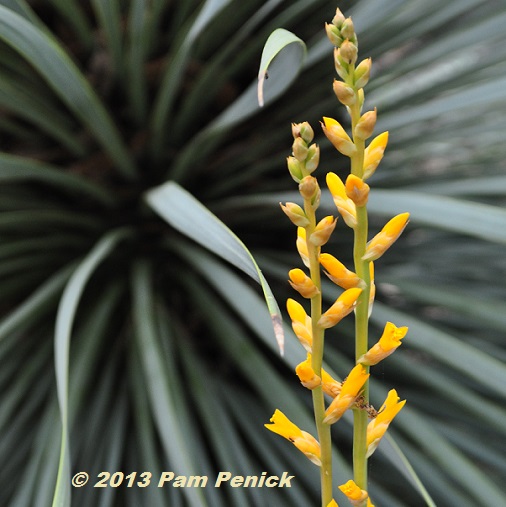 But its bloom spike isn't shy, towering about 2-1/2 feet above the ground-hugging leaves.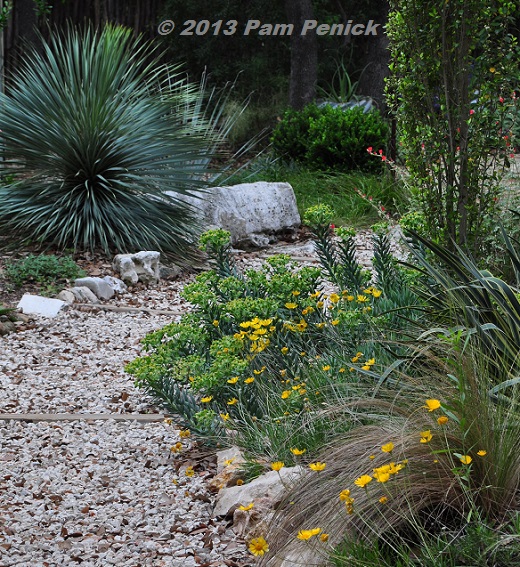 A longer view down the sunny hillside path reveals a full view of the Yucca rostrata. Loree at Danger Garden recently gave her Y. rostrata a trim, revealing the trunk. Should I do the same, I wonder?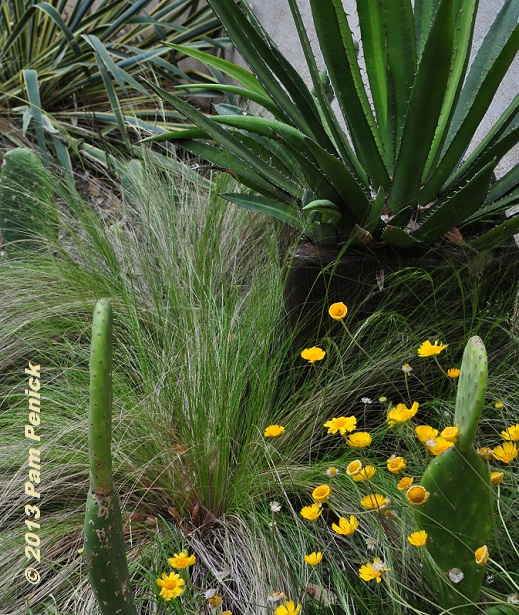 A closer view of the hot, dry bed bordering the path reveals a tumble of yellow hymenoxys (Tetraneuris scaposa) blossoms, Mexican feathergrass, Opuntia pads, and Agave lophantha's sword-like leaves.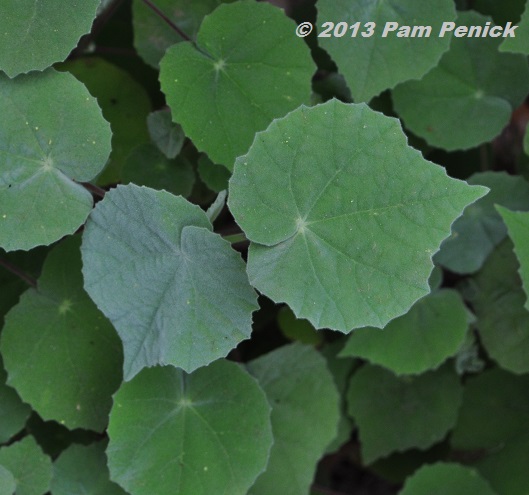 The Indian mallow (Abutilon palmeri) I brought home in my suitcase from Tucson came through our mild winter just fine. I'm eagerly anticipating summer flowers.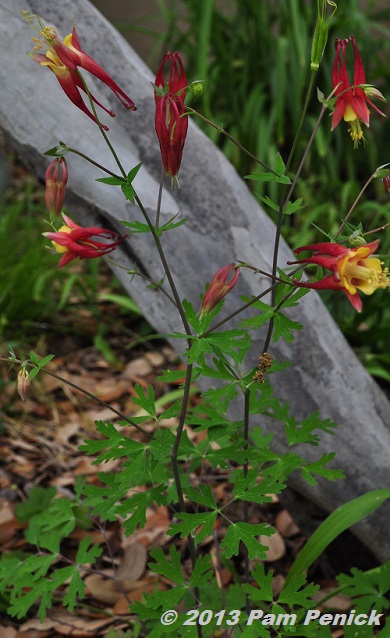 Red columbine—this must be a passalong from another Austin blogger, as I don't recall buying a red one—is sporting rocket-shaped flowers on dainty stems in the shade of a Texas persimmon.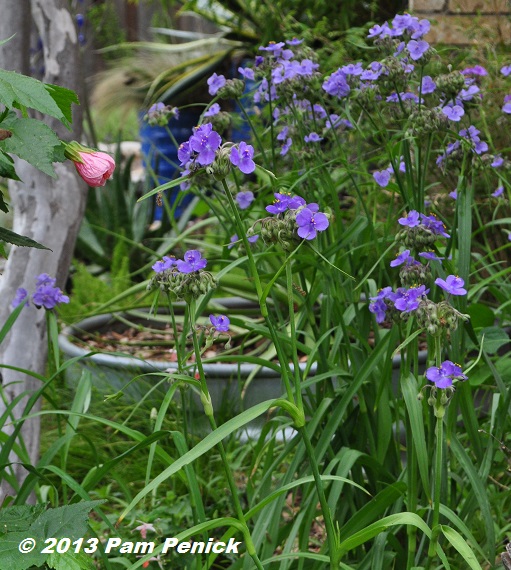 Our native spiderwort (Tradescantia occidentalis) is also making a good show here, attracting friendly honeybees.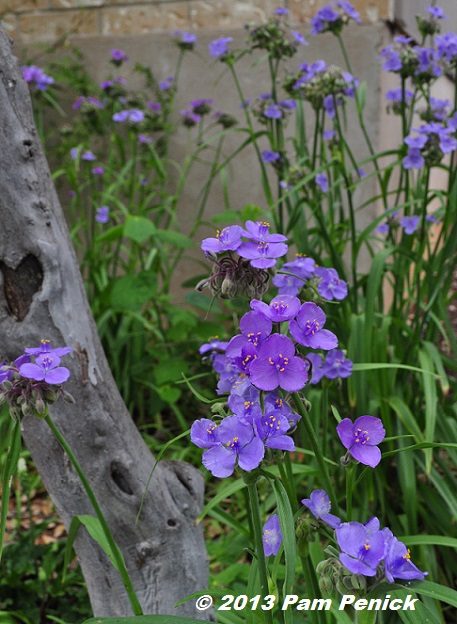 I love this reliable spring beauty, and the contrast of the purple blossoms with the fresh, green, strappy foliage.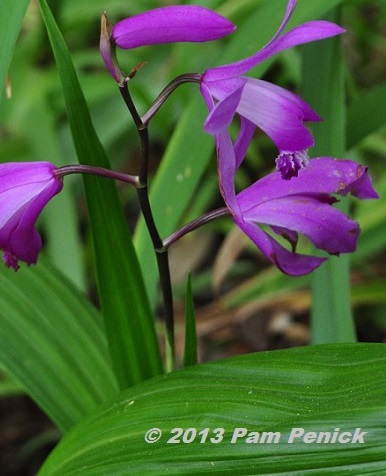 I purchased my first Chinese ground orchid (Bletilla striata) after admiring it in other Austin gardens over the years. Diana Kirby introduced me to South Austin nursery It's About Thyme last week, where I picked up one for me and one for my mom.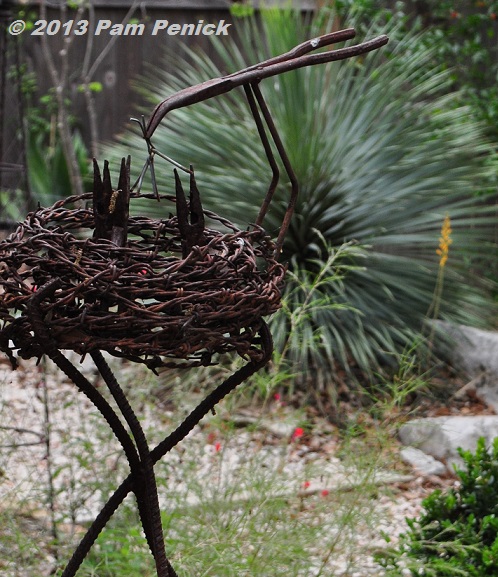 Just for fun, my "Needle-Nosed Fliers" yard art! In the background you can see the Koosh-ball form of the Yucca rostrata and the yellow bloom spike of the Peckerwood dyckia.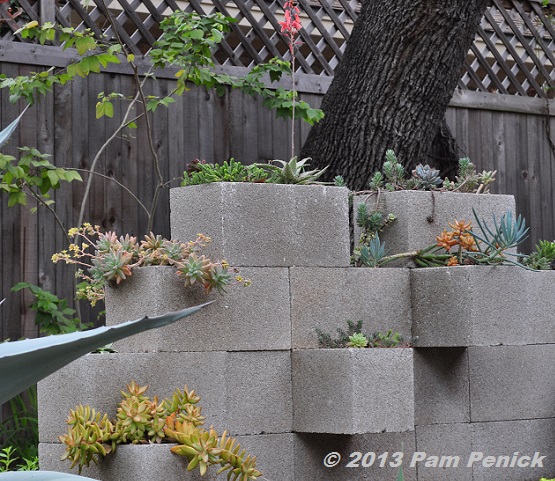 I didn't have to replace any plants in the succulent wall after our mild winter. Still, the cardinals have been nipping at the ghost plant and other fleshy-leaved succulents lately. (Please don't ask how I keep soil in the blocks that stick out; read my how-to post, and all shall be revealed.)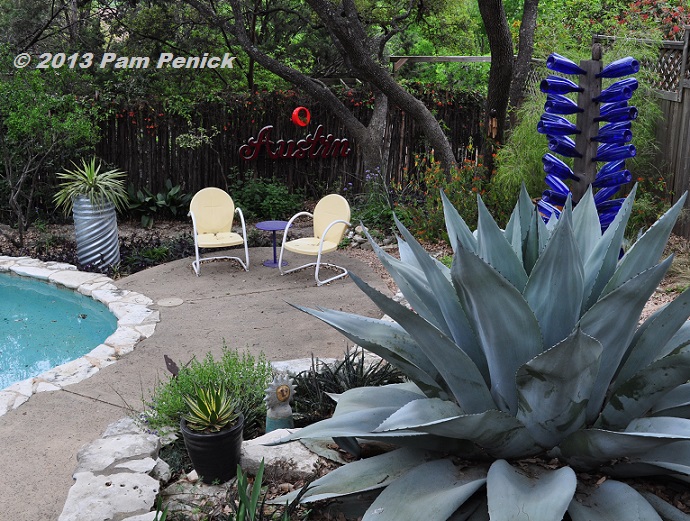 I'll end the tour with the view from the upper patio—there's good old Moby, my beloved 'Whale's Tongue' agave (Agave ovatifolia)—which is also the view from my office window. It's awfully hard to be tied to a desk at this time of year, don't you find?
All material © 2006-2013 by Pam Penick for Digging. Unauthorized reproduction prohibited.
posted in
2nd garden--2013
,
Agaves
,
Bottle tree
,
Bulbs
,
Containers
,
Fences
,
Garden art
,
Patios & decks
,
Seating
,
Spring color
,
Texas natives
,
Vines
,
Xeric plants
,
Yuccas