November 16th, 2017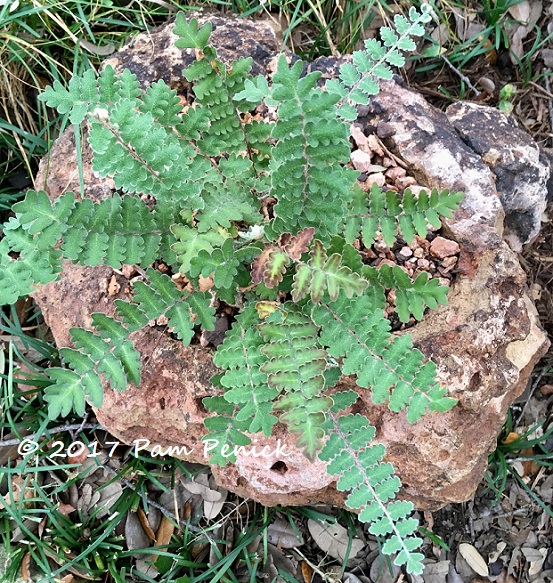 "I got a rock," Charlie Brown complains while trick-or-treating. But I was happy to find this holey limestone rock at Redenta's in Dallas last month. Yes, I actually bought a rock as a planter. Later, at The Natural Gardener, I happened upon this unusual plant — wavy scaly cloakfern (Astrolepis sinuata), a dry-loving native Texas fern — and decided to give it a try in the rock.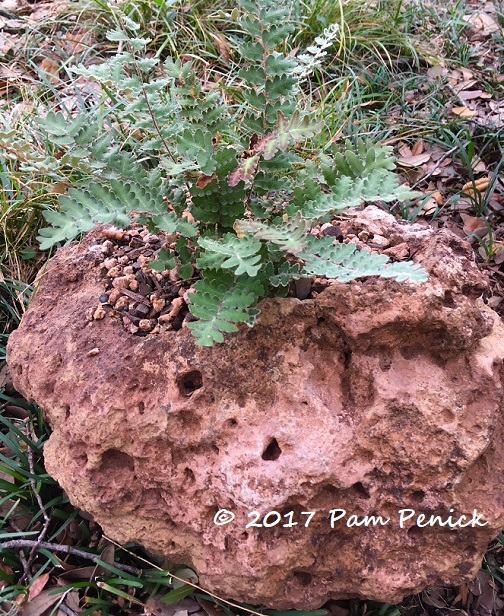 According to the Wildflower Center's website:
"Astrolepis sinuata is a lower elevation, dry habitat fern typically found growing underneath evergreen desert & semi-desert shrubs in rocky soil or rock crevices. Although the fronds like to be in full sun, the roots like [to] remain shaded. This fern is semi-evergreen…with thick green fronds, the undersides of which are cinnamon in color, forming a tight 18[-in] wide upright clump with a short creeping rhizome."
Mine's in more shade than is ideal, but it sounds like a dry rock planter will be to its liking.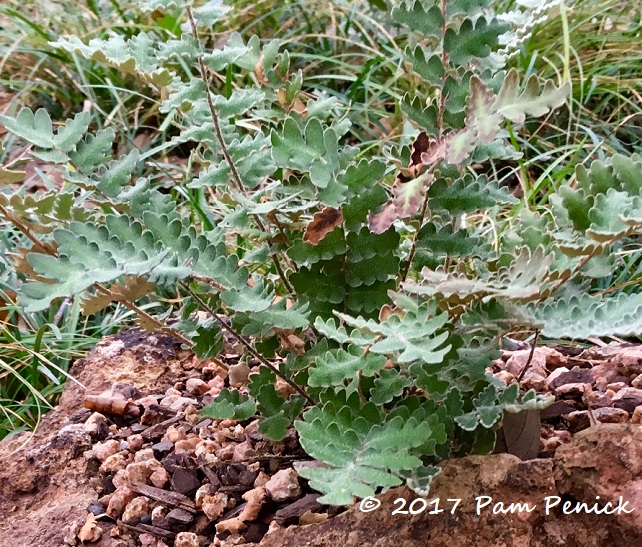 Plant Delights, which sells it by mail, adds this warning — or challenge, depending on how you look at it:
"This attractive southwest US native is found on limestone outcrops and slopes from Texas south to South America, but is rarely seen in cultivation…This is not a fern to be tried by beginners, as it is not as easy to cultivate as most others. In nature, it usually grows with its roots hidden beneath a large rock."
I hope I don't kill it!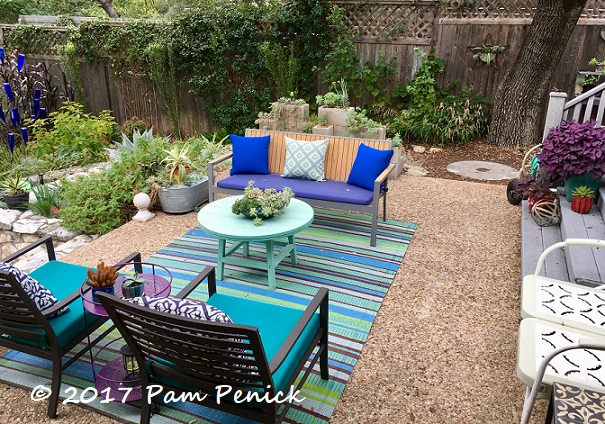 And because today is Foliage Follow-Up, I'll end with the patio view from my living room — nearly all foliage plants, including purple oxalis (Oxalis triangularis) on the stairs, various potted succulents, and an evergreen vine on the fence.
This is my November post for Foliage Follow-Up. Fellow bloggers, what leafy loveliness is happening in your garden this month? Please join me in giving foliage its due on the day after Bloom Day. Leave a link to your post in a comment below. I'd appreciate it if you'll also link to my post in your own — sharing link love! I look forward to seeing your foliage faves.
I welcome your comments; please scroll to the end of this post to leave one. If you're reading this in a subscription email, click here to visit Digging and find the comment box at the end of each post.
_______________________
Digging Deeper: News and Upcoming Events
Calling all garden bloggers! You're invited to register for the annual Garden Bloggers Fling tour and meetup, which will be held in Austin next May 3-6, 2018! Click this link for information about registering, and you can see our itinerary here. Space is limited, so don't delay. The 2018 Fling will be the event's 10th anniversary, which started in Austin in 2008.
Join the mailing list for Garden Spark Talks! Inspired by the idea of house concerts, I'm hosting a series of garden talks by inspiring designers and authors out of my home. Talks are limited-attendance events and generally sell out within just a few days, so join the Garden Spark email list for early notifications. Simply click this link and ask to be added.
All material © 2006-2017 by Pam Penick for Digging. Unauthorized reproduction prohibited.