September 12th, 2017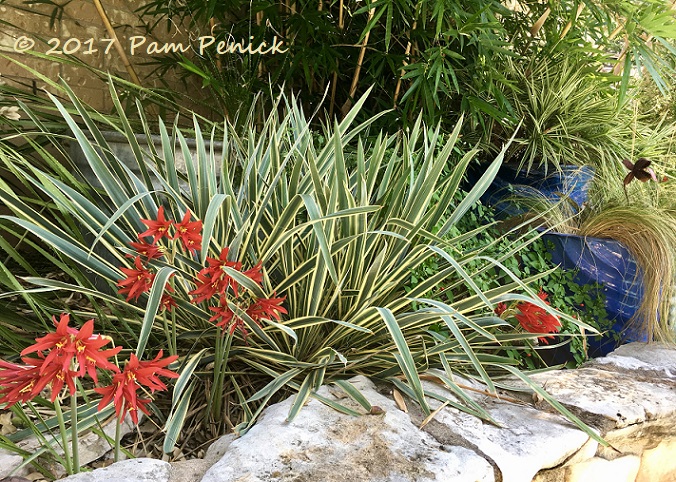 Whoo-hoo, we made it through another summer here in Texas! For almost a week, lower temperatures (80s and low 90s) with even lower humidity, combined with recent rains, have rejuvenated my gardening spirit. The plants are feeling it too, perking up and starting to bloom again. But my hands-down favorite of the fall harbingers (although beautyberry runs a close second) is the trumpet-blast of deep-red oxblood lily (Rhodophiala bifida).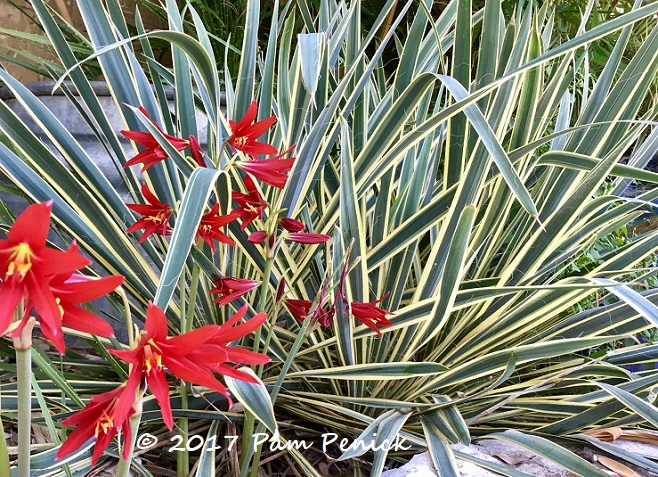 Forgotten all summer, these Argentine bulbs spring out of dormancy with the first good rain in late summer. Hooray!, they seem to shout. Fall is coming!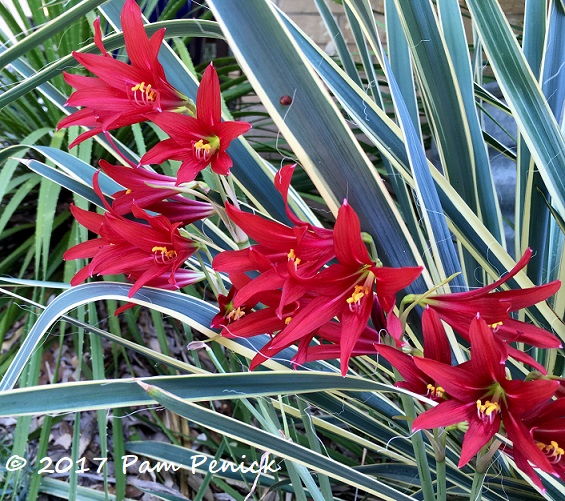 I think they look especially great with 'Bright Edge' yucca, whose moonshine-yellow stripes pick up the yellow of the lilies' stamens.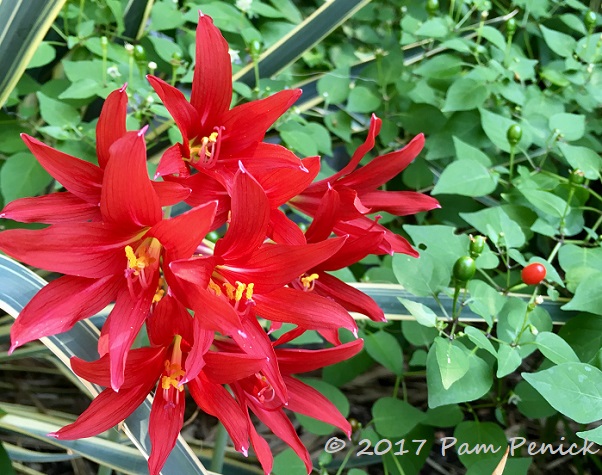 Texas native chile pequin (Capsicum annuum var. glabriusculum) makes a good partner too as its red peppers ripen in late summer.
I welcome your comments; please scroll to the end of this post to leave one. If you're reading this in a subscription email, click here to visit Digging and find the comment box at the end of each post.
_______________________
Digging Deeper: News and Upcoming Events
Get ready for fall garden tours in Texas! The Garden Conservancy is sponsoring Open Days tours in Fort Worth on Oct. 8th, San Antonio on Oct. 14th, and Austin on Nov. 4th.
Get on the mailing list for Garden Spark Talks. Inspired by the idea of house concerts, I'm hosting a series of garden talks by talented designers and authors out of my home. Talks are limited-attendance events and generally sell out within just a few days, so join the Garden Spark email list for early notifications. Simply click this link and ask to be added.
All material © 2006-2017 by Pam Penick for Digging. Unauthorized reproduction prohibited.