March 8th, 2017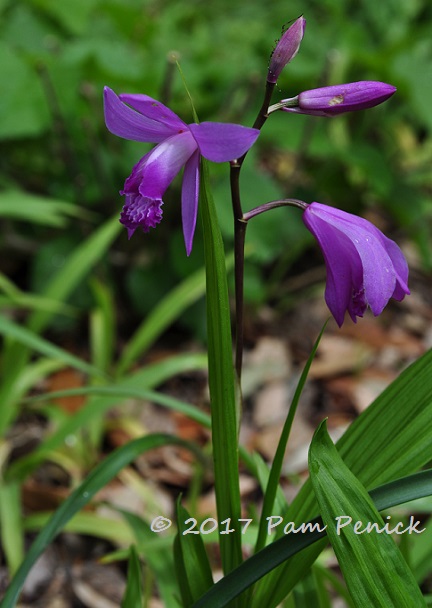 Regular readers know that my shady, dry, deer-infested patch of dirt is not a flowerlicious garden. And yet even I have, oh, at least 6 or 7 flowers in bloom as spring kicks off here in Austin. Like this sweet, nodding Chinese ground orchid (Bletilla striata). I bought one several years ago to see how it would do. Answer? Not much…until this year. Maybe it liked all the rain?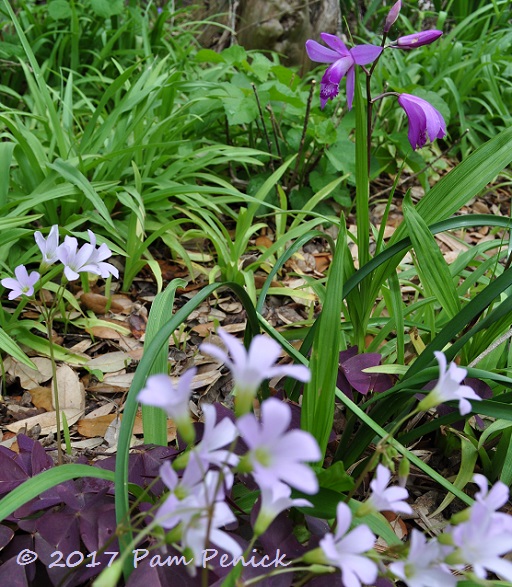 Now I'm tempted to buy more. It looks especially nice paired with purple-leaved oxalis (Oxalis triangularis).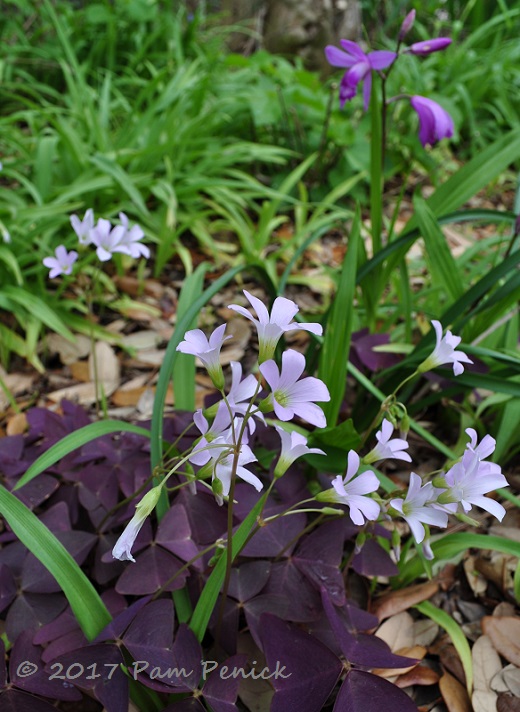 Let's bring that oxalis into focus, shall we?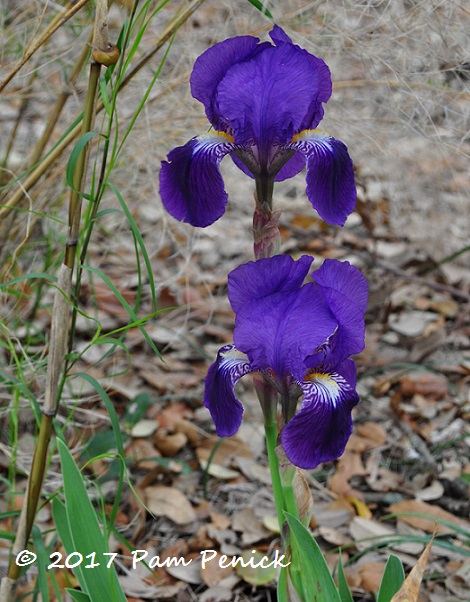 For more purple, one need only look out front, where my earliest iris (sold as 'Amethyst Flame' but lately I'm not so sure) is flowering.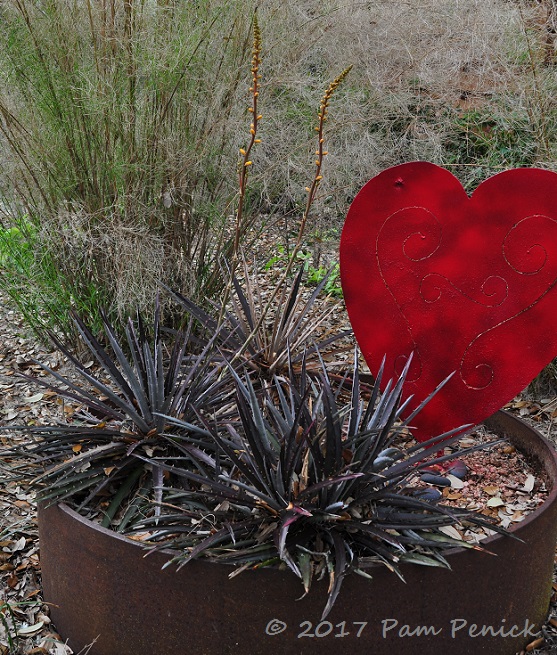 A trio of 'Burgundy Ice' dyckias in a steel pipe planter echoes a hint of the purple. The middle plant is starting to bloom, although each day I look outside expecting the deer to have gotten it overnight.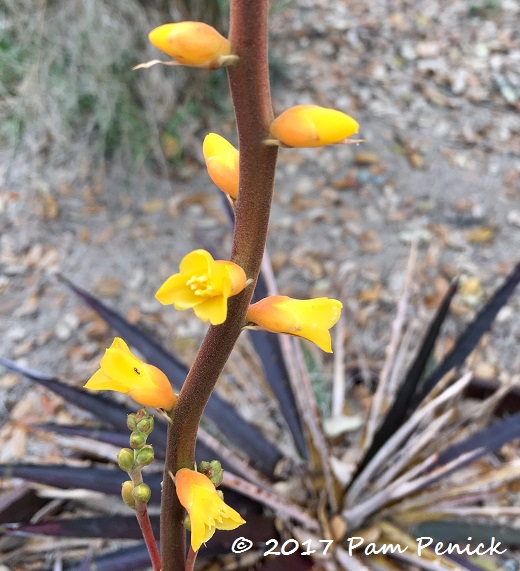 It sure is pretty for now, like flowering candy corn! (One of the dyckias took a hit this winter, and I'm waiting to see if it'll recover.)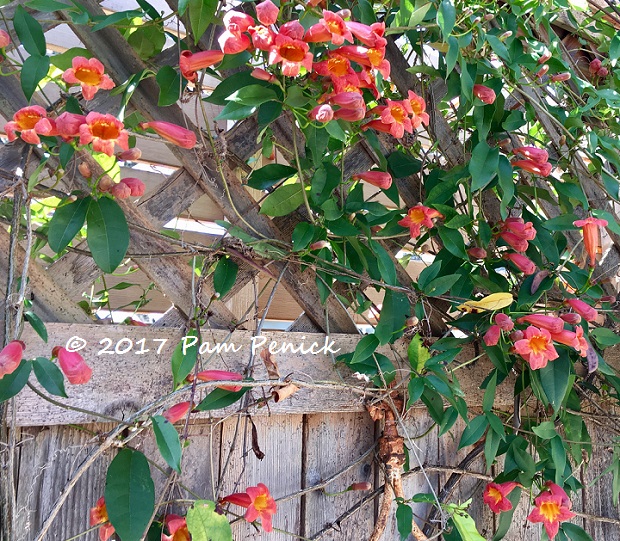 Clambering along the back fence, 'Tangerine Beauty' crossvine (Bignonia capreolata 'Tangerine Beauty') is my showiest plant right now, with tubular, open-throated flowers seeming to sing a chorus of welcome to spring.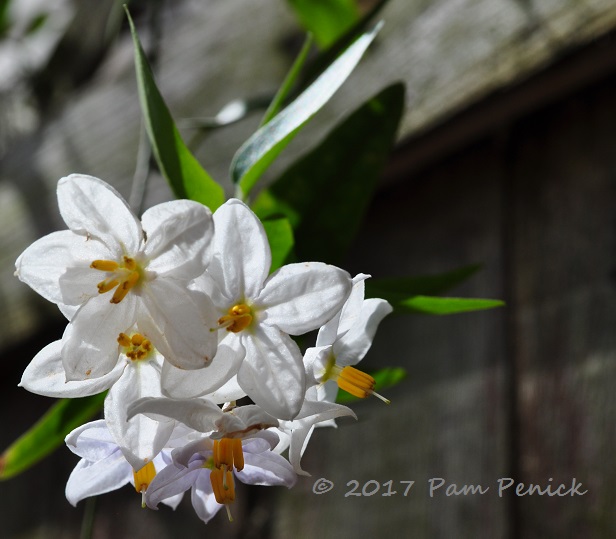 Delicately parachuting from slender stems along a shadier section of the fence is white potato vine (Solanum jasminoides).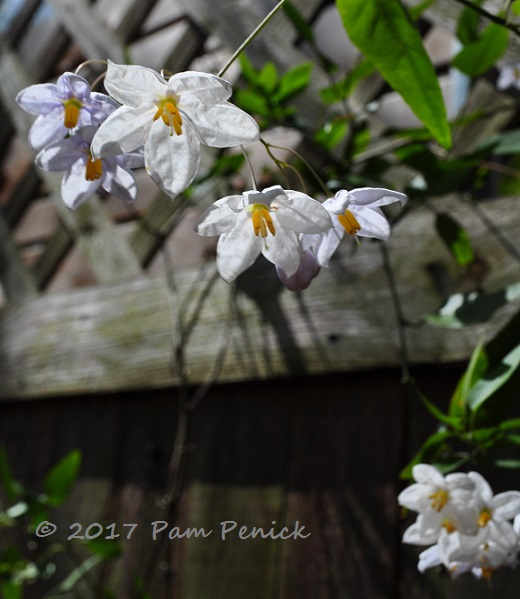 They look so pretty backlit by the sun.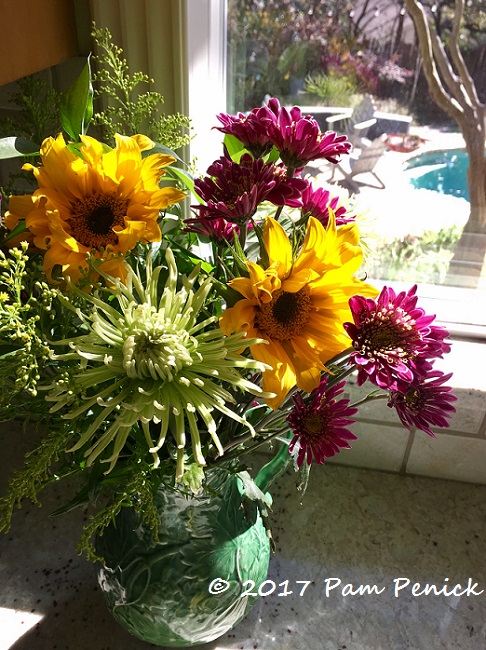 I can rarely bring myself to cut my (very few) flowers from the garden, so I've been buying bouquets at the grocery store. I'm enjoying this flowery time of year both outdoors and in.
I welcome your comments; please scroll to the end of this post to leave one. If you're reading this in a subscription email, click here to visit Digging and find the comment box at the end of each post.
_______________________
Digging Deeper: News and Upcoming Events
Get on the mailing list for Garden Spark Talks. Inspired by the idea of house concerts — performances in private homes, which support musicians and give a small audience an up-close and personal musical experience — I'm hosting a series of garden talks by design speakers out of my home. The upcoming talk with James deGrey David has sold out, but join the Garden Spark email list for speaker announcements delivered to your inbox; simply click this link and ask to be added. Subscribers get advance notification when tickets go on sale for these limited-attendance events.
All material © 2006-2017 by Pam Penick for Digging. Unauthorized reproduction prohibited.
posted in
2nd garden--2017
,
Bouquets
,
Bulbs/Rhizomes
,
Containers
,
Dyckias
,
Flowers
,
Garden art
,
Grasses
,
Spring color
,
Vines
,
Xeric plants