November 1st, 2016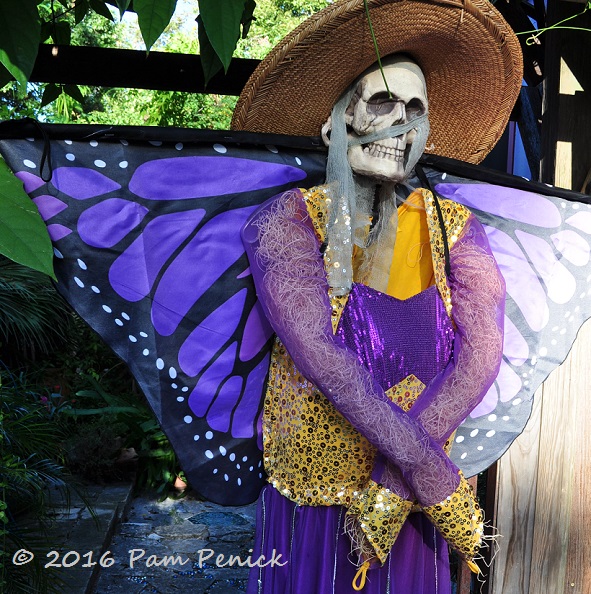 My friend Lucinda Hutson celebrates Dia de los Muertos like no one else I know. Her colorful, Mexican-inspired home and garden in the Rosedale neighborhood of central Austin grows even more vibrant for Day of the Dead, and inside she stages elaborate table displays and beautiful altars around mementos and photos of her departed loved ones.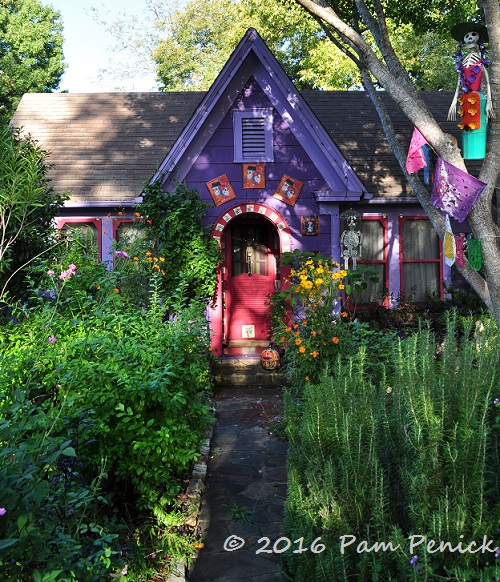 Lucinda invited me over for a visit on Saturday morning, as she was finishing up her decorating. She's adorned her purple casita, as she calls it, with Day of the Dead grocery bags from HEB — clever!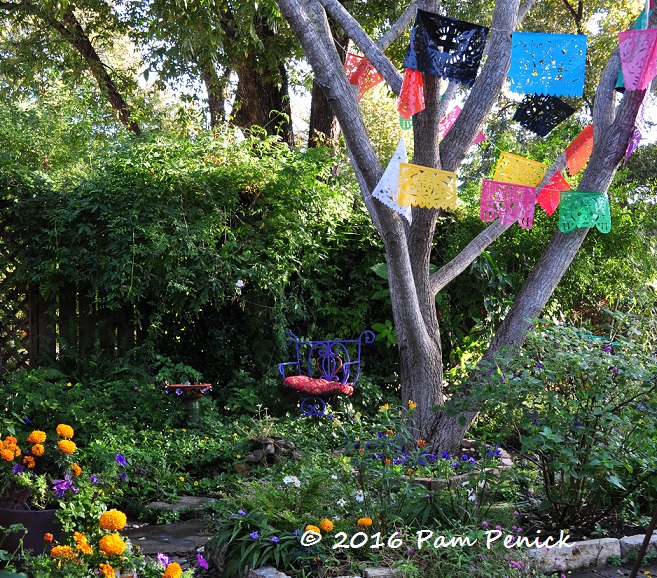 In a ginkgo tree, colorful papel picado banners with skull imagery flutter in the breeze.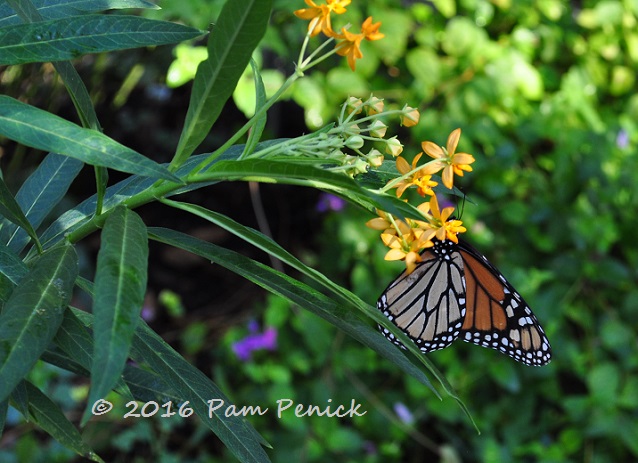 Fluttering throughout her garden, monarchs are fueling up for the last leg of their winter migration to Mexico.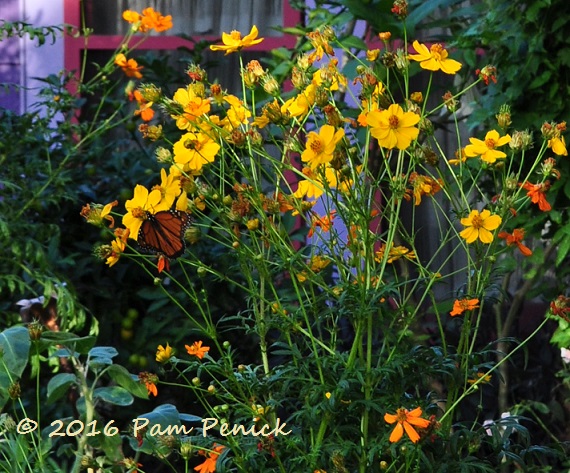 They love the orange and yellow cosmos standing tall on leggy stems. To keep it from flopping, Lucinda has tied bunches of stems together and staked them upright.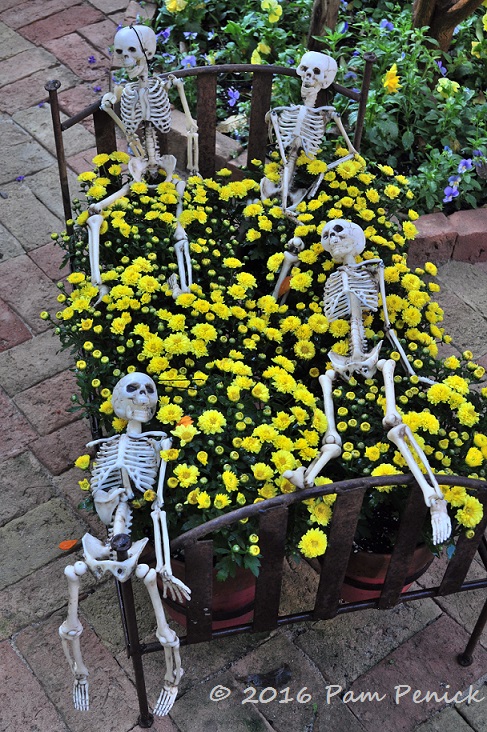 A bed of yellow chrysanthemums makes a good lounging spot for four skeletons.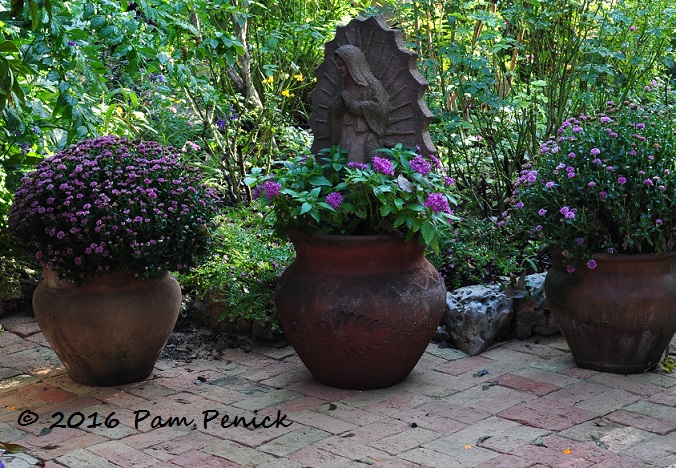 Purple mums fill round pots on her new brick patio, which replaced a small front lawn that was struggling.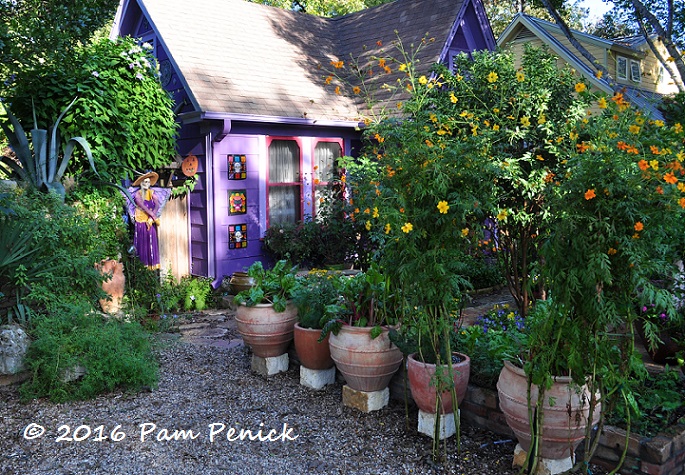 Along the gravel driveway, potted vegetables on limestone blocks make a pretty border.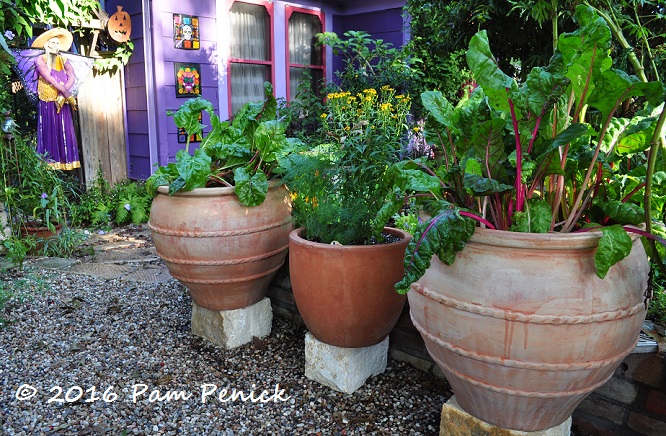 Chard and other edibles are easy to harvest here.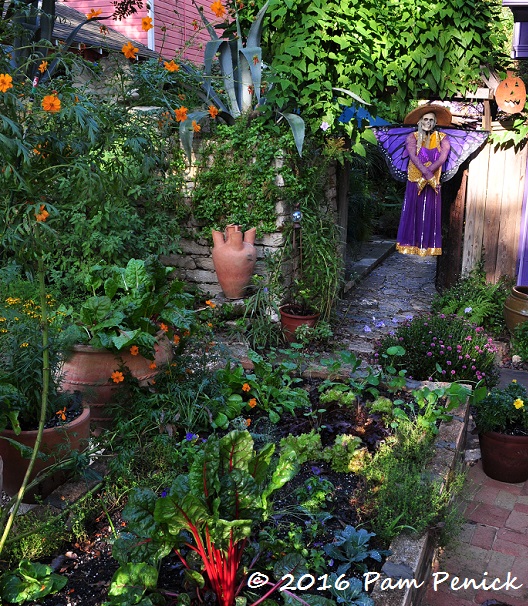 A long raised bed contains more vegetables. In the background, a butterfly skeleton hangs under an arbor of sky vine, with scattered blossoms arrayed by Mother Nature at her feet.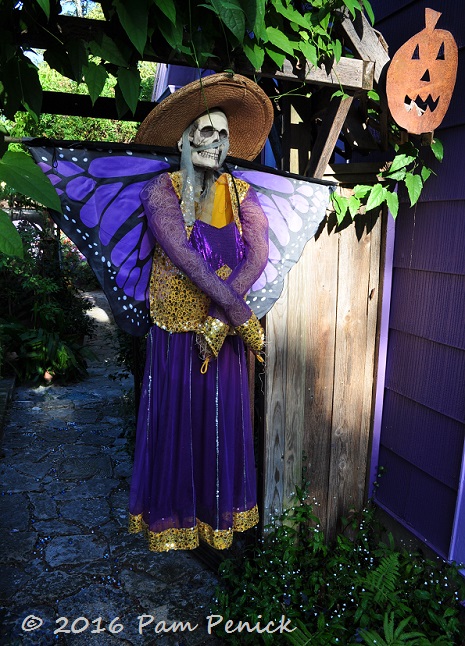 Lucinda found the dress, wings, and other costume elements in thrift shops and put it all together with the help of her longtime garden assistant Ernesto.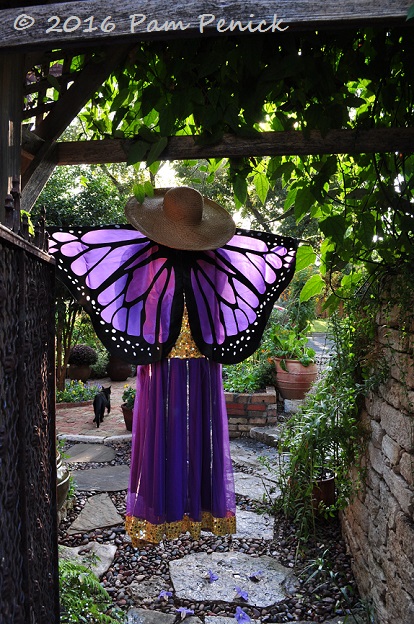 The wings catch the morning light.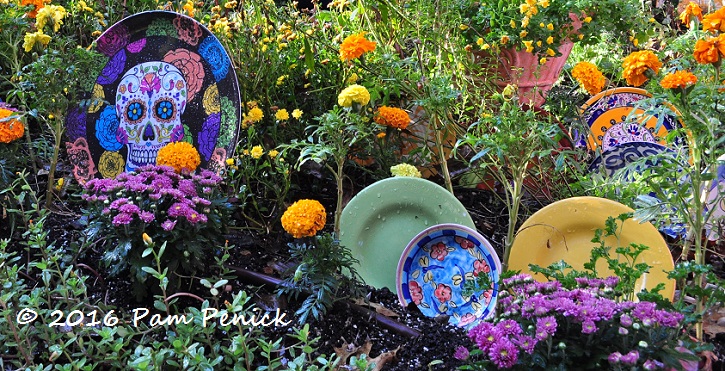 On the old driveway in the back garden, a raised vegetable bed is edged with colorful salad plates.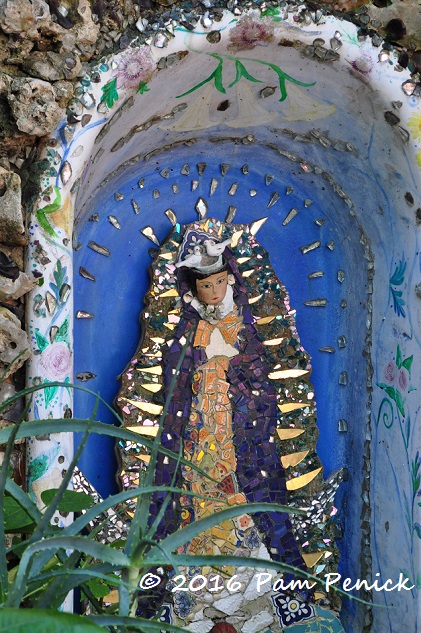 Our Lady of the Bathtub is a permanent fixture in the garden.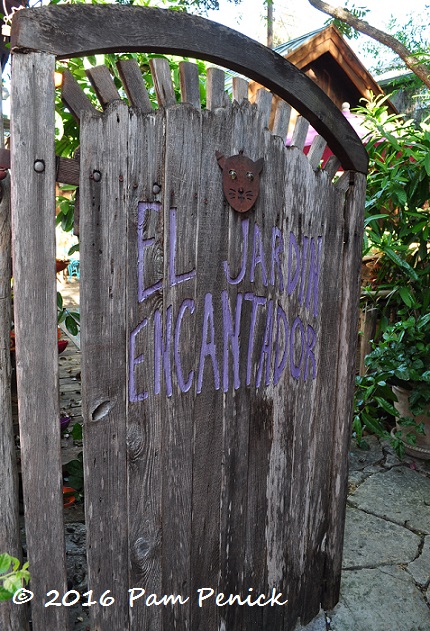 As is the handmade gate that reads El Jardin Encantador: the enchanting garden.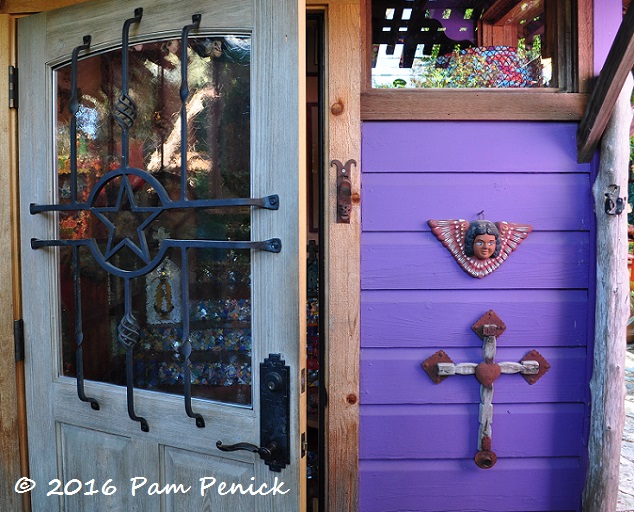 Peeking in the back door…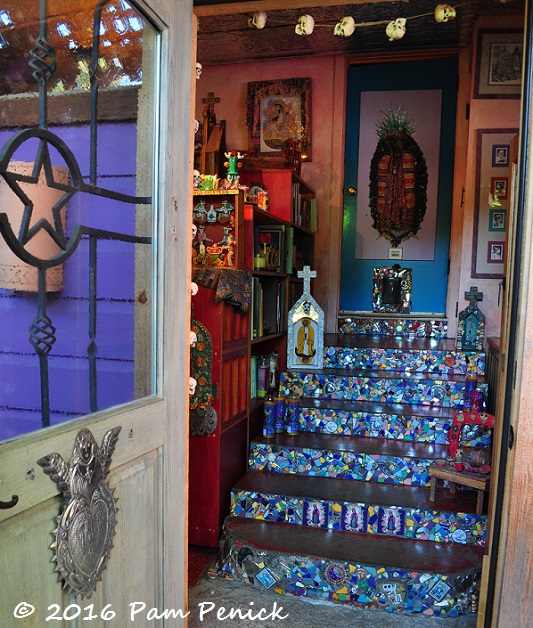 …you see what Lucinda calls her "stairway to heaven" — a mosaic tiled back stair.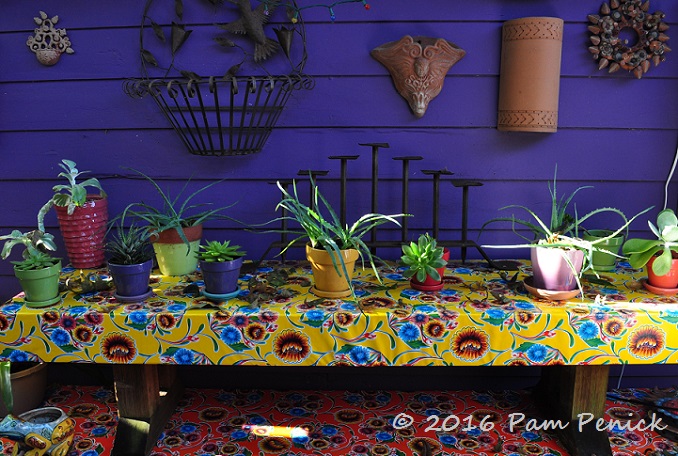 Along the purple wall of her detached garage, she stacks low tables dressed with Mexican oilcloth for a pretty succulent display space.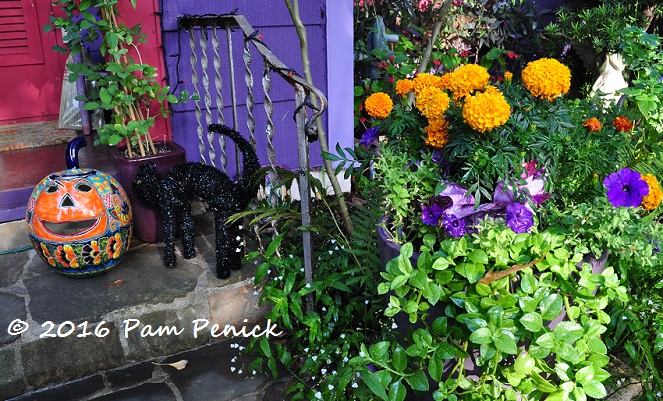 Her tiny front porch is all decked out too.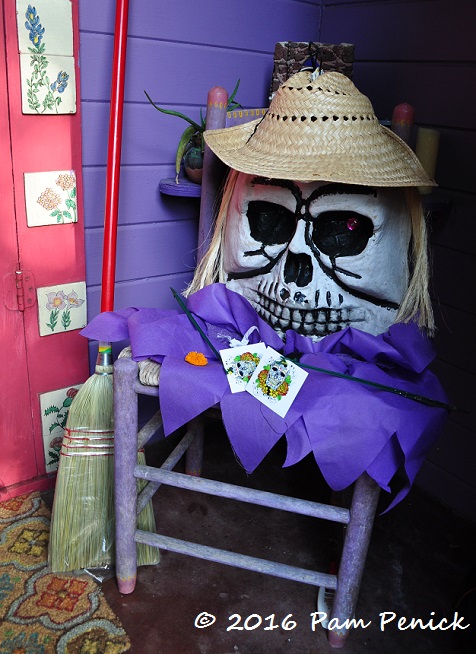 A Day of the Dead skeleton head greets visitors at the door.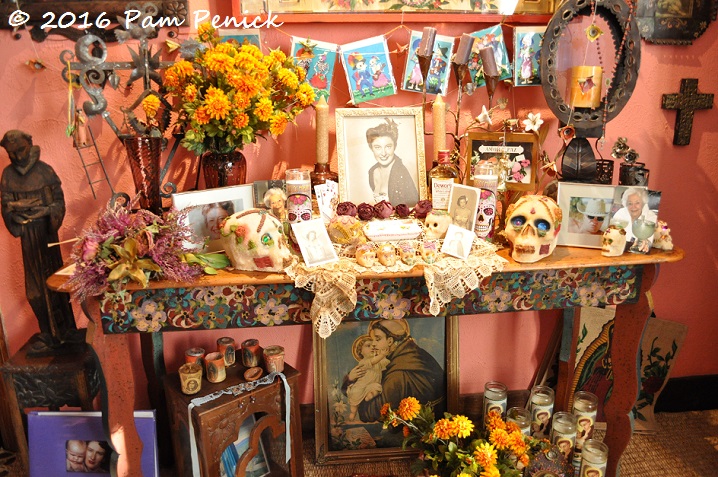 Inside, the first thing you see is Lucinda's Dia de los Muertos altar in her sherbet-colored living room, adorned with decades'-old (but amazingly fresh looking) sugar skulls, candles, family photos, and little mementos of things her loved ones enjoyed.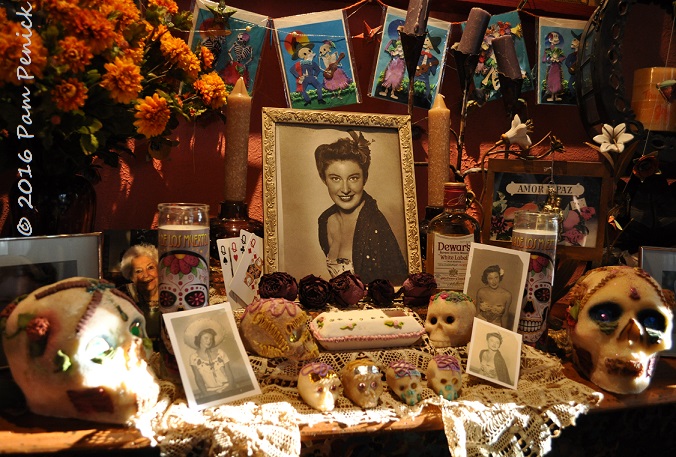 Lucinda lost her mom recently, and she pointed out old photos and items that remind her of her mother: queens on playing cards, a bottle of Dewar's.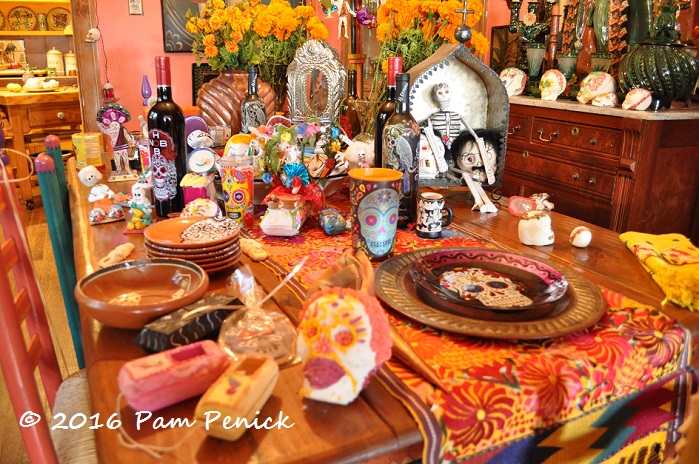 On her dining table, which she was setting up for a small party later on that evening, Lucinda had arranged a Day of the Dead display of skull plates and bowls, candles, wine bottles, sugar skulls, and skeletons.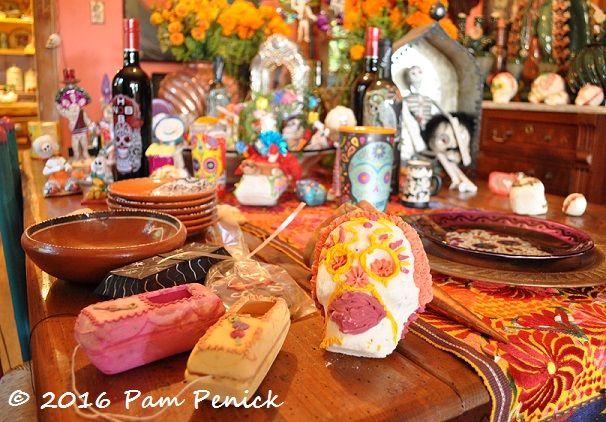 Sugar skull and sugar caskets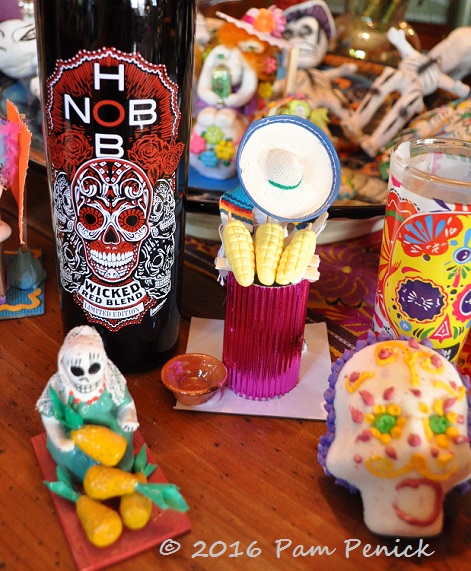 So many fun details wherever you look!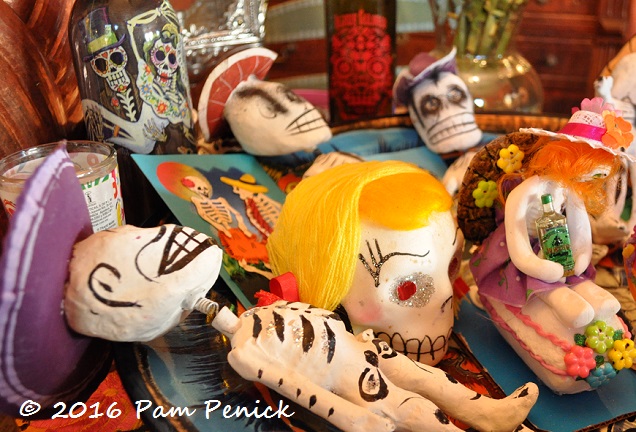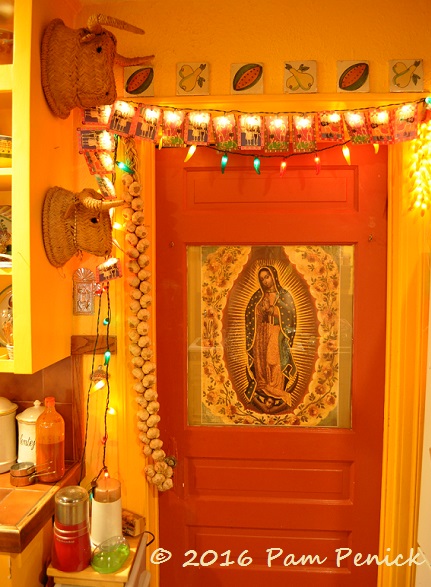 A quick peek in Lucinda's kitchen reveals strings of chili lights and and Dia de los Muertos cards with lights.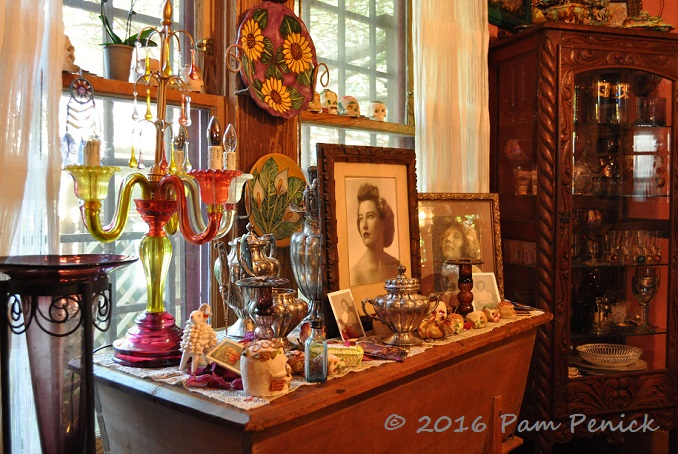 Another altar is set up on the dining room buffet.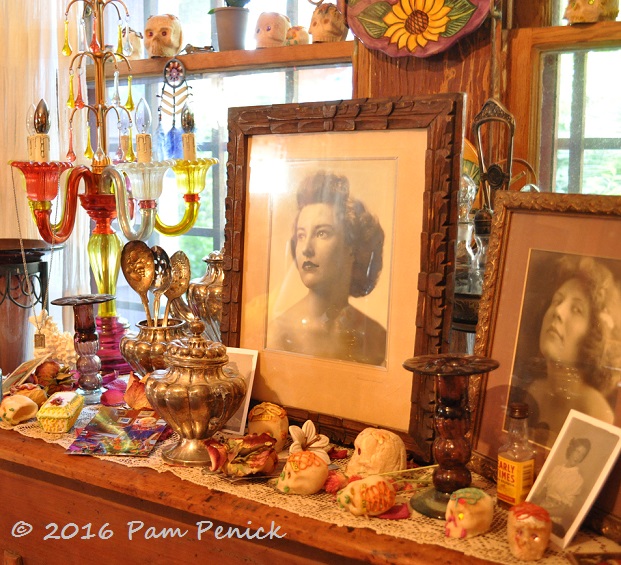 More photos of her beautiful mom along with sugar skulls and lustrous silver containers and spoons.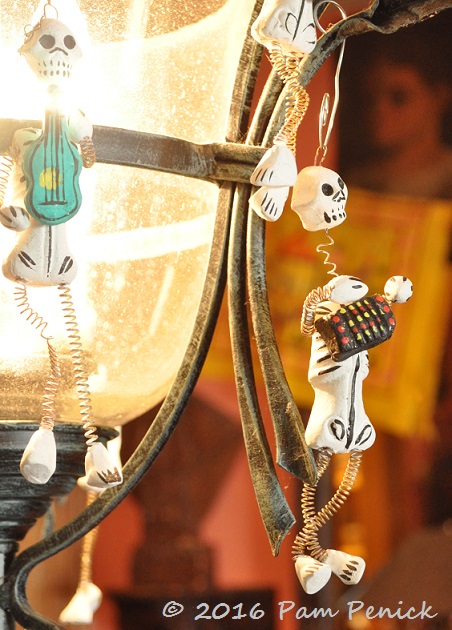 Tiny skeleton musicians with spring necks, legs, and arms dangle from the chandelier.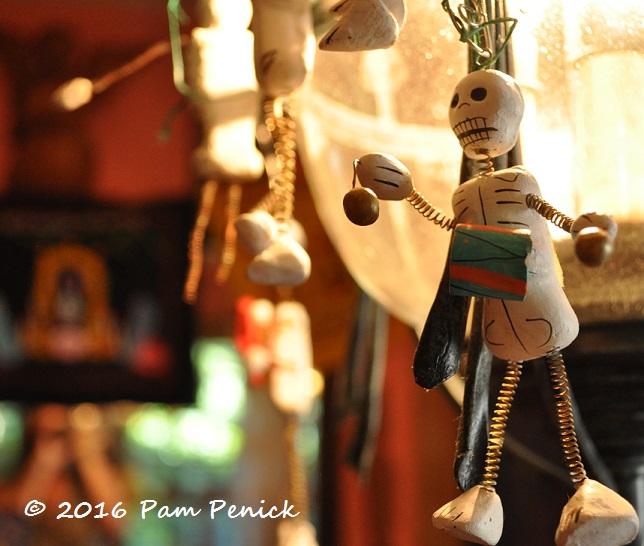 Lucinda's festive home and garden — and her own festive spirit — could brighten any dull day. My thanks to her for sharing her beautiful garden with me again!
I welcome your comments; please scroll to the end of this post to leave one. If you're reading this in a subscription email, click here to visit Digging and find the comment box at the end of each post.
_______________________
Digging Deeper: News and Upcoming Events
I'll be speaking at the Antique Rose Emporium Fall Festival 2016 in Brenham, Texas, on Saturday, November 5th, 1:30-2:30 pm. Come on out to the Antique Rose Emporium's beautiful gardens for a day of speakers and fun! My talk, with plenty of eye-candy photos, is called "Hold the Hose! How to Design a Water-Saving Garden that Wows." Meet me afterward at the book-signing table!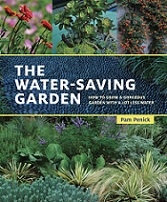 Do you review? Have you read my new book, The Water-Saving Garden? If you found it helpful or inspirational, please consider leaving a review — even just a sentence or two — on Amazon, Goodreads, or other sites. Online reviews are crucial in getting a book noticed. I really appreciate your help!
All material © 2006-2016 by Pam Penick for Digging. Unauthorized reproduction prohibited.
posted in
Agaves
,
Aloes
,
Annuals
,
Arbors
,
Butterflies/Moths
,
Cats
,
Color
,
Containers
,
Decor
,
Doors
,
Edibles
,
Garden art
,
Garden tours 2016
,
Gates
,
Holidays
,
Porch
,
Sculpture
,
Seating
,
Succulents
,
Trees
,
Vines
,
Walls