September 25th, 2015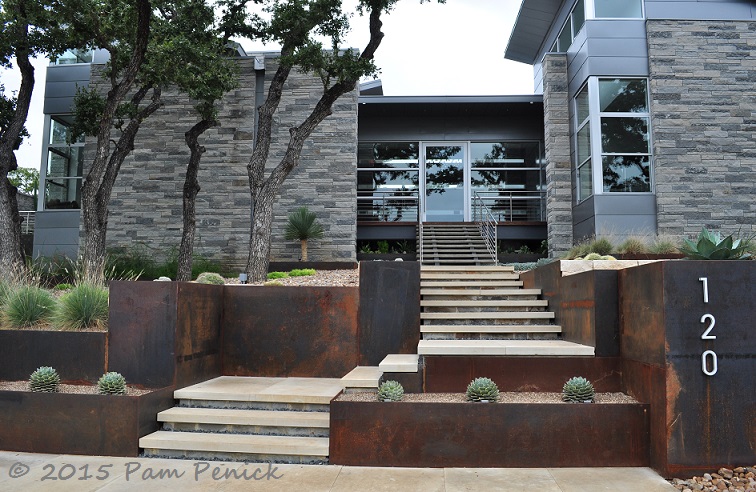 Succulent and cactus gardeners and fans of modern design, you'll want to see this garden on the upcoming San Antonio Watersaver Landscape Tour on October 24. I recently enjoyed a preview visit, thanks to an invitation from Shirley of Rock-Oak-Deer and Heather of Xericstyle.
This contemporary garden belongs to Susan Bhatia and her husband, who live in the same neighborhood as Pat Mozersky, whose garden will also be on the tour (click for my preview). Susan loves succulents and cactus for their architectural beauty and water thriftiness. As she and her husband were constructing their new home, she scoured Houzz for inspiring pictures of drought-tolerant gardens and plants that she wanted to grow.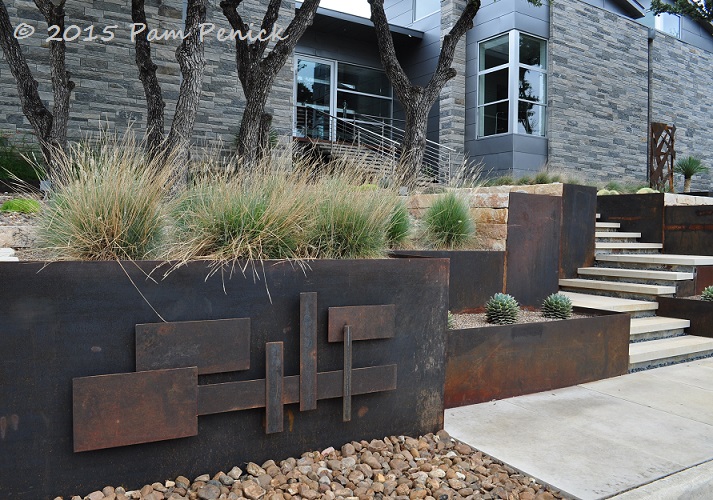 She and her husband worked with landscape architect Warren Pape of Texas Landscape Nursery to create a garden that complements the modern style of their home. Corten steel retaining walls paired with limestone risers make a dramatic entry walk on the steep lot. An artful arrangement of Corten pieces adds three-dimensional interest to one of the retaining walls, which are softened above by ruby grass (Melinis nerviglumis).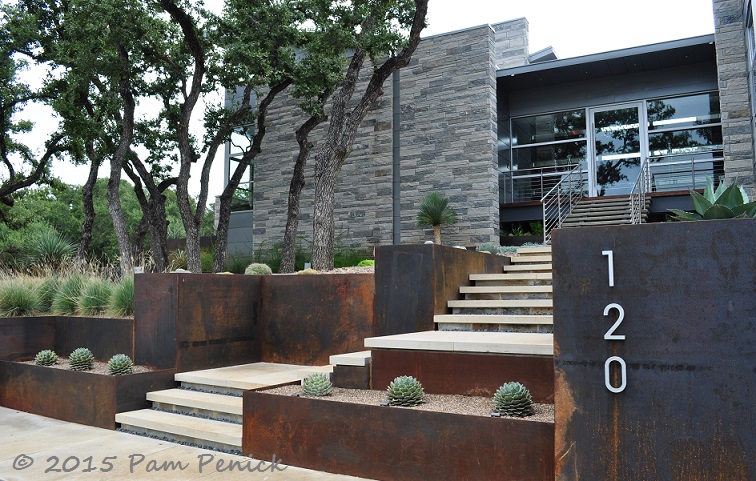 The grasses looked great, but I was drooling over the row of 'Kissho Kan' agaves in the first terrace.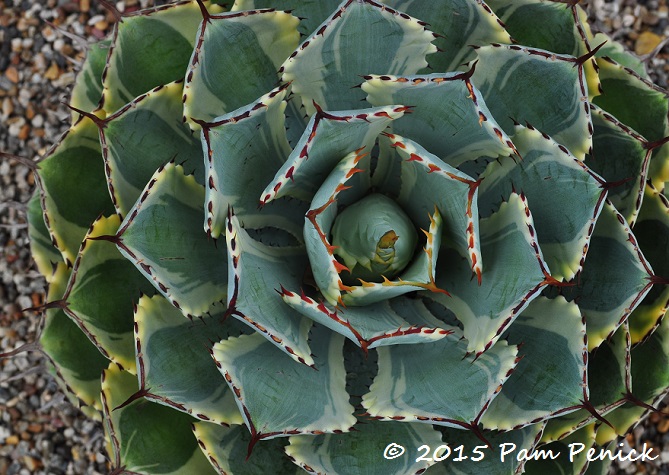 Gorgeous! Susan said it wasn't easy to locate six good-sized plants locally. These will likely need winter protection when it freezes, as various websites say they're hardy only to zone 9, and San Antonio, like Austin, is zone 8b.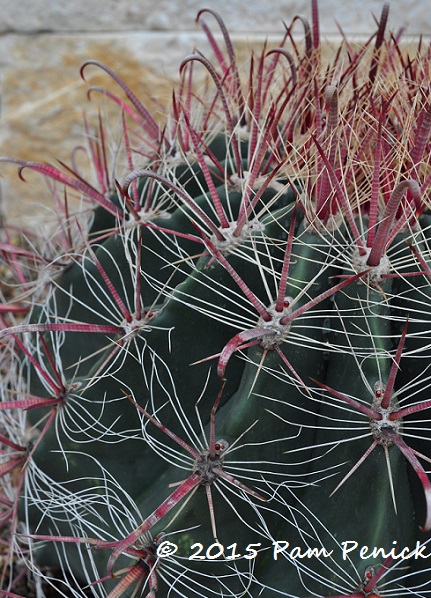 Clusters of cool cactus grow in the top terrace, like fishhook cactus…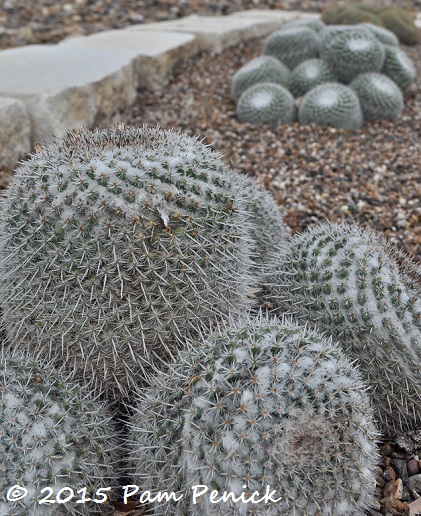 …owl's eye pincushion cactus (I think)…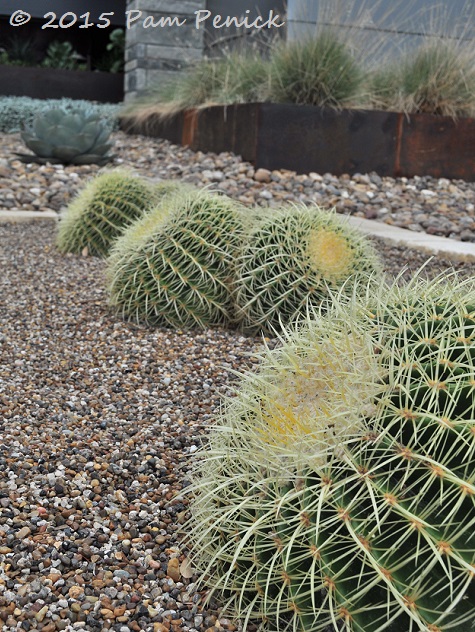 …and golden barrel cactus.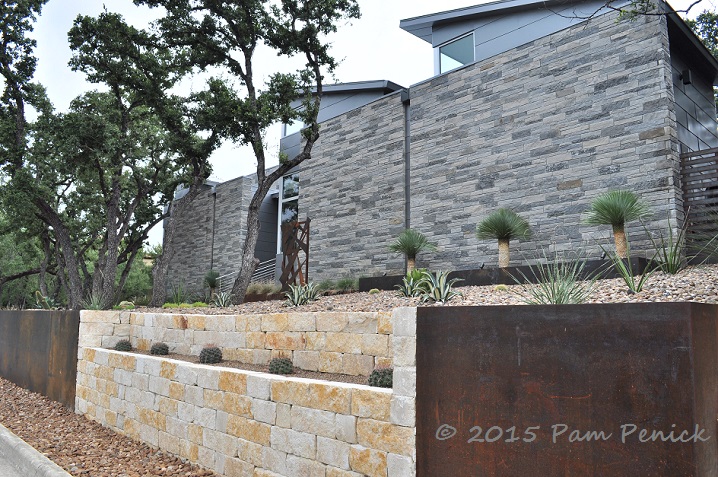 To the right of the stairs, the garden is terraced with a wall of limestone block and Corten. Fishhook cactus occupies a mid-level niche planter.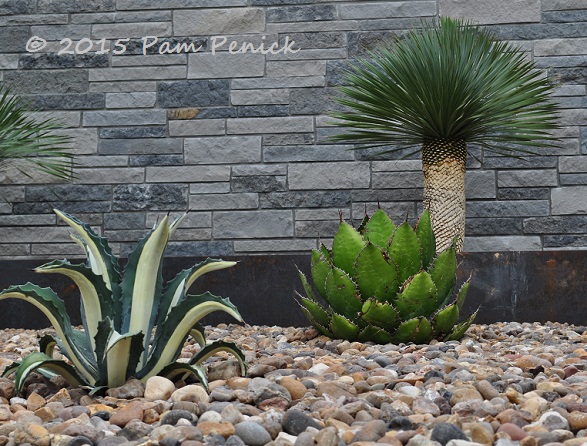 Above, a rock garden is studded with architectural beauties like Agave mediopicta 'Alba', cow's horn agave (Agave bovicornuta), and Yucca rostrata.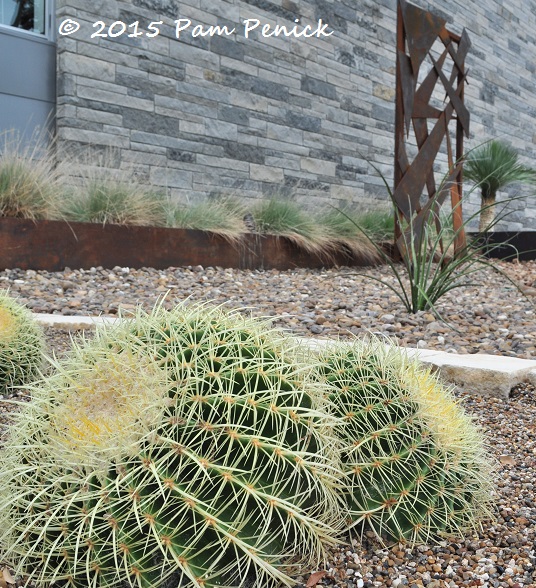 More golden barrels and ruby grass, as well as a freestanding art piece created from Corten pieces.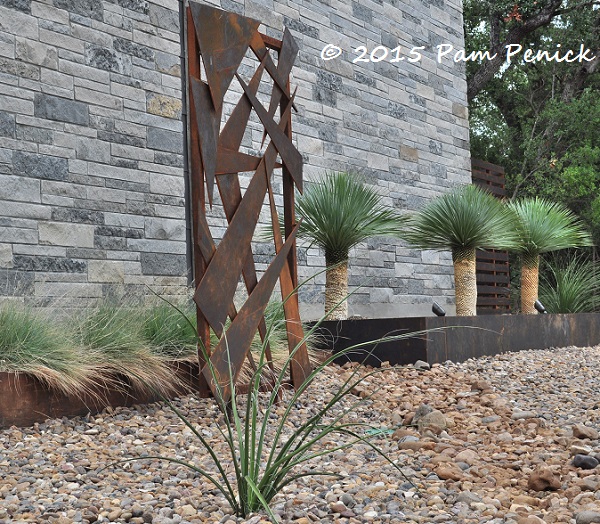 It's a dynamic sculpture.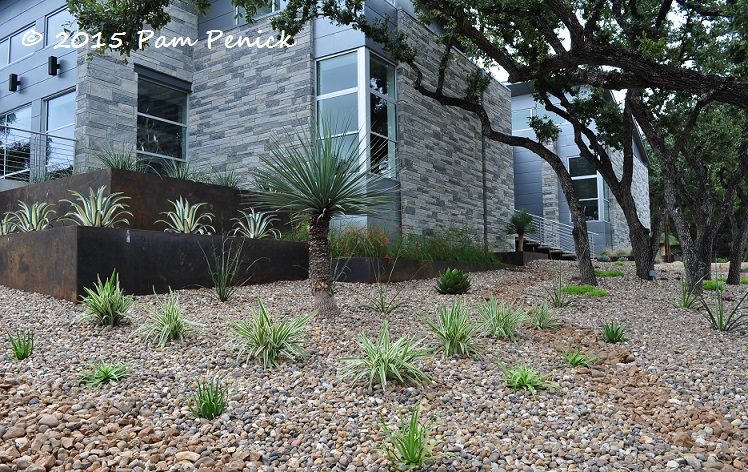 The gravel garden extends across the entire front of the house, taking the place of a traditional lawn. Live oaks provide shade at right; at left the sunny corner is planted geometrically with dry-loving squid agave (A. bracteosa), variegated flax lily (Dianella tasmanica 'Variegata'), giant hesperaloe (Hesperaloe funifera), and yucca. The winding line of darker river rock at right indicates a dry stream that carries runoff from the roof through the garden. Corten terraces at the corner display the striking Agave mediopicta 'Alba'.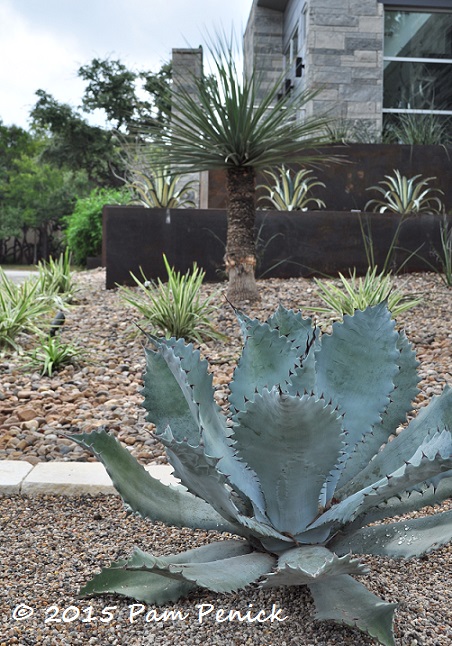 I can't remember the name of this agave, but look at those teeth. Isn't it pretty? Update: Susan tells me it's a 'Mr. Ripple' agave. (Thank you, Susan!) I have to say, it doesn't look as wavy-leaved as I'd expect a 'Mr. Ripple' to look, but maybe that's because it's young?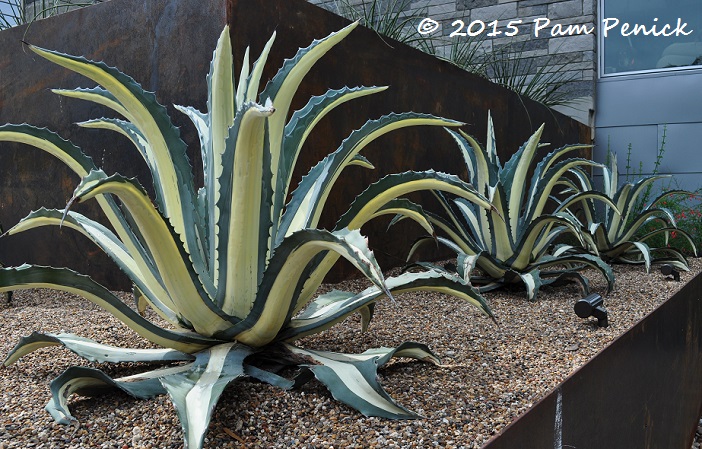 Agave mediopicta 'Alba' — a beautiful agave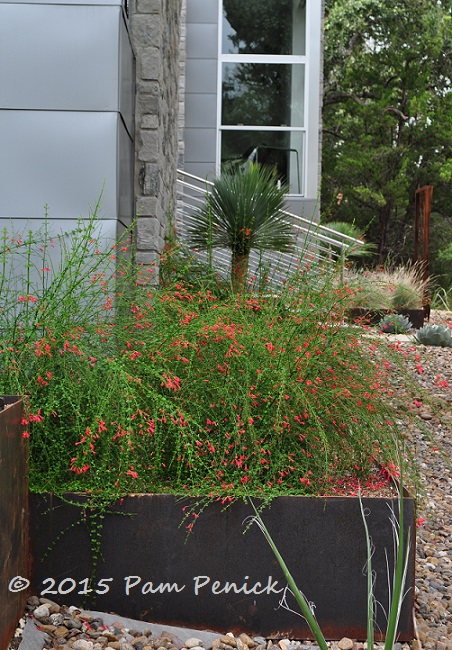 I like that Susan includes some softening plants to contrast with the static agaves, like round-leaf firecracker fern (Russelia rotundifolia), which I just planted in my own garden. I hope it soon grows to this size!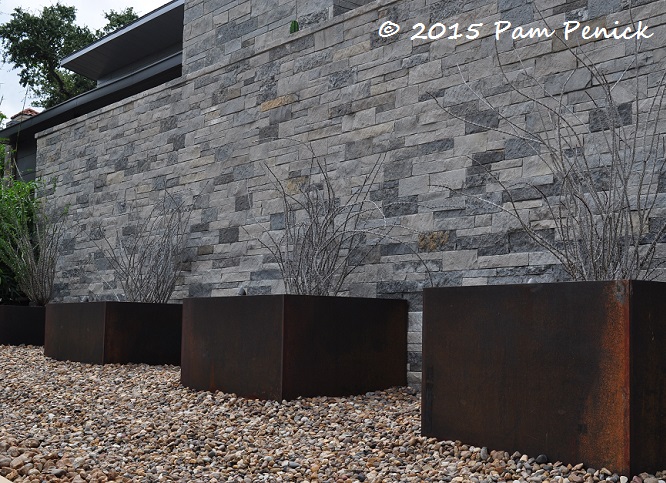 Four Corten boxes hold ocotillo (Fouquieria splendens) alongside the house. Three remain in their seasonal leafless state…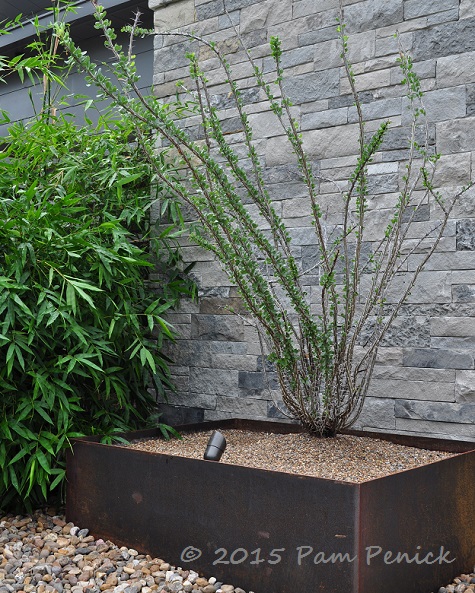 …but the one at left has put out green leaves. These must be even better at night, with uplights casting ocotillo shadows on the stone wall.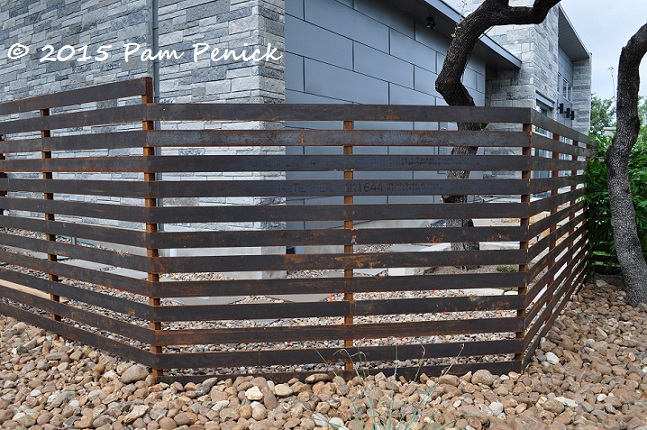 Corten strips make a horizontal-slat fence along the side and back of the house that will never need replacing.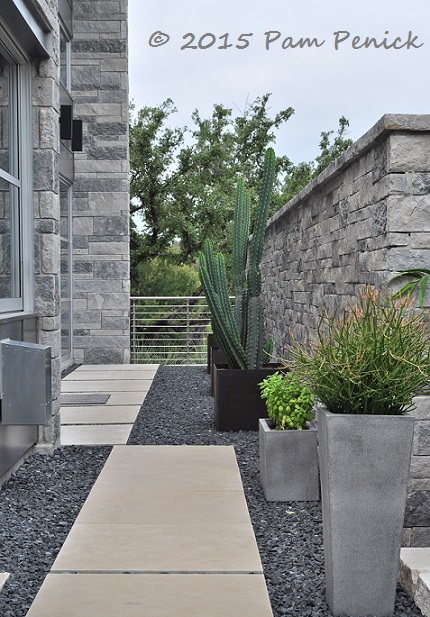 A narrow side terrace contains a minimalist mix of potted succulents and cactus.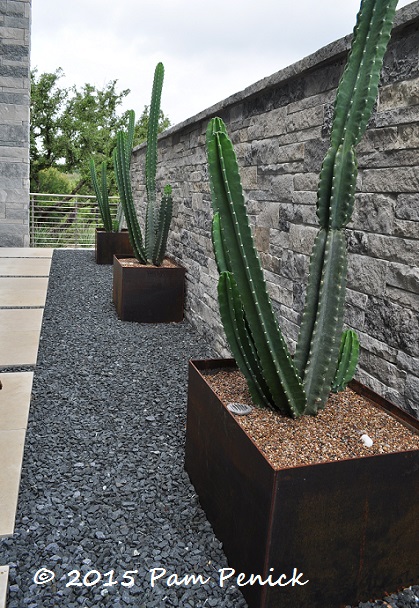 Cereus, a tall vertical presence against stone walls, is utterly heat and drought tolerant. I wondered whether Susan would have to protect these from hard freezes. Perhaps the reflected heat and wind-blocking in this narrow space will be protection enough.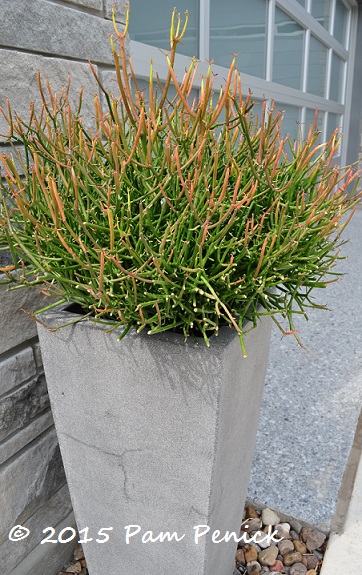 'Sticks on Fire' euphorbia blushes in full sun in a tall planter by the garage.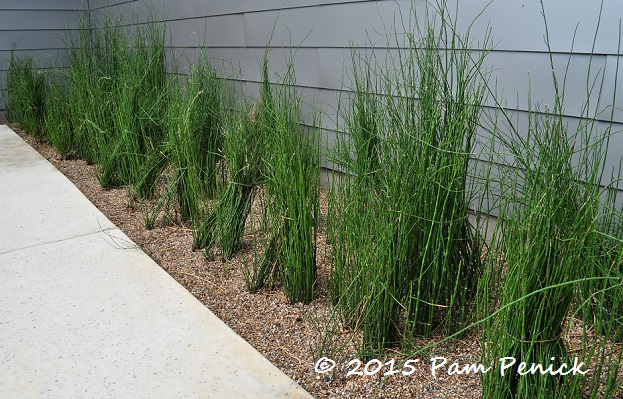 Horsetail (Equisetum hyemale), a bog plant, is being established along a garage wall. Susan has bundled them because they were flopping, and she wanted an erect, vertical form. She's still experimenting here, seeing if she can make it work, and indulging in extra watering in this bed to help it along. Horsetail is invasive in the right circumstances; the concrete driveway and foundation keep it contained.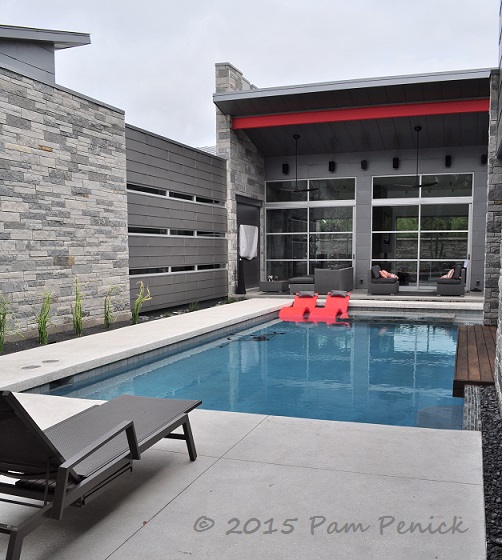 Around back, past a small lawn for the dogs, is a lovely courtyard swimming pool. The gray tones of the house are enlivened by an orange-painted steel beam and orange pool chairs.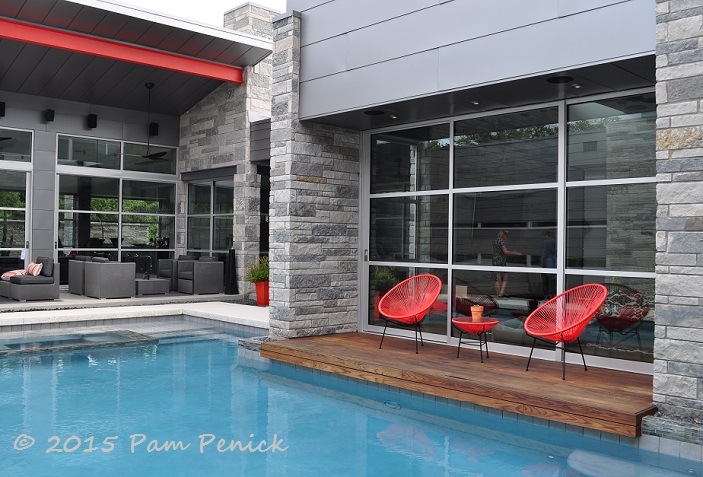 Those glass doors look like they'd slide open for indoor-outdoor living at cooler times of the year.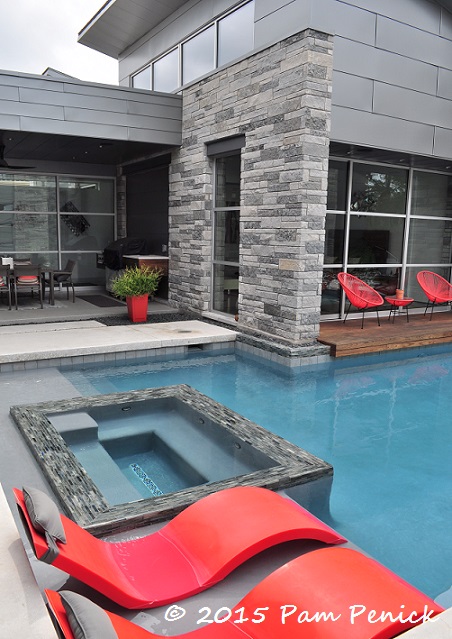 Another view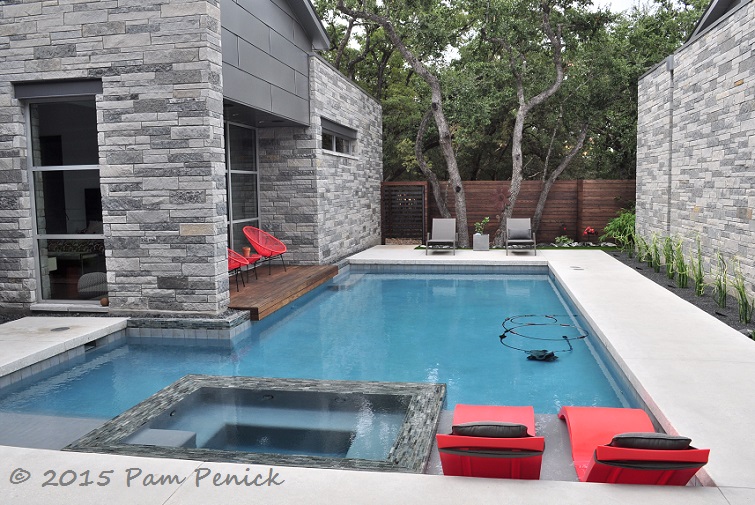 Dry-loving lady's slipper (Pedilanthus macrocarpus) grows in the narrow strip along the wall at right.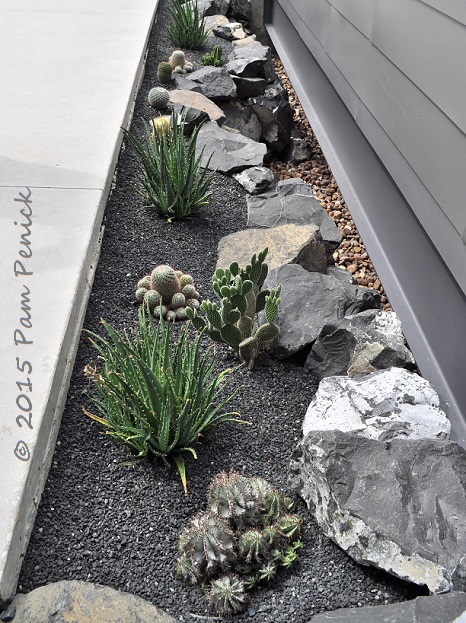 The lady's slipper bed gives way to a rock garden near the back door. In a surprising move, the planting area is held back with a curvy stone retaining wall, and drainage is allowed to flow under the wall and out to the front of the house.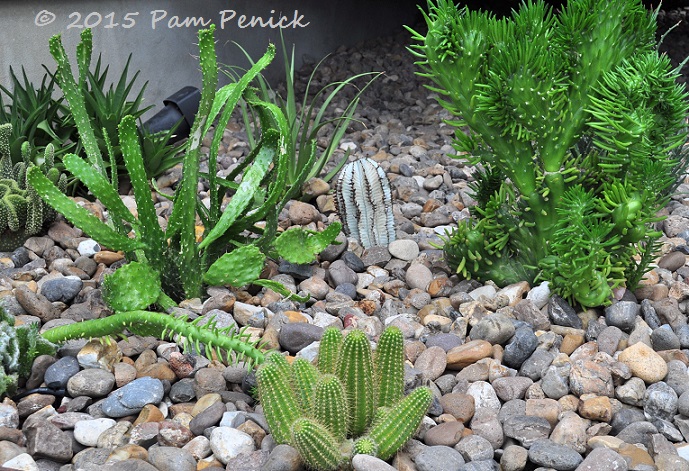 It ends up flowing through a succulent and cactus bed planted below the entry steps by the front door. It's just one of the garden's many unique features.
My thanks to Susan for sharing her striking dry garden with us! Remember, this garden and her neighbor Pat's garden (click for my tour) will be open to the public, for free, on the San Antonio Watersaver Landscape Tour on October 24.
All material © 2006-2015 by Pam Penick for Digging. Unauthorized reproduction prohibited.