December 11th, 2015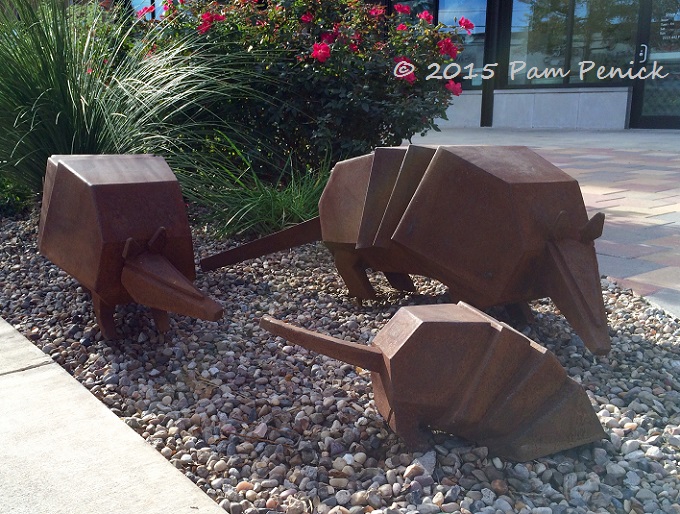 "All the fun of a real armadillo family with no unpleasant aftertaste," is how the artist at 20 Digit Design describes his steel creatures. I've rubbernecked at these fun armadillo sculptures many a time while driving down South Lamar Boulevard toward Mockingbird Domestics, one of my favorite home-goods shops. On Wednesday I finally stopped at the Post South Lamar apartment/retail complex to take a few pics.
"Armadillo Family" captures the not-so-charming-in-real-life-but-plenty-cute-in-art behavior of a digging armadillo.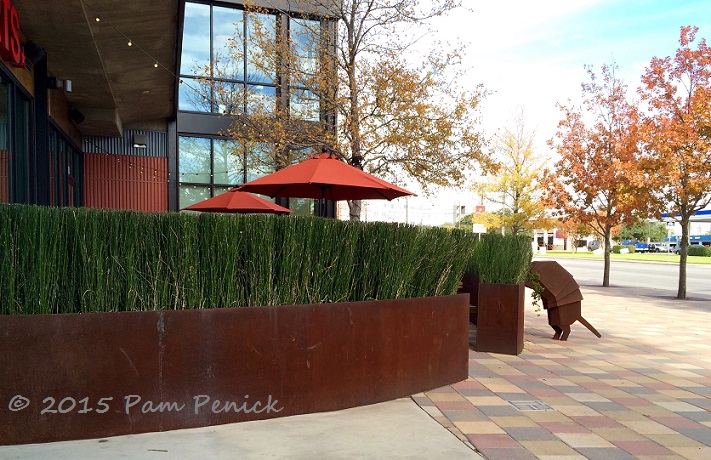 The other armadillo sculptures are more fanciful. I love the humor of "Planter Invading Armadillo," standing on his hindquarters with his head hidden in a stand of horsetail reed. What an awesome, curving steel planter too.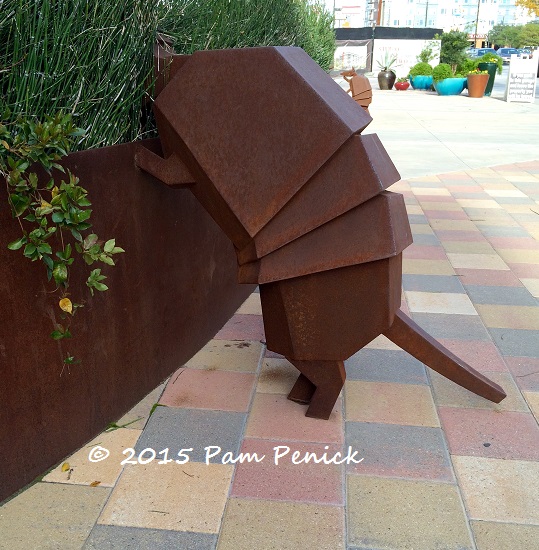 He seems to be trying to peek through at the patio diners sitting behind the horsetail screen.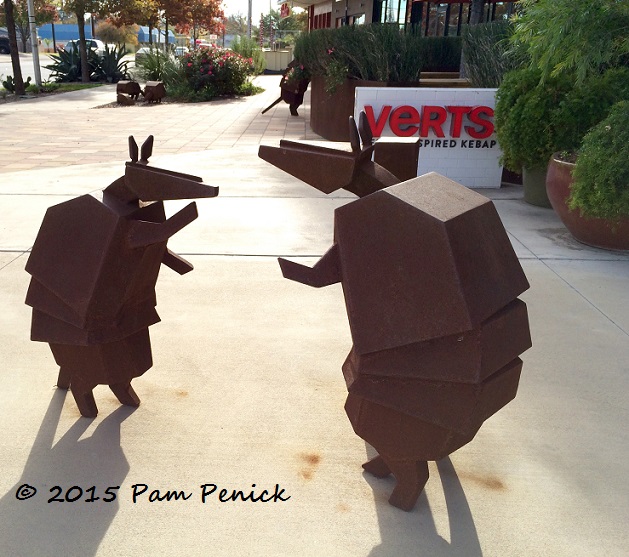 "Hey, darlin', how are yew?" "Oh, I cain't complain."
"Talking Armadillos" are fully anthropomorphized, standing erect and jawing like co-workers at the water cooler. I'd totally put any of these in my own garden. So much better than the real thing, which regularly tear up my garden beds, although they are cute.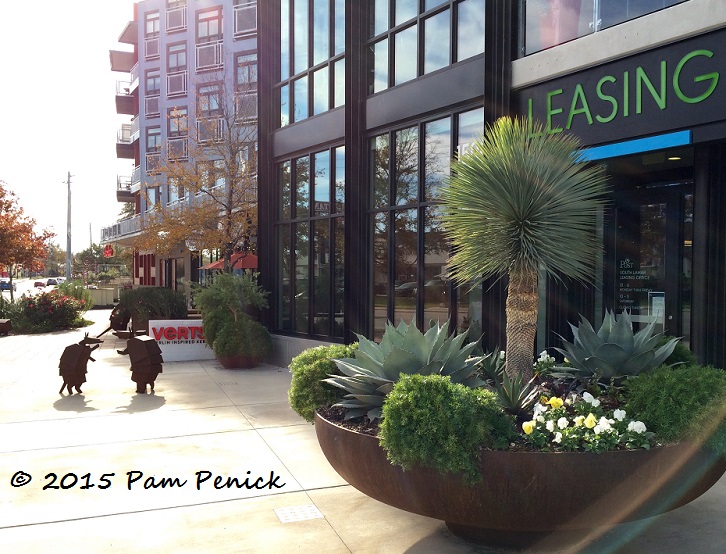 The plaza planters are nice too. Check out this gigantic steel bowl planted with a Yucca rostrata, two whale's tongue agaves, asparagus fern, and cool-weather pansies.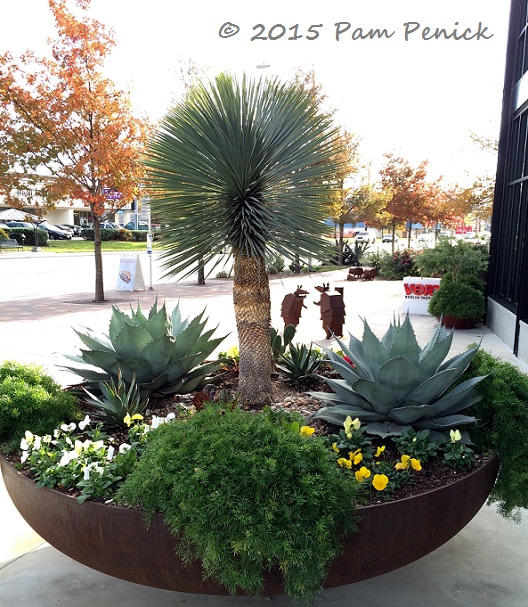 Another view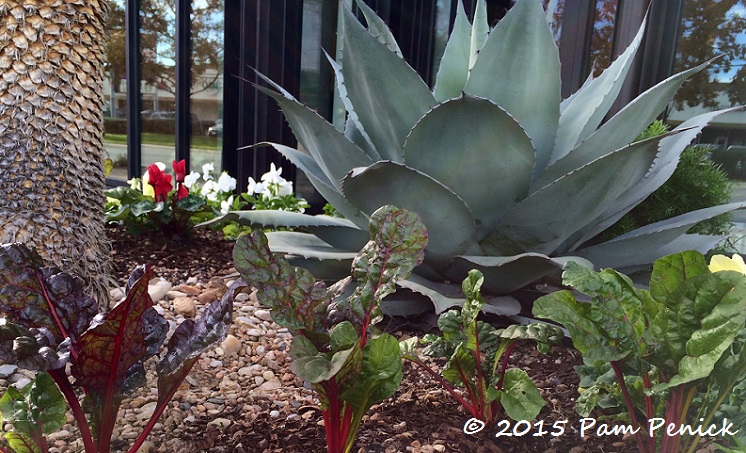 Surprisingly, there's even some chard in there!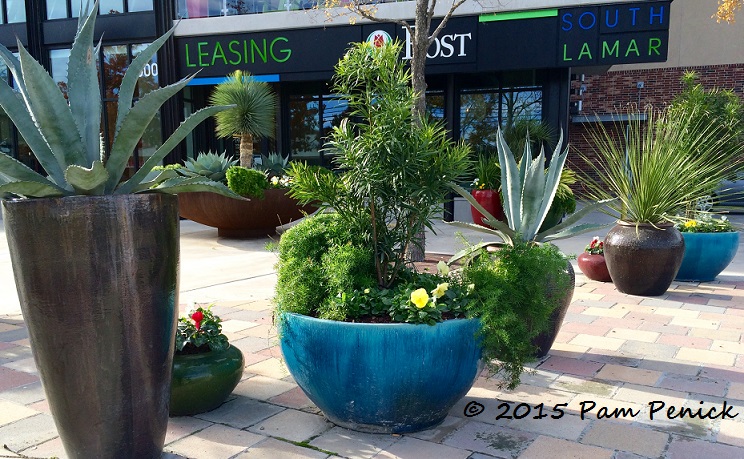 Around the northern perimeter of the plaza, a mix of mostly xeric plants in a variety of blue and bronze pots screens the street view.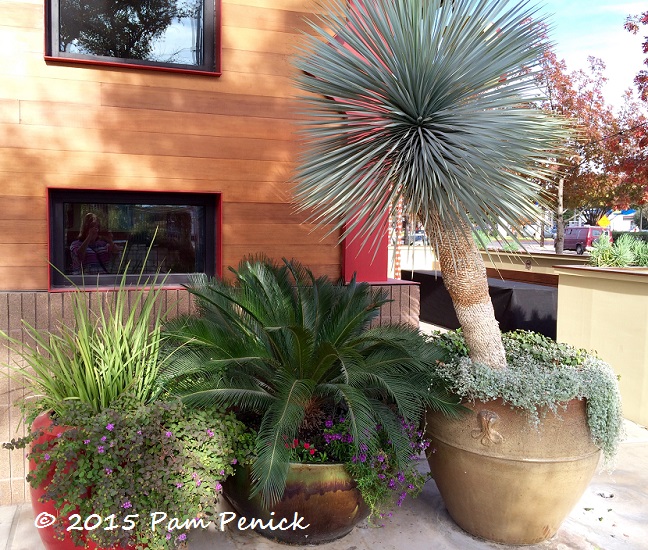 At the southern end, next to a restaurant's outdoor seating, I admired this arrangement of Yucca rostrata, sago palm, and what looks like bicolor iris, all underplanted nicely with perennial groundcovers like trailing purple lantana and silver ponyfoot and some sort of annual color. Sorry I don't respect you more, annual color, but you look pretty good here.
Oh, and if you're not from Texas and are wondering about my blog title, take a listen to "London Homesick Blues."
All material © 2006-2015 by Pam Penick for Digging. Unauthorized reproduction prohibited.
posted in
Agaves
,
Annuals
,
Containers
,
Drive-By Gardens
,
Edibles
,
Garden art
,
Keep Austin Weird
,
Palms/Cycads
,
Patios & decks
,
Public art
,
Roses
,
Sculpture
,
Succulents
,
Trees
,
Walls
,
Xeric plants
,
Yuccas