April 8th, 2016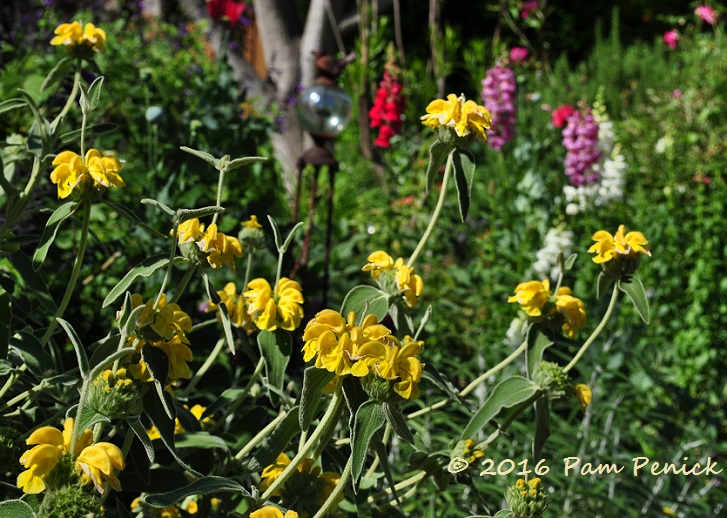 Many times over the years, I've had the pleasure of visiting Lucinda Hutson's purple cottage in the Rosedale neighborhood of central Austin. It's always a riot of flowers and festive decor. On Tuesday I stopped by to visit again and am so glad I did. Butter-yellow blossoms of Jerusalem sage (Phlomis fruticosa) were mingling with tall snapdragons in a rainbow of colors in her cottage-style front garden.

Snappy snapdragons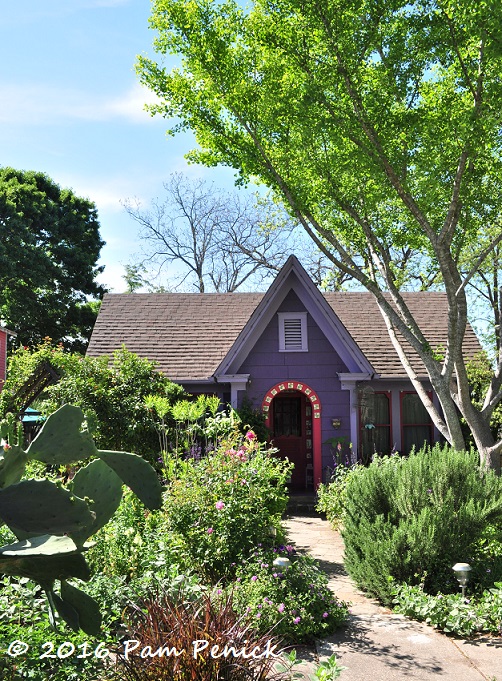 Here's the street view of her gothic-style purple "casita," as she calls it, and the tall, shapely ginkgo tree she planted 30 years ago — a rarity in Austin.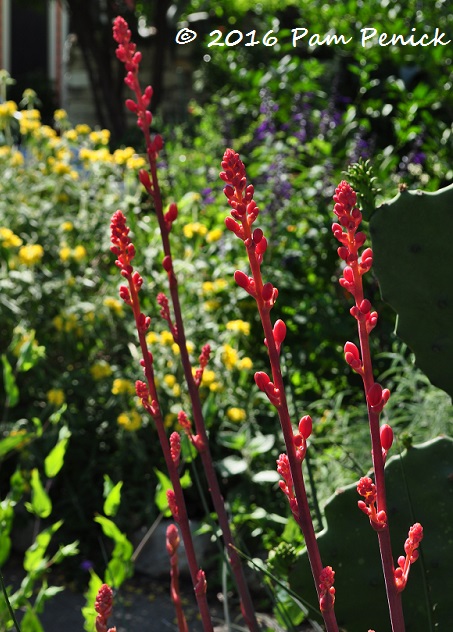 Red bloom spikes of red yucca (Hesperaloe parviflora) are coming up.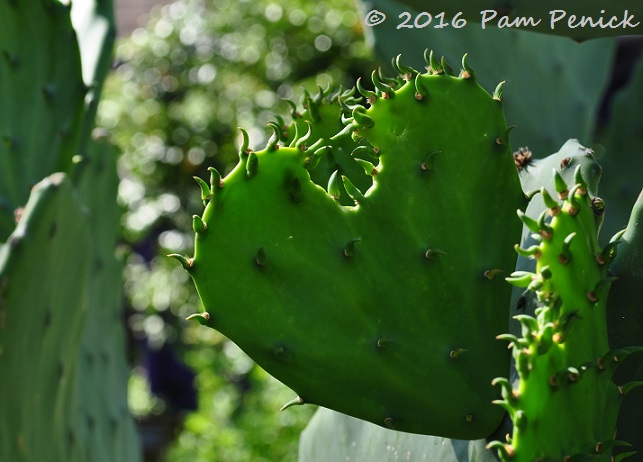 A large prickly pear (Opuntia 'Old Mexico') is showing its love with a heart-shaped pad.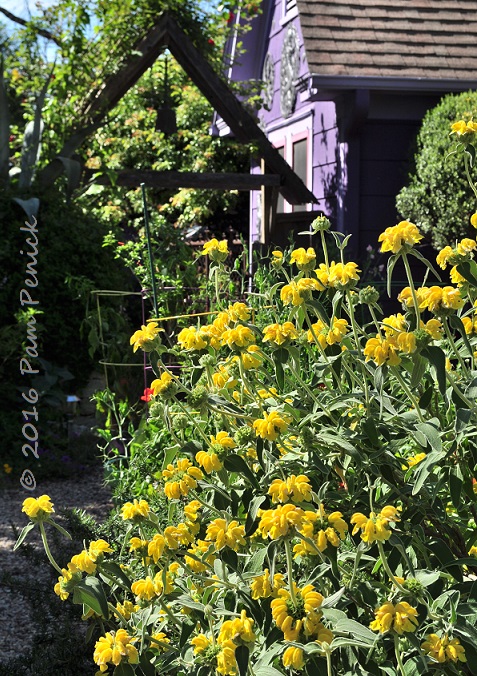 More Jerusalem sage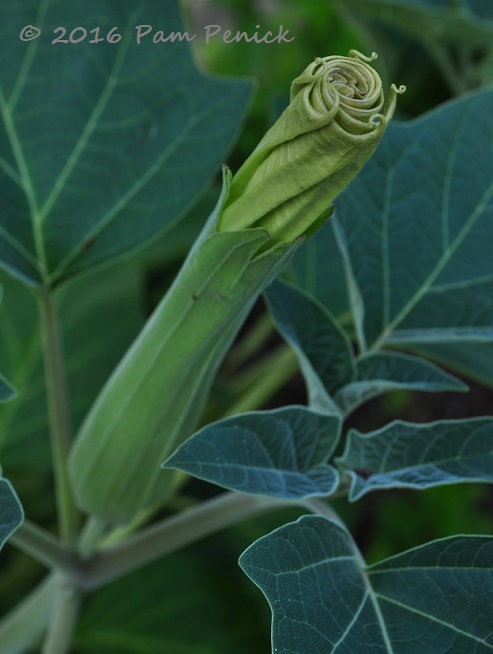 Datura (D. wrightii) blossoms were furled, waiting to open until dusk.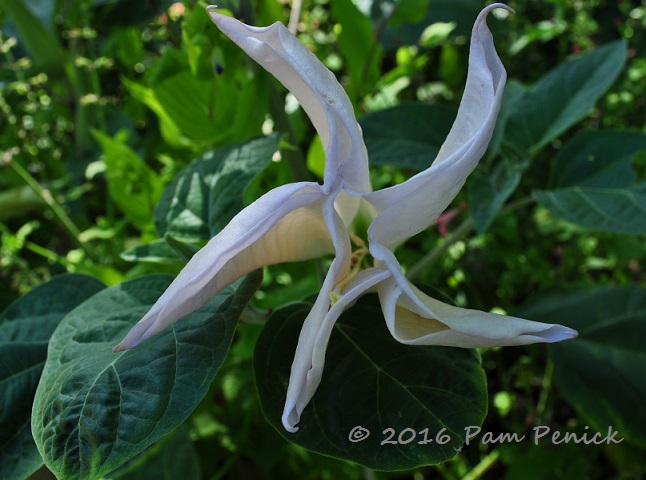 Here's one that had bloomed last night, looking a bit like a deflated balloon — or, from this angle, a pinwheel.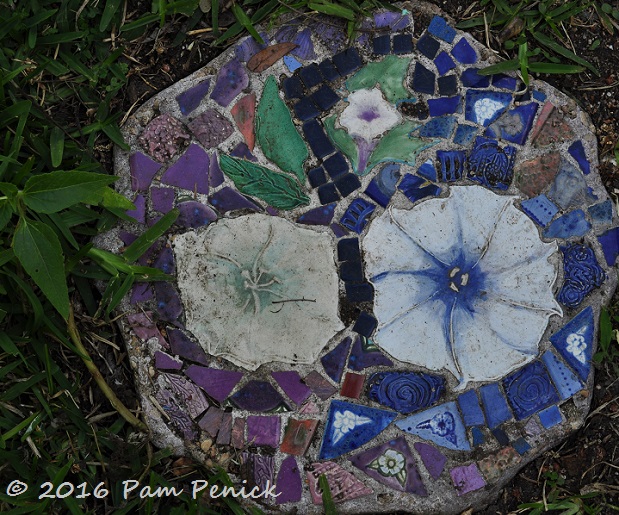 Lucinda even has datura on a pretty mosaic-tile paver.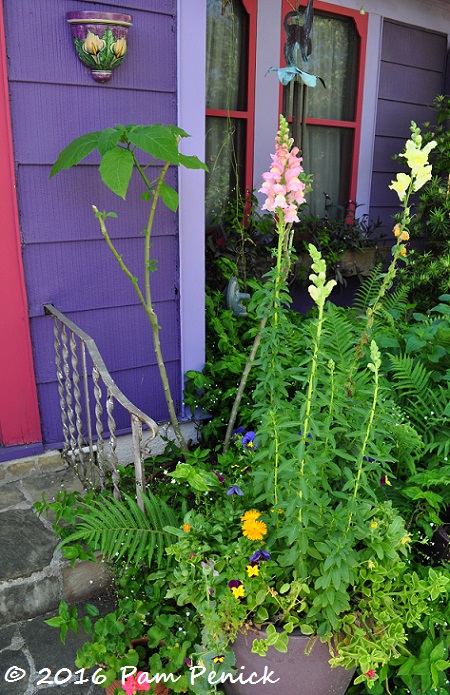 Pastel snapdragons stand tall in a purple pot by the front porch.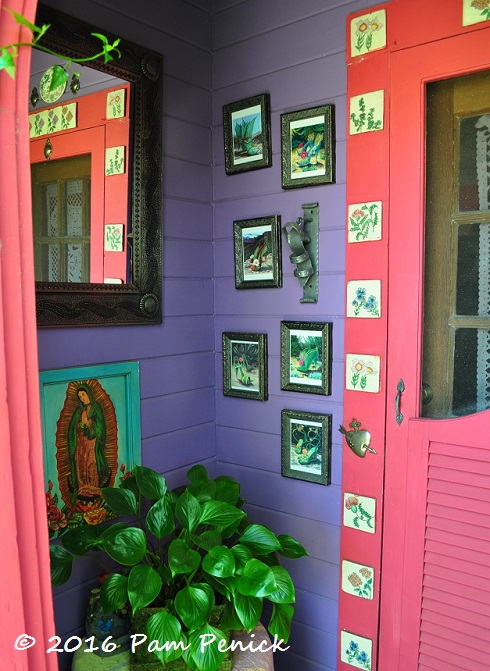 Her colorful porch is decorated with imagery from Mexico and the Desert Southwest, a tribute to her El Paso upbringing.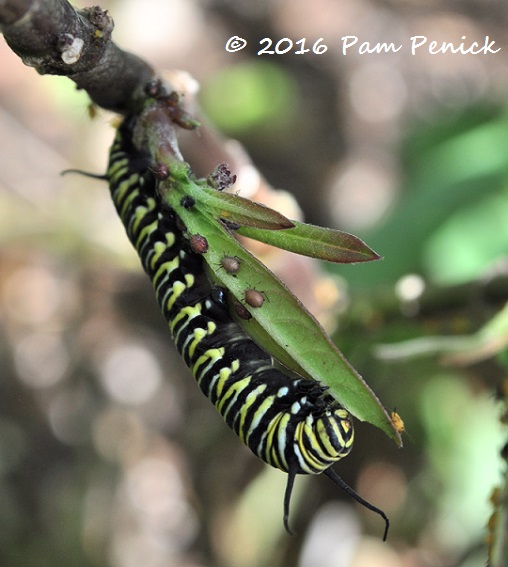 We were both pleased to spot a monarch caterpillar munching on milkweed, but it was nearly out of plant to nosh on. I hope it's ready to pupate.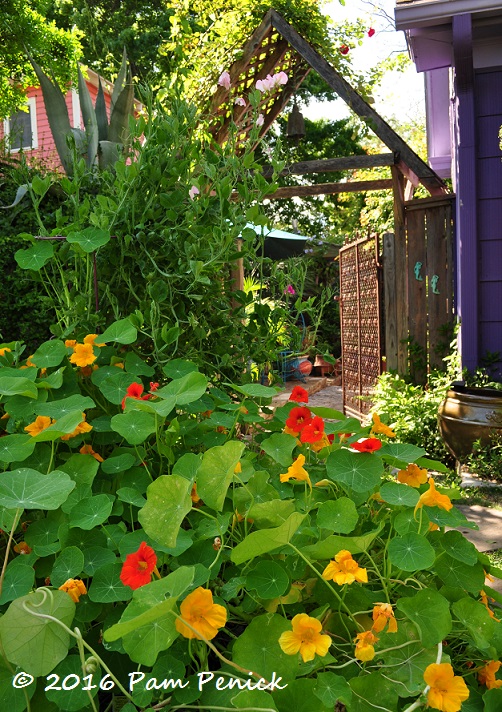 Heading toward her back gate, I stopped to admire her rambling nasturtiums. This is an annual that always tempts me, but I never get around to growing it.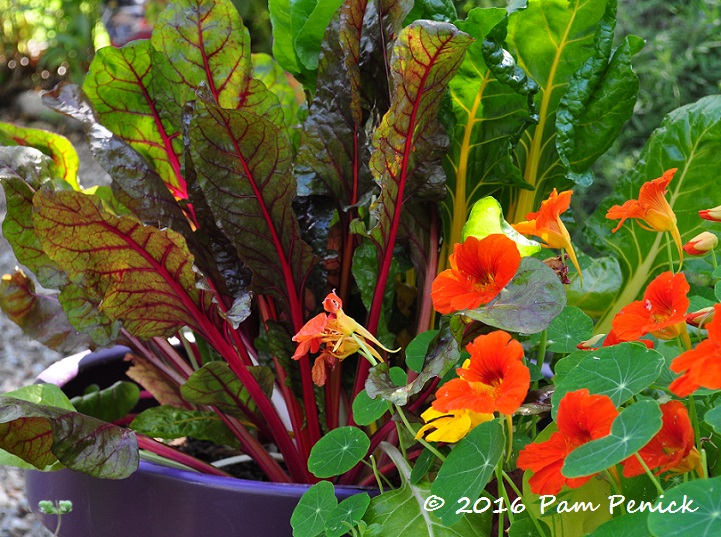 It makes a perfect combo with red-stemmed chard growing in a pot.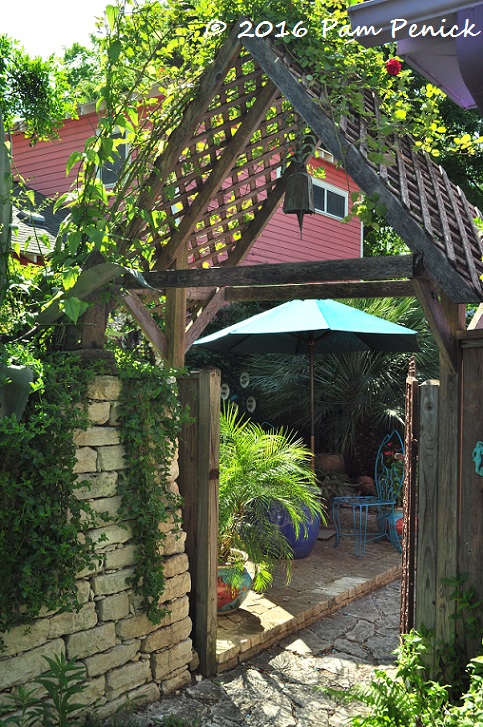 Now let's head into the back garden, under the arbor abloom with 'Don Juan' roses. Lucinda's yard is pretty small, and she's turned the rear half of her driveway into a patio garden, with the arbor marking its entrance.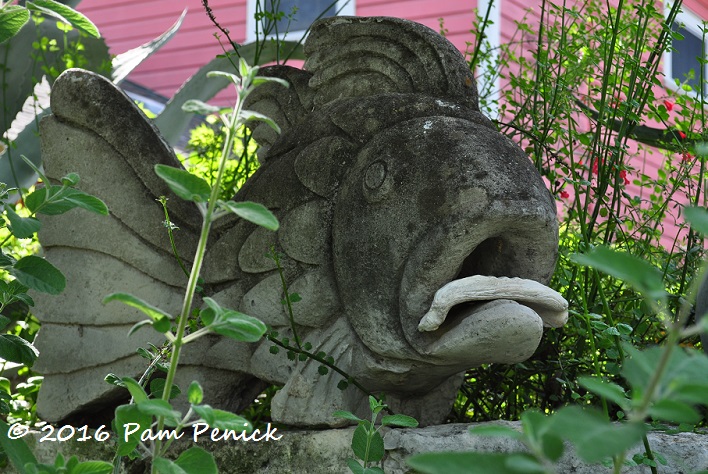 A carved stone fish sits atop a 6-foot stone wall that shields her back garden from view. It hints at what's to come.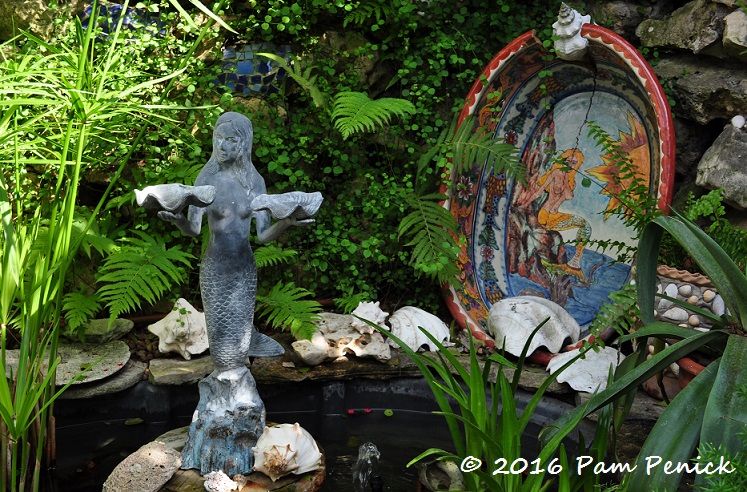 A mermaid grotto on the other side! Mermaids and shells adorn a tiny pond, where fig ivy and ferns green up the limestone wall and trickling water mutes the noise of passing cars.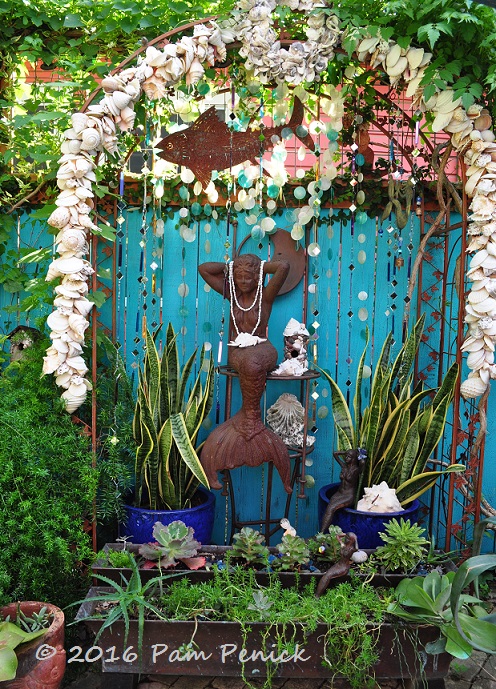 To the right, against a wooden fence painted turquoise, another mermaid holds court under an arbor decorated with seashells and strands of colored capiz shells. In a planter at her feet grow "under-the-sea" plants like aloes, echeveria, sedum, and snake plant.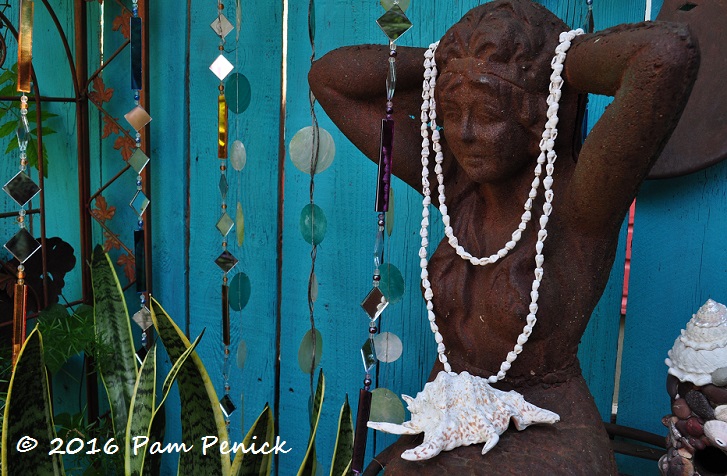 It creates a delightful seaside mood in the front half of her former driveway, along with patio seating for two.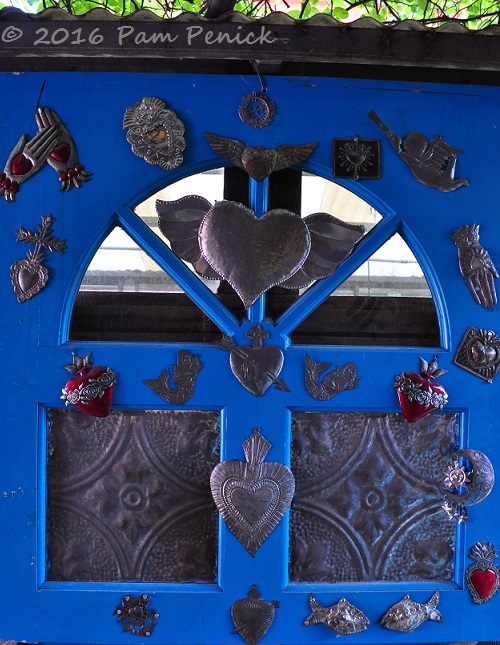 A greenhouse and vine-covered arbor occupy the middle of the old driveway, where Lucinda has hung an old door panel decorated with tin milagros (Mexican folk charms). This used to be Lucinda's back door, but the lower half rotted. When she installed a new door, she cut the bottom off this one and turned it into garden art.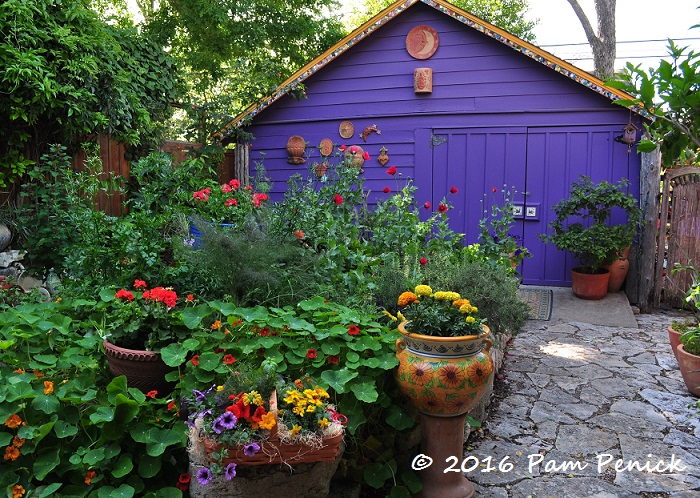 As you pass through the middle arbor, this comes into view: an old garage painted purple, with a colorful tile mosaic along the eaves. A raised bed filled with vegetables and annual flowers occupies the sunny middle.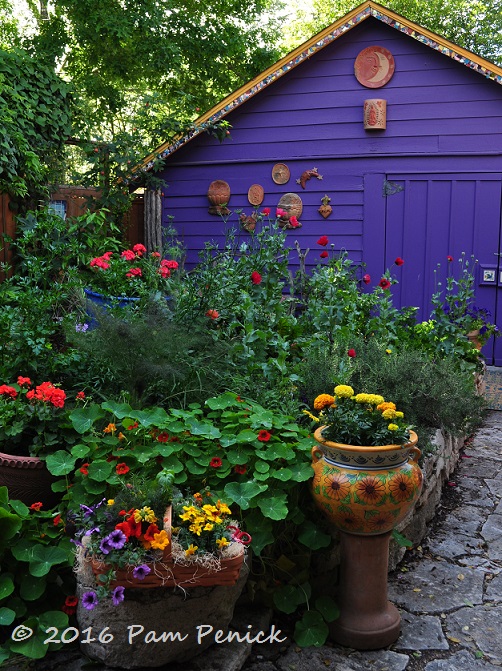 Potted marigolds, pelargoniums, and other annuals add even more punch to the scene.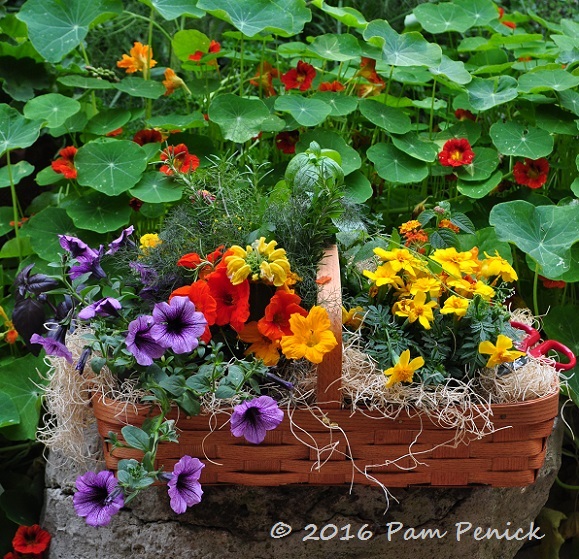 Lucinda always takes the time to add pretty touches, like this basket stuffed with potted annuals.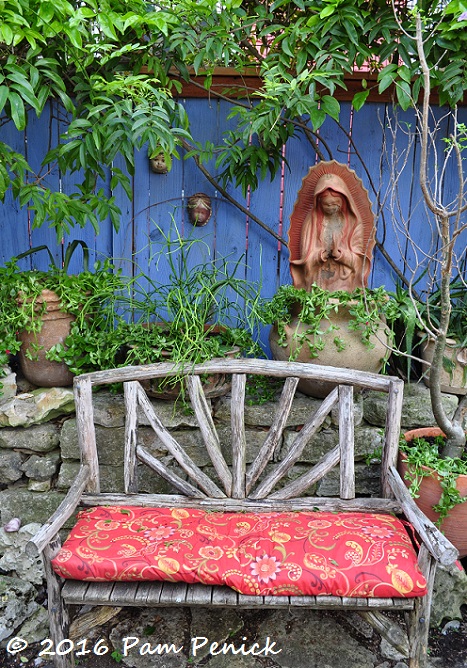 There are several Virgins of Guadalupe in this section.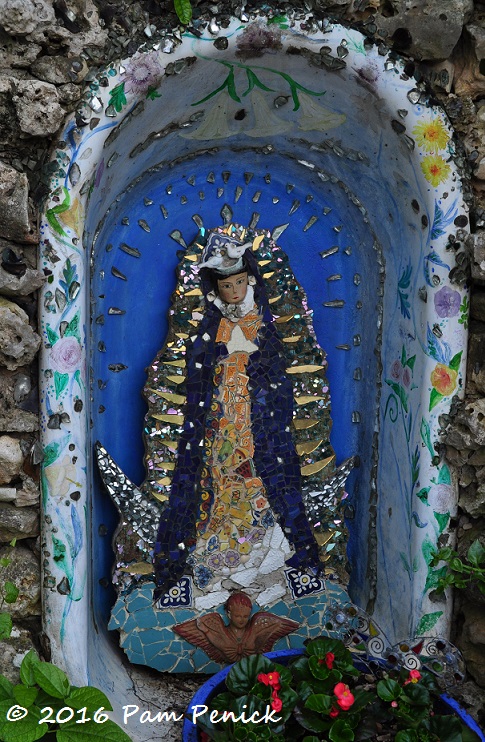 I believe Lucinda calls this folk-art version Our Lady of the Bathtub.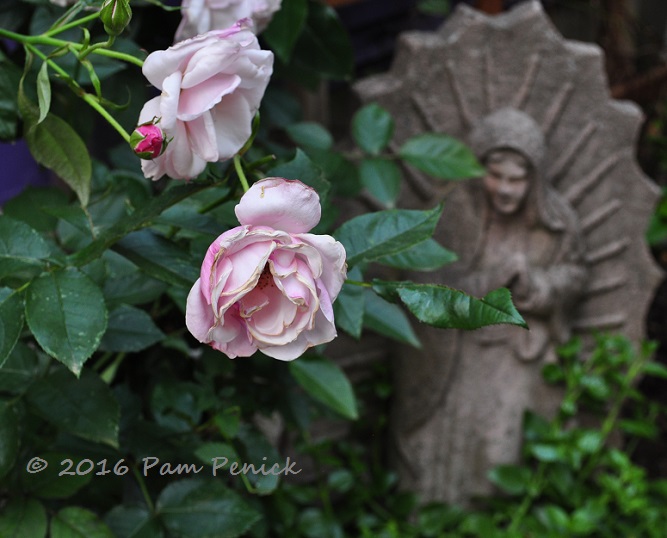 And another, paired with 'Our Lady of Guadalupe' rose, which smells so sweet.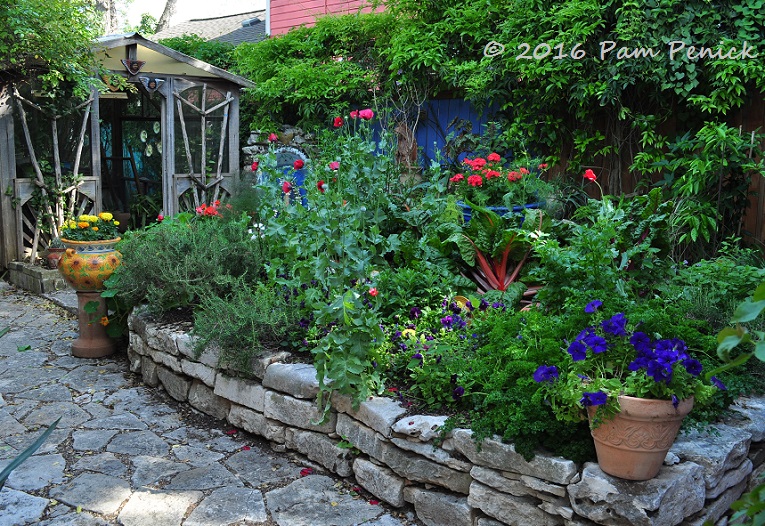 Another view of the raised vegetable-and-flower bed, with the greenhouse behind it.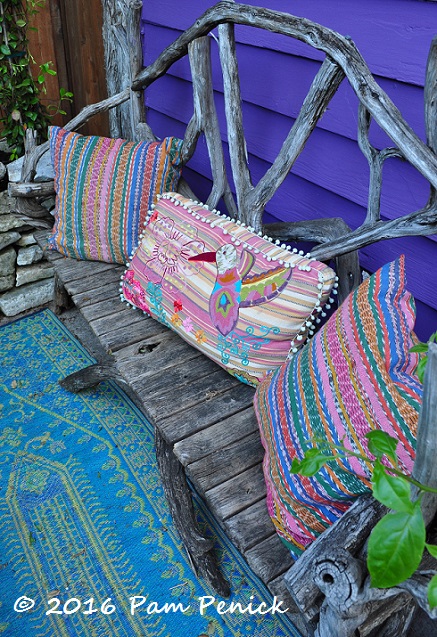 Colorful pillows dress up a cedar-branch bench.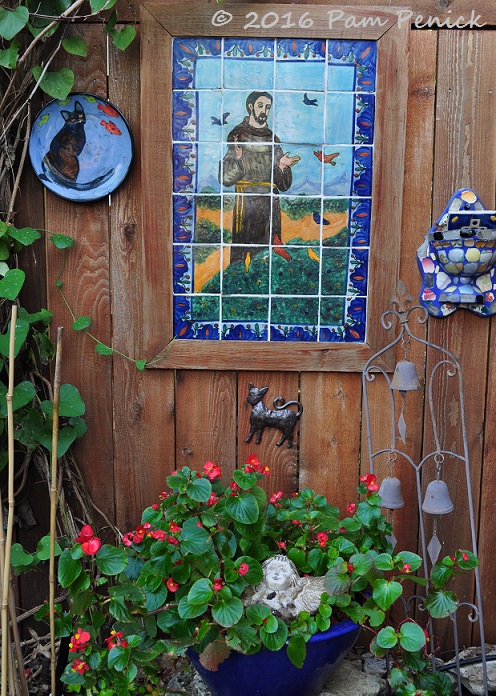 And St. Francis presides over a pot of red begonias.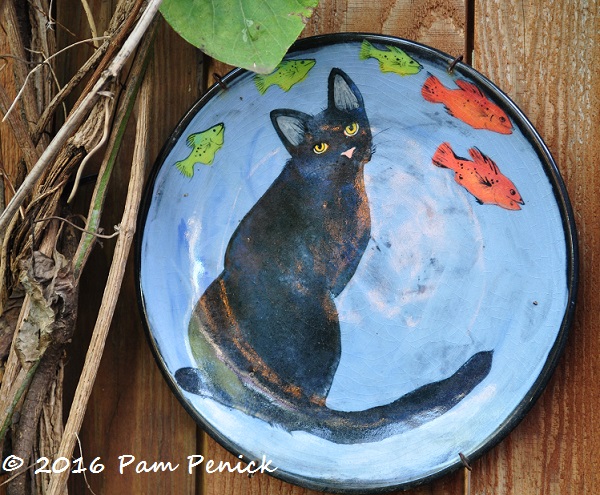 This adorable cat plate reminds Lucinda of a beloved former pet, Tita.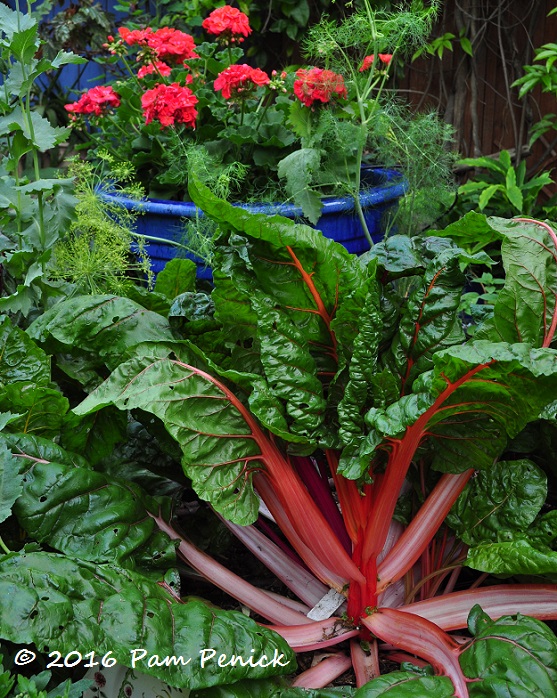 Chard pairs with red pelargoniums here.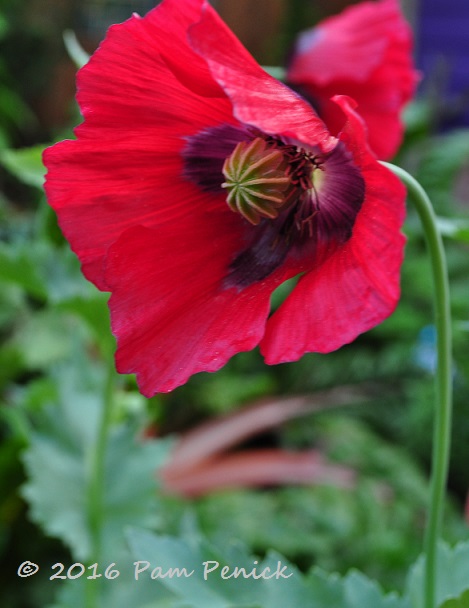 Red poppies pop against the purple garage.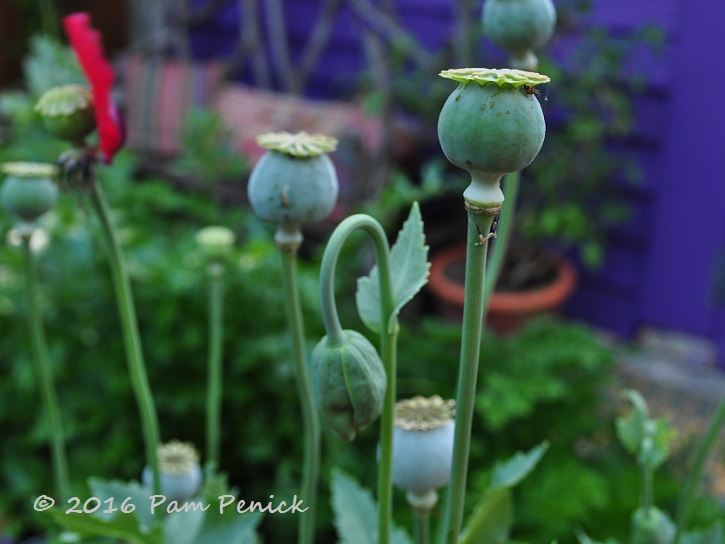 The seedheads look pretty too.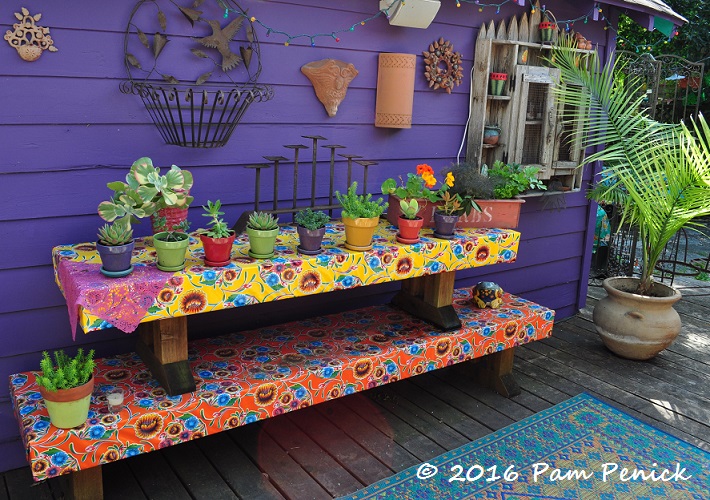 Lucinda's back deck is party central, with two tables covered in Mexican oilcloth set up as a buffet against the purple wall of her garage.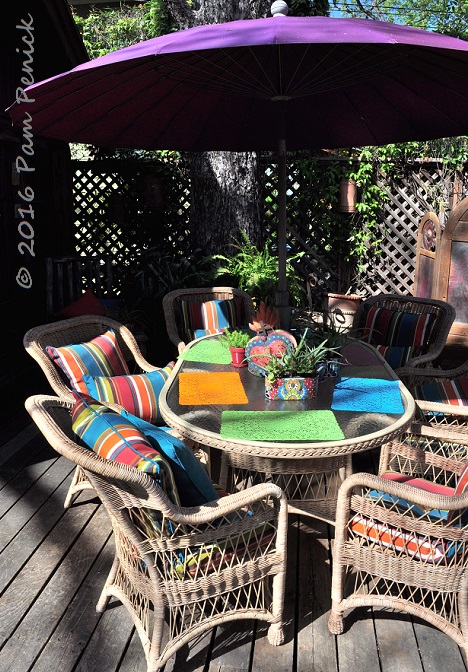 Comfortable patio seating under a purple umbrella says, "Make yourself at home."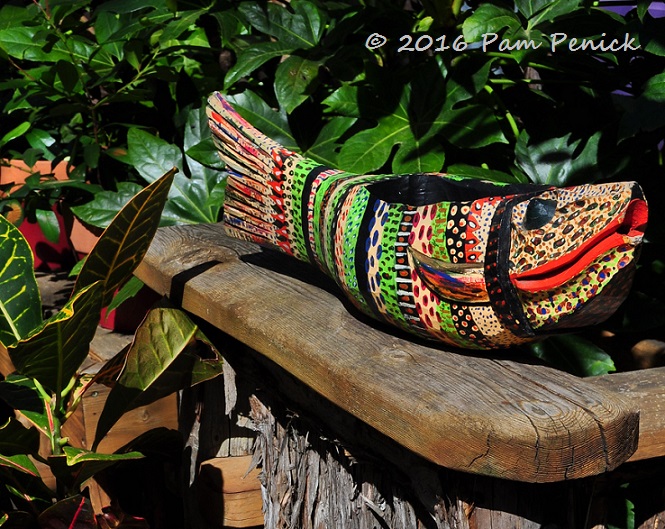 A colorful carved-wood fish planter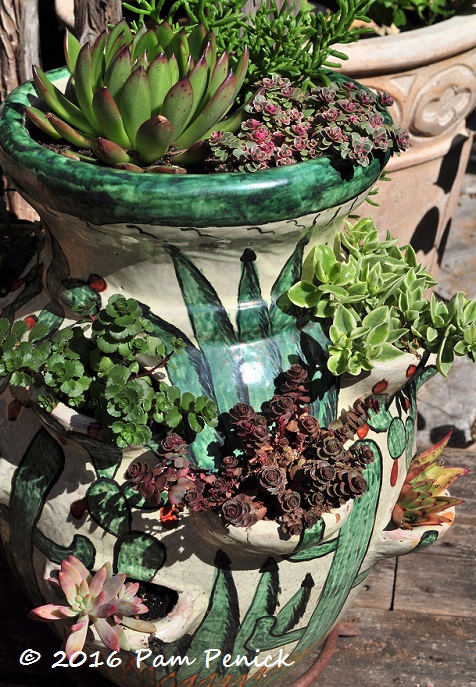 Lucinda told me she'd just planted up this cactus-themed strawberry pot — with succulents, of course. Perfect!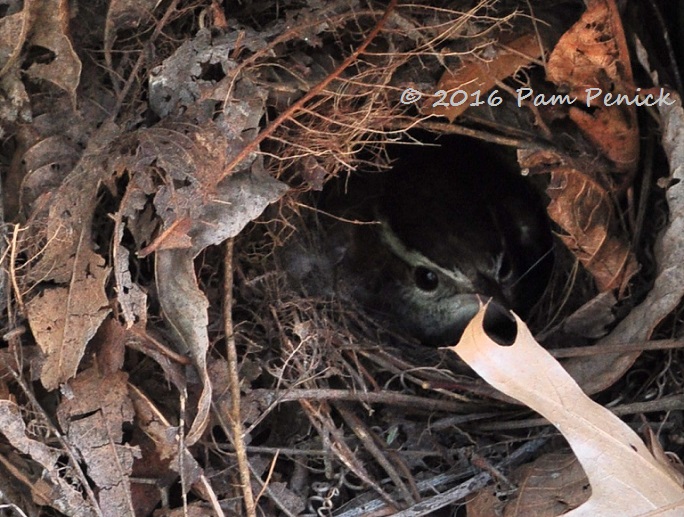 In a decorative cabinet on the wall, a wren had built a nest and sat tight as Lucinda pointed her out to me. Sweet little bird.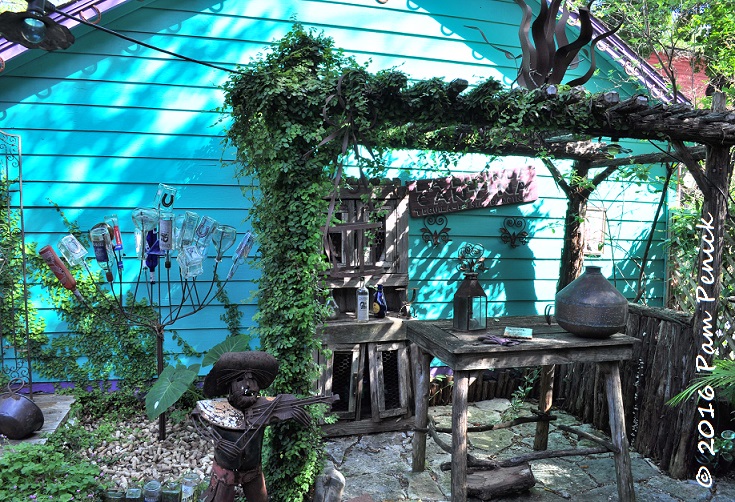 The back of the purple garage is painted turquoise, and Lucinda's Tequila Cantina is always set up and ready for a party.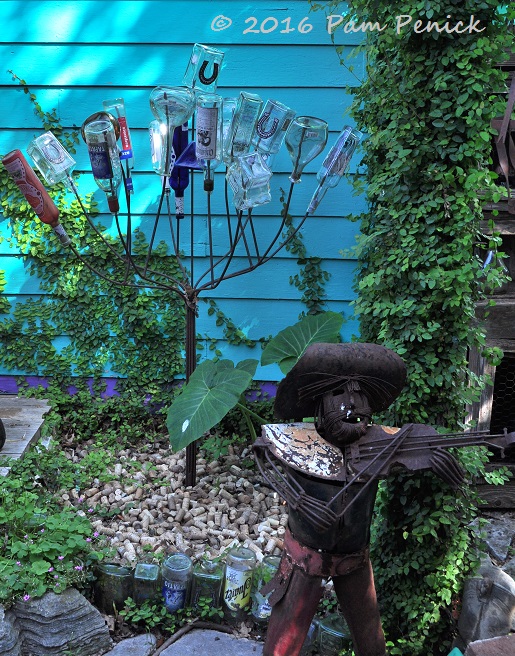 Metal mariachis never tire of playing, and a tequila bottle tree mulched with corks playfully illustrates Lucinda's fascination with the agave liquor.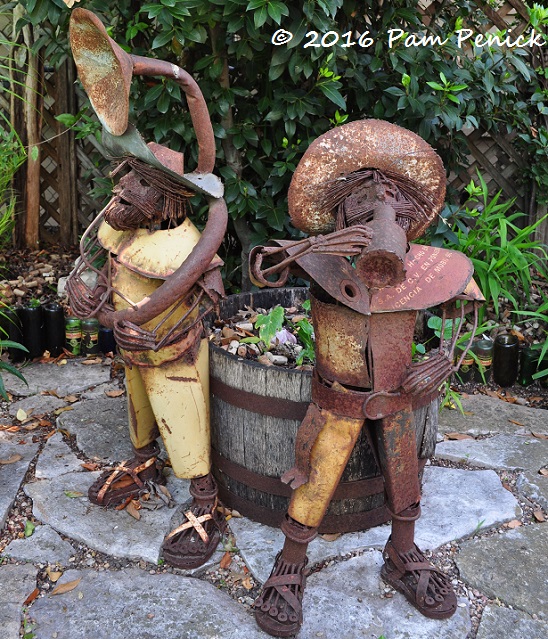 Drinking companions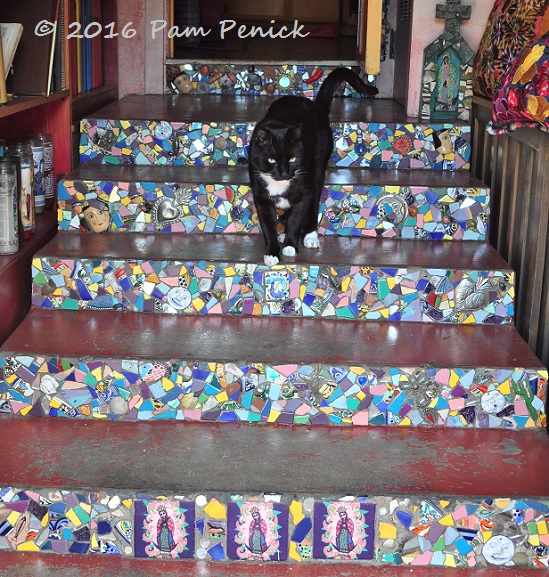 A sun porch at the back of her house has mosaic-tiled stairs that lead up to the kitchen. Lucinda calls it her "stairway to heaven," and considering the goodies she whips up in her kitchen, it really is. Here's Sancho, her cat, coming to greet us.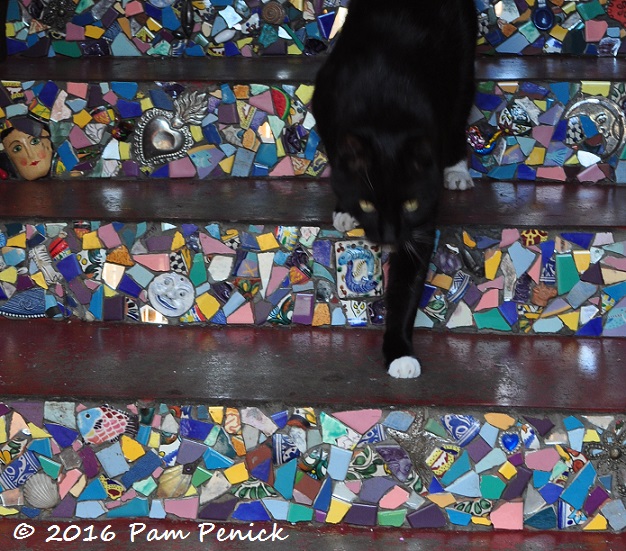 A closer look at the tilework, with little milagros, fishes, and faces mixed in.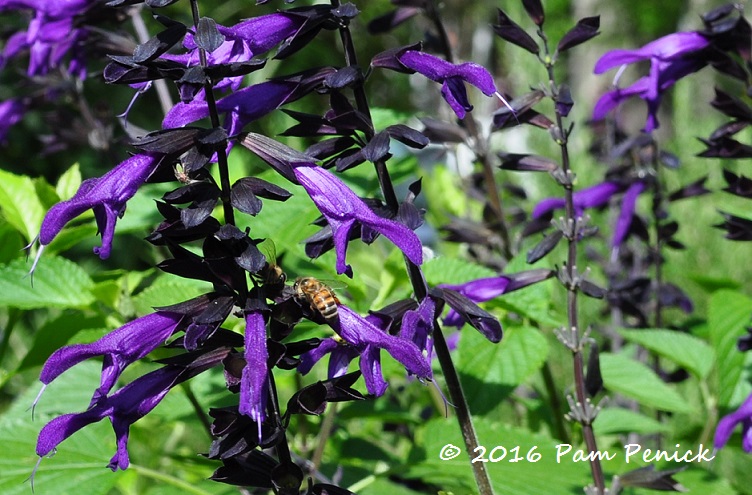 Back out front, bees were busy among the purple blossoms of 'Amistad' salvia.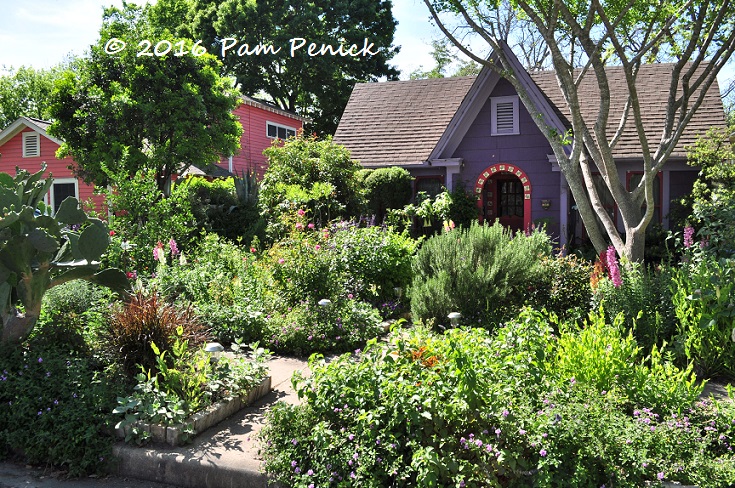 Thanks, Lucinda, for sharing your colorful home and garden with me again! Readers, if you'd like to see more of Lucinda's garden, here are my other posts about it:
Christmas in Mexico at Lucinda Hutson's home and garden, December 2015
Lucinda Hutson's purple cottage, cantina garden, and Viva Tequila!, April 2013
Lucinda Hutson's Easter-egg colorful garden, April 2012
Enchanted evening in Lucinda Hutson's cantina garden, April 2011
El Jardin Encantador: Lucinda Hutson's garden, October 2009
Lucinda Hutson's enchanting garden, April 2008
I welcome your comments. If you're reading this in an email, click here to visit Digging and find the comment link at the end of each post.
_______________________
Digging Deeper: News and Upcoming Events
Central Texans, don't forget the San Antonio Watersaver Landscape Tour is this Saturday, April 9, from 9 am to 3 pm. Reserve your shuttle time for this FREE walking tour of 6 water-saving gardens in the Inverness neighborhood.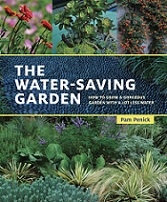 Do you review? Have you read my new book, The Water-Saving Garden? If you found it helpful or inspirational, please consider leaving a review — even just a sentence or two — on Amazon, Goodreads, or other sites. Online reviews are crucial in getting a book noticed. I really appreciate your help!
I'm on Instagram as pamdigging. See you there!
All material © 2006-2016 by Pam Penick for Digging. Unauthorized reproduction prohibited.
posted in
Agaves
,
Annuals
,
Arbors
,
Bees
,
Birds
,
Bottle tree
,
Bouquets
,
Butterflies/Moths
,
Cactus
,
Cats
,
Containers
,
Decor
,
Doors
,
Edibles
,
Fences
,
Flowers
,
Garden art
,
Garden tours 2016
,
Gates
,
Lawn Gone!
,
Palms/Cycads
,
Patios & decks
,
Ponds
,
Porch
,
Roses
,
Sculpture
,
Seating
,
Spring color
,
Trees
,
Water features