June 30th, 2015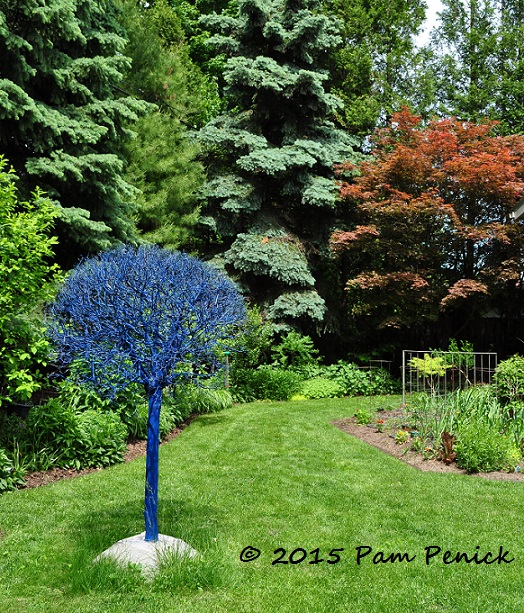 On our last day of the Toronto Garden Bloggers Fling in early June, we visited a private garden described as a wildlife garden. I didn't end up taking photos of its wildlife-attracting features, however. Instead I was drawn to the artful touches found throughout, many of them composed of natural materials. Most prominent was a blue-painted dead tree, centered like sculpture in the back lawn.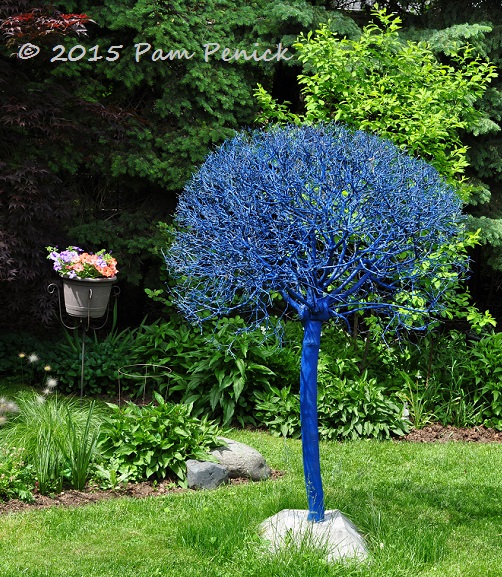 What an incredible focal point, don't you think?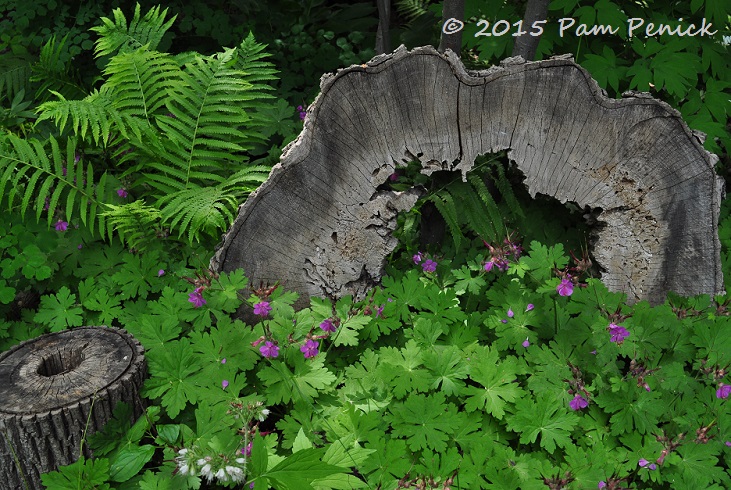 I also admired this cross-section of a tree stump, set on edge to become a sculptural accent in a shady bed.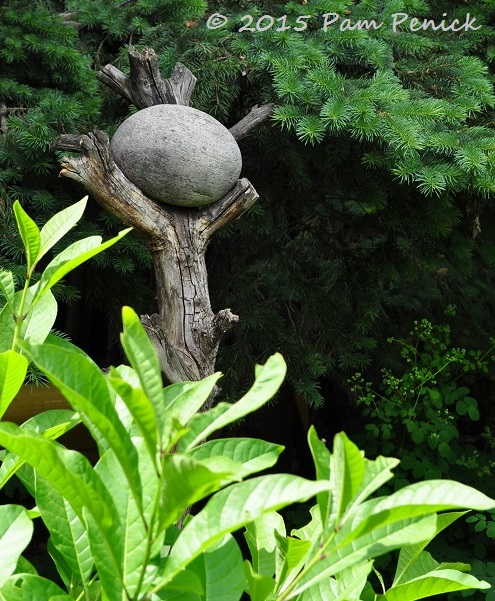 And this egg-shaped stone, cradled in an upright tree branch.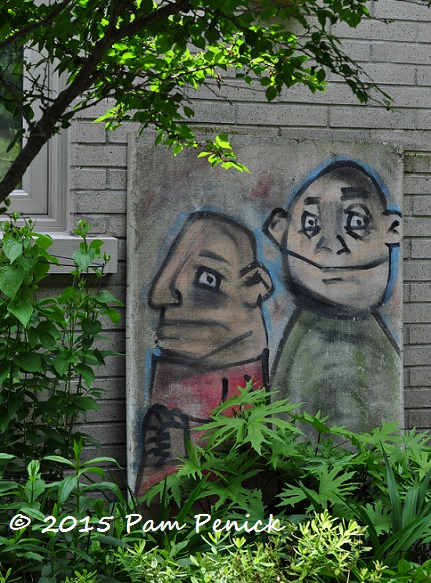 Two cartoon-style paintings, hung on exterior walls of the house, create surprise and amusement as you encounter them along the paths.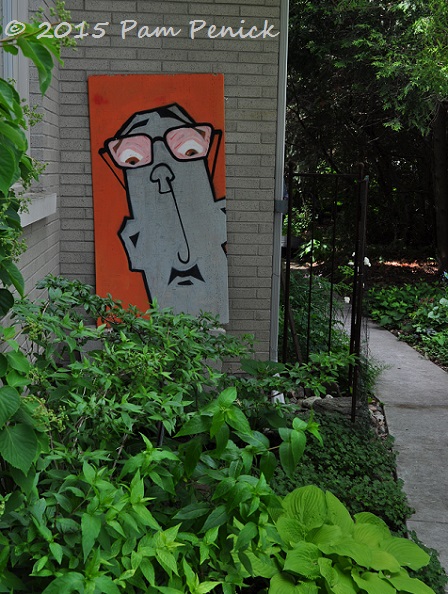 This fellow seems a little worried about something, doesn't he?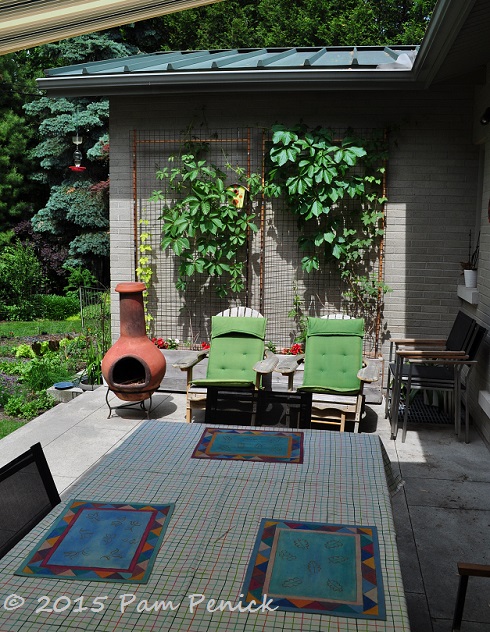 The back patio is inviting and homey, offering a prime view of the blue tree.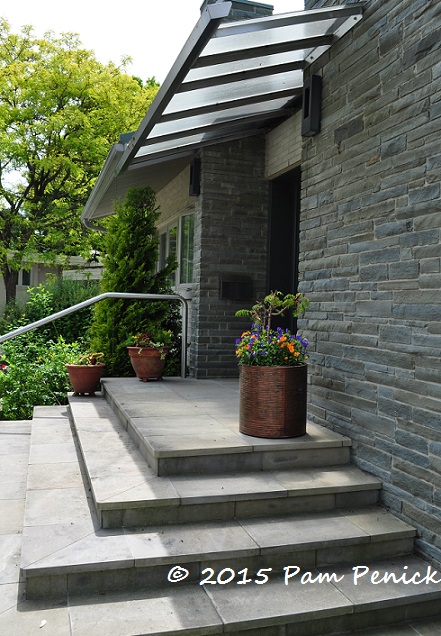 In front, a contemporary porch holds a few pots of colorful annuals.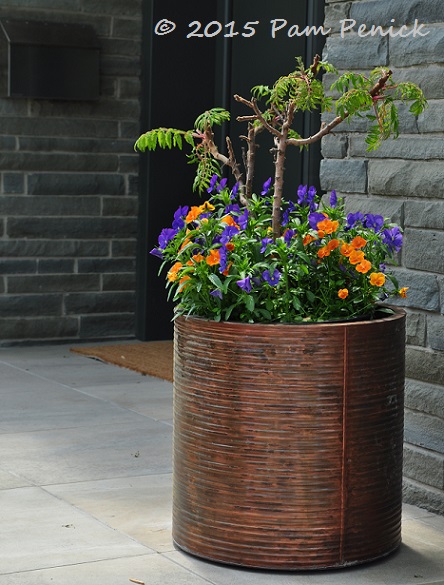 I like this copper-colored planter.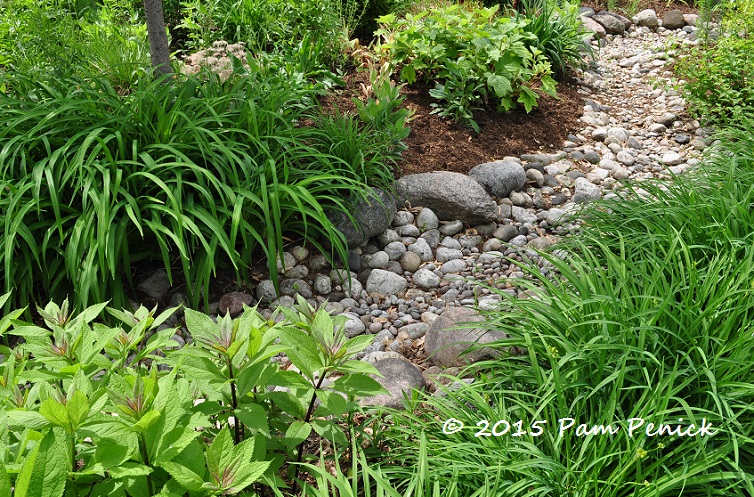 The front garden slopes toward the street, and runoff has been tackled with a lovely dry stream that winds through the lawnless garden.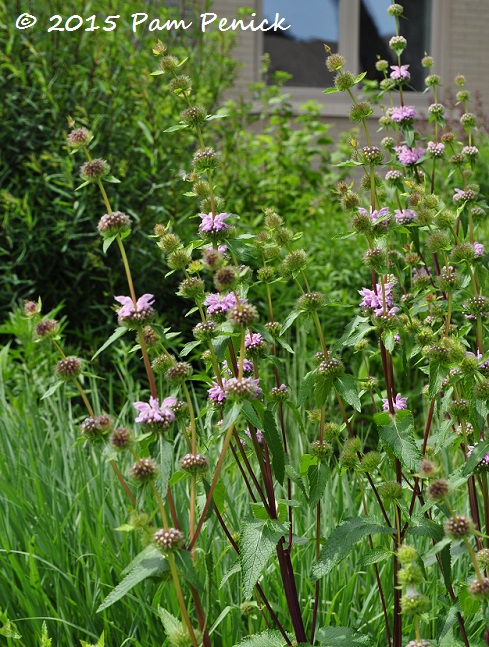 Here pollinator plants are favored, like this Jerusalem sage. Although intimately familiar with the yellow-flowering Phlomis, I'd never seen the pink cultivar. I love it.
Sometimes it's the little details in a garden that really grab you.
Coming up next: My tour of Toronto Botanical Garden, where Toronto Fling officially concluded. For a look back at the Evergreen Brick Works community greenspace, click here.
All material © 2006-2015 by Pam Penick for Digging. Unauthorized reproduction prohibited.
posted in
Containers
,
Decor
,
Dry Streams
,
Fling Toronto
,
Garden art
,
Garden tours 2015
,
Lawn Gone!
,
Patios & decks
,
Rock
,
Sculpture
,
Seating
,
Travel
,
Trees
,
Vines
,
Wildlife