November 8th, 2009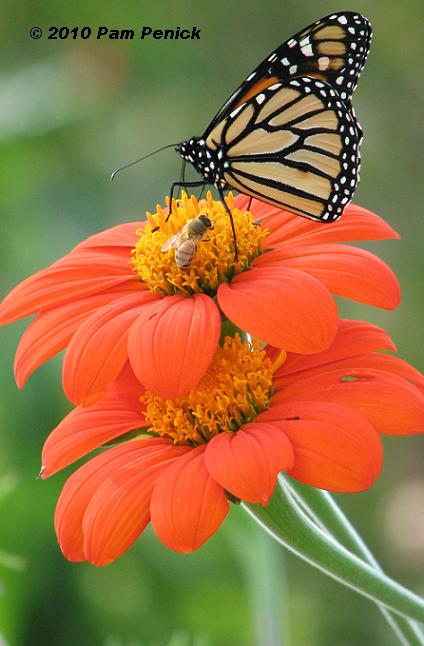 A monarch and honeybee share space on a Mexican sunflower (Tithonia rotundiflora)
Twelve Austin garden bloggers caravaned to San Antonio on Saturday to visit San Antonio Botanical Garden and the Antique Rose Emporium, with a stop along the way at Madrone Nursery in San Marcos, a native-plant nursery open by appointment only. I had a great time getting to know new bloggers and seeing the sights with those who have become old friends.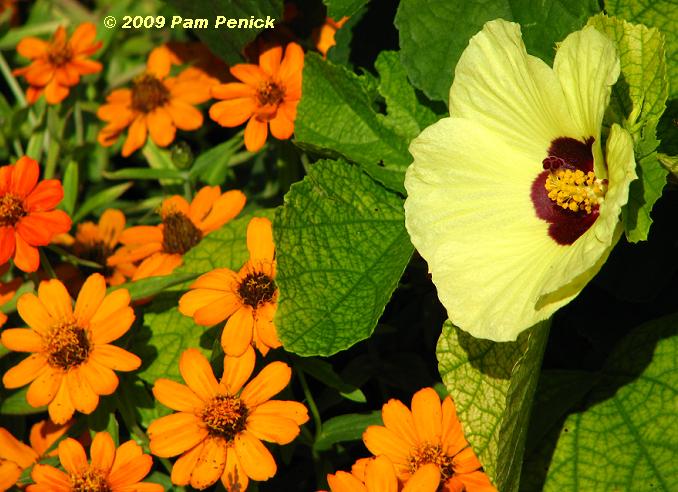 San Antonio is an hour and a half south of Austin and shares a similar climate and geography. However, its gardens always seem much more tropical than ours.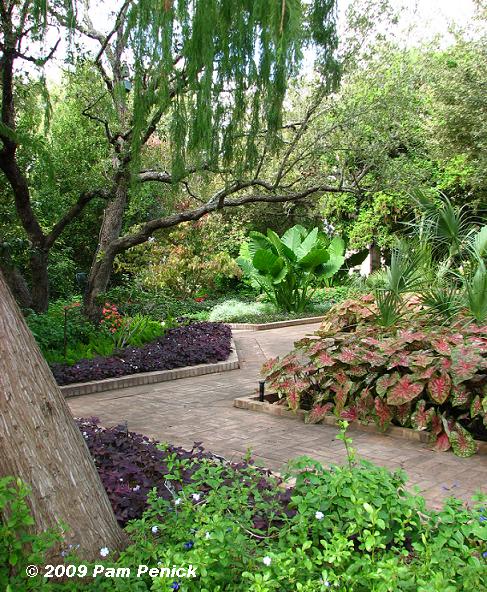 I wonder if it's really that much warmer there in the winter and whether they get more rainfall in the summer. Or maybe it's simply the aesthetic of what they choose to plant, as Austinites can grow many tropicals as well.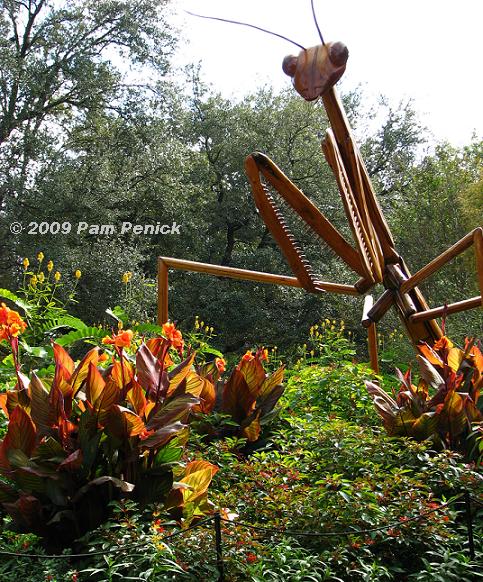 Speaking of big and bold tropical plants, like these orange canna lilies, check out this terrifyingly large praying mantis. It's part of the Big Bugs exhibit on display through January 3rd. A few years ago, Big Bugs came to the Wildflower Center in Austin; click for my pics.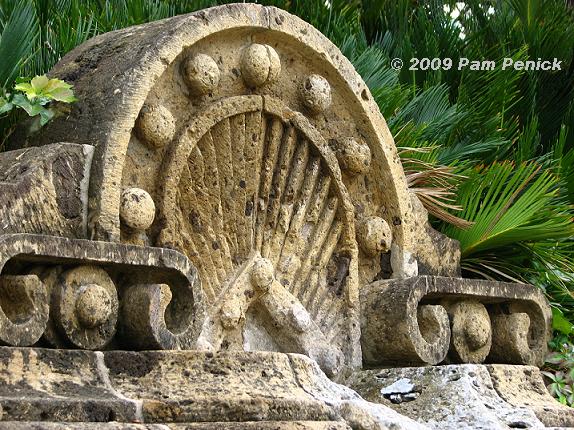 The garden is located in what I think of as Old San Antonio, the lush, green oasis near the center of town, where the Alamo, the Riverwalk, the zoo, and other gardens can be found. This detail of a formal fountain (turned off, sadly, like all the others due to watering restrictions during the ongoing drought) reminds me of the city's Spanish missions.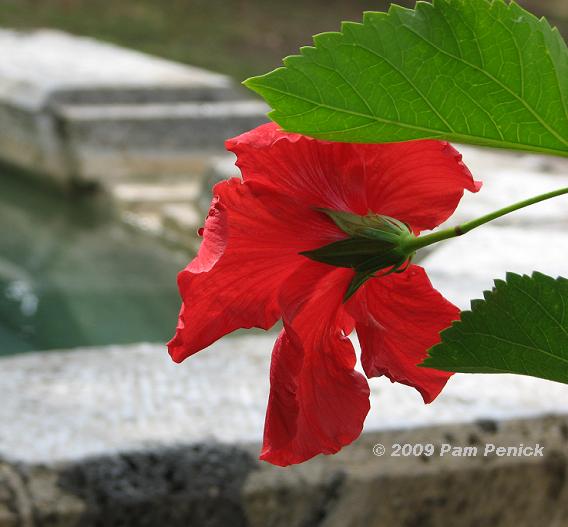 Red hibiscus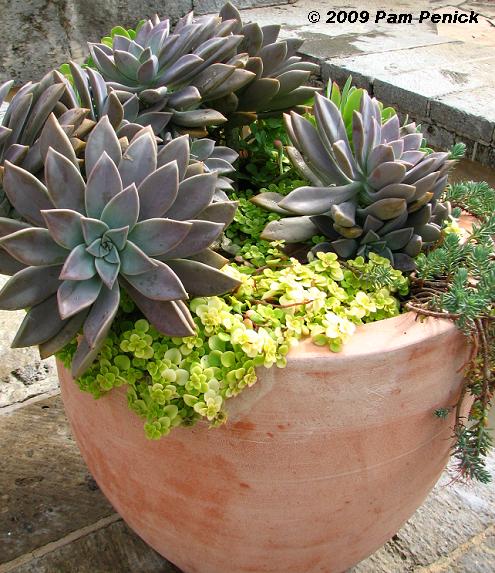 Succulents in a simple clay pot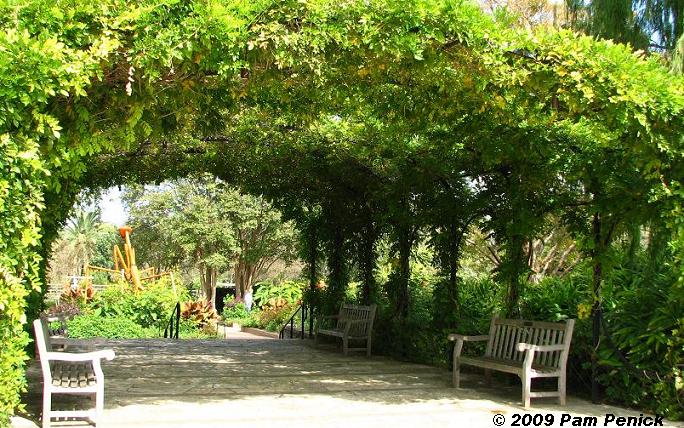 A series of wisteria-draped arbors creates a shady tunnel near the entrance to the garden. I'd love to see this in bloom one day.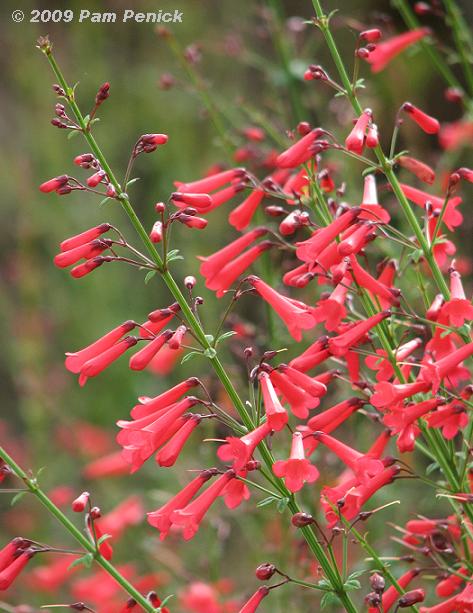 Firecracker fern or a penstemon? I'm not sure. Update: Consensus is a penstemon of some sort, perhaps firecracker penstemon (Penstemon eatonii).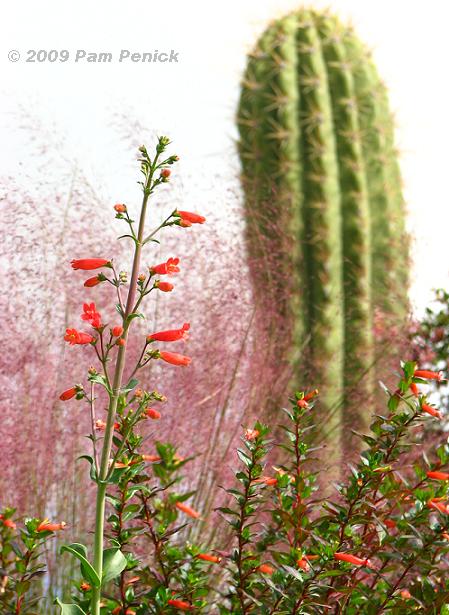 Here it is again (on the left), with cigar plant (Cuphea ignea), Gulf muhly grass, and a columnar cactus. What a unique grouping!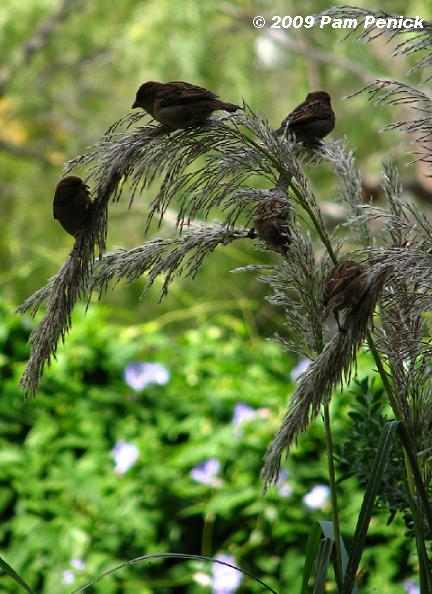 We all rushed over to snap pics of a flock of sparrows noshing on grass seeds.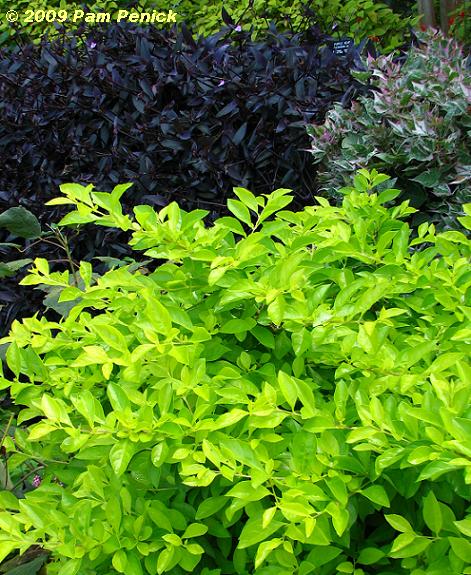 I noticed a lot of chartreuse paired with dark purple or "black" foliage. I think this is duranta in front and purple heart spilling over a wall in back.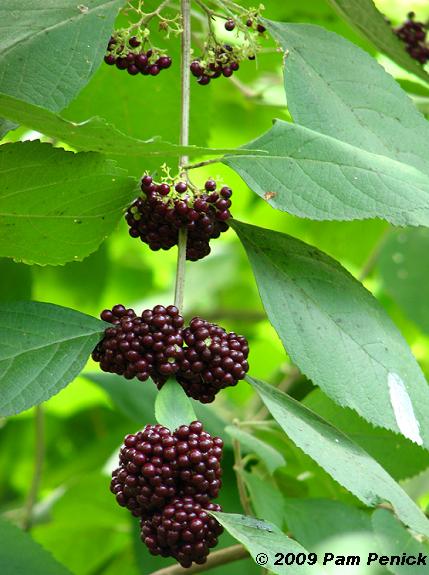 Wow, check out this black beautyberry (Callicarpa acuminata). I love the dark wine-colored berries of this variety.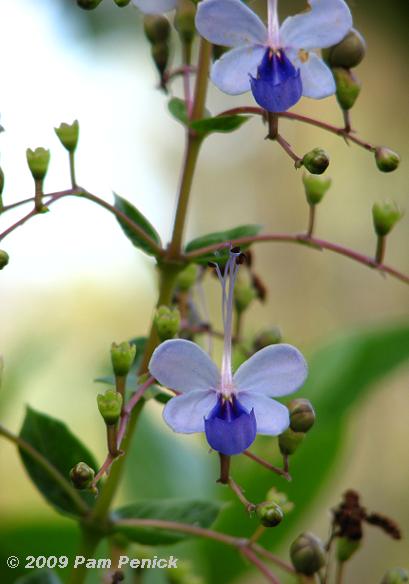 Appropriately named butterfly Clerodendrum (Rotheca myricoides 'Ugandense').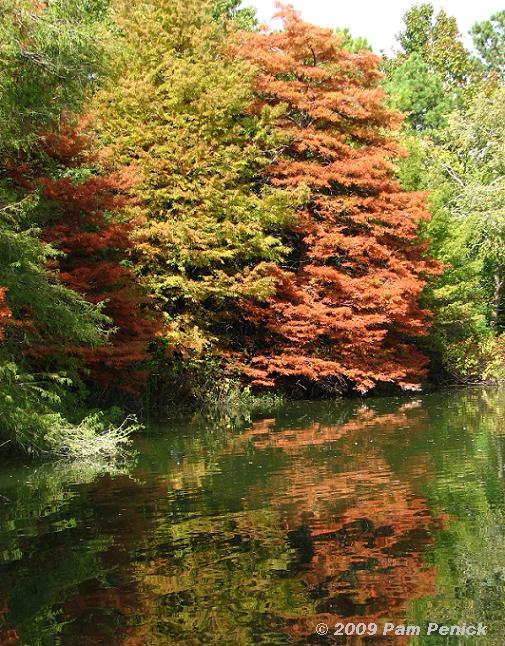 What passes for fall color in central Texas appeared to advantage along a small lake. The bald cypresses were turning rusty orange.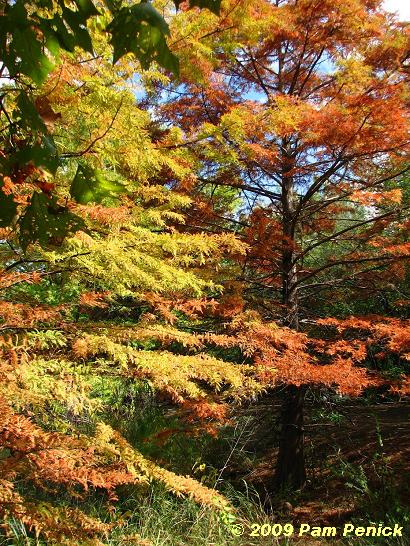 Another look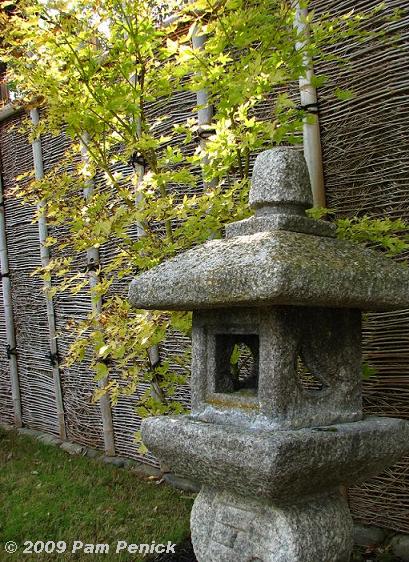 The Japanese garden is smaller than Austin's Taniguchi Garden at Zilker Botanical Garden, and the pond is dry due to the watering restrictions (were there no fish?). But this expressive vignette of a yellowing Japanese maple and stone lantern caught my eye.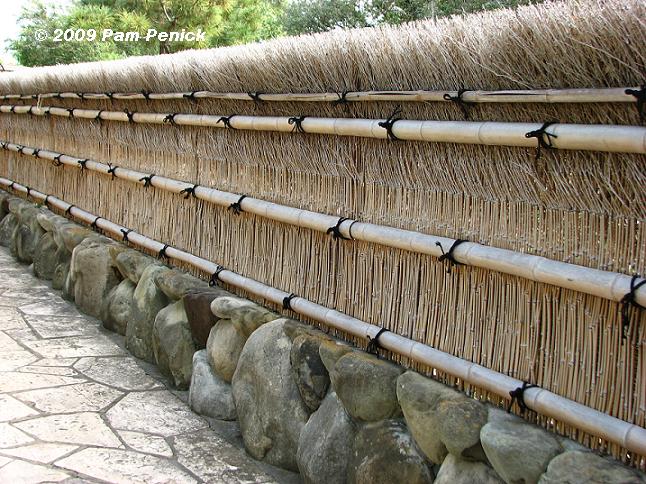 The woven fence that surrounds the garden is beautiful.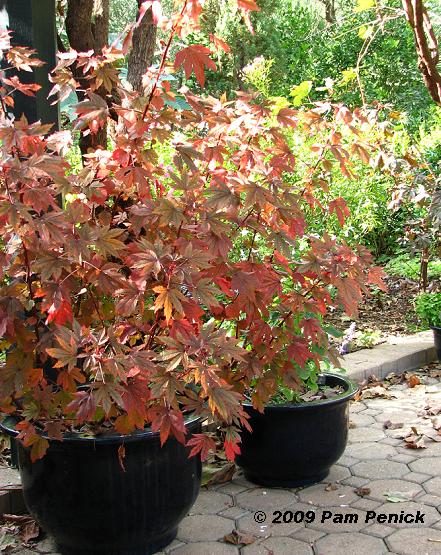 Elsewhere in the garden, another Japanese maple in a pot gives a little fall color.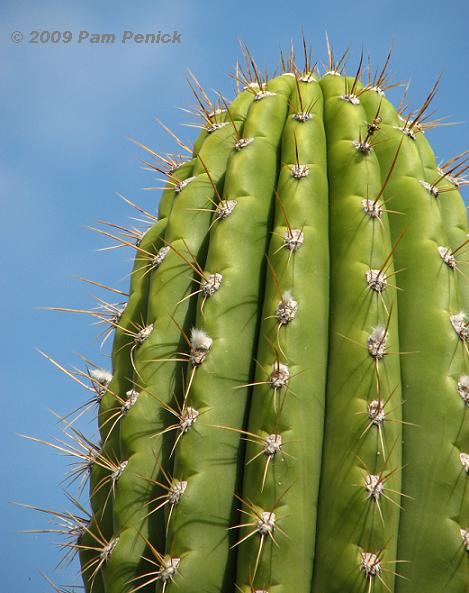 Of course, cacti are perhaps better suited to San Antonio's climate than Japanese maples, and the garden showcases plenty of them, including this non-native columnar giant.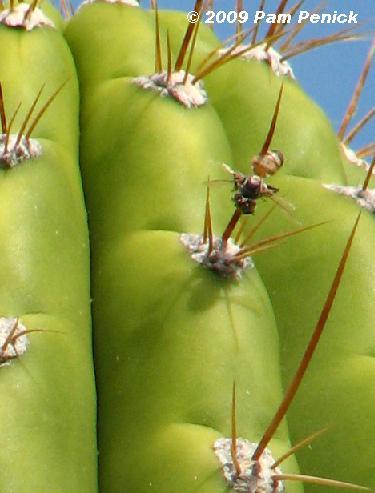 Looking at this image on my computer, I noticed the bee impaled on one of the spines. I wonder how that happened.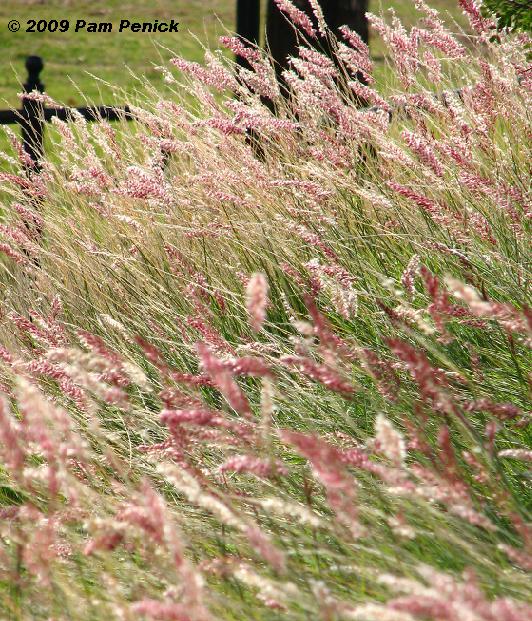 How I love 'Ruby Crystals' grass (Melinis nerviglumis).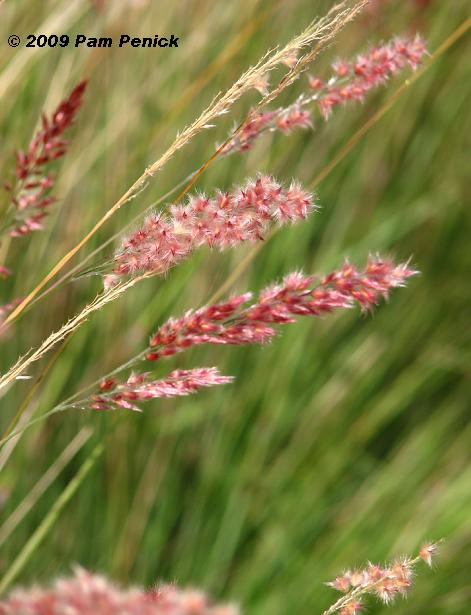 It grows only about 2 feet tall and is reputed to be drought-tolerant and a heavy reseeder. But I had three little ones in my old garden in full sun that struggled and never did much. Maybe I'll try it again one day.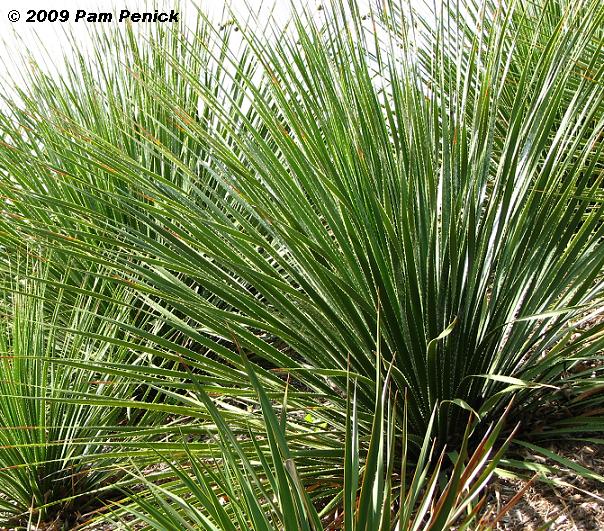 Texas sotols shimmer and capture the light.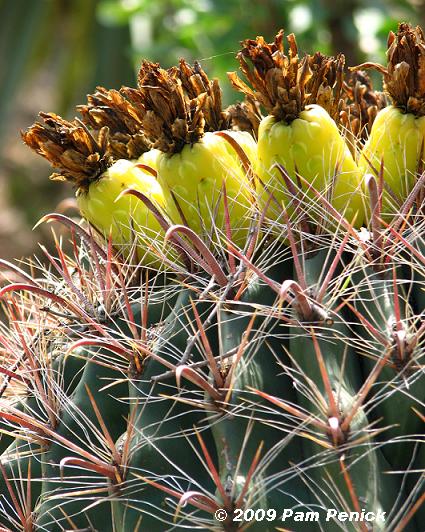 I'm not sure what kind of cactus this is, but the yellow fruit caught my eye.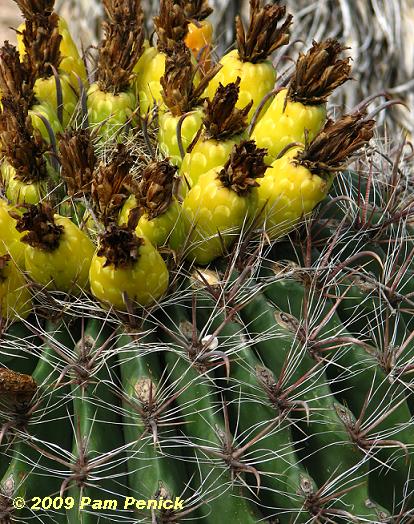 They look like miniature pineapples, don't they?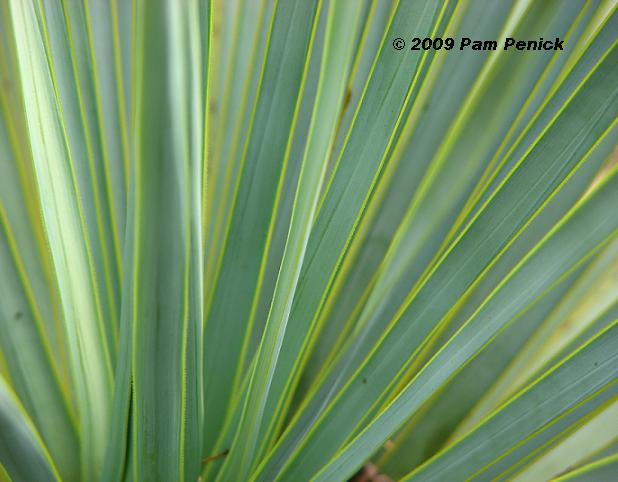 Yucca leaves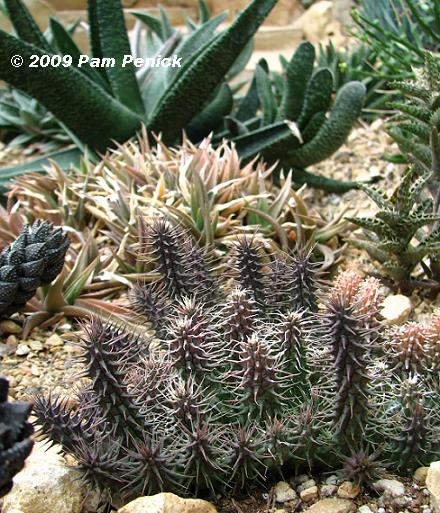 Tender succulents and cacti as well as tropical plants are displayed in several conservatories.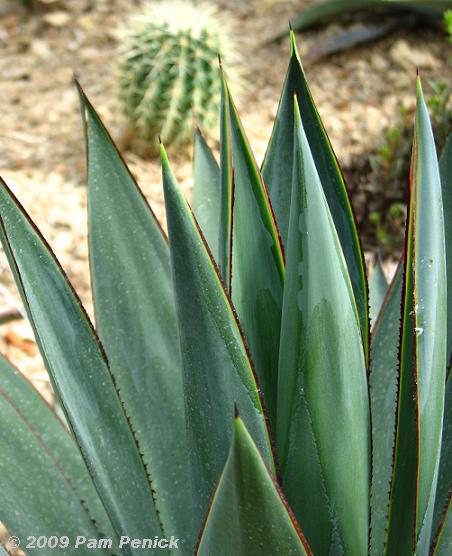 Agave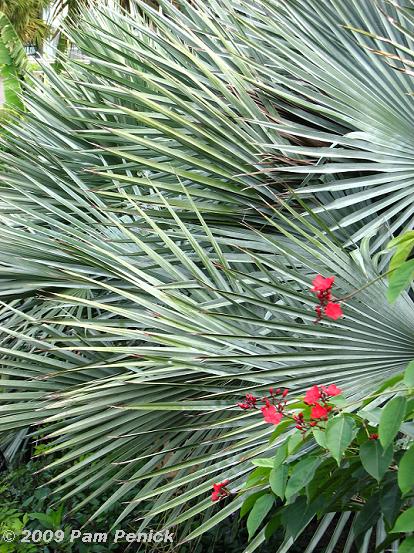 The botanical garden showcases a number of beautiful palms.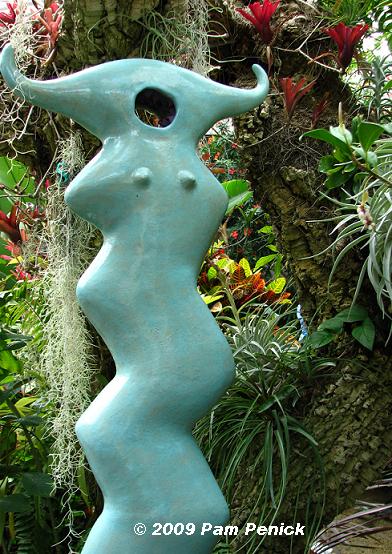 Garden sculpture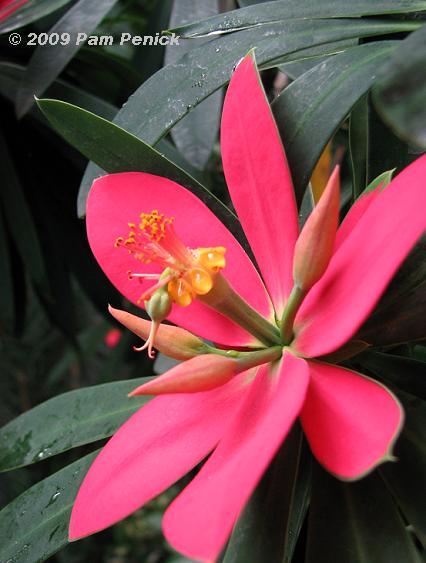 In one conservatory I noticed this lovely red euphorbia flower.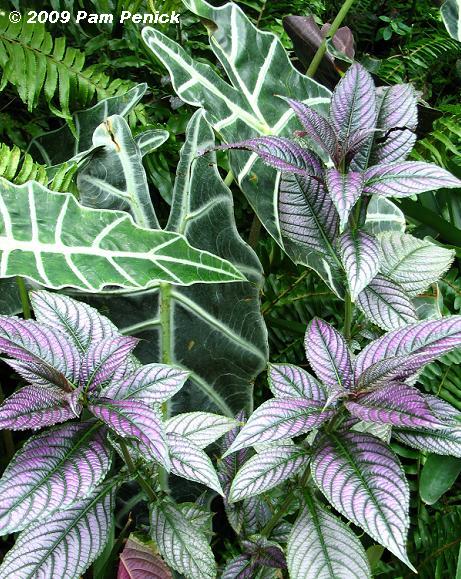 Persian shield's gorgeous purple-and-silver foliage adds rich color to a shady garden. This is an annual in Austin.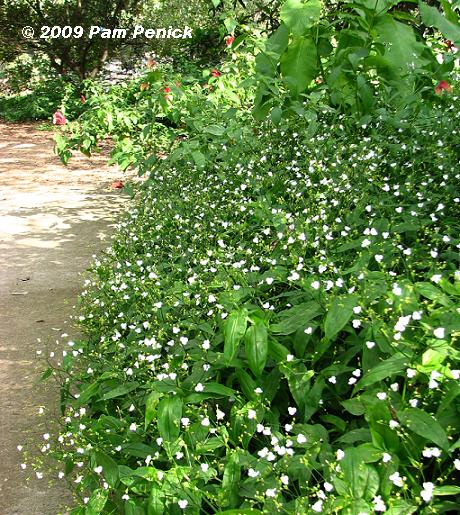 Like 'Diamond Frost' euphorbia, white spiderwort provides an airy, bright border for a shade garden.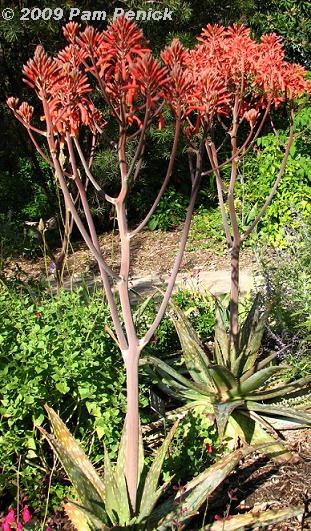 Aloes were in bloom in the Old-Fashioned Garden. Aloes are old-fashioned? Funny, they have such a contemporary vibe in Austin.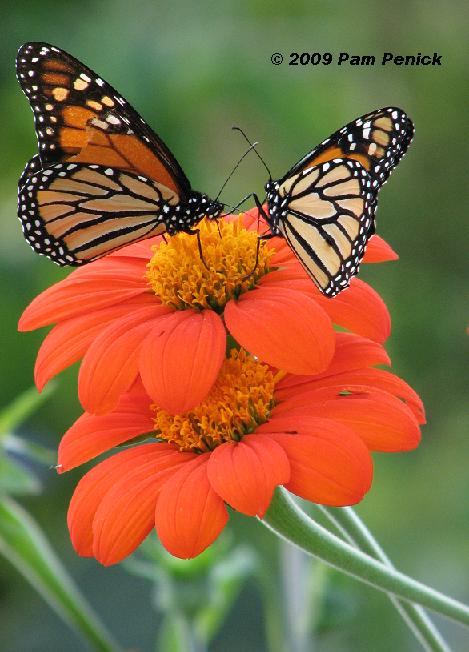 Tithonia is a favorite of the migrating monarchs.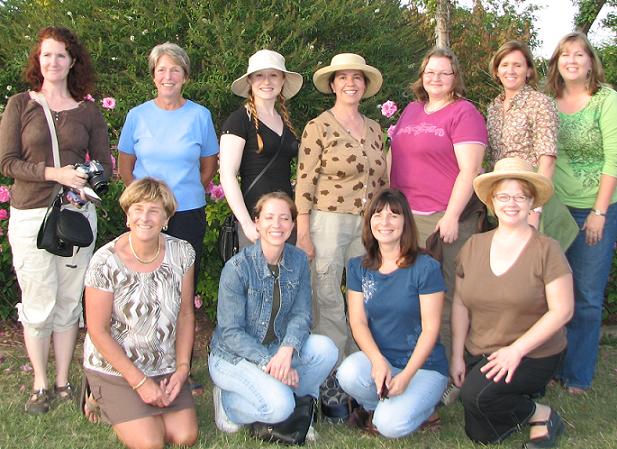 After seeing the botanical garden we headed over to the Antique Rose Emporium (click for my post about it), where this picture was taken. From left to right, front to back: Jenny of Rock Rose, Laura of Some Like It Hot, Diana of Sharing Nature's Garden, Caroline of The Shovel-Ready Garden, Meredith of Great Stems, Eleanor of Garden of E, Lori of The Gardener of Good and Evil, MSS of Zanthan Gardens, Rachel of In Bloom, Amy of Go Away, I'm Gardening!, and myself right here at Digging. Not pictured: Jenny of Morning Glories in Round Rock, who had to leave early. Thanks, everyone, for coming along and making it such a fun outing!
If you're curious about last year's blogger field trip to Peckerwood Garden, click here. And if you'd like more of the San Antonio Botanical Garden, click for my post about a late-summer visit in 2007.
All material © 2006-2009 by Pam Penick for Digging. Unauthorized reproduction prohibited.