May 25th, 2016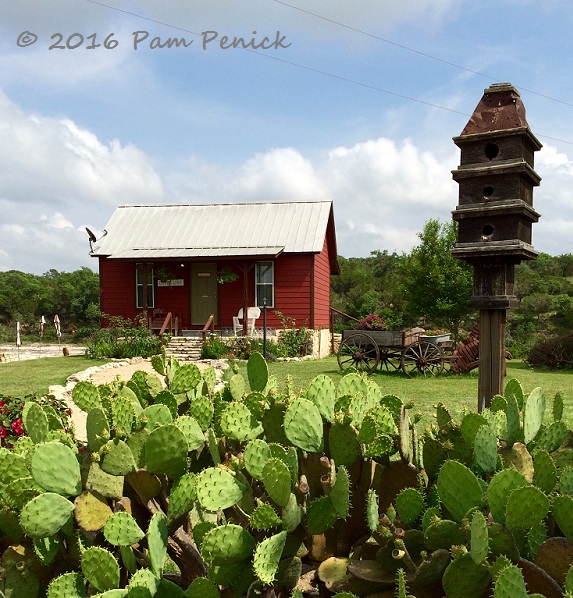 I dined at a flower farm in Blanco, Texas, last weekend, which I plan to write about soon. But for now, a teaser of Blanco charm.
This little red cabin is one of several at Blanco Settlement, a welcoming outpost of 9 rentable cabins, RV hookups, a pavilion, and a gift shop clustered along the scenic Blanco River. My traveling companion and I spotted it as we drove into Blanco, and we couldn't resist pulling over to take a look. We later learned that slow-flowers maven Debra Prinzing, who'd invited us to the dinner as her garden-writer guests, was staying the night in one of these adorable cabins. I hope it was this one!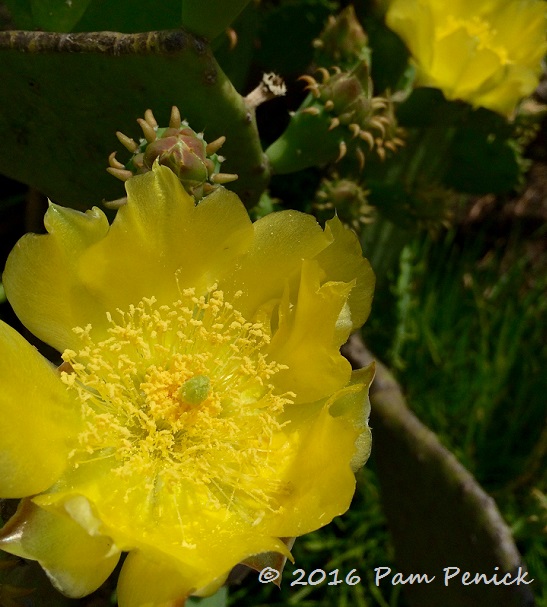 Prickly pear in glorious bloom
It's been one year since the 2015 Memorial Day flood devastated parts of central Texas. Blanco Settlement was hit hard, with 17 RVs washed down the river, the riverbank below the cabins torn away by the force of the water, and an emergency evacuation of park guests that night that kept everyone safe. A year later, as we strolled past the cabins and admired the river view, we casual visitors couldn't even tell that the flood had happened. A lot of reconstruction over the past year has erased the damage.
I hope Texas never sees another flood like that one. But it's reassuring to know that a place as charming as this, in such a beautiful setting, can endure.
I welcome your comments; please scroll to the end of this post to leave one. If you're reading this in a subscription email, click here to visit Digging and find the comment box at the end of each post.
_______________________
Digging Deeper: News and Upcoming Events
Come see me at Festival of Flowers in San Antonio, May 28, 10:45-11:45 am (new time!). Get inspired to save water in your garden during my presentation at San Antonio's 19th annual Festival of Flowers. I'll be at the book-signing table after the talk, with copies of both The Water-Saving Garden and Lawn Gone! available for purchase. Tickets to the all-day festival, which includes a plant sale and exchange, speakers, and a flower show, are available at the door: $6 adults; children under 10 free. Free parking.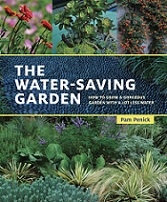 Do you review? Have you read my new book, The Water-Saving Garden? If you found it helpful or inspirational, please consider leaving a review — even just a sentence or two — on Amazon, Goodreads, or other sites. Online reviews are crucial in getting a book noticed. I really appreciate your help!
All material © 2006-2016 by Pam Penick for Digging. Unauthorized reproduction prohibited.