June 16th, 2016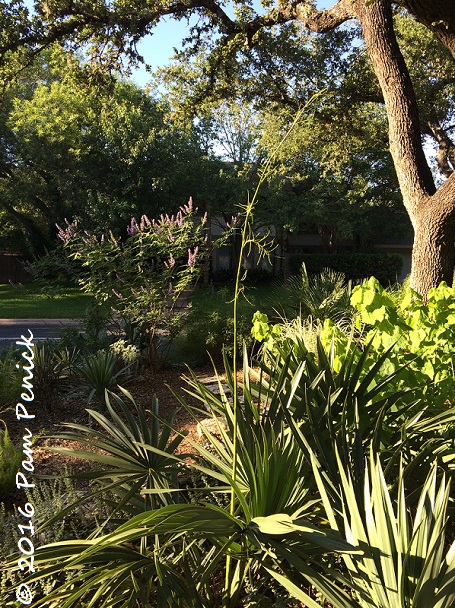 Even plants we grow primarily for the beauty of their leaves and their form will flower. On this Foliage Follow-Up, I'm sharing two bold-foliage plants that are adding a jolt of drama with surprising bloom stalks.
One is dwarf Texas palmetto (Sabal minor), a native Texas plant that I've never seen in bloom before. Boy, was I surprised recently to see a slender, pliable flower spike arise from the heart of one of my sabals. Inconspicuous, cream-colored flowers are held on branching stems along the top of the spike. This is as showy as they get. Later, small black fruits should appear on the spike.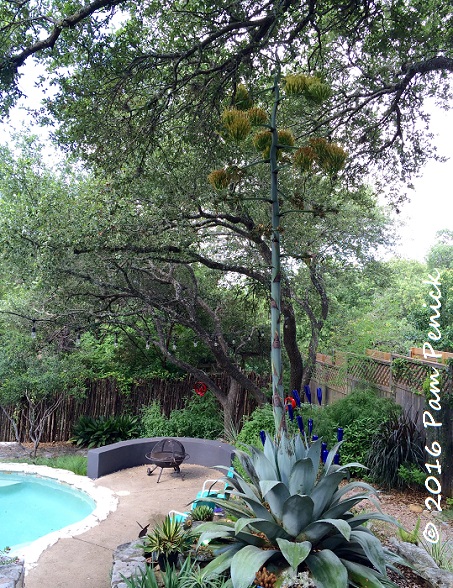 Regular readers know that Moby, my whale's tongue agave (A. ovatifolia), is blooming — a tree-like flower spike that shot up to 15 feet in a matter of weeks. Tiers of yellow flowers are opening from bottom to top, with the lower-tier flowers already faded and dropped. The topmost flowers are still in bloom for now.
As dramatic as the bloom spike is, it presages Moby's death, since agaves bloom just once and then die.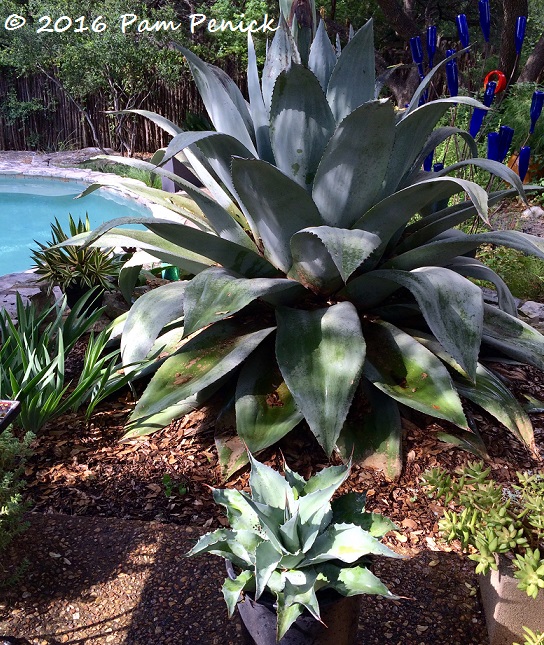 Moby's beautiful blue-gray leaves still look pretty good for now. The plant hasn't begun its inevitable collapse. But in preparation for that day, I now have a new Agave ovatifolia waiting in the wings — a lovely gift from horticulturist Nathan Unclebach at Hill Country Water Gardens & Nursery! Meet 'Vanzie', a wavy-leaved variety of the standard whale's tongue, which will take Moby's place when he dies.
This is my June post for Foliage Follow-Up. Fellow bloggers, what leafy loveliness is going on in your garden this month? Please join me in giving foliage its due on the day after Bloom Day. Leave a link to your post in a comment below. I'd appreciate it if you'll also link to my post in your own — sharing link love! If you can't post so soon after Bloom Day, no worries. Just leave your link when you get to it. I look forward to seeing your foliage faves.
I welcome your comments; please scroll to the end of this post to leave one. If you're reading this in a subscription email, click here to visit Digging and find the comment box at the end of each post.
_______________________
Digging Deeper: News and Upcoming Events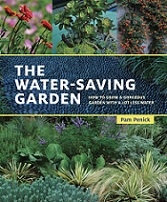 Do you review? Have you read my new book, The Water-Saving Garden? If you found it helpful or inspirational, please consider leaving a review — even just a sentence or two — on Amazon, Goodreads, or other sites. Online reviews are crucial in getting a book noticed. I really appreciate your help!
All material © 2006-2016 by Pam Penick for Digging. Unauthorized reproduction prohibited.