May 20th, 2017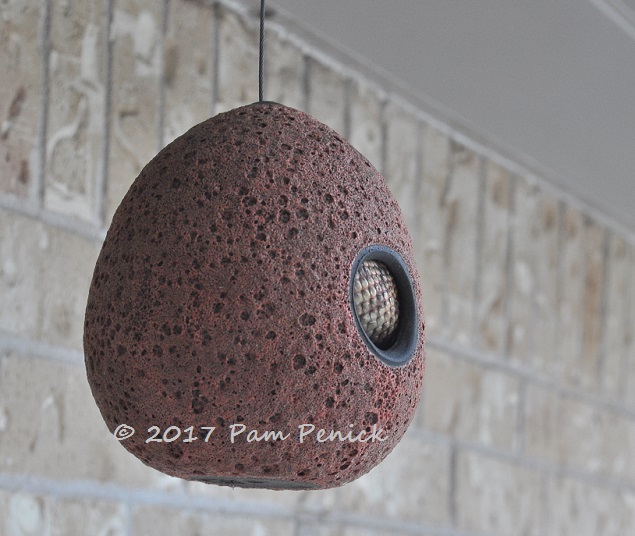 Tragedy for the wrens raising week-old chicks in a birdhouse I've been observing from my office window. Yesterday morning, as I sat down at my desk, I looked out to check on the little family — I've been watching the parents feeding the chicks — and something looked strange. I got up for a closer look and gasped as I realized a snake was coiled inside the birdhouse, its scaly side blocking the doorway.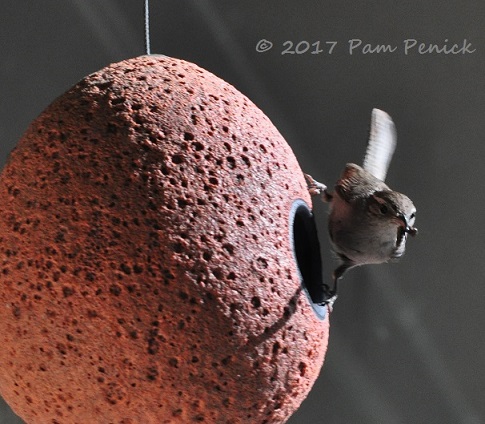 Just the day before, I'd photographed the wrens feeding their peeping chicks.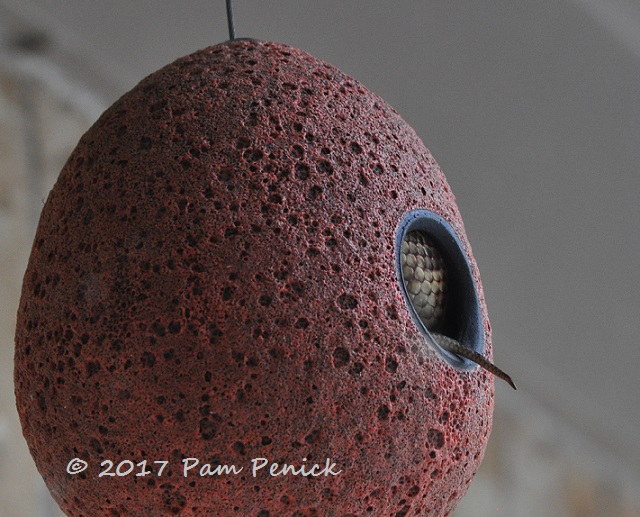 But overnight, apparently, a rat snake had Houdinied its way up the side of the house (yes, rat snakes can climb brick walls), about 8 feet from the ground, and across a foot of space to reach the birdhouse opening on the side facing away from the wall. It was quite a feat.
I was on deadline for a writing assignment, so I camped out in my office all day, looking up periodically in hopes of seeing the snake emerge. But the darn thing stayed put all day long, only occasionally shifting position and revealing the tip of its tail.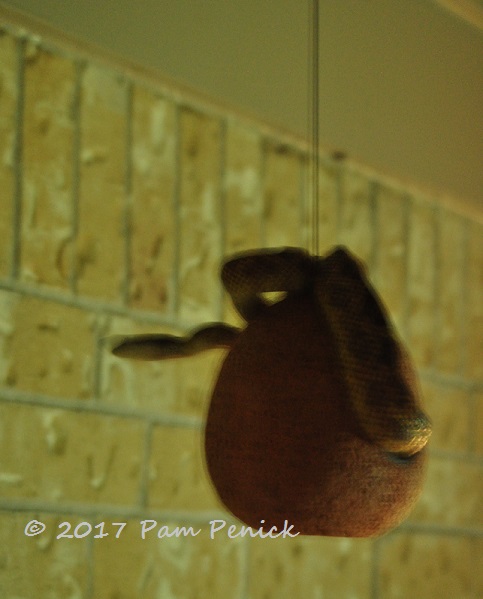 Finally I left to make dinner, and afterward I popped back into my office for another look. It was dark outside, so I had to use a cell phone flashlight to see — and I spotted movement. "The snake's coming out!" I yelled, and everyone came running. The pics are blurry because it was dark, but you can see the snake stretching for the brick wall while still anchored in the hole. Amazing.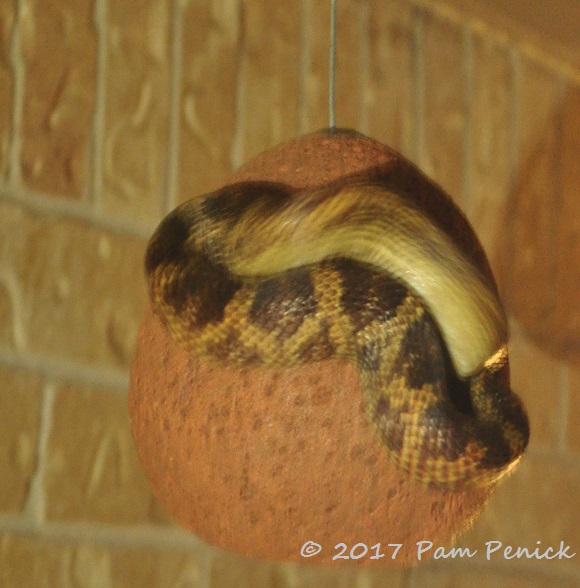 Our lights and activity startled the snake, and rather than risk a tricky descent it retreated back into the birdhouse, slithering in like an octopus squeezing itself through a hole.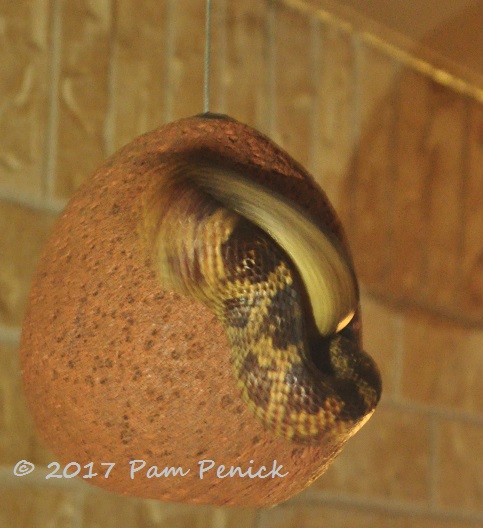 Going, going, gone. And so are the wren chicks, sadly. But snakes have to eat too, and it's been fascinating to watch. Being wildlife friendly means accepting nature's brutality, which was happening even with the wrens as they fed live caterpillars and other insects to their young. I won't kill a snake in my garden unless I feel it poses a danger to my family, and rat snakes are harmless to humans and largely beneficial, as they do hunt rodents.
Still, it's painful to lose the wrens.
I welcome your comments; please scroll to the end of this post to leave one. If you're reading this in a subscription email, click here to visit Digging and find the comment box at the end of each post.
_______________________
Digging Deeper: News and Upcoming Events
The Austin Daylily Society will host a free garden tour on Sunday, May 28, from 10 am to 2 pm. Four private gardens featuring lots of daylilies will be open to the public, including Tom Ellison's lovely Tarrytown garden.
Calling all pond lovers! The Austin Pond & Garden Tour is coming up June 3rd (North Austin ponds and night pond) and 4th (South Austin ponds). Tickets, which are $20, can be purchased online and include entry to all 20 ponds.
Get on the mailing list for Garden Spark Talks. Inspired by the idea of house concerts, I'm hosting a series of garden talks by talented designers and authors out of my home. Talks are limited-attendance events and generally sell out within just a few days, so join the Garden Spark email list for early notifications. Simply click this link and ask to be added.
All material © 2006-2017 by Pam Penick for Digging. Unauthorized reproduction prohibited.