October 16th, 2017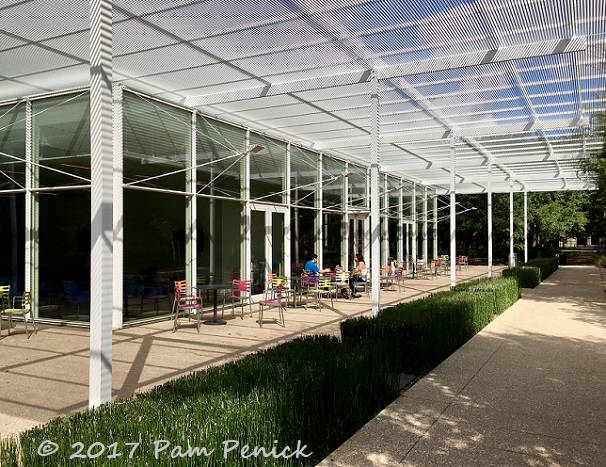 At my alma mater in Houston last month (right after Hurricane Harvey), I appreciated the marriage of foliage and architecture at the Brochstein Pavilion, a remarkable structure and hub of student activity that didn't exist when I was a student at Rice University.
A hedge of tightly clipped horsetail divides the pavilion's patio from the main sidewalk, all of which is shaded by a wide trellis of aluminum tubes. The trellis roof seems to float ethereally over the space and provides a good deal of shade, which, if you've ever been to Houston, you know is essential. It also evokes the floating roof of the campus's James Turrell Skyspace.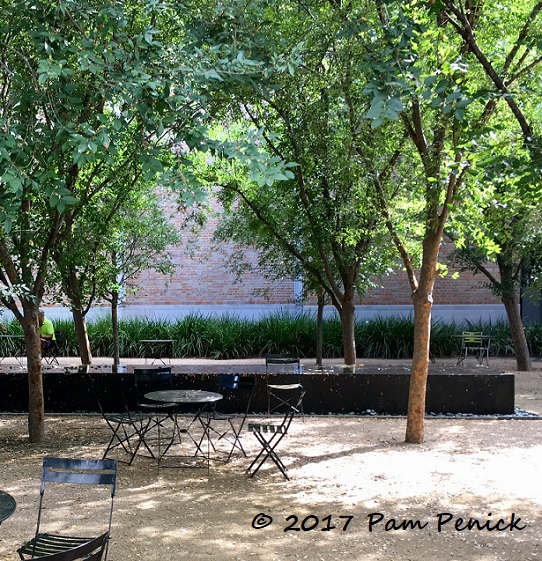 I'm always surprised by how much I love a bosque. I find them inviting and visually soothing. The one at Brochstein Pavilion runs alongside the building, just across the main sidewalk. According to an article in ArchDaily:
"Responding [to] the grid of the building, a bosque of 48 specimen Allee Lacebark Elms rise from a plane of decomposed granite and provide an organizational framework that humanizes the scale of the space. A generous concrete walk connecting the library and the pavilion bisects the grove into garden rooms whose perimeters are defined by plantings of African Iris. Long black concrete fountains filled with beach stone occupy the center of each space, filling the garden with the murmur of running water and reflecting the filtered light through the canopy."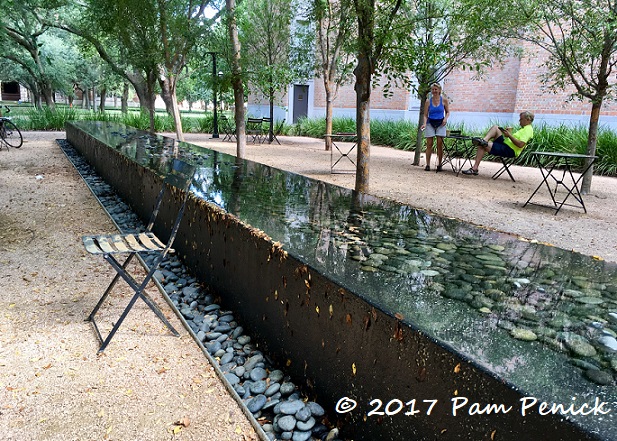 The contemporary trough fountains were leaf-strewn a week after Harvey, but otherwise the landscape appeared to have held up well.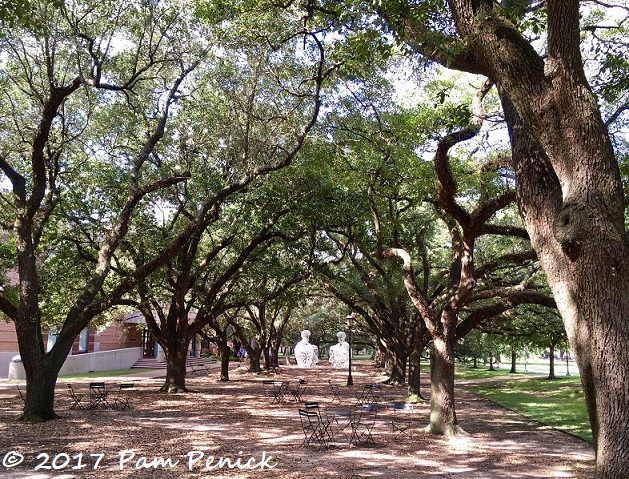 On the other side of the pavilion, a broad allee of Southern live oaks — one of many such live oak allees on the Rice campus — shelters additional seating and leads the eye to a sculpture by Jaume Plensa called Mirror.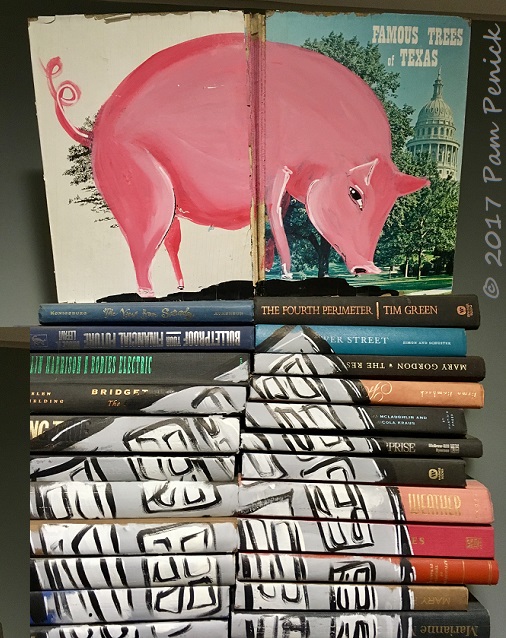 While I was on campus, I visited Fondren Library, where I knew there was a display of Mike Stilkey's book sculptures. (Here's an article about his exhibit at Rice Gallery.) I first discovered Stilkey's work at the L.A. home of Joy and Roland Feuer (scroll down for their Stilkey installation). His work is striking, often humorous, and instantly recognizable. Speaking of trees, Stilkey used a book about Texas trees for the "capstone" of this monumental book sculpture…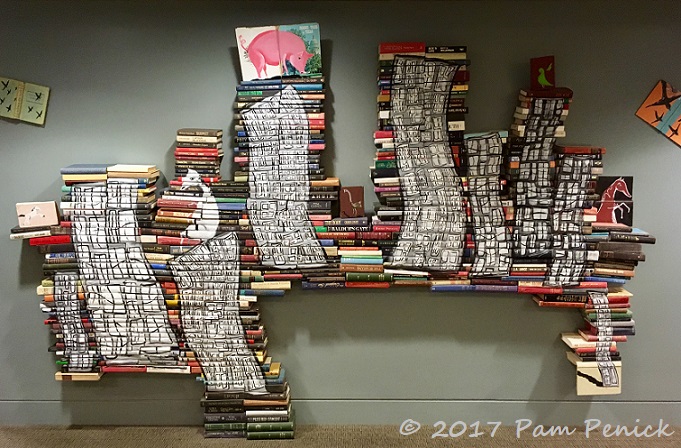 …seen in full here, seemingly balanced atop a small stack of books painted with wavy apartment towers and whimsical animals.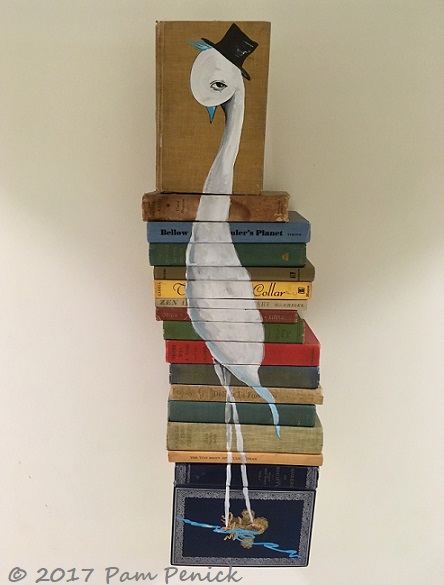 I found other pieces throughout the library, like this doleful water bird in a top hat…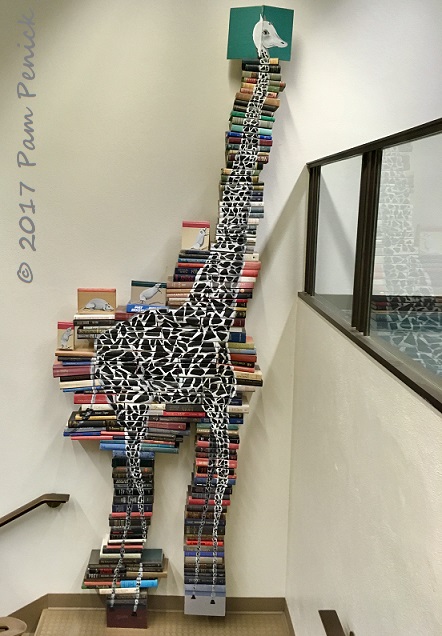 …and a giraffe peeking from a stairwell over a railing…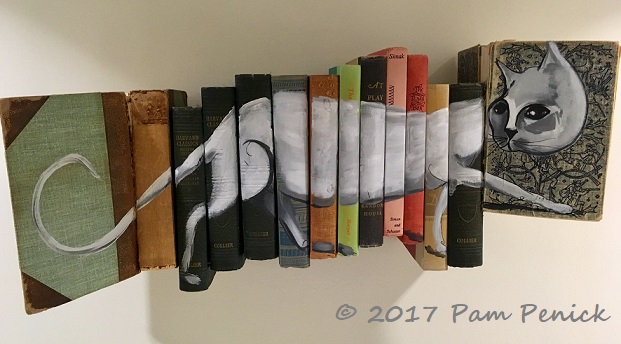 …and a slinking cat.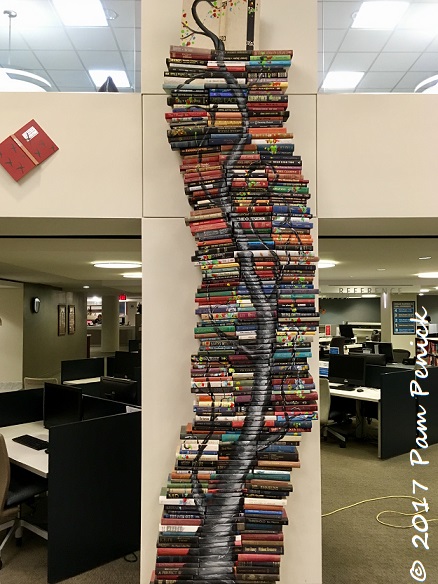 I'll leave you with one last book sculpture that brings us back around to the theme of trees as architecture. And thanks for bearing with me as I veered off-topic a bit with my Foliage Follow-Up post!
This is my October post for Foliage Follow-Up. Fellow bloggers, what leafy loveliness is happening in your garden or one you've visited this month? Please join me in giving foliage its due on the day after Bloom Day. Leave a link to your post in a comment below. I'd appreciate it if you'll also link to my post in your own — sharing link love! I look forward to seeing your foliage faves.
I welcome your comments; please scroll to the end of this post to leave one. If you're reading this in a subscription email, click here to visit Digging and find the comment box at the end of each post.
_______________________
Digging Deeper: News and Upcoming Events
Don't miss the Austin Open Days garden tour sponsored by the Garden Conservancy on November 4.
Join the mailing list for Garden Spark Talks! Inspired by the idea of house concerts, I'm hosting a series of garden talks by inspiring designers and authors out of my home. Talks are limited-attendance events and generally sell out within just a few days, so join the Garden Spark email list for early notifications. Simply click this link and ask to be added.
All material © 2006-2017 by Pam Penick for Digging. Unauthorized reproduction prohibited.
posted in
Arbors
,
Architecture
,
Birds
,
Books
,
Bosque
,
Foliage Follow-Up
,
Fountains
,
Garden structures
,
Paths
,
Patios & decks
,
Public art
,
Sculpture
,
Seating
,
Travel
,
Trees
,
Walls
,
Water features