September 23rd, 2017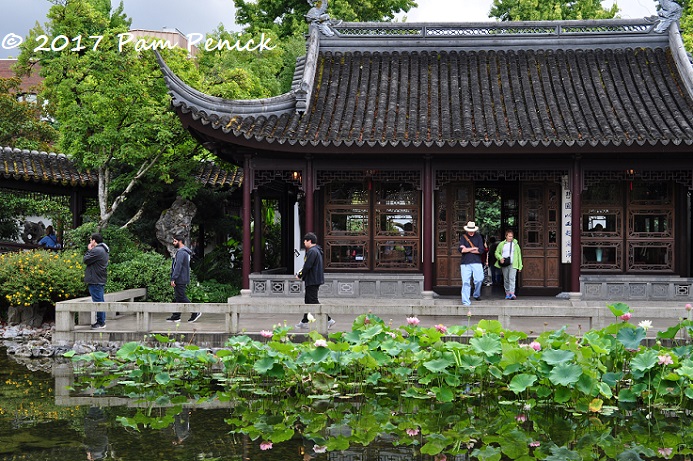 While vacationing in Portland last month, we visited Lan Su Chinese Garden in downtown Portland. It was my third visit, and I find I enjoy it more each time I see it. Chinese gardens have had to grow on me, so different do they seem from the Western or even Japanese garden traditions I'm used to, with a city-like emphasis on architecture — which is, at Lan Su, ornately beautiful.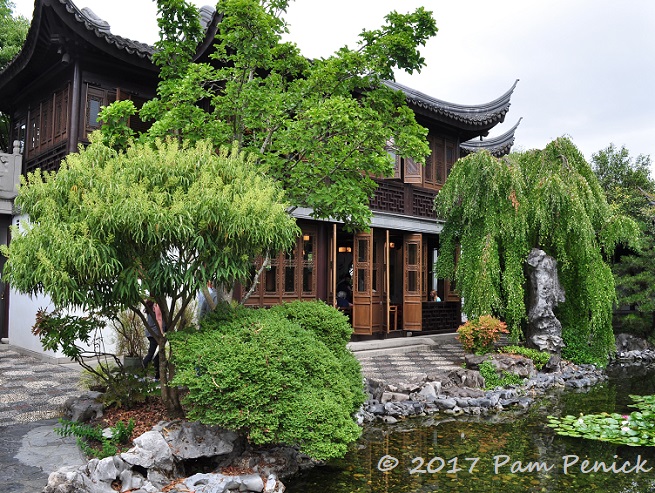 Pavilions and a tea house with swoop-edged roofs offer sheltered garden-viewing spots throughout this walled urban oasis.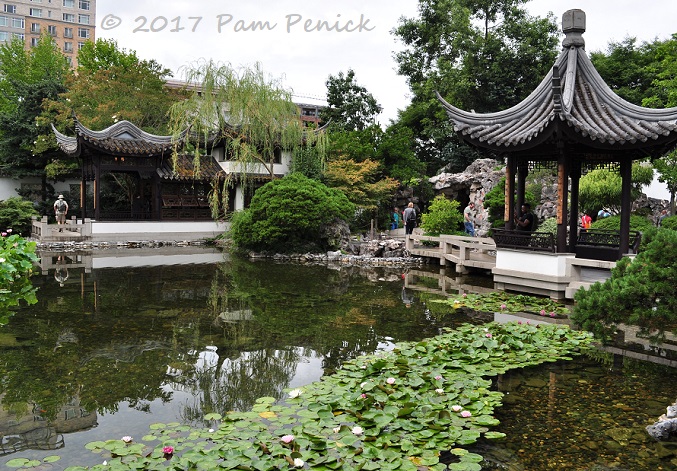 Rather than extensive garden beds or an open lawn, the heart of this garden is a large pond with waterlilies and lotus.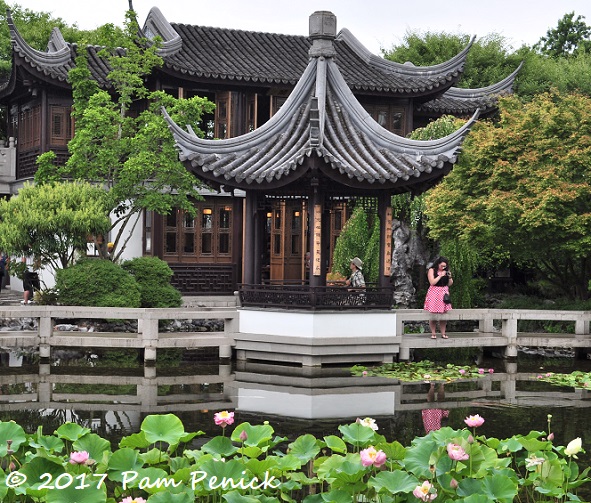 This small pavilion along a zigzagging bridge was a popular spot to enjoy the garden.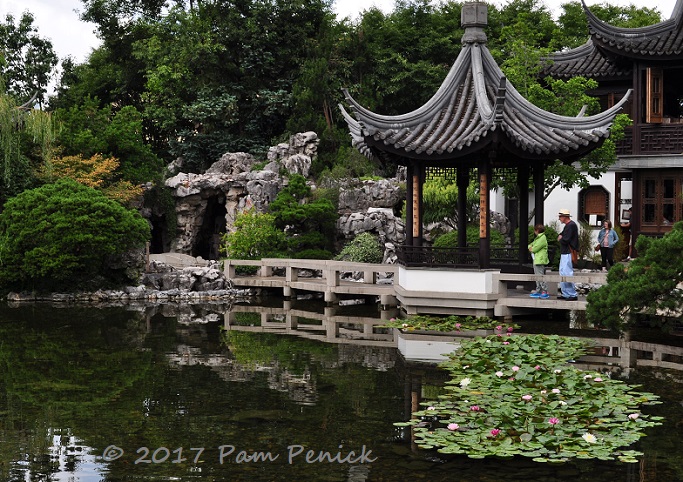 A mysterious grotto of rugged limestone rocks can be seen just beyond the bridge.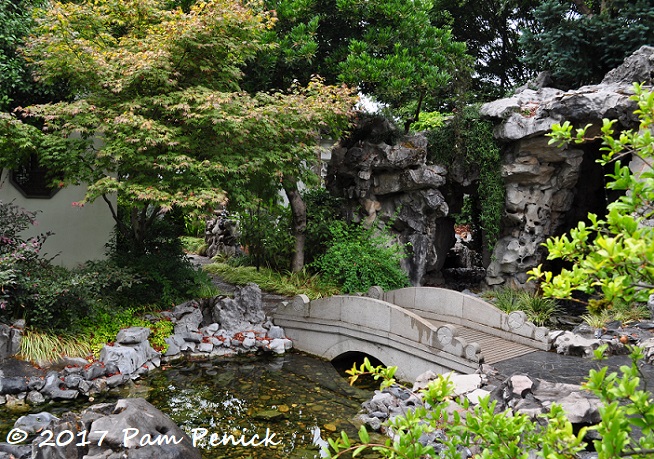 From this arched bridge…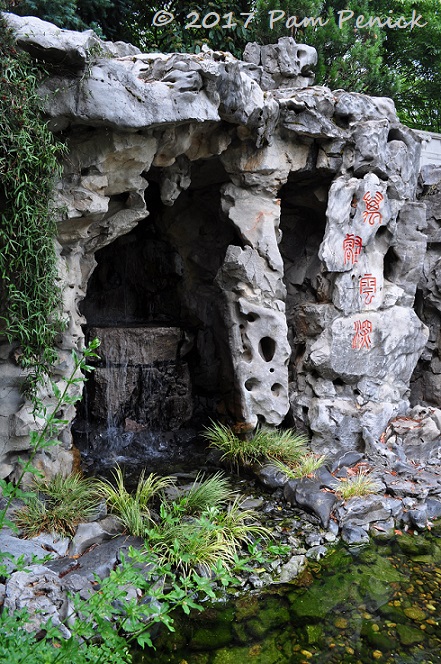 …you see a waterfall fountain inside the grotto. Outside, etched and painted Chinese characters offer…a short poem? The name of this garden feature? No climbing on rocks, please?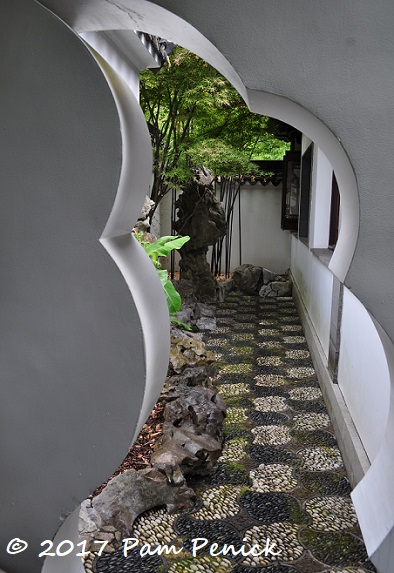 Semi-hidden views are a theme of this garden, with cut-out windows in organic shapes offering glimpses of or entry into intimate courtyards.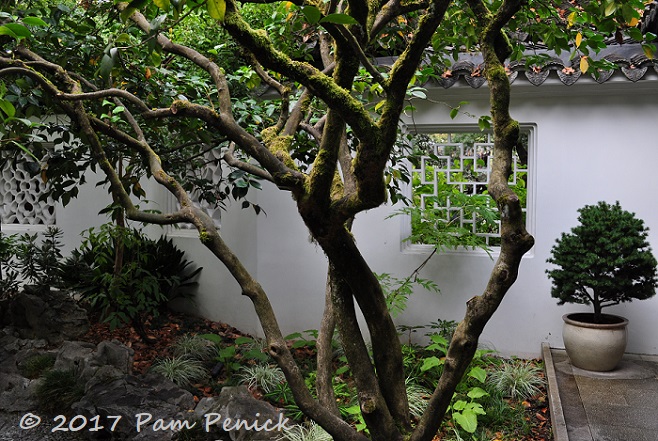 A square lattice window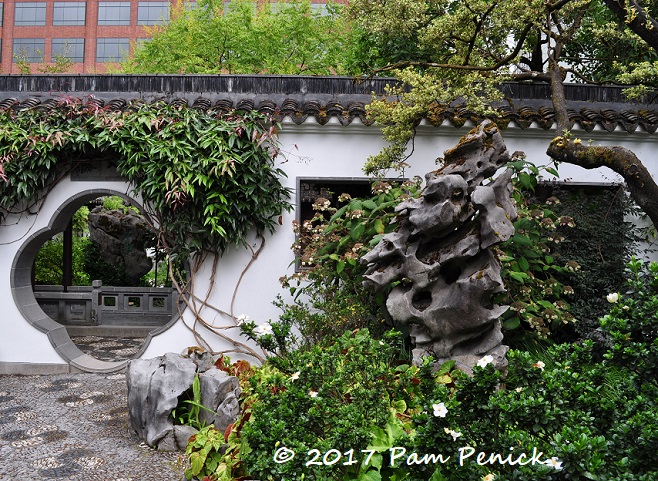 A quatrefoil doorway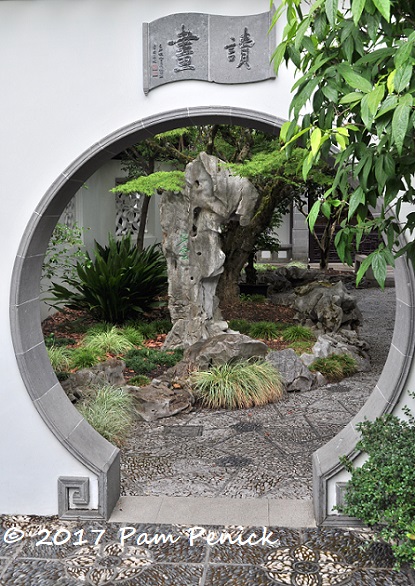 This moon doorway with a view of a craggy standing stone is my favorite. Called Tai Hu rocks, according to the garden's website, the limestone is mined from Lake Tai in China. "They are prized for their four virtues which are: the holes that allow life force to flow freely, the rough texture, their slenderness, and being top-heavy. More than 500 tons of rock was shipped from China for the Garden."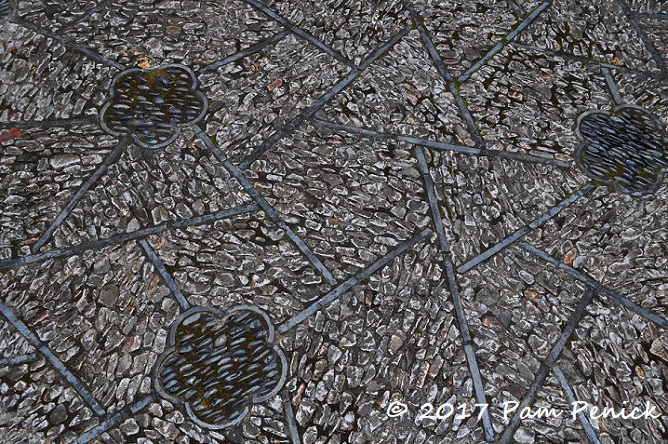 The pebble mosaic paving is a work of art.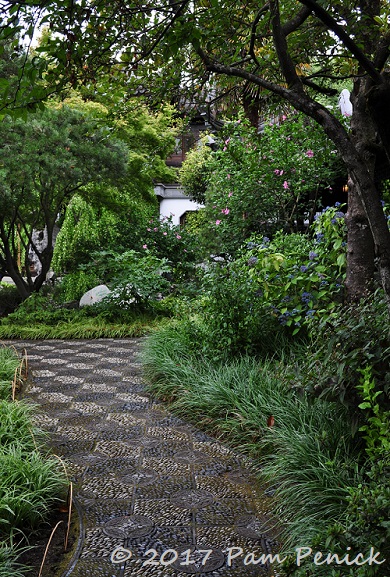 Beautiful pebble mosaic paths lead through the garden rooms.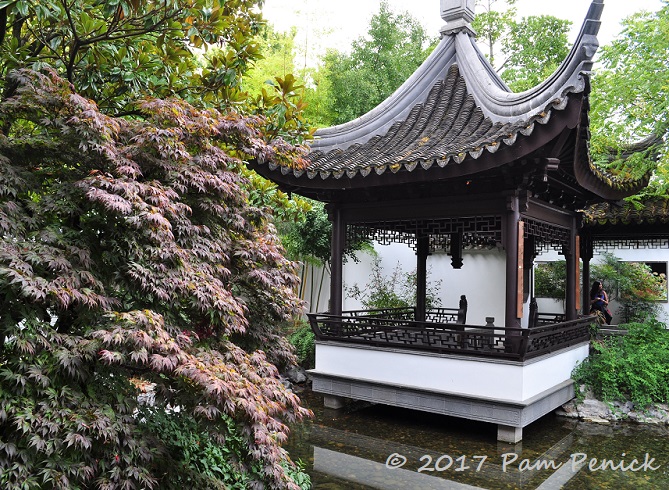 This pavilion is positioned to enjoy a view of the koi pond.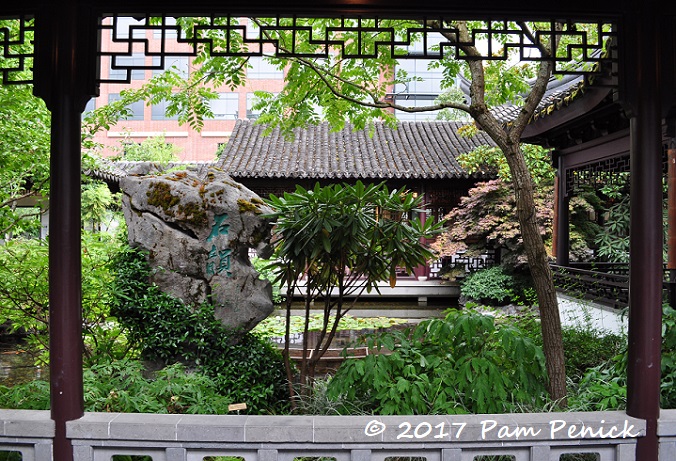 Covered walkways with lattice detailing lead a winding path along the garden's outer perimeter.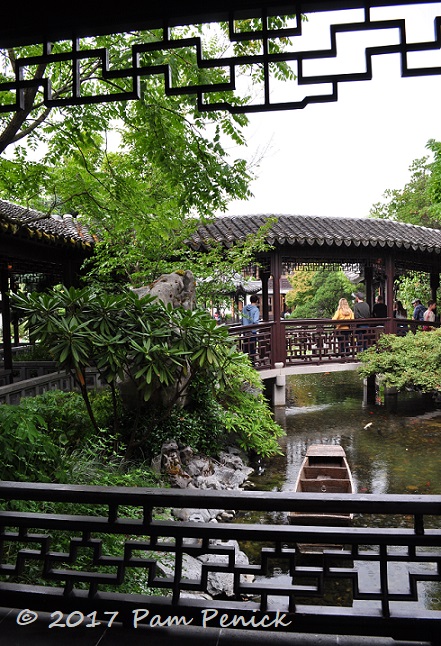 Vertical layers of lattice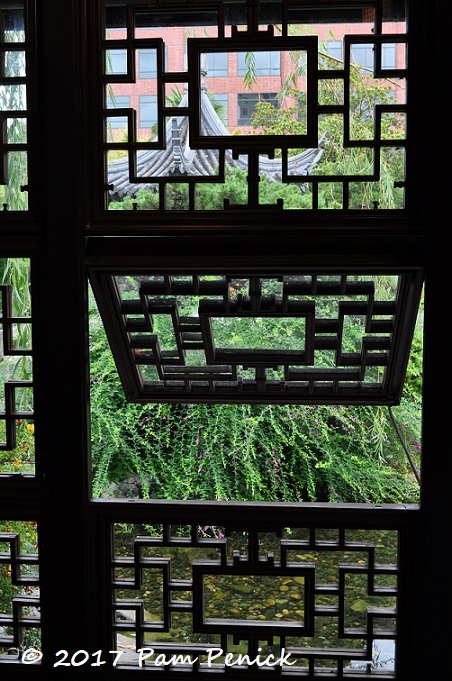 And lattice windows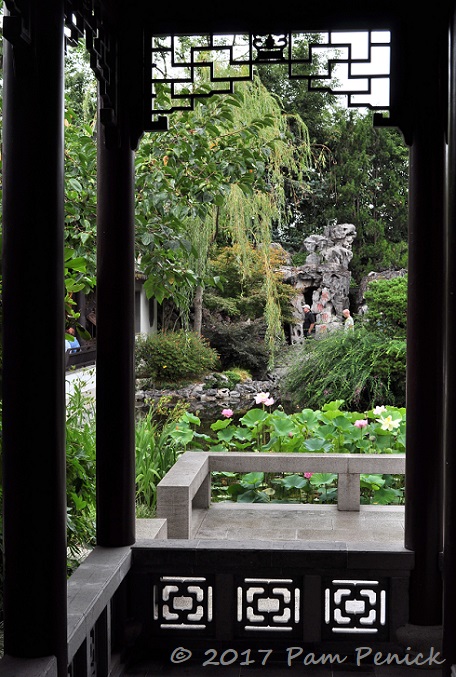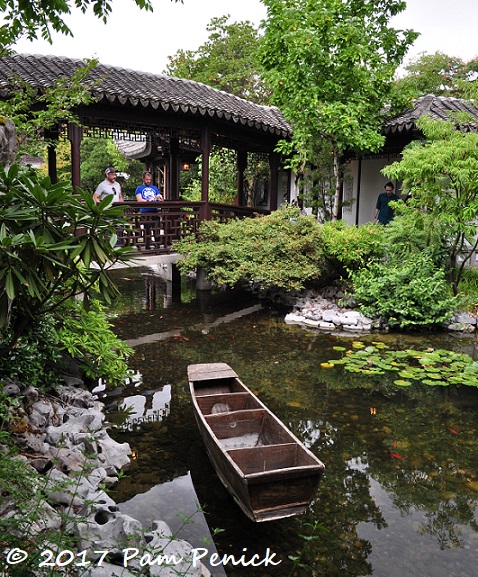 A wooden boat floats at one end of the pond, as if awaiting a boating party.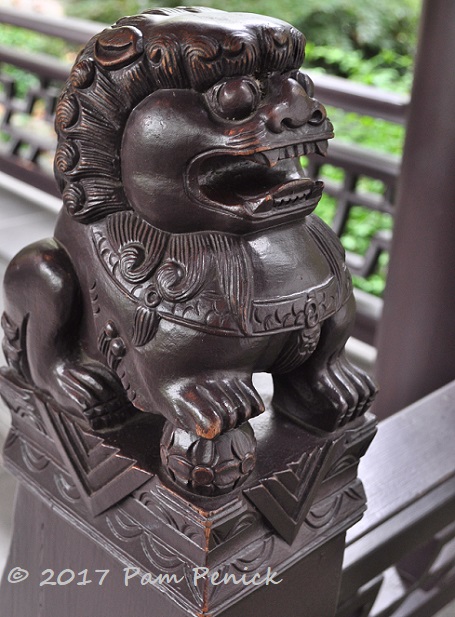 Foo dog finial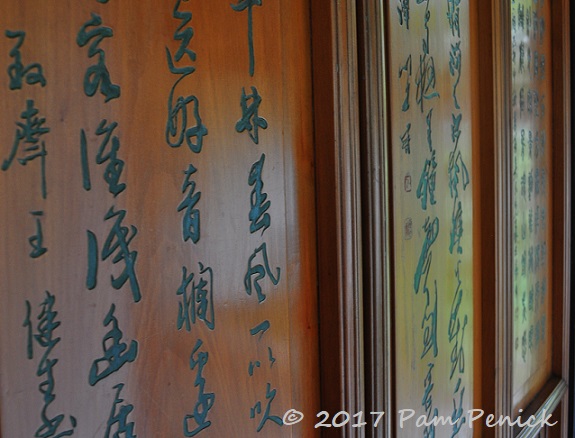 A Chinese poem is carved into the wooden wall of one pavilion.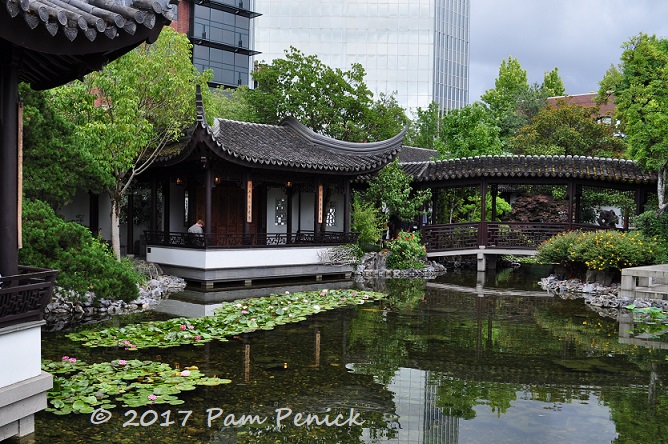 Downtown buildings rise over the garden, but inside the walls is this serene oasis.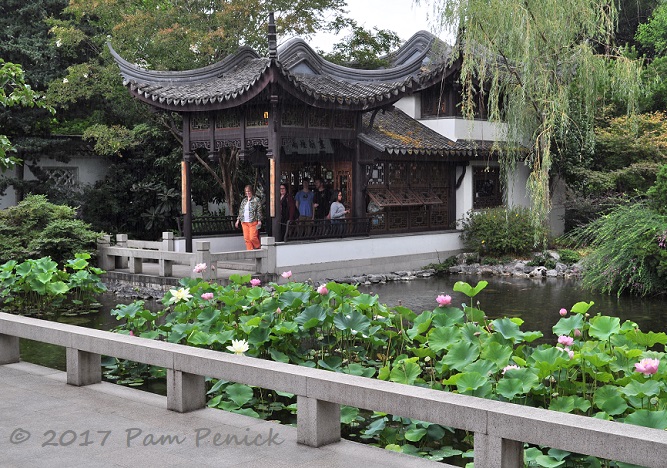 Lotus was in bloom during our August visit.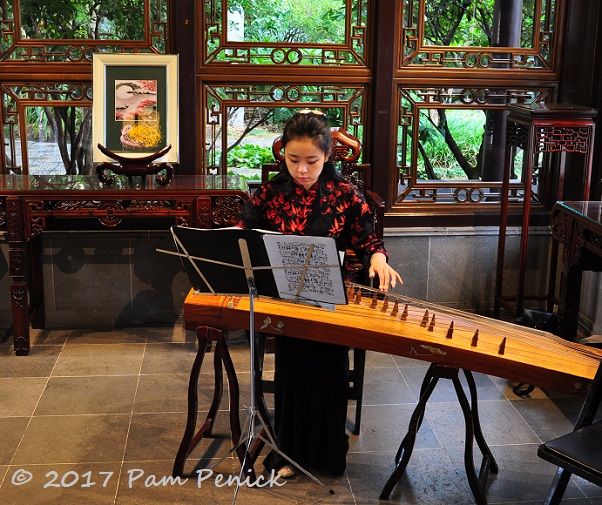 Inside one of the pavilions were demonstrations of Chinese arts. A musician plucked the strings of a zheng, or Chinese zither.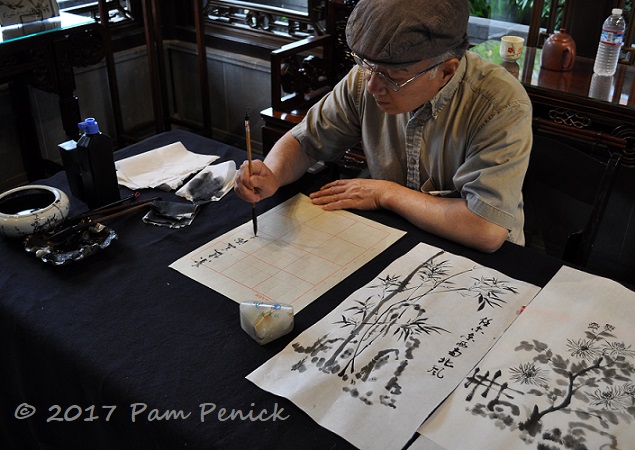 And a calligrapher wrote out a humorous poem, something about drinking too much wine…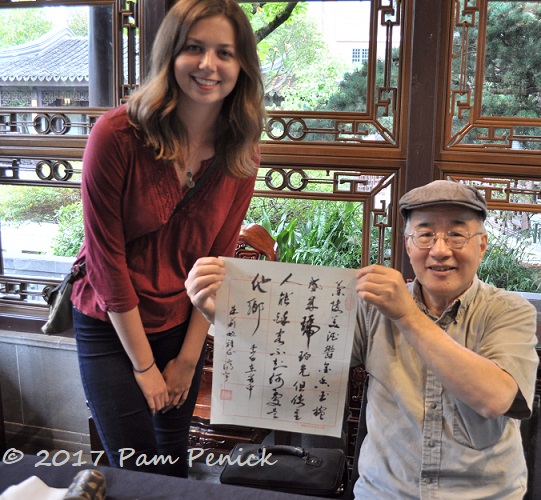 …and offered it to our language-learning daughter.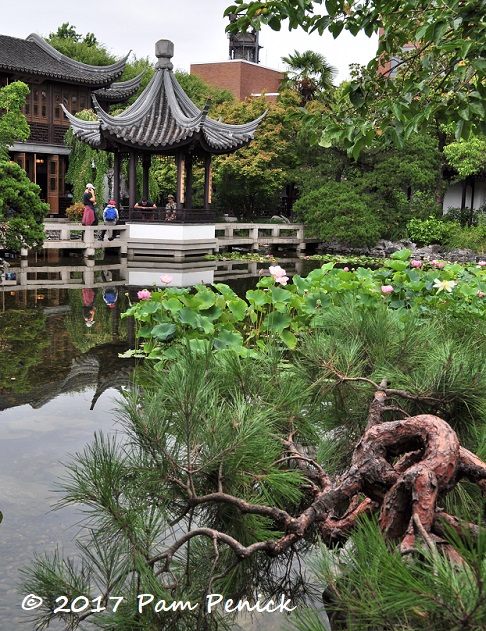 We enjoyed our visit to Lan Su, a lovely glimpse into classical Chinese culture.
Up next: Thicket, an urban boutique nursery in Portland. For a look back at Loree Bohl's exquisite Danger Garden, click here.
I welcome your comments; please scroll to the end of this post to leave one. If you're reading this in a subscription email, click here to visit Digging and find the comment box at the end of each post.
_______________________
Digging Deeper: News and Upcoming Events
Get ready for fall garden tours in Texas! The Garden Conservancy is sponsoring Open Days tours in Fort Worth on Oct. 8th, San Antonio on Oct. 14th, and Austin on Nov. 4th.
Get on the mailing list for Garden Spark Talks. Inspired by the idea of house concerts, I'm hosting a series of garden talks by talented designers and authors out of my home. Talks are limited-attendance events and generally sell out within just a few days, so join the Garden Spark email list for early notifications. Simply click this link and ask to be added.
All material © 2006-2017 by Pam Penick for Digging. Unauthorized reproduction prohibited.
posted in
Botanic/Public Gardens
,
Bridges
,
Chinese garden
,
Decor
,
Doors
,
Garden art
,
Garden structures
,
Garden tours 2017
,
Paths
,
Patios & decks
,
Ponds
,
Rock
,
Sculpture
,
Seating
,
Signs
,
Travel
,
Trees
,
Walls
,
Water features
,
Water gardening
,
Waterfalls
,
Windows