October 15th, 2017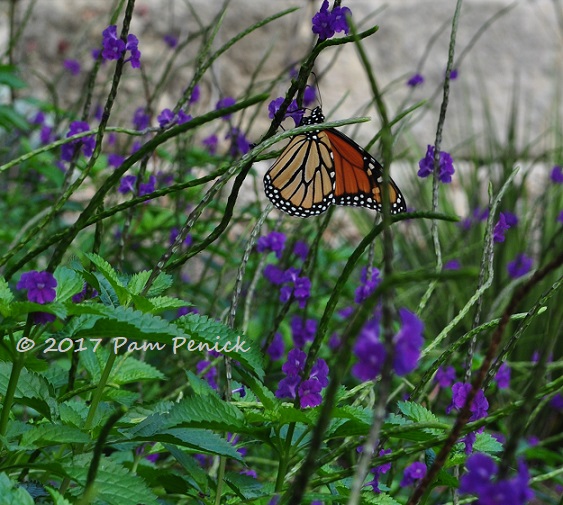 Although I've been to Dallas and its well-known public garden many times, until last weekend I'd never visited the botanical garden in nearby Fort Worth, just 45 minutes to the west. While not showy like Dallas Arboretum, Fort Worth Botanic Garden is a pleasant place to stroll amid perennial gardens, arbors and gazebos (likely popular with wedding parties), and woodsy trails.
On this early October day, monarchs were passing through, fueling up for their journey to Mexico.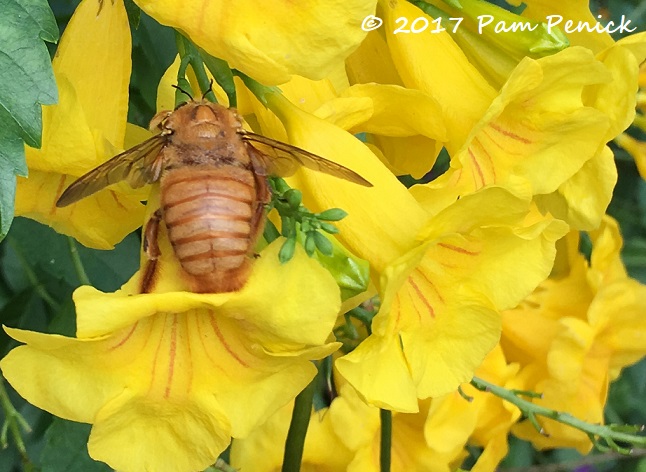 I'd never seen this type of big, golden bee before. When I posted a picture on Instagram, a reader identified as possibly a male valley carpenter bee. That's esperanza (Tecoma stans) he's enjoying.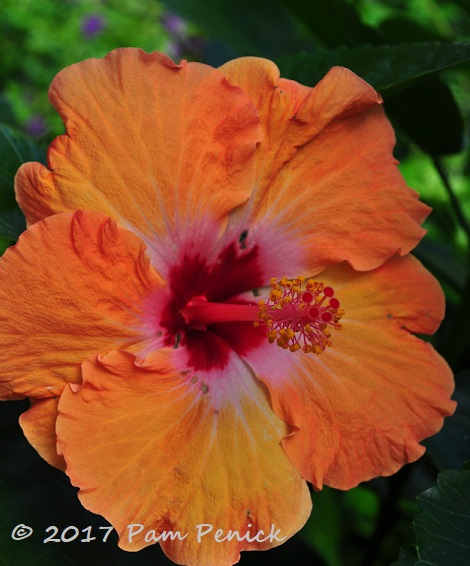 Orange and pink hibiscus adds tropical color.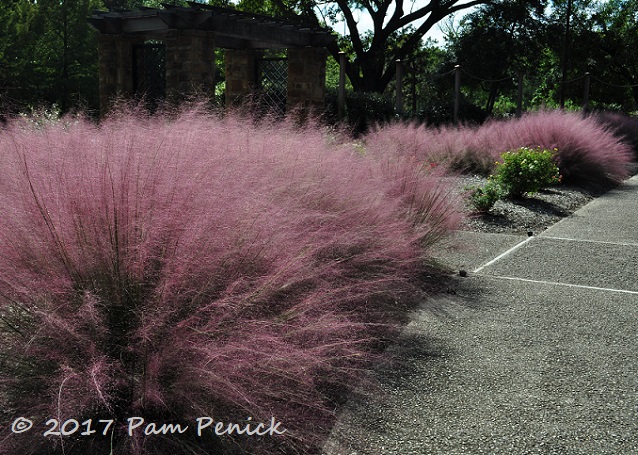 Fluffy, cotton-candy wisps of our native Gulf muhly grass (Muhlenbergia capillaris) were catching the light.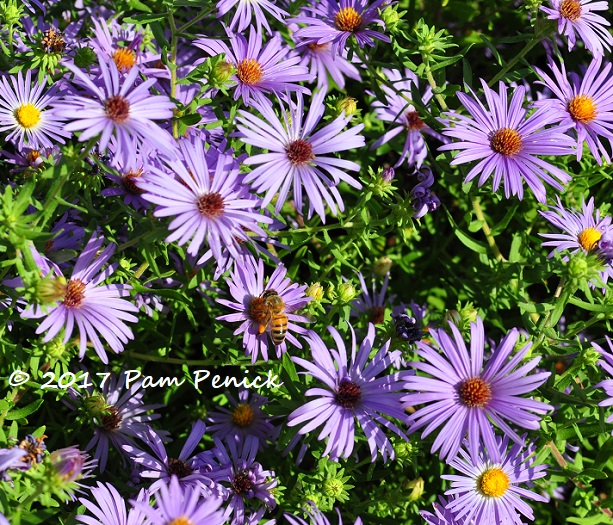 Another native plant, fall aster (Symphyotrichum oblongifolium), was a hit with honeybees.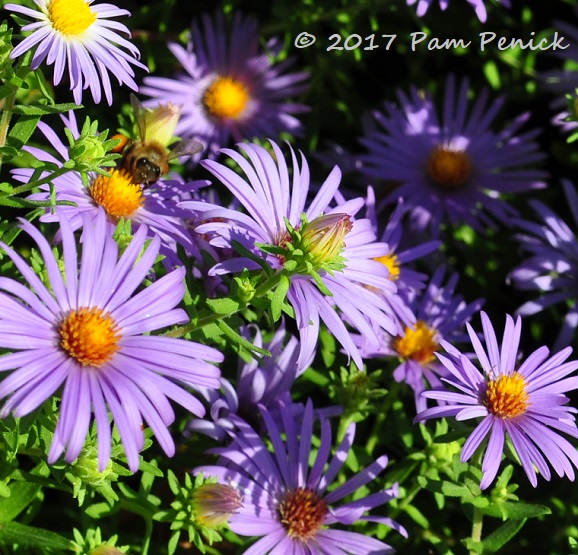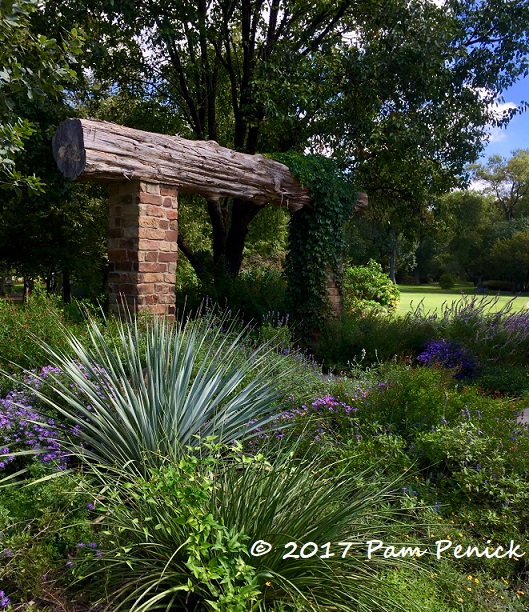 This massive arbor, with a rough-cut tree trunk serving as the top rail, is a striking portal.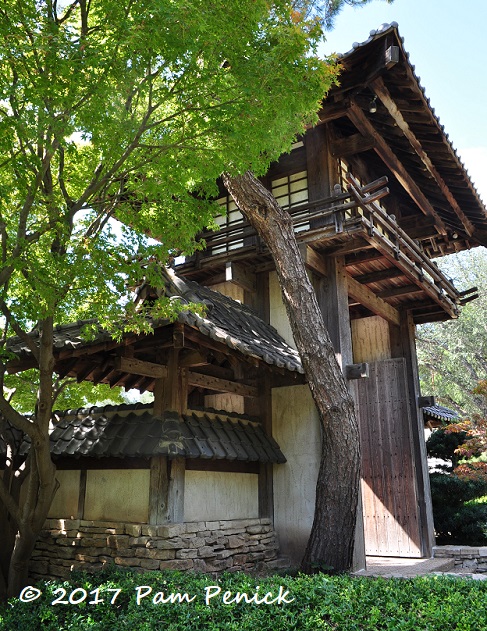 The real attraction of the garden, however, is the Fort Worth Japanese Garden, which has a separate parking area and an entry fee (the main garden is free). The entry tower, pictured here, makes an impressive gateway into the garden.

Roofed arbors beckon you further into the 7.5-acre garden.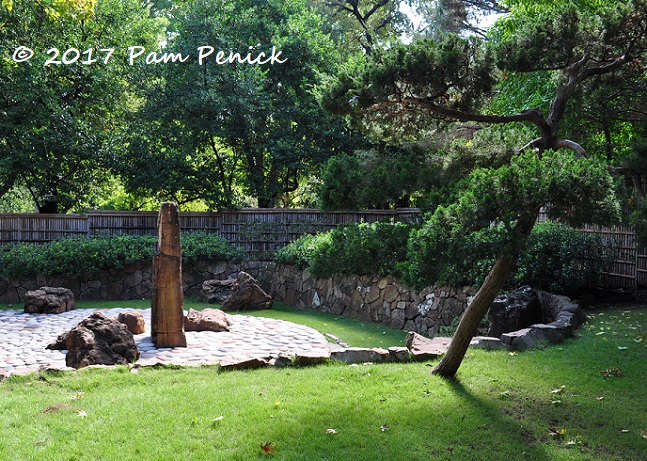 The garden was constructed in 1973, and while the first part with a large wooden pavilion around a zen garden (not pictured) has a somewhat dated feel, it's neatly kept. I especially enjoyed the main part of the garden, which is a strolling garden built around a large pond (see below).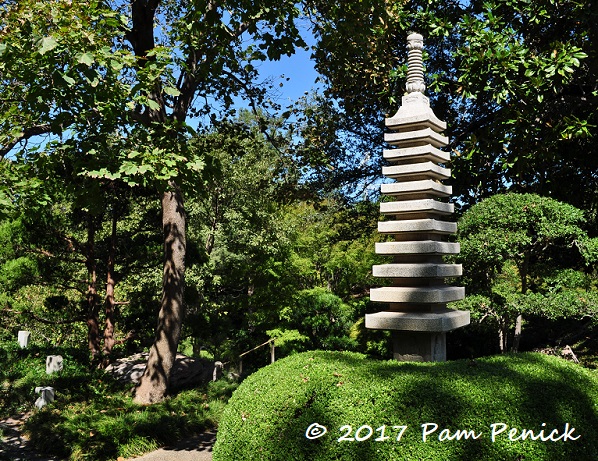 It's certainly not as crowded as other Japanese gardens I've visited, like Portland Japanese Garden, and it's a pleasant place to spend an hour or more in leisurely enjoyment of the outdoors, with some very nice Japanese-style structures and garden art.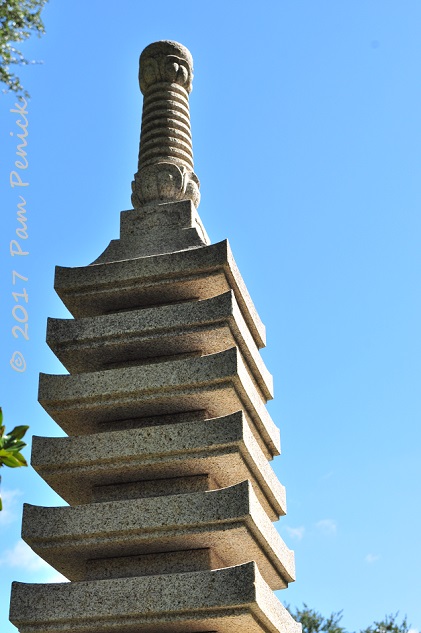 I like this somewhat contemporary pagoda sculpture.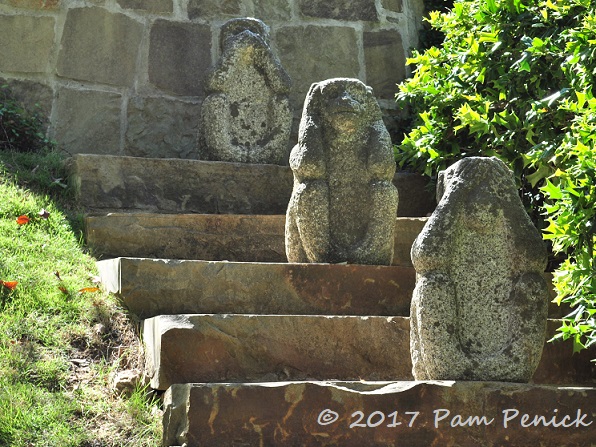 Coming around a bend in the path, this was a fun surprise: a trio of see-no-evil, hear-no-evil, speak-no-evil monkeys on stone steps leading nowhere.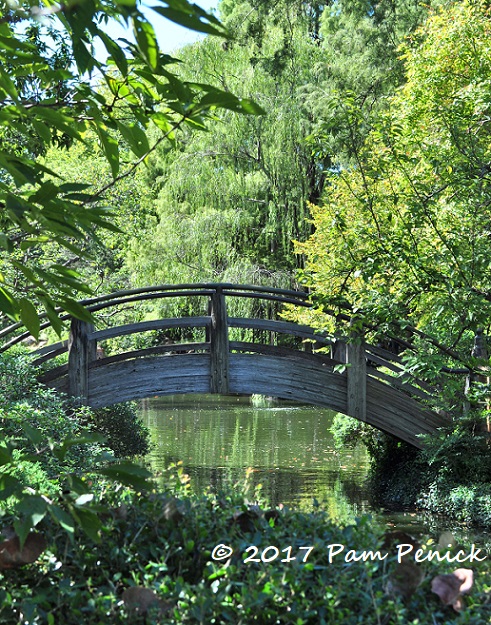 A large pond occupies the central part of the garden, with a winding path leading around it and offering scenic views like this arching moon bridge.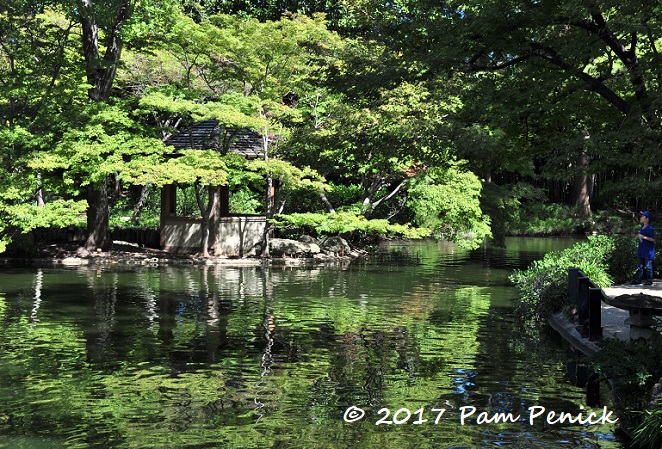 This small gazebo perches at the water's edge amid a scrim of Japanese maples.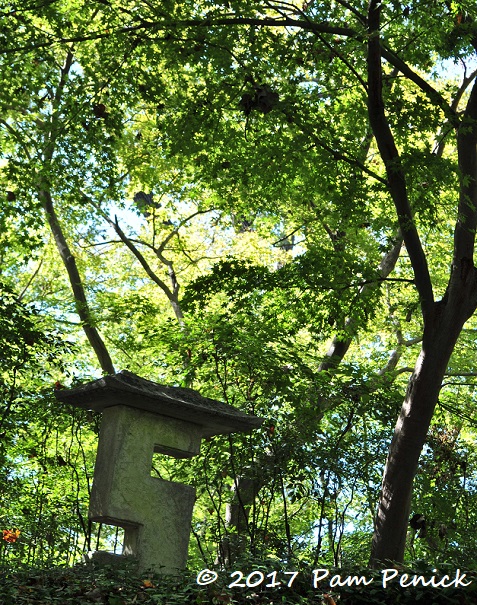 Lacy leaves of Japanese maples overhead.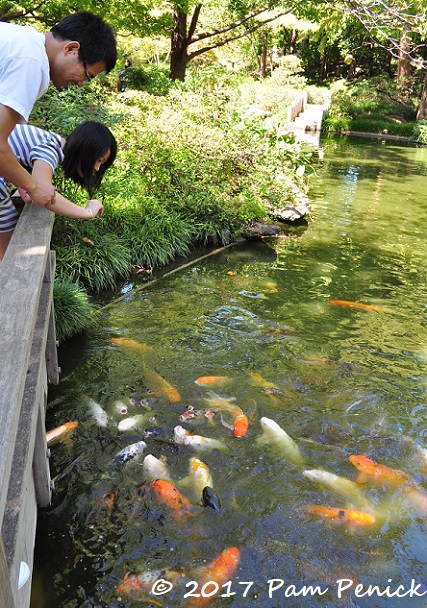 Koi followed us around the pond like hungry pups waiting for a handout. The garden sells fish food, and many visitors were delighting in feeding the colorful fish.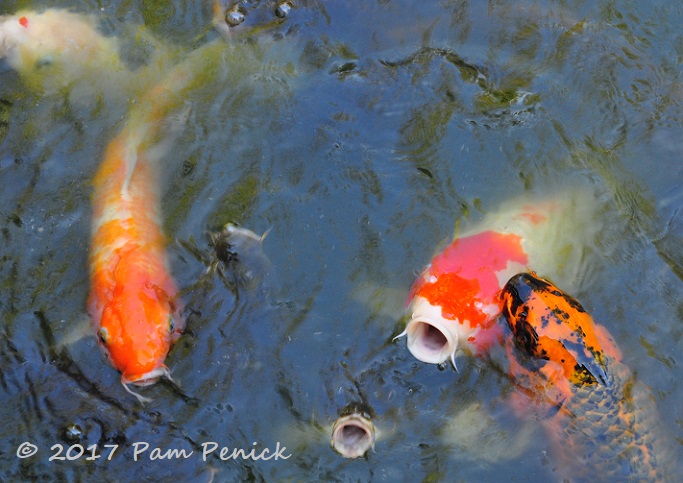 Look at those open mouths!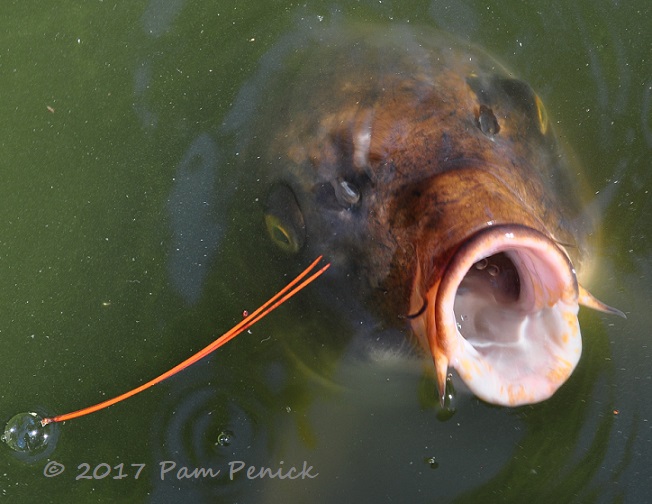 Whoa! This big boy could practically swallow your arm.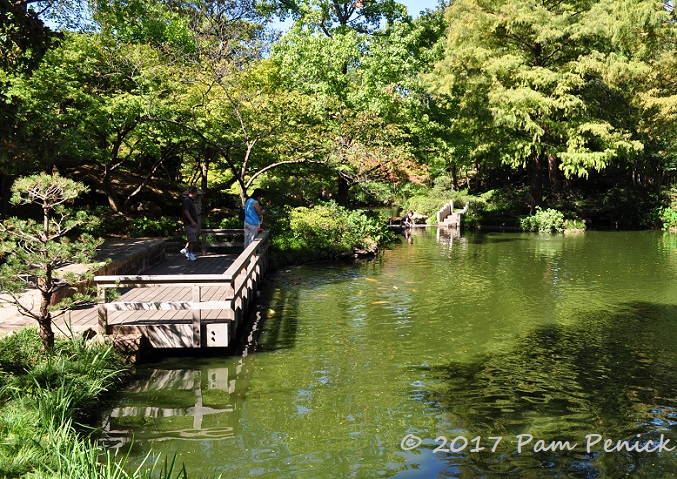 Decks like this one offer up-close pond-viewing places.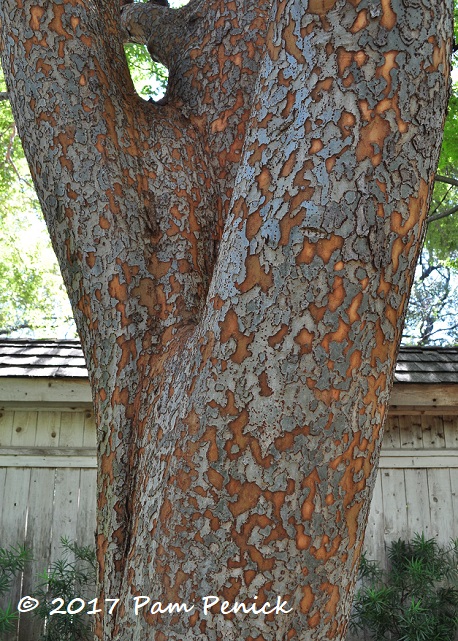 Beautiful bark on what my friend Diana identified as an elm tree.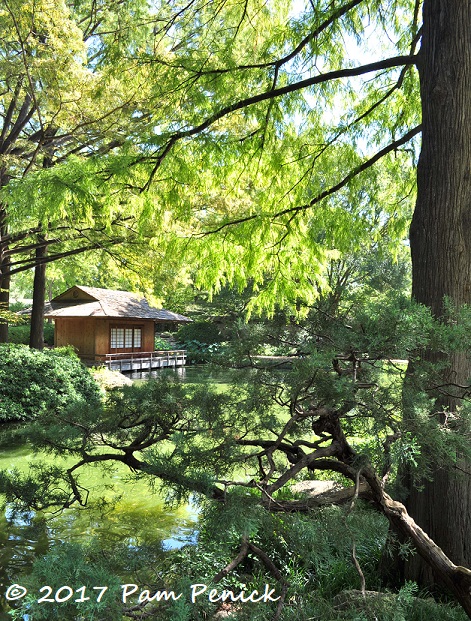 A pretty teahouse seems to float over the pond, framed by bald cypress and pine trees.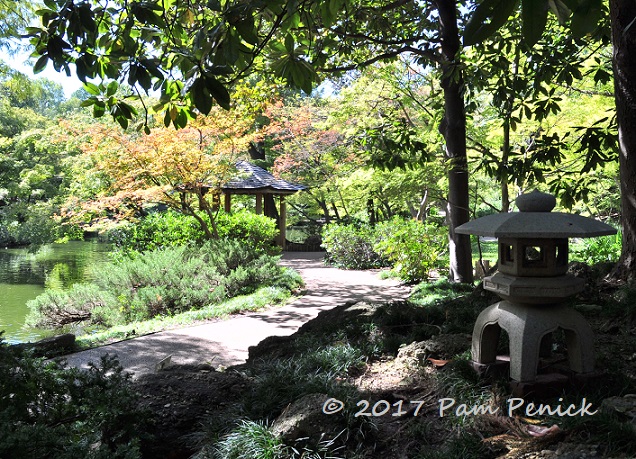 Heading around to the gazebo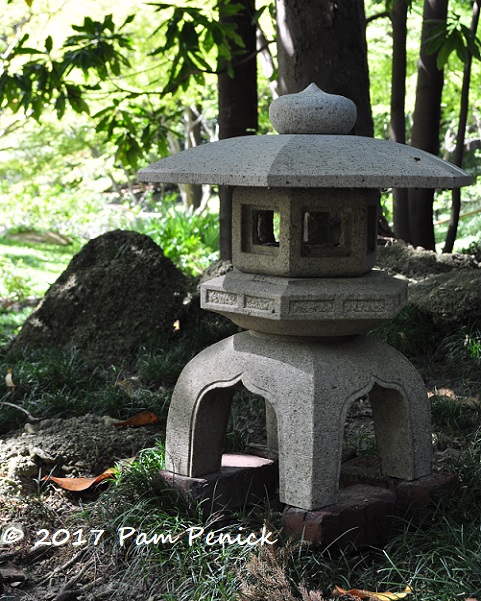 Stone lantern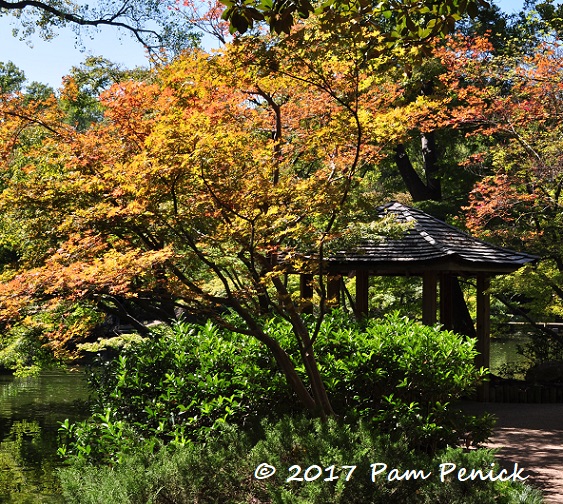 The very earliest Japanese maples were beginning to turn.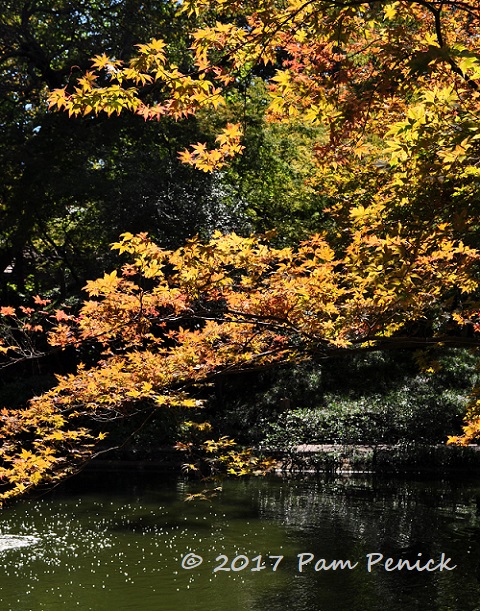 Such beautiful fall color — and unexpected. I thought we'd be too early for it.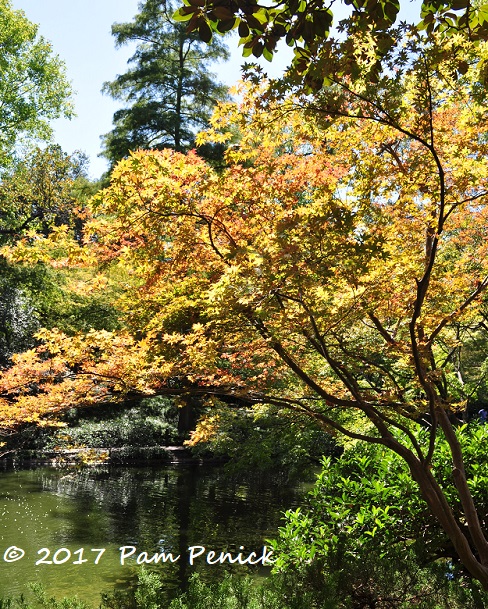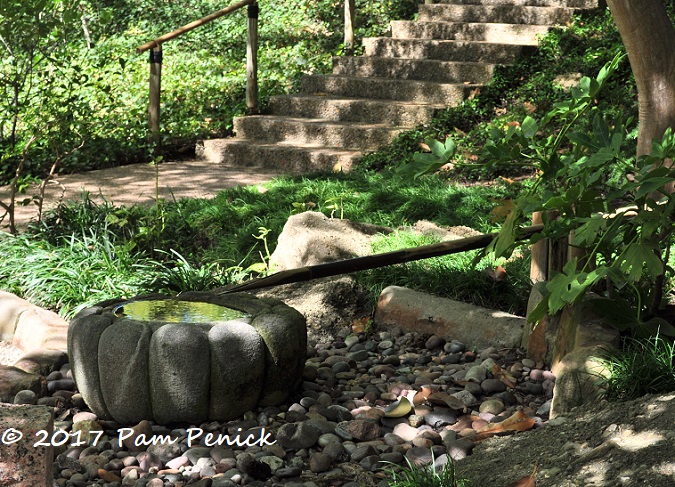 I've always liked bamboo-and-basin fountains like this.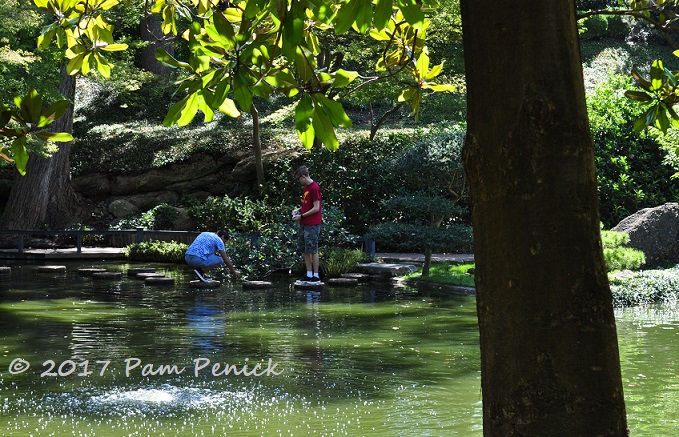 A "floating" path of stepping stones attracts adventurous and sure-footed explorers.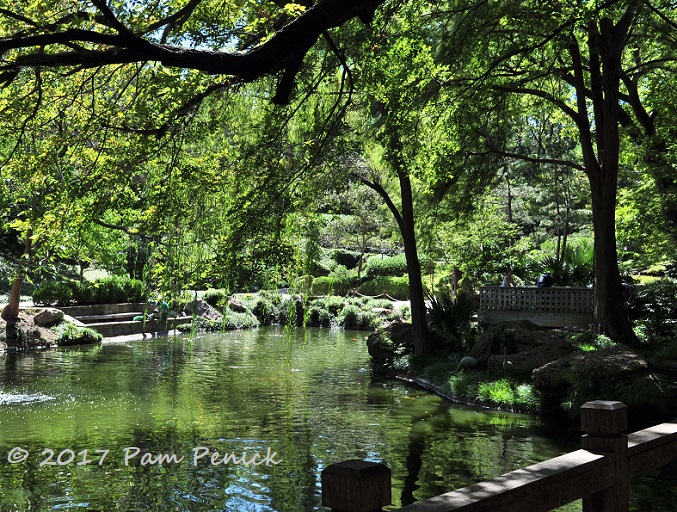 Another deck offering a scenic spot to enjoy the pond.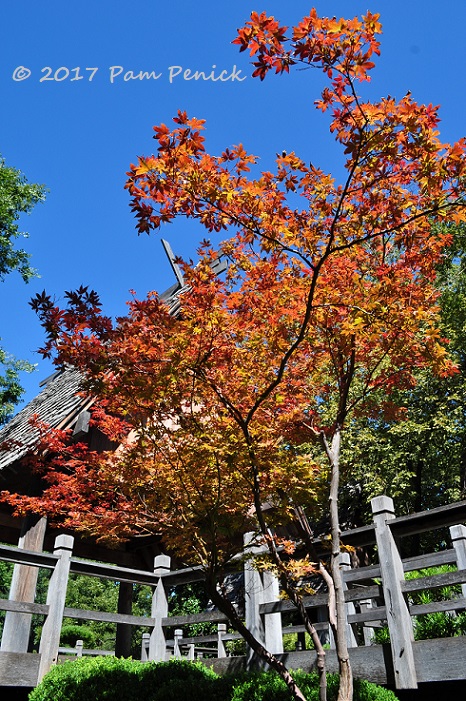 A flaming red and orange Japanese maple attracted my eye — so beautiful against a clear blue sky.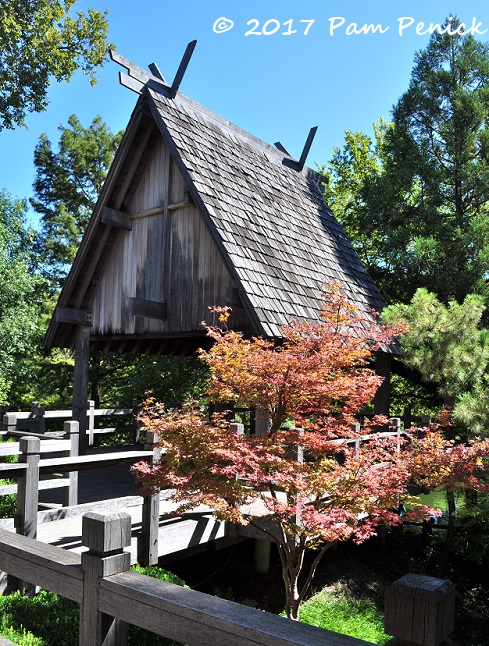 Climbing up the slope we found a large elevated deck and a cluster of roofed shelters that seemed meant for weddings or other events. With their sharply peaked roofs and cross designs, they almost seem Scandinavian, don't they?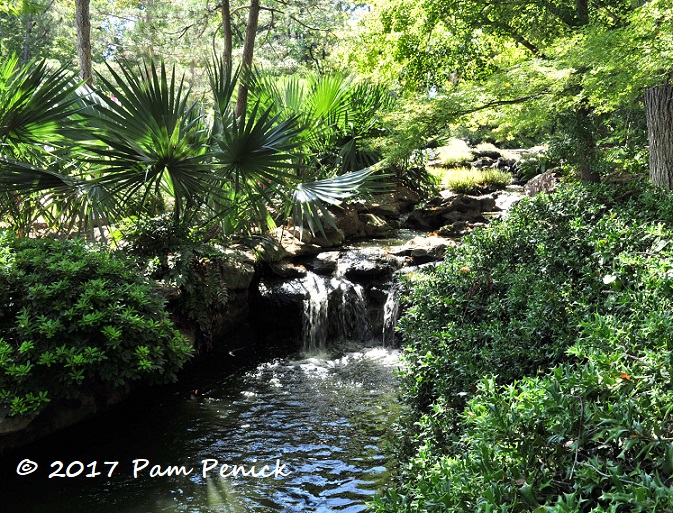 Back on the main path, I spotted palmettos along a stream with a small waterfall…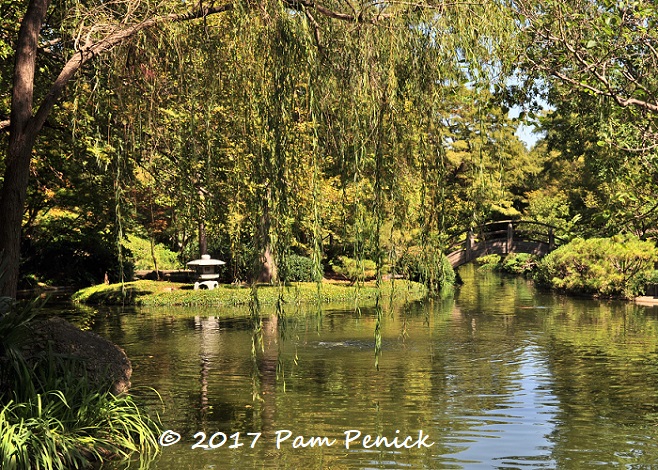 …and enjoyed a new view of the moon bridge.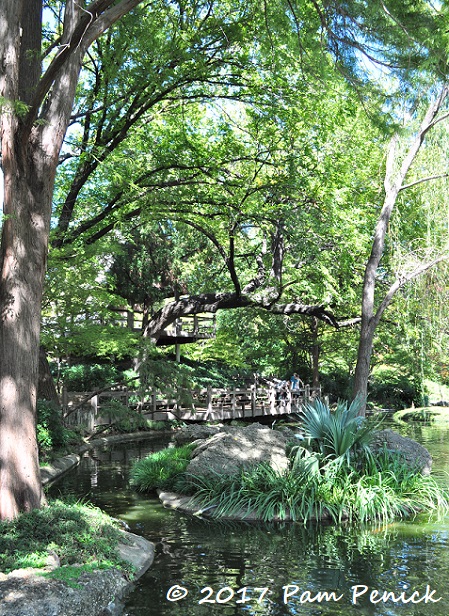 More decks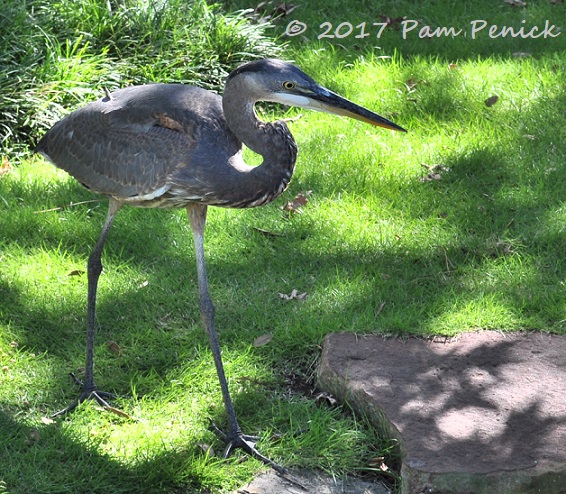 A tricolored heron (as a fellow photographer ID'd it) was fishing for minnows swarming around a mess of fish food that had been tossed in the pond.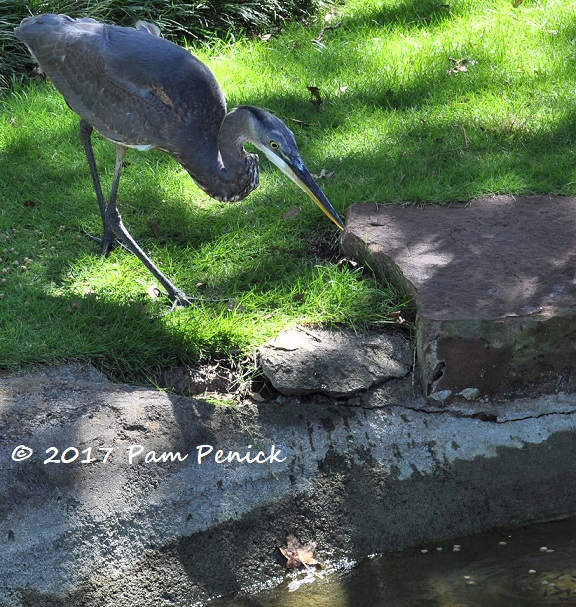 I stopped to watch him for about 15 minutes as he inched toward the water…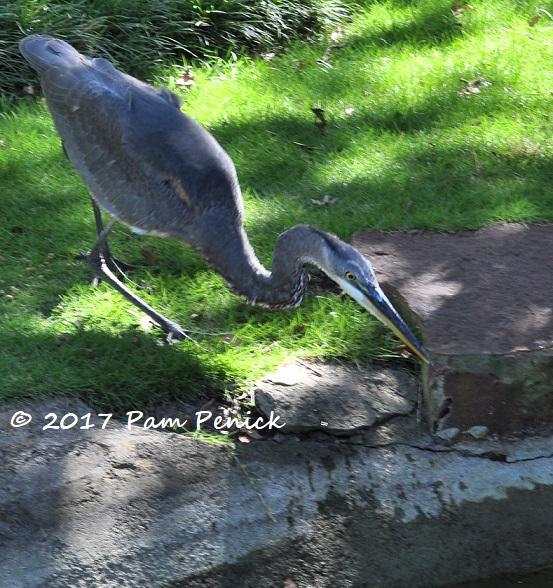 …stretched out his neck…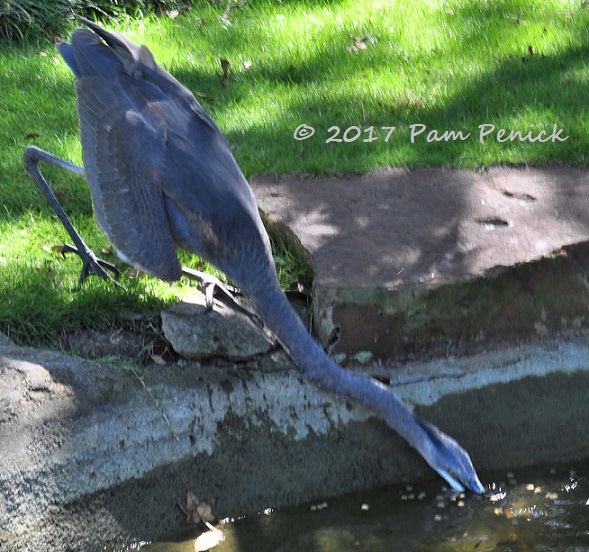 …and struck!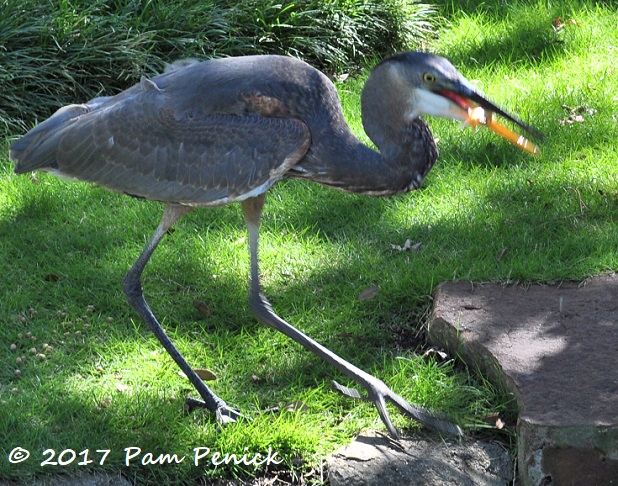 He was an effective fisherman.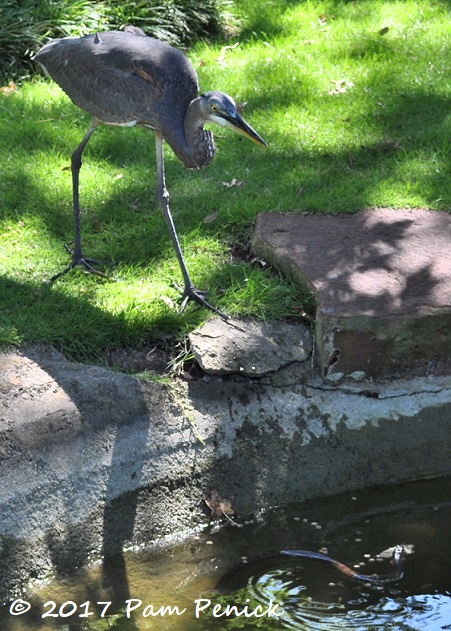 A fellow fisherman got in his way a few times: a long water snake that coiled and flashed through the water in pursuit of minnows. I was amazed how many passersby were afraid when they saw it, sure it was a water moccasin that would leap out to get them. But no, it was nonvenomous and just wanted a fishy meal.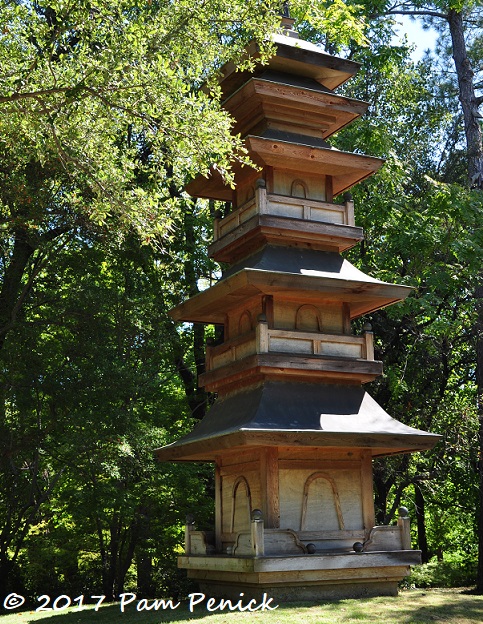 This lovely wooden pagoda near the exit stands about 20 feet tall.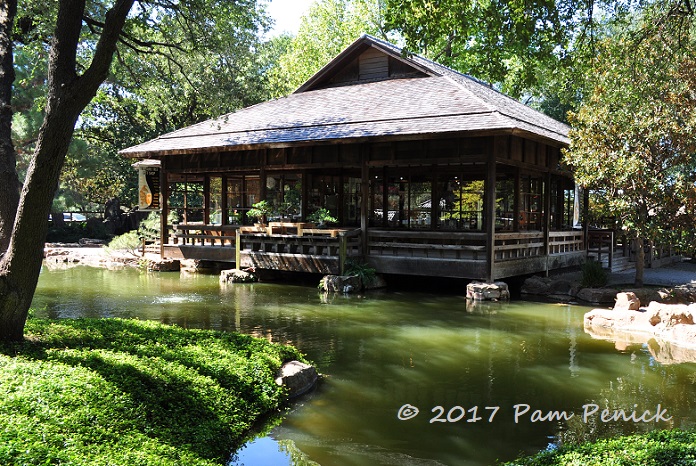 A nicely designed gift shop beckons near the exit…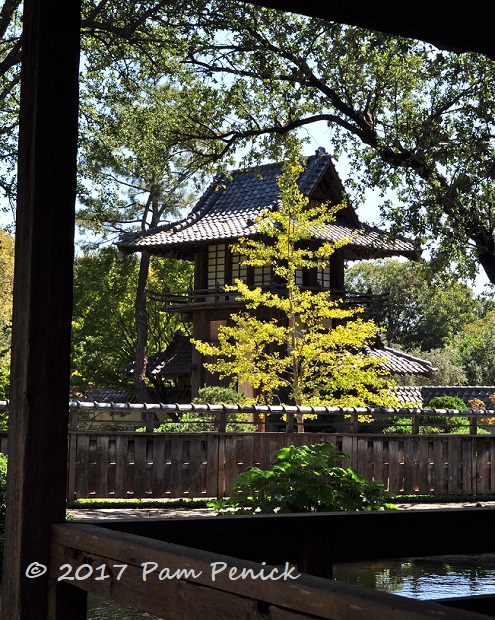 …its porch framing a view of a young ginkgo in golden fall glory.
I welcome your comments; please scroll to the end of this post to leave one. If you're reading this in a subscription email, click here to visit Digging and find the comment box at the end of each post.
_______________________
Digging Deeper: News and Upcoming Events
Don't miss the Austin Open Days garden tour sponsored by the Garden Conservancy on November 4.
Join the mailing list for Garden Spark Talks! Inspired by the idea of house concerts, I'm hosting a series of garden talks by inspiring designers and authors out of my home. Talks are limited-attendance events and generally sell out within just a few days, so join the Garden Spark email list for early notifications. Simply click this link and ask to be added.
All material © 2006-2017 by Pam Penick for Digging. Unauthorized reproduction prohibited.
posted in
Arbors
,
Bees
,
Birds
,
Botanic/Public Gardens
,
Bridges
,
Butterflies/Moths
,
Fences
,
Fish
,
Fountains
,
Garden art
,
Garden structures
,
Garden tours 2017
,
Gates
,
Grasses
,
Japanese garden
,
Native plants
,
Palms/Cycads
,
Paths
,
Patios & decks
,
Ponds
,
Rock
,
Sculpture
,
Snakes
,
Texas natives
,
Travel
,
Trees
,
Water features
,
Wildlife