March 5th, 2008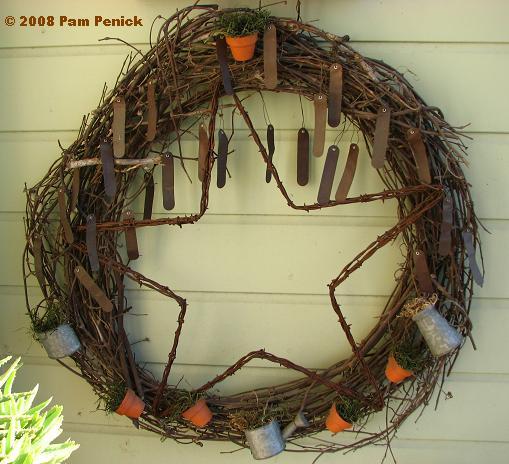 Next to my front door hangs a "wish" wreath made for me by my mother about 9 years ago. It remains one of my most treasured gifts.
Why do I love it? Aside from its appealing Texas-gardening theme—the grapevine wreath is accented by a barbed-wire star, tiny clay pots and miniature watering cans filled with Spanish moss, and dangling copper plant markers—the wreath holds all her wishes for me, each one etched on a copper tag and wired to the wreath.
Reading her wishes always makes me tear up, they're so sweet and full of love:
Contentment
Charity
Understanding
Laughter
More children (This might seem a stereotypical grandmotherly wish, but at the time we were struggling with secondary infertility, and I held this wish close to my own heart. Eventually, it came true.)
Friends
Happiness
Hope
Health
Family
Texas/home
Love
Madison (our old dog, who's since passed away)
Tenderness
Sex (I love that a plant tag labeled "Sex" is hanging by my front door.)
Only tears of happiness
Flower gardens
Sunshine
Just enough rain
Snow on Christmas (this one has yet to come true)
Forgiveness
Peace on earth (still wishing for this one too)
Four more tags bear the names of my husband, my children, and myself. I guarantee if you make one of these wreaths for a loved one, it will always have a special place in her garden and, more important, in her heart. Thank you, Mom.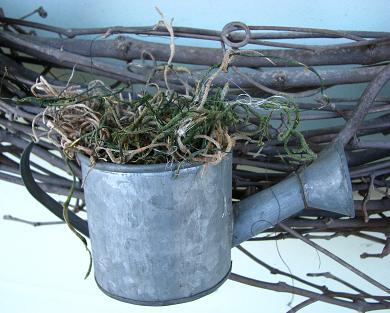 If you do make one, here's how you do it. Buy a large grapevine wreath (with or without the star in the middle), tie-on copper plant tags and wire, a package of Spanish moss, five clay pots, and three tiny, decorative, galvanized watering cans or buckets.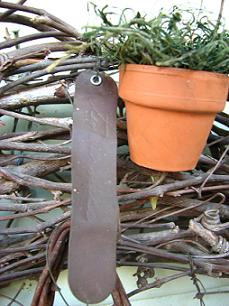 Using a hot-glue gun, glue the clay pots directly onto the wreath. With copper wire, tie the galvanized cans onto the wreath. Then hot-glue Spanish moss into the pots and cans. Gluing the moss keeps the birds from stealing it, for a little while anyway.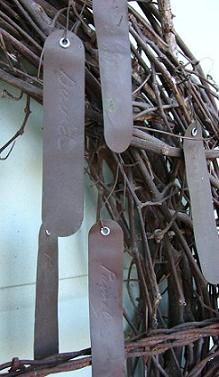 Using a ball-point pen, etch your wishes onto the copper plant tags, and then wire them onto the upper half of the wreath, using enough wire so they can dangle in the breeze.
Over time, the bright copper tags will darken, but they should always be legible. After a year or two, the recipient will need to re-glue the clay pots, as the sun weakens the glue if the wreath is kept outdoors. And more often, she'll have to re-stuff the pots with moss, as birds will use it for their nests. But if the wreath is hung on a sheltered porch, out of the rain, it should last for many years, as mine has. And the wishes will last forever.
All material © 2006-2008 by Pam Penick for Digging. Unauthorized reproduction prohibited.