July 23rd, 2017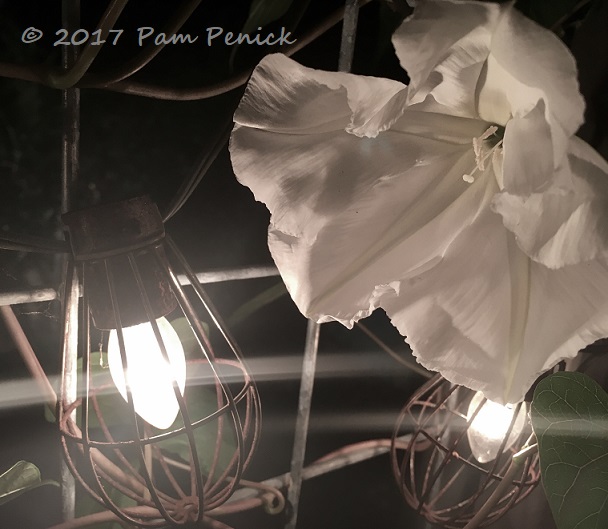 When the sun goes down and the moon comes up, that's when moonflower vine (Ipomoea alba) unfurls tissue-petaled white blossoms as large as your palm, inviting you to lean in for a deep whiff of its sweet perfume.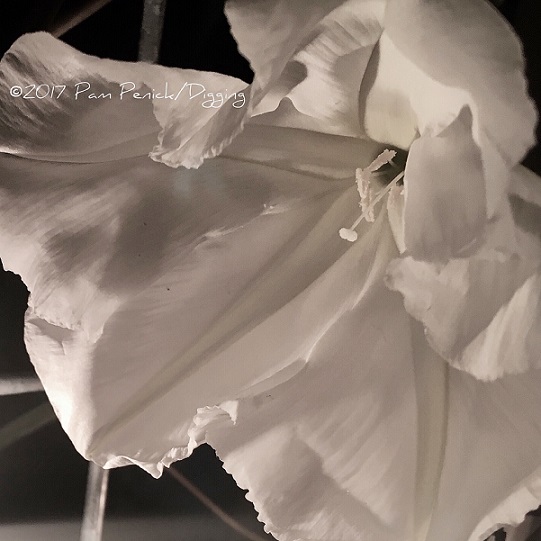 In my mind's eye, the flowers glow like miniature moons themselves — pure and white. But that's a trick of my camera setting.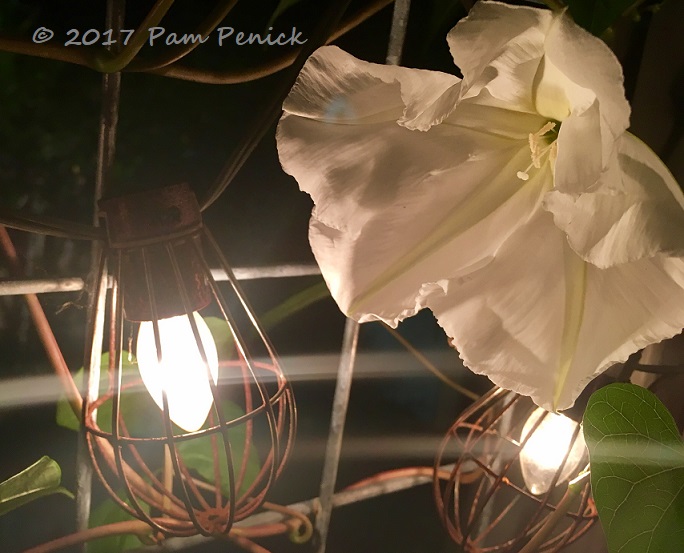 In reality, the flowers are ivory with a hint of pale celery along a starfish-shaped indentation in the center.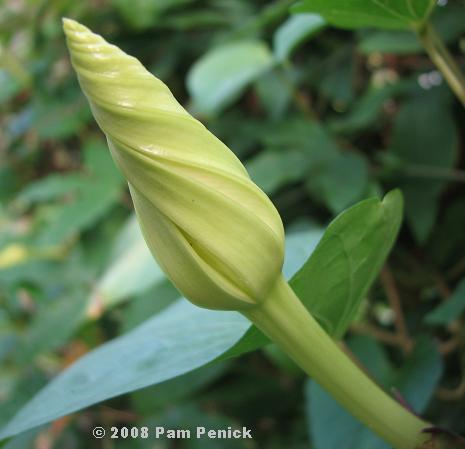 By day, when you spot a tapered, spiraling bud — like a unicorn horn! — get ready for a moonflower show that evening.
If you've never grown moonflower vine, it's easy to start from seed. (Note: this annual vine is not the same plant as our native perennial datura, or devil's trumpet, although they look similar.) Just buy a pack of seeds, and in early spring soak them overnight in a bowl of water before poking each one into seed-starting mix in biodegradable pots you can make out of toilet paper rolls. Protect them from freezes and chilly nights, give them bright light but avoid blazing sun, and keep them moist, and in a week or two their little green noses will pop up.
When they've grown a few inches tall with a few leaves, plant them in the garden in the toilet roll pots. In Austin's hot climate, morning sun is best, with afternoon shade. Give them a trellis to climb, keep them watered regularly, and soon enough you'll be enjoying those fragrant, night-blooming flowers. In autumn, you can collect the ripened, ivory seeds from the dried seedpods and save them for growing next spring.
Note: My Plant This posts are written primarily for gardeners in central Texas. The plants I recommend are ones I've grown myself and have direct experience with. I wish I could provide more information about how these plants might perform in other parts of the country, but gardening knowledge is local. Consider checking your local online gardening forums to see if a particular plant might work in your region.
I welcome your comments; please scroll to the end of this post to leave one. If you're reading this in a subscription email, click here to visit Digging and find the comment box at the end of each post.
_______________________
Digging Deeper: News and Upcoming Events
Get on the mailing list for Garden Spark Talks. Inspired by the idea of house concerts, I'm hosting a series of garden talks by talented designers and authors out of my home. Talks are limited-attendance events and generally sell out within just a few days, so join the Garden Spark email list for early notifications. Simply click this link and ask to be added.
All material © 2006-2017 by Pam Penick for Digging. Unauthorized reproduction prohibited.