November 5th, 2017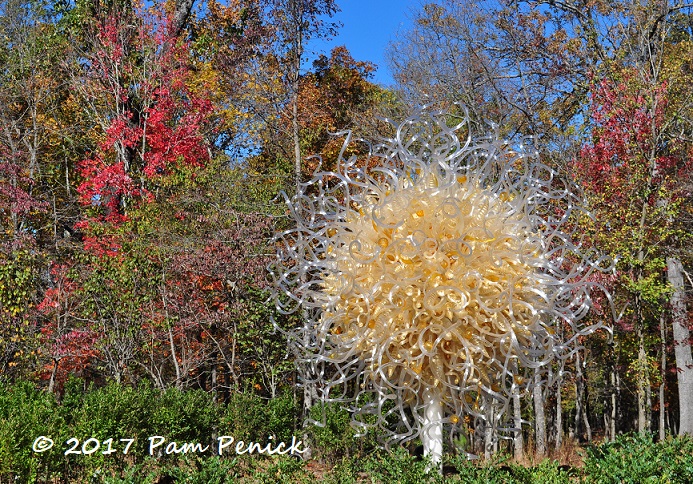 While in Eureka Springs, Arkansas, last weekend, my husband and I drove to nearby Bentonville to see the remarkable collection of American art at Crystal Bridges Museum. The museum is surrounded by pleasant walking trails, and an exhibit of Chihuly glass sculptures, Chihuly in the Forest, was ongoing (it ends November 27).
Naturally, I had to see it.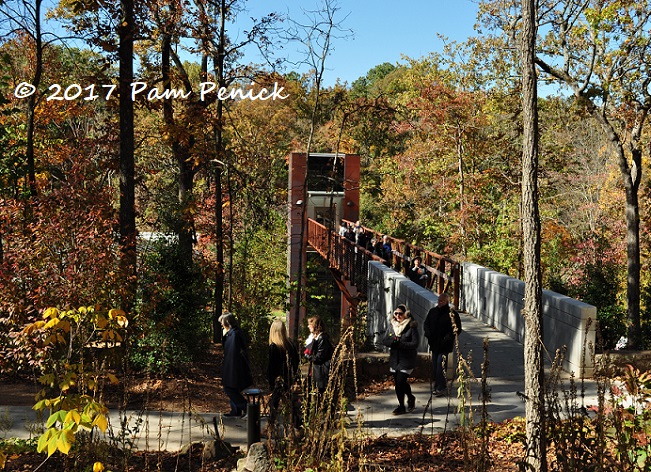 The museum sits down in a hollow, encircled by wooded hills. A steel and glass elevator takes you up to the start of the Chihuly trail.

The first sculpture, Boathouse 7 Neon, a composition of brightly colored and wavy glass tubes, put me in mind of someone who stuck their finger in an electrical outlet.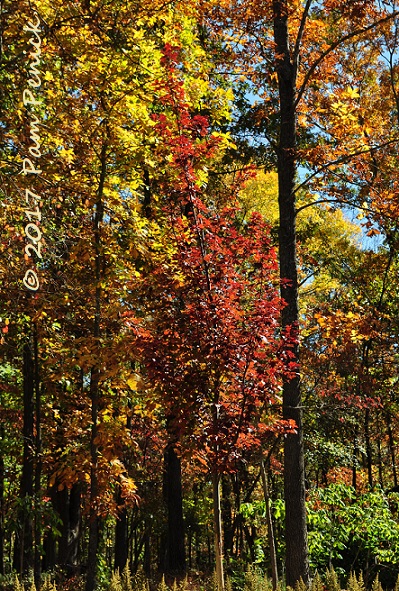 The colorful trees were electric too.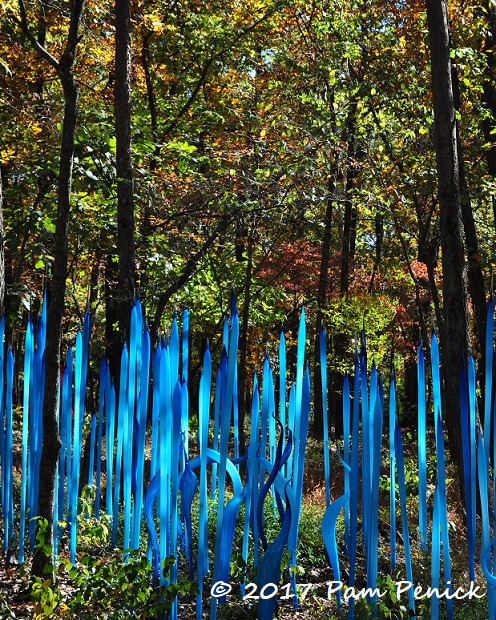 The mellow autumn sunlight illuminated the glass until they seemed to glow from within. Here's Turquoise Reeds and Ozark Fiori.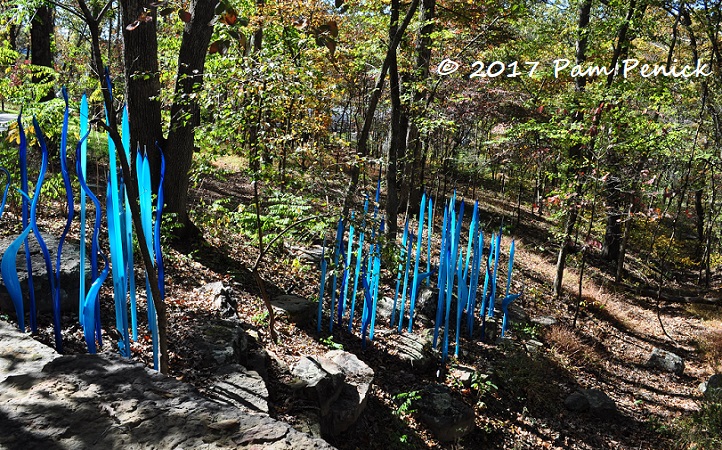 This sculpture jumps over the path and continues along a creek bed.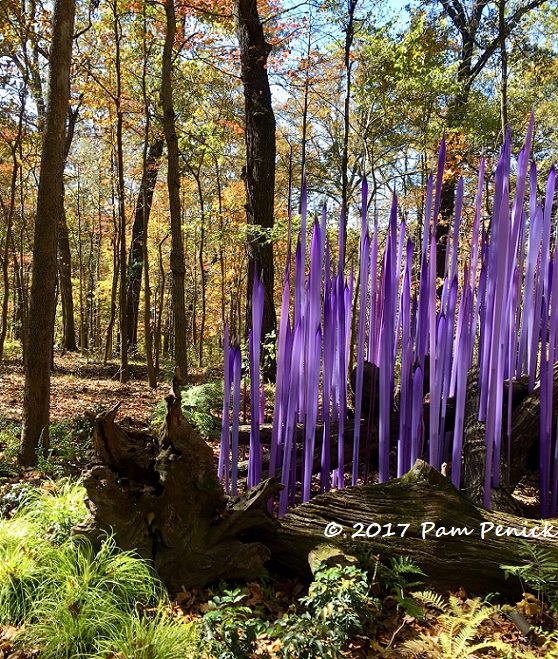 Neodymium Reeds, luminescent and seeming to grow from mossy old logs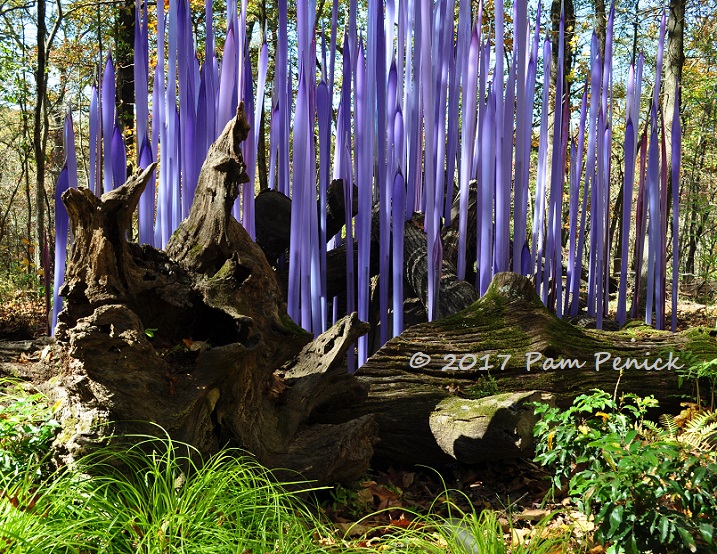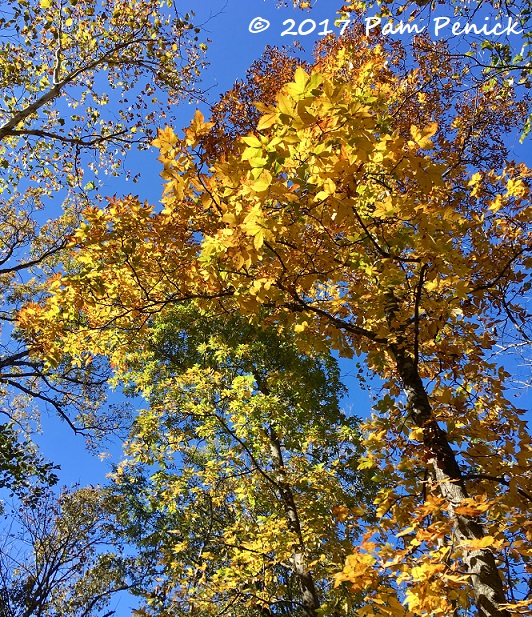 Glowing trees of gold…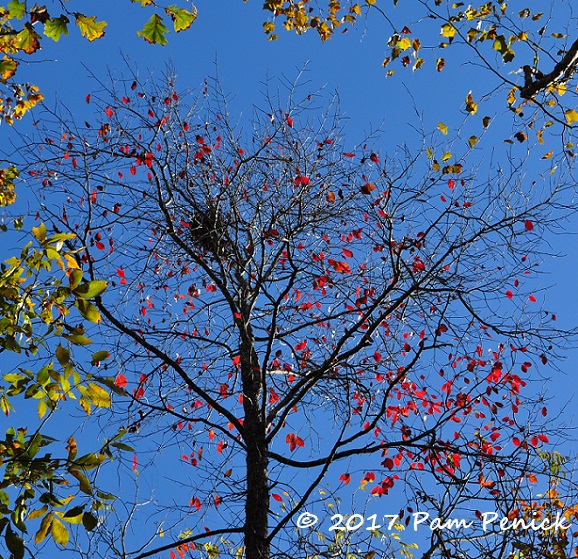 …and crimson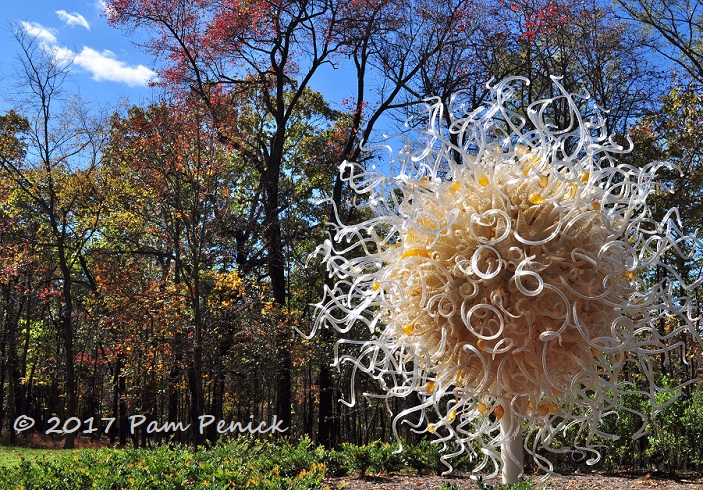 The big daddy of any Chihuly exhibit is always a sun sculpture. Here's Sole d'Oro, or Golden Sun.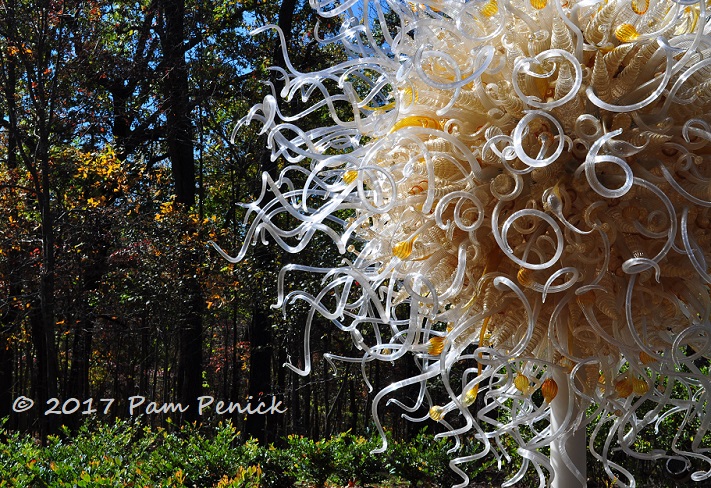 The gold glass pieces pick up the color of the surrounding trees.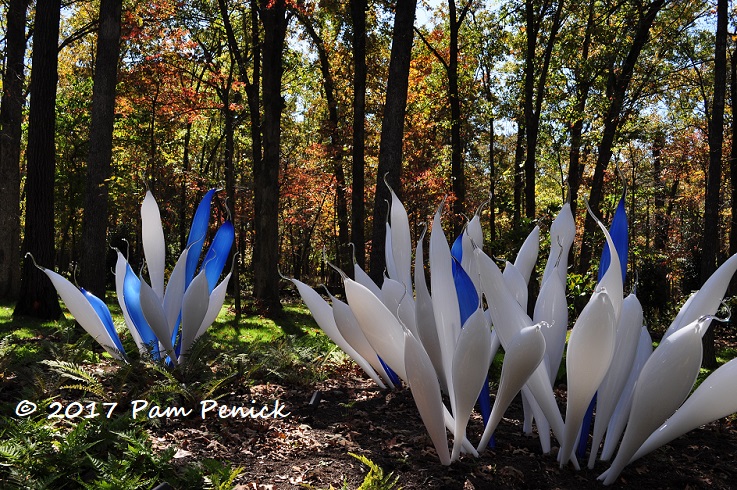 Next we saw Belugas, which look like balloons to me…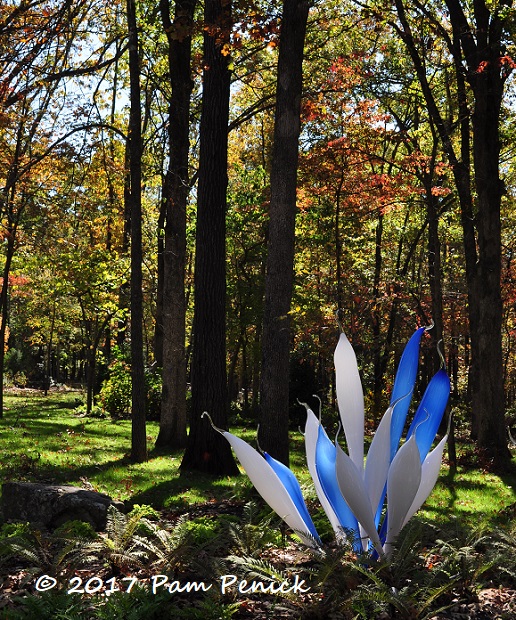 …although certain ones do have a dolphin-like quality.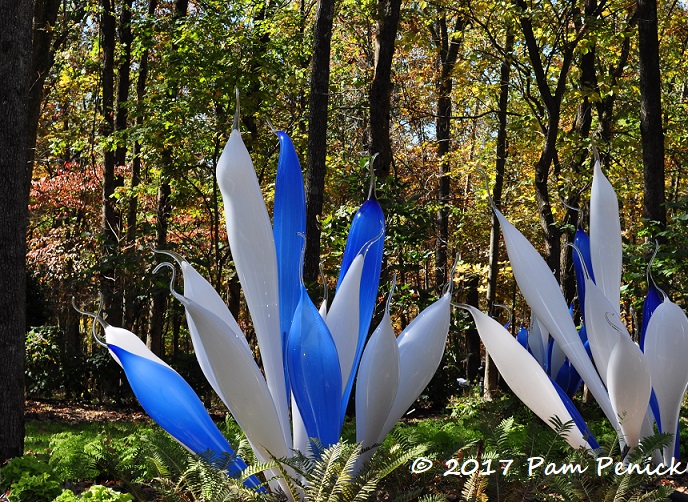 They rose from a bed of ferns.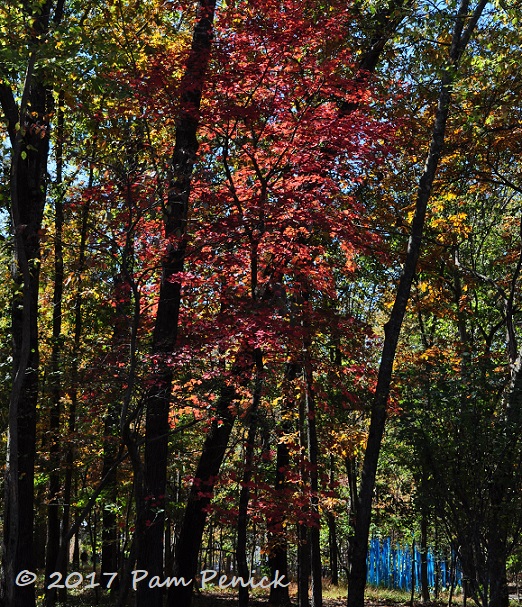 Red tree with a glimpse of Turquoise Reeds in the distance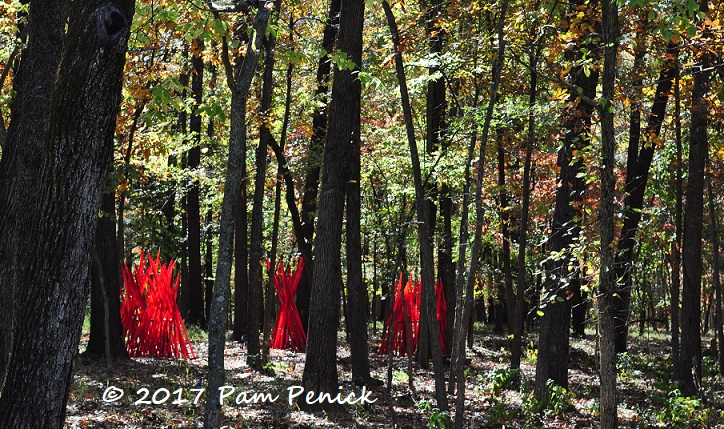 The way Red Reeds was stacked reminds me of old split-rail fences from the Civil War era, with their diagonal bracing.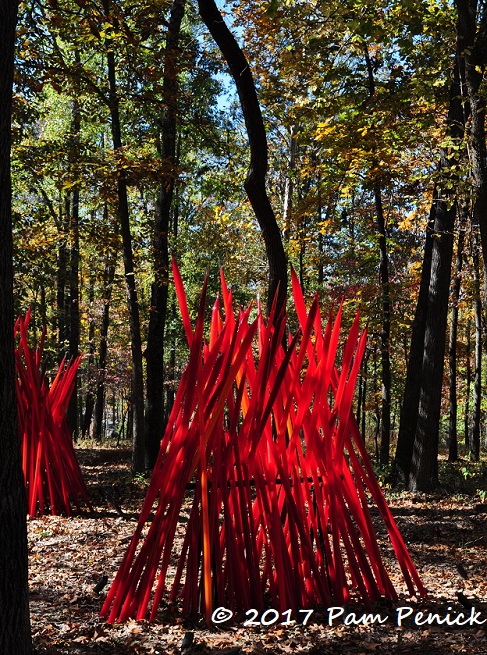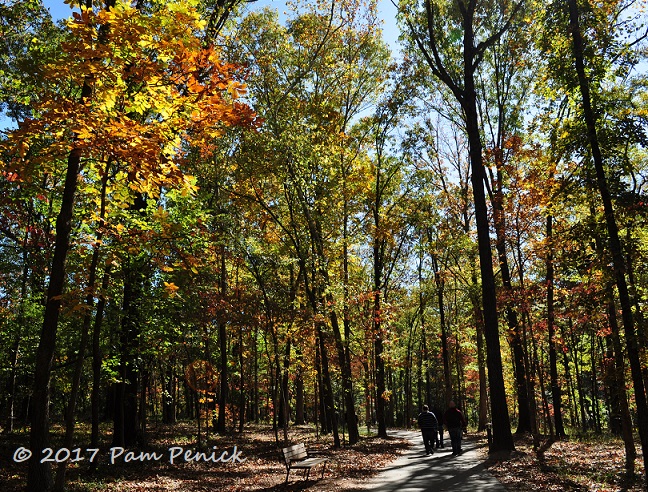 A walk in the woods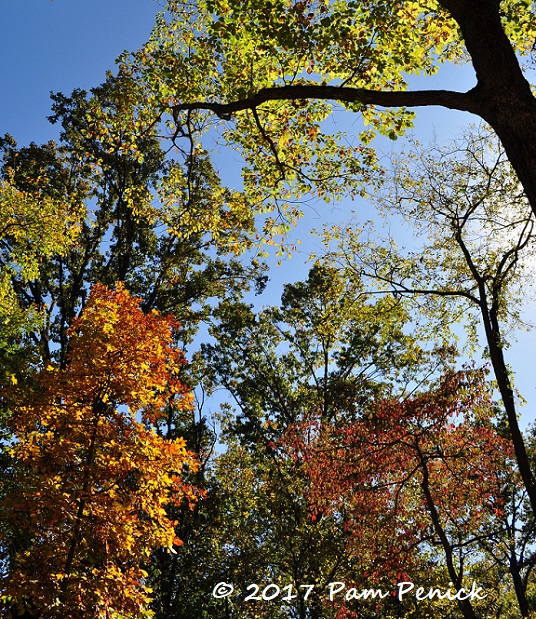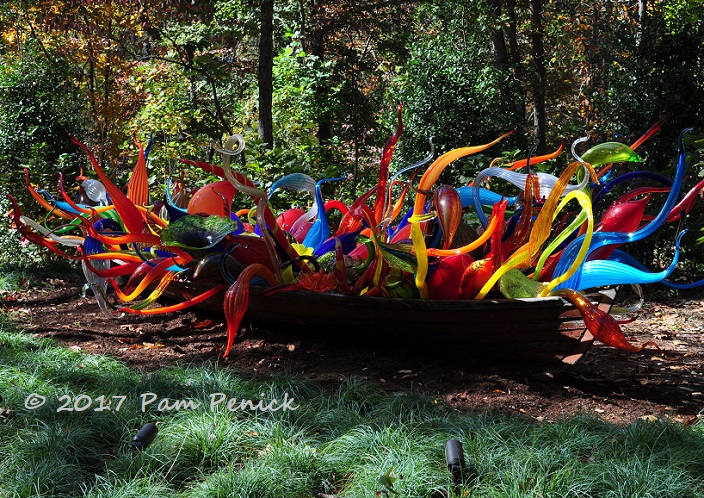 Boats are also a popular Chihuly element. Here's Fiori Boat, which means Flower Boat. I also admired the 'Blue Zinger' sedge planted around it.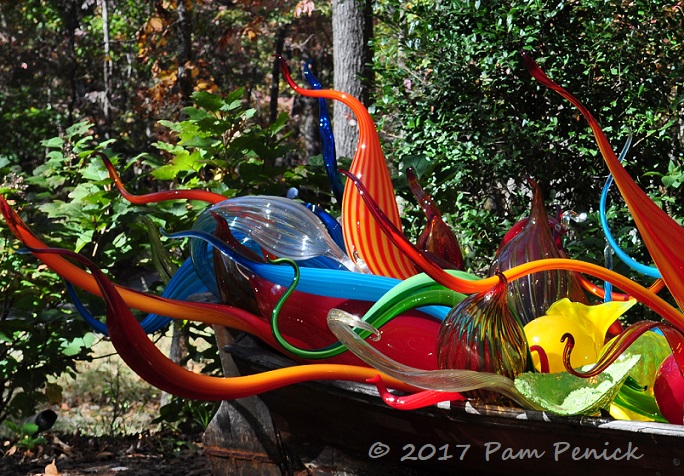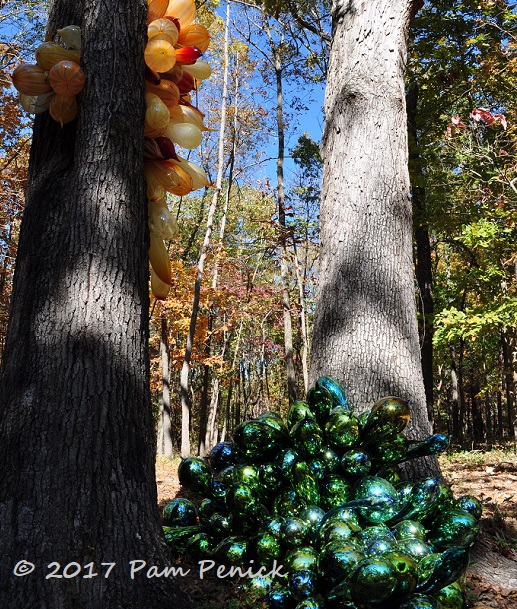 I've seen Chihuly exhibits before, at Dallas Arboretum and Desert Botanical Garden, but this was the first time along a forest trail. I enjoyed the juxtaposition of the glass amid natural scenery, especially with the fall foliage of late October.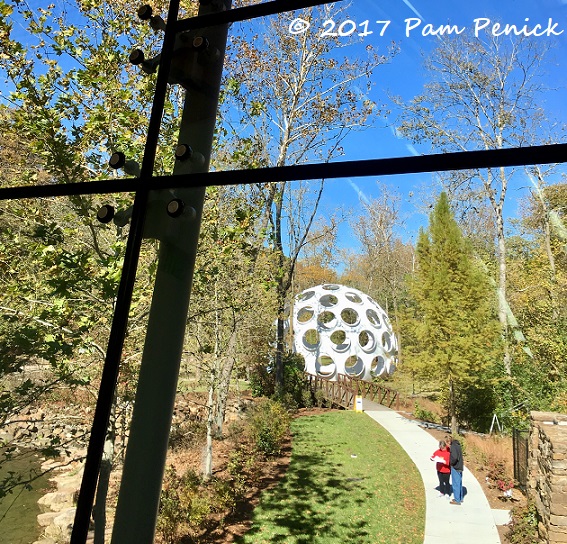 Before I show you the museum itself, let's explore the inside of Fly's Eye Dome by American designer and inventor R. Buckminster Fuller, one of many interesting sculptural and architectural pieces on the museum grounds.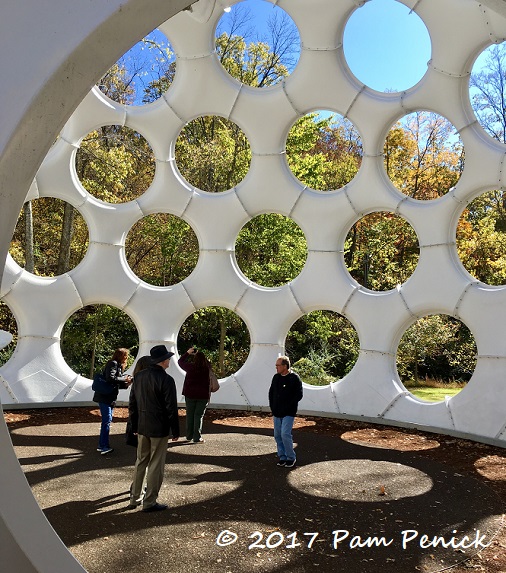 The circles in the dome made spotlights on the ground.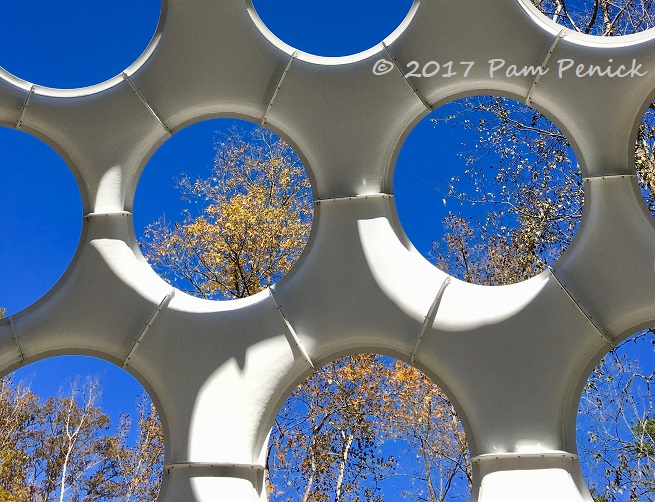 Golden trees glowed against the blue sky, framed in those circles — cool!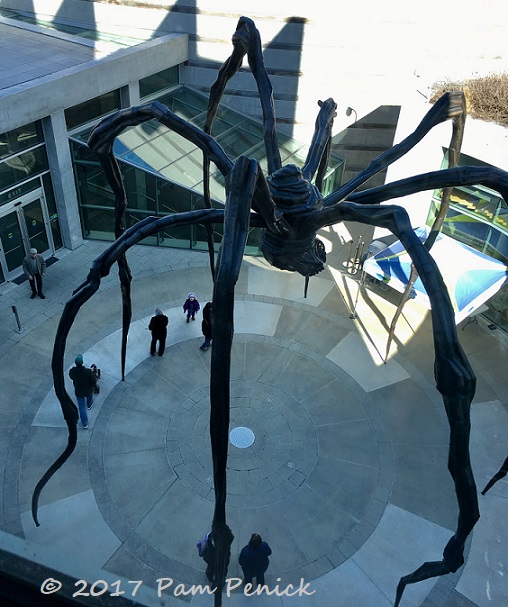 The museum itself is spectacular. You drop down into it from the glass-walled parking-garage elevator with a view of a spooky and monumental black spider in the open courtyard below.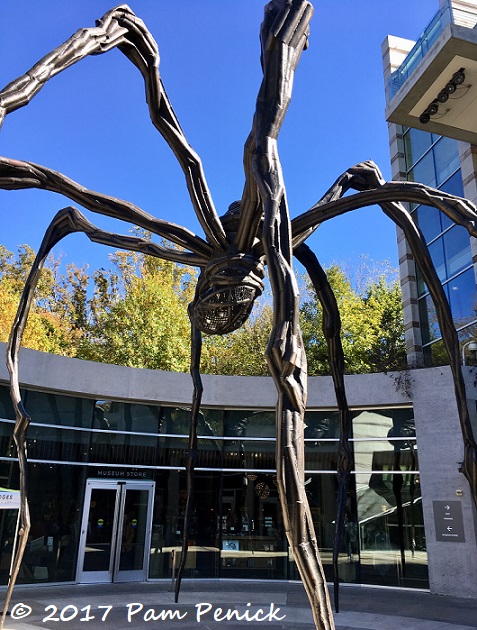 It's titled Maman, or Mother. Hmm.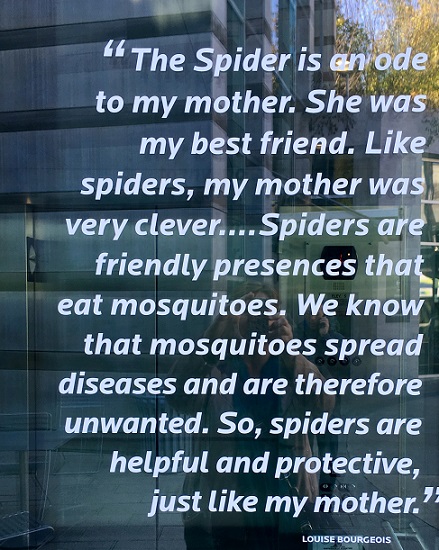 For the artist, Louise Bourgeois, envisioning her mother as a spider was not a negative statement.
"Art, like the beauty of our natural world, should be accessible to everyone."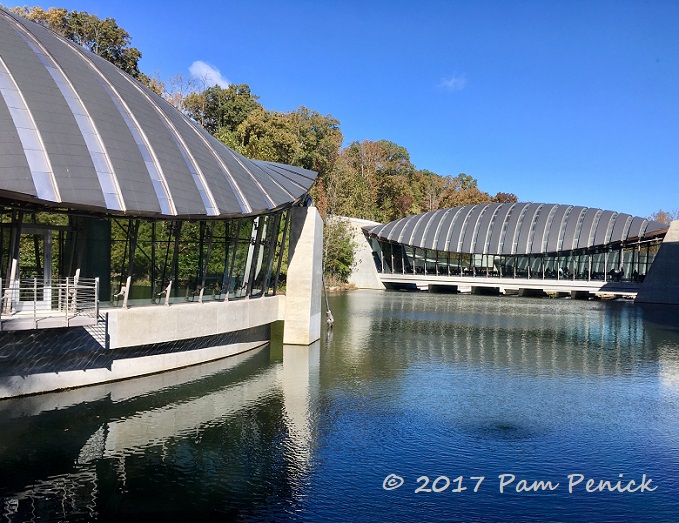 From that dramatic entrance, the design of the museum itself is wonderful. A series of organically shaped, "floating" pods set in a small lake and surrounded by the Ozark hills, the buildings look like glass-walled, covered bridges, from which I assume the name Crystal Bridges arose. If you're interested in how the architect, Moshe Safdie, came up with the unique design of the buildings (they reference swinging — i.e., suspension — bridges common in Arkansas) and tucked them down in a ravine rather than putting them up top for a commanding view, watch a series of engaging videos of Safdie in conversation with founder Alice Walton.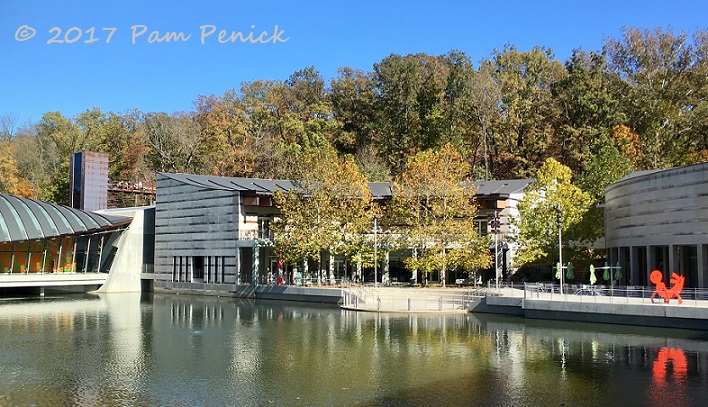 Wal-Mart heiress Alice Walton, who grew up here, loving art but with no access to museums, founded Crystal Bridges to bring great American art home to her people and her region. General admission to the museum is always free, thanks to a grant by Wal-Mart. I'm no Wal-Mart fan, but I think that's wonderful — a tremendous gift to the people of Arkansas and especially tiny Bentonville, and to the country as well.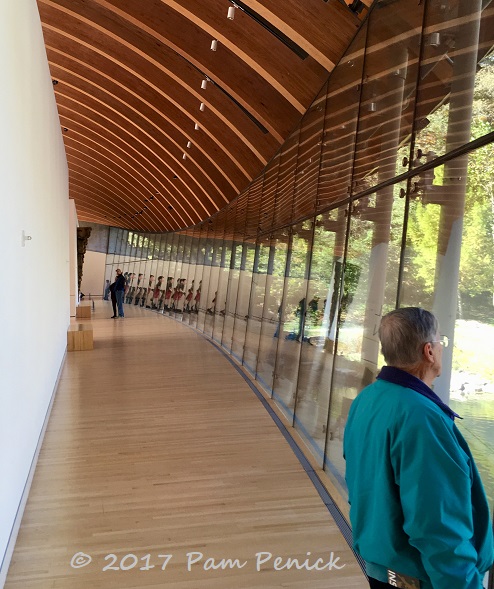 To me, the museum's founding is a heartening story about investing in the place you love:
A long-time art lover and collector, Ms. Walton conceived the idea of creating a national art museum in her hometown of Bentonville, Arkansas, so that people of the region would have ready access to great works of art. She planned to build the museum on a 120-acre stretch of natural Ozark forest that had belonged to her family for many years. The land had special meaning to Alice and her brothers, who had played together in these woods as children; and it was important to the family that the land's natural character be maintained. Alice presented her idea to the Walton Family Foundation, who agreed to fund the project.

Crystal Bridges Museum of American Art is the first national museum dedicated to the work of American artists in more than a generation. By design, Crystal Bridges is a wholly remarkable museum: in its collection, which spans five centuries of American art; in its dramatic architecture; in its lush natural setting; and in its geographical location in the heart of the country, far from any coastal metropolis.

These elements alone make the Museum distinctive among its peers, but the spirit of Crystal Bridges runs deeper than these outward emblems. From its beginning, Crystal Bridges has been guided by certain key principles: the Museum offers the finest examples of American art available, and holds education at the very core of our mission, and strives to be a welcoming and inspirational place for everyone.

This last is one of the reasons it was essential that Crystal Bridges be located here, in Bentonville, Arkansas, surrounded by the beautiful Ozark landscape, where the citizens of our region — for whom most of the country's finest museums are hundreds of miles away — can experience great works of art as part of their everyday lives, and where visitors from anywhere in the world can enjoy American art amid the beauty of the American landscape. At Crystal Bridges, we share a belief that art is at the center of what it means to be human. Art, like the beauty of our natural world, should be accessible to everyone.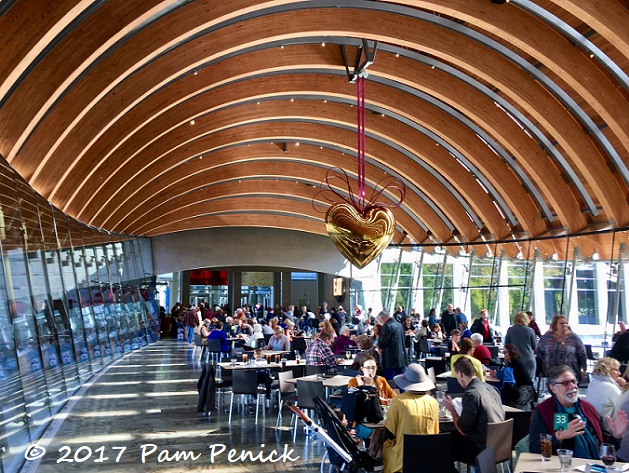 I couldn't agree more. Here's the museum's restaurant, Eleven (a reference to the museum's founding date on 11/11/11), a lovely space.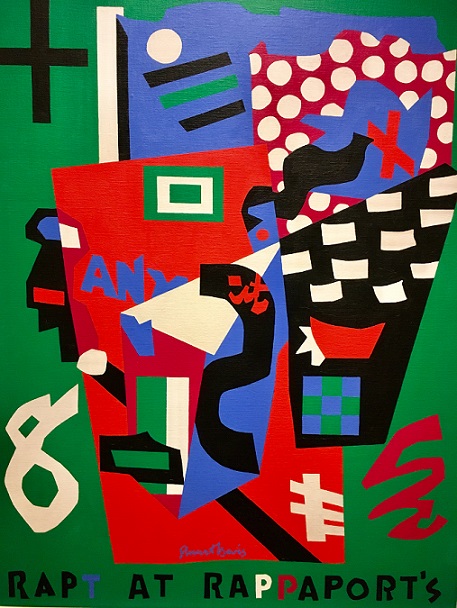 And here's a small sampling of the art, pieces that were particularly eye-catching to me among many much more famous pieces. This is a jazzy Stuart Davis painting from a special exhibit of his work.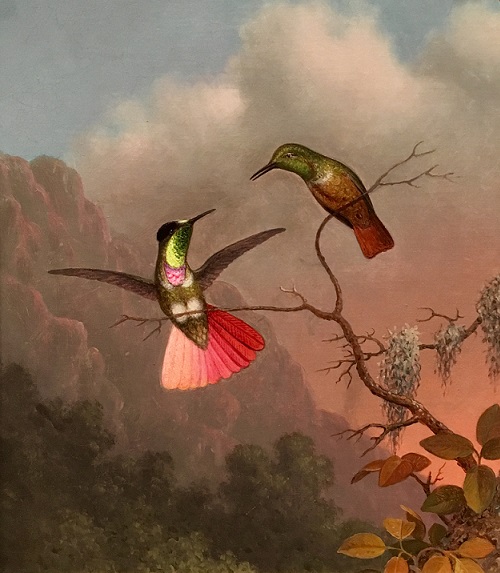 Exquisite paintings from Martin Johnson Heade's The Gems of Brazil series — Hooded Visorbearer…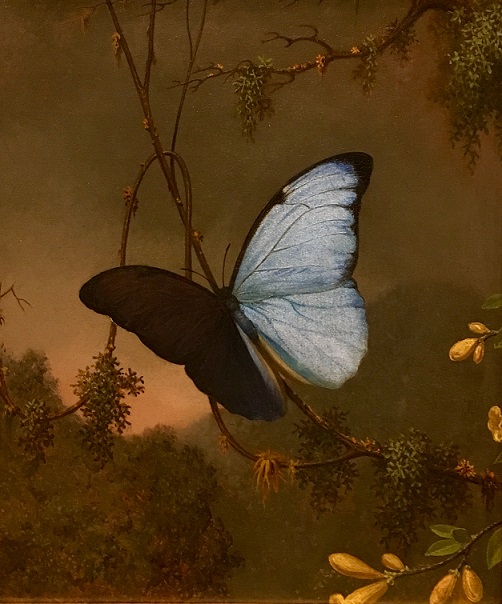 …and Blue Morpho Butterfly.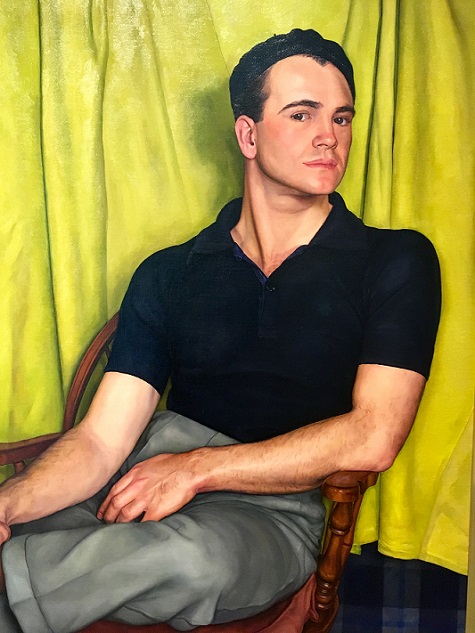 Luigi Lucioni's richly colored and intense Portrait of Bob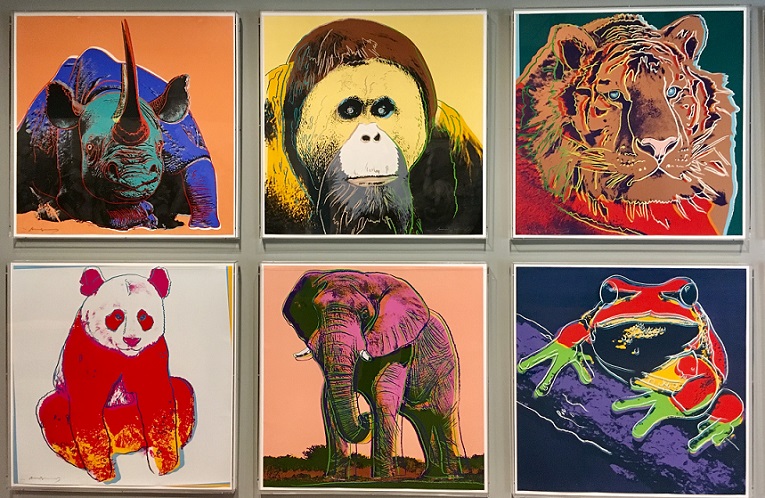 And Andy Warhol's Endangered Species series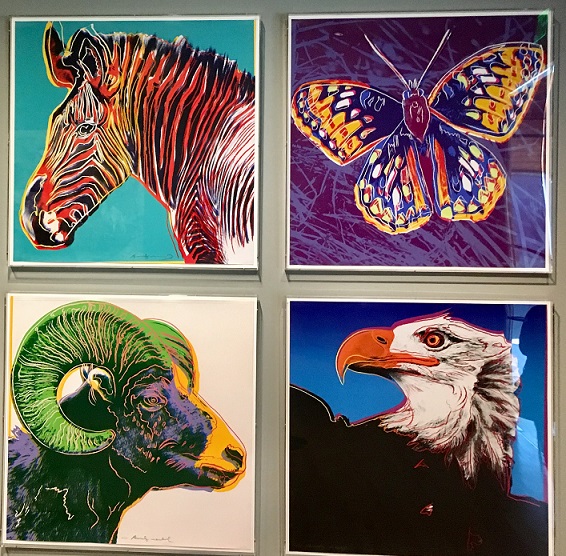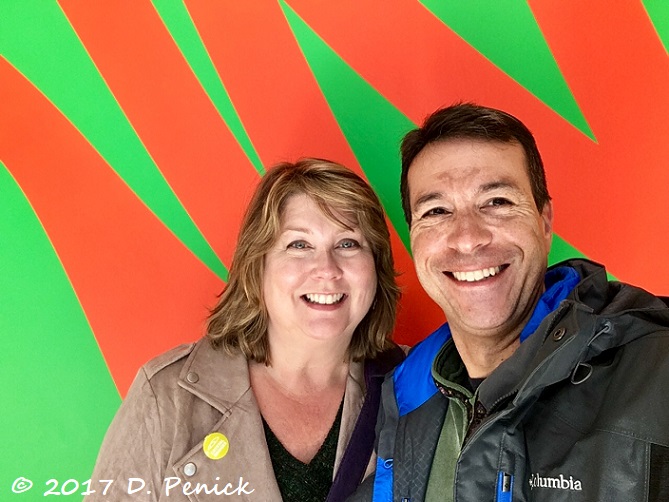 We had a great visit to Crystal Bridges and could easily spend another day there to see everything. We'll definitely be back one day.
For a look back at our visit to nearby Eureka Springs, Arkansas, including beautiful Thorncrown Chapel, click here.
I welcome your comments; please scroll to the end of this post to leave one. If you're reading this in a subscription email, click here to visit Digging and find the comment box at the end of each post.
_______________________
Digging Deeper: News and Upcoming Events
Join the mailing list for Garden Spark Talks! Inspired by the idea of house concerts, I'm hosting a series of garden talks by inspiring designers and authors out of my home. Talks are limited-attendance events and generally sell out within just a few days, so join the Garden Spark email list for early notifications. Simply click this link and ask to be added.
All material © 2006-2017 by Pam Penick for Digging. Unauthorized reproduction prohibited.
posted in
Architecture
,
Birds
,
Bridges
,
Butterflies/Moths
,
Fall color
,
Garden art
,
Grasses
,
Lakes
,
Parks & greenbelts
,
Paths
,
Public art
,
Restaurants
,
Sculpture
,
Travel
,
Trees
,
Windows