May 23rd, 2013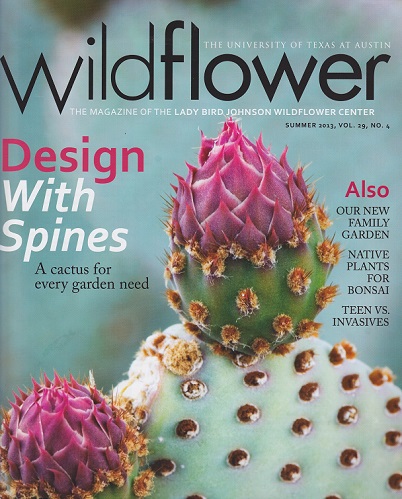 Sometimes my publicist lets me know ahead of time that Lawn Gone! will have a mention in an upcoming publication. Other times it's just a thrilling surprise. Like when I opened my copy of Wildflower (Summer 2013), the magazine of the Lady Bird Johnson Wildflower Center…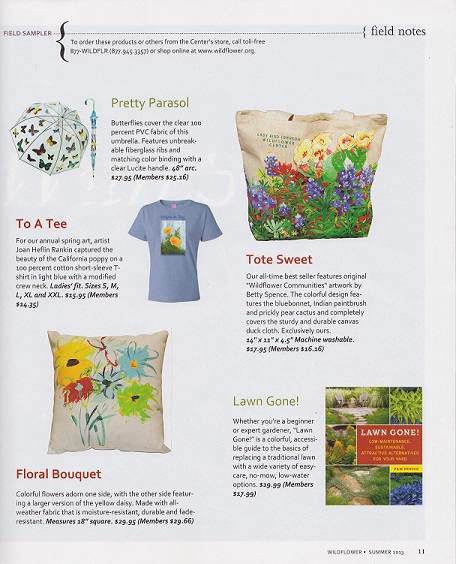 …and spotted a recommendation for Lawn Gone! along with other staff picks from the garden's gift shop on page 11. Woot! Thanks, Wildflower Center!
While I'm basking in the glow of their recommendation, let me give a little love back. This looks like a particularly interesting issue of Wildflower. One of my favorite garden writers, Scott Calhoun, has an article called "Design with Spines: Getting Hooked on Cacti in the Home Garden," which I'm sure will be a good read (click to read it online). Despite my love for spiny agave, yucca, sotol, and now dyckia, I don't know much about growing cacti, so I'll be reading that with interest.
There's also an article about getting children involved with nature, called "The Family Garden: Nature as Teacher," by Julie Bawden-Davis, that I want to read, especially as it accompanies detailed information about the new children's garden under construction at the Wildflower Center. I've been taking my kids to the Center and on greenbelt hikes around Austin (and in national parks around the country) since they were babies, and I believe unstructured outdoor time is essential for children's health and development. So I'm glad to see the Wildflower Center creating an exploratory garden especially for children, where they don't have to be told "no, don't touch!"
Check out these articles online, and consider subscribing to Wildflower through a membership to the Wildflower Center. Wildflower is a national-interest magazine, with articles and updates about native-plant gardens all over the country.
All material © 2006-2013 by Pam Penick for Digging. Unauthorized reproduction prohibited.