October 13th, 2016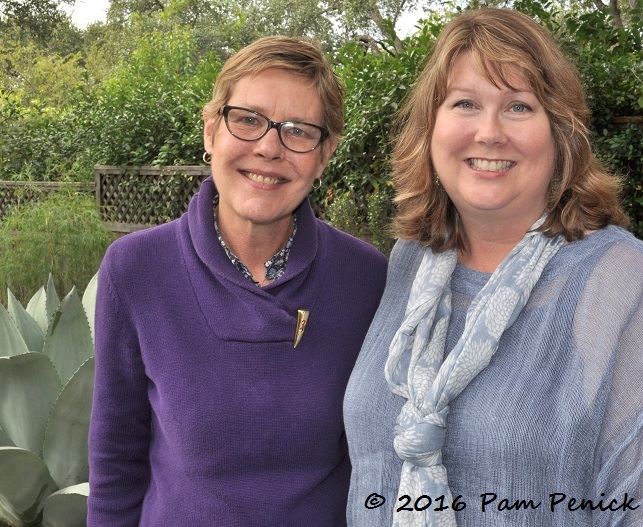 It's back-to-the-garden time in Texas, and it's also garden-talk season! I'm making a few appearances around Texas this fall (see below), and you can also catch me this weekend on Austin's own Central Texas Gardener TV show. Last fall, right before my garden was on tour, CTG producer Linda Lehmusvirta and her crew visited my garden to film it, and me talking about it.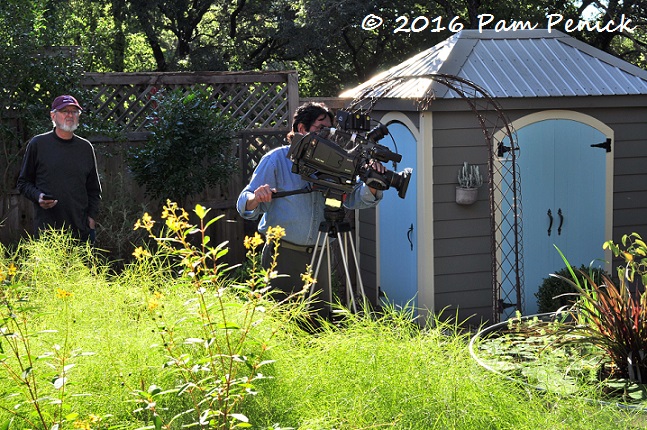 It airs this weekend on KLRU and other stations around the South and Southwest, and it's already online. Watching myself on TV is not my favorite activity (I'm way too introverted for that), but I hope it conveys what I was going for with my garden. It's no designer showcase, and it's far from perfect. It's a personal garden that makes me happy, where I experiment with plants and design ideas and feel connected with nature. I hope that comes through, and it's always my hope to share my gardening enthusiasm with others!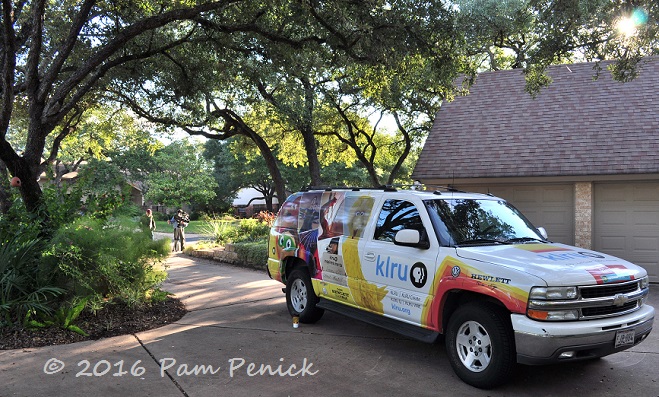 Huge thanks to Linda, cameraman Ed, and the rest of the CTG crew for sharing my garden on the show! And for mentioning my books too…


…which (cue suave segue) I'll be autographing tomorrow (Friday) at the Lady Bird Johnson Wildflower Center's gift store from 1 to 3 pm. Tomorrow is the members'-day portion of their Fall Native Plant Sale, so if you're coming out for that, I hope you'll drop in at the store and say hi. Visitors and members alike, it's a great time to visit the gardens, which are gorgeous this time of year.
Here are sneak peeks of my two books, which I'll be signing from 1 to 3 pm. Remember, if you're a member, you get a 10% discount in the gift store!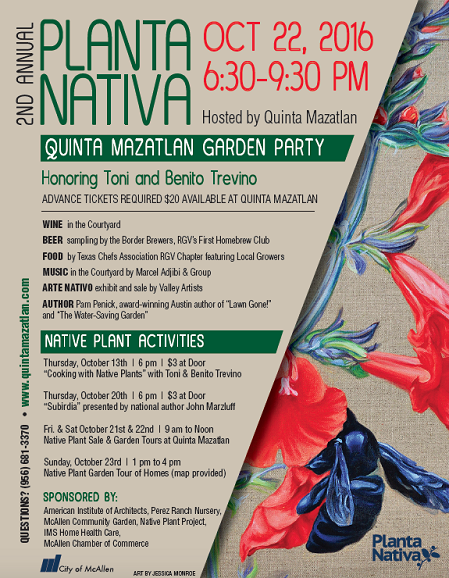 In one week, next Saturday the 22nd, I'll be speaking at Planta Nativa festival in McAllen, Texas, and it's going to be a lot of fun! Activities are going on all that weekend, but the main event is Saturday evening, with beer and wine, live music, an art exhibit, delicious food, and yours truly presenting the keynote talk, "Local Heroes: Designing with Native Plants for Water-Saving Gardens." Hope to see all you South Texans there!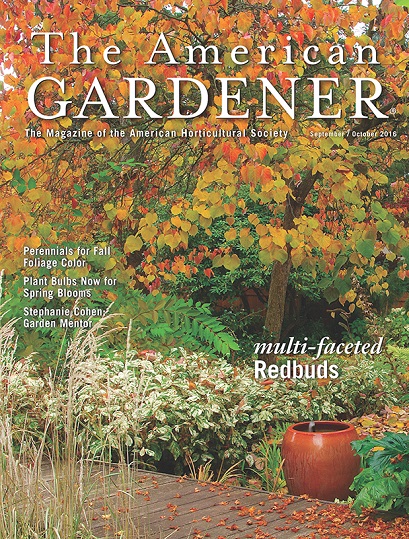 Earlier this month, I was super excited to learn that esteemed magazine The American Gardener featured The Water-Saving Garden in its reviews section in the Sept/Oct 2016 issue.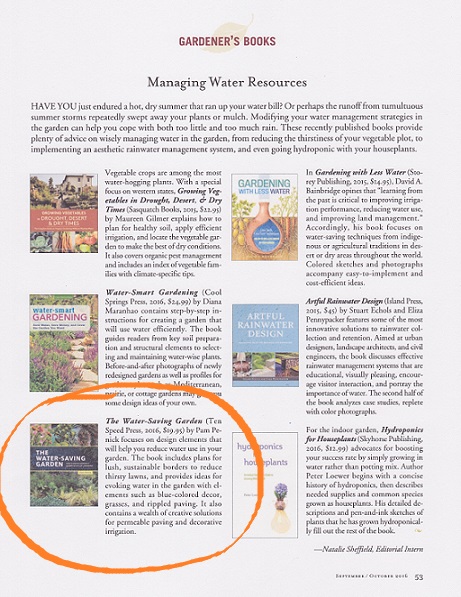 They devoted a whole page, in fact, to books about managing water sustainably in the garden, which is terrific.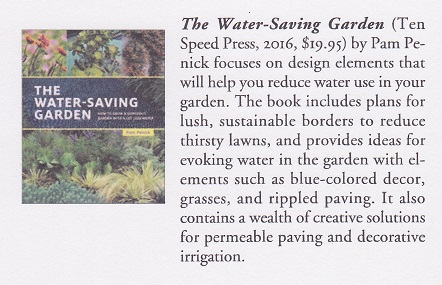 Here's what they say about my book.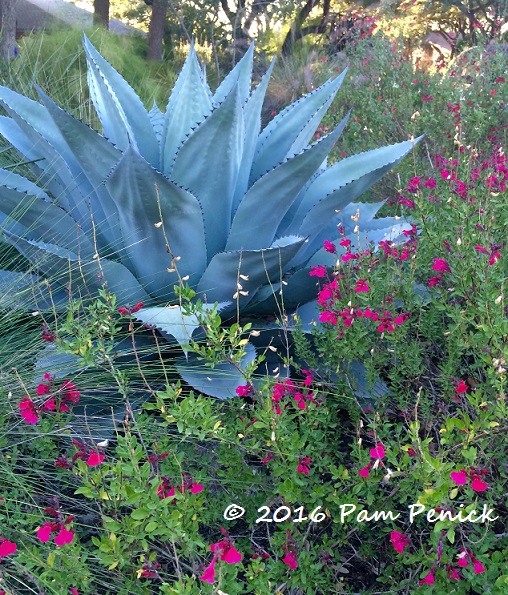 Speaking of water-saving gardens, here's a quick look at my favorite plants this week, as our second spring begins: autumn sage (Salvia greggii) and whale's tongue agave (A. ovatifolia) in my neighbor's garden that I planted for her.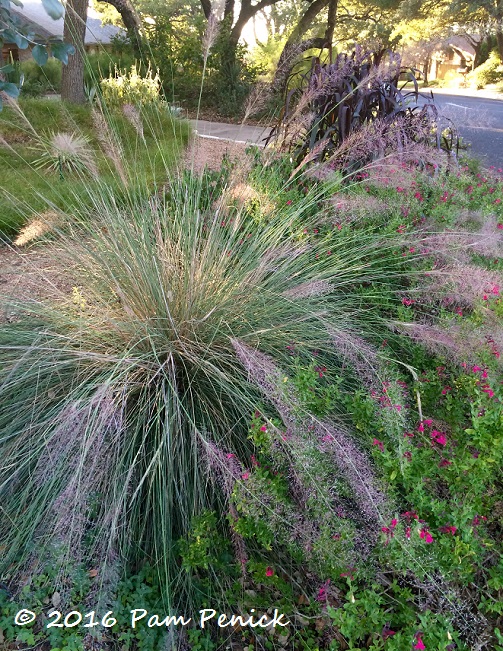 And in my own streetside garden, 'Pink Flamingos' muhly with hot-pink autumn sage and dark-purple 'Vertigo' pennisetum (Pennisetum purpureum 'Vertigo' from Proven Winners, a trial plant they sent me) in the background.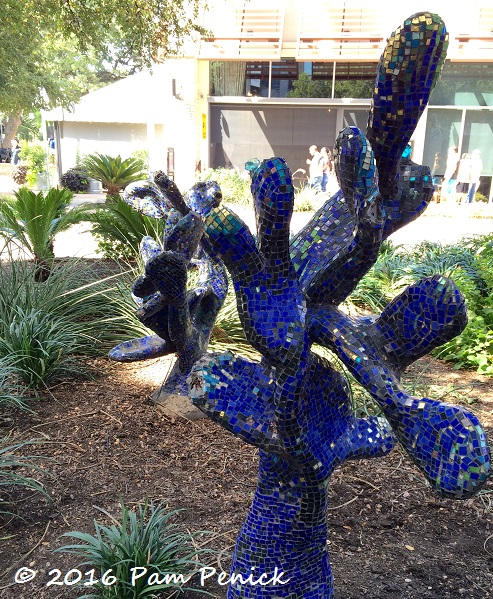 And just for fun, a mosaic glass-tile prickly pear at The Domain shopping center in north Austin.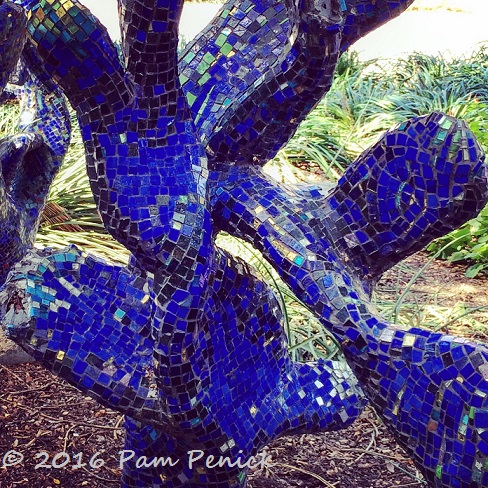 Happy fall, y'all!
I welcome your comments; please scroll to the end of this post to leave one. If you're reading this in a subscription email, click here to visit Digging and find the comment box at the end of each post.
_______________________
Digging Deeper: News and Upcoming Events

South Texans, come see me at the 2nd annual Planta Nativa festival in McAllen, Texas, on Saturday, October 22. I'll be delivering the keynote talk, "Local Heroes: Designing with Native Plants for Water-Saving Gardens," that evening. Tickets are on sale at Quinta Mazatlan. I hope to see you there!
I'll be speaking at the Antique Rose Emporium Fall Festival 2016 in Brenham, Texas, on Saturday, November 5th, 1:30-2:30 pm. Come on out to the Antique Rose Emporium's beautiful gardens for a day of speakers and fun! My talk, with plenty of eye-candy photos, is called "Hold the Hose! How to Design a Water-Saving Garden that Wows." Meet me afterward at the book-signing table!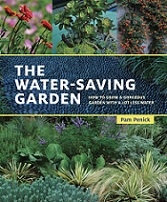 Do you review? Have you read my new book, The Water-Saving Garden? If you found it helpful or inspirational, please consider leaving a review — even just a sentence or two — on Amazon, Goodreads, or other sites. Online reviews are crucial in getting a book noticed. I really appreciate your help!
All material © 2006-2016 by Pam Penick for Digging. Unauthorized reproduction prohibited.
posted in
2nd garden--2016
,
Agaves
,
Books
,
Cactus
,
Fall color
,
Festivals
,
In the news
,
Interviews
,
Lawn Gone!
,
Magazines
,
Plant trial
,
Sheds
,
Speaking events
,
Video
,
Water-Saving Garden