July 20th, 2017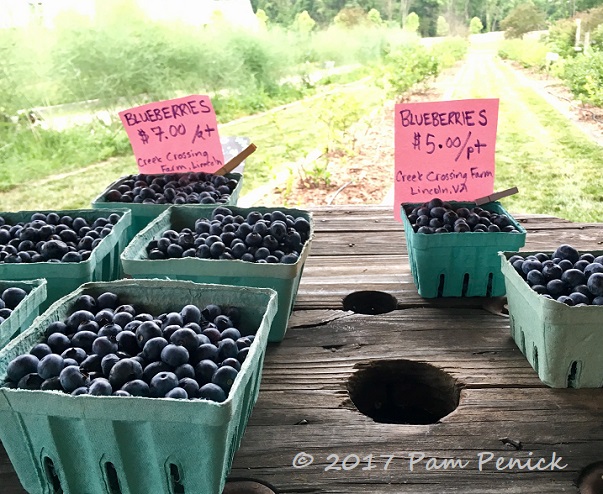 I'm not a food gardener myself, but I enjoyed the Capital Region Garden Bloggers Fling welcome-event visit to Willowsford Farm, a 300-acre farm surprisingly located within a recently developed planned community in Ashburn, Virginia, about an hour's drive northwest of Washington, D.C.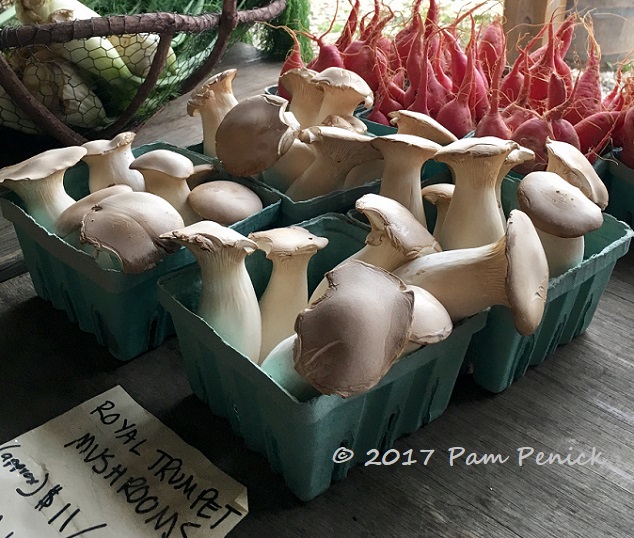 After a lovely outdoor reception, we were invited to tour the farm with director Mike Snow, starting at their farm stand that sells "a variety of our own and locally sourced products, including veggies and fruit, meats, cheeses and dairy, honey and pantry goods, prepared foods and more," and that's open to the public spring through fall.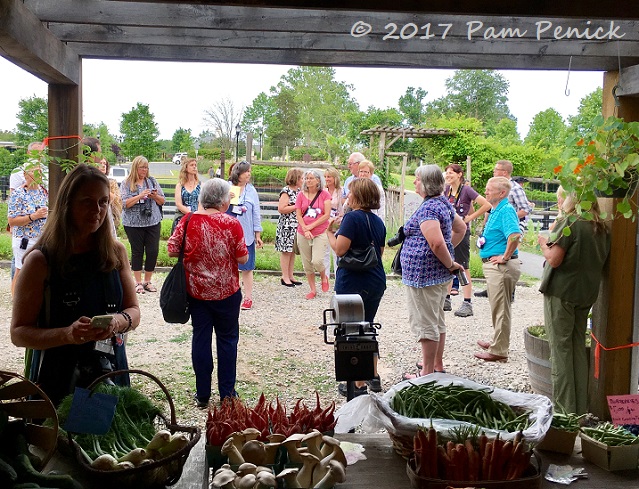 As Mike described the farm's operations and prepared to lead bloggers on through the farm…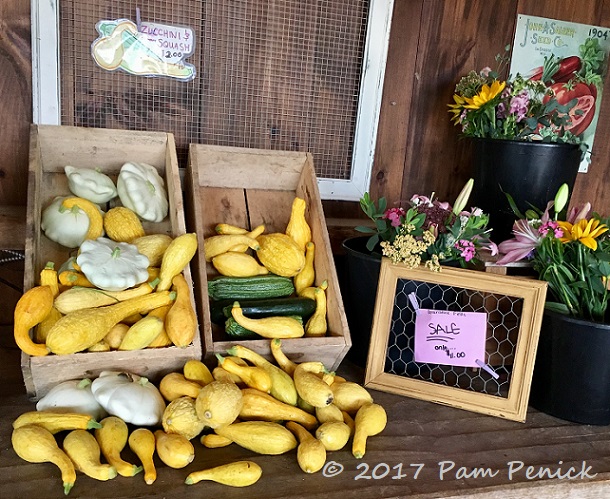 …I was sidetracked by the pretty fruit and vegetable displays in the open-air, roofed market.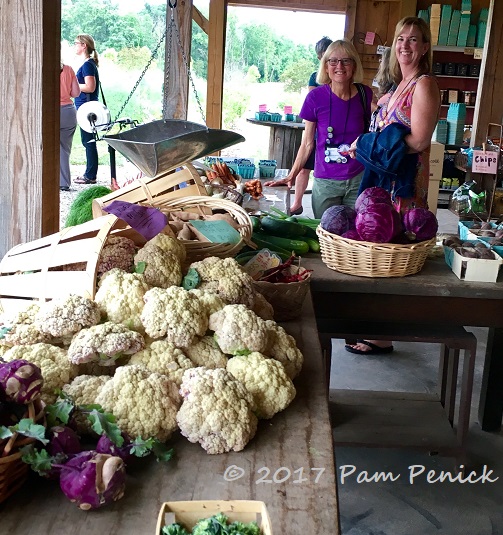 Here are Flingers Lisa Wagner of Natural Gardening and Julie Thompson-Adolf of Garden Delights enjoying the stand too — and matching the purple cabbages.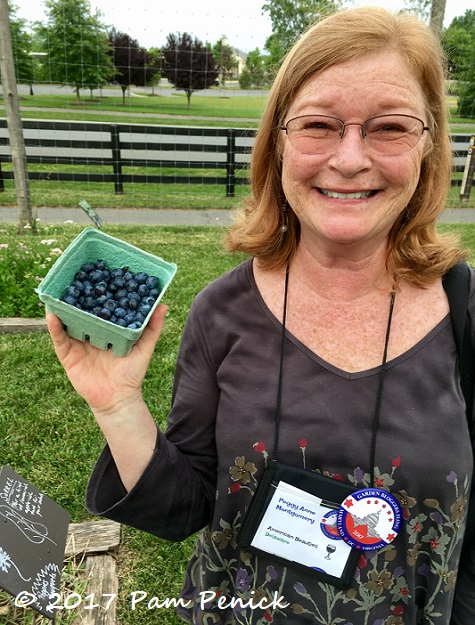 And here's the ever-cheerful Peggy Anne Montgomery of American Beauties Native Plants showing off some blueberries she purchased and was sharing around. I had some, and they were yummy!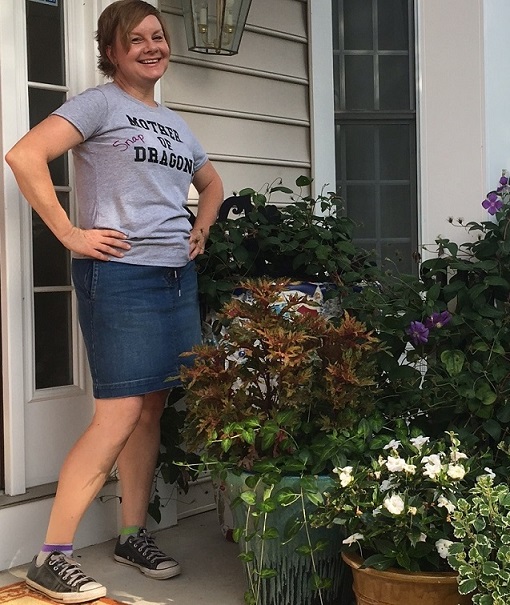 Photo courtesy of Julie Thompson-Adolf/Garden Delights
And that's a wrap on my posts about this year's Garden Bloggers Fling, which introduced me to a gardening region — the rolling, bucolic country of northern Virginia and suburban Washington, D.C. — I knew virtually nothing about, despite numerous visits to D.C. as a tourist over the years. Hats off to the woman who put it all together as the organizer of the 2017 Fling, Tammy Schmitt of Casa Mariposa! Notice her cheeky Game of Thrones-referencing T-shirt, which reads "Mother of Dragons," with "Snap" penned in red just before "dragons" — ha!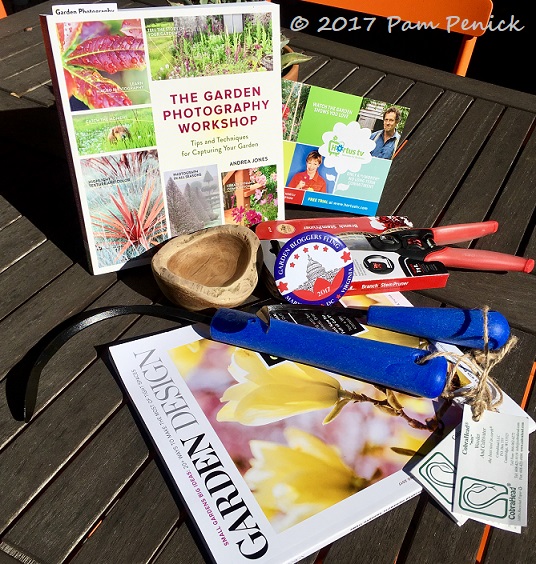 Thanks, too, to all the sponsors of the Fling, who help make this annual event possible and much more affordable than it would otherwise be. They're listed in the 2017 Sponsor Directory, as well as on the Fling website's sidebar. Many of the sponsors not only give money but donate items to the attendees' swag bags, as shown in this incomplete sampling from my own bag: shout-outs to Garden Design, CobraHead, Corona, Hortus TV, Teak Closeouts, American Meadows, High Country Gardens, Botanical Interests, Timber Press, Kelly Moore, Southern Exposure Seed Exchange, Dramm, and many others.
To any garden blogger who thinks all this looks like fun and wants to Fling too, join us next year right here in Austin, Texas! Diana Kirby, Laura Wills, and myself are already well into the planning for the 2018 Garden Bloggers Fling in Austin and look forward to hosting our fellow bloggers here May 3-6, 2018!
Here's a little sneak peek!
I hope you've enjoyed my series about the gardens I toured on the Capital Region Garden Bloggers Fling. For a look back at the Japanese garden and garden art at Hillwood Estate, click here. And to read other bloggers' posts about the tour, click here.
I welcome your comments; please scroll to the end of this post to leave one. If you're reading this in a subscription email, click here to visit Digging and find the comment box at the end of each post.
_______________________
Digging Deeper: News and Upcoming Events
Get on the mailing list for Garden Spark Talks. Inspired by the idea of house concerts, I'm hosting a series of garden talks by talented designers and authors out of my home. Talks are limited-attendance events and generally sell out within just a few days, so join the Garden Spark email list for early notifications. Simply click this link and ask to be added.
All material © 2006-2017 by Pam Penick for Digging. Unauthorized reproduction prohibited.
posted in
Berries
,
Bouquets
,
Community gardening
,
Edibles
,
Farms
,
Fling DC/VA
,
Flowers
,
Garden blogging
,
Garden tours 2017
,
Markets
,
Travel
,
Video