November 3rd, 2017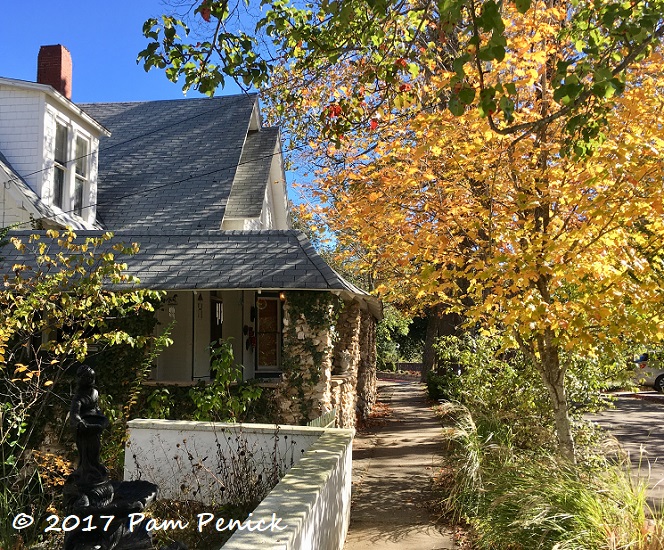 Last Friday my husband and I drove up to northern Arkansas for an extended weekend just before Halloween, hoping to see colorful fall foliage while making a first-time visit to Eureka Springs. I didn't know what to expect from Eureka Springs aside from hilly terrain, natural springs, and Victorian homes from the town's heyday in the late 1800s, when tourists sought out the "curative" spring water.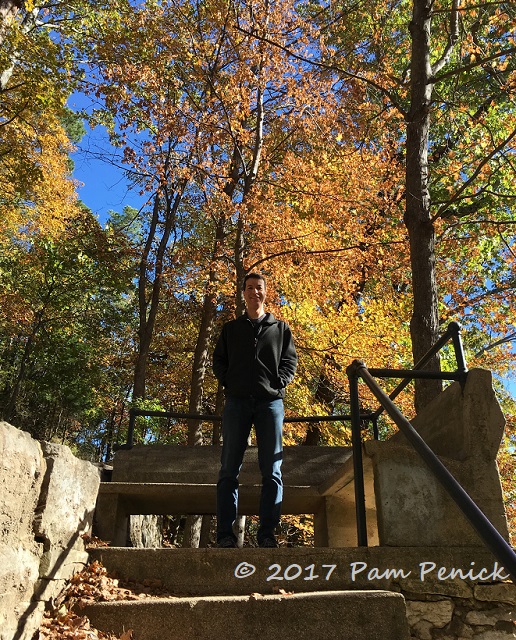 Eureka Springs is indeed very hilly — its nickname, Little Switzerland, is well earned — and we did see leaves of gold and red, although overall it hasn't been a great year for fall color in Arkansas due to unusually dry conditions. The town is utterly charming, with hundred-year-old houses along every street and a bustling downtown of well-preserved Victorian-era buildings turned into shops, hotels, and restaurants.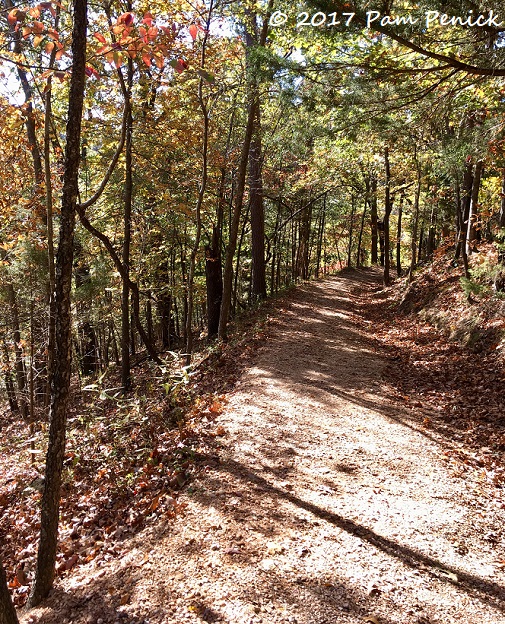 In town, footpaths bypass the winding roads and offer mountain-goat-friendly shortcuts up and down hills. We climbed one from a downtown park, up through a neighborhood of sweet, front-porched homes, and then up to the iconic if a bit rickety Crescent Hotel, with commanding views of the surrounding hills. And then we walked back down to town for lunch at Mud Street Cafe. It was perfect sweater weather, with bright blue skies and blushing trees and leaves crunching underfoot.
Halloween in Eureka Springs: All-Out Decorating and Zombie Crawl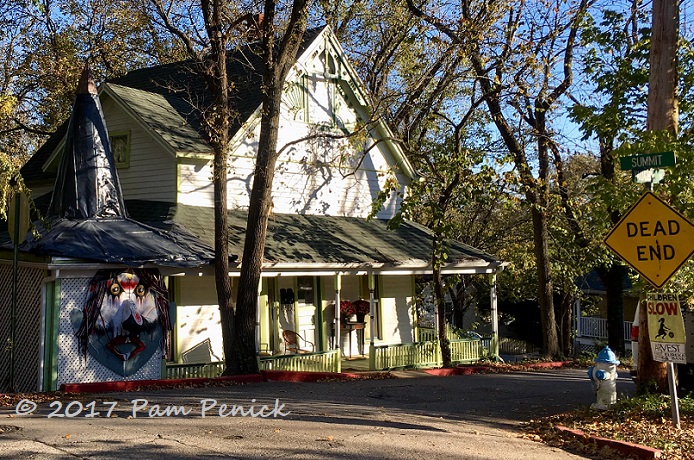 We stayed at the delightful Heart of the Hills Inn (not pictured), in its cozy and comfortable Carriage House, located on the Historic Loop along Summit Street. Every house in the neighborhood was all-out decorated for Halloween, including this crazy-spooky house-turned-witch just down the street.

We soon learned that Eureka Springs has a contest for best Halloween decorations, and this one took 3rd place, if I recall correctly. Note the ghoul climbing up over the roof!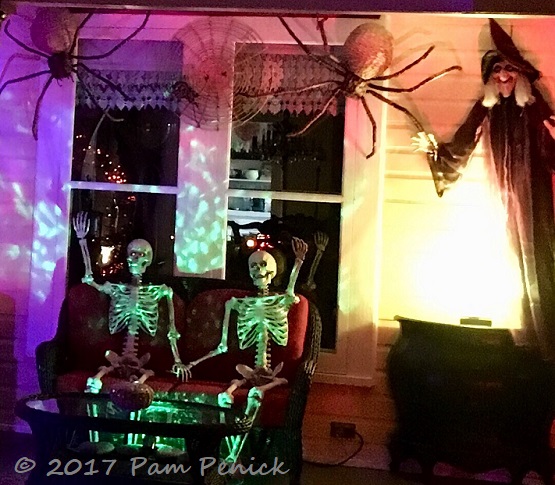 Friendly porch-sitters waved at rubbernecking passersby.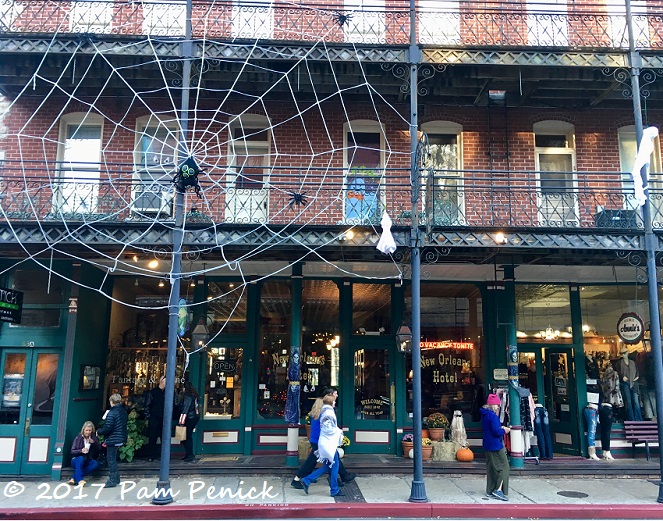 Downtown, thankfully, there were no early Christmas trees or Santas adorning storefronts. Halloween and fall were being celebrated in full measure, as they deserve.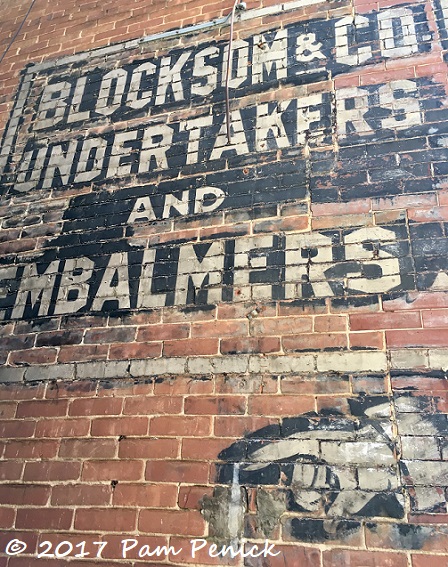 Even the murals and graffiti in alleyways got into the spirit of things.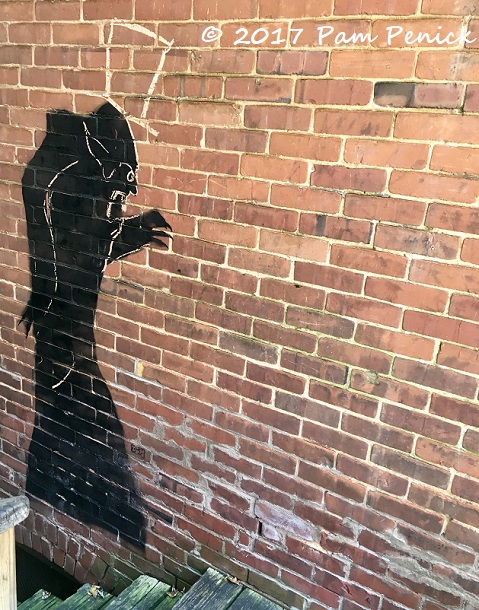 The Babadook?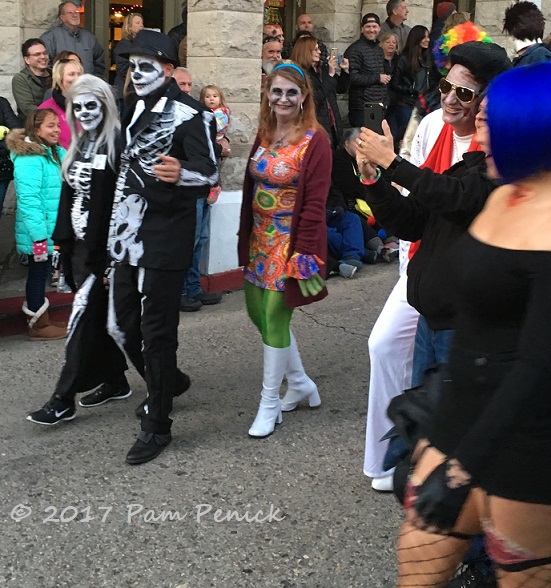 On the Saturday before Halloween, zombies shuffled into town, looking for braaaaiiiins. It was the 6th annual Zombie Crawl parade, and we joined the throngs lining historic Spring Street to watch the undead go by. Amid skele-zombies and go-go zombies…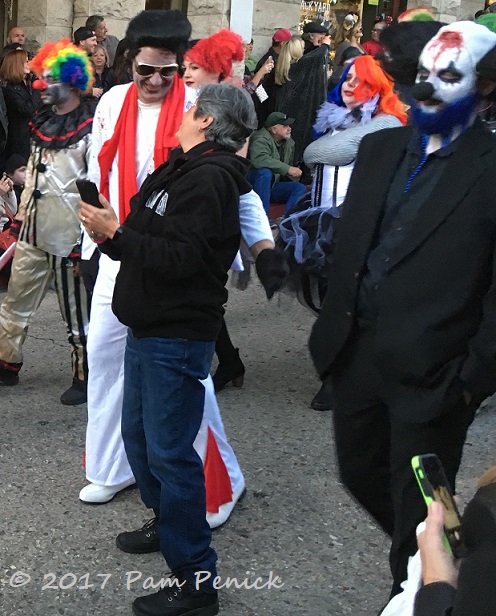 …an Elvis zombie appeared, taking selfies with his fans. Clown zombies were unamused.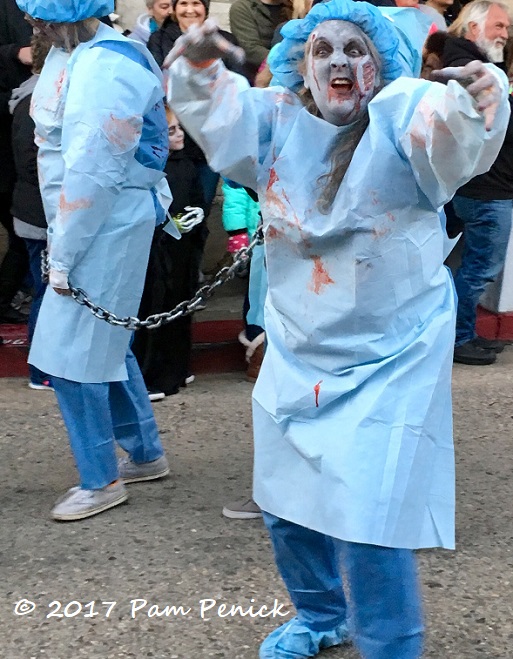 This hospital-patient zombie was downright scary.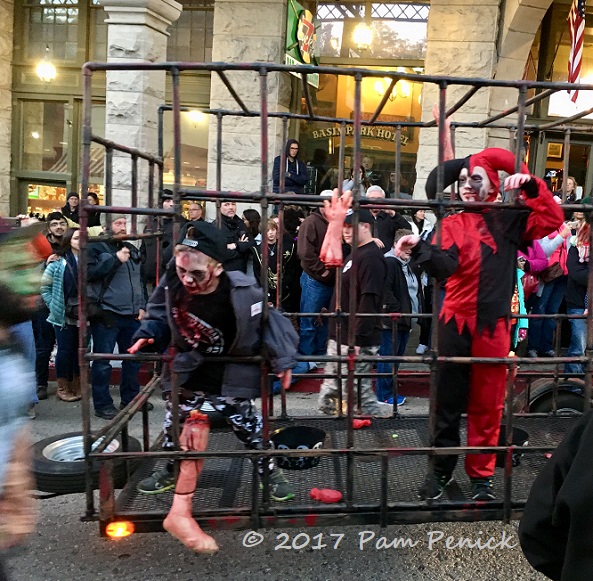 Zombie kids were imprisoned in cages (à la the Child Catcher's wagon in Chitty Chitty Bang Bang — remember that?), attesting to the presence of zombie catchers.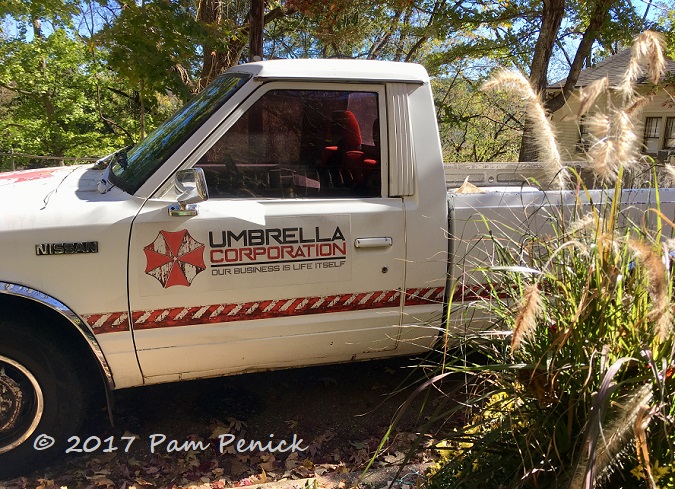 An Umbrella Corporation pickup truck rolled by too, which I spotted the next morning on a Sunday-quiet street.
Thorncrown Chapel: Sanctuary in the Woods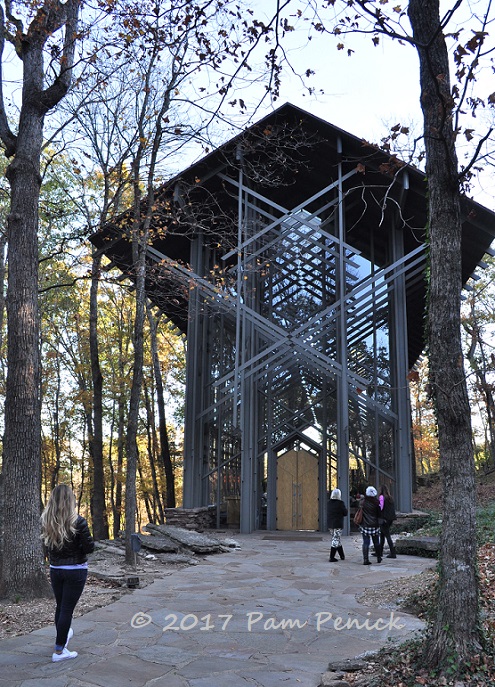 For something completely different, I was excited to finally see the architecturally celebrated Thorncrown Chapel, a soaring, glass-walled chapel in the woods just outside of town.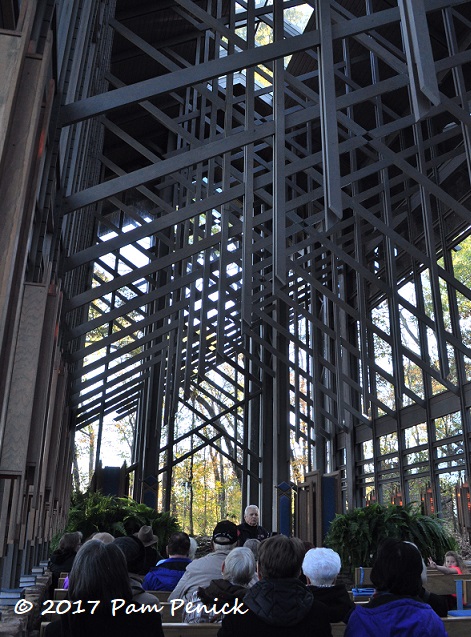 Designed by architect Fay Jones and completed in 1980, the design reflects both Gothic influences and Frank Lloyd Wright's Prairie style.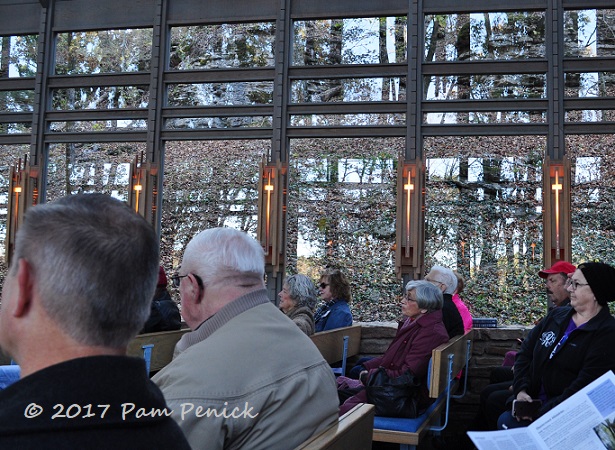 The transparent walls seem to bring indoors the surrounding woods and rocky bluffs.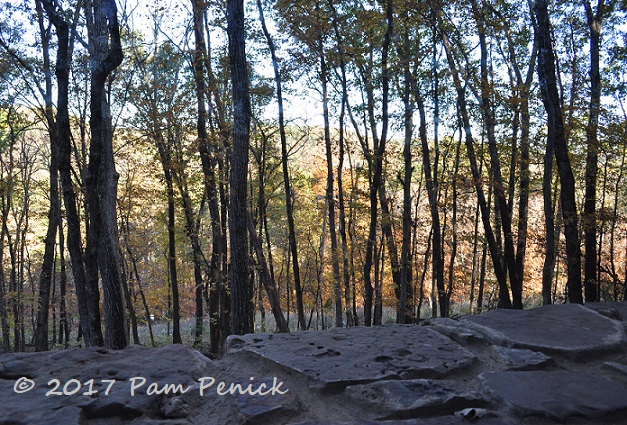 Or perhaps you feel as if you're outdoors and communing with nature.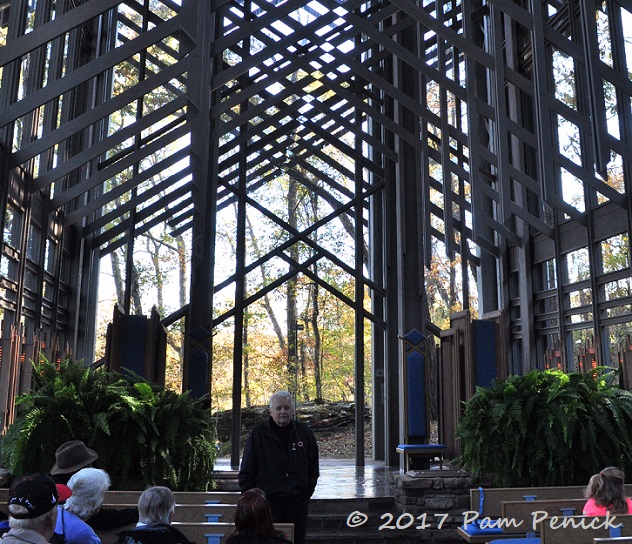 It's a truly beautiful structure.
Ouachita National Forest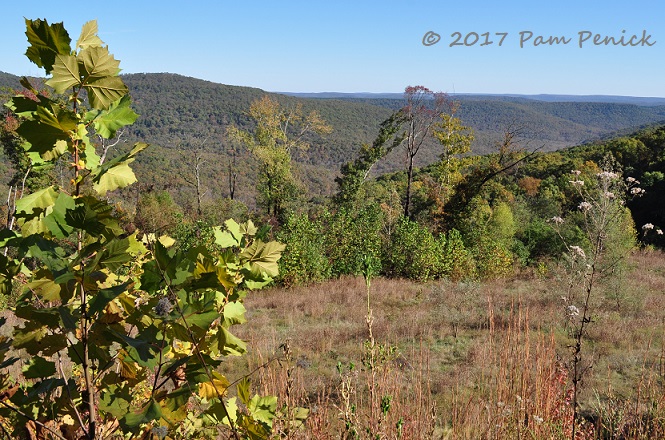 In search of fall foliage, we drove through the Ozarks and Ouachita Mountains. The area around Eureka Springs and Bentonville had the best color (I'll share some in my next post about Crystal Bridges Museum and the Chihuly exhibit there), but here are a few views from the more subdued Ouachita.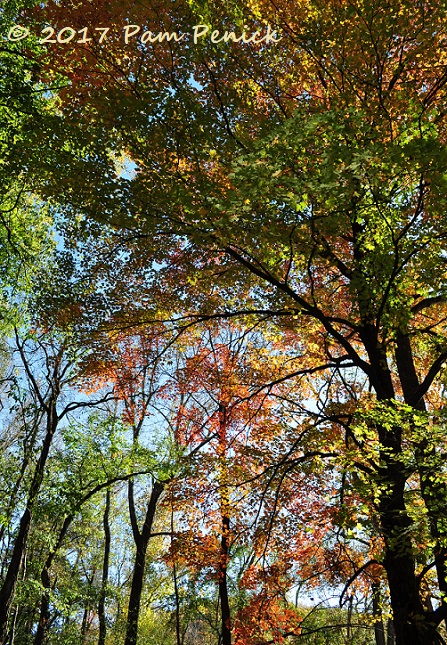 Orange and yellow amid the green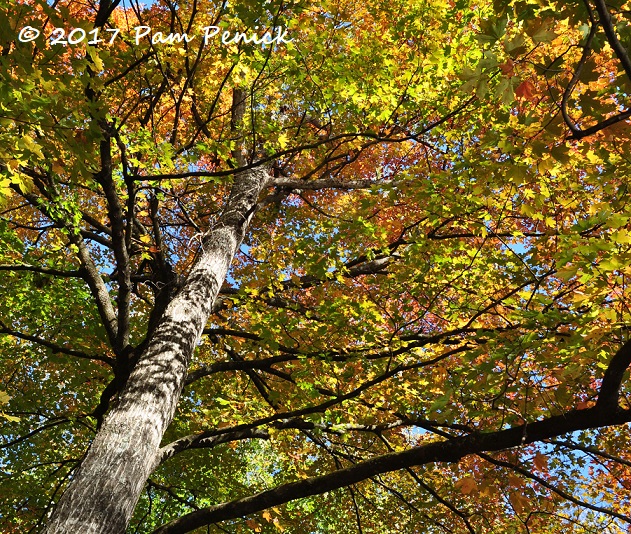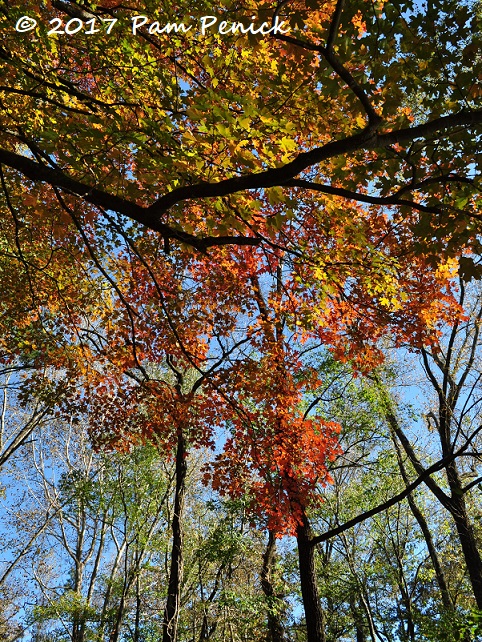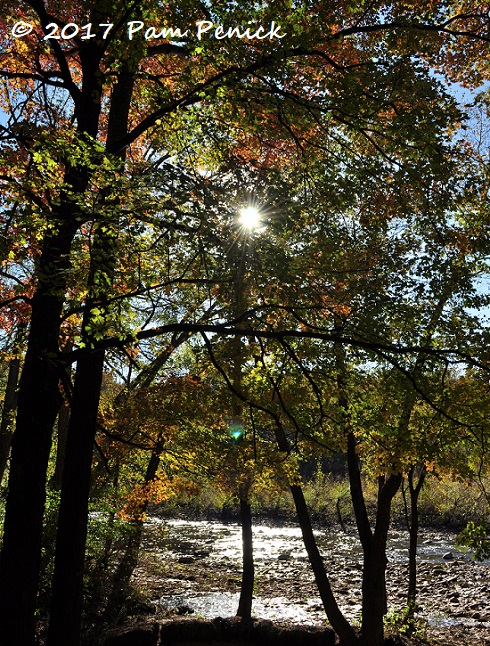 We'll have fall color in Austin — such as it is — in another few weeks. But it was nice to get an early taste in Arkansas.
Up next: Chihuly in the Forest and more at Crystal Bridges Museum.
I welcome your comments; please scroll to the end of this post to leave one. If you're reading this in a subscription email, click here to visit Digging and find the comment box at the end of each post.
_______________________
Digging Deeper: News and Upcoming Events
Saturday, November 4th: Don't miss the Austin Open Days garden tour sponsored by the Garden Conservancy.
Join the mailing list for Garden Spark Talks! Inspired by the idea of house concerts, I'm hosting a series of garden talks by inspiring designers and authors out of my home. Talks are limited-attendance events and generally sell out within just a few days, so join the Garden Spark email list for early notifications. Simply click this link and ask to be added.
All material © 2006-2017 by Pam Penick for Digging. Unauthorized reproduction prohibited.